The Best Foot Care Tips For Runners To Live By
A trainer reveals the best foot exercises you should be doing.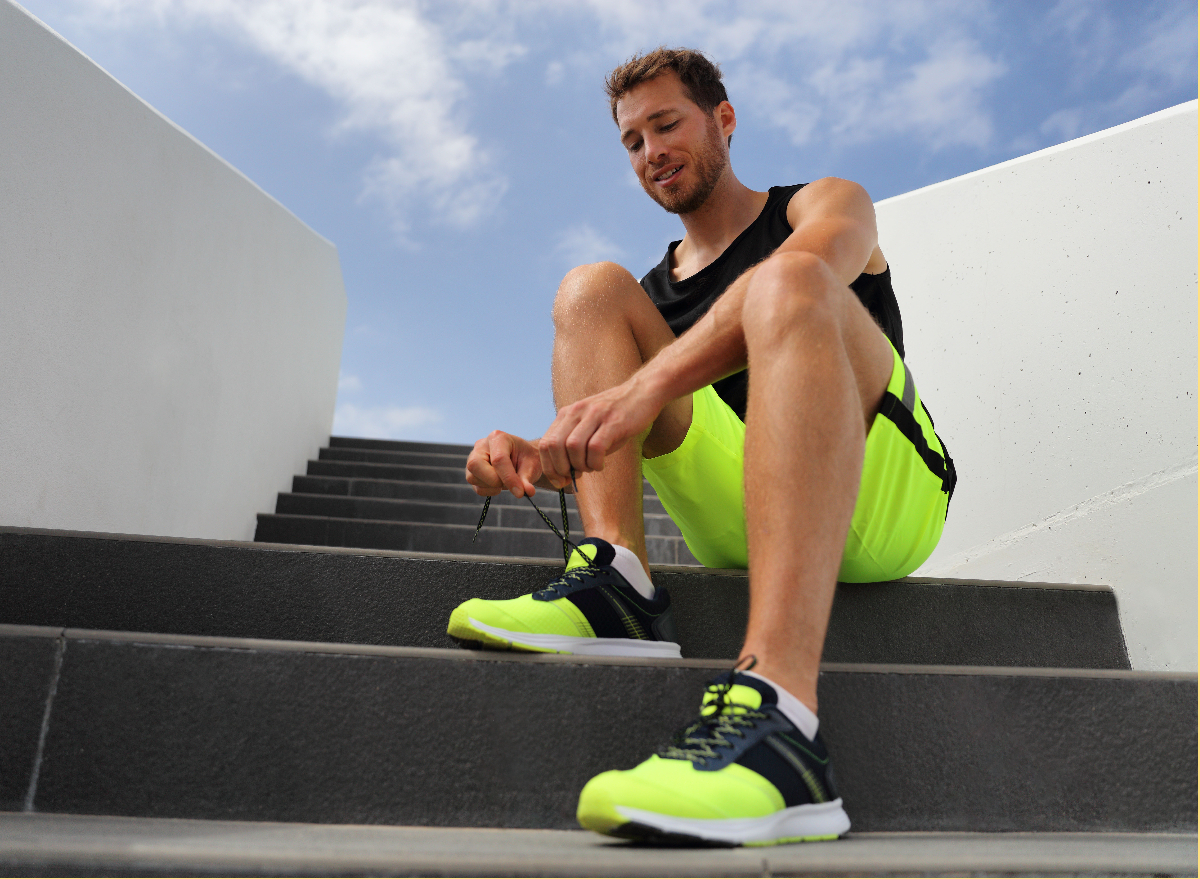 If you're an avid runner, it's important to show your feet some consistent tender loving care. After all, your feet are pretty intricate. They're responsible to adapt to each and every surface you walk or run on, they get you from point A to point B, and provide cushion for your entire body along the way. They give you balance, traction, and control. Your feet take care of you, so it's important that you take care of them. To do so, there are just a few steps involved to start and keep a solid, nutritive regimen, and your feet will totally thank you. So we've put together some of the best foot care tips for runners to add to your routine ASAP.
Read on to learn more about the best foot care tips for runners you should be practicing on the regular. And next, check out The 6 Best Exercises for Strong and Toned Arms in 2022, Trainer Says.
Runners should stay alert for any foot issues so they can be treated accordingly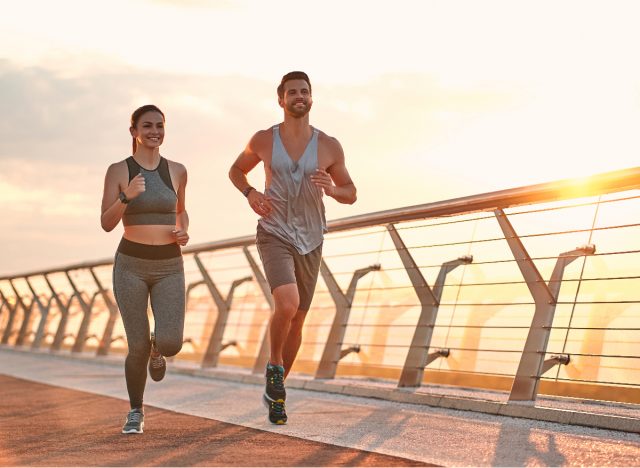 A running enthusiast pounds the pavement every extra moment they possibly can. This makes their feet two of their most prized possessions, so their foot care needs to be taken quite seriously.
Marybeth Crane, DPM, FACFAS puts their significance—and health—into perspective, pointing out via Foot Health Facts, "The human foot is a biological masterpiece that amazingly endures the stresses of daily activity." Crane adds, "For runners, the feet are more vulnerable to injury than any other part of the body, and these athletes should be on the alert for signs of foot problems that can slow them down if not treated promptly."
Related: The Best Training Shoes For Workouts, Podiatrist Says
Finding the right brant, type, and fit of running shoes is crucial
So now that we agree how important foot care is to a runner's overall well-being, including performance and avoidance of injury, the first step on the foot care tips checklist has to do with footwear. What you wear is significant. Wearing running shoes that don't fit properly can cause many problems with your feet and exacerbate existing issues. Bad sneakers can create corns, bunions, and skin irritations, as well as bring harm to your heels, nerves, toes, tendons, ligaments, and joints. Avoiding all of these potential conditions and more is a top priority, and running shoes that fit right will provide the appropriate support that you need.
That being said, shopping around for running shoes to find the right brand, type, and fit for you is essential. Keep in mind, it's best to try out sneakers the second half of the day since your feet usually swell a bit as the day progresses. It's also beneficial to have a professional help you determine the correct size and all-around fit for your feet. Athletic shoes do not normally stretch out over time, and you should have an extra 1/2" or more space in front for toe-wiggle-room, according to the Seattle Marathon website. Once you find the perfect pair, plan on breaking them in a bit before wearing them full-time or before a race day rolls around.
Related: The Best Cardio Exercises To Burn Fat Fast—Without Equipment
Opt for synthetic and wool socks so your feet stay dry and blister-free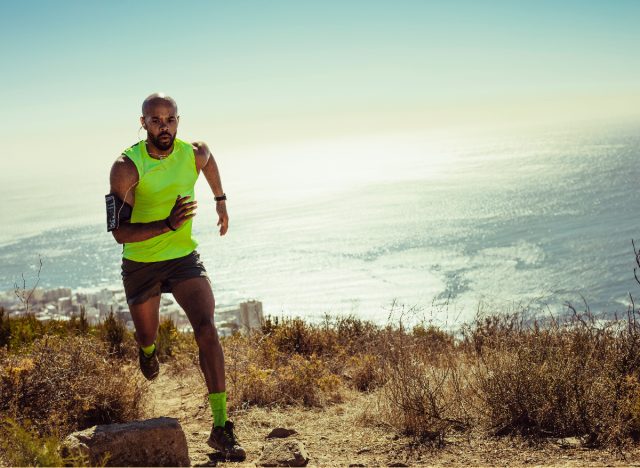 Next up, buy a supply of appropriate socks—aka socks that fit snug will allow your feet to breathe. We spoke with Tim Liu, C.S.C.S. fitness and nutrition coach who reiterates the importance of quality footwear. Liu stresses, "Before your workout, make sure you're wearing high-quality socks and shoes appropriate for your running workouts."
Wool and synthetic are great fabrics to seek out, as they will help keep your feet dry, free from perspiration, and blister-free. (BOMBAS, for example, carries merino wool running socks that are breathable, soft, moisture-wicking, and support performance and comfort.) Socks with two layers and sock liners are favorites for runners, too. Why several pairs of socks? It's important to change your socks frequently to avoid moisture, perspiration, and athletes' foot fungus, most especially if you're running a marathon.
Don't forget to pamper your feet post-workout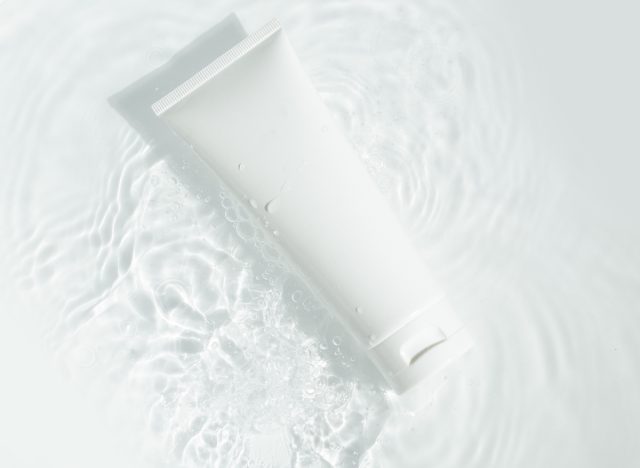 Now let's talk about grooming. Don't forget to pamper your feet post-workout. Runner's World explains some runners tend to get dry feet. So to combat that, choose a good, soothing, and hydrating moisturizer to work into your skin (like Eucerin Advanced Repair Foot Cream or barefoot scientist HIGH DIVE intensive hydration cream). Stephanie Marlatt Droege, D.P.M., a podiatrist from La Porte, Ind. tells Runner's World a perfect time to apply moisturizer is right after you take a shower or bath. And speaking of baths, Liu notes you can give tired feet an Epsom salt bath after an intense run to provide some relief. Consider your post-cardio pampering routine, saved!6254a4d1642c605c54bf1cab17d50f1e
Related: The Best Outdoor Cardio Exercises To Get Toned Fast, Trainer Says
Seek out the right services for your feet, such as consulting a podiatrist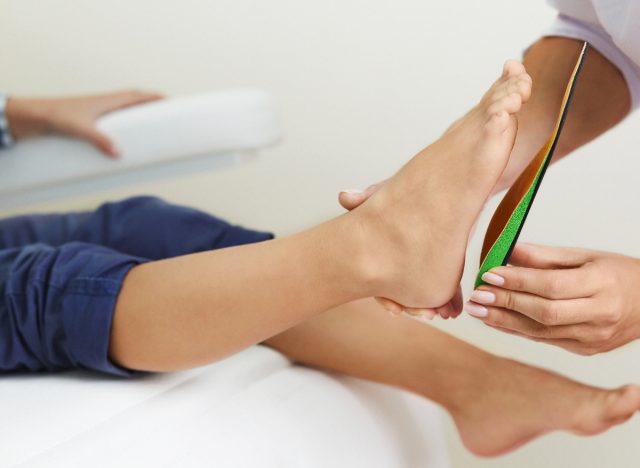 If you're a runner, it's smart to seek the right services for your feet. In fact, it's not uncommon for an avid runner to check in with a podiatrist. Not only can injuries be avoided by reaching out to a specialist, but you can discuss your sneaker options as well, based on your feet. It's critical that your sneaks support your arch properly and help keep your feet balanced during impact. Consulting with a podiatrist is a smart step.
Additionally, consider treating yourself to foot massages or reflexology whenever possible. Liu explains you can even give the arches of tired feet an at-home massage with a tennis or lacrosse ball.
Go through proper foot exercises during your weekly routine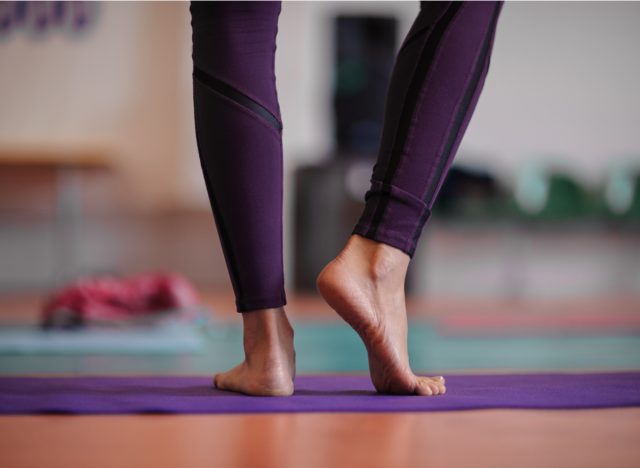 Lastly, look into proper warmups and exercises that will prepare, strengthen, and condition your feet properly for the beating they take when running. Liu recommends calf raises, toe extensions to give them a solid stretch, and ankle alphabets (drawing every letter with your feet).
Alexa Mellardo
Alexa is the Mind + Body Deputy Editor of Eat This, Not That!, overseeing the M+B channel and delivering compelling fitness, wellness, and self-care topics to readers.
Read more about Alexa