I Tried 6 Frozen Breakfast Sausages & The Winner is Deceptively Good
Sausage patties are a classic American breakfast staple, available in many varieties, but which one tastes the best?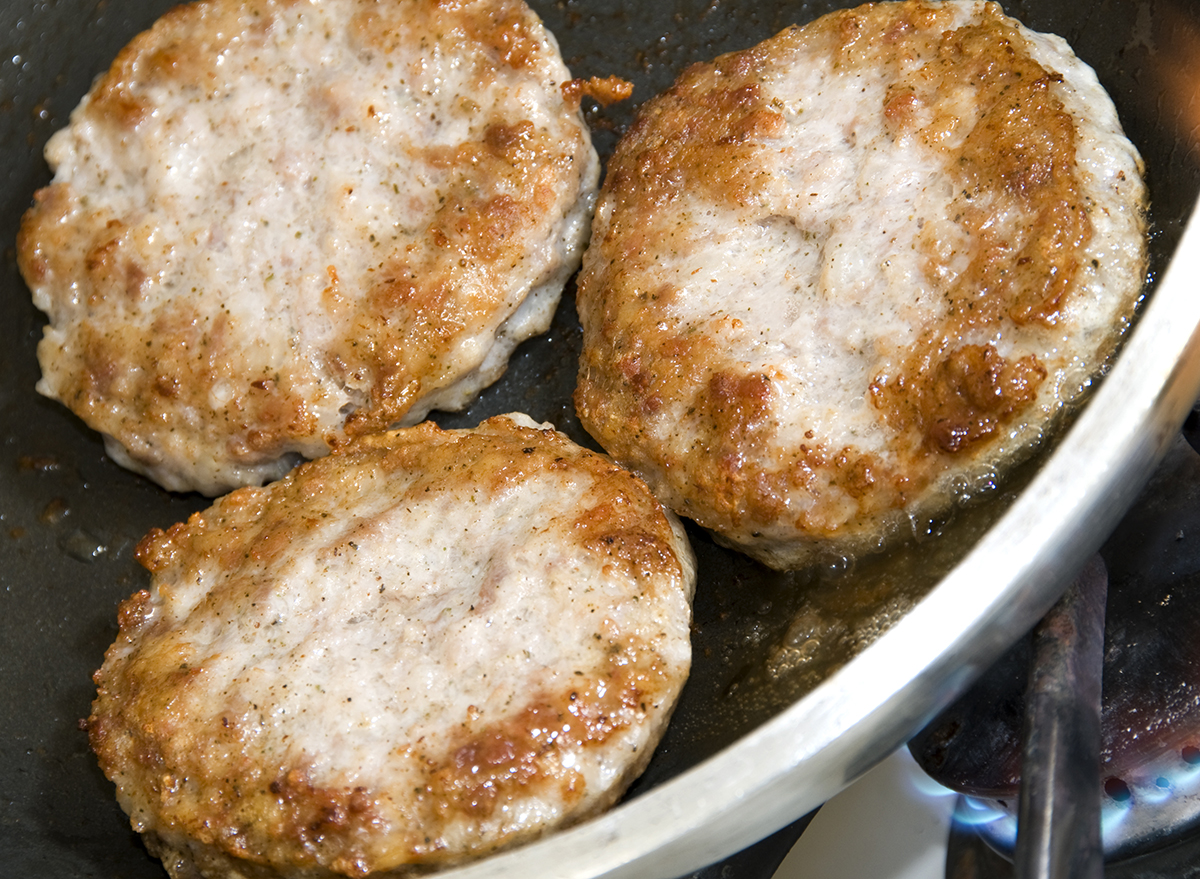 The product recommendations in this post are recommendations by the writer and/or expert(s) interviewed and do not contain affiliate links. Meaning: If you use these links to buy something, we will not earn a commission.
Sausage has a long and storied history all over western civilization. There are very few foods that permeate every single meal of the day like sausage does. You could have sausage for breakfast, lunch, and dinner, and none of the meals would be out of place, and it's easy to see why. 
The incredible thing about sausage is the unique ability to control both the fat content and flavor of your meat by just picking the right one. 80/20? 70/30? Chicken? Pork? Lamb? Fennel? Smoked? Sausage has you covered. 
Sausage was also among the first meats to be "Beyonded," if you will. The vegan sausage is a pioneer in making plant-based meat alternatives go mainstream. 
Among the many different kinds of sausages available today, perhaps the most common and easiest to find at the supermarket is the classic American breakfast sausage. The freezer aisle is often stocked with options, and there are many factors to consider when choosing the one that's right for you.
"I am particular with the type of sausage I pick up at the store, as many brands are high in saturated fat, which has been linked to heart disease," says Toby Amidor, MS, RD, the Wall Street Journal best-selling author of The Family Immunity Cookbook. "They also are high in sodium and some even have quite a bit of sugar added."
Amidor says she prefers "better-for-you brands" made with lower fat meats over plant-based alternatives. In particular, she recommends products from Applegate Farms, which are made from humanely raised animals and contain no antibiotics and no nitrites. 
With that in mind, I set out to find the best-tasting frozen sausage available. I tried six different brands—some made with real meat, others not so much—to figure out what you should be putting on your plate! I cooked each product according to the directions on the package, and evaluated every one based on taste, appearance, and preparation method. If given the choice between the microwave and the stovetop, I opted for the stove to ensure that each item gets the best showing possible.
So, it has to taste good, look good, and be easy to cook in order to win. Here's how each brand fared, ranked in descending order from my least favorite to the absolute best-tasting sausage of all.
Beyond Breakfast Sausage
Per Serving (2 patties)
: 180 calories, 12 g fat (4.5 g saturated fat, 0 g trans fat), 270 mg sodium, 6 g carbs (2 g fiber, 0 g sugar), 11 g protein
Beyond Meat was the first brand to start the massive plant-based meat craze, so hopefully its jump start on the competition will yield some good flavor. You can find these plant-based sausage patties at many retailers. I got mine at Giant for $5.29.6254a4d1642c605c54bf1cab17d50f1e
The Prep: Put this in a cast-iron pan or a frying pan and cook for four to five minutes on each side. Easy peasy, but you are investing some pan cleaning time into this.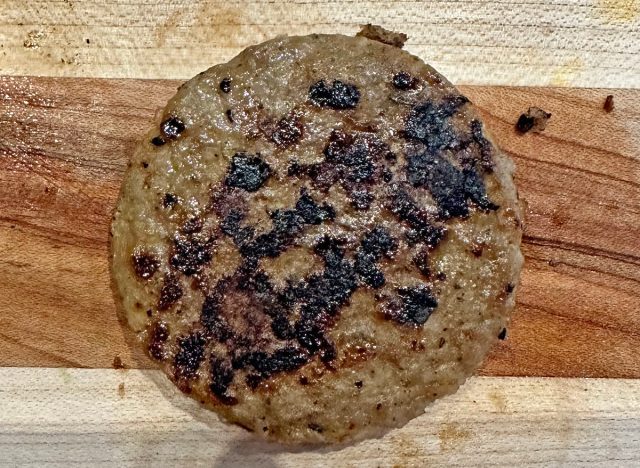 The Look: You might be saying, "Robby, you burned that." Yes. Yes, I did. Charring aside, though, this faux meat has the look and the thickness of a genuine sausage patty. It's got that little fatty glisten that reminds you of the real deal, too. 
The Taste: The texture is a little too soft to remind me of a real sausage. The real thing has a bit of a chew to it. This is a solid and soft texture without those little inconsistencies and imperfections that remind you of actual meat. The flavor is great, but it doesn't taste likef a breakfast sausage. When I think of breakfast sausage, I think maple, maybe some sage, brown sugar. This has the flavor readings of something more akin to chorizo, but it isn't quite there, either. Overall, this seems more like a lunch or dinner sausage in a breakfast patty form.
Trader Joe's Chicken Breakfast Sausage Patties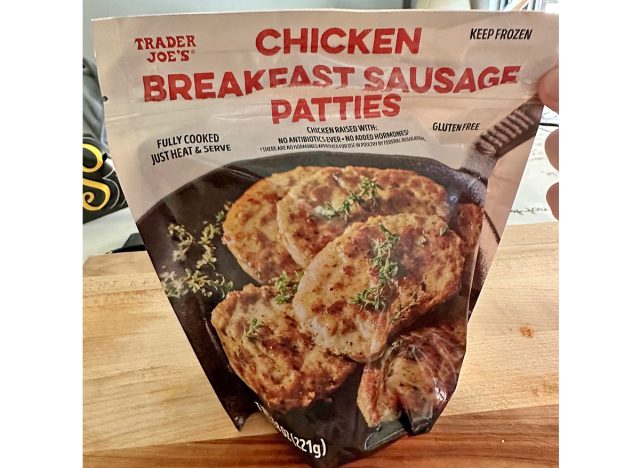 Per Serving
: 140 calories, 9 g fat (2 g saturated fat), 390 mg sodium, 1 g carbs (0 g fiber, 0 g sugar), 13 g protein
We all know what ole Joe can do in the freezer aisle, and this time, your favorite specialty grocer is in the sausage game. For $3.29, these breakfast patties are a steal.
The Prep: Turn a skillet on medium heat and cook for five to five minutes on each side. The directions explicitly say to go from frozen to heat directly, for better or worse. But, in terms of simplicity, it doesn't get much easier.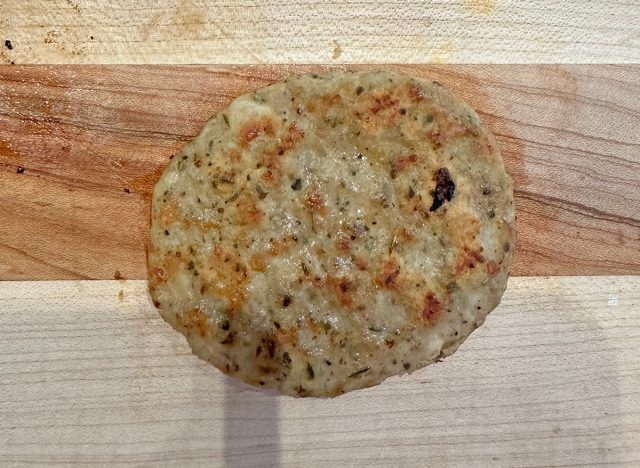 The Look: The cook time didn't provide the golden-brown edges I was going for, but it's still got that inviting, fatty glisten I mentioned earlier. A sausage should be a little greasy, and this patty has that look down. 
The Taste: I think some flavor was lost to the freezer, which happens, but the chicken taste comes through nicely, and the spices accompany it well while still reminding you of a breakfast sausage. The real flaw in this is that you're putting meat that was frozen directly onto a hot pan. It's going to be a little off in the taste department, as a result. There's a reason your mom always asked you to put the chicken on the counter to defrost.
Applegate Chicken & Sage Breakfast Sausage
Per Serving (1 patty)
: 70 calories, 5 g fat (1.5 g saturated fat, 0 g trans fat), 250 mg sodium, 1 g carbs (0 g fiber, 1 g sugar), 5 g protein
Applegate produces a wide range of breakfast sausages, including this new chicken and sage variety. A one-pound bag retails for $12.99 at Harris Teeter. It's also available at select Target and Walmart locations. 
The Prep: Throw this in a pan, cook for three minutes on each side with medium heat. Pretty much as easy as it gets, and this approach doesn't give you a flabby, microwaved sausage.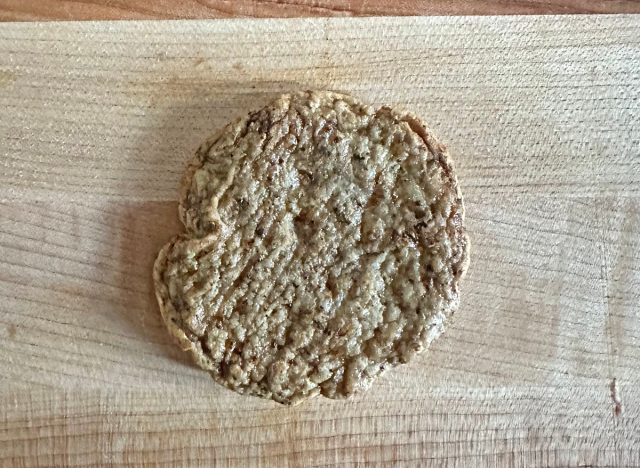 The Look: A little wrinkly. However, it looks like a sausage, and smells like a sausage. Putting this on my griddle made the whole kitchen smell like sage, which was a lovely way to start the morning. 
The Taste: The flavors of the sage and the chicken come through beautifully and really give you the feeling of a breakfast sausage. Texturally, though, this is lacking, even compared to some of the plant-based products on this list. It comes off a little rubbery, which is unfortunate given how great it tastes. 
I understand why this sausage came precooked, because it is chicken. But, because of that, heating it up will overcook it. This leaves you with no other option but to eat it overcooked, which is a shame.
Morningstar Farms Original Sausage Patties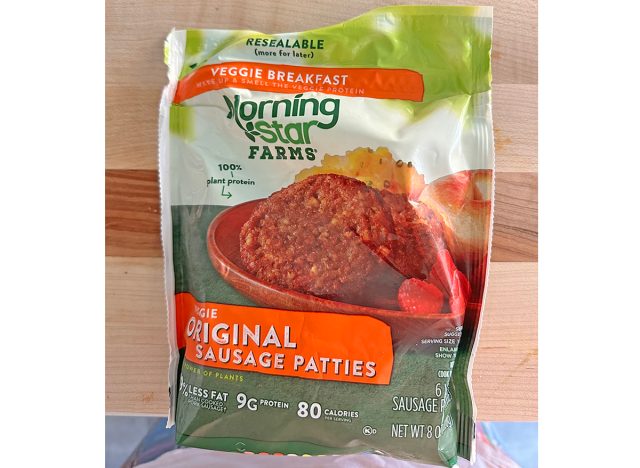 Per Serving (1 patty)
: 80 calories, 3 g fat (0 g saturated fat), 230 mg sodium, 5 g carbs 2 g fiber, <1 g sugar), 9 g protein
Morningstar Farms provides "a meatless spin on America's favorite foods," according to its website. These 100% plant-protein patties are a classic example. An eight-ounce bag cost me $5.39 at Giant.
The Prep: Pretty much the same as the rest of the ones you prepare on the stove. 
The Look: Crispy and delicious. It's definitely more well done than other sausages on this list, but since it's plants and not meat, you don't have to be as concerned with temperature outside of just making it warm. But, this looks inviting, and it definitely was. 
The Taste: This isn't tasty for frozen food, or tasty for plant-based food. This is just tasty. You have a beautiful crust on the outside that provides a great crunch for that starchy goodness in the middle. However, I fail to see why this is even advertised as sausage. It's largely made of soy and wheat, and that's what comes through. To Morningstar's credit, the spices inside are also breakfast sausage-adjacent. However, this is a fritter, not a sausage. 
Johnsonville Pork Sausage Patties
Per Serving (1 patty)
: 100 calories, 8 g fat (3 g saturated fat), 220 mg sodium, <1 g carbs (<1 g fiber, <1 g sugar), 5 g protein
I cannot even explain my excitement to finally eat some pork. So far, I've been testing reputedly healthier, white meat and plant-based options, which are all great. But, this is sausage we're talking about. Healthy options taste great, and treat your body well, but there's nothing like a big slab of pork. These "premium" pork sausages from Johnsonville retail for $4.99 at Target. 
The Prep: Because this product comes raw, the cooking time is a little longer in the pan, but not dramatically so. It's about five minutes on each side. Ten minutes isn't the end of the world, but it's also dramatically longer than any of these other products.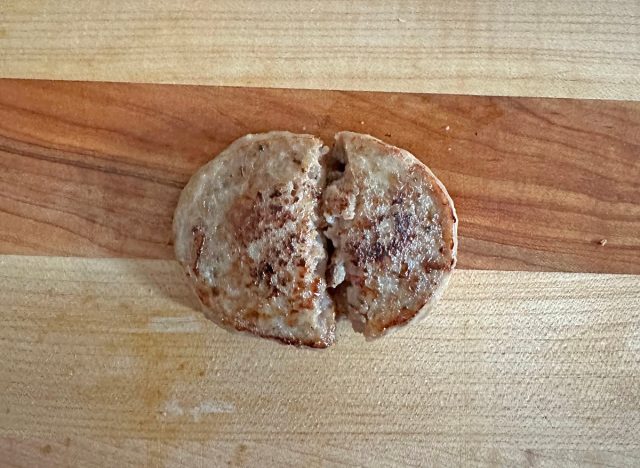 The Look: Now, that is a sausage. The outside crisped up wonderfully, and gives you a golden brown allure that begs you to dig in. I apologized for the sausage being cut in half in the accompanying photo. This sausage comes raw, so I wanted to make sure I wasn't eating raw pork. 
The Taste: Spot on. The crispy outside, coupled with that salty, porky flavor inside, makes this a decadent and delicious bite. I have tried all of these wonderfully arranged and well thought-out plant-based patties. Hours upon hours of work have gone into engineering these plant-based products to emulate sausage with a wonderful flavor, and Johnsonville just blew all of them away, simply by virtue of being the real deal—well, all of them except for one. 
365 Plant-Based Breakfast Patties
Per Serving (1 patty)
: 40 calories, 1 g fat (0 g saturated fat), 230 mg sodium, 4 g carbs (<1 g fiber, <1 g sugar), 6 g protein
These plant-based patties, courtesy of Whole Foods' store brand 365, retails for $3.99. For a six-pack, that's a pretty good deal. Looking at the nutrition info, it's also exceptionally healthy! 
The Prep: Throw this on a skillet for four to five minutes, and you're done. That's as easy as it gets without using your microwave.
The Look: Crispy and inviting. But I won't lie, in the context of sausage, this looks like a hockey puck. Fortunately, it didn't taste like one. 
The Taste: I thought I was eating the wrong sausage when I saw this was plant-based. I'm not that person that goes, "Oh wow, it tastes just like meat!" That's because it never tastes just like meat. Plant-based products just aren't there yet.  However, this tastes, dare I say, better. The best part is that it maintains that inconsistency and chew that a great, real-deal breakfast sausage has. The spicing is perfect, as well. You get a perfect little aroma of everything the manufacturer wants you to taste without the flavor being overpowering or exceptionally salty like some other entries on this list. 
Excellent work, Whole Foods. This is a plant-based product at the top of its game. Between the nutrition, the price, and the exceptional flavor, there's no need to buy a different sausage from the freezer ever again. 
Robby Haynos
Robby loves eating as much as he loves writing. After graduating from Bates College, Robby is turning his passion for food writing, found during his time with the college newspaper, into a career. He has written for Celebrity Page TV and runs a blog reviewing restaurants in his home towns of Takoma Park, Md., and Rehoboth Beach, Del.
Read more about Robby