5 Worst Frozen Foods Making You Gain Weight
Stay away from these packaged meals and desserts in the freezer aisle to avoid putting on extra pounds.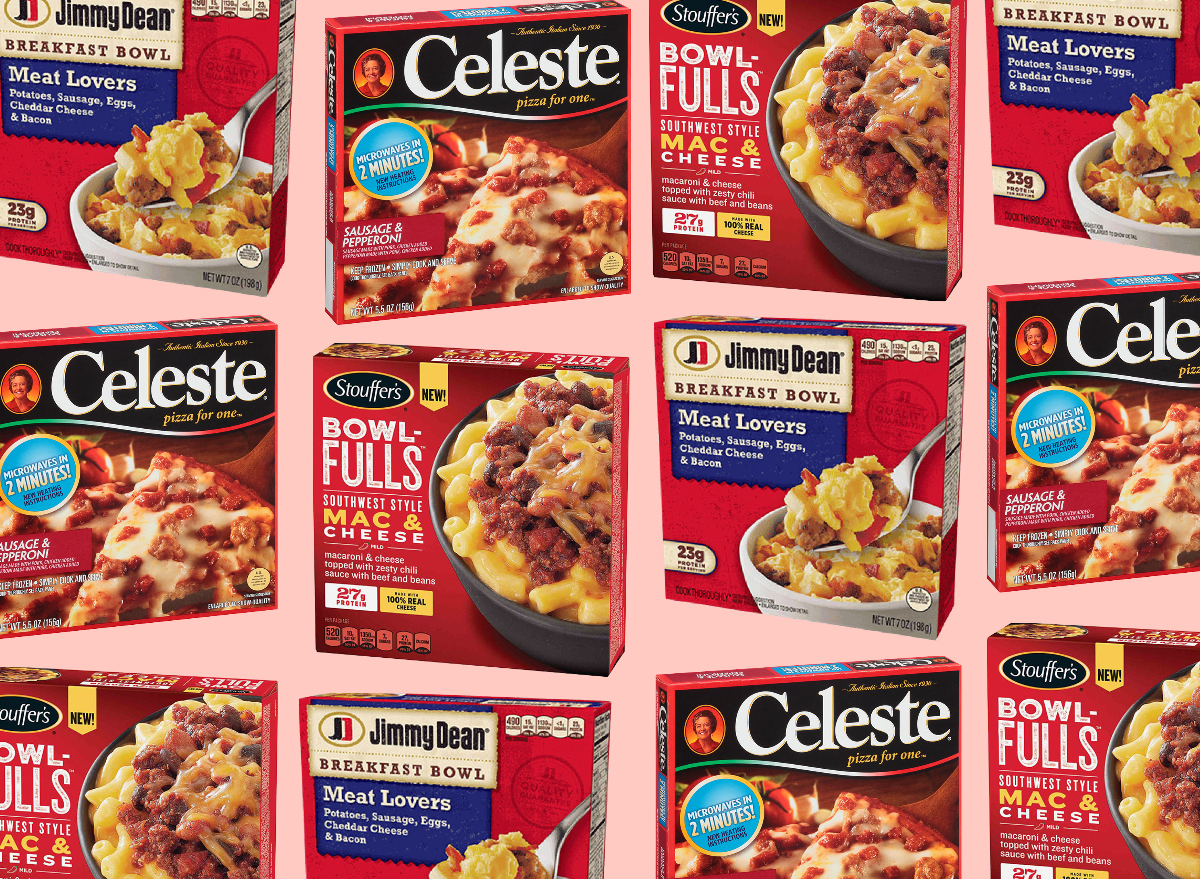 At the start of the pandemic, frozen foods were in high demand as Americans sought to stock up on nonperishables to avoid having to make multiple grocery trips each month. Even though it's safer to go to the grocery store now, many consumers are likely still opting for frozen foods—and why wouldn't they? They're convenient!
Below, we hand-picked five examples of frozen foods you should steer clear of at the supermarket to avoid packing on extra pounds. What they all have in common? Each meal and dessert is high in either or two of the following: sodium, saturated fat, or sugar. All three of these substances are known to cause weight gain if consumed in excess.
These are the frozen foods you want to avoid if you're trying to drop some pounds and instead, why not stock up on The 7 Healthiest Foods to Eat Right Now?
Celeste Pizza for One: Sausage & Pepperoni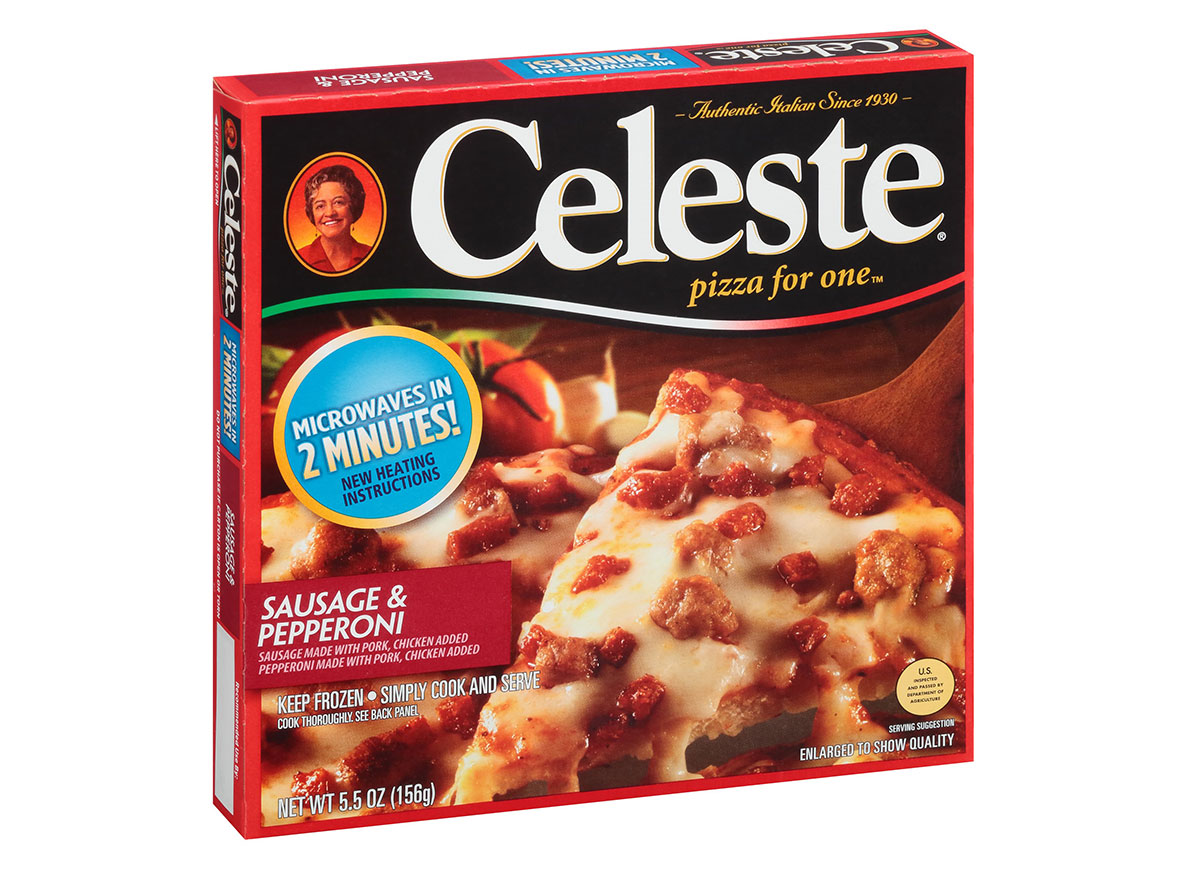 Per 1 pizza (156 g)
: 400 calories, 19 g fat (9 g saturated fat, 0 g trans fat), 900 mg sodium, 47 g carbs (2 g fiber, 3 g sugar), 10 g protein
This one of the worst personal frozen pizzas you can buy. At 400 calories, it costs you nearly half of your day's worth of saturated fat. Not to mention, it contains about 1,00o milligrams of sodium. For context, the recommended daily allowance is 2,300 milligrams, and this pizza wipes out almost half of that.
Bob Evans Sausage & Potatoes Bowl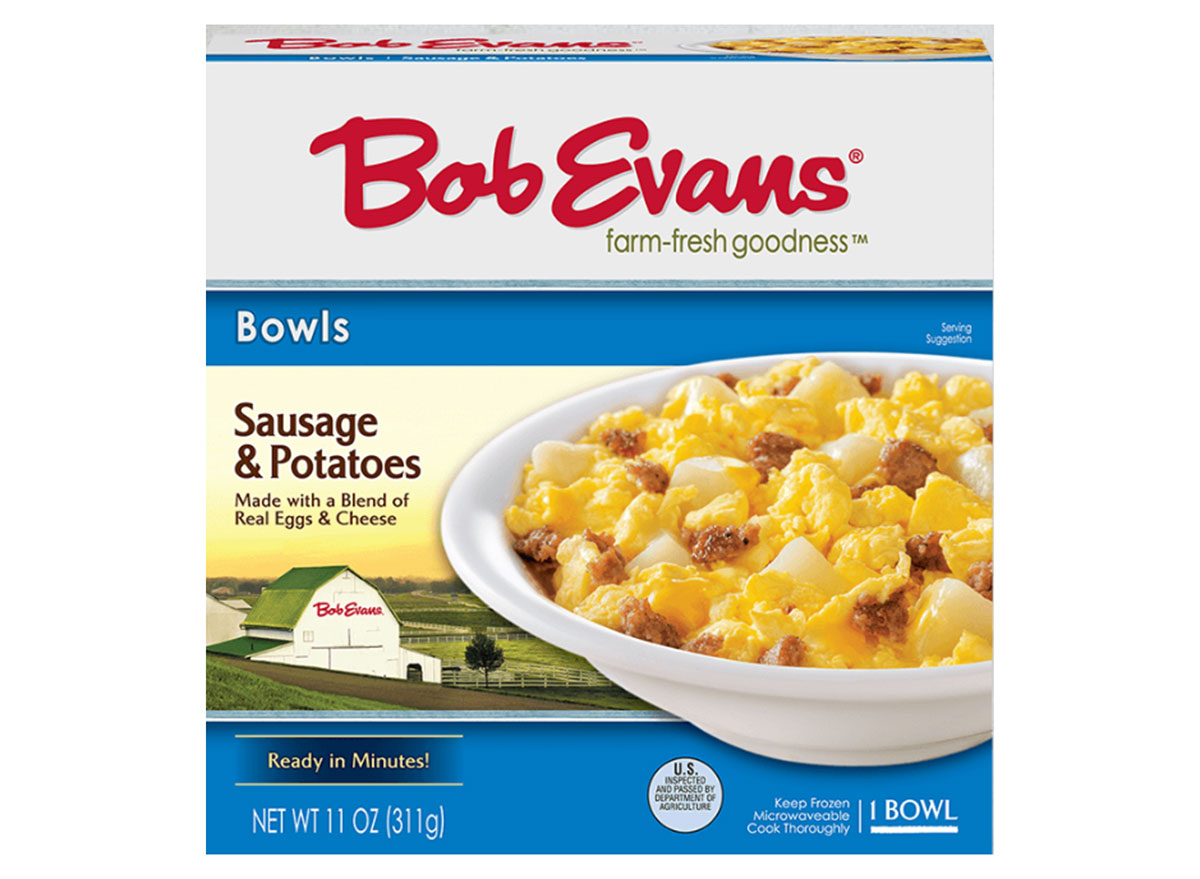 6254a4d1642c605c54bf1cab17d50f1e
Per container (311 g)
: 440 calories, 25 g fat (12 g saturated fat), 1,470 mg sodium, 17 g carbs (1 g fiber), 36 g protein
Sausage paired with eggs and cheese is what causes the sodium and saturated fat contents in this frozen breakfast to be so high at nearly 1,500 milligrams and 12 grams respectively. And to think that would all be consumed in the first meal of the day! It's no wonder it made our list of The 100 Worst Frozen Foods in America.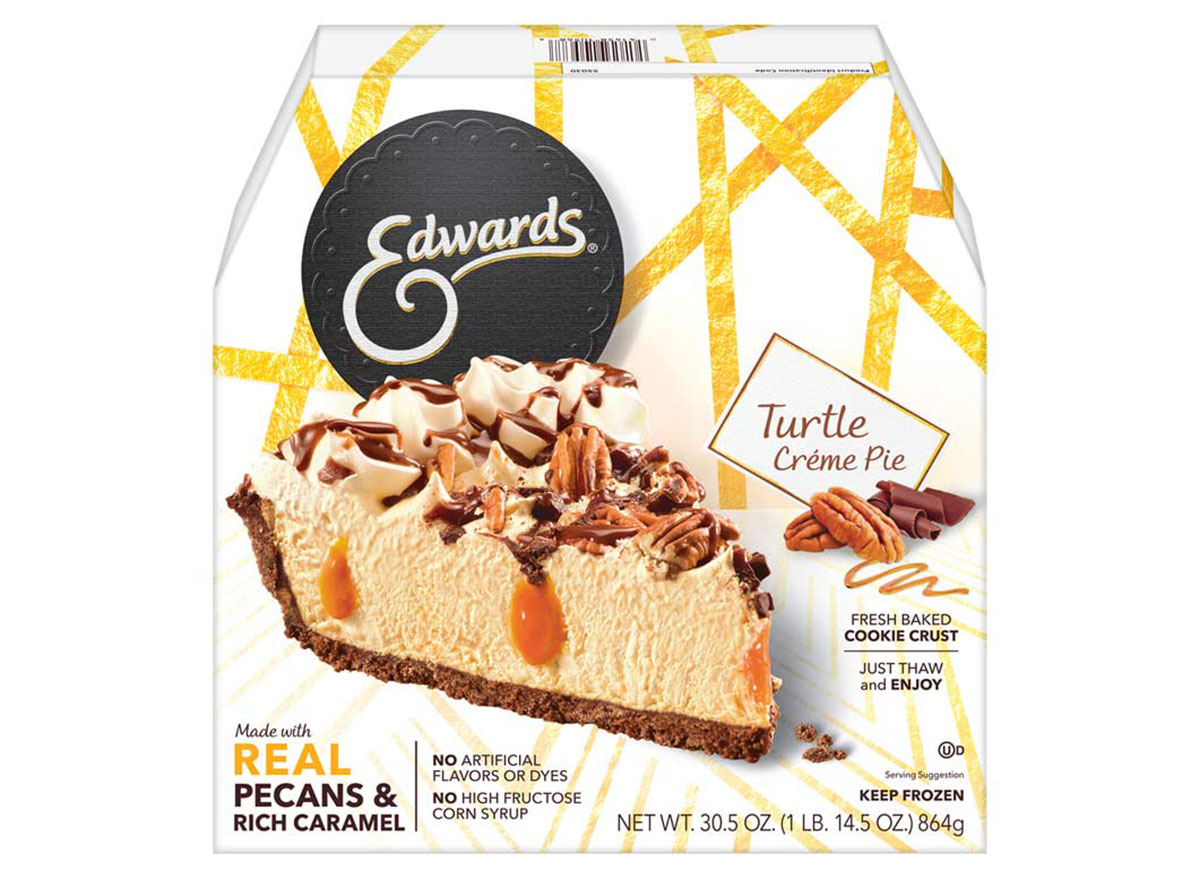 Per 1/8 pie (108 g)
: 380 calories, 21 g fat (13 g saturated fat, 0 g trans fat), 310 mg sodium, 45 g carbs (1 g fiber, 30 g sugar), 4 g protein
Who doesn't love a frozen dessert pie? Edwards has a mean Turtle Crème Pie, however, just one serving packs a lot of saturated fat and sugar. One slice of this pie contains 28 grams of added sugar, and according to the American Heart Association, that's 3 grams more than women should have in an entire day. The limit for men is a little more generous at 36 grams of added sugars daily, which is equivalent to 9 teaspoons.
Stouffer's Bowl-Fulls Southwest Style Mac & Cheese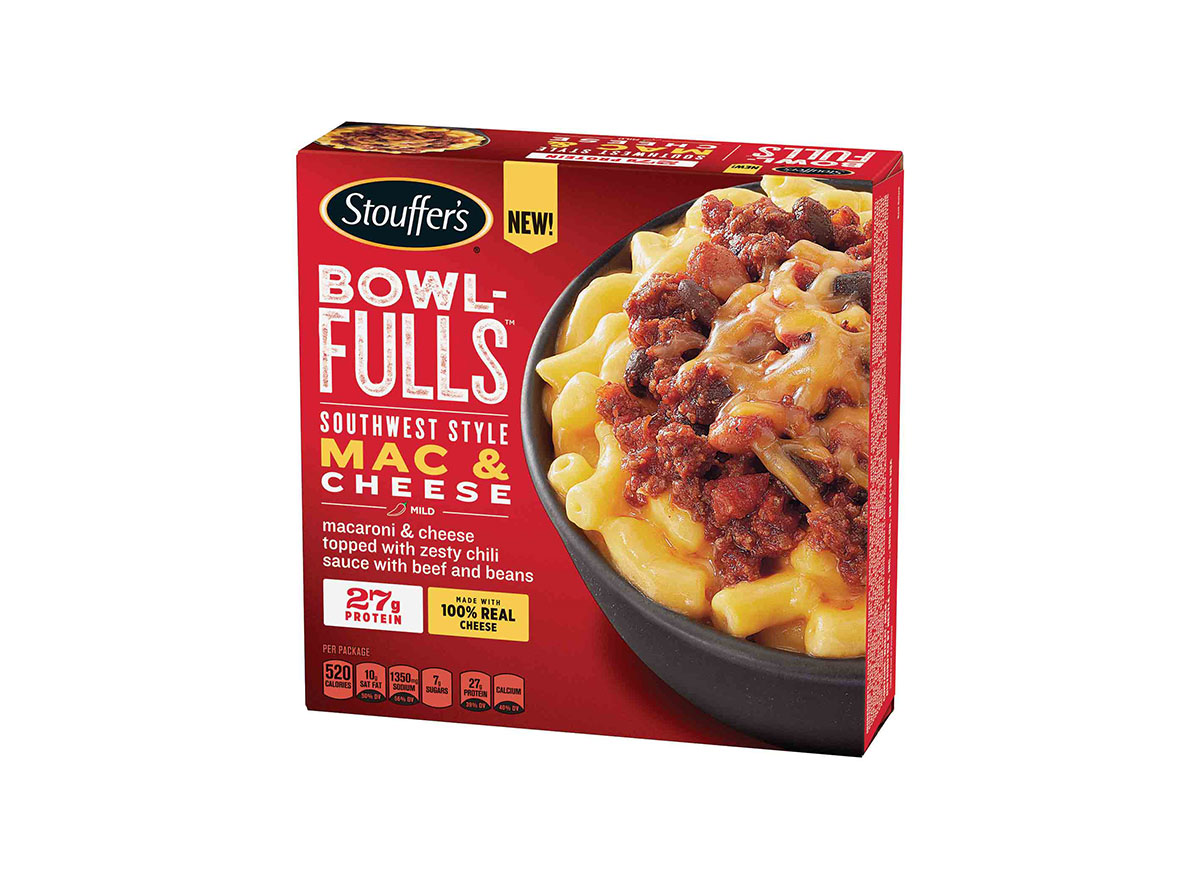 Per 1 container
: 520 calories, 24 g fat (10 g saturated fat, 0.5 g trans fat), 1,350 mg sodium, 50 g carbs (5 g fiber, 7 g sugar), 27 g protein
Look, we love a savory chili mac as much as the next person, however, Stouffer's really went all out with the sodium on this one. Just exactly how much is 1,350 milligrams of salt? That's as much sodium you'd find in 81 Lay's Salt & Vinegar Potato Chips.
Jimmy Dean Breakfast Bowl Meat Lovers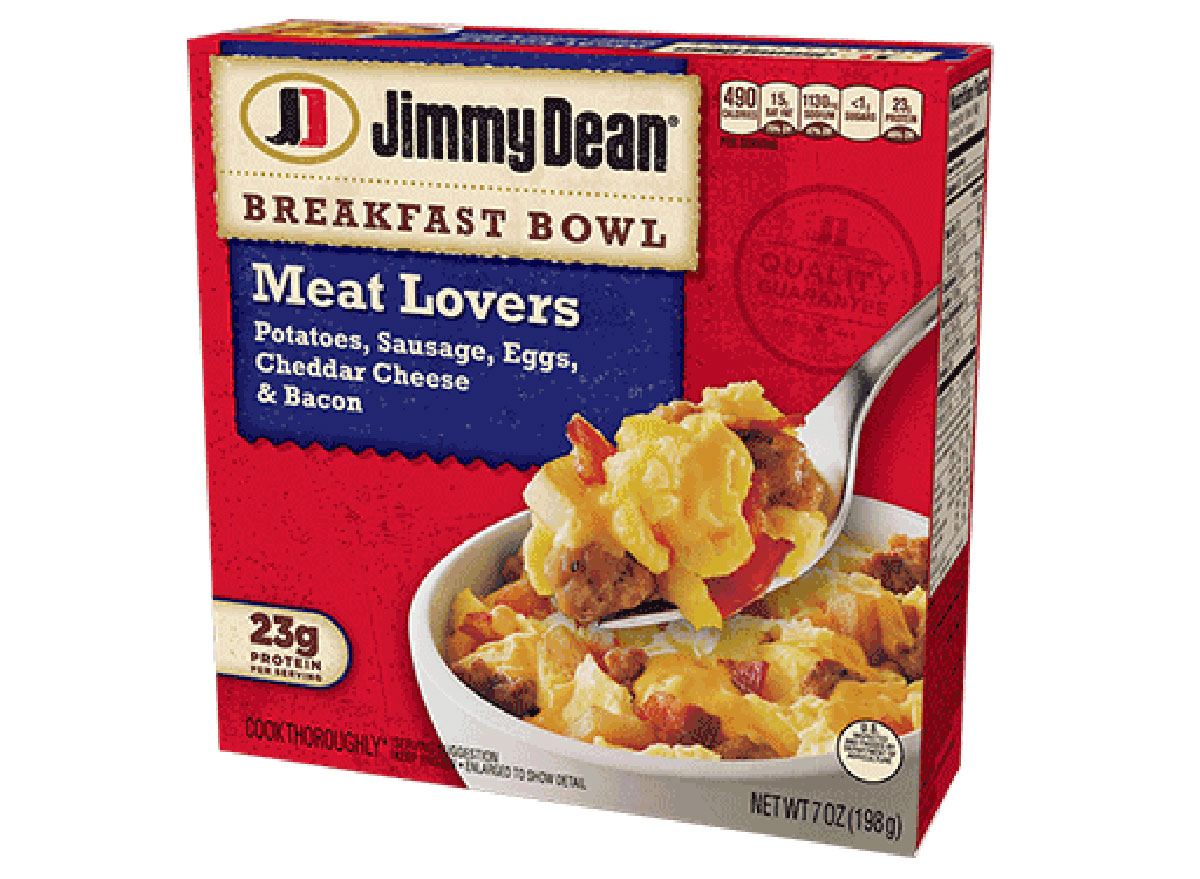 Per 1 bowl (198 g)
: 480 calories, 37 g fat (15 g saturated fat, 0 g trans fat), 1,280 mg sodium, 16 g carbs (2 g fiber, 1 g sugar), 23 g protein
This breakfast bowl is packed with saturated fat and sodium and there's no question this will cause you to start your day feeling sluggish and bloated.
For other suggestions on which frozen foods to steer clear of, check out 7 Unhealthiest Lunch Foods for Your Family.
Eat This, Not That!
Inspired by The New York Times best-selling book series, Eat This, Not That! is a brand that's comprised of an award-winning team of journalists and board-certified experts, doctors, nutritionists, chefs, personal trainers, and dietitians who work together to bring you accurate, timely, informative, and actionable content on food, nutrition, dieting, weight loss, health, wellness, and more.
Read more about Eat This