The Best Gluten-Free Fast-Food Options at 10 Chains
Eat gluten-free while on the go with these delicious gluten-free fast food menu picks!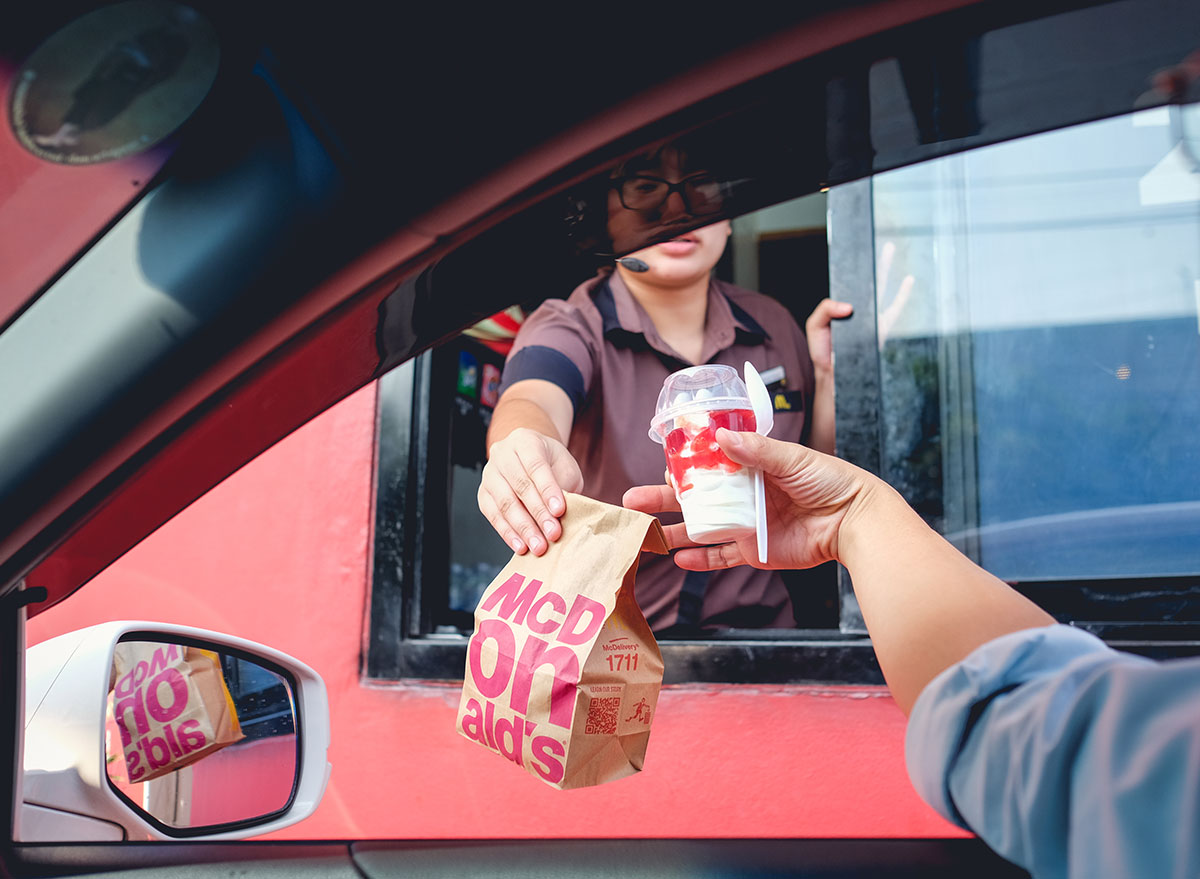 If you're new to the gluten-free concept, whether you were recently advised by your doctor to scale back or simply taking it upon yourself to try following a gluten-free (GF) diet, you might assume that this means all fast food is off the table. This can be especially challenging if you love a good burger or sandwich, since not every restaurant carries gluten-free buns or offers alternative options to wrap up your sammy's contents. However, there are actually plenty of gluten-free fast food menu options available to eat—the key to identifying these items is first knowing where to look and then what to look for.
To help make this search easier for you, below is a breakdown of the best gluten-free fast-food menu items you can find at a handful of go-to, fast-food spots. But before you can choose the best gluten-free fast-food meal for you, it's important to understand some of the motives behind why people eat GF food. This understanding can inform some of your decision-making the next time you visit a drive-thru.
Why eat gluten-free fast food?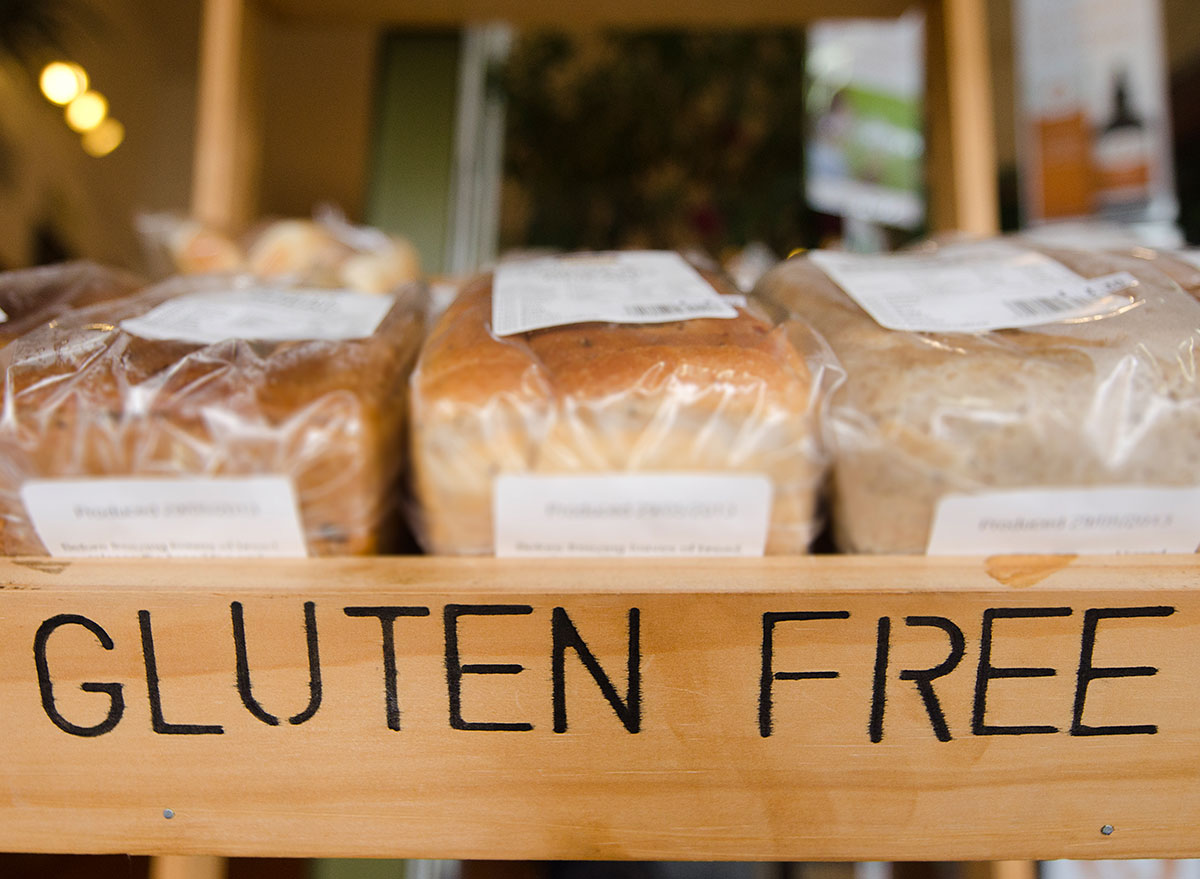 "For those who have celiac disease, gluten-free is a necessity, not a preference. This means that if they want to eat fast food or go through a drive-thru, they only can if the fast food chain offers gluten-free options," says Amy Goodson, MS, RD, CSSD, LD, author of The Sports Nutrition Playbook and member of our Expert Medical Board. "There are others who might eat gluten-free due to preference, meaning that they are not allergic to gluten and it may not make them sick, they just choose not to eat it for a variety of reasons."
Trista Best, MPH, RD, LD, at Balance One Supplements, notes three reasons why people may opt to eat gluten-free fast food:
Celiac Disease: "People with celiac disease have an autoimmune reaction to gluten, which damages their small intestine," explains Best. "This can lead to a range of symptoms, including abdominal pain, diarrhea, and fatigue. For people with celiac disease, consuming even small amounts of gluten can be harmful. Eating gluten-free meals at fast-food restaurants can help them avoid gluten and manage their condition."
Gluten Sensitivity: "Some people may have a sensitivity to gluten, which can cause symptoms such as bloating, gas, and diarrhea," says Best. "While not as severe as celiac disease, gluten sensitivity can still cause discomfort and impact a person's quality of life. Eating gluten-free meals at fast-food restaurants can help them avoid gluten and reduce their symptoms."
General Health & Wellness: "Some people may choose to eat gluten-free meals as part of a healthy and balanced diet," says Best. "While not necessary for everyone, some people believe that reducing their gluten intake can lead to improved digestion, better energy levels, and other health benefits. Eating gluten-free meals at fast-food restaurants can be a convenient way to stick to their dietary preferences while on the go."
Is gluten unhealthy to eat?
"For these individuals, they might seek out fast food chains that serve gluten-free items to match their eating pattern," explains Goodson. "While some perceive gluten-free foods to be 'healthier' than others that contain gluten, that is just not true. Gluten is a protein in wheat and is not bad for you unless you are allergic to it."
How have restaurants become more accommodating to GF eaters?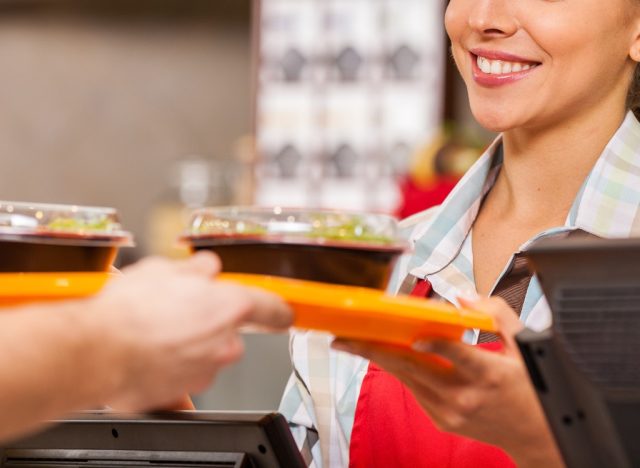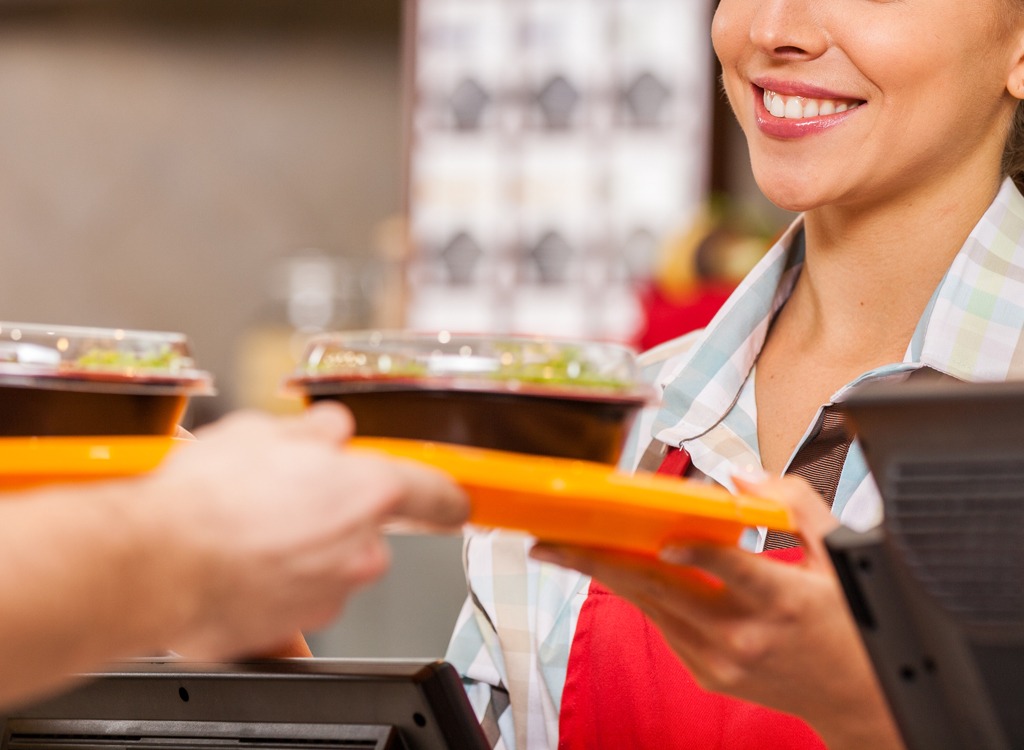 More Gluten-Free Menu Items
"Many fast-food restaurants now offer gluten-free menu items—such as buns, wraps, and pizza crusts—to cater to customers with celiac disease or gluten sensitivity," says Best. "Some restaurants also offer gluten-free sauces and dressings. Examples of fast-food restaurants that offer gluten-free options include Chick-fil-A, McDonald's, and Taco Bell."6254a4d1642c605c54bf1cab17d50f1e
Allergen Information Transparency
"Fast-food restaurants are required by law to provide allergen information, including information about gluten, on their menus," says Best. "Many restaurants now provide this information on their websites or through allergen guides available in-store. This information can help people with celiac disease or gluten sensitivity make informed decisions about what to order."
Partnerships
"Some fast-food restaurants have partnered with gluten-free brands to offer more options for customers," says Best. "For example, Subway [and Smashburger] partnered with gluten-free brand Udi's to offer gluten-free bread."
Training & Procedures
"Fast-food restaurants have also implemented training and procedures to reduce the risk of cross-contamination, which is a concern for people with celiac disease or gluten sensitivity," says Best. "This may include separate preparation areas for gluten-free items, using dedicated utensils and equipment, and providing staff with training on how to handle gluten-free orders."
What to be mindful of when dining out on a GF diet
"People who follow a gluten-free diet should be mindful of potential health risks when eating at a fast-food restaurant," says Best. "Cross-contamination is a common concern, as gluten-free foods may come into contact with gluten-containing foods during preparation. This can happen through shared utensils, cooking surfaces, or fryers."
"Additionally, some gluten-free options may still contain small amounts of gluten, which can be harmful to people with celiac disease or gluten sensitivity," warns Best. "It's important to ask about preparation methods, read labels, and communicate any dietary restrictions to the restaurant staff to reduce the risk of cross-contamination and ensure a safe dining experience."
If you're vocal about your needs, ask questions, and are careful to read all the fine print on the labels, figuring out which menu items are actually gluten-free can be a breeze. However, we know when you need to grab something and go, reviewing long menus with a fine-toothed comb is easier said than done. So to help you order a genuinely gluten-free fast-food meal in a flash, we took the liberty of identifying a few of the best gluten-free fast-food items you can order at 10 fast-food spots.
What's Gluten-Free at McDonald's?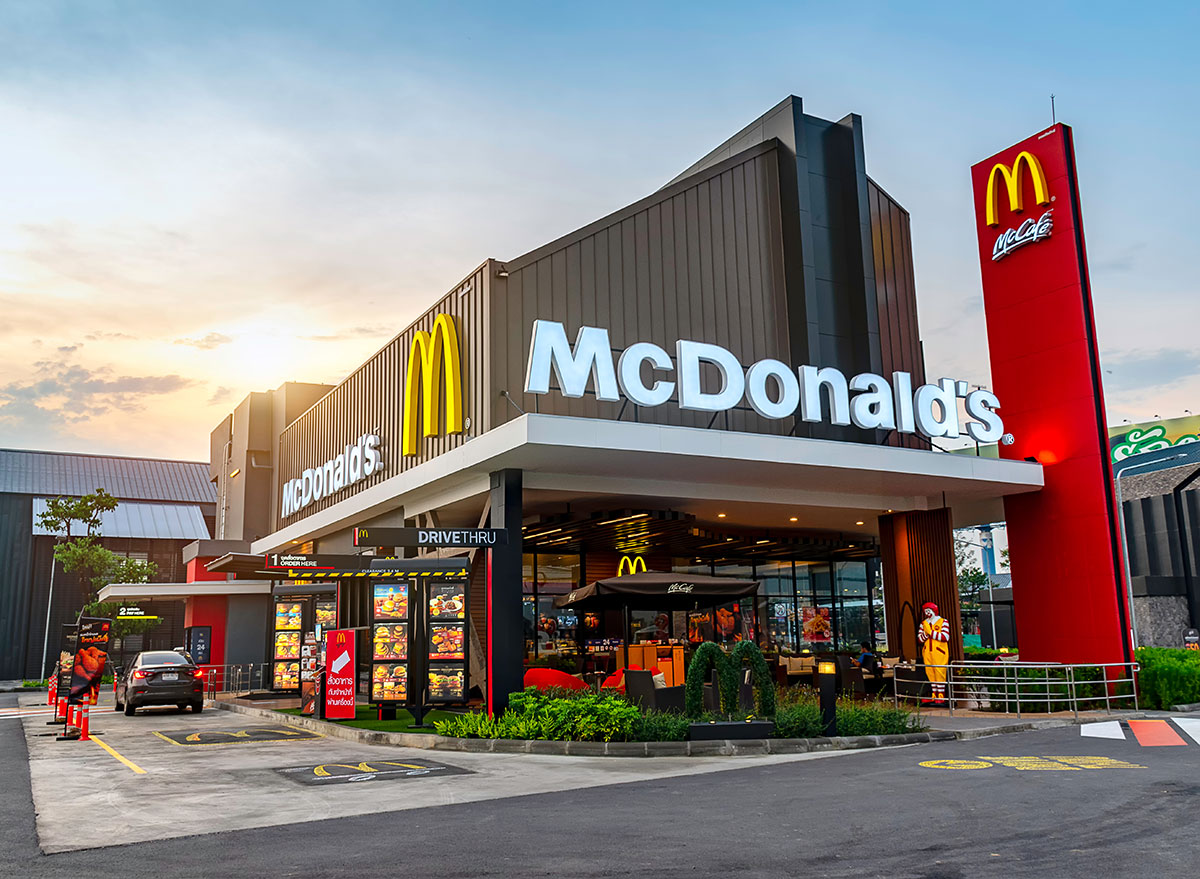 "McDonald's does not currently certify any of its menu items as gluten-free, meaning there is no guarantee against cross-contamination for any of their foods," notes Goodson. "Since McDonald's no longer offers salads, gluten-free options are limited, but include a plain beef patty (without the bun), fruit and maple oatmeal, Canadian bacon, scrambled eggs, sausage, and a side of apple slices," she suggests. "You can also opt for their strawberry banana or mango pineapple smoothie."
Because McDonald's doesn't have a separate GF menu and only discloses which ingredients list wheat as an allergen, we did the sleuthing for you! Here's a roundup of everything you can get that's gluten-free on the McDonald's menu.
Breakfast
Fruit and Maple Oatmeal
Fruit and Yogurt Parfait (Without Low-Fat Crunchy Granola)
Egg Patty
Ham Slice
Sausage Patty
Canadian Bacon
Thick-Cut Applewood Smoked Bacon Slice
Meats
Burger Patty
Artisan Grilled Chicken Filet
Salads
Southwest Grilled Chicken Salad
Bacon Ranch Grilled Chicken Salad
Side Salad
Sides and Snacks
Apple Slices
Yoplait® GO-GURT® Low Fat Strawberry Yogurt
Desserts
Strawberry Banana Smoothie
Mango Pineapple Smoothie
McFlurry® with M&M's® Candies
Chocolate Shake
Strawberry Shake
Vanilla Shake
Hot Fudge Sundae
Hot Caramel Sundae
Strawberry Sundae
Reduced-Fat Vanilla Ice Cream (In a Cup Instead of a Cone)
Caramel Frappé
Mocha Frappé
What's Gluten-Free at Taco Bell?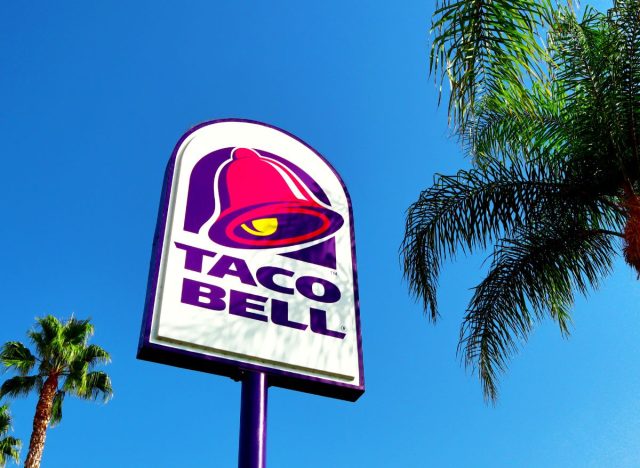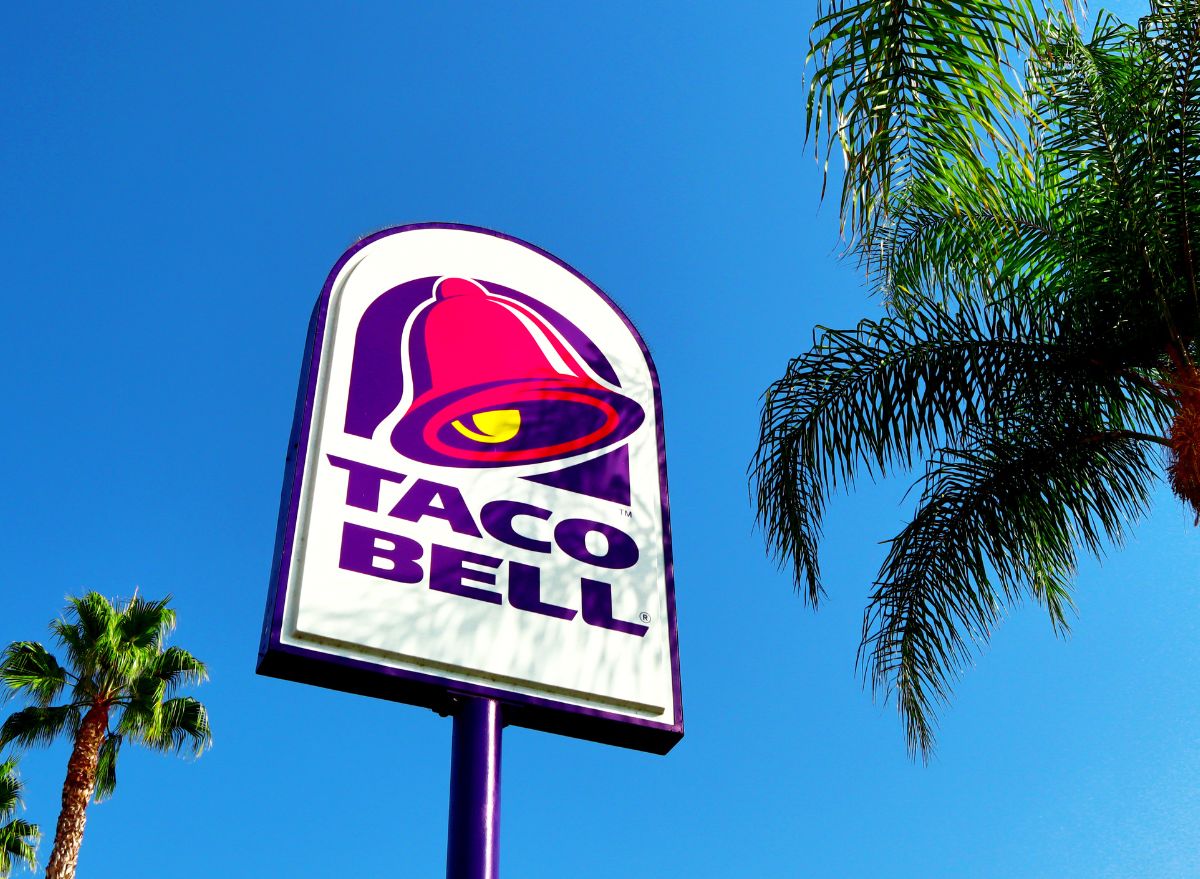 When it comes to allergens and food sensitivities, Taco Bell has done a great job at providing options able to accommodate all dietary needs, including offering gluten-free fast-food menu items. And just because you have to avoid gluten does not mean you have to miss out on Taco Tuesday! Here's everything you can get that's gluten-free at Taco Bell.
Breakfast
Tacos
Crunchy Taco
Crunchy Taco Supreme®
Nacho Cheese Doritos® Locos Taco
Nacho Cheese Doritos® Locos Taco Supreme®
Bowls
Power Menu Bowl—Chicken
Power Menu Bowl—Steak
Power Menu Bowl—Veggie
Veggie Cravings
Black Beans & Rice
Black Beans
What's Gluten-Free at Wendy's?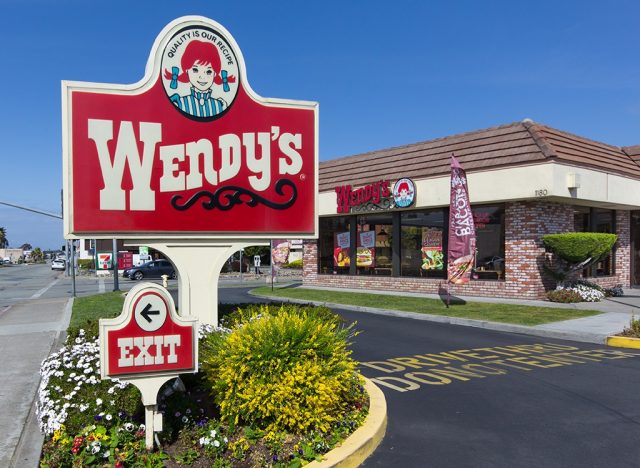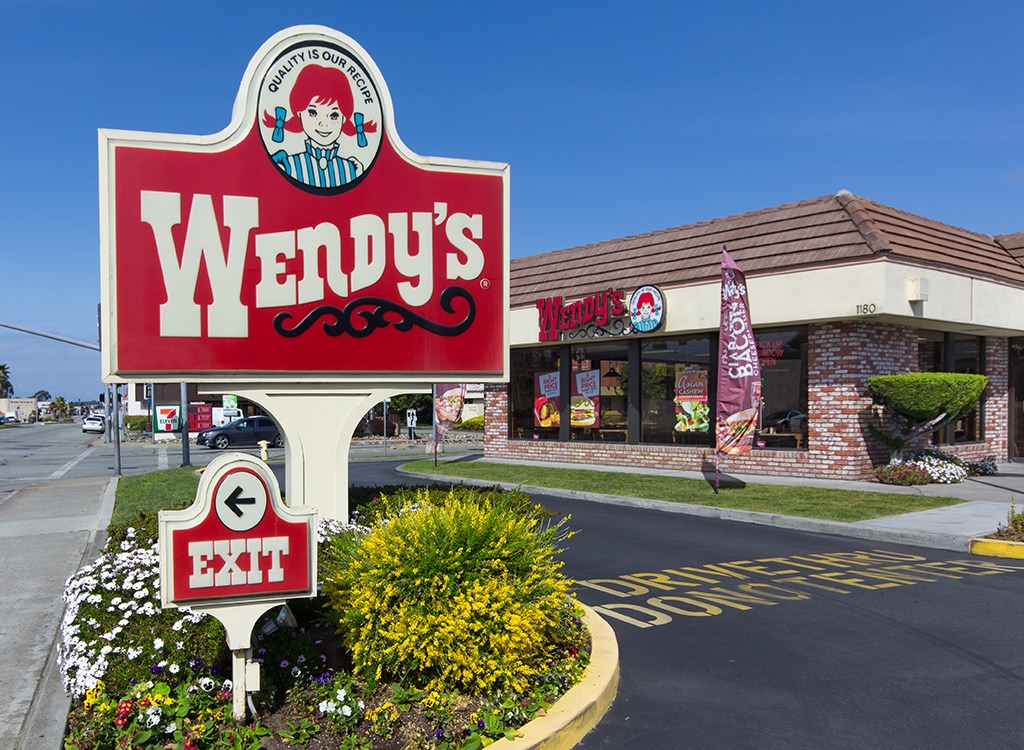 Wendy's offers a variety of delicious gluten-free ingredients and menu items, too. But similar to McDonald's or Burger King, you should definitely make your dietary needs and preferences known up front when ordering, so they can be on guard when preparing your food. Next time you're at Wendy's, choose from any of these delicious a la carte gluten-free items to assemble a filling meal.
Breakfast
Sausage Patty
Applewood Smoked Bacon
Egg Patty
Cranberry Pecan Oatmeal
Plain Oatmeal
Meats
Salads
Apple Pecan Chicken Salad
Harvest Chicken Salad
Parmesan Chicken Caesar Salad
Southwest Avocado Chicken Salad
Taco Salad
Caesar Side Salad (Without Croutons)
Garden Side Salad (Without Croutons)
Sides and Snacks
Apple Bites
Chili
Plain Baked Potato
Sour Cream and Chive Baked Potato
Bacon Cheese Baked Potato
Chili and Cheese Baked Potato
Cheese Baked Potato
Desserts
Classic Chocolate Frosty®
Vanilla Frosty®
What's Gluten-Free at Arby's?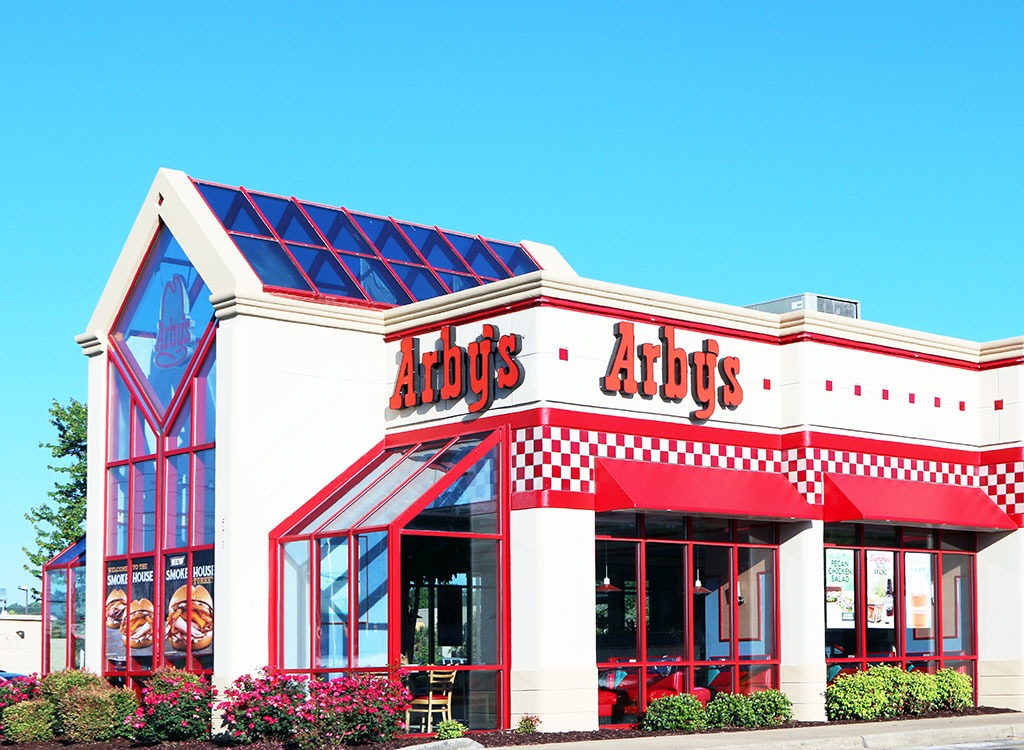 Unfortunately, many of Arby's potato-centric sides, like the crispy curly fries, contain wheat. The potato cakes and crinkle fries, though technically do not contain gluten-based ingredients, might be cooked in oils that may have experienced cross-contamination with wheat-based products. However, there are plenty of ways to place a delicious, gluten-free fast food order at Arby's and still get your fill.
Breakfast
Breakfast Bacon
Sausage Patty
Scrambled Egg Patty
Meats
Angus Beef
Corned Beef
Pepper Bacon
Roast Beef
Pit-Smoked Ham
Roast Turkey
Smoked Brisket
Salads
Chopped Farmhouse Salad—Roast Turkey
Chopped Side Salad
Sides and Snacks
Desserts
Jamocha Shake
Chocolate Shake
Vanilla Shake
What's Gluten-Free at Subway?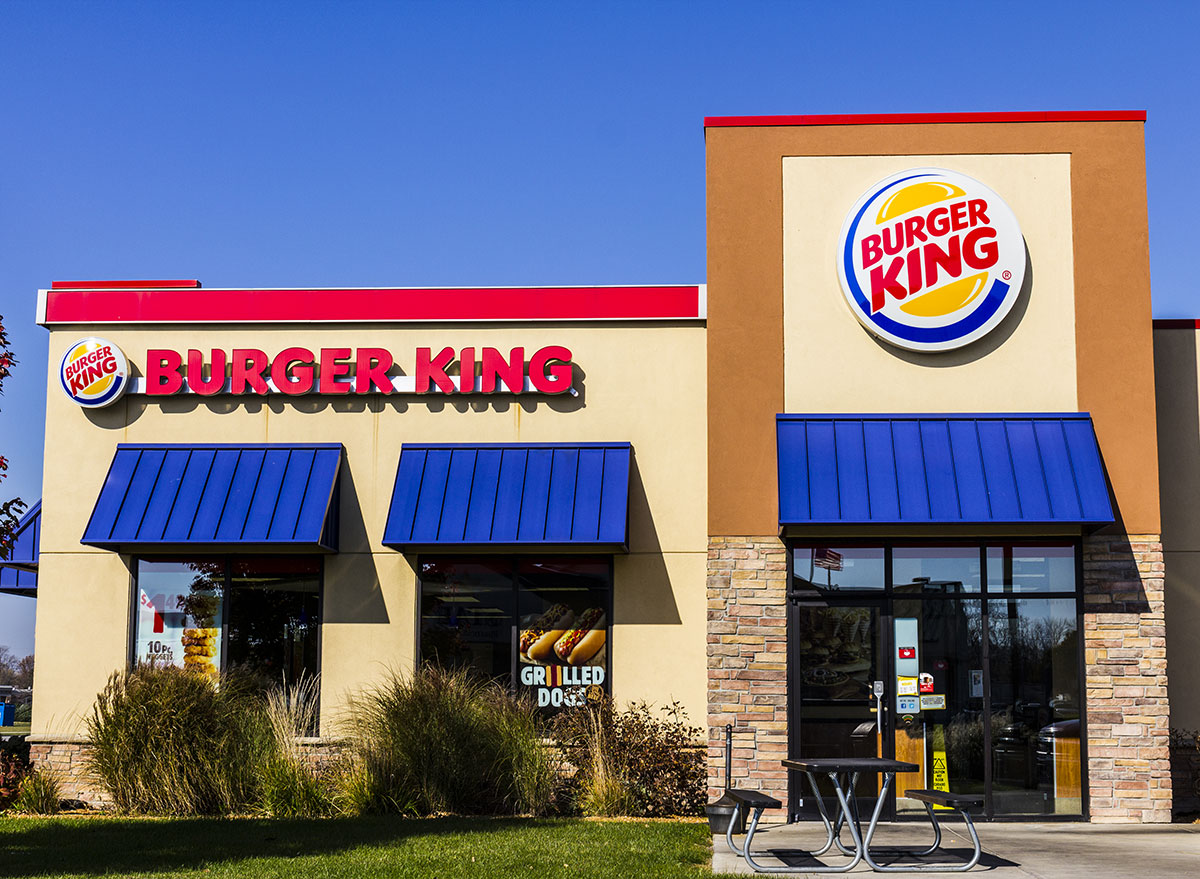 Yas, gluten-free king (or queen)! It's true that you can really have it your way when you dine at BK. Though Burger King appears to longer have a designated GF menu, many of its items are still GF-friendly. However, if allergies are of concern, just be sure to communicate your dietary needs clearly upfront so that they can accommodate your needs; they will gladly do you a solid by removing the bun, among other things. Here are the best GF menu selections from Burger King.
Breakfast
Bacon Slice
Ham Slice
Egg Patty
Sausage Patty
Oatmeal
Meats
WHOPPER® Patty
WHOPPER JR.® Patty
Hamburger Patty
Salads
Sides
French Fries
Mott's Natural Applesauce
Smoothies & Specialty Drinks
Strawberry Banana Smoothie
Mocha Frappe
Caramel Frappe
Desserts
Soft Serve in a Cup
Hershey's Chocolate Sundae
Vanilla Shake
Hershey's Chocolate Shake
What's Gluten-Free at Chick-Fil-A?
"Fil" up on these tasty gluten-free fast food orders from Chick-Fil-A today!
Breakfast
Bacon Slice
Sausage Patty
Hash Browns
Hash Brown Scramble Bowl With Grilled Filet
Hash Brown Scramble Bowl With Sausage
Meats
Grilled Chicken Filet on Gluten-Free Bun
Grilled Nuggets
Salads
Market Salad With a Grilled Filet (plain or spicy)
Cobb Salad With Grilled Nuggets, Grilled Filet, or Without Chicken
Spicy Southwest Salad With Grilled Nuggets, Grilled Filet, or Without Chicken
Side Salad
Sides
Fruit Cup
Side Salad
Kale Crunch Side Salad
Waffle Potato Fries™
Waffle Potato Chips™
Cinnamon Applesauce (Buddy Fruits®)
Greek Yogurt Parfait
Desserts
Chocolate Milkshake
Strawberry Milkshake
Vanilla Milkshake
Frosted Coffee
Frosted Lemonade
Frosted Key Lime
What's Gluten-Free at Chipotle?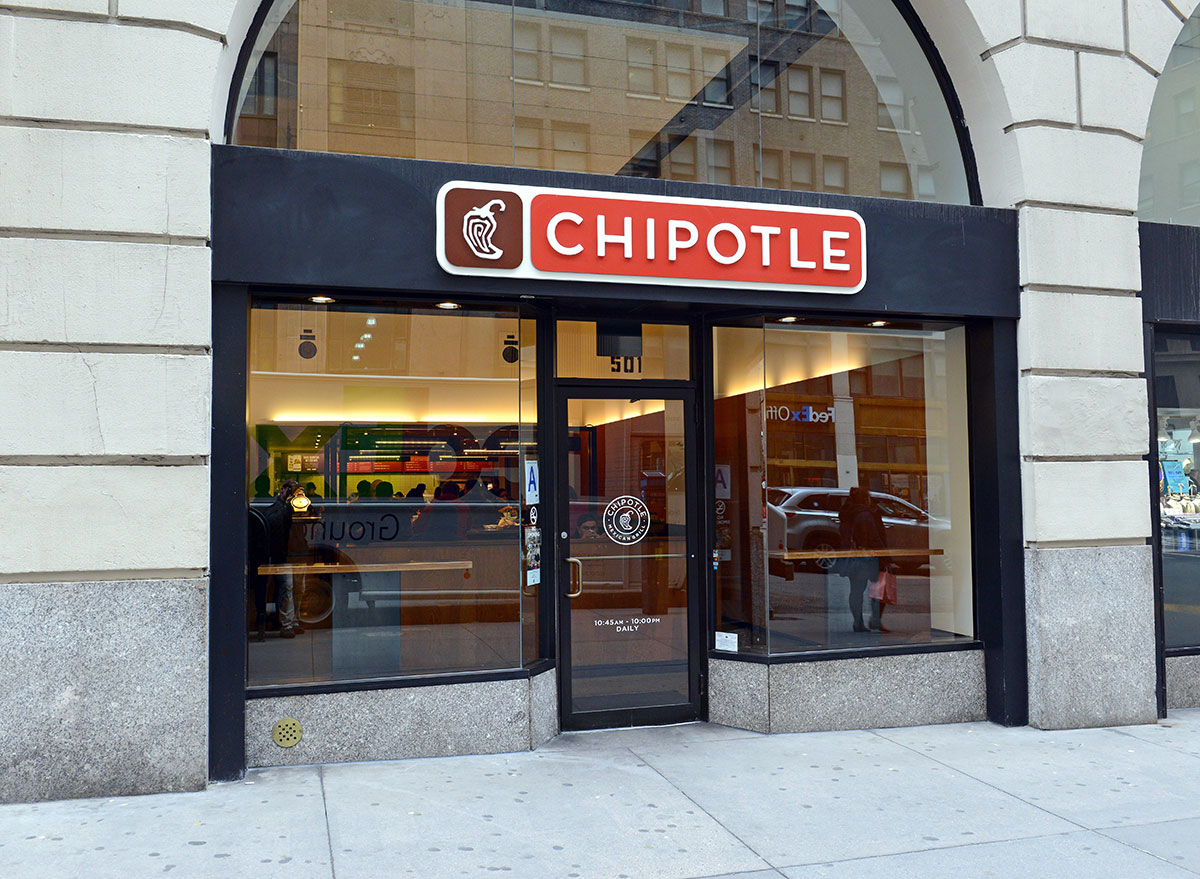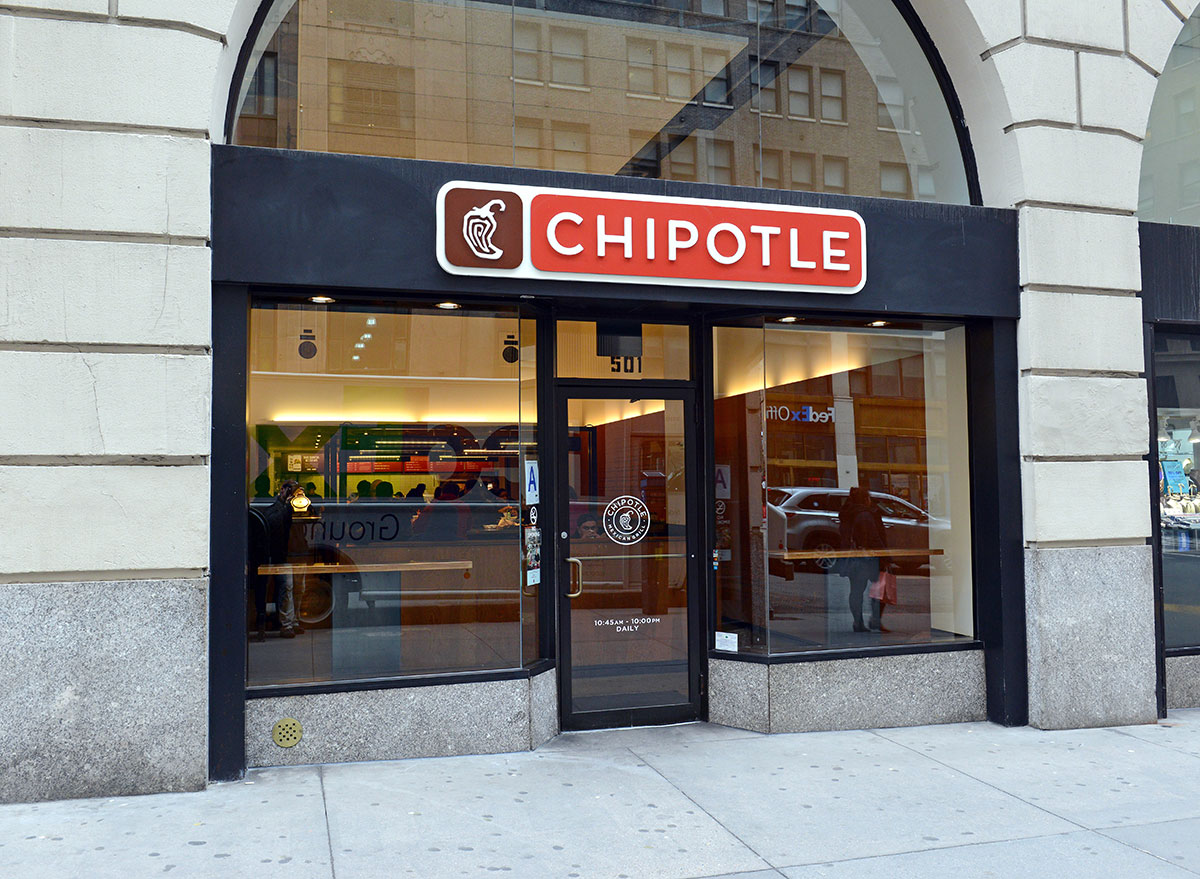 Chipotle makes quality gluten-free fast-food dining na-cho problem anymore, thanks to its wide range of gluten-free ingredients.
Proteins
Barbacoa
Black Beans
Carnitas
Chicken
Chorizo
Pinto Beans
Sofritas
Steak
Tortillas
Crispy Corn Tortilla
Tortilla Chips
Sides
Cilantro-Lime Brown Rice
Cilantro-Lime White Rice
What's Gluten-Free at KFC?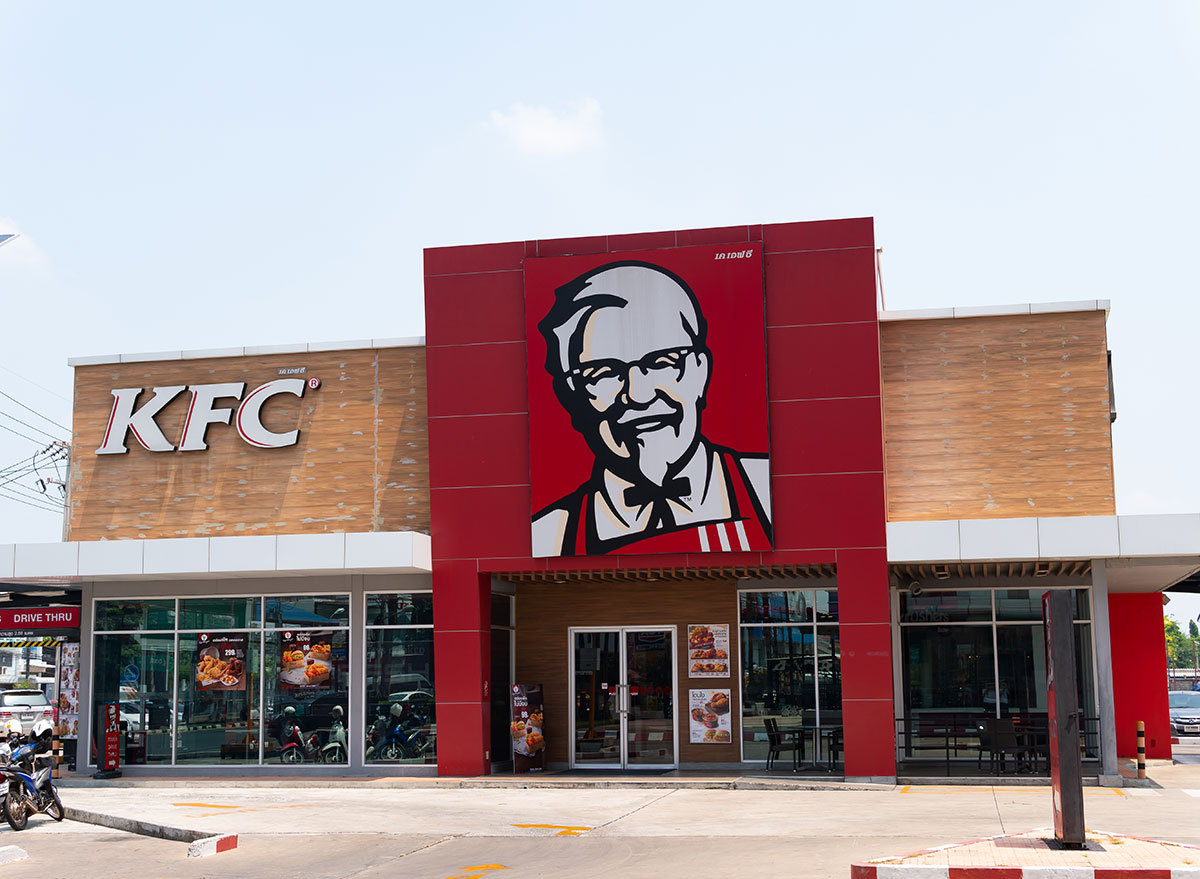 Though KFC's entrees are not ideal for gluten-free eaters, combining an order with a few of their a la carte sides can make for a delicious gluten-free lunch or dinner. These options are also great for vegetarians, too!
Salads (Without Dressing or Croutons)
Caesar Side Salad
House Side Salad
Sides
Coleslaw
Corn on the Cob
Green Beans
Mashed Potatoes
Potato Salad
Sweet Kernel Corn
What's Gluten-Free at Panera Bread?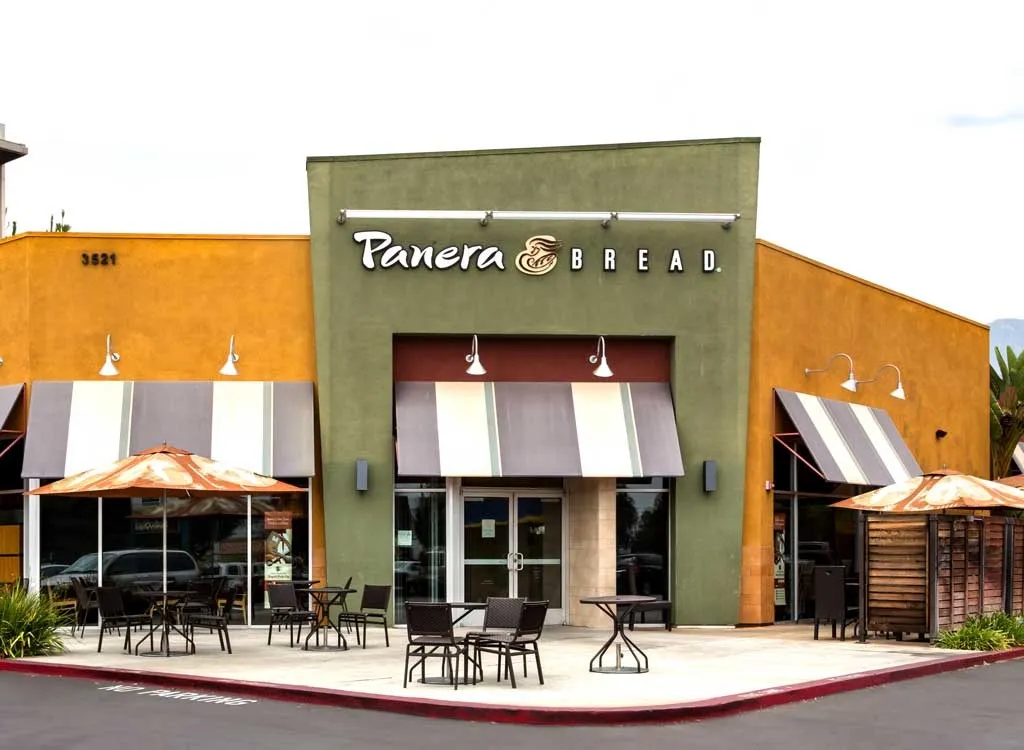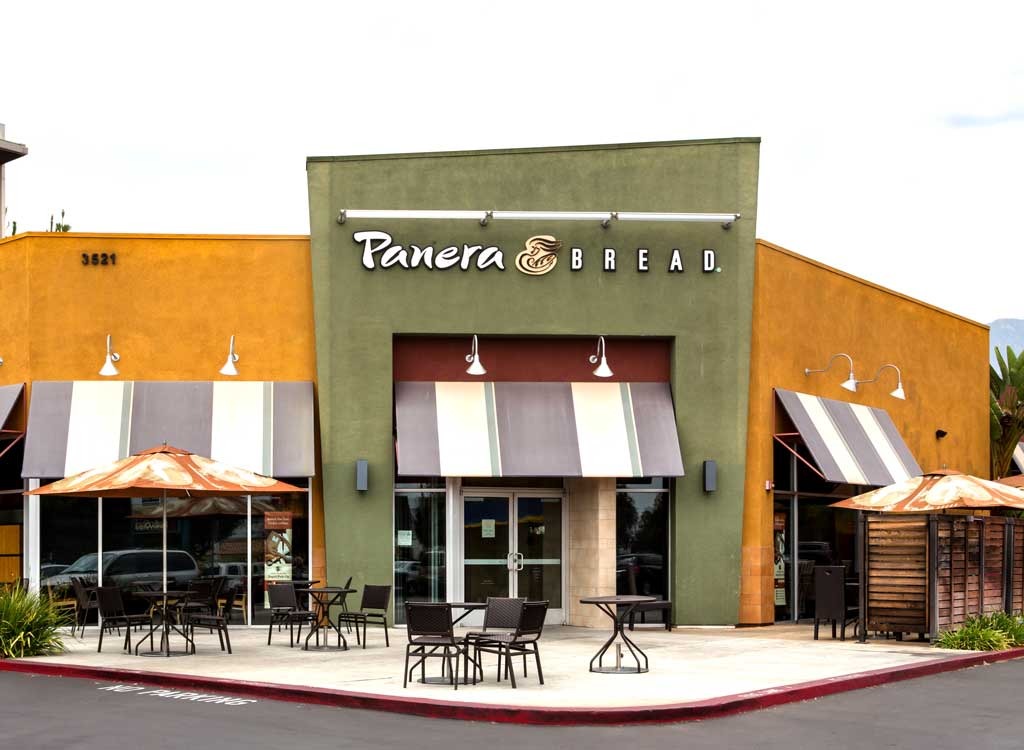 With a name like "Panera Bread," you might assume everything this franchise offers must be tainted with gluten. But ye of little gluten-free faith—fret not! Panera does provide gluten-conscious menu items comprised of ingredients that do not contain wheat.
Breakfast
Greek Yogurt With Mixed Berries
Eggs Any Style: Over Easy Egg, Scrambled Egg, Egg Whites, or Hardboiled
Salads
Green Goddess Cobb Salad With Chicken
Fuji Apple Salad With or Without Chicken
Greek Salad With or Without Chicken
Tomato Basil Cucumber Side Salad
Soups
Chicken Tikka Masala With Brown Rice and Quinoa
Turkey Chili With Beans
Thai Chicken
Warm Bowls
Baja Bowl With or Without Chicken
Mediterranean Bowl With or Without Chicken
Smoothies
Strawberry Smoothie With Greek Yogurt
Mango Smoothie With Greek Yogurt
Strawberry Banana Smoothie With Greek Yogurt
Peach & Blueberry Smoothie With Almond Milk
Green Passion Smoothie
What's Gluten-Free at Smashburger?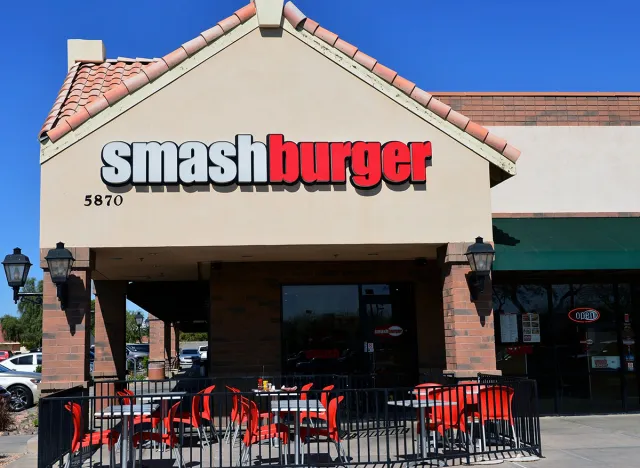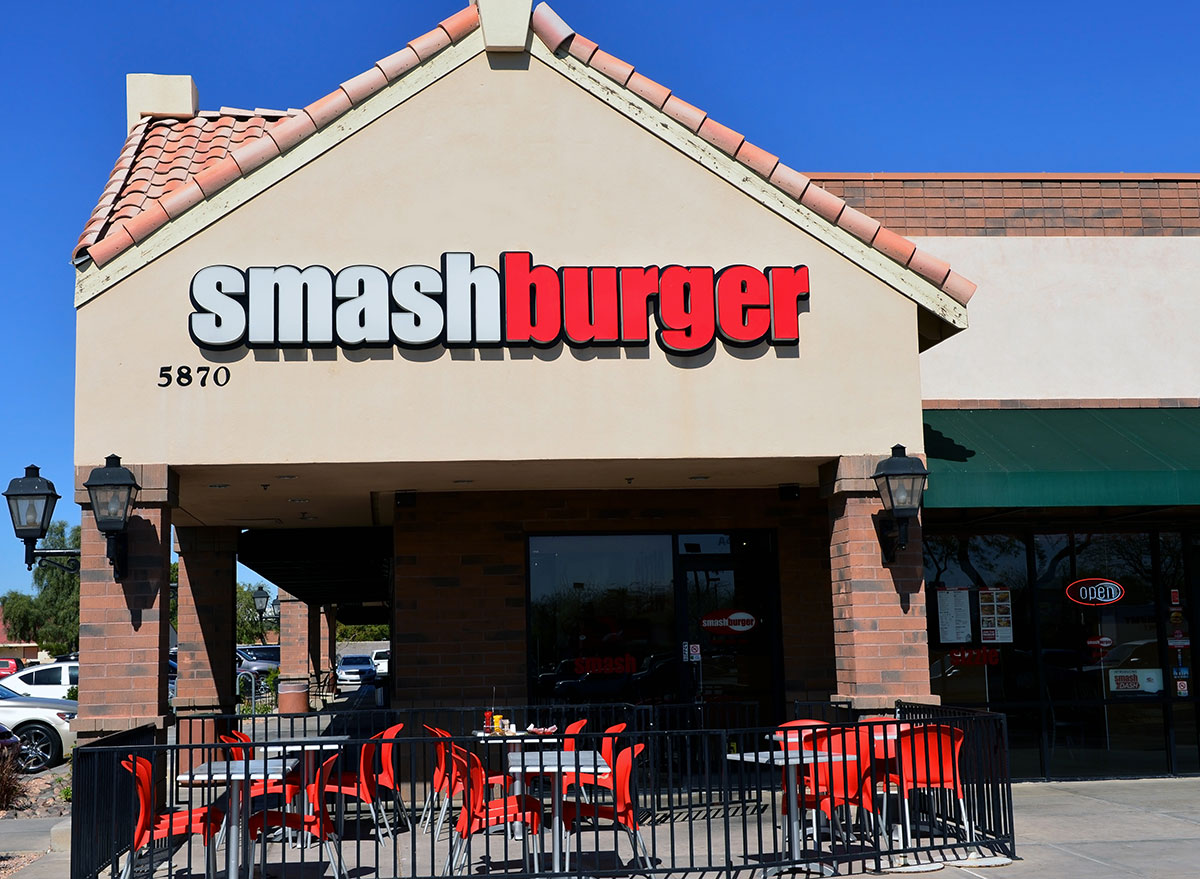 If you're hankering a juicy burger or creamy shake, Smashburger's selection will really hit the spot. In addition to offering a wide variety of customizable menu options, their option to opt for a burger using an Udi's Gluten-Free Buns make it one of the few burger chains around that provides a GF-substitute akin to a classic burger. Best of all, you can use the interactive menu online to filter the down selections to see everything that can be made gluten-free.
Here's everything you can get that's gluten-free at Smashburger.
Beef & Turkey Burgers
Classic Smash
Classic Double Smash
Bacon Smash
Double Bacon Smash
Avocado Bacon Club
Double Avocado Bacon Club
BBQ Bacon Cheddar
Double BBQ Bacon Cheddar
Smoked Bacon Brisket
Double Smoked Bacon Brisket
Truffle Mushroom Swiss
Double Truffle Mushroom Swiss
Black Bean Burgers
Classic Smash
Avocado Bacon Club
Bacon Smash
BBQ Bacon Cheddar
Truffle Mushroom Swiss
Chicken Sandwiches
Classic Smash Grilled Chicken
Classic Smash Crispy Chicken
Bacon Smash Grilled Chicken
Bacon Smash Crispy Chicken
BBQ Bacon Cheddar Grilled Chicken
BBQ Bacon Cheddar Crispy Chicken
Avocado Bacon Club Grilled Chicken
Avocado Bacon Club Crispy Chicken
Truffle Mushroom Swiss Grilled Chicken
Truffle Mushroom Swiss Crispy Chicken
Wings
Buffalo Wings
Garlic Rosemary Wings
Plain Wings
Scorchin' Hot Wings
BBQ Wings
Fresh Salads
Sides
French Fries
Smash Fries (with rosemary and olive oil)
Tots
Smash Tots (with rosemary and olive oil)
Sweet Potato Fries
Sweet Potato Smash Fries (with rosemary and olive oil)
Crispy Brussels Sprouts
Shakes
Chocolate Shake
Strawberry Shake
Vanilla Shake
Reese's Peanut Butter Shake
Non-Dairy Reese's Shake
Non-Dairy Chocolate Shake
Non-Dairy Strawberry Shake
Non-Dairy Vanilla Shake
Sources referenced in this article