6 Grocery Chains With the Best In-Store Dining
Don't miss out on the delicious food and drinks these grocery stores serve up.
Normally, shoppers head out to the grocery store in order to buy food to make at home. But that's been changing lately, as more grocery chains have been offering in-store dining options. This makes the supermarket a one-stop shop for people who need to stock up on groceries, but maybe don't want to cook that day.
It's not just quick food-court snacks, either, although who can complain about those? These chains, now becoming a place to gather rather than just to finish some errands, offer a wide array of options, from quick-service gelato and coffee to elegant sit-down dining.
Here are six grocery chains that offer the best in-store dining.
H-E-B's True Texas BBQ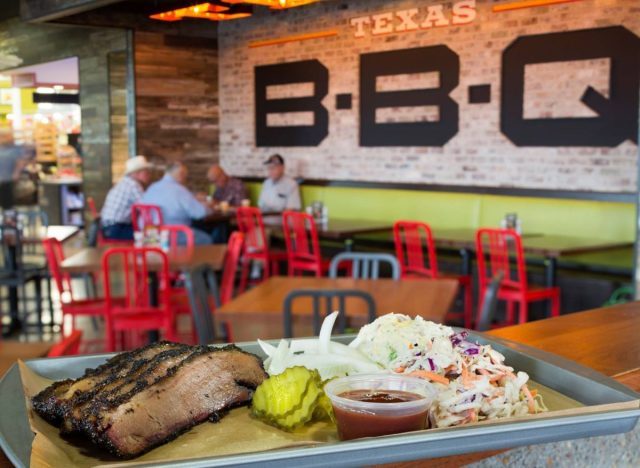 Barbecue is one of the most beloved Texas cuisines. While shoppers can visit Texas-based grocery chain H-E-B and pick up some items to barbecue their own food at home, they can also stop at H-E-B's True Texas BBQ, the grocery chain's in-store dining option. While there are slight variations in the menu from store to store, most shops offer brisket, turkey, ribs, and pulled pork, among more barbecued meats, which can be made into sandwiches or served up on a plate with sides.
"It's as good as any other famous or not so famous BBQ restaurants," commented one shopper on Reddit.
Not only do shoppers at H-E-B rave about the in-store dining options at H-E-B's True Texas BBQ, the magazine Texas Monthly also argued that the chain has some of the best barbecue in the state.6254a4d1642c605c54bf1cab17d50f1e
Eataly's La Pizza & La Pasta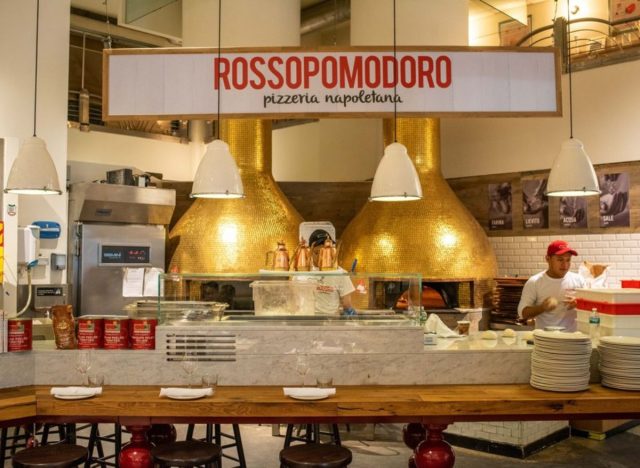 Eataly isn't any traditional grocery store. Sure, the large marketplace offers a wide selection of Italian groceries to choose from, but it's so much more than that. Modeled after Italian marketplaces, Eataly, which has eight locations across the country, also has a wide array of prepared foods and in-store dining options, including La Pizza & La Pasta, which specializes in the two iconic Italian dishes.
In addition to all of Eataly's prepared foods, the restaurant also offers cooking classes and tastings, including an olive oil tasting which allows shoppers to sample the different varieties of olive oil that Italy produces.
"If you can, try to do the olive oil tasting," wrote one shopper on Reddit. "I went with an almost non-existent appreciation for all the different flavors and qualities and I was blown away how good just the taste of oil was."
Wegmans Burger Bar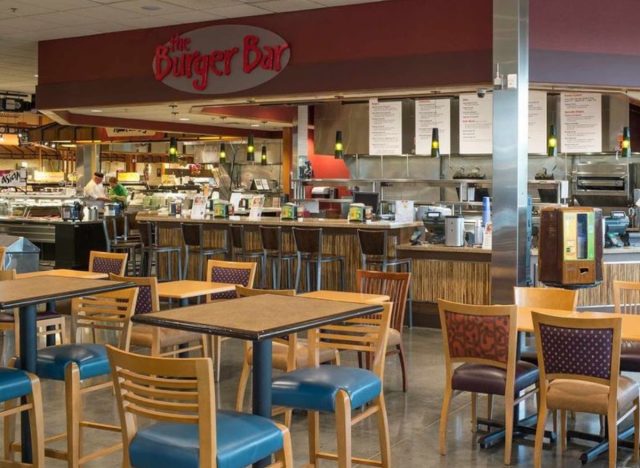 It takes a lot of work to be named the best grocery store in the country, but Wegmans easily claimed that title last year. The East Coast-based chain, which has more than 100 locations from upstate New York all the way down to North Carolina, has a hardcore following of fans for many reasons. One of them is the store's in-store dining options, including the Wegmans Burger Bar. The restaurant offers several different burger options, including a Mediterranean-inspired take on the plant-based Impossible burger, as well as fries, sandwiches, and an assortment of alcoholic and non-alcoholic milkshakes.
But customers don't recommend the burger bar just for the burgers. Some shoppers on Reddit have said that the Wegmans Burger Bar also has a great selection of beers.
"Check their burger bar for limited-release beer, if beer is a thing you like," wrote a customer on Reddit. "I've had a heady topper sitting in Wegmans before, sort of an odd experience."
Erewhon's Cafe & Tonic Bar
With its fan-favorite smoothies crafted by celebrities including Bella Hadid and Kourtney Kardashian, there's no denying that Erewhon Market is increasingly trendy. The upscale grocery chain, which has eight locations across the Los Angeles area, is a hotspot for celebrity spotting, grocery shopping and in-store dining, especially at its Cafe & Tonic Bar. The health-conscious chain's cafe serves up daily items like kelp noodle chow mein and organic grass-fed beef with chimichurri. But most visitors stop by for one of Erewhon's famous smoothies
While the chain has received a lot of criticism for the price of their smoothies—the most expensive rings in at $24—shoppers argue that they're worth the price for what they're getting.
"Considering a typical margarita costs $14 and you're getting functional and nutritional ingredients in the smoothie that can replace a meal, it's not so bad," wrote one shopper on Reddit.
Kroger's Kitchen 1883
Kitchen 1883 is not what you're thinking of when it comes to in-store dining at a grocery store. The Kroger-owned restaurants don't easily give away that they're operated by the supermarket chain, but all three locations are, if not directly inside Kroger stores, on the same property.
Kitchen 1883 now has three locations, all in the Cincinnati area. The restaurant serves up elevated American fare, like crispy chicken wings with a choice of dry rub, or the $25 pan-seared salmon, served with fregula pasta, asparagus, English peas, baby spinach, and a red pepper purée.
Not only does Kroger offer on-site dining at Kitchen 1883, but the chain is also opening up tech-driven food halls at some of the retailer's other stores, allowing customers to order fully-cooked meals to go.
Wahlburger's at Hy-Vee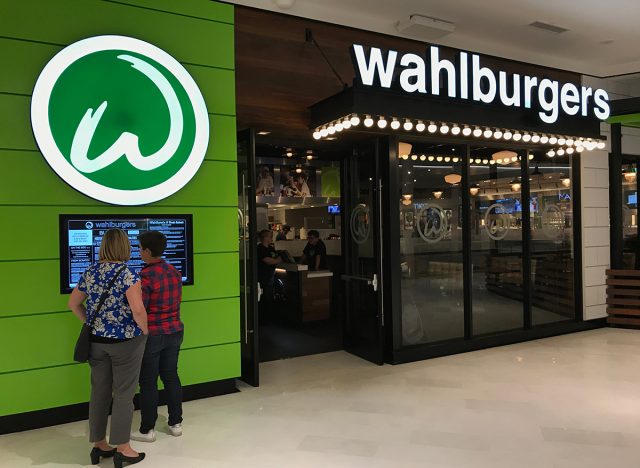 Wahlburger's and Hy-Vee both operate independently of one another, but the two companies teamed up in 2017 as part of a franchising deal, and have since opened 64 locations together across the midwest. The move was a major change for Hy-Vee, which replaced all of its former Market Grille restaurants with the Wahlberg-family owned burger joints.
Each Hy-Vee location continues to serve up all of the fan-favorite burgers that can be found at their other locations, as well as the restaurant chain's assortment of frappes, and its kid-friendly "Smahlburgers."
"I think this is a really cool pairing, and great news for Walhburgers with their first major expansion," wrote one Hy-Vee shopper on Reddit.