7 Grocery Stores With the Best Cereal Selections
Discover your next breakfast obsession or stock up on your old faves at these cereal-stocked stores.
The product recommendations in this post are recommendations by the writer and/or expert(s) interviewed and do not contain affiliate links. Meaning: If you use these links to buy something, we will not earn a commission.
When it comes to quick and easy breakfast ideas, it is hard to compete with the convenience of a bowl of cereal. It comes in nearly every flavor, shape, size, and color, ranging from healthy and nutritious to sugary and marshmallow-laden. Whether you grab a box in the store because it takes the guesswork out of deciding what to eat early in the morning, or you simply enjoy the taste, cereal is one of the most popular grocery items out there.
Because of that popularity, most if not all grocery stores in America will have cereal stocked on their shelves. The usual suspects will be in good supply no matter where you shop, especially if your local supermarket is a national chain. But some grocery stores stand out when it comes to their cereal selection, either due to the unique products they sell or the great value they offer their customers—or both.
If you are a die-hard cereal fanatic and want to try every kind under the sun, you may want to pull out your map and look up the closest location for the following grocery stores. You can definitely discover some exclusive cereal that you cannot buy anywhere else, and in some cases, you can stock up on big-box cereals that will stretch your dollar even further.
Trader Joe's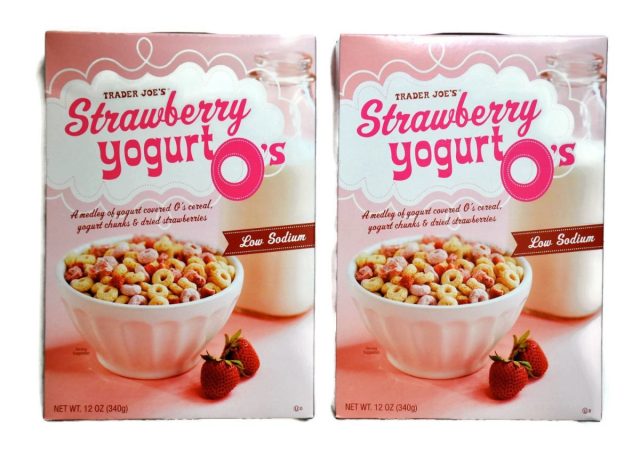 Thanks to Trader Joe's sticking to selling mostly private-label products, its cereal aisle is full of selections you won't be able to find anywhere else. There are cereals for just about every palate and every season of life, from Crunchy Cinnamon Squares to Strawberry Yogurt O's. Customers looking for familiar national brands of cereal can find very similar options in Trader Joe's, but if you want to venture out and try something entirely new, there is something for you, too. If you are more in the granola camp, Trader Joe's also sells the fan-favorite Just the Clusters in a variety of flavors. 
Whole Foods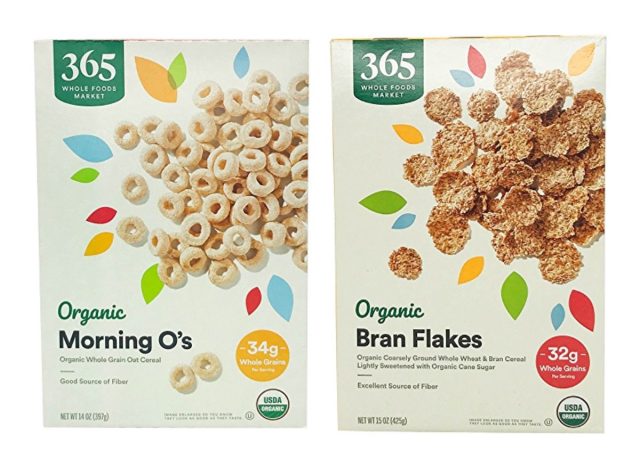 Cereal has gotten a bad rap over the years because it's often loaded with added sugars and artificial ingredients. While that may still be the case for many brands, some cereal companies have made great strides in making breakfast a healthier start to your day. If you want to shop for cereal options that you know will be organic or at least contain no artificial flavors, head to Whole Foods. The organic retailer's selection includes a wide array of its store brand 365 cereals, as well as some nationally recognized brands like Cheerios and Kashi. Whole Foods also sells several grain-free options like Three Wishes, which Redditors note includes several great flavors.
Walmart
If popular brands of cereal are what you are looking for, then Walmart is going to be one of your best options. Not only does America's leading food retailer stock up on customer favorites in the cereal aisle, but the chain also usually carries larger family- or mega-sized boxes. And thanks to Walmart's low pricing, you can usually find a good deal. That's especially important with cereal, an item that was recently hit hard by inflation, according to Denver 7 News. Popular cereals aside, Walmart's own Great Value brand cereals are not to be dismissed. When you consider what you stand to save on store brand, the difference in taste is almost negligible. As Taste of Home points out in a taste-test comparing Great Value to other cereals, if brand loyalty is not an issue, you might be better off saving money.
Target
Target has been a reliable one-stop-shopping destination for all kinds of everyday goods, from throw pillows to dish soap to wide-screen televisions. Over in the grocery aisles, shoppers can find all of their favorite brands of cereal, plus limited-edition and seasonal varieties offered throughout the year. Target's store brands Good & Gather and Market Pantry also feature several kinds of cereal that offer similar flavors at low prices. These store brands can go toe-to-toe with their name-brand counterparts, so the next time you are on a Target run, rest assured that there will be no shortage of options. 
ShopRite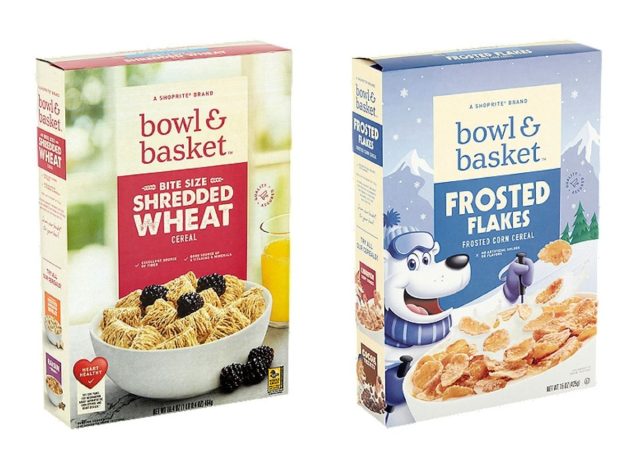 The discount supermarket ShopRite sells familiar cereal brands along with store-brand options. Those store-brand cereals closely resemble several popular products, and in many instances, you can likely switch them out without noticing a difference, all while saving on your grocery bill. Thrillist put some of ShopRite's store brand cereals to the test and the generic brand offerings came out on top or at least landed on par with its pricier counterparts. If you are looking to save on your next bowl of cereal, ShopRite is a solid place to start, especially if you are not a huge fan of super sweet cereals. As it was noted in the article, the generic ShopRite brands are actually a bit more bland in flavor, which might be preferable depending on your tastebuds. 6254a4d1642c605c54bf1cab17d50f1e
Aldi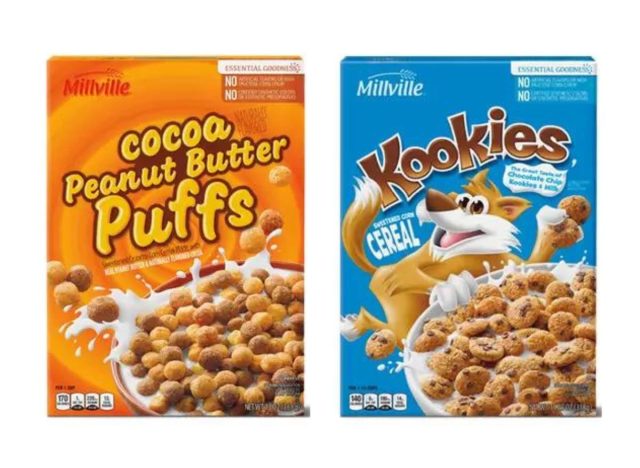 Aldi shoppers will be the first ones to tell you that the discount supermarket chain is a bit of a hidden gem. Time and time again, Aldi ranks high on the list of grocery stores that have top-tier products, due to the fact that it focuses largely on its own store brands. This extends to its cereal selection, which mostly includes Aldi's Millville lineup of products. Shoppers find themselves liking Aldi's cereals more than national brands, like one Redditor who shared "IMO the Millville fake Cinnamon Life is better than actual real Cinnamon Life." Another Redditor observed, "Aldi versions of Frosted Mini Wheats and Cinnamon Toast Crunch also taste exactly the same as the real deal." When you consider what you stand to save by shopping store brands, there is really no argument against buying your cereal at Aldi.
Costco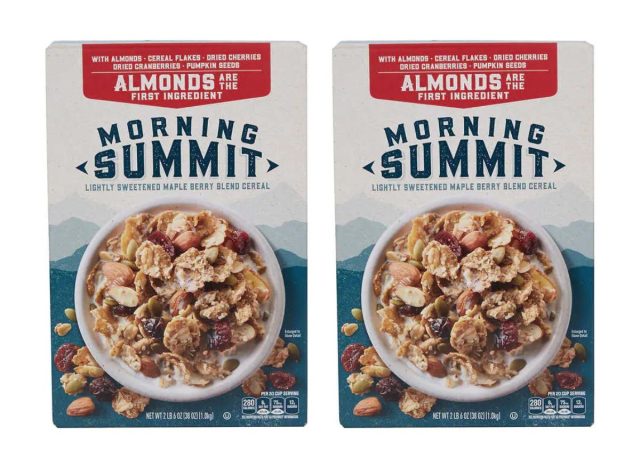 If you are a seasoned Costco member, then it should come as no surprise that the nationwide warehouse chain is one of the places to shop for any grocery item, let alone cereal. Costco's business model is such that its groceries are sold in bulk quantities, meaning you wind up with a lot more product in one package than you would elsewhere. Most of the time, that means picking up two boxes of cereal instead of one. There are also some unique finds at Costco, like General Mill's Morning Summit cereal, which comes in a 38-ounce box at an eyebrow-raising $12.99. As one Redditor points out, "It is LOADED with nuts. Another thing I like about it is the box is jam-packed to the top with the cereal…not a lot of air filling the box. I think the quality is worth the expense."
Carly Neil
Carly Neil is a freelance writer specializing in all things food, travel, Disney, and theme parks.
Read more about Carly