8 Grocery Chains With the Best Sushi
Don't be so quick to dismiss sushi from the supermarket—some stores make it fresh and delicious.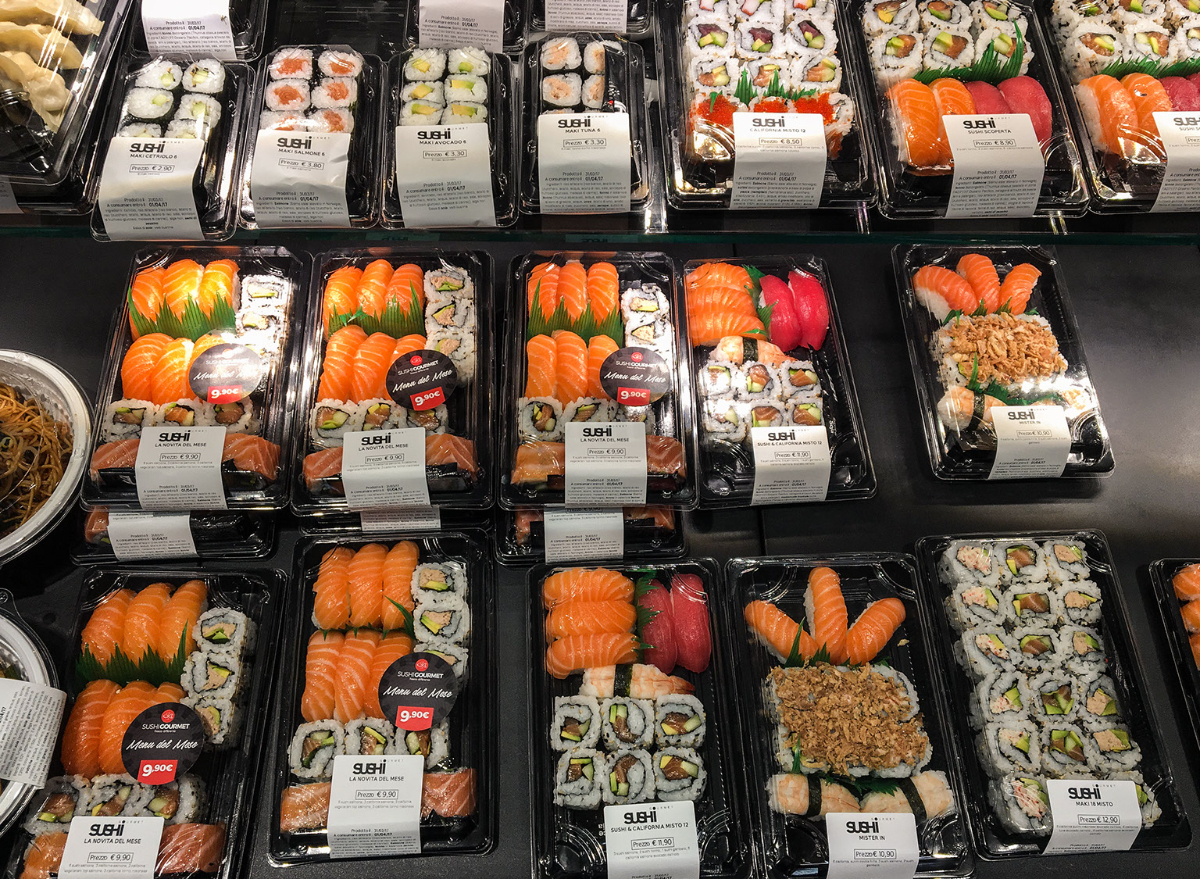 The product recommendations in this post are recommendations by the writer and/or expert(s) interviewed and do not contain affiliate links. Meaning: If you use these links to buy something, we will not earn a commission.
Few foods are as satisfying and relatively inexpensive as sushi. By selecting rolls that steer clear of high-calorie and high-sodium ingredients, you may actually find that sushi is a healthy lunch or dinner option that is packed with nutrients. While many fans seek out their favorite varieties at their local sushi restaurant, others are able to pick up an order at their neighborhood grocery store.
Because raw fish is one of the main components of sushi, freshness is going to be a critical factor in determining the overall quality of what you are picking up at the store. Some experts never buy pre-made sushi from the grocery store for this reason alone. Simply put, raw fish can only be shelf-stable for so long. Even so, there are many grocery chains that prepare sushi on-site throughout the day, so there are many opportunities to pick up a California Roll when it's at peak freshness. Other grocery chains even have staff that will make sushi to order, so it won't sit on the counter for a moment.
When grocery shopping, you may find a common denominator among sushi stations. Many stores partner with Advanced Fresh Concepts, or AFC, as their sushi supplier. The company notes that its sushi is made fresh in-store daily throughout its 4,000 franchise locations at grocery stores across the United States, Canada, and Australia. So if you happen to notice a trend of similarly packaged sushi from one grocery chain to the next, note that it was not shipped in its packaging from some corporate headquarters but that it was indeed prepared fresh not too long ago on-site.
With all of this in mind, it is time to review the grocery store chains that serve up the best sushi for the next time you want a bite to eat and are craving a plate of rolls or sashimi.
The Fresh Market is a chain of gourmet grocery stores that lives up to its name by selling high-quality ingredients with freshness in mind. This philosophy extends to its sushi, which is supplied by the brand Sushi With Gusto. One Redditor describes the sushi from Fresh Market as similar in quality to that of grocery stores that use AFC and can be a solid value if you happen to shop on a day when it's on sale for $5. It is the choice grocery chain for many, with another Redditor commenting how "Fresh Market sushi is the best grocery store sushi."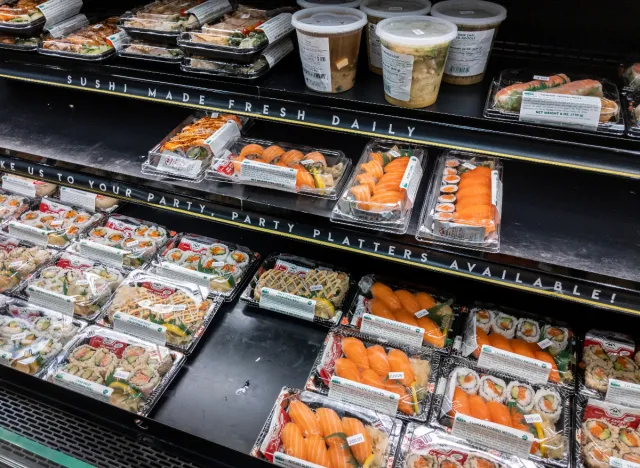 National grocery chain Whole Foods is known among its loyal customers for all-natural, organic products of the highest quality. Premium groceries come at a premium price, and high-quality goods is what one would expect when shopping at Whole Foods—there is a reason it earned its nickname "Whole Paycheck." When it comes to its sushi, Whole Foods sells a lineup of Genji Sushi products from rolls to sashimi and everything in between.
The results are apparent, and it does not take long to find satisfied customers who share their thoughts online. One Redditor noted that Whole Foods sells the best grocery store sushi, observing that the high turnover of products means that there is almost always a fresh selection to choose from. If there does not happen to be an item that speaks to you, however, you can see if your Whole Foods can make sushi to-order, as one Reddit user shares from personal experience. And as another customer succinctly puts it on Reddit, "Their sushi is made fresh and cheaper than nice sushi places."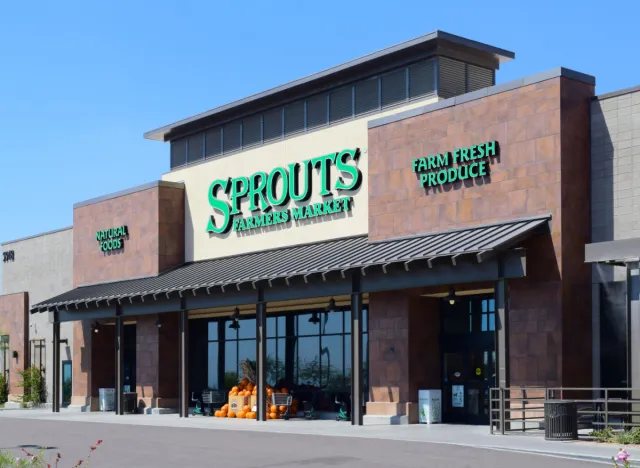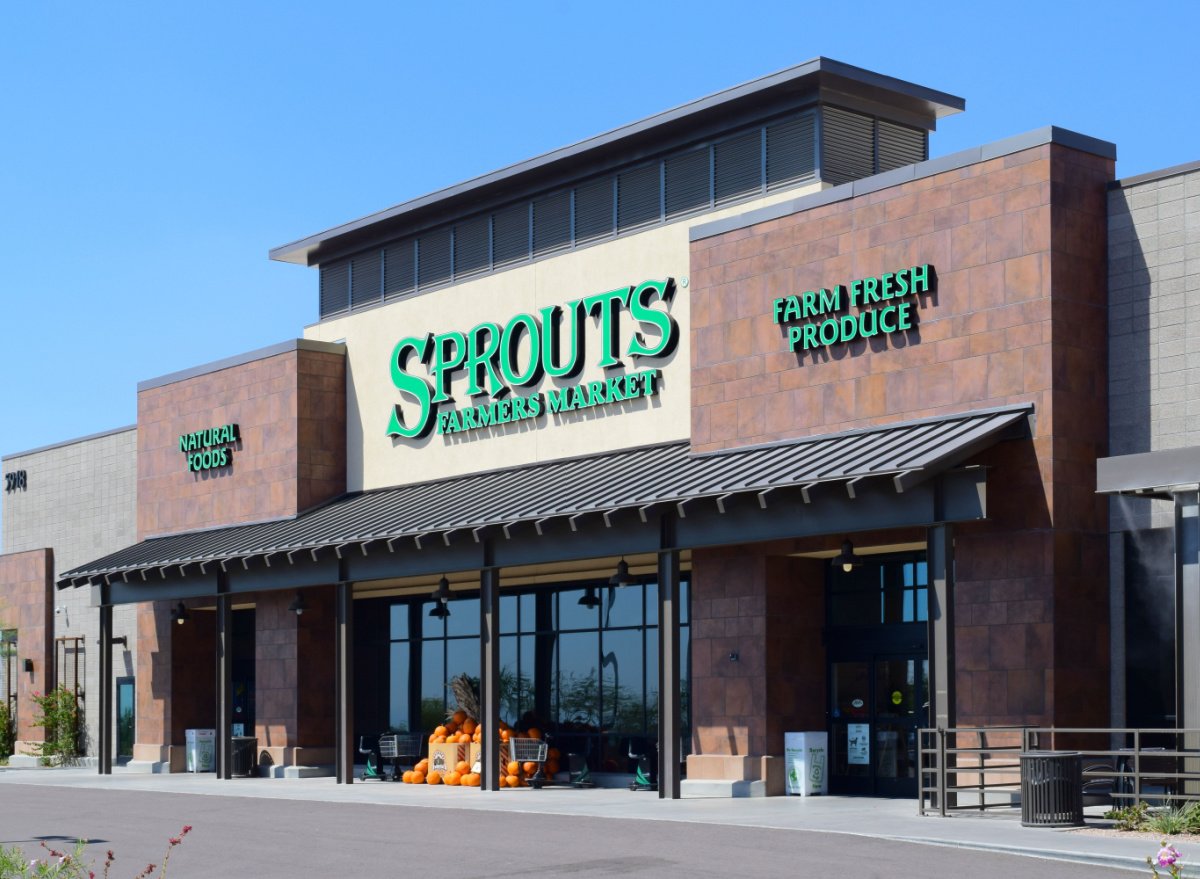 Whole Foods isn't the only grocery chain around with an emphasis on all-natural and organic products. Specialty grocery chain Sprouts Farmers Market offers a similar lineup of groceries, oftentimes at great price points. To save on your next sushi purchase, Sprouts offers weekly deals on Sushi Wednesday, when select rolls are available for $5.6254a4d1642c605c54bf1cab17d50f1e
As for the quality, one Redditor shared that their local Sprouts sells a "tasty and delicious" selection of sushi. For those shoppers who may feel less inclined to purchase sushi from a grocery chain versus a local sushi restaurant, one Redditor chimed in, saying, "For grocery store sushi, it's not bad."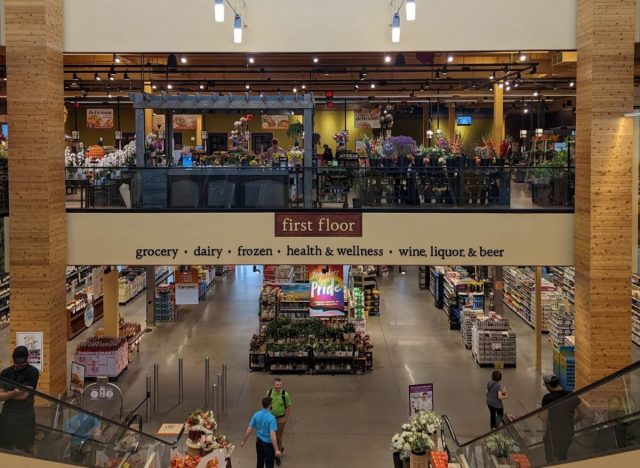 If you live in the Northeast, you may not be too far from a Wegmans. Shopping at Wegmans is about more than just picking up your groceries; it is a full-on experience. From its made-to-order sandwiches to its open-air market ambiance, there are many reasons to love Wegmans.
The chain also sells sushi in all different varieties, including family packs with larger portions. Perhaps unsurprisingly, customers love Wegmans' sushi, including one Redditor who claims "their sushi is as good as any actual sushi restaurant." Another customer had similar feelings, sharing on Reddit, "I eat Wegmans sushi ALL. THE. TIME. Decently priced and great quality."
Gelsons is a premium grocery chain located in Southern California. While this often means higher prices, it typically comes with higher quality food that customers are willing to pay an upcharge for, including prepared sushi. Gelsons' sushi is also available for meal delivery via DoorDash, eliminating the need to make the journey to the grocery store whenever hunger strikes. Gelsons is a top choice for many customers; when asked to name which chain sold the best sushi, one Redditor replied, "Gelsons, hands down. Their spicy tuna rolls are good."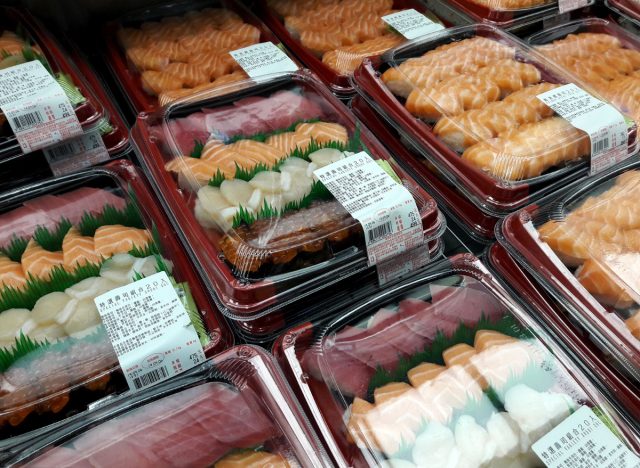 Costco definitely qualifies as a "results may vary" grocery store where you can shop for good quality sushi. The warehouse chain recently began selling fresh-made sushi in more locations nationwide, though reactions were mostly mixed. One Costco member had great things to say about how the sushi was indeed made fresh right in front of them, sharing on Reddit, "I never thought I would enjoy sushi from the same place I buy my tires, but wow! This is super fresh and really delicious. Also very fun to watch them making it."
Another Redditor said it is hard to compare the sushi found in U.S. Costco locations when a far superior product can be found in Costcos in Japan, noting, "When I was in the States, I noticed sushi options vary by location." So, your local Costco may have a great sushi selection, while others may not meet the mark.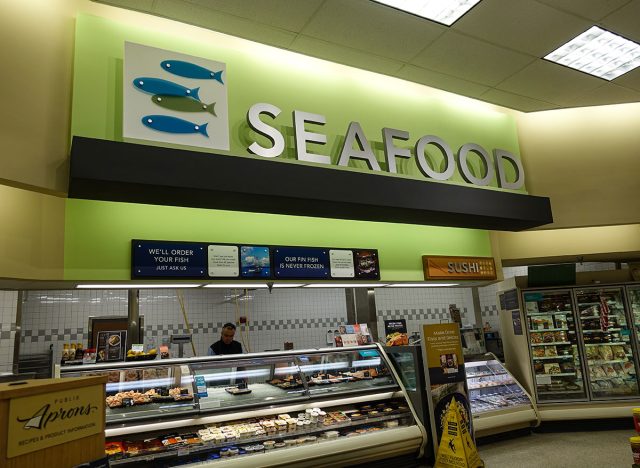 Southern grocery chain Publix might be a go-to for customers looking for a tasty Pub Sub, but if you're feeling like something a little lighter than a sandwich, the retailer also offers sushi. Publix uses AFC as its sushi supplier, but as mentioned before, do not let the large nationwide supplier give any false signals.
For Publix regulars, sushi is a must-buy. It's made fresh, as one shared on Reddit: "Publix by me has a guy making the rolls right in front of you, and they do nigiri and a couple of sides as well." Another shopper points out the variety and great prices on Reddit: "Why aren't we talking about the real Publix MVPs – $5 sushi Wednesdays." Fresh, affordable sushi is hard to beat if it is what you're in the mood for, and Publix is a reliable choice for many of its local customers.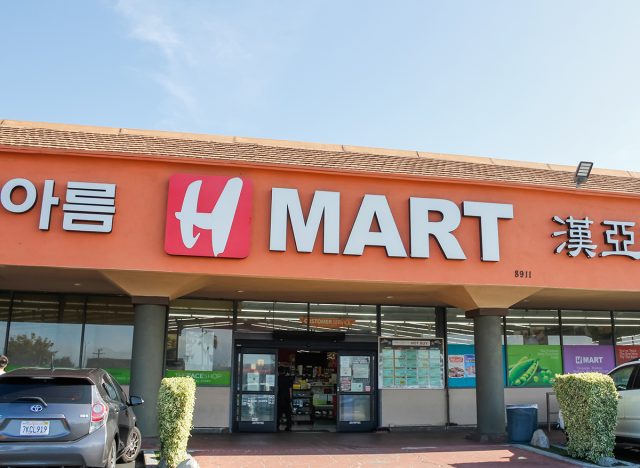 H-Mart is a Korean grocery chain that is quickly expanding across the United States. Among its vast selection of Korean and other Asian products available for purchase, customers can also find sushi to pick up in-store. For larger gatherings or events, you can even order platters ahead of time for in-store pick-up as well. H-Mart's sushi is a popular choice, with one customer sharing on Reddit, "I lost count of how many times I bought sushi from that place." Another Redditor chimed in and noted how living near an H-Mart is great if you love sushi, commenting, "I just moved to an area with a nearby HMart. Best decision ever."
Carly Neil
Carly Neil is a freelance writer specializing in all things food, travel, Disney, and theme parks.
Read more about Carly