Wellness Guru Gwyneth Paltrow Is Fit at 50 and Here's How She Does It
Gwyneth Paltrow makes health, fitness, wellness, and glowing skin a lifestyle.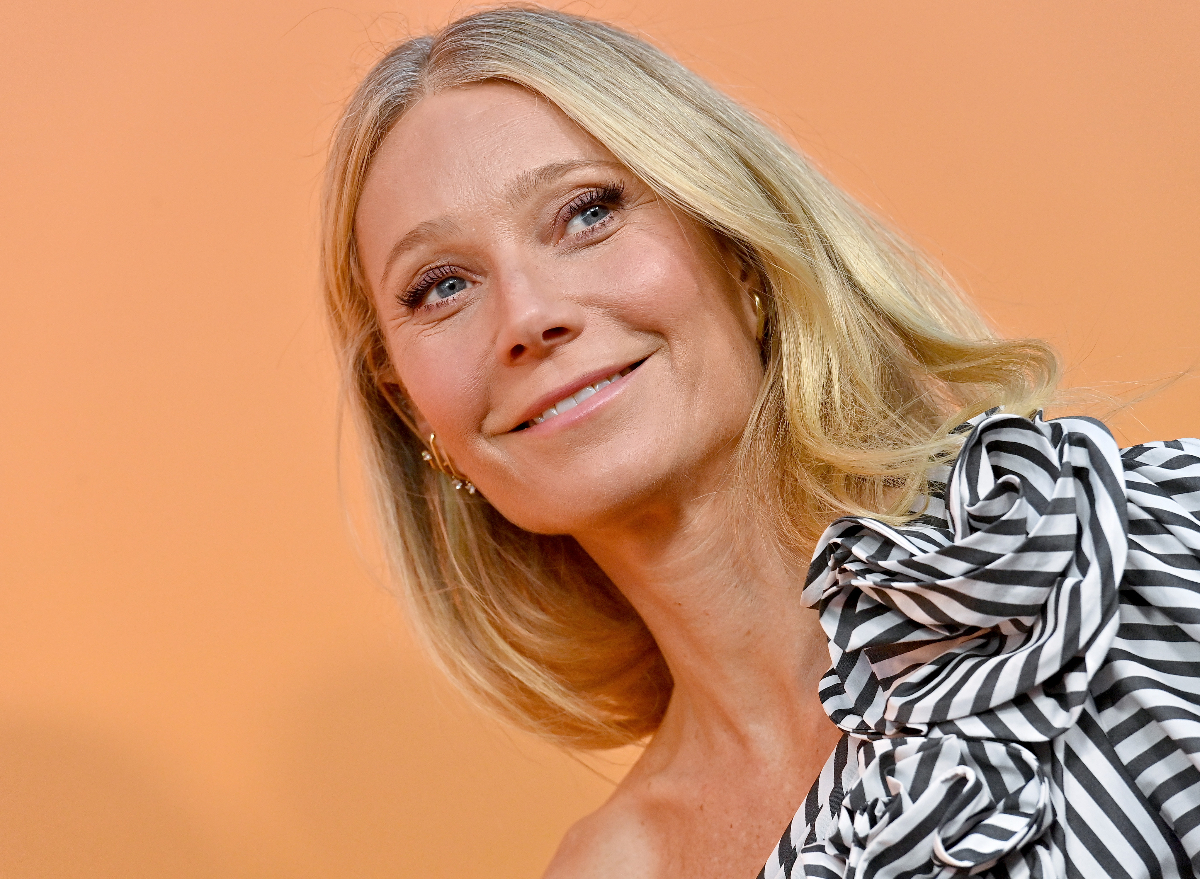 Some individuals never seem to age. In fact, just like fine wine, they get even better as the years go by. Gwyneth Paltrow is one of those individuals, but she works hard at making health, fitness, wellness, and glowing skin a lifestyle.
You've likely heard of goop, which Paltrow initially debuted as a weekly newsletter back in 2008. Since then, the "modern lifestyle brand" has developed into a trendy, trusted source of wellness advice, healthy recipes, travel inspiration, clean beauty products, and much more. If you're curious about how Paltrow maintains such a youthful, glowing appearance, she reveals on goop, "My strategy is skin care. I love the confidence I feel when my skin's in great shape. In general, I think most skin looks its prettiest naked and makeup-free."
Some of Paltrow's favorite products to achieve gorgeous, dewy skin? GOOPGLOW Dark Spot Exfoliating Sleep Milk, which she says is "magic" for her sun damage; GOOPGLOW Microderm Instant Glow Exfoliator; and GOOPGLOW 20% Vitamin C + Hyaluronic Acid Glow Serum. With just one look at this star's Instagram page, it's clear Gwyneth Paltrow looks downright amazing at 50 years old. Here's how the goop founder stays youthful and in the best shape.
Gwyneth Paltrow started yoga at 25 years old.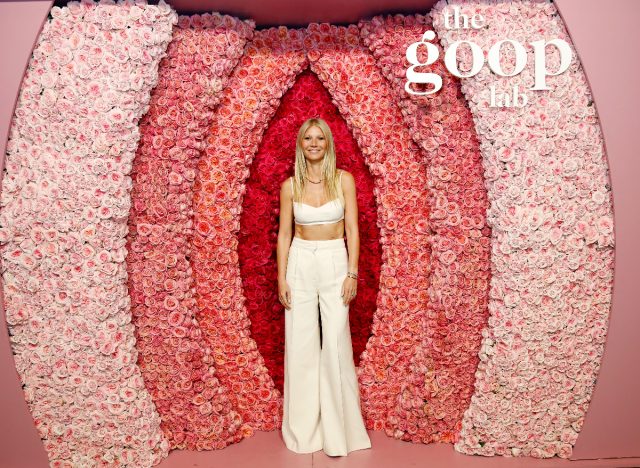 The star recently posted an Instagram video performing yoga moves, and it's simply, well, mesmerizing. Wearing Copper Fit gripper socks and compression gloves, along with a trendy sports bra and leggings, the celeb flawlessly moves through her yoga flow outdoors, oceanside. And we just want to namaste right along with her!
"Yoga keeps me strong and balanced. It keeps me focused," she says in the clip. Paltrow explains in the caption, "I started yoga when I was 25 years old, and it totally transformed my body and mind. I am grateful for the foundation I've built over the years, but it's important to have some grace around the aging of your body, to be forgiving."
Related: Mark Wahlberg, 51, Lives by These Fitness Habits
It's all about dance cardio and repetitive exercises for this celeb.
Yoga isn't the only healthy goodness Gwyneth Paltrow includes as a lifestyle. The actress and mom also reveals a fitness regimen that's key to her ultra-fit look for 15+ years.
"Please ignore my RBF [resting bitch face] while working out but please do check out the marvellous @tracyandersonmethod and swipe up to check out her online studio (I love it) … This lady has been keeping me healthy for fifteen years!!! But it's still really hard. #TAMILY for life," the celeb writes on her Instagram Story while sweating it out.
According to Women's Health Magazine, Paltrow performs a productive combo of dance cardio, and small, repetitive movements on the regular, including working her glutes and core, and movements that incorporate a low-weight dumbbell.
Related: Gisele Bündchen, 42, Lives by These Healthy Habits To Stay So Fit6254a4d1642c605c54bf1cab17d50f1e
She's consistent with cardio and muscular structure work.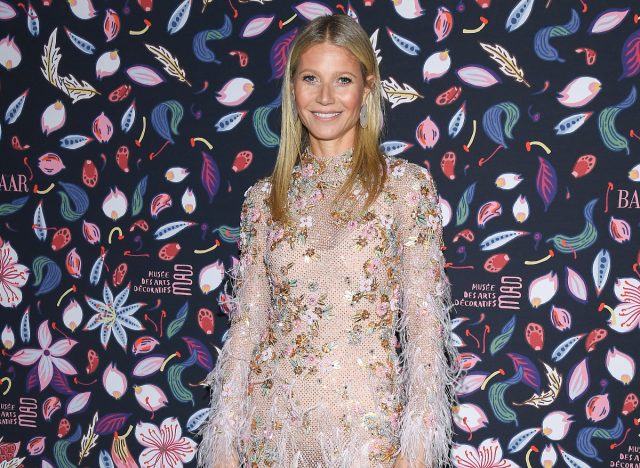 Paltrow clearly makes health, wellness, self-care, and rest priorities in her life. This includes maintaining a nutritious diet, a consistent exercise regimen (which she does with celeb trainer, Tracy Anderson), and skincare. Paltrow aims for 45 minutes each of muscular structure training and cardio, five days each week.
"I do 45 minutes of cardio five days a week, because I like to eat. I also try for 45 minutes of muscular structure work, which is toning, realigning, and lengthening. If I'm prepping for something or I've been eating a lot of pie, I do two hours a day, six days a week for two weeks," Paltrow shares (via Self).
She stays hydrated.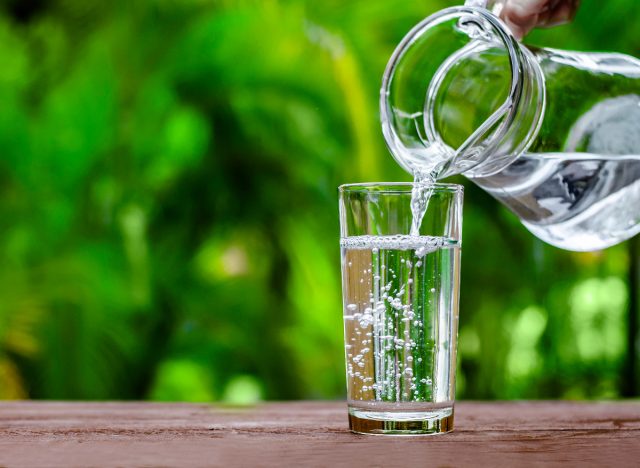 According to Tracy Anderson's website, Paltrow isn't "a big breakfast person"—that is, unless she's enjoying a late brunch on the weekend. Regardless, the celeb is really into hydrating in the AM. She consumes two big glasses of H2O, then has her coffee while checking her emails and staying up-to-date on the news. When it's time for a sweat session, Paltrow will combine a large serving of water with two packets of GoopGlow Morning Skin Superpowder, which contains vitamins E and C.
Her diet is "pretty clean."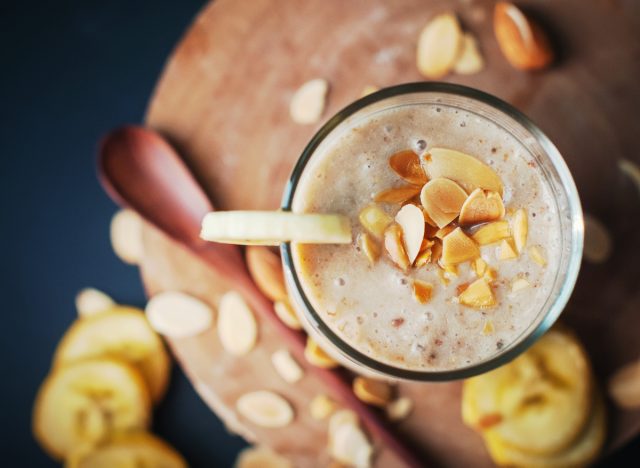 As far as Paltrow's diet is concerned, she eats lots of veggies and "good proteins." She shares with Shape (via Marie Claire Australia), "I just try to eat pretty clean during the day. Good proteins and lots of vegetables and not too much grain or sugar, and nothing baked."
If she has breakfast, Paltrow loves whipping up a fresh morning smoothie, which she reveals on The goop Podcast is made with "almond milk, coconut oil, vanilla mushroom protein powder, and Moon Juice dust." Yum!
According to The Cut, Paltrow is also a fan of cleanses—a minimum of one time a year, or if she's prepping for a particular event. She shares, "So I've basically tried everything, from a one-day gallbladder flush fast to a seven-week nightmare. It's great for eliminating bloat and firming your skin, and just feeling your best."
Paltrow previously spoke about the "Goat's Milk Cleanse" she did, revealing, "I just tried a goat milk cleanse for eight days to rid my system of parasites. That was really interesting. It's only goat's milk and herbs. The theory is that we all have parasites, and they love the milk protein. So if you eat nothing else, they all come out of the intestinal wall and then you kill them with the herbs. I had to try it for Goop, but I felt so good after it" (via Marie Claire).
Alexa Mellardo
Alexa is the Mind + Body Deputy Editor of Eat This, Not That!, overseeing the M+B channel and delivering compelling fitness, wellness, and self-care topics to readers.
Read more about Alexa