Hardee's Just Shuttered a String of Restaurants Across the South & Midwest
The regional burger chain's footprint seems to be shrinking.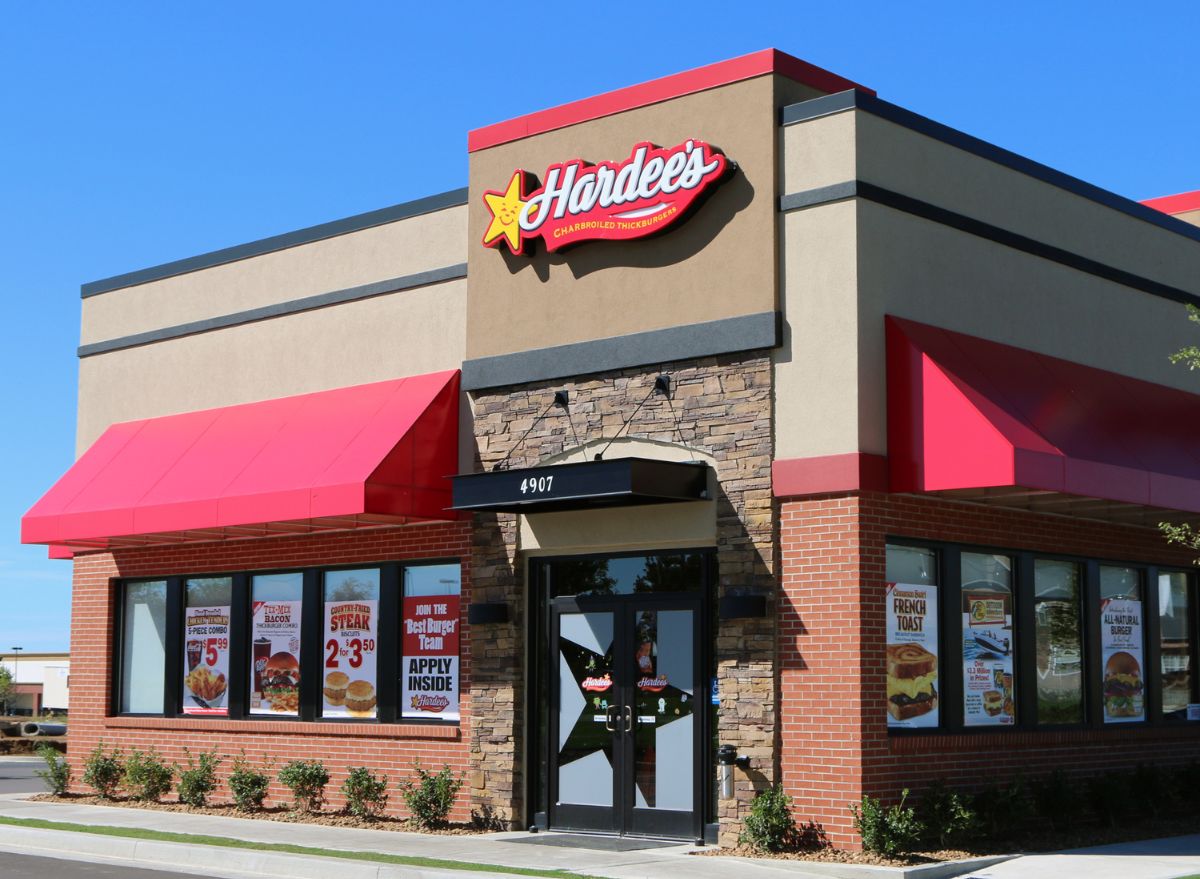 The list of options for fast-food burgers and fries just got a little slimmer in the South and Midwest. Local media in those two regions have been reporting a growing number of Hardee's closures over the past week, but much remains unclear about why these restaurants are shuttering their doors and what it means for the beloved fast-food chain.
Hardee's is a regional chain best known for its charbroiled burgers, biscuits, and other classic fast-food offerings like chicken sandwiches and fries. Primarily concentrated in the Midwest and South, it is the sister brand of Carl's Jr., another regional yet recognizable brand that is mostly concentrated in the western United States.
In the last few days, at least five Hardee's locations have closed down in Kansas, including three in Wichita, one in Derby, and another in Topeka, The Wichita Eagle reported. Other Hardee's closures reportedly include restaurants in Columbia, Mo.; Athens, Ga.; and Fort Mill, S.C.
The reasons for all of the recent Hardee's closures were not immediately clear. Per The Wichita Eagle, a franchisee named Capstone Restaurant Group that's based in Boulder, Co., operated the shuttered Wichita restaurants. 
The closed location in Columbia may also have some connection to Capstone. Another company, Summit Restaurant Holdings LLC, reportedly operates Hardee's locations in the Missouri city, but it has the same phone number listed as Capstone and is also based in Boulder.
A spokesperson for Hardee's parent company CKE Restaurant Holdings told Nation's Restaurant News that it was aware that Summit had announced several closures, "and that Summit is working diligently to ensure that the impact to guests, employees, vendors, and communities is minimized."
A CKE spokesperson also told the Columbia Missourian that the Columbia closure was part of Summit's "efforts to re-position its restaurant portfolios in light of the challenges that remain in the industry." 
The spokesperson did not elaborate on those industry "challenges," but other restaurant chains have struggled in recent years due to their own rising costs for food and commodities and drops in guest visits. Several major Burger King franchisees, for example, have declared bankruptcy in 2023 due to elevated costs and decreased foot traffic. One of these franchisees, Meridian Restaurants Unlimited, revealed in court filings earlier this month that it is closing 27 Burger King restaurants across Minnesota, Utah, Montana, Kansas, Nebraska, and North Dakota.
CKE did not immediately respond to our queries for further comment and insight on the reasons behind the Hardee's closures. 
Zoe Strozewski
Zoe Strozewski is a News Writer for Eat This, Not That! A Chicago native who now lives in New Jersey, she graduated from Kean University in 2020 with a bachelor's degree in journalism.
Read more about Zoe