Harrison Ford Swears By These Healthy Habits to Stay Fit at 80
Harrison Ford is playing Indiana Jones again, and reporters say the actor is "still very hot."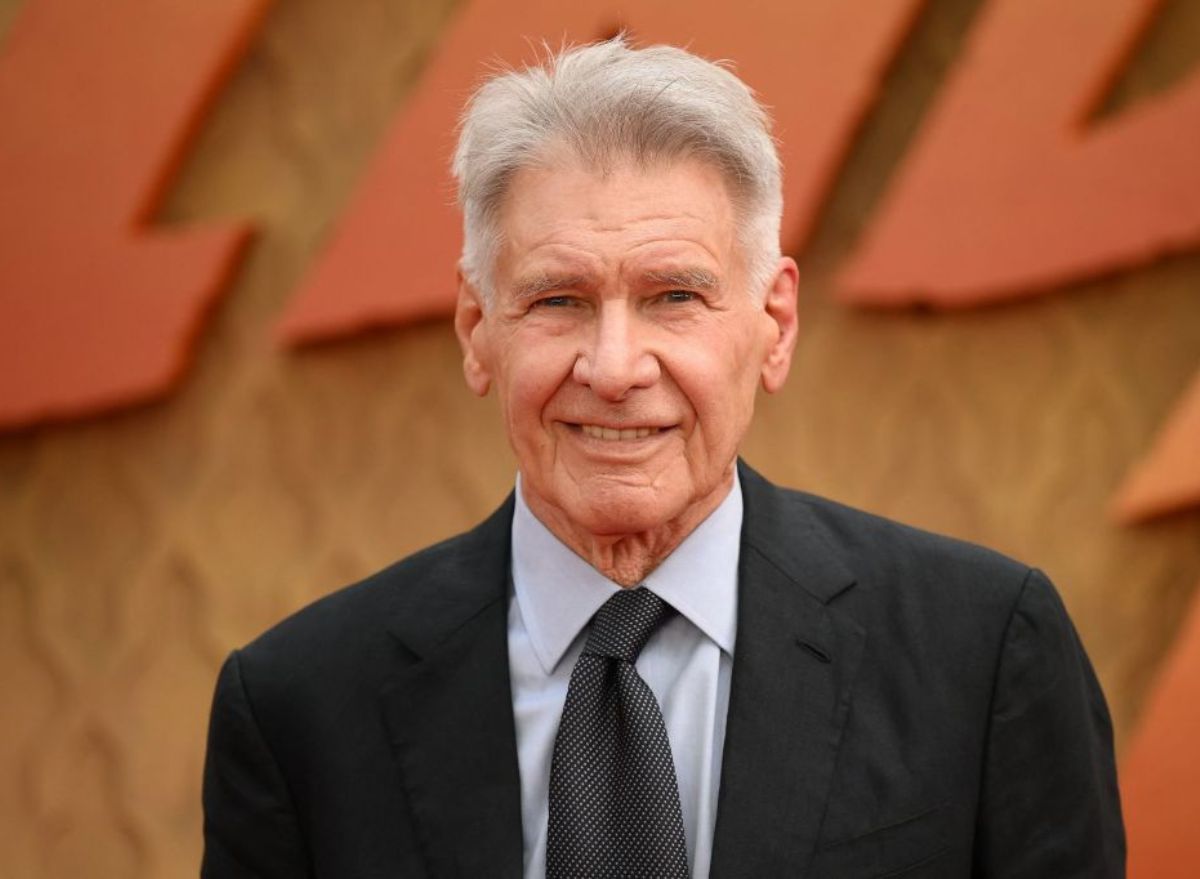 Once a heartthrob, always a heartthrob. Harrison Ford may be best known for making audiences swoon as Han Solo or Indiana Jones in the '70s and '80s, but as he gears up for the release of Indiana Jones and the Dial of Destiny (the fifth and most likely final chapter of the franchise) on June 30th, the now 80-year old actor—and soon to be 81 in July—still has everyone turning their heads and gawking over how he's stayed so healthy.
Actor Boyd Holbrook, who's starring alongside Ford in Indiana Jones and the Dial of Destiny, told Variety, "Harrison Ford is ripping and roaring…age ain't nothing but a number to this man." And when the film premiered at Cannes Film Festival in May 2023, everyone was talking about Ford choosing to go shirtless in one of the first scenes of the movie. In fact, one reporter told Ford in a Cannes press conference, "I still think you're very hot." She continued, saying, "And you've still got it, I mean, how do you keep fit?" Ford joked back with his famous dry wit, saying "I've been blessed with this body, thanks for noticing."
The Cannes reporter was certainly on to something, as we are all wondering how Ford has maintained such good health over the years. And while he continues to prioritize exercise on a regular basis, he also puts a heavy focus on what he's eating—and isn't eating—every day.6254a4d1642c605c54bf1cab17d50f1e
Read on to learn about Harrison Ford's daily eating and fitness habits, and for more celebrity health info, check out 5 Eating Habits Jane Fonda Swears By to Feel Amazing at 85.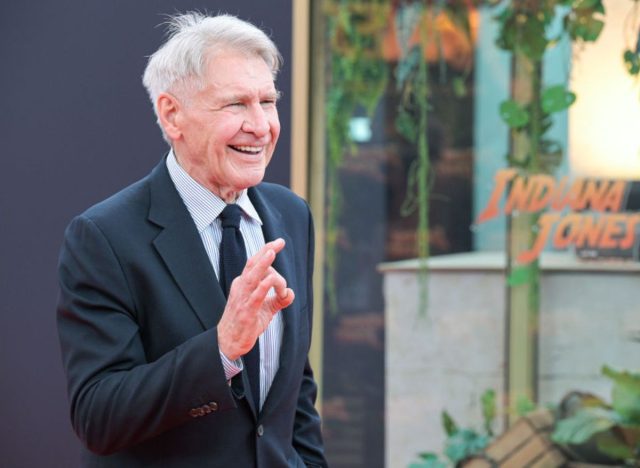 Ford hasn't said too much over the years about his daily routine, but one thing that he has been very clear on is that he eats clean, and has completely cut dairy and meat out of his diet.
In February 2020, Ford sat down with Ellen Degeneres on her show and opened up about his eating habits and choices.
"You look good. You look really good," said Degeneres, followed by a roaring applause from the studio audience. Ford joked with Degeneres, saying, "Well thank you. What did I look like before?"
When she asked him what he's been doing to stay healthy, Ford replied, "[I'm doing] practically nothing. I eat vegetables and fish. It's really boring." He then continues on to tell Degeneres that he has given up dairy and meat.
When asked why he decided to make these dietary choices, Ford replied, "I just decided I was tired of eating meat…and I know it's not really good for the planet…and it's not really good for me."
Fans of Ford may not be surprised by this personal decision of his, especially if they're aware of his passion for the environment. In fact, Ford spoke to the UN in 2019 on the importance of caring for our planet.
Along with Ford's clean eating habits, he also manages to stay active on a daily basis. In talking with Degeneres, Ford revealed that he loves biking and tennis.
"There's a picture of you on a bike…look at your arms." Degeneres shows a picture to her audience of Ford riding a bike, to which she says, "What's happening here? Do you work out like crazy?"
"No, I don't work out like crazy. I work out a bit. I mean I ride bikes and I play tennis," says Ford.
The Indiana Jones star isn't planning on slowing down any time soon apparently. Actor Mads Mikkelsen, who stars in Indiana Jones 5 with Ford, recently talked with the Hollywood Reporter about just how strong Ford really is.
"It was the first time I met him, and he's an insanely powerful person," Mikkelsen told The Hollywood Reporter. "Not just as an actor, but physically. I remember the first day we were shooting, it was a night shoot, then we stopped at 5 a.m. — and then he got on his mountain bike and went biking for 50 kilometers [31 miles]. Harrison is a monster of a man, a very nice monster."
A previous version of this story was published on May 22, 2022. It has been updated to include additional copy and proofreading revisions, as well as updated contextual links.