The #1 Best Pie Crust You Can Make Next Week
Planning your Thanksgiving dessert? Make this a part of the menu.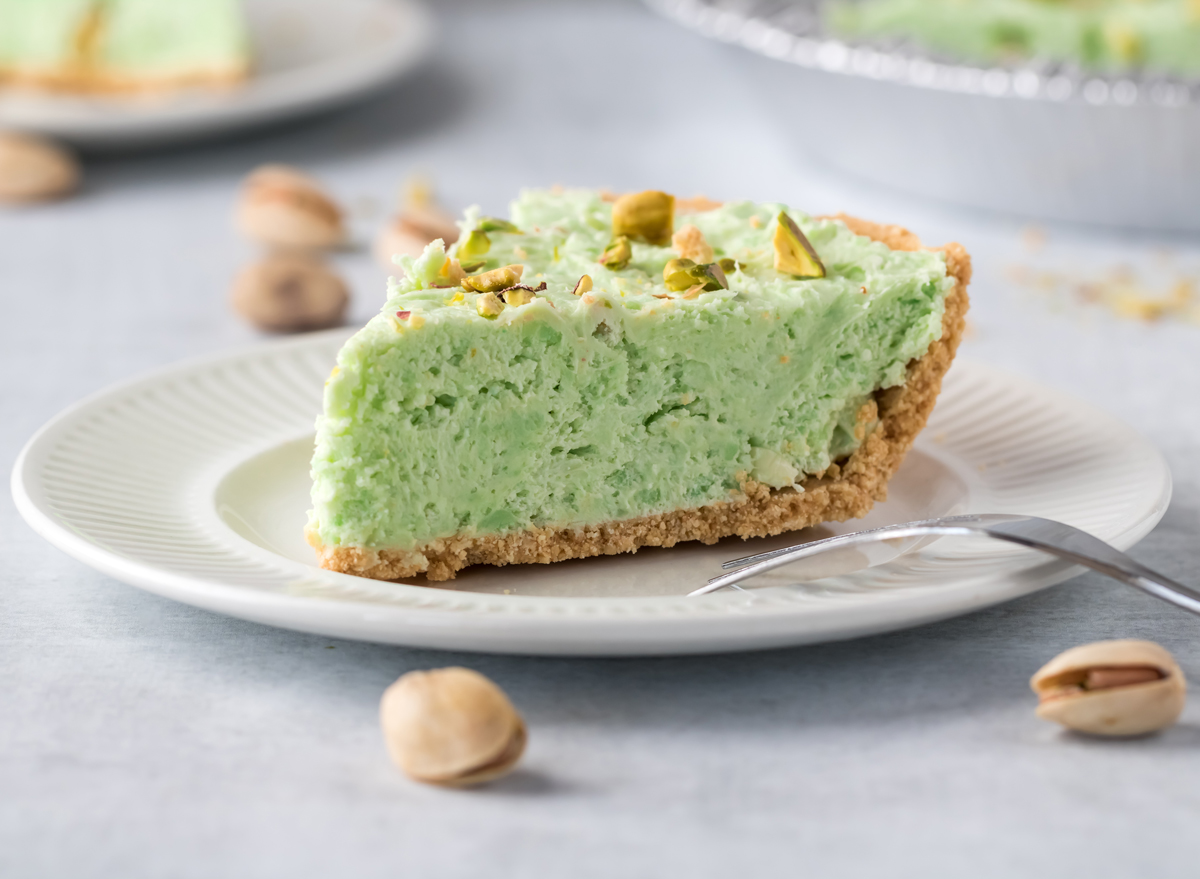 The grand finale of a classic Thanksgiving dinner – the pie — is arguably the best part of the entire meal. After indulging in a plate full of turkey and all of the fixings, rounding out the night with some pumpkin or apple sweetness simply makes sense.
But unfortunately, while pie is absolutely delish, it isn't always the best choice to include if you are trying to follow a healthy diet. While a small slice of pie certainly won't make or break your overall health status, overeating this dessert can be a not-so-great choice.
The unhealthy culprit of the pie is often not your filling of choice. Especially if the pie is made without a lot of sugar, most fillings are heavy on real fruit or veggies (like pumpkin), which are naturally jam-packed with vitamins, minerals, fiber, and antioxidants. Instead, the flaky and crispy crust is where the bulk of the calories and fat can be found in many pie recipes, which is why you should seriously consider making your Thanksgiving dessert's pie crust with nuts.
Pie crust can be loaded with unhealthy fats
There is no denying that there are few foods that are as satisfying as a classic pie crust. But as mouthwatering as this part of the pie can be, it can be equally packed with calories and unhealthy fats, making it a food that many people may want to skip.6254a4d1642c605c54bf1cab17d50f1e
Often made with shortening or hydrogenated oils, pie crusts are loaded with saturated fats and empty calories – and not much else.
In fact, a pre-made pie crust made with hydrogenated oil contains a whopping 8 grams of fat, 3.5 grams of saturated fat (almost 20% of the DV), and zero fiber per serving. And if you are topping your pie with another layer of crust, plan on doubling those numbers when you are biting into your dessert.
Eating too many hydrogenated oils is linked to an increase in LDL "bad" cholesterol and an increased risk of experiencing chronic inflammation. And the other ingredients found in most classic pie crusts serve their purpose in terms of taste, but they don't offer much when it comes to nutrition.
A DIY pistachio pie crust can elevate your dessert
So, if you are a pie lover, how can you healthify your pie while still feeling totally satisfied when you are biting into that sweet goodness?
One option is to go crust-free. Just eating the filling of a pie and foregoing the crust altogether can still give you your pumpkin or pecan fix without the extra calories. But if you just need that satisfying pie crust and you don't want a heavy classic, there is hope for you too, with the help of the humble pistachio.
With just two ingredients – Wonderful Pistachios Honey Roasted, No Shell pistachios and coconut oil, you can have yourself a better-for-you pie crust solution that is packed with nutrient-rich goodness. Wonderful Pistachios provide a good source of plant protein and fiber. Plus, about 90% of the fats found in pistachios are unsaturated, for a trio of nutrients that may help keep you fuller longer. But wait, it gets better: pistachios are one of the lowest calorie, lowest fat snack nuts.
And don't get us started on the honey-roasted flavor of these pistachios, which adds some satisfying sweetness to your dessert that can complement your filling quite nicely (and saves you extra steps of adding additional flavorful ingredients).
How to make it
Simply processing 2 cups of the pistachios and 4 tablespoons of coconut oil in a food processor and pressing the mixture into a 9-inch greased pie dish until a crust shape is formed will leave you with a simple and yummy crust that is almost ready for any filling.
Bake the crust in a preheated oven for 350 degrees (F) for 10 minutes, cool, and then fill with whichever filling you desire for the ultimate Thanksgiving dessert that isn't packed with empty calories and saturated fat.
A store-bought version
There are some pre-made pie crusts made with real nuts (like this walnut pie crust) if you want to add some extra healthy fats into your dessert without the need to DIY chop. Just keep in mind that the pre-made version is made with ingredients like enriched flour, making it an option that is not appropriate for those following a gluten-free lifestyle.
Takeaway
Making a small swap with your pie crust allows you to enjoy your favorite turkey day dessert with a little extra nutrition, all while not having to on taste or tradition. A simple crust made with honey-roasted pistachios and coconut oil can elevate your pie in both the flavor and nutrition department with no fuss – and who doesn't want that?
For more healthy eating news, make sure to sign up for our newsletter!
Read this next:
Lauren Manaker MS, RDN, LD, CLEC
Lauren Manaker is an award-winning registered dietitian, book author, and recipe developer who has been in practice for almost 20 years.
Read more about Lauren