13 Hacks To Make Your Burger Healthier
Your favorite meal can actually be super healthy with these burger hacks!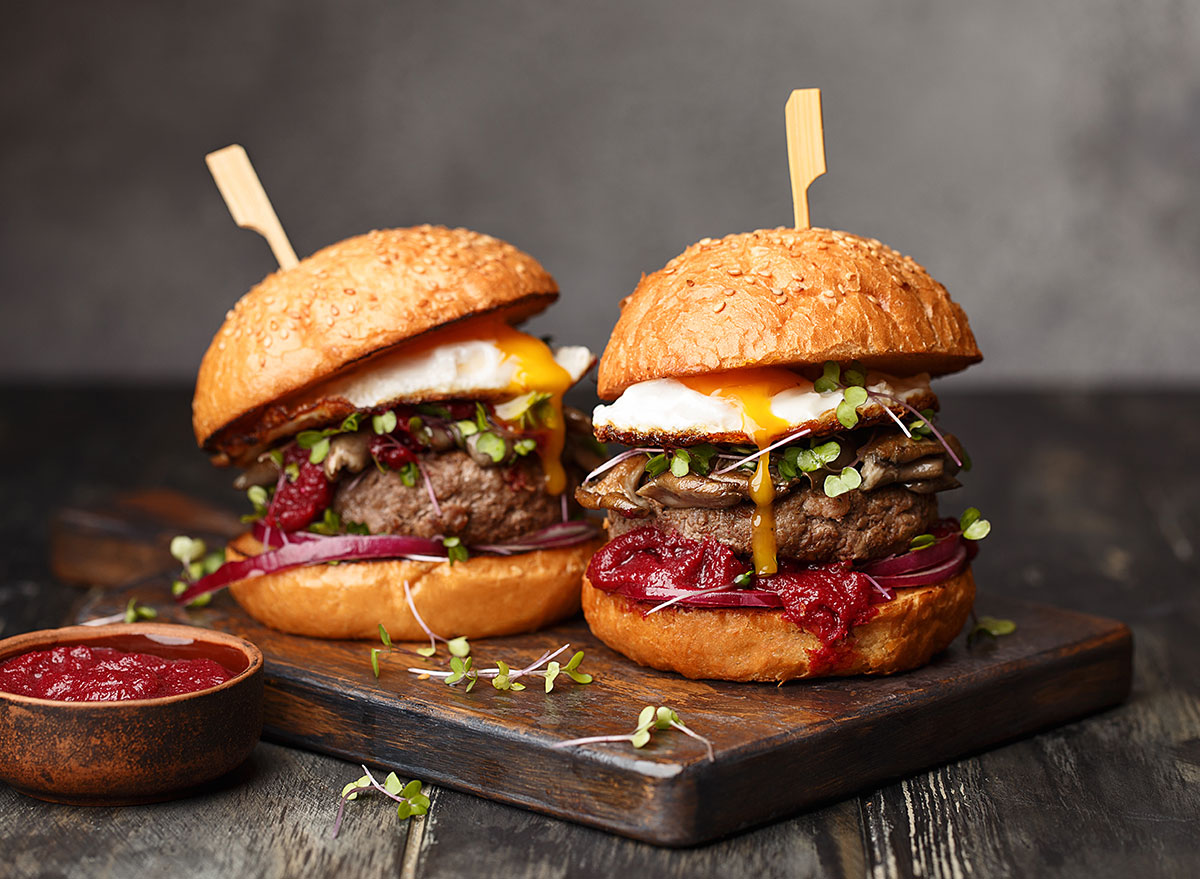 Why are burgers always blamed for being "bad" for you? Sure, there are a few seriously unhealthy burgers out there. But that doesn't mean that all burgers are to blame! In fact, if done correctly, you can enjoy a seriously healthy burger at home—or even while you're dining out! The key is in your decisions around what to put on it, which is why we listed out a few healthy burger hacks to get you started.
From the toppings to the type of bun to grab, here are a few of our favorite healthy burger hacks that turn your favorite meal into the healthiest one yet. And for more hacks, make sure to check out our list of 21 Best Healthy Cooking Hacks of All Time.
Eat it open-faced.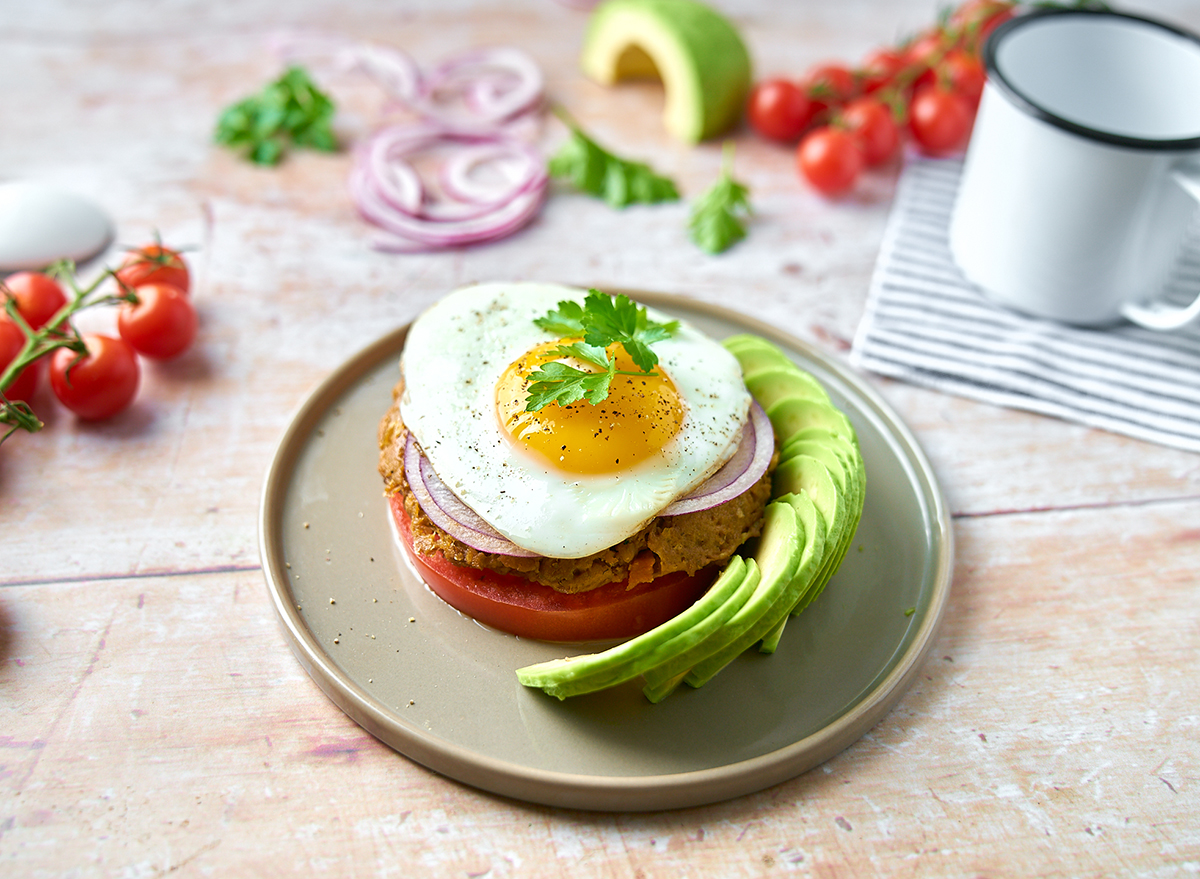 One of the easiest ways to slash some of the calories on your burger is to toss out half of the bun. And while some would say toss the top, let's be real—the top of the bun is always the best part. Especially if it has some seeds sprinkled on it! Instead, toss the bottom of your burger bun and replace it with the top. That way you can still get all of the same great taste for fewer calories. It's one of our favorite ways to enjoy our 13+ Best Healthy Hamburger Recipes.
Wrap it in lettuce.
If you're not partial to having the bun and you would much rather enjoy your burger with a stack of french fries, opt for wrapping your burger in a lettuce wrap. Even famous burger chains do this—like In-N-Out's protein-style burger!
Top it with avocado.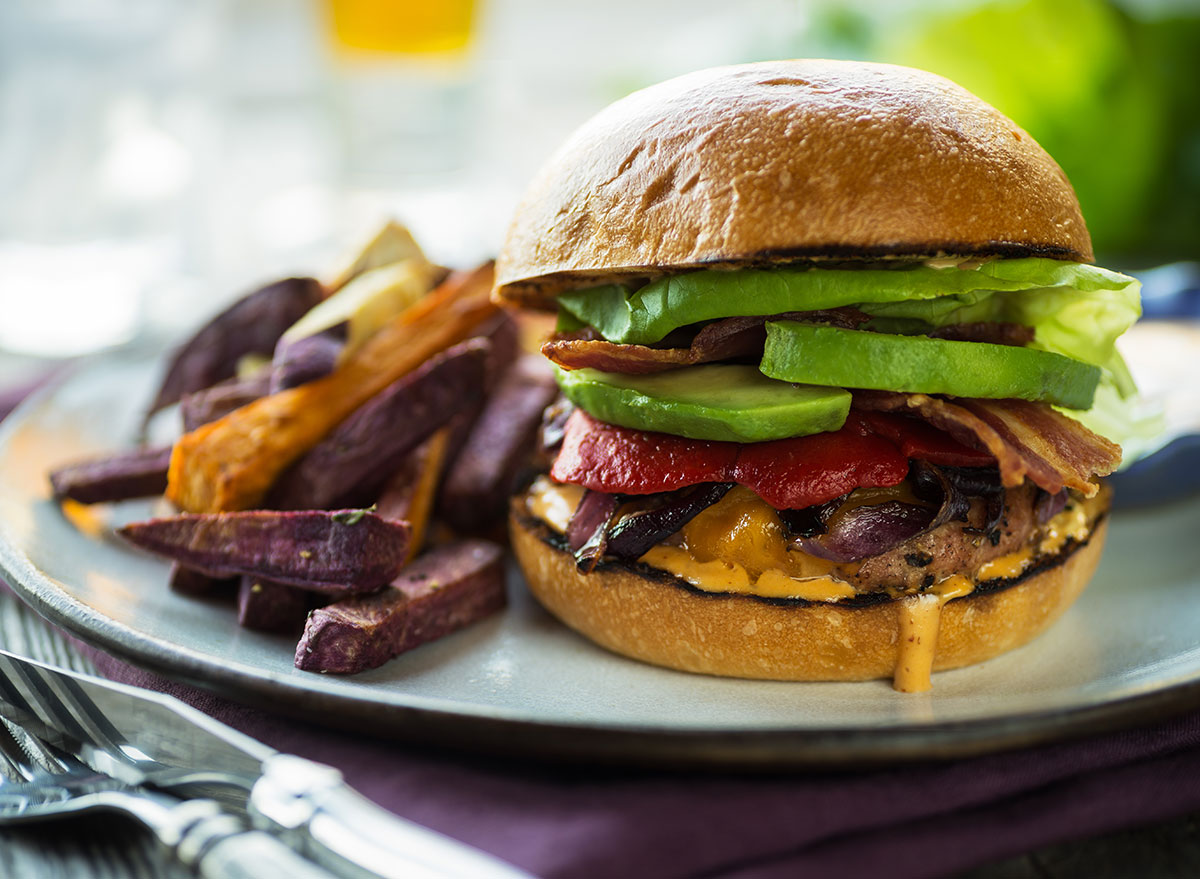 Avocado is one of the best foods you can have to feel full, so if you add it as a topping on your burger, your meal will be a lot more satiating for just a few extra calories.
Enjoy it with a side salad.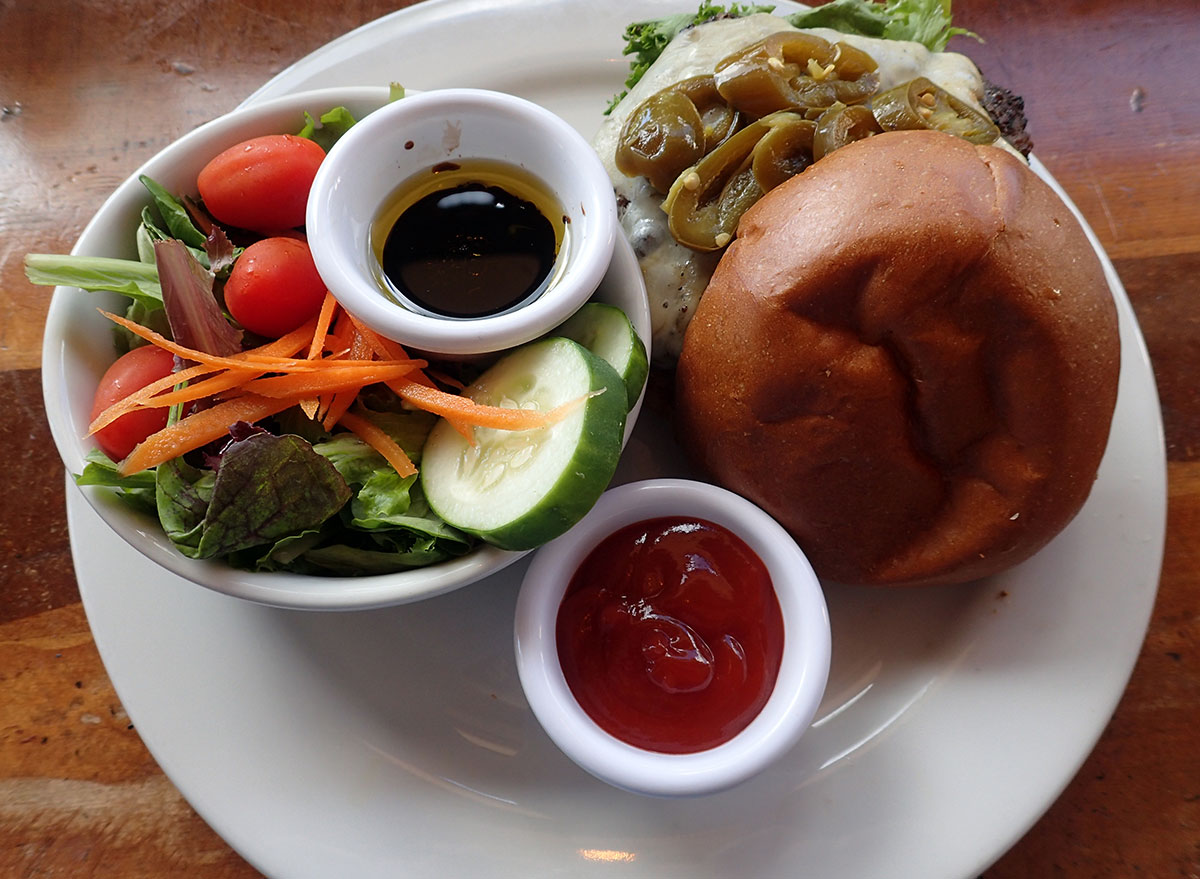 If you'd rather the burger on a bun and don't feel like having fries, make yourself a big side salad. Side salads are also great for catching all those toppings that evidently slip out of the burger while you eat it. Did extra pickles or onions slip onto your plate? Add those to your salad! Just make sure to avoid these 20 Things You Should Never Do When Making a Salad.
Use lean protein.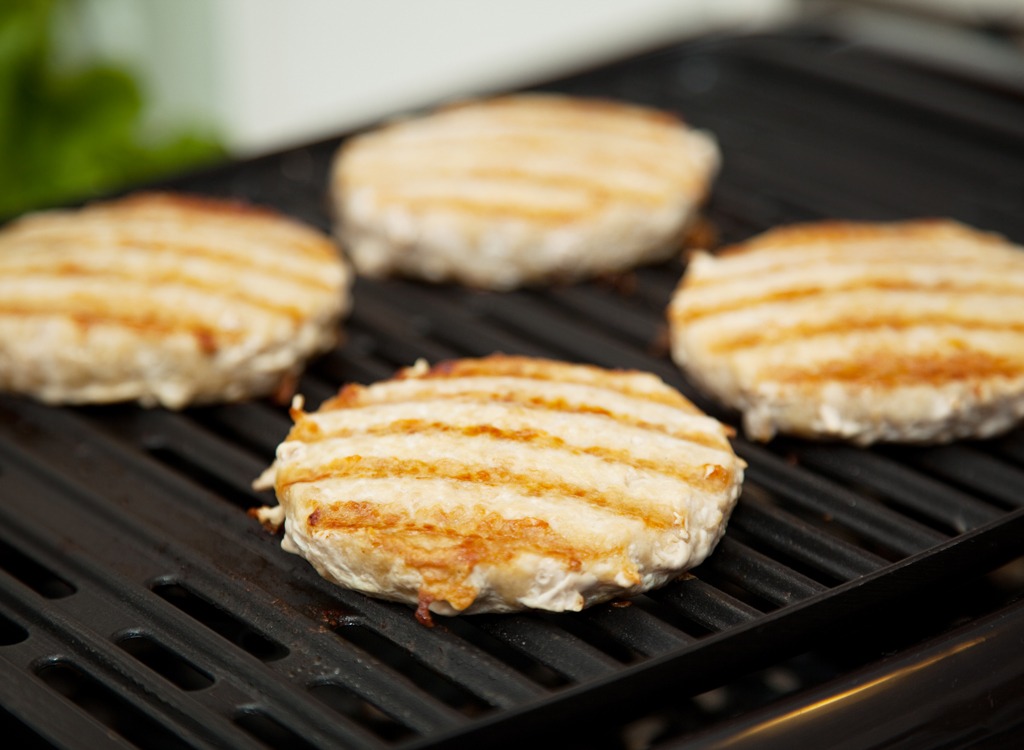 If you're looking to reduce the overall fat content of your burger, choose a leaner cut of meat. Ground bison is a great option if you're looking for that same taste, but you could also try making burgers with ground turkey or ground chicken. You could even attempt a plant-based burger made of black beans and quinoa!
Layer it with veggies.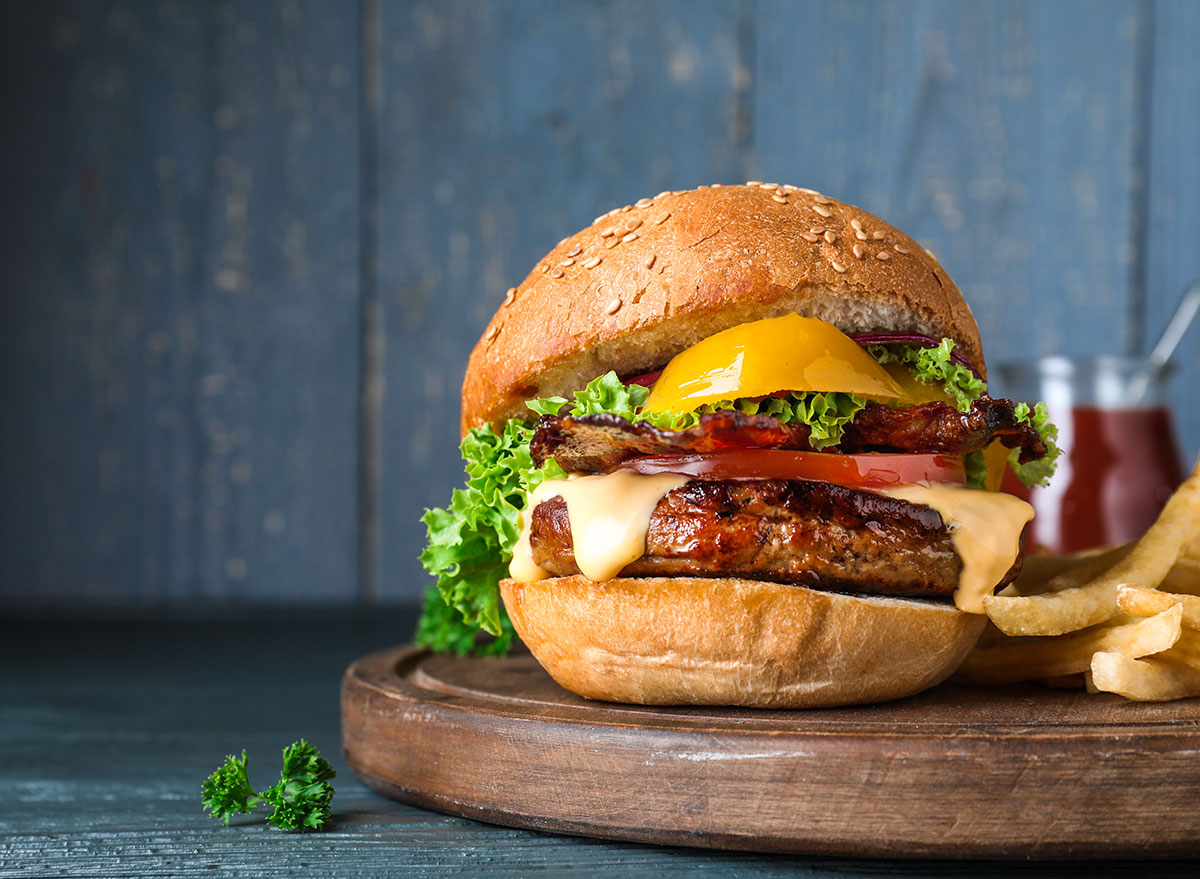 Did you ever notice that burgers can be a great vehicle for getting more veggies into your meal? Top your burger with all of your favorite veggies. Lettuce, tomato, onion, cucumber, alfalfa sprouts, the list goes on. Or even try one of the 20 Most Underrated Burger Toppings.
Use low-sugar condiments.
Ketchup is surely a beloved burger condiment, but most ketchup bottles on the market are full of sugar. You could always opt for beet ketchup instead, or keep the sugar even lower by simply using mustard or mayonnaise. You could even make a spicy aioli by mixing hot sauce and mayonnaise and spreading it on your toasted bun!
Use fresh cheese.
If you're looking to eliminate the processed foods in your diet, you could always choose to buy a fresh block or container of cheese instead of sliced deli cheese. Slice up a fresh block of cheddar to top your burger with, or sprinkle on some fresh blue cheese or feta cheese for something a little different.
If you're looking for more healthy eating tips, be sure to sign up for our newsletter.
Swap the cheese with an egg.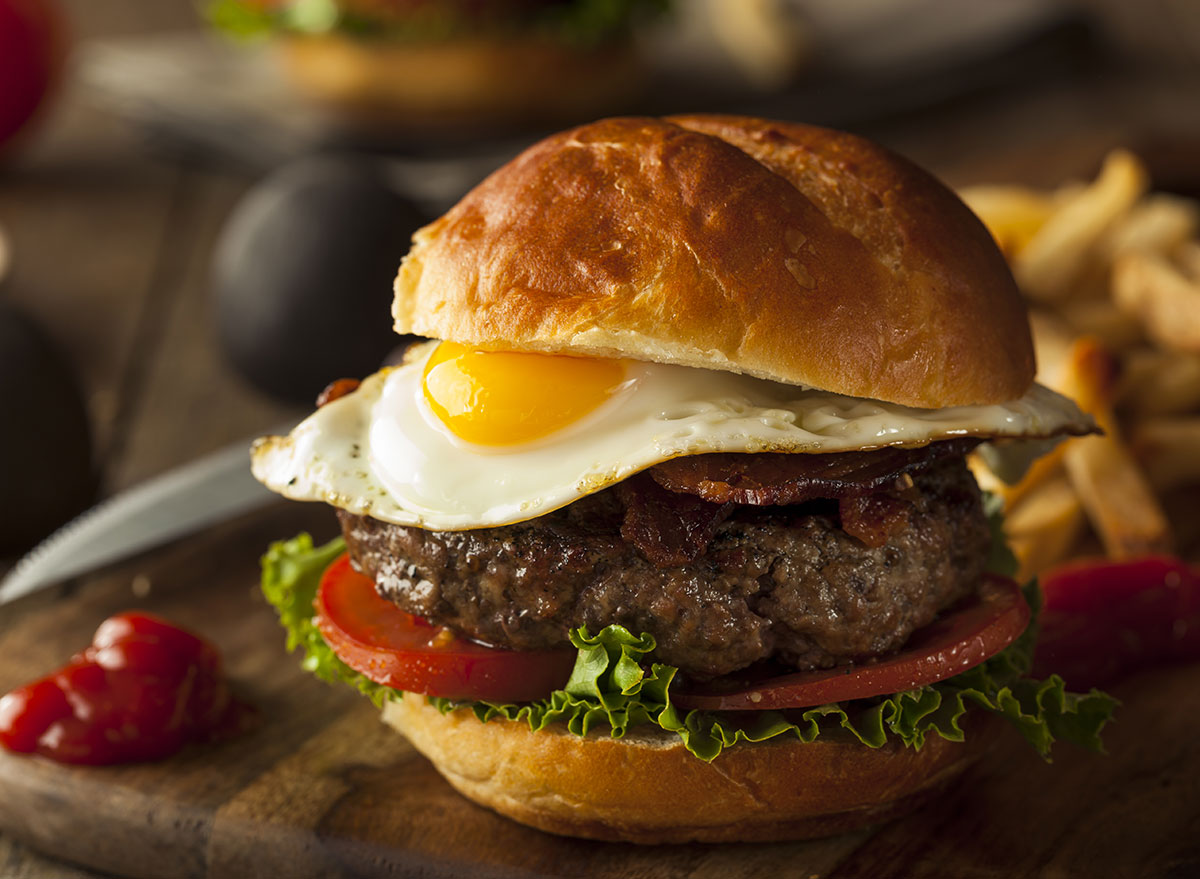 Cheese adds an extra fattiness to the burger, but not everyone is a fan of cheese! Especially those who follow a dairy-free diet. To get some fattiness on your patty without any dairy, you could place a fried egg on it. The egg yolk brings some fat to the burger and boosts the protein content significantly.
Or with a creamy sauce.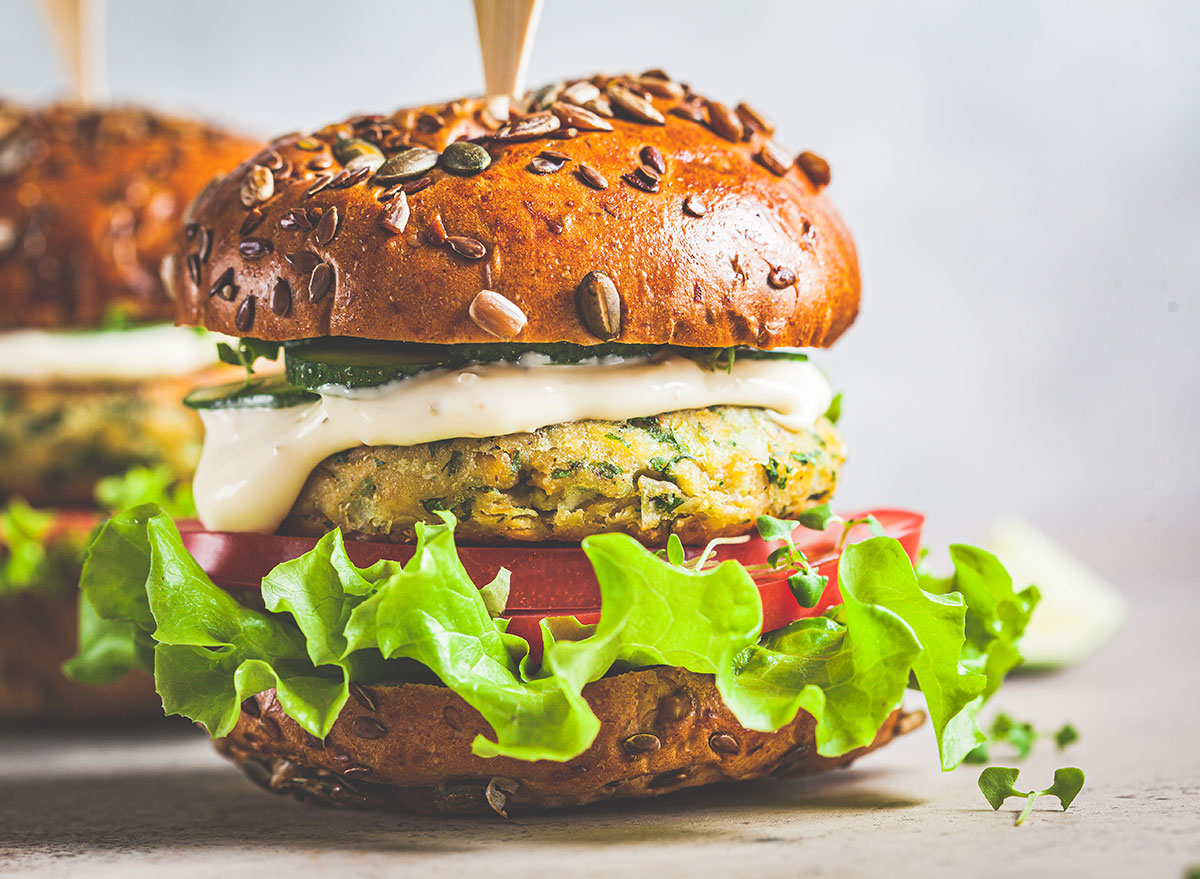 If you'd rather not have the fried egg (after all, it does get a little messy), a creamy sauce could also work. Tzatziki is a great option for a burger, or you could even add a dollop of guacamole.6254a4d1642c605c54bf1cab17d50f1e
Choose a fiber-rich bun.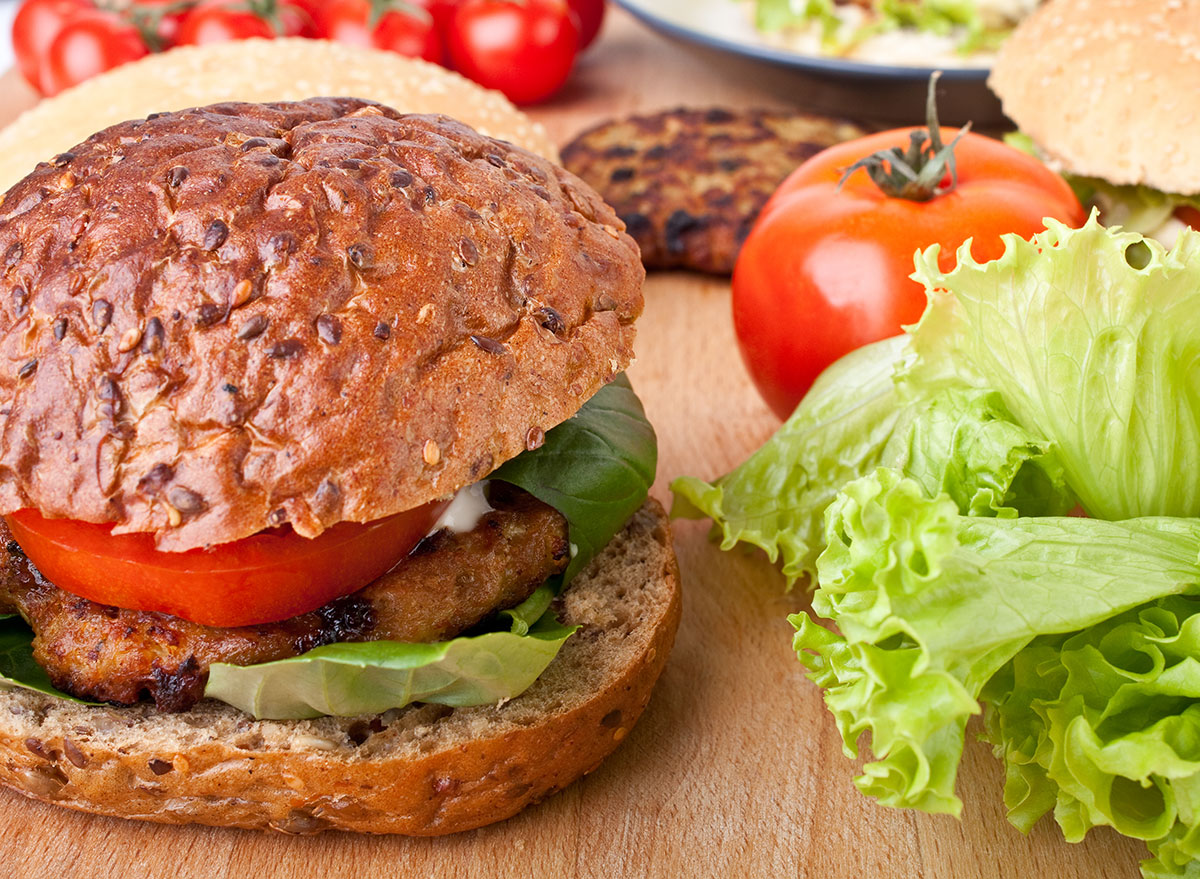 Unless you're packing your burger with vegetables, you're likely not getting a ton of fiber into your meal—which is a key nutrient if you're trying to lose weight. An easy way to bump up the fiber content is to choose a bun that has more dietary fiber in it. Whole-grain buns have more fiber because they aren't stripped of that natural component—unlike regular white burger buns.
Swap with turkey bacon.
Bacon on a burger is truly a special treat, but it does increase the fat content in your burger a bit. If you're looking to keep your burger lean—but still want that salty, crunchy goodness from the bacon—you could swap it out for slices of turkey bacon. It will slash the fat in your burger significantly and still give you that crunchy texture you desire.
Measure out your meat.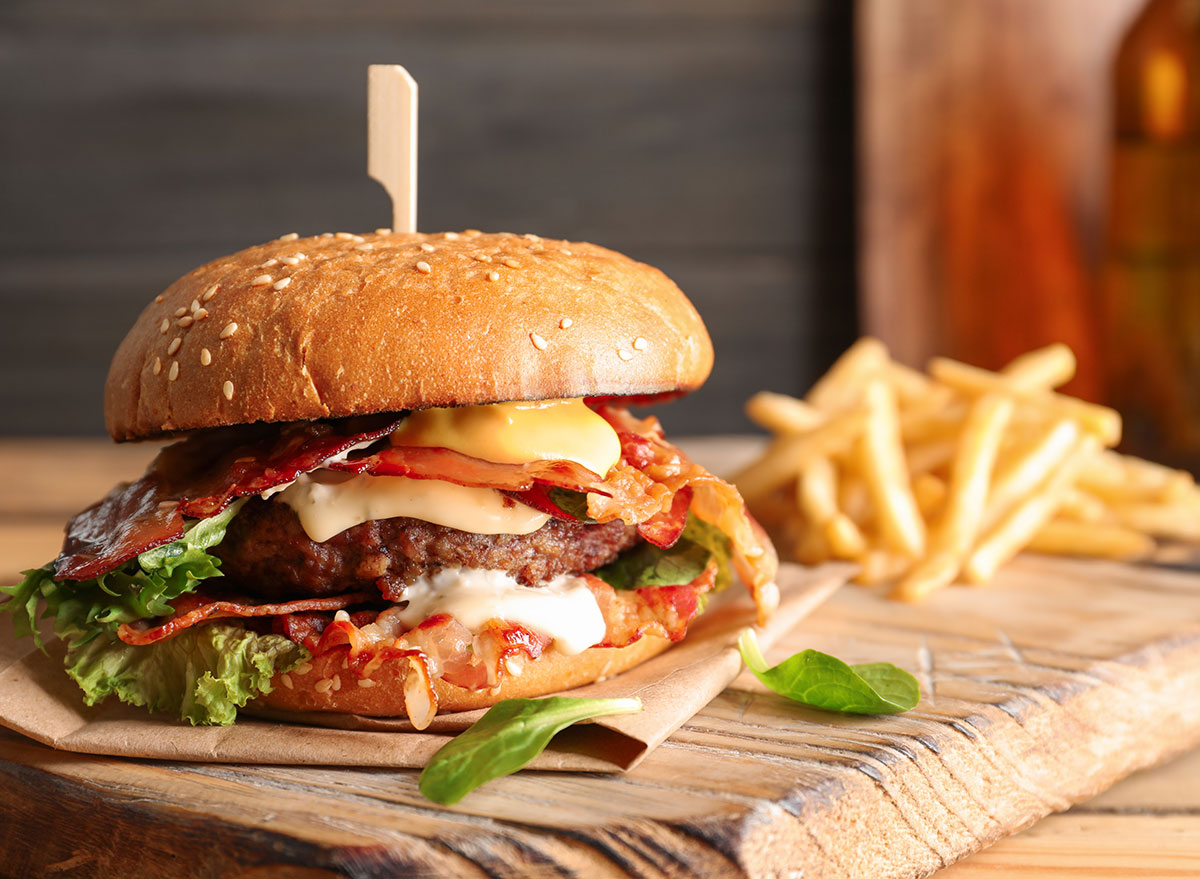 While there are many different kinds of burger patties you can make, a beef burger is truly the classic burger. However, most burger joints will use a beef patty that far exceeds the normal amount of meat that you would normally eat. An easy way to keep your burger healthy is to simply measure out your meat when you shape those patties. For example, split a pound of ground beef into four even patties. That way each burger will be the perfect portion of 4 ounces.
Now that you have all of these healthy burger hacks, you're going to want to avoid these 17 Major Burger Mistakes.