8 Healthiest Dishes to Order at Chili's, According to Dietitians
Among the smokehouse combos and massive burgers, there are still some healthy dishes to order at Chili's.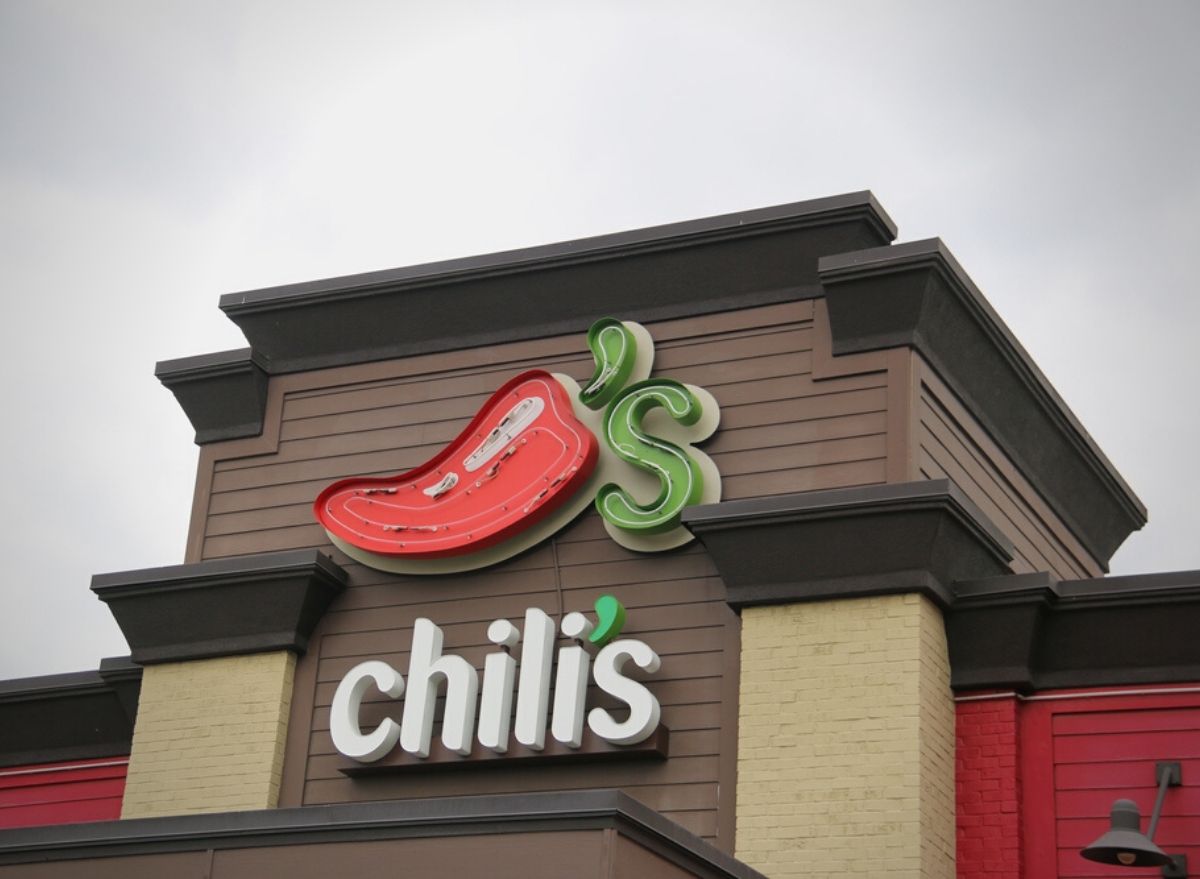 The Tex-Mex and Mexican cuisine-inspired Restaurant chain Chili's is best known for their famous baby back ribs and enchiladas—not exactly the epitome of health. One Big Bacon BBQ Burger will set you back 1,660 calories, 114 grams of fat, and 2,650 milligrams of sodium. And that's without the side of fries. But among the ribs, steak dinners, and massive enchilada plates, there are quite a few healthy Chili's menu options to choose from.
How to eat healthy at Chili's
If you're trying to eat healthy at Chili's, here are a few tips to start in the right direction.
Ask for sauce and dressing on the side. A significant amount of calories, sugar, saturated fat, and sodium can come from the dressings and sauces coating your salad or meal. You don't have to skip your favorite dressing, just ask for it on the side instead. This way, you can choose to add just enough without overdoing it.
Take advantage of the sides. Chili's has several healthy and fiber-filled side options to choose from, including corn on the cob, asparagus, broccoli, and black beans.
Get a to-go box. Many of the portions served at Chilis are massive. One entire meal may have more saturated fat, sodium, and calories than you need in an entire day. If you're someone who often leaves a restaurant stuffed and uncomfortable with a clean plate, ask for a to-go box and turn your one meal into two.
The best healthy Chili's menu items
If you're heading out for a work lunch or date night and want a more healthful option, try one of these 8 dietitian-approved healthy Chili's menu options!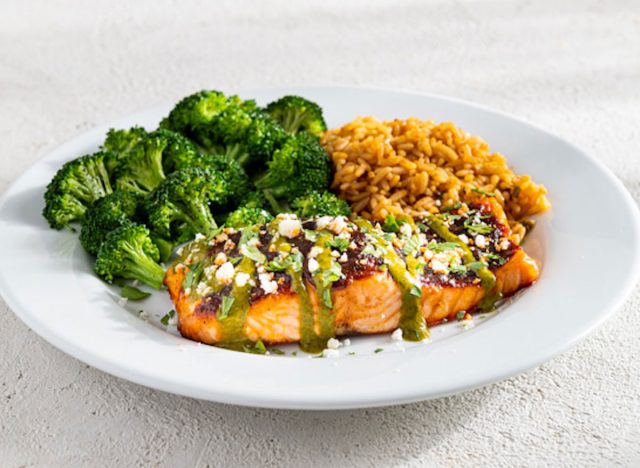 Nutrition
: 640 calories, 32 g fat (6 g saturated fat, 0 g trans fat),1770 mg sodium, 42 g carbs (5 g fiber, 4 g sugar), 48 g protein
"The Ancho Salmon at Chili's is a balanced choice of chile-seasoned salmon, Mexican rice, and broccoli with a drizzle of pesto and queso on top! It clocks in at 640 calories and 43 grams of protein to help keep you full and satisfied," says Caroline Thomason, RD CDCES, a northern Virginia-based dietitian who helps women stop dieting and find confidence with food. "I love leaving a restaurant comfortably full compared to overly stuffed, and this meal does just that," Thomason adds.
Margarita Grilled Chicken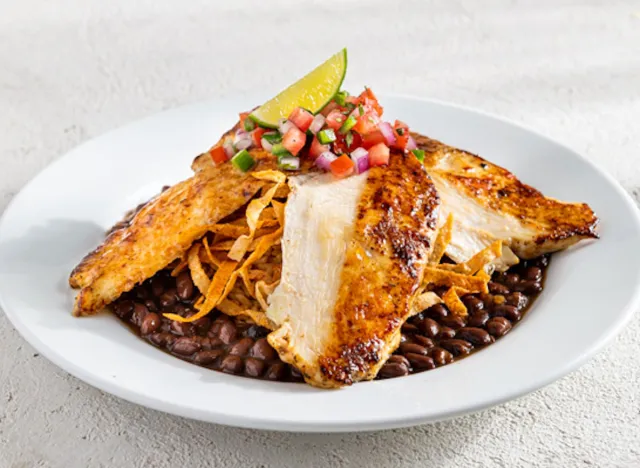 Nutrition
: 630 calories, 16 g fat (3 g saturated fat, 0 g trans fat), 2280 mg sodium,68  g carbs (7 g fiber, 9 g sugar), 52 g protein
"The Margarita Grilled Chicken at Chili's stands out as a nutrient-dense option for diners seeking a balanced meal. With 52 grams of protein and only 3 grams of saturated fat, it provides an excellent source of lean protein while keeping the saturated fat content in check," says Kristin Draayer, MS, RDN. "The accompanying black beans add a heart-healthy touch with their fiber content, and the Pico, tortilla strips, and Mexican rice offer a flavorful and satisfying combination," Draayer adds.
Grilled Chicken House Salad with Citrus Balsamic Vinaigrette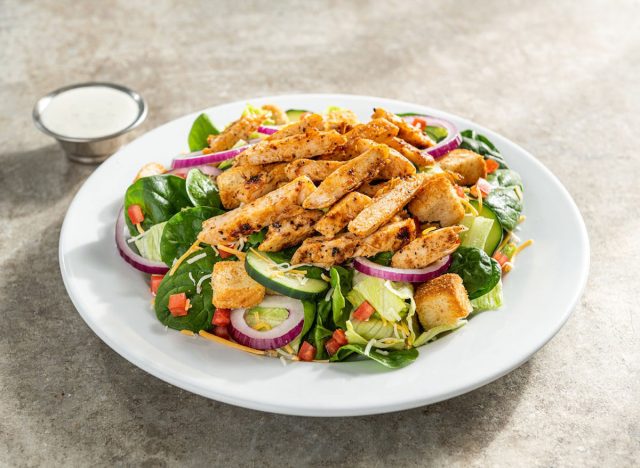 Nutrition
: 670 calories, 43.5 g fat (11 g saturated fat, 0 g trans fat), 790 mg sodium,   34 g carbs (4 g fiber, 12 g sugar), 36 g protein
The house salads come loaded with tomatoes, red onion, cucumber, shredded cheese, and garlic croutons for a lot of flavor, vitamins, minerals, and fiber. Adding the grilled chicken on top, along with a drizzle of citrus balsamic vinaigrette, adds protein and fat to keep you full and satisfied. Just be sure to ask for the dressing on the side so you can add as much or as little as you want!6254a4d1642c605c54bf1cab17d50f1e
Cup of Chicken Enchilada Soup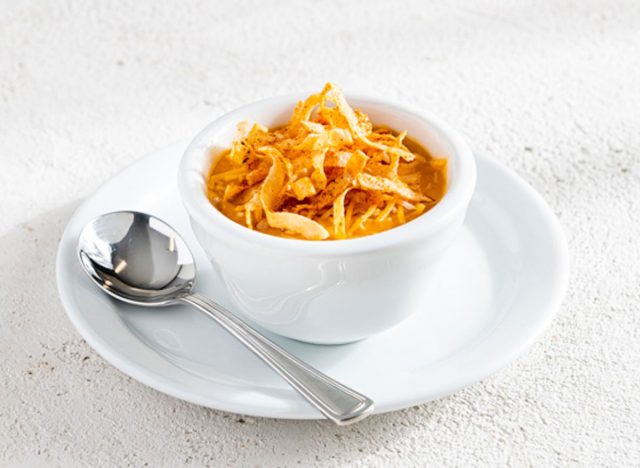 Nutrition
: 200 calories,13 g fat (4.5 g saturated fat, 0  g trans fat), 750 mg sodium, 12  g carbs (1 g fiber, 2 g sugar), 10 g protein
If you're looking for something light, a cup of chicken enchilada soup clocks in at just 200 calories, is low in fat, and has 10 grams of protein. Paired with a side salad and veggie side, this would make a healthy and satisfying light lunch.
Nutrition
: 180 calories, 6 g fat (1 g saturated fat, 0 g trans fat), 360 mg sodium, 29 g carbs (3 g fiber, 11 g sugar), 4 g protein
Chili's has a variety of choices for healthy side dishes, and being able to choose corn on the cob is a fun and nutritious choice, especially if you're pairing it with a protein-heavy entree like steak or chicken. This side dish has just 1 gram of saturated fat and adds 3 grams of fiber and protein to your meal.
Santa Fe Chicken Salad with Chicken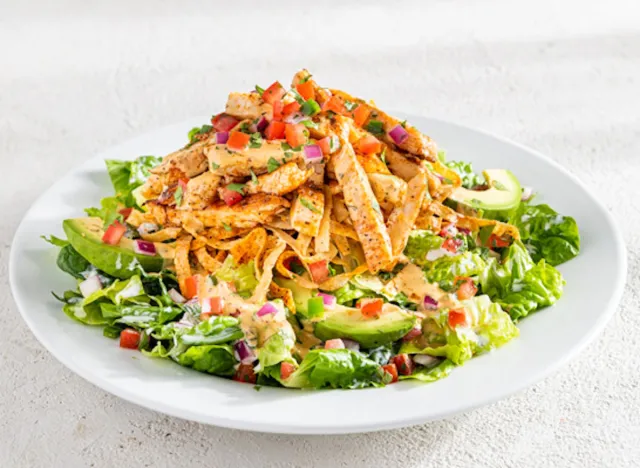 Nutrition
: 560 calories, 39 g fat (7 g saturated fat, 0 g trans fat), 670 mg sodium, 25 g carbs (8 g fiber, 7 g sugar), 30 g protein
The Santa Fe Chicken Salad topped with grilled chicken is a healthy balanced choice for lunch or dinner. It's more than enough food to fill you up—especially with the satiating avocado—and keep you full for hours with 30 grams of protein. Snag the dressing on the side to reduce the amount of saturated fat you add. With the creaminess of the avocado, which is high in heart-healthy monounsaturated fats, you may be surprised how little dressing you actually need!
6-ounce Sirloin with Grilled Avocado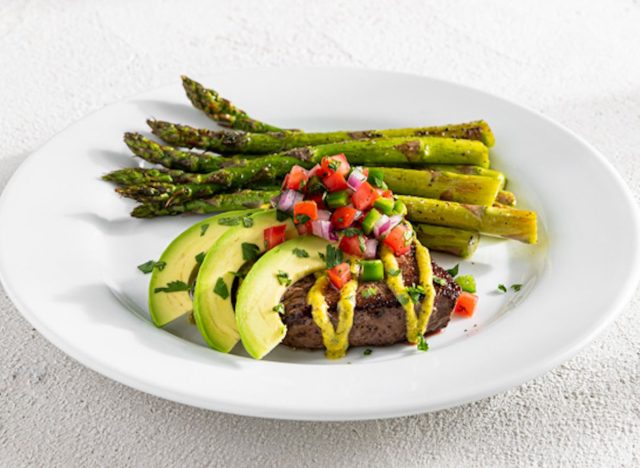 Nutrition
: 360 calories, 18 g fat (4.5 g saturated fat, 0 g trans fat), 1010 mg sodium,12 g carbs (6 g fiber, 3 g sugar), 39 g protein
Yes, you can get a steak dinner from the Chili's menu on a night out and still feel good about your food decision. Choose the 6-ounce sirloin instead of the 10-ounce option to save on calories, sodium, and saturated fat. The grilled avocado adds heart-healthy fat and fiber to this dish, making it a lower-carb option that has 6 grams of fiber.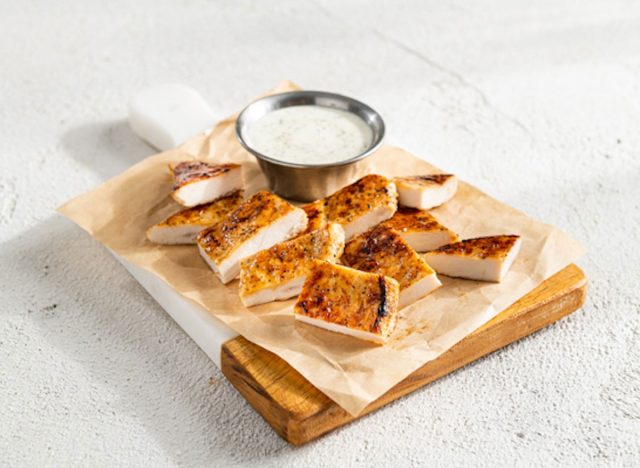 Nutrition
: 280 calories, 21 g fat (4 g saturated fat, 0 g trans fat), 780 mg sodium, 3 g carbs (0 g fiber, 2 g sugar), 22 g protein
If you're a fan of chicken tenders but don't want the extra fat and calories that come from deep-fried chicken, then give the grilled chicken dippers a try for a healthy Chili's order. For an extra 80 calories and 14 grams of sugar, you can dip your grilled chicken tenders in their house-made BBQ sauce.
Kelsey Kunik, RDN
Kelsey Kunik is a registered dietitian, freelance writer, nutrition consultant, and sustainable food blogger.
Read more about Kelsey