9 Healthiest Snacks You Can Buy at Costco Right Now
An RD shares her picks for the best healthy Costco snacks to stock up on.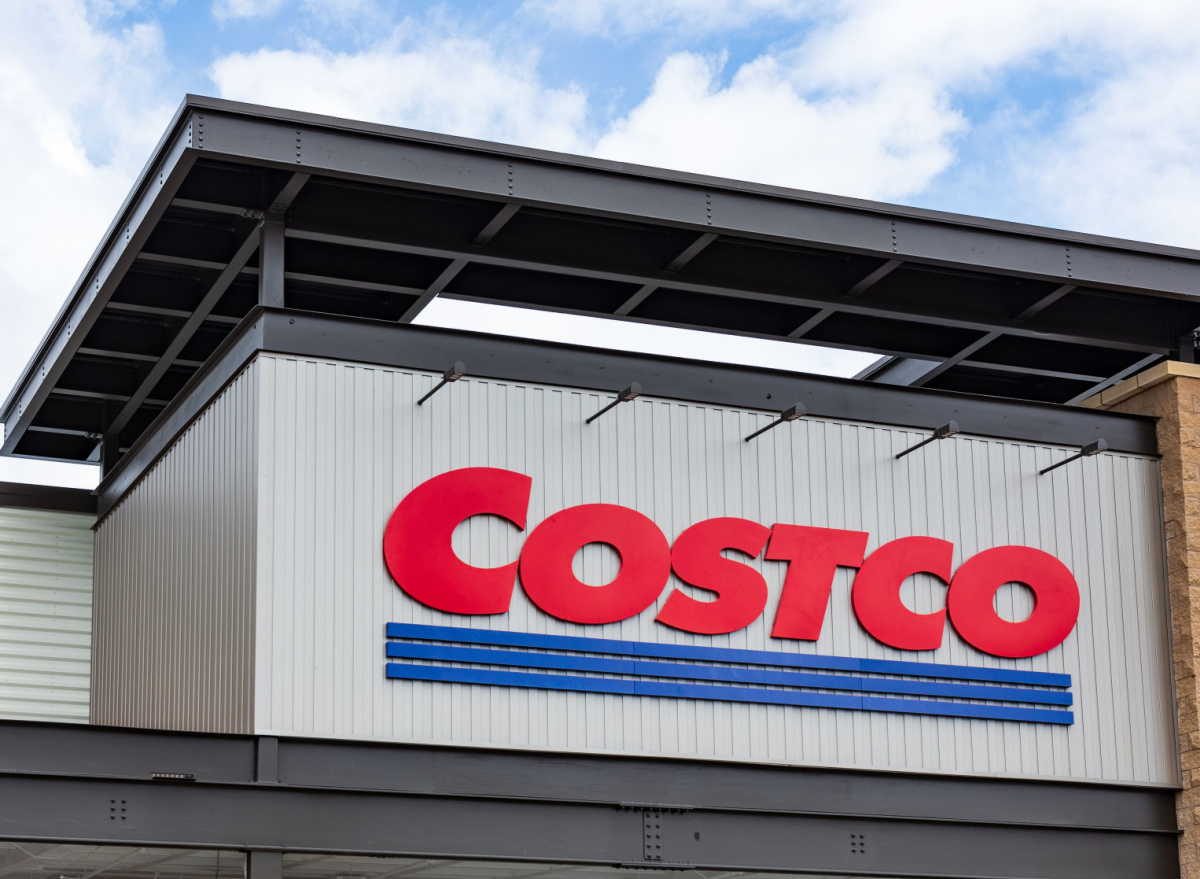 The product recommendations in this post are recommendations by the writer and/or expert(s) interviewed and do not contain affiliate links. Meaning: If you use these links to buy something, we will not earn a commission.
Snacking plays a significant role in your overall diet, as most people eat about 25% of their daily calories from snacks. If you're often time-pressed, meaning you skip meals and rely on snacks to make it through the day, it's essential to prioritize healthier snack choices. Costco may not be the first grocer you think of when it comes to buying healthy between-meal bites, but if you look hard enough, members can find a variety of wholesome, healthy Costco snacks.
Costco stores are a great place to find deals on home goods and bulk groceries. But when buying bulk foods, it's especially important to purchase the healthiest options. Thankfully, there are many healthy snacks in this colossal store, but they aren't always the easiest to find. The unhealthiest choices are usually the most prominently featured, so you need to look closely. As a registered dietitian nutritionist, I scoured the aisles of Costco to provide this list of healthy Costco snacks for members to try.
All the snacks mentioned below are minimally processed and provide positive nutrients, like fiber, vitamins, and minerals, and they all limit added sugars. Many are shelf-stable and portable, making them great for traveling, or stashing in your car or office.
Here's a look at nine of the most nourishing noshes available at Costco right now. Then, for more healthy grocery shopping tips, check out the 8 Unhealthy Frozen Dinners at Costco.
Kirkland Signature Organic Apple Sauce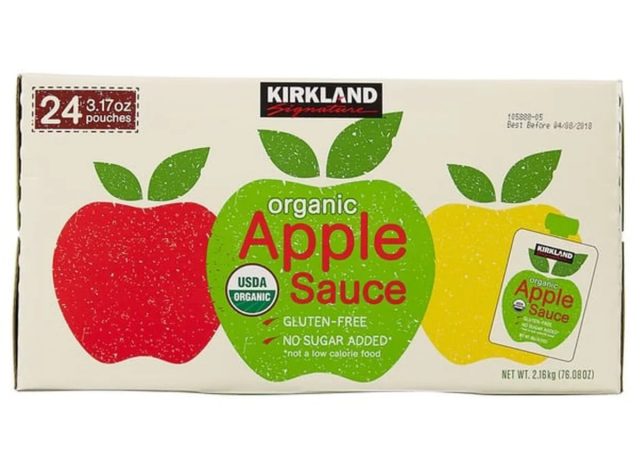 Per 3 oz pouch
: 45 calories, 0 g fat (0 g saturated fat), 0 mg sodium, 10 g carbs (0 fiber, 8 g sugar), 0 protein
This applesauce is a great option for a snack for children and adults alike. Each pouch provides 100% of the daily requirement for Vitamin C and it also provides potassium and there are no added sugars whatsoever. These are great to have pre-workout or during a long hike or bike ride, in lieu of overly processed sports bars, and gels.
RELATED:

2
Kirkland Organic Hummus Single-Serving Cups
Per 2.5 oz container: 170 calories, 13 g fat (1.5 g saturated fat), 290 mg sodium, 11 g carbs (3 fiber, 1 g sugar), 4 protein

Kirkland Hummus is a great plant-based option to enjoy wholesome snacks, like an individual serving of hummus and fresh-cut veggies or hummus on whole grain crackers. Hummus is simply nutrient-rich chickpeas, tahini, oil, and seasonings. Hummus is naturally rich in fiber and protein, a one-two punch to help you stay fuller, longer. A study published in the journal Nutrients reported that hummus can improve glucose control, helps control hunger and appetite, and improves diet quality.

3
Wonderful In-Shell Pistachios
Per 1.5 oz package: 120 calories, 10 g fat (1.5 g saturated fat), 110 mg sodium, 6 g carbs (2 fiber, 2 g sugar), 5 protein

It's not easy to find pre-portioned, single-serve packages of nuts, which is great to keep portions in track and to enjoy as an on-the-go snack. That's why I like this bulk container of perfectly portioned pistachios. Each package has 120 calories and just 1.5 grams of saturated fat. Each pack provides 5 grams of protein, 2 grams of fiber, and no added sugar.

The combination of protein and fiber in pistachios make them a more filling snack, compared to lower-quality, nutrient-poor snacks.

4
Kirkland Sunsweet Dried Plums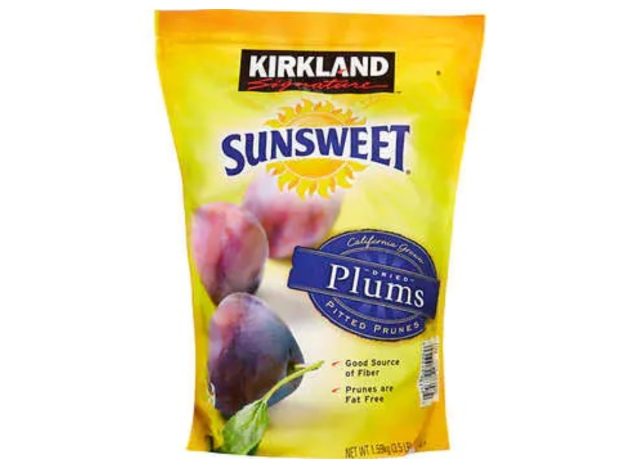 Per 1.5 oz serving: 100 calories, 0 g fat (0 g saturated fat), 0 mg sodium, 24 g carbs (3 fiber, 14 g sugar), 1 protein

For a naturally sweet and healthy Costco snack, I love dried, pitted plums. They're a perfect portable, shelf-stable snack that are rich in fiber and healthy carbohydrates, and they have no added sugar. Dark blue-purple fruit, like plums, are considered some of the healthiest because they provide beneficial phytonutrients that may help reduce the risk of chronic diseases, including heart disease and type 2 diabetes, and they may improve bone health.

RELATED:

5
That's it Mini Fruit Bars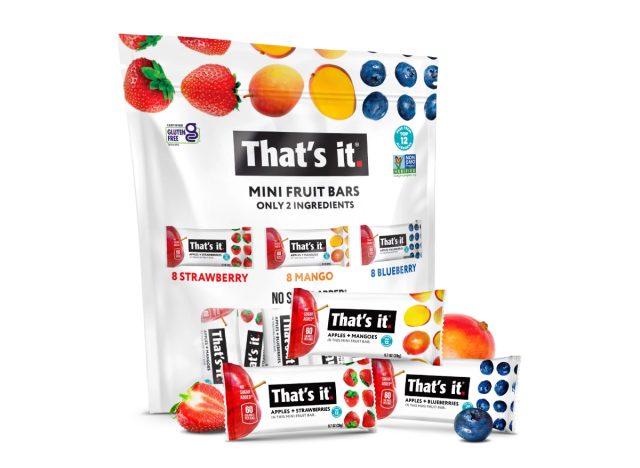 Per .7 oz bar: 60 calories, 0 g fat (0 g saturated fat), 15 mg sodium, 12 g carbs (2 fiber, 10 g sugar), 0 protein

These dried fruit bars are a great option, as they are made with only two ingredients, and they have no added sugar nor any additives or preservatives. They come in blueberry, mango, and strawberry flavors. The bars are the perfect size (7 ounces) to keep calories in check. They're perfect to take on the go, used as a source of fuel during endurance training or for your child's school lunch.

6
Kirkland Extra Fancy Mixed Nuts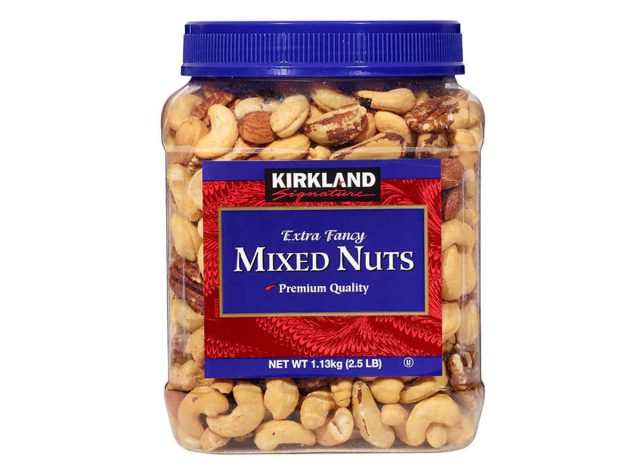 Per 1 oz: 170 calories, 16 g fat (2 g saturated fat), 90 mg sodium, 6 g carbs (2 fiber, 1 g sugar), 5 protein

Buying a 2.5-pound container of mixed nuts may sound like a diet disaster due to their high calorie and fat counts, but if you keep the container out of sight and stick to a 1-ounce serving, nuts are a healthy addition to any diet. Research shows that nut eaters have more nutrient-rich diets, they tend to have lower body fat, healthier weights and reduced risk for heart disease, type 2 diabetes and much more. Nuts are a good source of plant-based protein, antioxidants, fiber, and other essential nutrients.

7
Kirkland Organic Hard Boiled Eggs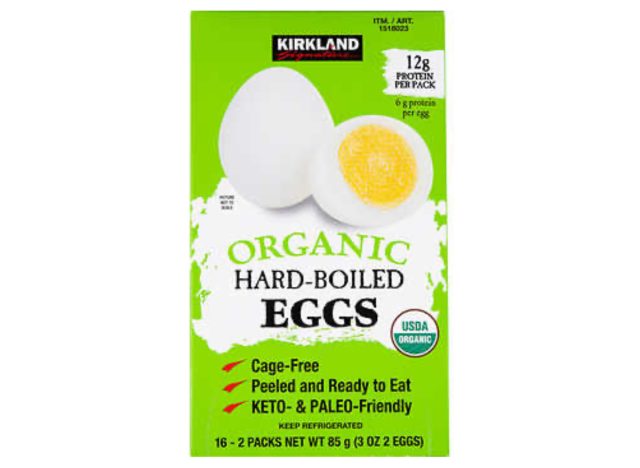 Per 1 egg: 68 calories, 4 g fat (1.5 g saturated fat), 60 mg sodium, 0 g carbs (0 fiber, 1 g sugar), 6 protein

Eggs are considered the gold-standard for high-quality protein, which is why they made the list for best healthy Costco snacks. Studies show that the protein in eggs can enhance satiety to help you stay fuller longer. Having hard boiled eggs on-hand is a great option to ensure that your snack provides filling protein. One large egg has 70 calories and provides more than 13 essential nutrients, including iron, vitamin D, iron, zinc, lutein, zeaxanthin, and choline. Eggs also pack in six grams of high-quality protein and antioxidants.6254a4d1642c605c54bf1cab17d50f1e

RELATED:

8
Kirkland Microwave Popcorn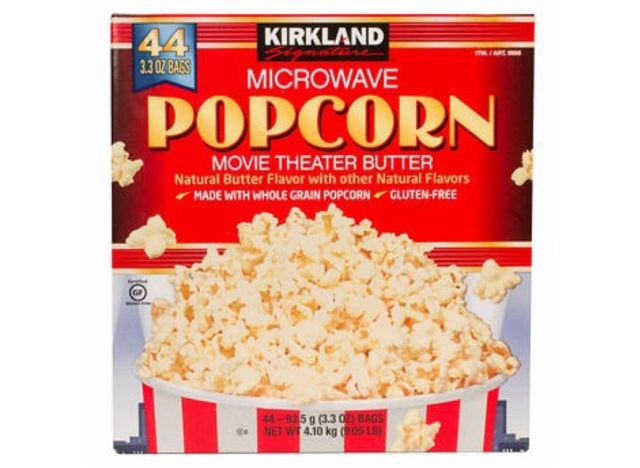 Per cup popped: 35 calories, 2.5 g fat (1 g saturated fat), 65 mg sodium, 3 g carbs (0 fiber, 10g sugar), 0 protein

Popcorn is a great snack because it's a whole grain and you can enjoy a large volume of popcorn for a low number of calories. Popcorn is 100% whole grain, provides protein, fiber and is antioxidant-packed. A study published in the journal Antioxidants revealed that beneficial antioxidant polyphenols were more concentrated in popcorn compared to fruits and vegetables. The fiber in popcorn will help keep you satisfied so you're less likely to overeat.

Think Jerky Original Grass-Fed Beef Stick[/slidetitle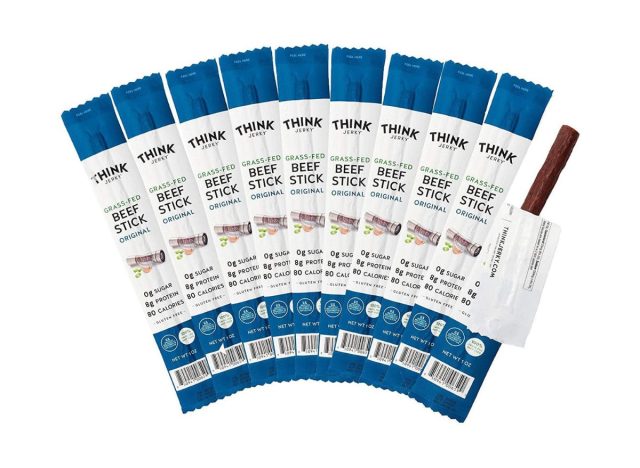 Per Stick (30 g): 80 calories, 5 g fat (2 g saturated fat), 330 mg sodium, 0 g carbs (3 fiber, 0 g sugar), 8 protein

This beef jerky made our best snacks list because it has no added sugar, and most jerky products have significant amounts of added sugar. The main ingredient is 100% grass-fed beef, and the other ingredients include salt, lactic acid, and spices.
Julie Upton, MS, RD, CSSD
Julie Upton is an award-winning registered dietitian and communications specialist who has written thousands of articles for national media outlets, including The New York Times, US News & World Report, and USA Today.
Read more about Julie
Sources referenced in this article