8 Worst Frozen Dinners at Costco, According to Dietitians
Beware of the frozen food aisle at Costco—high sodium and saturated fats could be lurking in your food.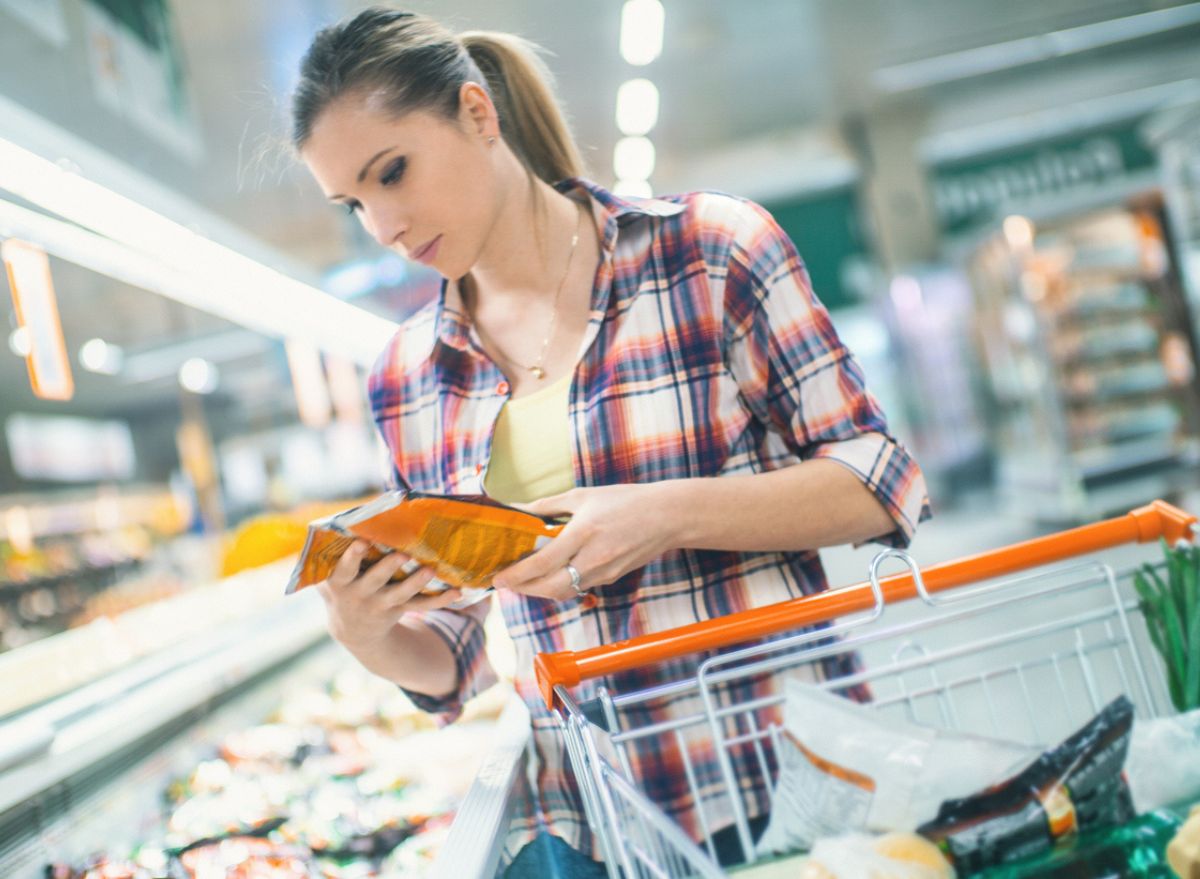 The product recommendations in this post are recommendations by the writer and/or expert(s) interviewed and do not contain affiliate links. Meaning: If you use these links to buy something, we will not earn a commission.
Of the many excellent deals you'll find at Costco, frozen dinners offer some of the best bang for your buck, with generous portions that can feed the whole family at a low cost. But despite their price-per-ounce appeal, some of the selections in the Costco frozen case come with a major downside: their nutrition content. In fact, dietitians warn against a few unhealthy Costco frozen dinners in particular.
While a few of the frozen dinners found at Costco can boost your health, others are highly processed and loaded with additives and concerning nutrients like sodium and saturated fat. Below, find out which frozen dinners dietitians don't advise tossing in your cart.
Royal Asia Honey Walnut Shrimp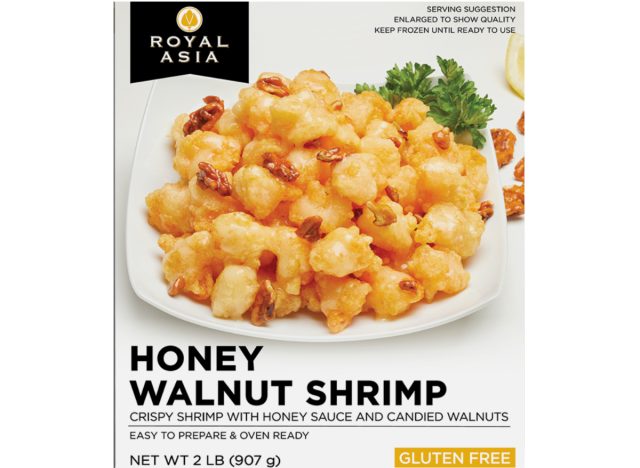 Per serving
: 240 calories, 13 g fat, 610 mg sodium, 65 g carbs, 10 g protein
In general, shrimp is a healthy food, offering plenty of protein and omega-3 fats for a boost for your heart and brain. But when doused in sugar and oils, as in Royal Asia's Honey Walnut Shrimp, the little sea creatures aren't as good a choice.
"This is one of the least nutritious frozen dinner options available because of the added sugar and highly refined oils used in the sauce," says Wan Na Chun, MPH, RD, of One Pot Wellness. Chun points out that this meal is also high in sodium at over 600 milligrams per serving. "Frequent consumption of foods high in sodium can increase your risk for hypertension," she says.
Foster Farms Jumbo Corn Dogs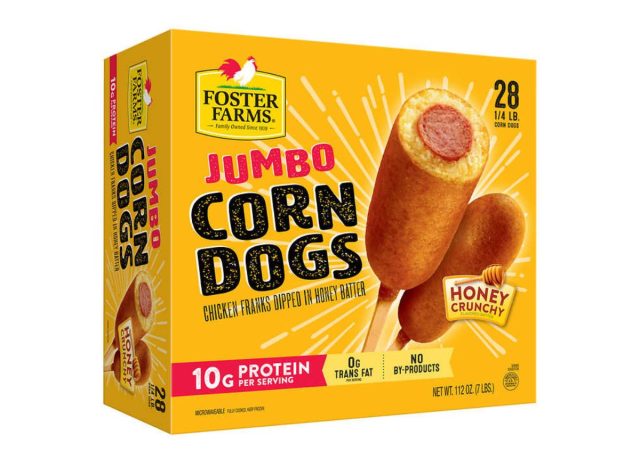 Per corn dog
: 270 calories, 14 g fat (4 g saturated fat), 700 mg sodium, 27 g carbs (1 g fiber, 9 g sugar), 10 g protein
For a kid's birthday party or backyard gathering, corn dogs bring a fun and festive flair—as well as (unfortunately) a hefty dose of sodium and saturated fat. "While these party snacks are incredibly nostalgic, they're not the most balanced option on Costco's shelves," says Caroline Thomason, RD, CDCES, a dietitian based in Northern Virginia. Each battered dog packs 700 milligrams of sodium and 4 grams of saturated fat.
On the bright side, Thomason says there are healthier entertaining-friendly choices in the Costco freezer case. "I like to buy the grass-fed hot dogs if we are having a barbecue."
Raybern's Choice Philly Cheesesteaks
Per sandwich
: 430 calories, 22 g fat (12 g saturated fat), 980 mg sodium, 37 g carbs (2 g fiber, 4 g sugar), 21 g protein
With piled-high beef and a generous layer of melty cheese, a Philly cheesesteak probably isn't the healthiest choice anywhere you find it. Raybern's frozen take on the iconic sandwich is no exception. In each sandwich, you'll rack up 60% of your daily saturated fat intake and 43% of the RDA for sodium. The hoagie roll is made with refined white flour, and questionable ingredients like palm oil and processed cheese compose the filling.
Kirkland Signature Chicken Bakes
Per sandwich
: 540 calories, 19 g fat (6 g saturated fat), 1,370 mg sodium, 58 g carbs (3 g fiber, 7 g sugar), 35 g protein
You may know the Kirkland Signature Chicken Bakes from the Costco food court because they're certainly a member favorite. Though they may be popular, these savory hand-held pies are far from nutritionally ideal.
"The issue with the Kirkland Signature Chicken Bakes is that they contain 1,370 grams of sodium per serving. This is more than half the RDA for sodium in one food!" says Bonnie Newlin, MS, RD, LDN, CLT, of Crave Nourishment. "Additionally, there are over 30 ingredients listed, including high fructose corn syrup." This ingredient has been associated with promoting some concerning health issues like obesity and metabolic dysregulation.
For a less processed (but equally convenient) chicken dinner, consider Costco's ready-made rotisserie chicken with a bagged salad kit.
Don Miguel Shredded Beef with Cheese Burritos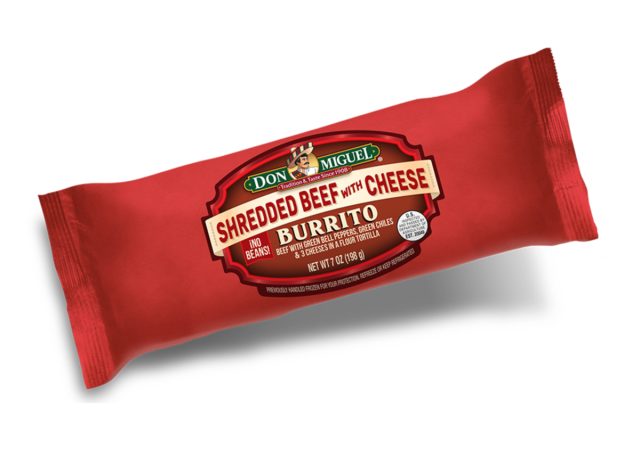 Per burrito
: 430 calories, 13 g fat (4 g saturated fat), 990 mg sodium, 58 g carbs (3 g fiber, 1 g sugar), 20 g protein
"The Shredded Beef Burritos from Don Miguel are a pass for me," says Amanda Sauceda, MS, RD. Her reason for steering clear of this frozen Mexican entrée? One burrito nearly maxes out your sodium for the day, and the ratio of carbs to protein is quite high. "While the burrito is high in protein, it comes at the expense of having three times as many carbs, at almost 60 grams of carbohydrates. Having that many carbs compared to the protein means you might be feeling hungrier sooner than you think."
Pierre Signatures Angus Cheeseburgers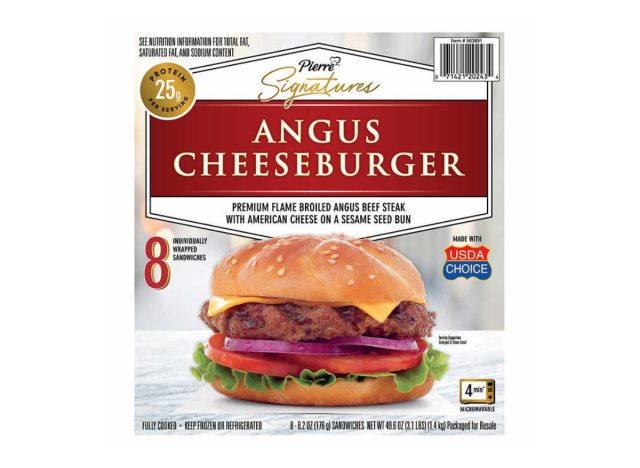 Per sandwich
: 500 calories, 27 g fat (10 g saturated fat, 1 g trans fat), 820 mg sodium, 40 g carbs (2 g fiber, 6 g sugar), 25 g protein
Pierre Signatures Angus Cheeseburgers have been a Costco frozen staple for years, but that doesn't mean they're a nutritious option. One burger comes with 510 calories, 55% of your daily saturated fat, and 5 grams of added sugars. For the sake of health, make this one an occasional (not weekly) choice on your Costco runs.6254a4d1642c605c54bf1cab17d50f1e
Bibigo Beef Bulgogi Mandu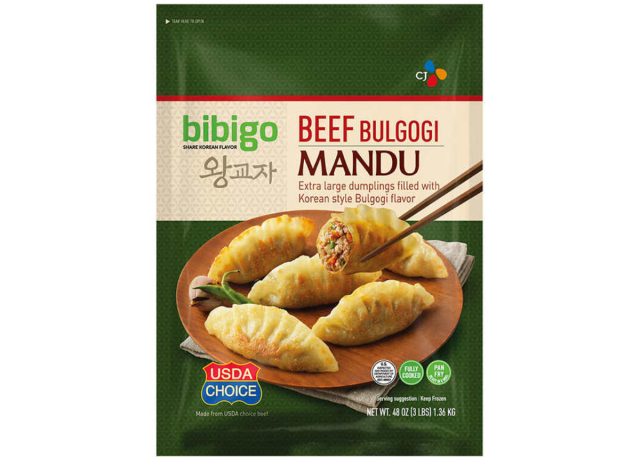 Per 4-piece serving
: 280 calories, 9 g fat (3.5 g saturated fat, 1 g trans fat), 820 mg sodium, 40 g carbs (2 g fiber, 6 g sugar), 25 g protein
Bibigo's Beef Bulgogi Mandu in the Costco freezer aisle not only brings the fire of Korean spice, it could also bring a fire of inflammation in your body. "The issue with these little 'fire meat' dumplings is that a serving of four small dumplings contains over 700 milligrams of sodium, 280 calories, 3.5 grams of saturated fat, and 4 grams of sugar," says Newlin. She adds that, with a lengthy list of over 20 ingredients, the bulgogi is definitely ultra-processed.
Marie Callender's Chicken Pot Pies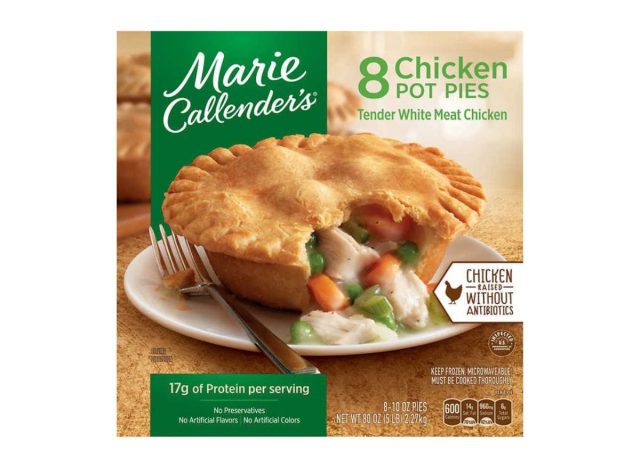 Per pie
: 600 calories, 32 g fat (14 g saturated fat, 1 g trans fat), 960 mg sodium, 61 g carbs (4 g fiber, 6 g sugar), 17 g protein
Chicken pot pie is a comfort food classic—but save your appetite for when you can enjoy it made from scratch. Marie Callender's frozen pot pies are a far cry from the wholesome version mom used to make.
"While [the pies] may boast 17 grams of protein, they also pack in 32 grams of fat and only 4 grams of fiber, making them an unbalanced and un-filling choice," says Jessie Hulsey, RD, LD, an Atlanta-based registered dietitian. "Excess intake of saturated fat and low fiber intake can increase your risk of heart disease and other health issues, so it's important to limit your consumption of these types of convenience foods."
Sarah Garone, NDTR
Sarah Garone, NDTR, is a registered nutrition and dietetic technician, and a health, nutrition, and food writer.
Read more about Sarah
Sources referenced in this article