7 Best New Costco Snacks To Try in 2023, According to Members
Costco fans have spotted a bunch of exciting new snacks this year. Many are already flying off shelves!
The product recommendations in this post are recommendations by the writer and/or expert(s) interviewed and do not contain affiliate links. Meaning: If you use these links to buy something, we will not earn a commission.
Costco gets a lot of notice for its low-cost food court menu, bulk-sized pantry staples, and abundant free samples. One area where the warehouse club doesn't receive nearly enough attention is its snack selection.
Members have been introduced to so many crave-worthy snacks over the years, from BarkThins Snacking Chocolate to Mi/Mo Mochi Ice Cream. Even health-conscious shoppers can find plenty of nutritious things to satisfy their hunger without compromising their wellness goals.
Since the start of the new year, Costco fans on social media have spotted a number of tantalizing new snack finds, many of which are already flying off shelves. So grab your membership card and head to your local warehouse to grab these great nibbles before they're gone.
Late July MultiGrain Sea Salt Chips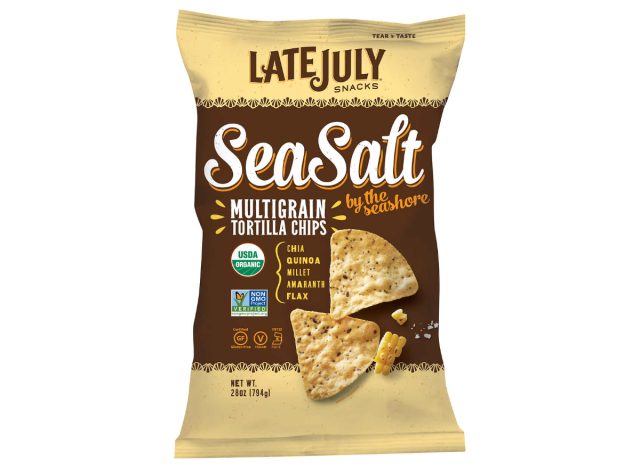 Step aside tortilla chips, because Late July's Multigrain Sea Salt Chips are moving in. Instagram fanpage @costco_doesitagain found the new offering in February, and customers are raving about it. One commenter wrote, "These are GOOD. Great with salsa, dip, and even alone. It's our new house chip." The price varies by location.
Peanut Butter Chocolate Mix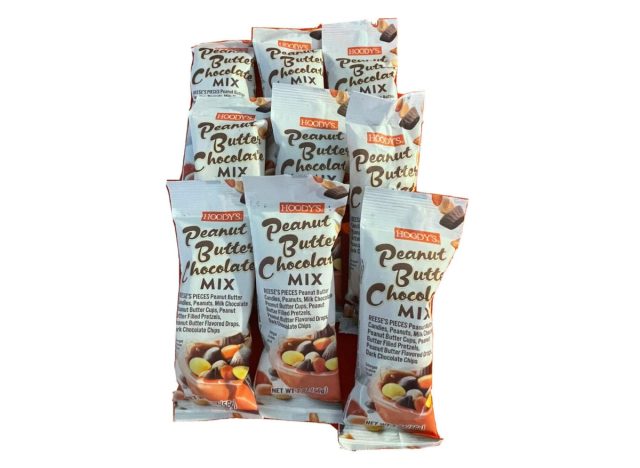 This one's for the peanut butter and chocolate fanatics. This snack mix combines all your favorites: Reese's Pieces, peanut butter cups, peanuts, peanut butter chips, dark chocolate chips, and peanut butter pretzels. Each bag includes 18 packs, all for only $9.99. (Depending on your location, you may see a loose mix in a large container instead.) "I would eat that ENTIRE bag all by myself in a heart beat," one Instagram user wrote.
Reese's Dipped Animal Crackers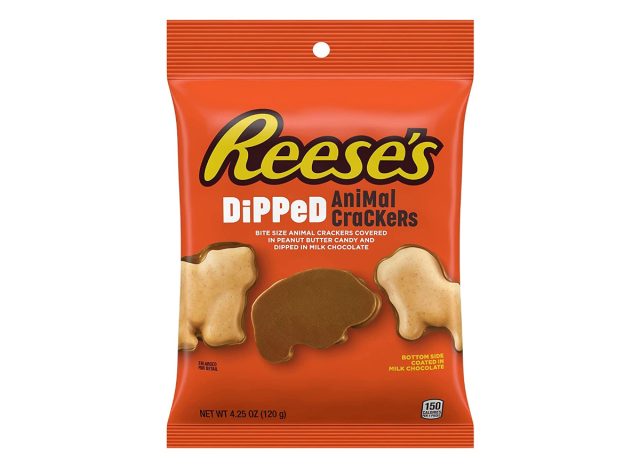 If you haven't yet seen Reese's Dipped Animal Crackers at Costco, this is your signal to make a grocery run. Instagrammers have been raving about these snacks since fan accounts like @costcoaisles spotted them back in February. "Just bought my first bag and these things are addictive. Don't buy them if you have no willpower," one commenter wrote. "Not so hot take…better than Girl Scout Cookies." The 1.5-pound bag sells for $7.99, but make sure to act fast because they tend to go out of stock!
Kiwi Berries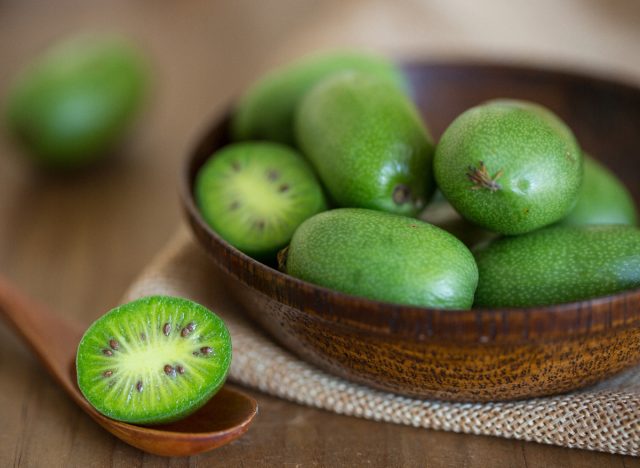 Though kiwi berries themselves are not especially new, fans are buzzing about recent sightings of the fruits at Costco lately. Though small in size, these slightly sweet, miniature kiwi fruits come with a relatively big price tag. One TikToker spotted them at Costco for $13 per carton, but nonetheless suggested they are worth it: "My fav!! Our produce always has [th]em in the summer. I love that you don't have to peel them or anything."
Soft & Chewy Sweet Potato Sticks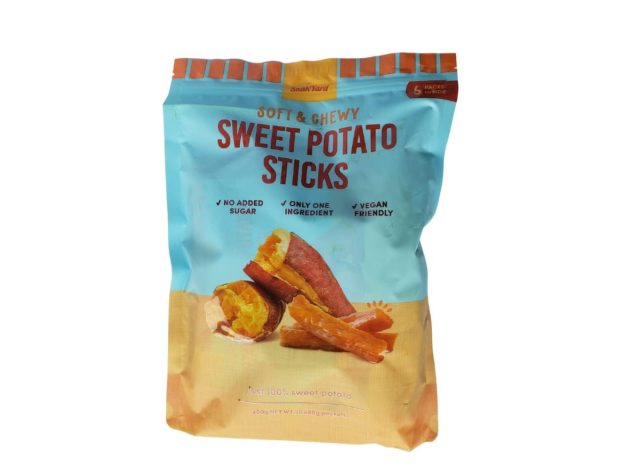 Not everyone loves these Soft & Chewy Sweet Potato Sticks, but fans on Reddit applaud the "light flavor" and limited number of ingredients. In fact, the package only lists one: sweet potato. That's it! No salt, no sugar, no additives of any kind. "[T]hey taste pretty sweet so they must use some pretty sweet sweet potatoes," one wrote. "The texture is basically like other dried fruit type snacks but more soft and chewy like gummy candy." A fan on TikTok compared them to dried mango: "If you like sweet potatoes, definitely worth a try." If you're looking for more pizzaz, a commenter recommended "shaking them up with brown sugar and cinnamon." 
Simple Mills Farmhouse Cheddar Crackers
You can't go wrong with Simple Mills crackers. The brand's Farmhouse Cheddar flavor just arrived at Costco, with Instagram's @costco_doesitagain spotting the snacks this week. On its website, Simple Mills describes them as a "better for you version of your favorite cheesy childhood crackers," with one reviewer gushing, "I love most of the Simple Mills crackers, but the cheddar ones are my favorite. You can really taste the cheese." 
Snak Club Tajin Gummy Bears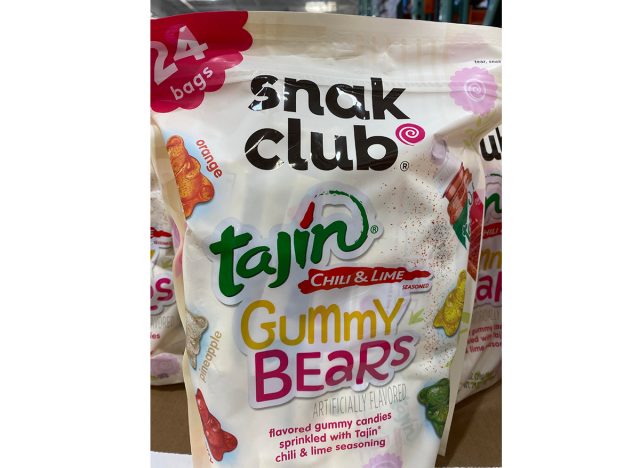 When it comes to this Costco snack: run, don't walk. Snak Club Tajin Chili & Lime Gummy Bears are pretty much exactly what they sound like—gummy bears flavored with the popular Mexican chili, salt, and lime seasoning. A Costco member on TikTok first spotted the candy in February, priced at $11.99, with one commenter saying they're "so good I bought 2 bags." Another shopper on Reddit described them as "the perfect balance of sweet and slightly spicy." Grab a bag if you can! The product currently doesn't appear on either Costco's or Snack Club's website, and commenters on Reddit confirmed that they hard to find.
Olivia Bria
Olivia has a bachelor's degree in communications and political science from the University of Connecticut. She is a foodie, traveler, journalist, and celebrity interviewer.
Read more about Olivia