36 Healthiest Brands in the Grocery Store
Searching through the supermarket is overwhelming, but these food brands make it easy to pick up healthier options.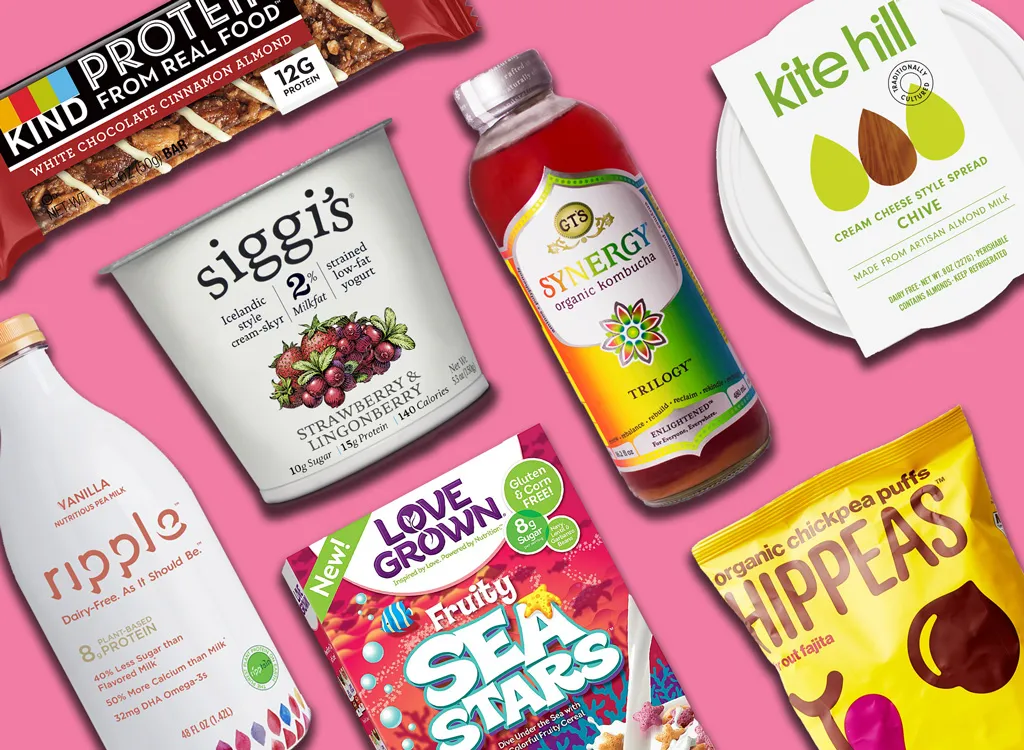 As shoppers become more health-conscious and wary of what they throw into their carts, legacy food giants notice sales taking a nosedive. Take Kraft Heinz Company—maker of iconic household staples such as Velveeta, Philadelphia, Grey Poupon, Jell-O, Oscar Mayer, and more. The merged brand recently revealed that its fourth-quarter sales plummeted 1.1 percent in the U.S. (the company's largest market) and 0.6 percent globally with overall sales decreasing 0.3 percent since last year.
While this is quite unfortunate news for big food, their loss of sales is paving the path for smaller, rising companies to usurp the forefront of healthy eating. In an ode to these budding stars, we've compiled a list of wholesome brands shaking up the grocery scene due to their use of clean ingredients, transparent labels, and implementation of sustainable and fair practices. Below, find out if any of your favorite brands are gaining traction. In fact, many of them were deemed our own go-to best snacks for weight loss.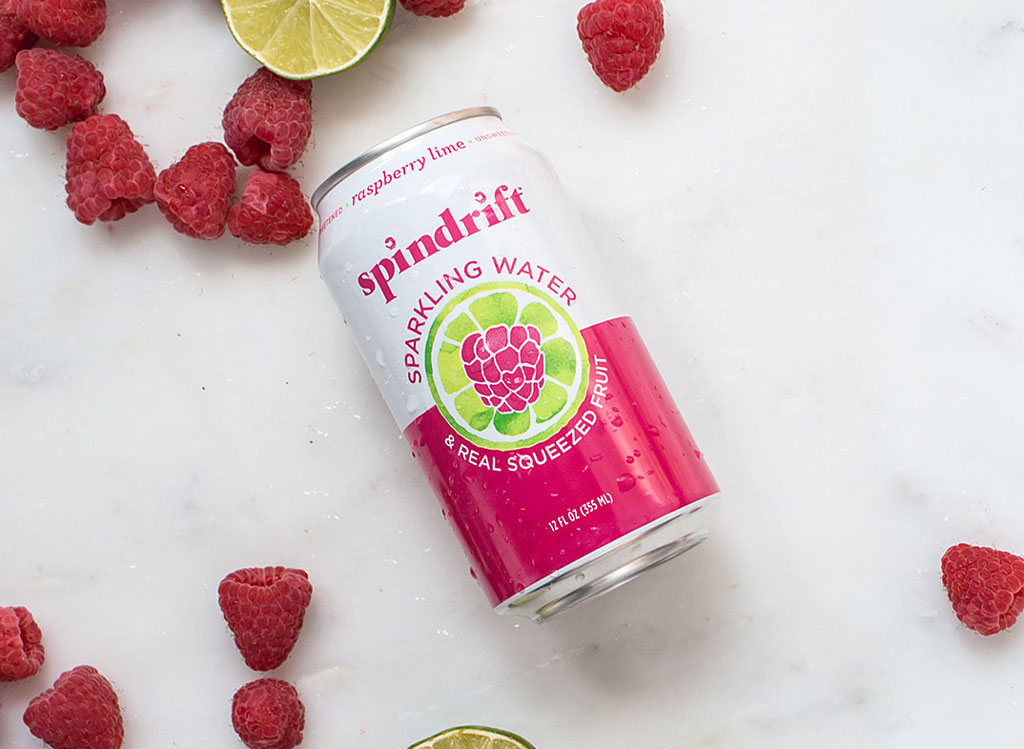 One 12-ounce can of Coke: 39 grams of sugar. One 12-ounce can of Spindrift Raspberry Lime: 1 gram of sugar. The look on your face when you hear that Spindrift is made with real fruit juice, no added sugars, no artificial or natural flavors, and no non-nutritive sweeteners (yes, that includes stevia): priceless.
Spindrift's delicately flavored sparkling waters are a must-have in every household that prioritizes exceptional taste and real food over chemicals. And if you weren't already proud to drink Spindrift based on their nutrition facts and ingredient list alone, know that the company also participates in 1% For The Planet: a group of companies that pledges to donate one percent of annual sales (not just profits) to environmental causes. Swapping out soda for Spindrift can save you 131 calories a can. For more helpful swaps, don't miss these food swaps that double weight loss.
Drink This!
Spindrift Raspberry Lime
9 calories, 0 g fat, 0 mg sodium, 1 g carbs (1 g sugar), 0 g protein
Siggi's yogurts truly live up to the brand's slogan: "simple ingredients, not a lot of sugar." When siggi's founder, Siggi Hilmarsson, was working in New York in 2004, he longed for the version of yogurt he grew up with in Iceland—known as skyr—that was thicker, lower in sugar, and free of the artificial flavors that plagued many of the cartons that lined American dairy aisles. His small beginnings selling homemade skyr at a local farmers market grew into transforming what Americans expect of yogurt now: lower sugar (siggi's yogurts contain between 5 and 11 grams of sugar), real ingredients (seriously, no fake stuff), and high protein (10-17 grams per tiny container). The yogurts' superb nutritionals landed them the number one spot on our list of yogurt brands ranked by nutrition!.
Eat This!
siggi's Icelandic-style Yogurt, Orange & Ginger
5.3-oz container: 120 calories, 0 g fat, 55 mg sodium, 12 g carbs (0 g fiber, 9 g sugar), 17 g protein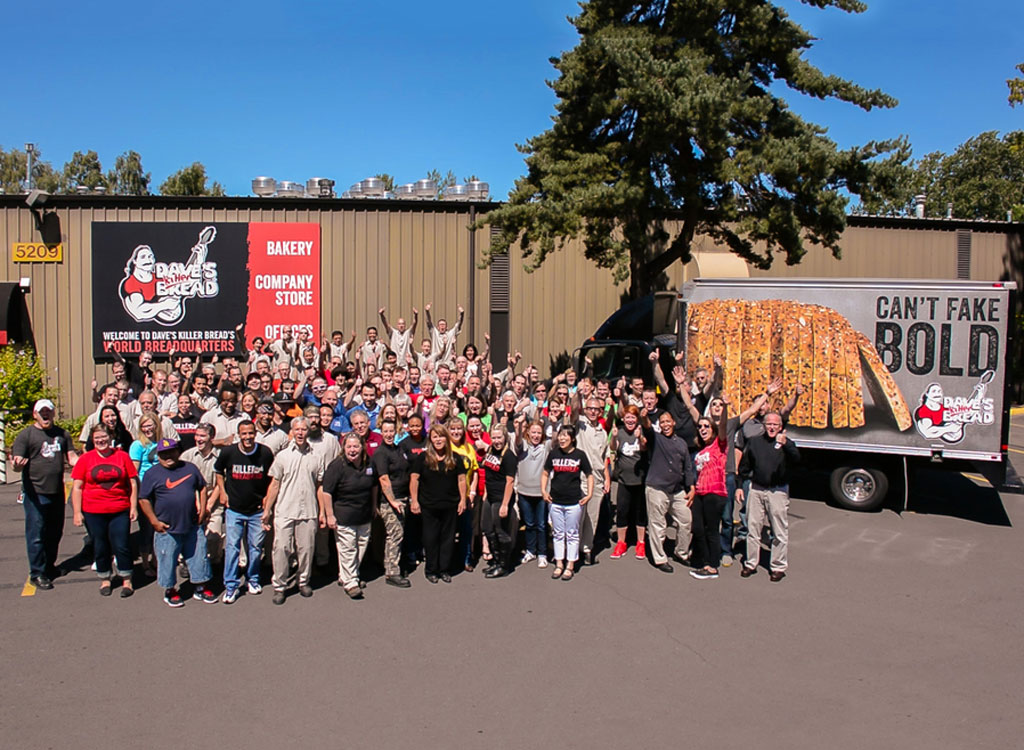 When you think of "ultra-processed foods," things like soda, chips, and chicken nuggets come to mind. But did you know that store-bought bread is considered to fit into the same category? Traditional store-bought breads are filled with fiber-devoid refined white flour, high fructose corn syrup, trans-fat-like fats such as mono- and diglycerides, bleaching agents like calcium peroxide, and countless other unfamiliar additives. Dave's Killer Bread has none of these things. They make real whole grain, organic, high-fiber bread with none of the ultra-processed additives.
Eat This!
Dave's Killer Bread Powerseed
1 slice: 100 calories, 2 g fat (0 g saturated fat), 140 mg sodium, 17 g carbs (5 g fiber, 1 g sugar), 5 g protein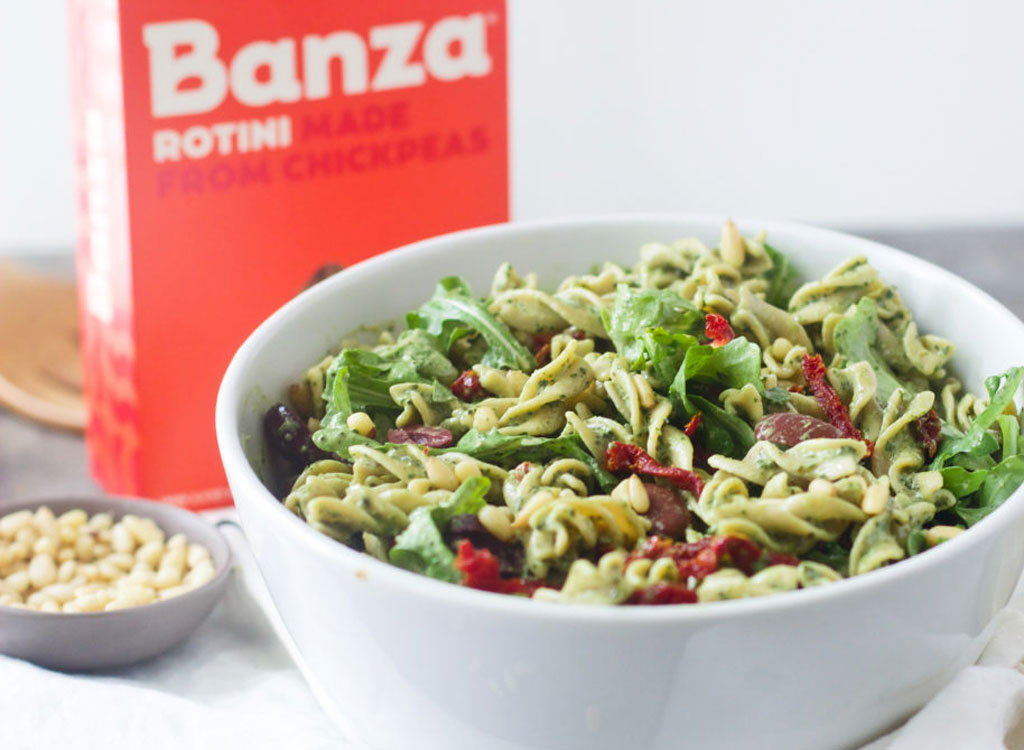 One of the worst carbs in America got a major makeover. By changing one ingredient—swapping out highly-refined semolina or wheat flour for high-fiber, high-protein chickpeas—you can make a pasta that tastes like the original but with many more satiating macronutrients. Banza's chickpea pasta has double the protein, four times the fiber, and nearly half the net carbs as regular pasta.
Once Banza forged the path to better pasta, many companies followed with bean-based pastas of their own. We're also huge fans of Modern Table (their blend of red lentil flour, white rice, and pea protein tastes the most like real pasta) as well as Ancient Harvest (their POW! pasta line features shapes made from either black beans, green lentils, or red lentils).
Eat This!
Banza Shells
2.5-oz serving: 190 calories, 3.5 g fat (0 g saturated fat), 60 mg sodium, 32 g carbs (8 g fiber, 5 g sugar), 14 g protein
Applegate was one of the first processed meat companies to focus on both how livestock is raised as well as what their final product is processed with. They source humanely-raised meat with no antibiotics or hormones ever, and use only non-GMO ingredients, no fillers, and no artificial additives (like chemical nitrites, nitrates, or phosphates that are rampant in the cured meat industry). Our Eat This! pick listed below is made with pork, water, cane sugar, salt, and spices whereas competitor pork sausages like Banquet's Brown 'N Serve are made with pork, mechanically separated turkey, water, soy protein concentrate, salt, flavorings, sugar, dextrose, citric acid, BHA, and BHT.
Eat This!
Applegate Naturals Classic Pork Breakfast Sausage
3 links: 170 calories, 14 g fat (5 g saturated fat), 400 mg sodium, 1 g carbs (0 g fiber, 0 g sugar), 11 g protein
From baking essentials for those who want more than refined white flour to nutritional boosters to ancient grains, Bob's Red Mill makes it easy to eat a healthier diet filled with more whole grains and seeds.
Eat This!
Bob's Red Mill Fruit and Seed Muesli
1/4 cup: 130 calories, 3.5 g fat (1 g saturated fat), 0 mg sodium, 21 g carbs (4 g fiber, 3 g sugar), 4 g protein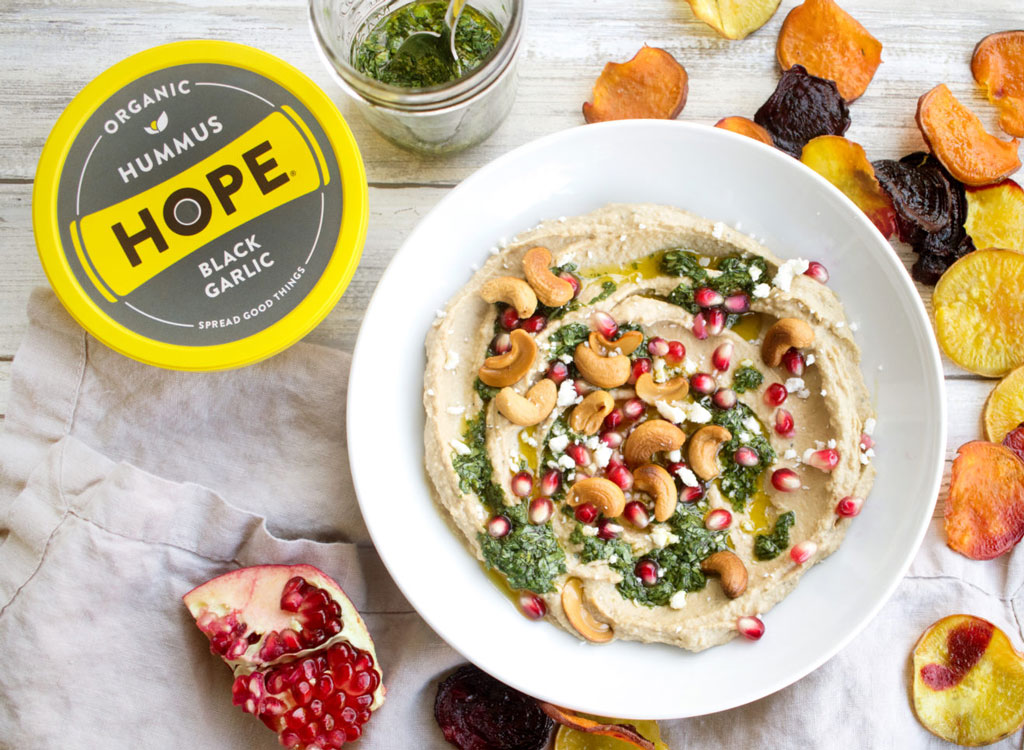 Because hummus is generally recognized as a health food, its ingredients usually are glazed over. But what you're missing is mildly unsettling. Some of the worst hummus brands use inflammatory vegetable oils, high levels of sodium, and sketchy preservatives like potassium sorbate. Hope changes all that. Their organic hummus is the closest store-bought product you can get to making it at home. (And you'll want to buy their tubs after you see their interesting flavors like earthy Black Garlic and zesty Sriracha.) Their tubs are made with organic garbanzo beans, organic extra virgin olive oil, lemon juice, spices, and a touch of citric acid as a safe preservative.
Eat This!
Hope Black Garlic Hummus
2 Tbsp: 40 calories, 2 g fat (0 g saturated fat), 160 mg sodium, 4 g carbs (1 g fiber, 0 g sugar), 1 g protein
Husband and wife duo Gayle and Phil Tauber founded the Kashi Company in 1984 to make healthy, whole-grain, ready-to-eat cereals available to all Americans. While they were certainly forerunners in the quest to provide low-sugar, whole grains back in the 80s, Kashi has set out to revolutionize farming in America most recently in 2016.
Kashi teamed up with Quality Assurance International (a USDA-accredited organic product certifying agency) to create a new type of certification: Certified Transitional. The transition from conventional to organic farming takes three years, and many farmers struggle or can't afford to farm organic products but sell them at conventional prices. That's where Kashi's certification comes in. "Transitional" crops are grown on land that is in the process of converting from conventional to organic practices. They're essentially organic, but have yet to officially earn the USDA Organic seal of approval.
Eat This!
Kashi Wheat Biscuit Cereal, Dark Cocoa Karma (Certified Transitional)
34 biscuits: 210 calories, 1.5 g fat (0 g saturated fat), 5 mg sodium, 50 g carbs (7 g fiber, 9 g sugar), 5 g protein
Rather than heading to the bread aisle, Food for Life Baking Co. has you beeline for the freezer section. That's because their breads are made with sprouted grains. These activated grains are higher in bioactive micronutrients and make for a lower-gluten, higher-fiber bread that people obsess over.
Eat This!
Food for Life Ezekiel 4:9 Sprouted Whole Grain Bread
1 slice: 80 calories, 0.5 g fat (0 g saturated fat), 75 mg sodium, 15 g carbs (3 g fiber, 0 g sugar), 4 g protein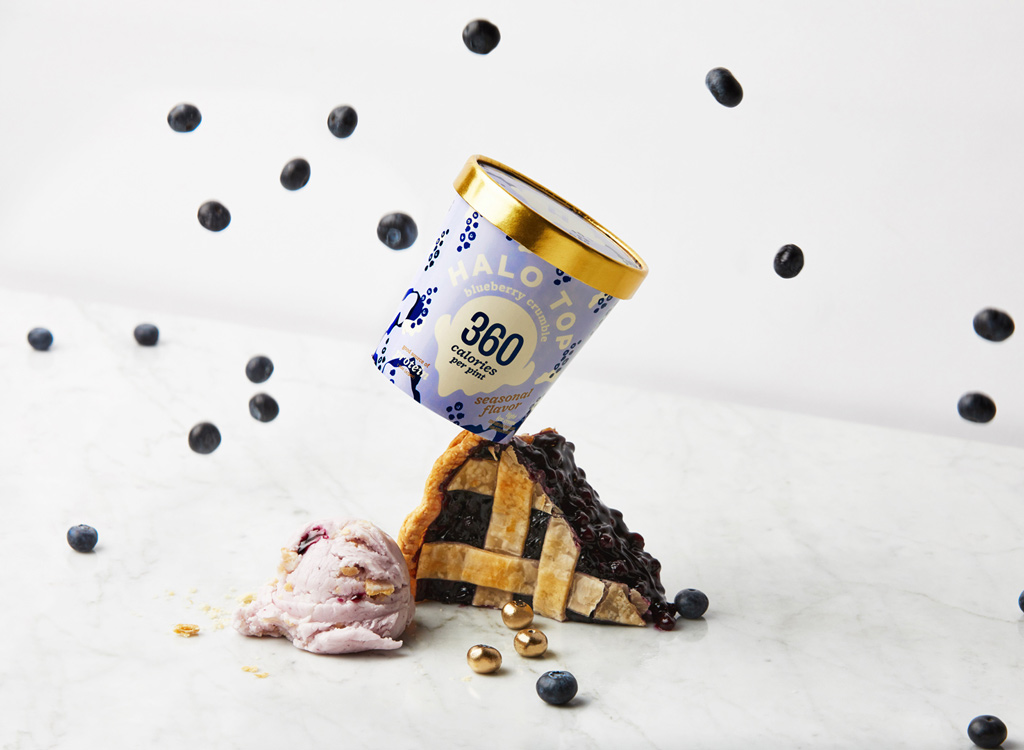 Back in 2011, former lawyer Justin Woolverton started making ice cream in his own kitchen because he had hypoglycemic diet restrictions. And thus, a lower-calorie, lower-sugar, lower-fat, and higher-protein tub of ice cream was born. Halo Top's appeal is simple: you can scarf down a pint of low-sugar, high-protein ice cream guilt-free for between 240 to 360 calories. Compare that to an entire pint of Haagen-Dazs or Ben & Jerry's that well exceeds 1,000 calories. Followingly closely behind Halo Top in 2013, Enlightened ice cream is also worth checking out. We actually ranked it as one of the top pints in our report: diet ice creams—ranked!
Eat This!
Halo Top Pistachio
1/2 cup: 70 calories, 2 g fat (1 g saturated fat), 115 mg sodium, 14 g carbs (3 g fiber, 6 g sugar [5 g sugar alcohols]), 5 g protein
Remember how granola is one of the 'healthy' foods nutrition experts want you to stop eating? That's because it's sneakily filled with lots of added sugars. That all changed with purely elizabeth. Elizabeth Stein's line of granola is filled with a mix of healthy whole grains and seeds and is surprisingly low in sugar. Since her granola came out in 2011, purely elizabeth. has expanded to providing even more phenomenal low-sugar, grains-based products from oatmeal cups to bars.
Eat This!
purely elizabeth. Maple + Almond Butter Nut Butter Granola
1/3 cup: 140 calories, 6 g fat (2.5 g saturated fat), 125 mg sodium, 19 g carbs (3 g fiber, 6 g sugar), 4 g protein
Canned tuna is one of the most popular and most affordable sources of protein and anti-inflammatory omega-3 fatty acids at the grocery store. Unfortunately, tuna also happens to be one of the most over-fished seafood and biggest contributor to mercury in our diet, according to the EPA. Companies like Wild Planet Foods pioneered making sustainable fishing practices mainstream, and Safe Catch doubled down on sustainability as well as mercury safety. They are the only company that tests every single tuna for mercury levels. As a result, their tuna has the lowest levels of mercury of any brand. For an extra layer of excitement, Safe Catch cans tuna in exciting flavors like Citrus Pepper, Chili Lime, and Garlic Herb, to name a few.
Eat This!
Safe Catch Elite Single Serving Pouch
2 oz: 60 calories, 0.5 g fat (0 g saturated fat), 230 mg sodium, 0 g carbs, 14 g protein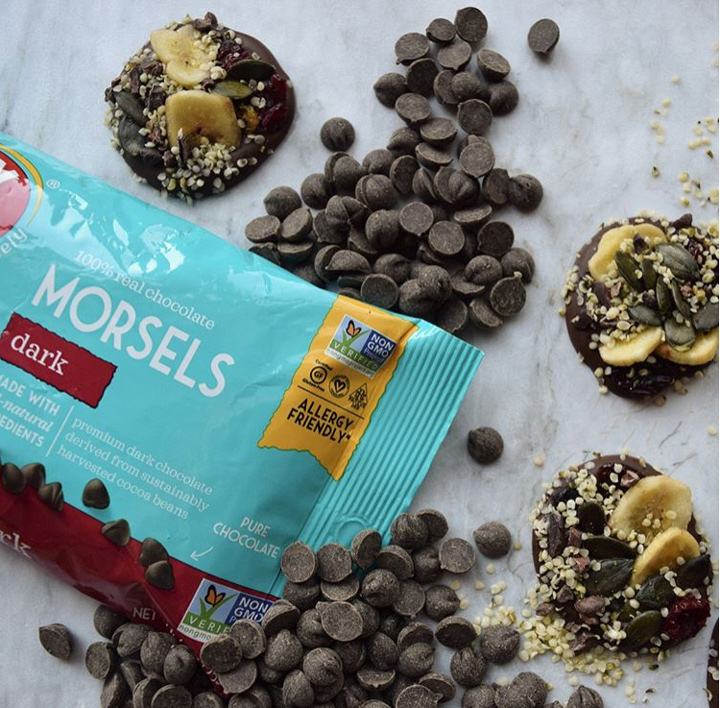 You may recognize Enjoy Life as the company behind your favorite chocolate chips, but this gluten-free brand is the first of its kind to receive non-GMO status for all of its products. In fact, all of their products—ranging from the baking mixes to the mini cookies and protein bites—are free of the top 14 allergens, allowing you to "Eat Freely."
Eat This!
Enjoy Life Dark Chocolate Morsels
1 tbsp: 70 calories, 6 g fat (3.5 g saturated fat), 0 mg sodium, 8 g carbs (2 g fiber, 5 g sugar), 1 g protein
Harmless Harvest produces organic coconut water that's not only seriously delicious, it's also naturally pink! Rather than using unnatural dyes, this potassium-rich drink gets its intriguing hue via the reaction caused by the coconuts' antioxidants' exposure to light. Harmless Harvest is known for sustainably harvesting Thailand-grown coconuts and gaining the prestigious "Fair for Life" seal thanks to its environmental stewardship and commitment to giving back to communities.
Drink This!
Harmless Coconut Water
8.75-oz bottle: 70 calories, 0 g fat, 40 mg sodium, 17 g carbs (0 g fiber, 15 g sugar), 0 g protein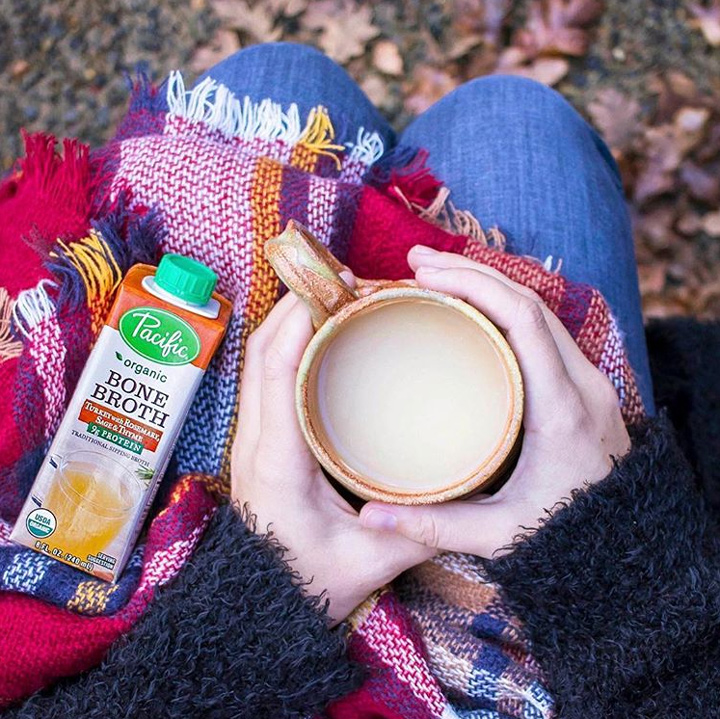 By sourcing supplies from sustainable farms and local greenhouses, Pacific Foods is able to deliver tasty and organic soups, broths, meals, and more. The brand is all about label transparency and concocts each of its products with few, simple, quality ingredients. Swap bouillon cubes (which are usually filled with inflammatory palm oil, questionable dyes, and a serious amount of salt) with Pacific's convenient, collagen-packed bone broth.
Eat This!
Pacific Organic Chicken Bone Broth
1 cup: 45 calories, 0.5 g fat (0 g saturated fat), 95 mg sodium, 1 g carbs (0 g fiber, 0 g sugar), 9 g protein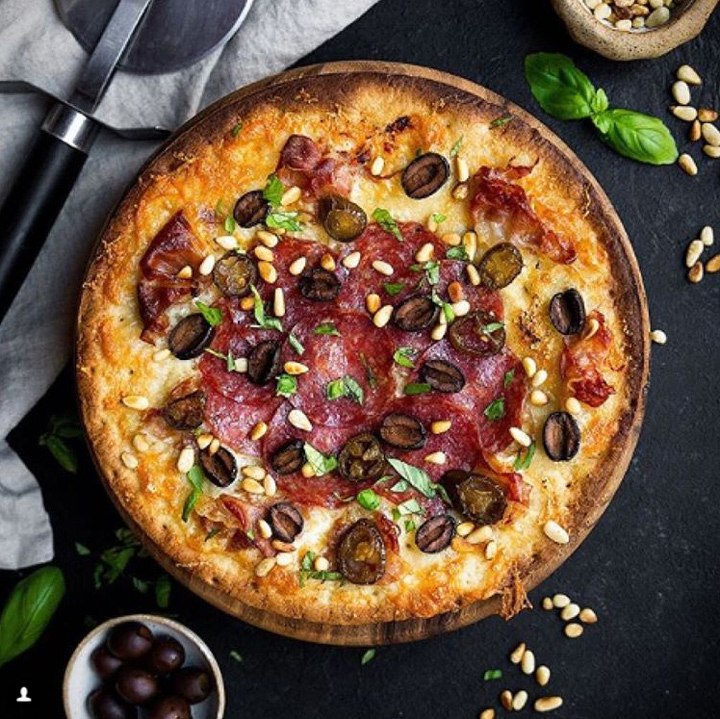 Caulipower—the cauliflower-based pizza crust that's a delicious gluten-free alternative to processed, refined white flour—is overhauling the frozen food aisle. The brand offers ready-made Veggie, Margherita, and Three Cheese pies as well as a plain crust for a DIY dinner. With less sodium and sugar and more fiber than leading wheat-based crusts, Caulipower is revolutionizing pizza night.
Eat This!
Caulipower Veggie Pizza
1/2 pie: 310 calories, 14 g fat (4 g saturated fat), 500 mg sodium, 37 g carbs (3 g fiber, 2 g sugar), 10 g protein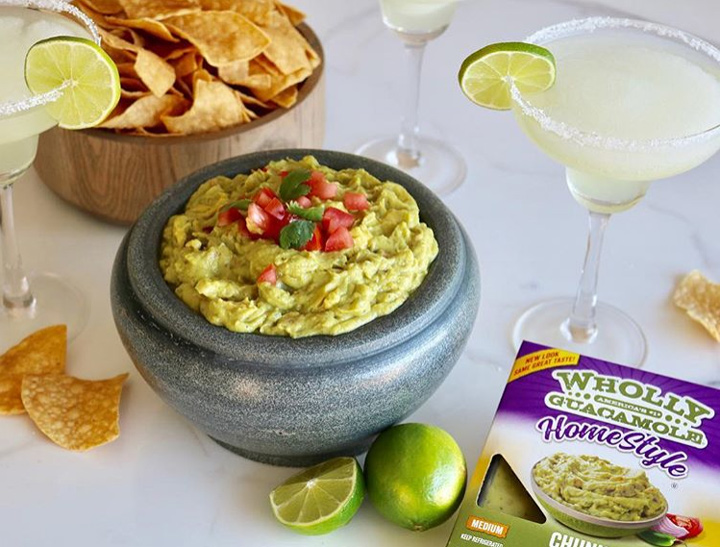 Rather than mashing avocados with sketchy chemicals and preservatives, Wholly Guacamole uses an all-natural high-pressure processing method that maintains the fruit's creamy texture and rich flavor while killing any harmful bacteria. America's number one guacamole brand just made us look forward to Taco Tuesdays that much more!
Eat This!
Simply Avocado Sea Salt Spread
2 tbsp: 65 calories, 6 g fat (1 g saturated fat), 115 mg sodium, 3 g carbs (2 g fiber, 0 g sugar), 1 g protein
If you're lactose-intolerant, vegan, or just trying to incorporate more plant-based foods into your diet, Kite Hill will become your holy grail. The almond milk-based alternatives to your favorite dairy products range from delicious yogurts to artisanal cheeses and shockingly good cream-cheese-style spreads. To replicate the taste and texture of real dairy cheeses, Kite Hill combines traditional cheese-making techniques with proprietary cultures and enzymes, pasteurizing its products every morning to retain absolute freshness and quality.
Eat This!
Kite Hill Chive Cream Cheese Style Spread
1 oz: 78 calories, 6 g fat (0 g saturated fat), 170 mg sodium, 3 g carbs (0 g fiber, 0 g sugar), 3 g protein
Frozen dinners gained a pretty bad rap over the years, thanks to their highly processed ingredients and sketchy preservatives, which is why Evol aims to revolutionize the frozen food aisle. It packs its beef burritos with sustainably-raised and antibiotic- and hormone-free beef, real cheddar, and wholesome spices.
Eat This!
Shawarma Style Chicken
1 bowl: 300 calories, 6 g fat (2.5 g saturated fat), 440 mg sodium, 45 g carbs (3 g fiber, 3 g sugar), 17 g protein
Ripple's pea-based milk alternatives disrupted the dairy alternative market since its inception in 2015. The brand has expanded Ripptein, its proprietary pea protein, into a line of DHA omega-3-spiked half and half creamers as well as Greek yogurt alternatives, using GMO-free ingredients and 100 percent recycled plastic bottles. Feel free to douse your morning bowl of cereal or cup of Joe with this stuff.
Drink This!
Ripple Unsweetened Original
8 oz: 70 calories, 4.5 g fat (0.5 g saturated fat), 130 mg sodium, 0 g carbs, 8 g protein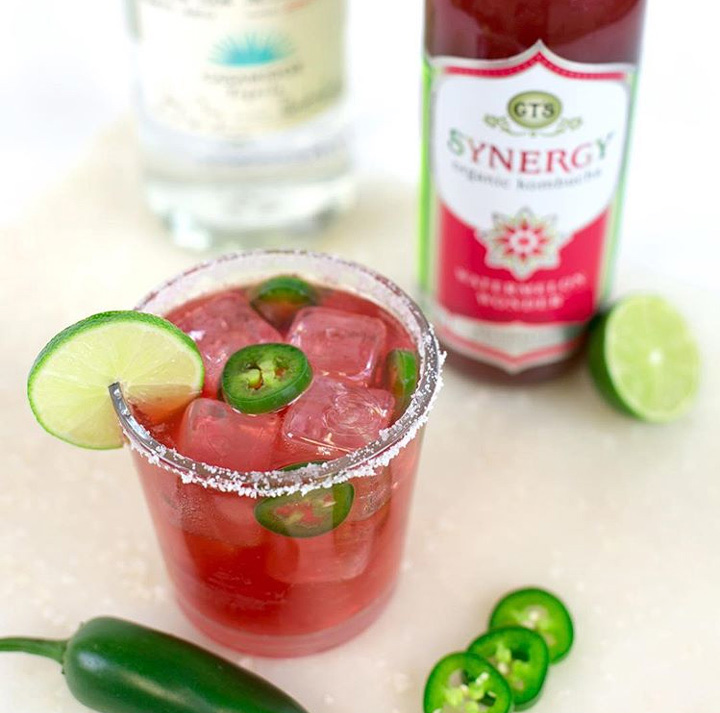 Inspired by his mother's miraculous cancer recovery, GT Dave began bottling his homemade kombucha at age 15 and sharing the fermented, probiotic-packed beverage with the world ever since. Now, as the number one best-selling kombucha brand, GT's Kombucha is making the raw drink and its gut-healing properties mainstream.
Eat This!
GT's Organic Raw Kombucha, Original
8 oz: 30 calories, 0 g fat, 10 mg sodium, 7 g carbs (0 g fiber, 2 g sugar), 0 g protein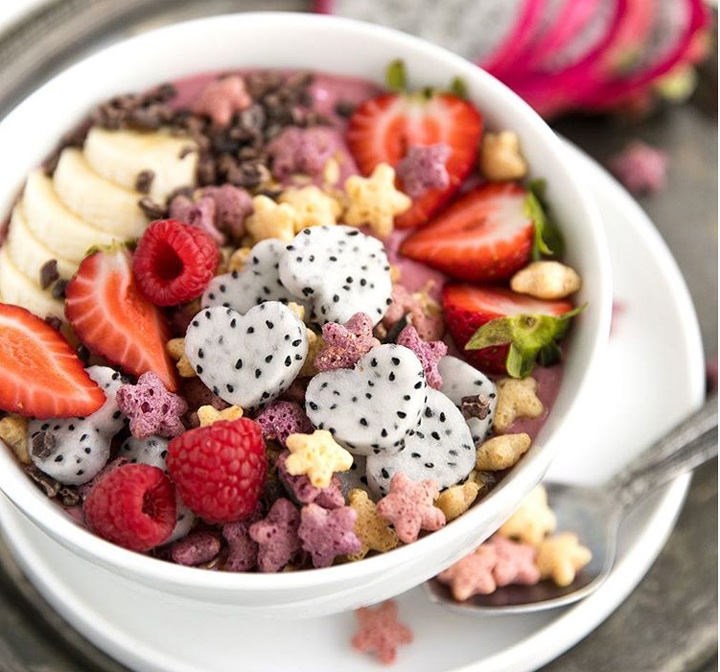 Unlike Tony the Tiger or Toucan Sam, Love Grown's line of kid-centric cereals—such as Polar Puffs, Comet Crispies, and Sea Stars—are baked with a nutritious navy, lentil, and garbanzo bean blend and feature no more than eight grams of sugar per serving. What's more, all of the cereal, oatmeal, and granola offerings are gluten-free are concocted with only natural colors and flavorings.
Eat This!
Love Grown Original Power O's
1 cup: 130 calories, 1.5 g fat (0 g saturated fat), 100 mg sodium, 23 g carbs (4 g fiber, 2 g sugar), 6 g protein
While many popular microwaveable popcorn bags are laced with chemicals and plastic, and the kernels tainted with artificial flavors and preservatives and hydrogenated oils, Quinn's popcorn features organic corn packed in a moisture-wicking paper bag. Quinn is currently looking to further revolutionize its pure-pop bag by making it unlaminated and recyclable and is doing so by experimenting with biodegradable options. Not to mention, the popcorn is undeniably delicious!
Eat This!
Quinn Aged Parmesan & Rosemary Microwave Popcorn
3 cups popped: 170 calories, 10 g fat (2 g saturated fat), 170 mg sodium, 17 g carbs (3 g fiber, 0 g sugar), 4 g protein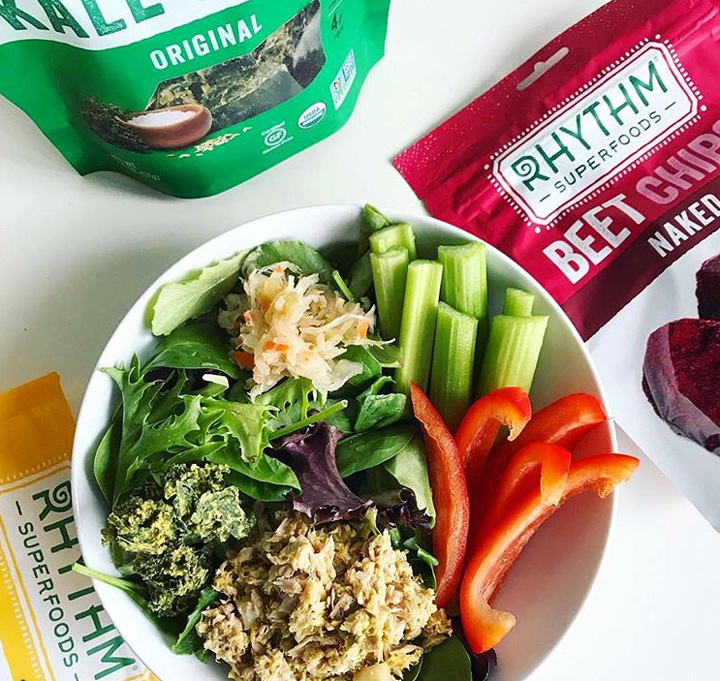 Rhythm Superfoods recognizes that potatoes are no longer the "it" vegetable, which is why it's turning nutritious vegetables such as beets, carrots, and kale into snackable crisps. Rather than frying or baking them in oil, Rhythm dehydrates its superfoods and tosses them with more nutrient-dense powerhouses such as sunflower seeds, turmeric, and tahini. Craving the crunch of greasy potato chips? Grab a bag of Rhythm's super-crisp carrot sticks guilt-free.
Eat This!
Organic Naked Carrot Sticks
40-gram bag: 140 calories, 1.5 g fat (0 g saturated fat), 115 mg sodium, 29 g carbs (11 g fiber, 6 g sugar), 3 g protein
6254a4d1642c605c54bf1cab17d50f1e
Beyond Meat is the mastermind behind the Beyond Burger: A revolutionary plant-based patty that cooks, looks, and tastes just like a real beef burger. Each four-ounce patty has an impressive 20 grams of protein, three grams of fiber, and is GMO-, soy- and gluten-free. The result of over seven years of well-worth research and experimentation has landed itself the top spot in our exclusive veggie burger taste test.
Eat This!
The Beyond Burger
4-oz patty: 290 calories, 22 g fat (5 g saturated fat), 450 mg sodium, 6 g carbs (3 g fiber, 0 g sugar), 20 g protein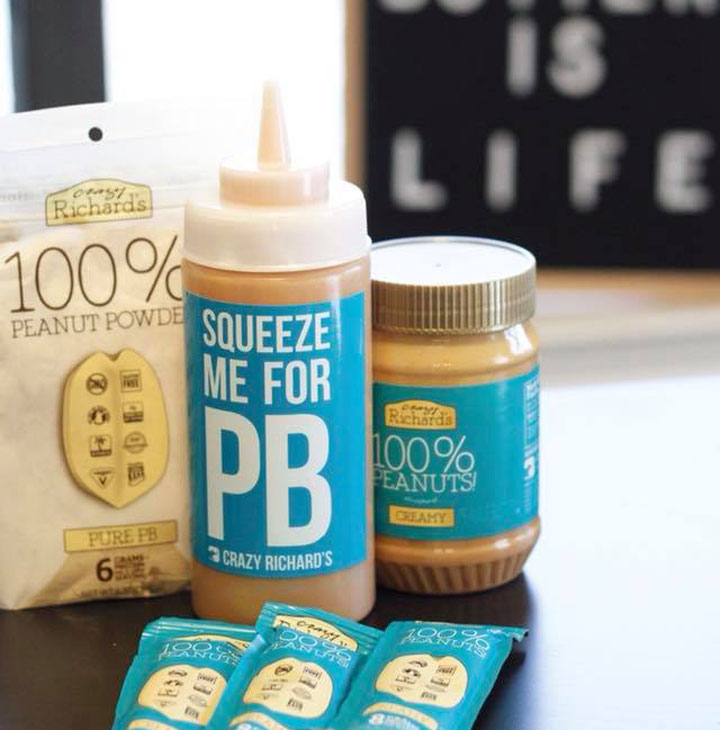 Crazy Richard's makes its peanut butter with one simple ingredient: peanuts. Each nut butter is without any added sugar, oils, or additives, which is hard to come by for most grocery store peanut butters. And it's not just the jarred crunchy and creamy varieties that won us over; the powdered peanut butter is made with just peanuts and clocks in at only 50 calories, 1.5 grams of fat (0 grams saturated fat), 0 milligrams of sodium, 3 grams of carbs (2 grams of fiber, less than 1 gram of sugar), and 6 grams of protein per 2-tablespoon serving. Scoop some powdered peanut butter into your morning smoothie or make a yummy peanut sauce for a boost of peanut butter flavor (and protein!) without the excess fat or calories.
Eat This!
Crazy Richard's Natural Creamy Peanut Butter
2 Tbsp: 190 calories, 16 g fat (2.5 g saturated fat), 0 mg sodium, 7 g carbs (3 g fiber, 2 g sugar), 8 g protein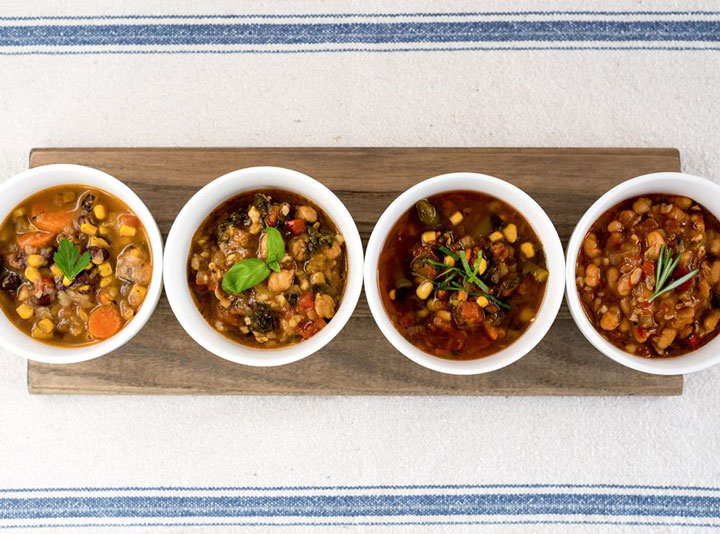 Canned soups generally get a bad rap, what with all the added sodium and questionable additives. Amy's has made soup-in-a-can a healthier alternative with its line of organic, reduced-sodium, and light-in-sodium soups. But it's not just soups; Amy's has a line of frozen entrees, bowls, burritos, wraps, and more with plenty of vegetarian and vegan options for people who are meat-free. There are also gluten-free offerings, and all of the ingredients are simple, recognizable, and quality.
Eat This!
Amy's Organic Fire Roasted Southwestern Vegetable Soup, Light in Sodium
1 cup: 140 calories, 5 g fat (0.5 g saturated fat), 340 mg sodium, 20 g carbs (4 g fiber, 4 g sugar), 4 g protein
Protein bars can be a minefield of added sugars, questionable sweeteners, and sketchy chemicals. But KIND makes its bars with nothing but clean ingredients: nuts, honey, chocolate, peanut butter, fruit, spices. And even with sugar listed in the ingredients panel, most KIND bars only log around 8-10 grams of the sweet stuff—much less than the 18 grams found in a Larabar Apple Pie. Plus, the KIND protein bars are all from plant-based protein: nuts, peanut butter, and soy protein. KIND also has other all-natural snacks, such as the fruit bites which are made simply from dried fruit and no added sugars. In a pinch, swap your favorite protein bar or fruit snack for something KIND.
Eat This!
KIND Protein Toasted Caramel Nut
1 bar: 250 calories, 17 g fat (4 g saturated fat), 75 mg sodium, 18 g carbs (5 g fiber, 8 g sugar), 12 g protein
Jerky may be a high-protein snack, but many of the convenient gas station brands contain excess sodium, added sugars, and MSG. But Field Trip keeps the ingredients simple with meat, low-sodium soy sauce, brown sugar, fruit juice as sweeteners, apple cider vinegar, and other spices. This results in just a couple grams of sugar per item, and a fraction of the sodium as other brands. We also like Think Jerky and EPIC meat bars and jerky for the same reasons: clean ingredients, low sugar, and low sodium.
Eat This!
Field Trip Cracked Pepper Turkey Jerky
1 oz: 70 calories, 0 g fat, 310 mg sodium, 3 g carbs (0 g fiber, 2 g sugar), 12 g protein
Chocolate-covered almonds tend to be a pretty indulgent snack with up to 12 or more grams of sugar per serving. Skinny Dipped Almonds only have 6 grams of sugar per serving and are free of artificial ingredients or the wax or polishes that typically accompany chocolate-covered almonds. They are dipped in a thin layer of dark chocolate and dusted with either cocoa, espresso, or raspberry.
Eat This!
Skinny Dipped Almonds Dark Chocolate Espresso
1.2 oz: 180 calories, 15 g fat (2.5 g saturated fat), 100 mg sodium, 10 g carbs (5 g fiber, 6 g sugar), 7 g protein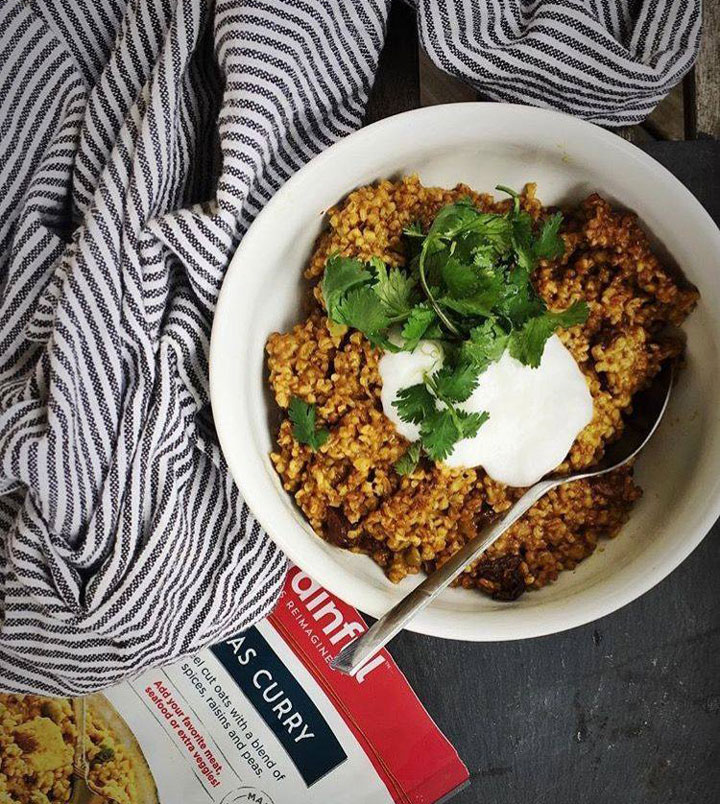 It's hard to find a frozen meal that isn't packed with a day's worth of sodium and questionable additives. Luckily, Grainful has filled in that gap with healthy frozen meals made with 100 percent whole grain steel-cut oats. That's right—oats aren't just for breakfast. With meals such as Thai curry, vegetarian chili, and jambalaya, Grainful proves this morning staple can be a savory meal enjoyed at lunch or dinner, all at under 300 calories. The oats mean each meal is packed with filling fiber, and the ingredients are simple and clean. Although some of the meals can have up to 600 milligrams of sodium, most are in the 400-500 range, which is still less than many frozen entrees on the market. For a dinner-in-a-pinch, be sure to stock your freezer with Grainful meals.
Eat This!
Grainful Thai Curry
1 bowl: 290 calories, 15 g fat (7 g saturated fat), 620 mg sodium, 33 g carbs (5 g fiber, 7 g sugar), 9 g protein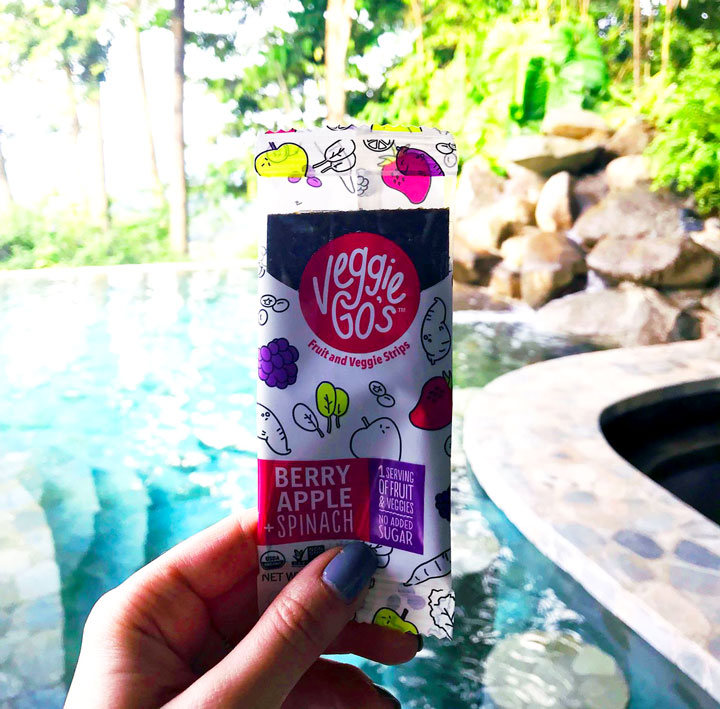 Even naturally-made fruit leathers can be packed with sugar—up to 10 or more grams. Veggie Go's don't have any added sugar, which means only 2 grams of the sweet stuff per serving. Plus, each pack is more than just fruit; spinach, sweet potatoes, pumpkin, and kale also make an appearance, meaning each leather has one serving of fruit and veggies. These better-for-you fruit snacks are perfect for kids and adults.
Eat This!
Veggie-Go's Berry, Apple, and Spinach Strip
1 strip: 15 calories, 0 g fat, 5 mg sodium, 5 g carbs (1 g fiber, 2 g sugar), 0 g protein
Gluten-free snacks usually fall into one of two camps: It replaces the gluten with too much extra sugar and calories, or it tastes like cardboard. Luckily, Simple Mills is neither. The crackers are made with a nut and seed flour blend, including almonds, sunflower seeds, flax, and cassava. Simple also makes ready-to-eat cookies (just 6 grams of sugar for 3 cookies), almond flour baking mixes, and sprouted seed crackers. If you're gluten-free or paleo, this is a brand to stock up on.
Eat This!
Simple Mills Rosemary and Sea Salt Almond Flour Crackers
17 crackers: 150 calories, 8 g fat (0.5 g saturated fat), 180 mg sodium, 17 g carbs (2 g fiber, less than 1 g sugar), 3 g protein
If you're looking for a base for your favorite cheese, hummus, or guacamole without the refined carbs of other crackers, look no further than Mary's Gone Crackers. The crackers are simply a seed patty made up of high-fiber superfoods including brown rice, quinoa, flax seeds, and sesame seeds. This translates to around 3 grams of filling fiber per serving and 3 grams of protein and will help stabilize your blood sugar, especially when paired with other toppings. Try the original, herb, or jalapeno crackers.
Eat This!
Mary's Gone Crackers Original Crackers
13 crackers: 140 calories, 5 g fat (0.5 g saturated fat), 230 mg sodium, 21 g carbs (3 g fiber, 0 g sugar), 3 g protein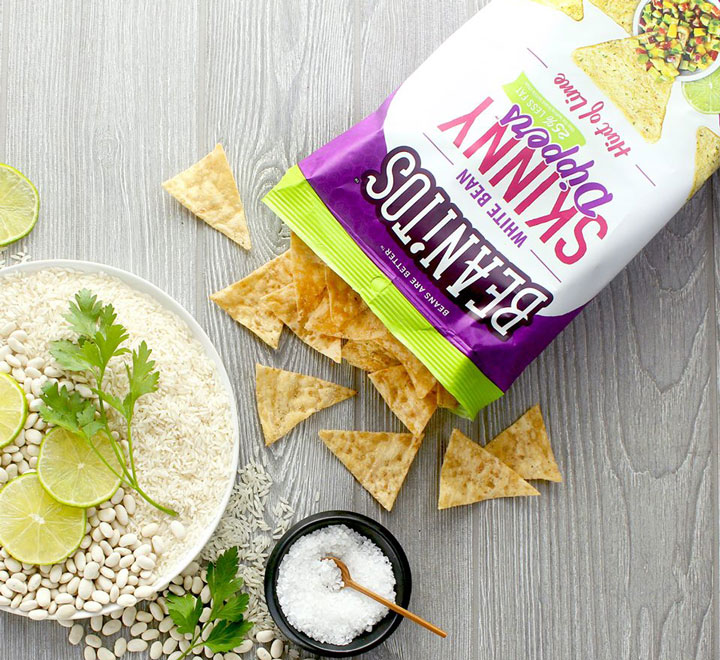 Now you can enjoy your beloved chips and salsa guilt-free, thanks to Beanitos tortilla chips. The chips are made with beans, meaning they have more fiber and protein. The chips are also made with simple ingredients: beans, sunflower oil, rice and sea salt, plus other seasonings (depending on the flavor). Plus Beanitos has other fiber-filled snacks such as cheese curls and sweet cinnamon twists. For your salsa and guac obsession, Beanitos is definitely the way to go.
Eat This!
Beanitos White Bean Chips with Hint of Lime
1 oz: 130 calories, 7 g fat (0.5 g saturated fat), 150 mg sodium, 15 g carbs (4 g fiber, 1 g sugar), 4 g protein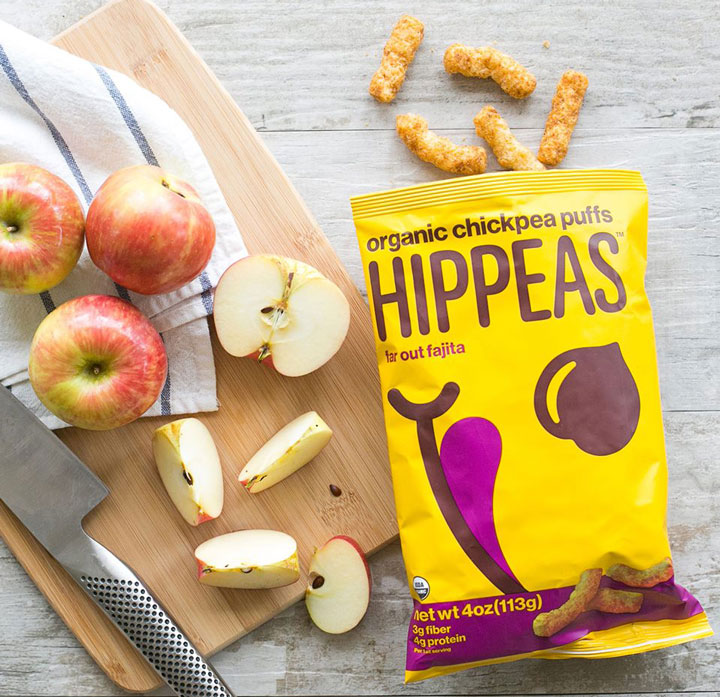 Eating healthier means giving up your favorite junk foods, like cheese puffs. Except with Hippeas: the puffs are made with chickpea flour instead of corn, which means they have more protein and fiber than corn puffs. Hippeas are also made with simple ingredients such as chickpea flour, rice flour, seasonings, and spices. Bonus: They won't turn your fingers bright orange.
Eat This!
Hippeas Sriracha Sunshine
1 oz: 130 calories, 5 g fat (0 g saturated fat), 170 mg sodium, 17 g carbs (3 g fiber, 2 g sugar), 4 g protein
Eat This, Not That!
Inspired by The New York Times best-selling book series, Eat This, Not That! is a brand that's comprised of an award-winning team of journalists and board-certified experts, doctors, nutritionists, chefs, personal trainers, and dietitians who work together to bring you accurate, timely, informative, and actionable content on food, nutrition, dieting, weight loss, health, wellness, and more.
Read more about Eat This