Healthy Habits of Pierce Brosnan That Still Make Him Look Like 007 at 69
Pierce Brosnan still has that "Bond, James Bond" vibe going strong. Here are his secrets.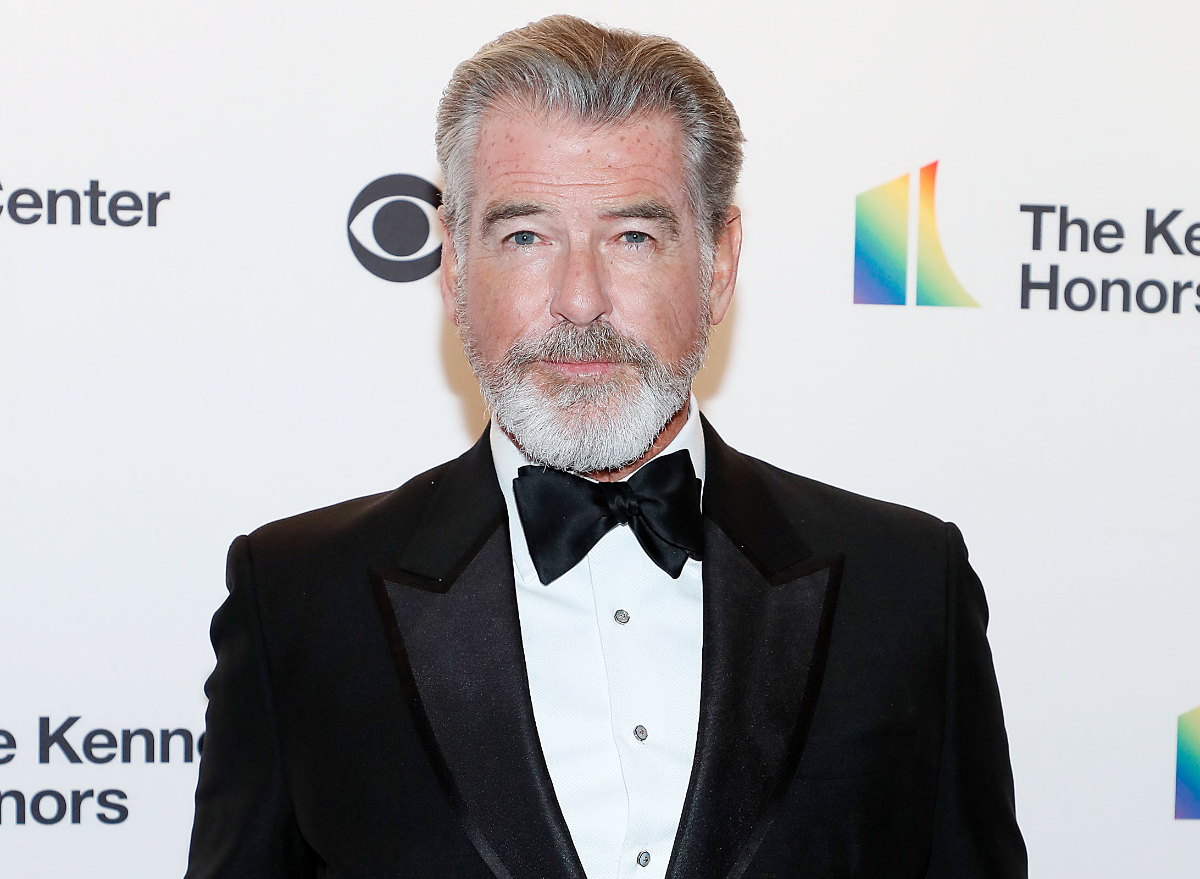 Simply put, Pierce Brosnan is a dreamy, iconic actor who always looks amazing. The 69-year-old celeb totally rocked the role of James Bond in a black tuxedo, riding a motorcycle across rooftops as he dodged bullets and saved the world from complete and utter devastation. In honor of that, we've pulled together the healthy habits that still make Pierce Brosnan look like 007 at 69 years old. Keep reading to learn more about the "Bond" star's healthy habits.
He still has that cool, calm, and collected James Bond vibe going strong.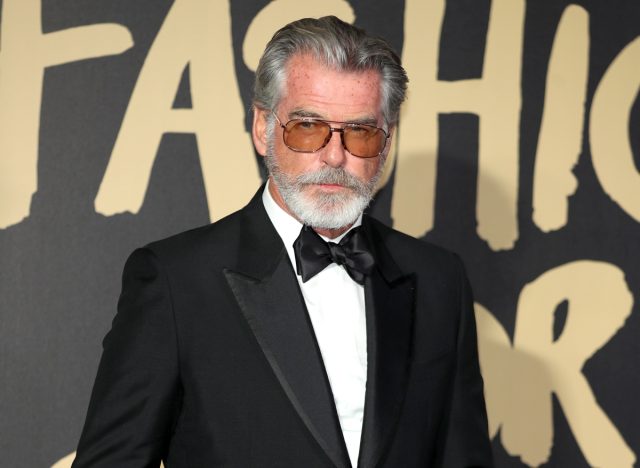 One look at the Irish actor's Instagram page shows that Brosnan still has that "Bond, James Bond" vibe going strong, wearing distinguished grey hair and a handsome and stylish goatee. The star recently shared a photo with his 1.7M followers, and it radiates that Pierce Brosnan smile fans have always—and will always—love. The photo is captioned, "Have a great week one and all." One comment says everything: "I doubt if you ever read the comments people post here! But if you do, I want to tell you that you look as luscious now as you did when I used to watch Remington Steele. You carry off your grey incredibly well!"
Bronson will play Doctor Fate in the upcoming DC movie, "Black Adam," alongside Dwayne Johnson, who will portray the role of Black Adam. According to director of the film, Jaume Collet-Serra, "You need a special actor to play, basically, a legend. Dr. Fate is a very powerful being, so you need someone like Pierce who can play powerful without it being overly done. He can do it in a very subtle way. I mean, he's one of the coolest people in the world—he was James Bond! But as a person, he's magnetic, so warm with such gravitas." Keep an eye out for "Black Adam" in theaters on October 21.
Related: Keanu Reeves, 57, Lives by These Healthy, Fit Habits
He keeps active with golf, biking, sculling, and rowing.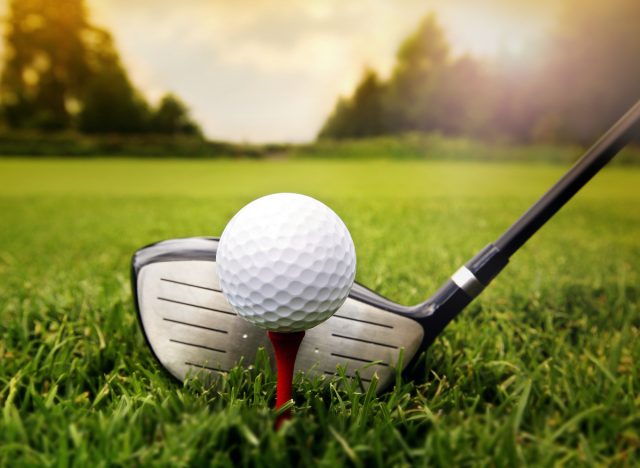 Brosnan keeps active with golf, captioning a recent photo, "Sunday golf with the new #3 wood. Peace be with ye all." Brosnan also posted a selfie with one of his sons, Paris, at the Princeville Makai Golf Club on their 7th hole. Paris commented on the post, "My favorite golf buddy."
Pierce Brosnan is also a fan of sculling, rowing, and biking, sharing with GQ, "I'm right here on the water's edge, so I ride my bike around the Lady Bird Lake of it all, and I've been sculling. I took up rowing, so I joined the rowing club down here. I've been sculling, which I absolutely adore." He adds, "It's a beautiful pastime, rowing is. You get on a rowing machine, Drew. Get yourself a rowing machine and do 20 minutes a day, and you're going to be fit as a fiddle."
Related: Kate Beckinsale, 49, Continues To Crush Her Fitness Game With Goat Yoga
He loves to paint, revealing, "Art saved my life."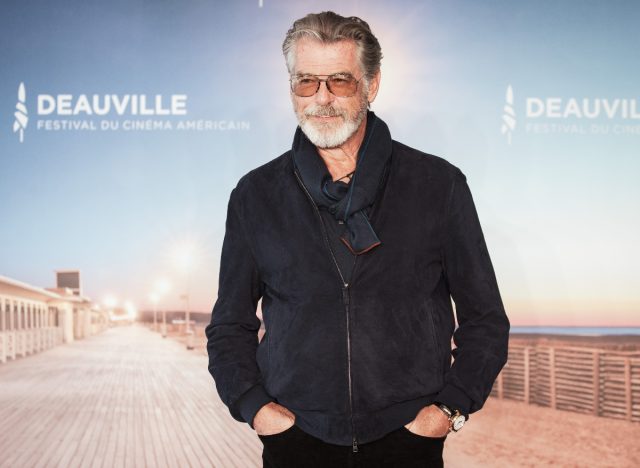 According to PEOPLE, Brosnan started to paint when he was just 16 years old. The celeb reveals, "Art saved my life. I managed to get a job, and I wanted to be a graphic artist. But I discovered acting three years into working at this studio and that was it, the tide turned." Brosnan really channeled his passion for the art when his first wife was losing her battle against cancer. "I turned to the world of painting and that gave me a great sense of comfort. Since then it's matured. I go to the studio each day even if it's just to clean the brushes or move the paints around," he says.
Apparently, the celeb creates a makeshift studio whenever he's "on location." Scrolling through his Instagram page, you'll see photos of Brosnan signing limited-edition silkscreen prints of his Earplugs painting, taking a selfie in his "garage studio" that's filled with his own paintings and artwork by his son, Paris, and even striking a pose with a paintbrush.
An environmentalist, Pierce Brosnan is working hard to make great changes in our world.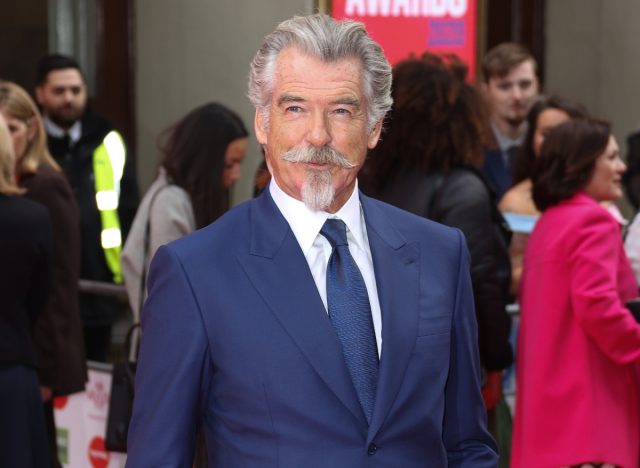 The former "Remington Steel" star is working to better the environment, joining efforts with his son, Paris, an environmental activist and filmmaker. The duo created a PSA video titled, "Plastic is Forever… so it's time to get clever about managing it." The announcement strives to raise awareness about stricter control of plastics in the world, with the hope of putting an end to plastic pollution. In the video, Pierce Brosnan says, "Did you know that we breathe up to 7,000 micro-plastics each day?" adding, "In 2020, plastic was even detected in human placentas." He concludes, "Together we can make a change in how we live in the world, from now until forever."6254a4d1642c605c54bf1cab17d50f1e
Alexa Mellardo
Alexa is the Mind + Body Deputy Editor of Eat This, Not That!, overseeing the M+B channel and delivering compelling fitness, wellness, and self-care topics to readers.
Read more about Alexa