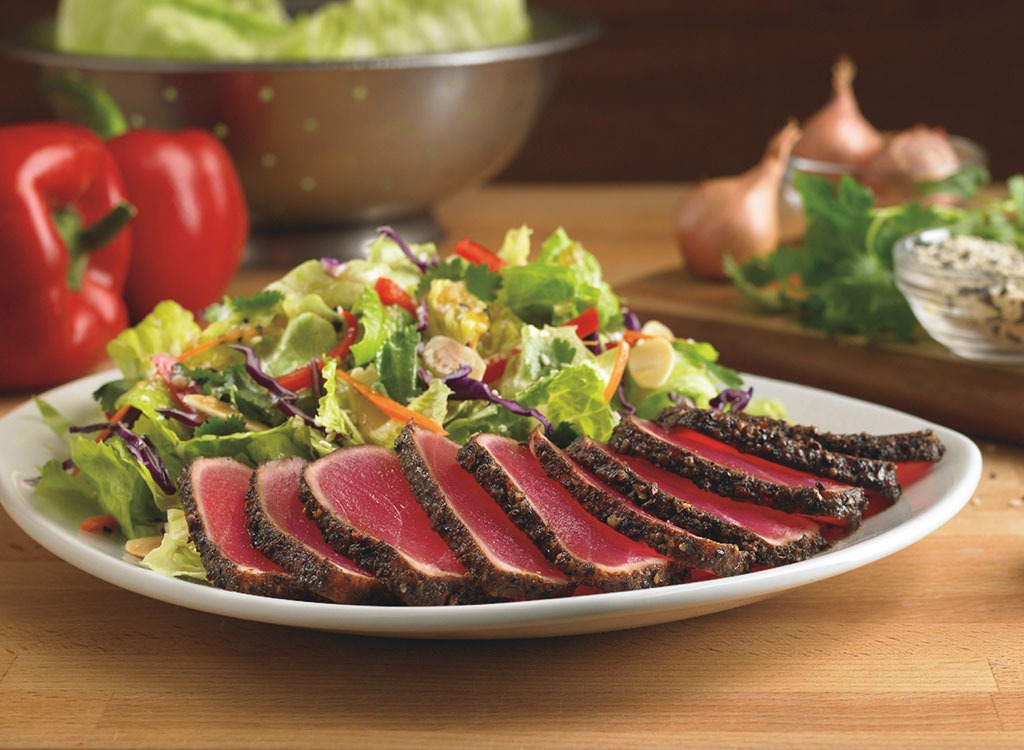 Land of the World's Worst Appetizer—the Bloomin' Onion—and steaks that have a half-day's worth of calories, Outback Steakhouse has a reputation as a place where weight loss dreams go down under…in flames. But it isn't entirely justified.
The chain offers salads and seafood alongside all the red meat and fried apps, though they've taken an innocent 46-calorie onion and battered and fried it beyond recognition. How can one navigate these fatty preparations of otherwise healthy food, and pick the winners? The best people to answer that question are nutritionists. We polled several, and they found plenty to recommend on the Outback menu. Chow down, and to lose even more weight—rapidly, while eating amazing foods—with this free special report: The 8 Superfoods You Need to Know Now!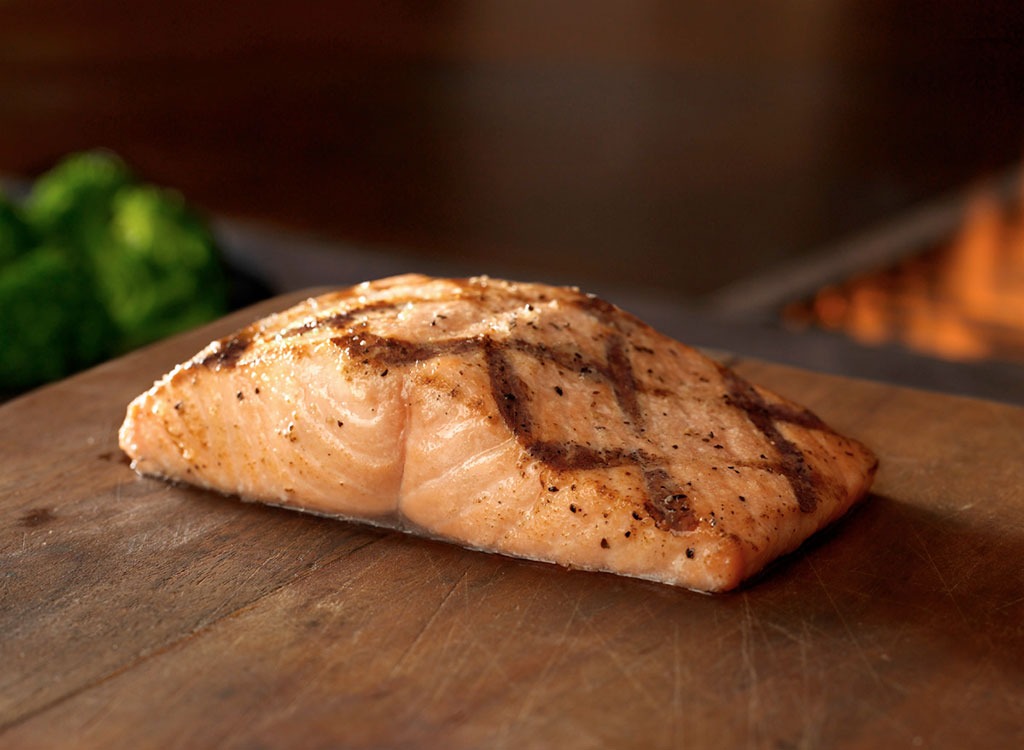 GRILLED FISH
"I'd do the Grilled Mahi with a side of Freshly Seasoned Vegetables, which'll come in at 373 calories, 6 grams of fiber and 51 grams protein. Mahi is a good source of protein, iron and B vitamins, making it a great choice for lunch or dinner. From one serving, you can get over half of you recommended daily intake of B-3. And the reason I like to add a side of vegetables is that it's a good way to make you feel full without added calories." — Jim White, RD, ACSM, owner, Jim White Fitness and Nutrition Studios
"Go for Outback's 'Under 600 Calories' options. Grilled salmon is always a top choice for me when dining out. The Perfectly Grilled Salmon with Mixed Vegetables is rich in heart-healthy omega-3 fatty acids and protein. It comes with a side of vegetable for 535 calories total. The meal is also much lower in sodium (at 600 mg) compared to most restaurant entrees. — Patricia Bannan, MS, RDN, author of Eat Right When the Time Is Right
"When eating out, I try to stick with lean proteins like seafood. Grilled, steamed or poached fish is a great choice and will definitely be leaner than any type of red meat that you order at a restaurant. At Outback, I would order the Perfectly Grilled Salmon with Mixed Vegetables, or the Simply Grilled Mahi. Both choices are grilled rather than fried and come with a good portion of vegetables to help get you meet your daily intake of vitamins, minerals and fiber. The Grilled Mahi has fewer calories and fat; however, both would be heart-healthy choices for lunch or dinner. No matter what you're ordering when eating out, be mindful of the portion size and try to order extra vegetables. — Gina Consalvo, MA, RD, LDN, CDE, NCC, registered dietitian 6254a4d1642c605c54bf1cab17d50f1e
"I would order Hearts of Gold Mahi with Asparagus. We all know fish is good for us. Since asparagus is a premium side, you only get one order, but that's enough. This dish looks filling and satisfying without leaving you feeling too stuffed. Maybe you'd even have room left for a mini milkshake to share. — Rebecca Scritchfield, RDN, Washington D.C.-based dietitian nutritionist
A quick tweak like that can have you melting fat fast—along with these Zero Belly Diet-secrets on 14 Ways to Lose Your Belly in 14 Days.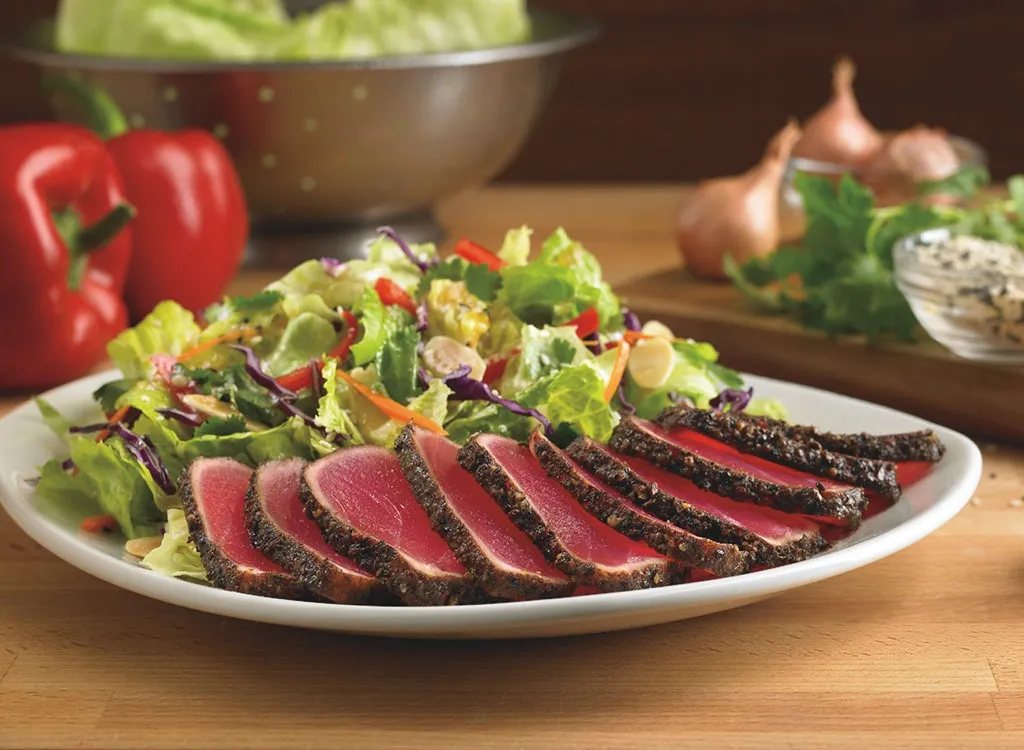 A SALAD WITH PROTEIN
"If I wasn't in the mood for steak, I'd likely order the full size Ahi Sesame Salad, but I would ask the server to cook the Ahi medium well. At just under 300 calories, this nutrient-packed entrée salad offers just the right balance of healthy fats, protein and fiber to fill me up without leaving me overstuffed. And it's light enough that even after a small piece of bread and a glass of wine, I still leave the restaurant feeling fabulous." — Heather Mangieri, MS, RD, CSSD
GRILLED CHICKEN
"Another good order is Grilled Chicken on the Barbie—the 5-ounce lunch size—with a side of asparagus, coming in at 257 calories, 6 grams of fat and 34 g protein. This is a low-calorie option that is high in protein and low in fat. Adding a side like asparagus is low in calories and high in fiber and vitamins A, C, E and K." — Jim White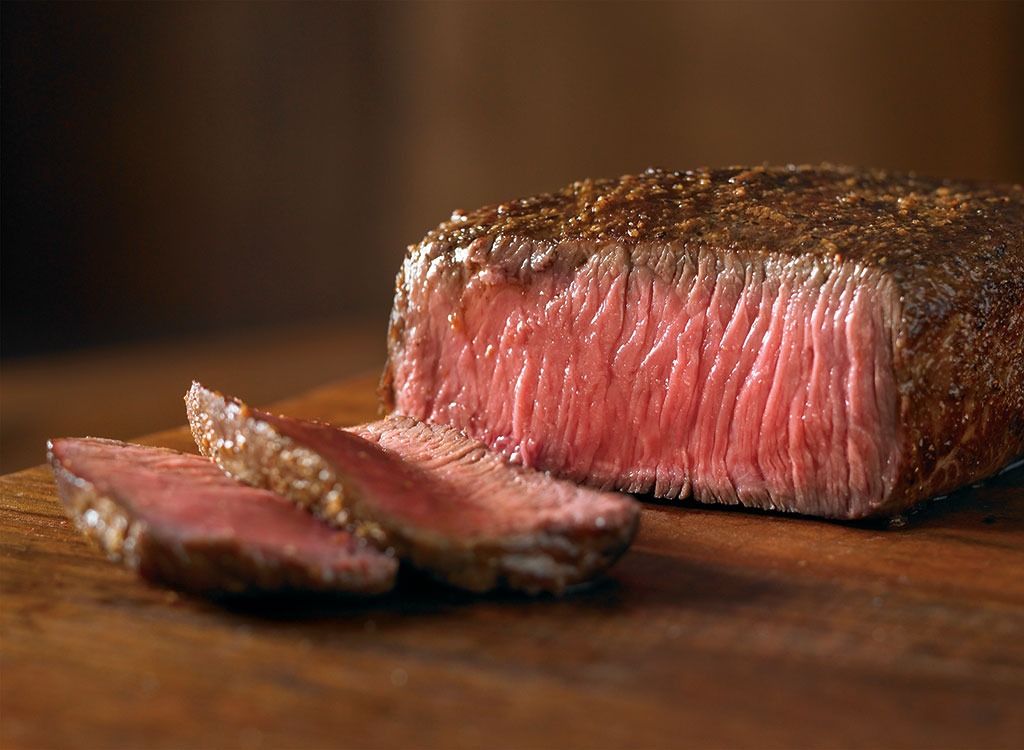 STEAK AND VEGGIES
"I would order the Outback Special Sirloin—at 6 ounces—with Mixed Vegetables & House Salad with Light Balsamic. If you're craving red meat, this is a great option. The entire dinner has less than 600 calories. Plus, it comes with vegetables!"— Patricia Bannan
"I have a hard time visiting a steakhouse and not ordering a steak, so I would likely get the 6-ounce Victoria Filet with a side of asparagus. That portion offers more than enough protein to keep me satisfied but is low enough in fat so I don't end up feeling too full. I would select asparagus as my side because I really like it but don't prepare it at home as often as some of their other options. This meal is less than 300 calories." — Heather Mangieri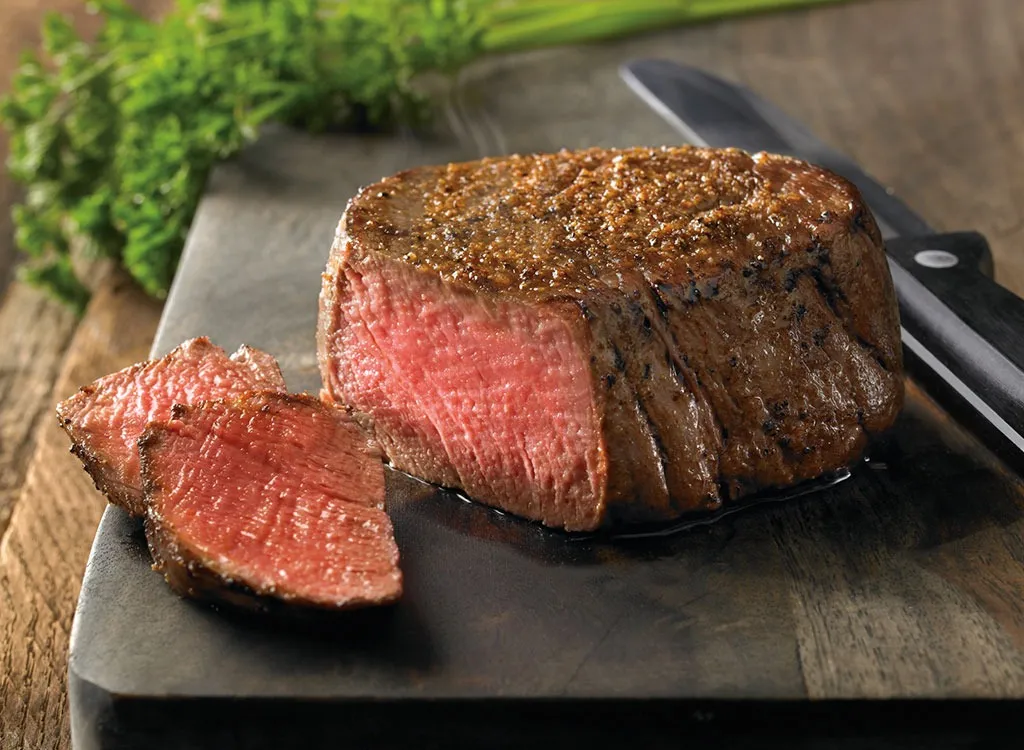 "I'd also get the 6-ounce Victoria Filet with the fresh steamed broccoli and a house side salad. Who doesn't love a good steak? Six ounces is more than enough meat, especially if you savor each bite. I can't believe you get two sides with this! Your best healthy bet is veggies. Use lemon, salt, and pepper for flavor and a simple vinaigrette on the side salad. This looks like a lot of food, and it probably is. Don't forget to share or take some to go. This comes in around 400-500 calories compared to the steak salad at around 1,500!" — Rebecca Scritchfield
You're rocking it at Outback, but what about Domino's and Pizzeria Uno? Lose weight while enjoying their foods by reading our new Special Report: The Best and Worst Pizzas in America!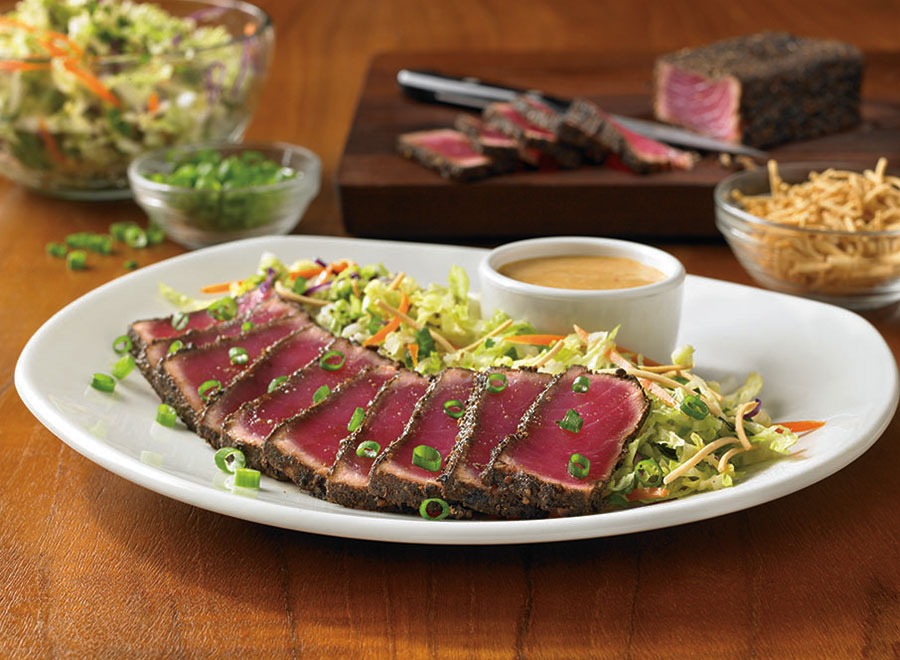 OR TRY A SEAFOOD APPETIZER AS AN ENTREE
"The avocado crab, shrimp on the barbie and seared ahi tuna all look delicious and nutritious. You can always order off menu. Pair up a protein-rich component with one or two veggie choices for a balanced plate, and you've got dinner." — Rebecca Scritchfield
DON'T DIET! EAT! FOR THE 14 TOP SWAPS FOR WEIGHT LOSS, CLICK HERE.
Images: Courtesy of Outback Steakhouse
Michael Martin
Michael Martin is an experienced writer and editor in New York City. He specializes in helping people make life-improving decisions on their health, nutrition, finances, and lifestyle.
Read more about Michael