14 Healthiest Restaurant Chain Meals for Weight Loss, According to RDs
From Texas Roadhouse to Chili's, dietitians say these are the best dishes to order if you're trying to lose weight.
Ordering at a restaurant can be tricky, especially when you're trying to lose weight. Even when you may think you're ordering the healthiest available option, your restaurant meal can be packed with calories, fat, and sodium, making it more challenging to meet your goals. But fortunately, that doesn't mean you have to choose between losing weight and going out for a meal. Ahead, we've selected the best options at some of the biggest restaurant chains in America to help you make informed choices that won't derail your progress. But first, let's cover some general tips to help you pick healthy meals no matter where you're dining:
Don't be afraid to modify. Ask for light oil, request sauce on the side so you can choose your portion, and alter ingredients to create a healthier meal. (For example, swap the bacon on a salad for avocado or nuts.)
Choose grilled. When it comes to proteins, go with grilled options when available. These are likely to be lower in fat and calories compared to fried and pan-fried options.
Load up on veggies. While restaurant veggies are likely to be cooked with more butter and oil than you use at home, they are often much lower in calories than other popular sides, like potatoes, rice, and mac & cheese. Make all of your sides vegetables to maximize fiber while limiting calories.
Those guidelines will help you make healthier, weight-loss-friendly choices at virtually any restaurant. But for specific recommended orders, we studied the menus at 14 major chain restaurants—from Applebee's to Outback Steakhouse—to find the #1 healthiest meal to order at each one if you're trying to lose weight. While the choices still may not be as healthy as what you would prepare at home, they are among the healthiest dishes available on these menus, which makes them a good bet. Read on, and next, check out the 4 Fast-Food Chains Dietitians Stay Away From.
Chili's: Classic Sirloin with Avocado
PER MEAL
: 360 calories, 18 g fat (4.5 g saturated fat), 1,010 mg sodium, 12 g carbs (6 g fiber, 3 g sugar), 39 g protein
Although steak is often a fattier piece of meat than poultry and fish options at a restaurant, this meal is still lower in calories than most other menu offerings at Chili's. This simple meal comes with a 6 oz steak topped with cilantro pesto and avocado slices, and a side of asparagus. This keeps the carb count low while providing plenty of protein and fiber for a filling meal.
Olive Garden: Grilled Chicken Margherita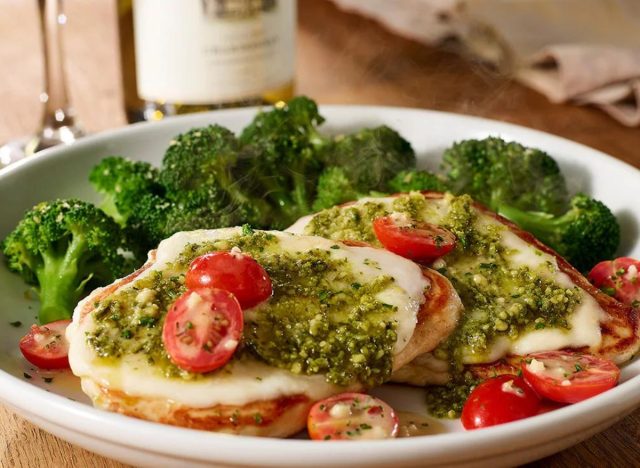 PER MEAL
: 650 calories, 39 g fat (11 g saturated fat), 2,120 mg sodium, 15 g carbs (5 g fiber, 5 g sugar), 65 g protein
At a restaurant known for its pasta, Olive Garden's Grilled Chicken Margherita skips the noodles and instead loads up on protein-rich chicken. Grilled chicken breasts are topped with tomato, pesto, lemon garlic sauce, and mozzarella cheese. With a side of parmesan garlic broccoli, this meal is flavor-packed while maintaining a low carb count. To further aid your weight loss goals, save some fat grams and calories by skipping the lemon garlic sauce. Take it a step further and ask them to go light on the pesto or serve it on the side.
TGI Fridays: Simply Grilled Salmon with Double Lemon Butter Broccoli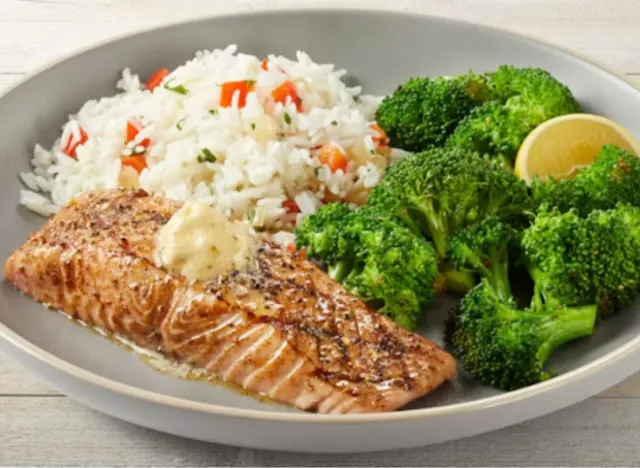 PER MEAL
: 560 calories, 36 g fat (11 g saturated fat), 2,250 mg sodium, 29 g carbs (11 g fiber, 5 g sugar), 36 g protein
TGI Fridays' Simply Grilled Salmon comes with your choice of two sides, which makes it a great opportunity to load up on veggies to create a filling meal. With 11 grams of fiber, this is the highest fiber option on this list. You can choose a sauce for the salmon, but stick with the plain option to avoid extra empty calories. The Tomato Cucumber Onion Salad is another option for a veggie side if you are looking for variety. Unfortunately, you'll find even these healthy menu items pack tons of sodium. Skipping sauces and asking for light seasoning on side vegetables is one way to combat this.
Cheesecake Factory: Tuscan Chicken
PER MEAL
: 590 calories, 21 g fat (3.5 g saturated fat), 1,020 mg sodium, 19 g carbs (5 g fiber, 5 g sugar), 81 g protein
Chicken breasts topped with tomato, artichokes, capers, basil, and balsamic vinaigrette make The Cheesecake Factory Tuscan Chicken a flavorful meal. While the capers and artichokes add flavor for few calories, they are likely to provide quite a bit of sodium. You can skip one or both of these ingredients to save yourself a few milligrams of sodium. Your grilled chicken is served over fresh vegetables and farro to create a balanced meal. Just note that this dish, which is on Cheesecake Factory's 'SkinnyLicious Specialities' menu, is very high in protein, so consider having half of the chicken and taking the rest home for a second meal. (This will drastically reduce the total calories, too!)
Applebee's: Blackened Cajun Salmon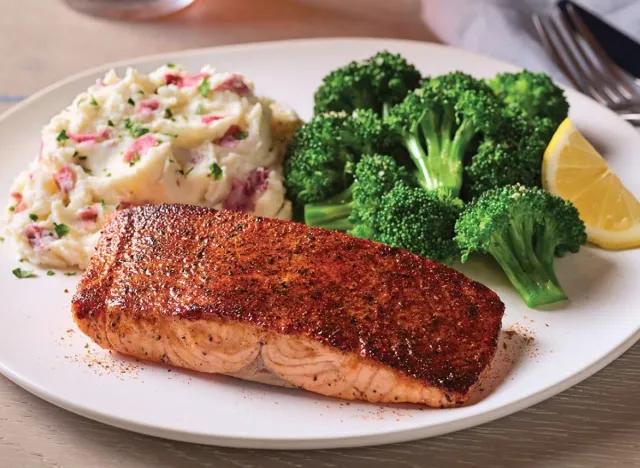 PER MEAL
: 600 calories, 28 g fat (9 g saturated fat), 1,790 mg sodium, 47 g carbs (7 g fiber, 5 g sugar), 43 g protein
Another salmon dish on this list, Applebee's Blackened Cajun Salmon comes with broccoli and garlic mashed potatoes. However, this would be another good opportunity to make a modification for a higher fiber, lower calorie side. Swap the potatoes for double broccoli or garlicky green beans. Again, this dish is still quite high in sodium, but you could ask for the salmon to be grilled without the Cajun seasoning to reduce your salt intake.
Red Lobster: Garlic Shrimp Scampi with House Side Salad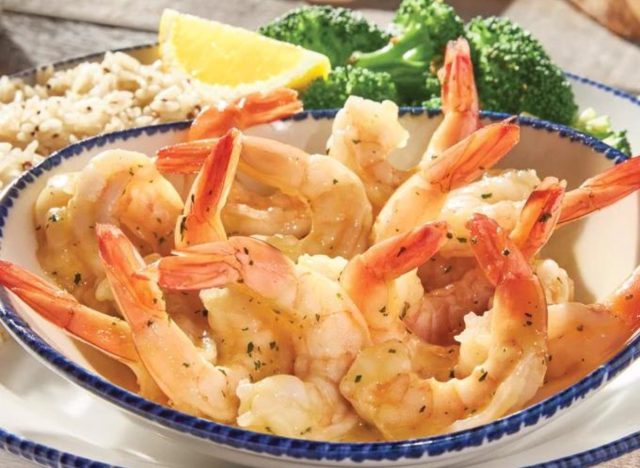 PER MEAL
: 410 calories, 27 g fat (8.5 g saturated fat), 1,630 mg sodium, 15 g carbs (2 g fiber, 4 g sugar), 28 g protein
The Red Lobster Garlic Shrimp Scampi with House Side Salad is a lunchtime favorite and a great option if weight loss is your goal. With just over 400 calories, this meal works in a variety of calorie needs and boasts plenty of protein to help keep you feeling fuller, longer. You could even save some calories and reduce the fat (and saturated fat) by asking them to go light on the lemon butter sauce when preparing the shrimp. The house salad makes for a good side option, and you can top it with the citrus vinaigrette for an extra 70 calories. Broccoli is an option as well, although it is a little higher in calories and fat.
Ruby Tuesday: Deconstructed Kabobs with Shrimp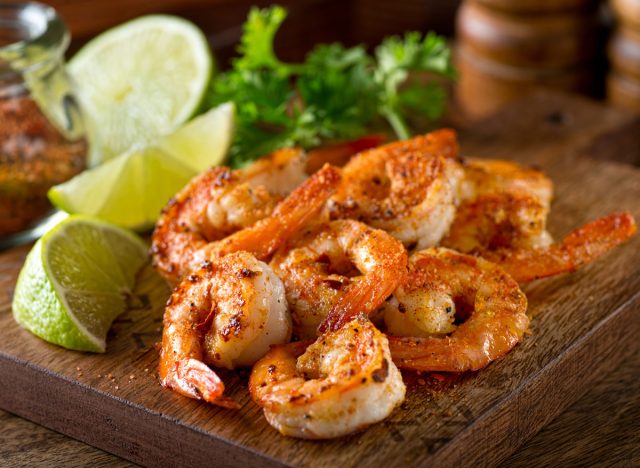 PER MEAL
: 510 calories, 8 g fat (8 g saturated fat), 2910 mg sodium, 38 g carbs (1 g fiber, 4 g sugar), 28 g protein
You'll see plenty of poultry and seafood on this list, and that is because it is naturally lean. With only 8 grams of fat, this is the lowest fat option on this list (though not the lowest in saturated fat). Unfortunately, it has the lowest fiber count, too. Still, compared to the rest of the menu, Ruby Tuesday's Deconstructed Kabobs with Shrimp is a decent choice. It comes with shrimp, zucchini, bell pepper, and red onion, all served over rice pilaf. Skip the rice to drop your carbs down to just 5 grams, and consider adding another serving of veggies in its place.6254a4d1642c605c54bf1cab17d50f1e
California Pizza Kitchen: Banh Mi Power Bowl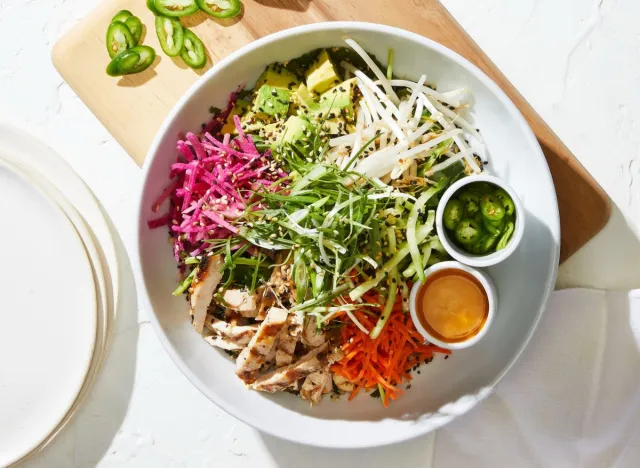 PER MEAL
: 490 calories, 31 g fat (4.5 g saturated fat), 660 mg sodium, 31 g carbs (8 g fiber, 9 g sugar), 26 g protein
The California Pizza Kitchen Banh Mi Power Bowl packs loads of veggies with quinoa, grilled chicken, and sunflower seeds to make a nutrient-packed option. A chili-lime vinaigrette loads in the flavor, all for under 500 calories. The nutrition numbers on this meal are great for weight loss, with plenty of fiber and protein, and a reasonable number of carbs. That said, 31 grams of fat is a lot for a single meal, so ask for the dressing on the side and only use half to save several grams.
Outback Steakhouse: Tasmanian Chili Crock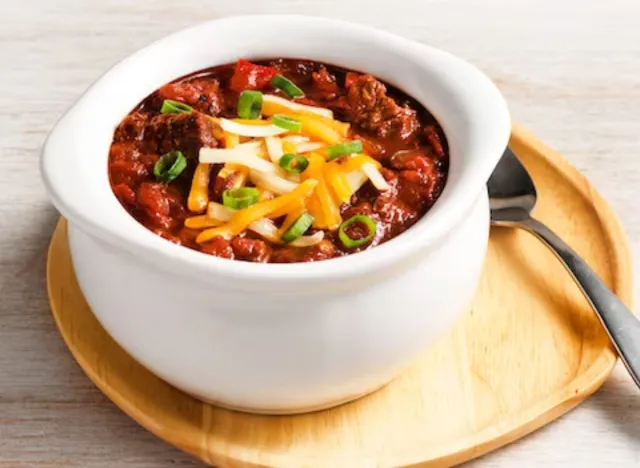 PER MEAL
: 370 calories, 25 g fat (10 g saturated fat), 1,470 mg sodium, 13 g carbs (3 g fiber, 6 g sugar), 23 g protein
Outback may be known for its Bloomin' Onion, which packs over 1600 calories, but fortunately, the chain also offers leaner options. The Tasmanian Chili Crock, which can be ordered in a cup or a bowl, is made with steak and no beans. This makes for a great protein count, but also increases the saturated fat in the meal. However, staying mindful of your fat sources for the rest of the day is one way to balance this out. If you have some calories to spare, add a small house salad for more veggies and fiber. (Another good menu option at Outback is the Seared Peppered Ahi. Although this meal packs a day's worth of sodium, it is a lower saturated fat option.)
Texas Roadhouse: Grilled BBQ Chicken with Fresh Vegetables & Green Beans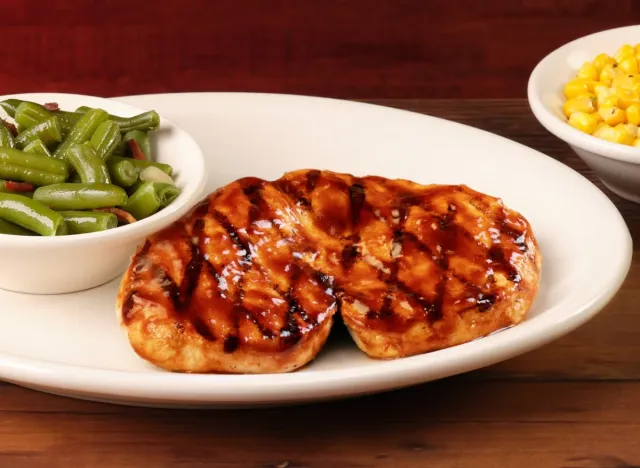 PER MEAL
: 590 calories, 22 g fat (7 g saturated fat), 2,000 mg sodium, 44 g carbs (9 g fiber, 23 g sugar), 55 g protein
At first glance, you may notice the 23 grams of sugar in Texas Roadhouse's Grilled BBQ Chicken and wonder why a dietitian would recommend ordering it. Although delicious, BBQ sauce is notorious for containing added sugar, making it less than ideal for weight loss. Because of this, we recommend skipping the BBQ sauce and instead enjoying the natural grilled flavors of the chicken. This will bring down the total sugar in this meal to just 9 grams and 510 calories. Stick with double veggie sides for a fiber-packed meal with just over 500 calories.
Denny's: Fit Slam®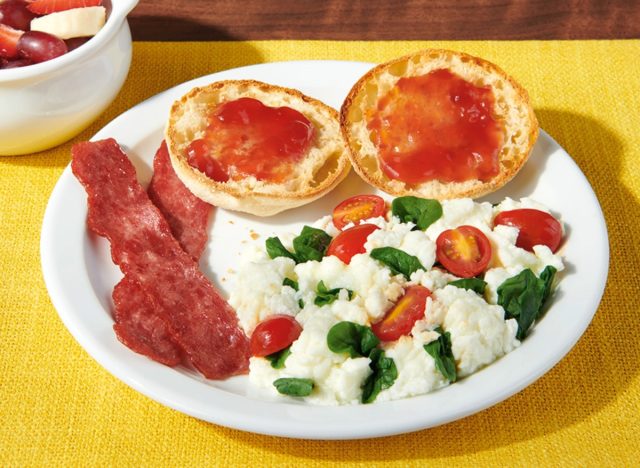 PER MEAL
: 450 calories, 12 g fat (2.5 g saturated fat), 860 mg sodium, 59 g carbs (5 g fiber, 22 g sugar), 27 g protein
Compared to full eggs, egg whites are much lower in fat. This creates a lower-calorie meal and also saves cholesterol. Luckily, Denny's Fit Slam still packs 27 grams of protein, making it a balanced option. This dish combines scrambled egg whites with spinach and tomatoes, with sides of turkey bacon, fruit, and an English muffin. Have just half of the muffin to reduce calories and carbs, and skip jam to avoid extra grams of sugar.
Red Robin: Ensenada Chicken™ Platter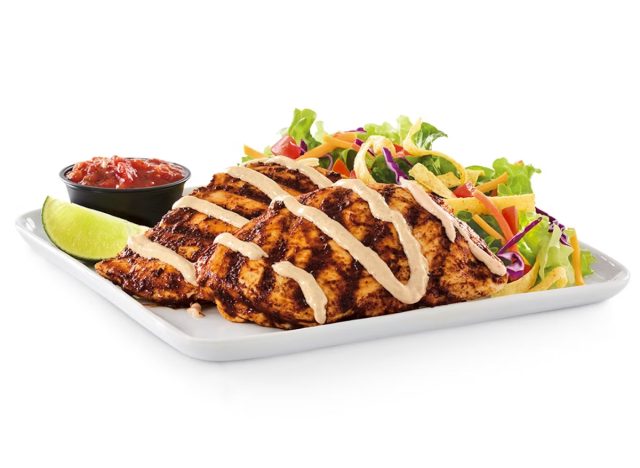 PER MEAL
: 400 calories, 14 g fat (3.5 g saturated fat), 2,360 mg sodium, 13 g carbs (5 g fiber, 6 g sugar), 57 g protein
Red Robin's Ensenada Chicken™ Platter includes two chicken breasts with a side salad topped with a salsa-ranch dressing. At only 400 calories and 13 grams of carb, you could enjoy the full meal even while working toward weight loss. Alternatively, you could order a single chicken breast in this dish for only 210 calories. That would leave room to add another tasty side, like coleslaw or garlic parmesan broccoli.
Cracker Barrel: Egg Sandwich with Fresh Fruit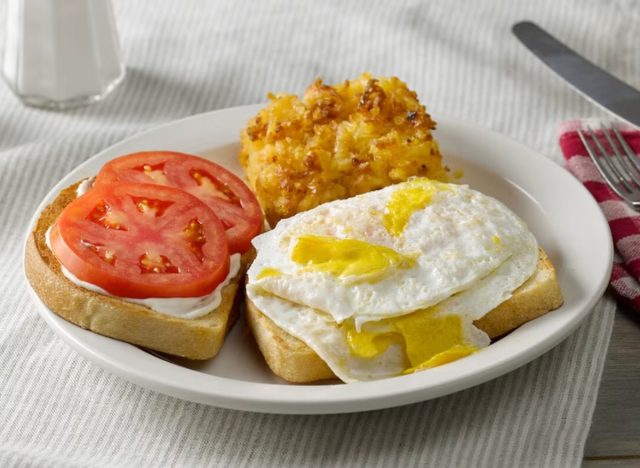 PER MEAL
: 540 calories, 26 g fat (5 g saturated fat), 400 mg sodium, 62 g carbs (6 g fiber, 20 g sugar), 21 g protein
You'll notice Cracker Barrel's Egg Sandwich is much higher in fat than the previous egg white option on this list, and that is because this dish uses whole eggs. While fat is a satiating nutrient, it also increases calories, and in this case, saturated fat. To improve the nutrition on this option, ask for egg whites instead. You could also skip the mayo to save additional fat grams. Go with fresh fruit as your side option to increase fiber. You could even ask for additional tomatoes for another boost of produce!
IHOP: Pesto Veggie Egg White Omelette
PER MEAL
: 480 calories, 34 g fat (6 g saturated fat), 640 mg sodium, 26 g carbs (7 g fiber, 16 g sugar), 21 g protein
Egg whites, mushrooms, tomatoes, nut-free pesto, and avocado come together to make the IHOP Pesto Veggie Egg White Omelette a nutritious meal. While pesto is largely made up of healthy fats like olive oil, it is still a high-calorie condiment. To reduce fat grams at this meal, ask for the pesto on the side so you can choose your portion. This omelet is served with fresh fruit, making for a hearty breakfast under 500 calories.
Melissa Rifkin, MS, RDN, CDN
Melissa is a Connecticut-based registered dietitian with over 15 years of experience, including clinical and outpatient settings, and runs the popular nutrition education Instagram account, Confessionofadietitian.
Read more about Melissa