10 Ways to Stay Healthy on Thanksgiving, According to RDs
Want to avoid that food coma that tends to hit after a big Turkey Day meal? Here are the best, expert-approved eating tips.
Thanksgiving might look a bit different this year, and while you may not have the same crowd of friends or family around, one thing will stay the same. And that's the big feast and extra intake of calories that naturally happens on Turkey Day every year. But if you want to avoid feeling overly stuffed and packing on any extra pounds, you might want to keep a few healthy eating tips on your radar. This way, you are able to better control your appetite without feeling deprived of your favorite foods and the comforting sentiment of the holiday.
Yes, you can still enjoy all that comes with Thanksgiving without entering a food coma! We spoke with two dietitians and rounded up the best tips so you can stay healthy this holiday season. And while you're at it, try out any of the 21 Best Healthy Cooking Hacks of All Time!
Sweat It Out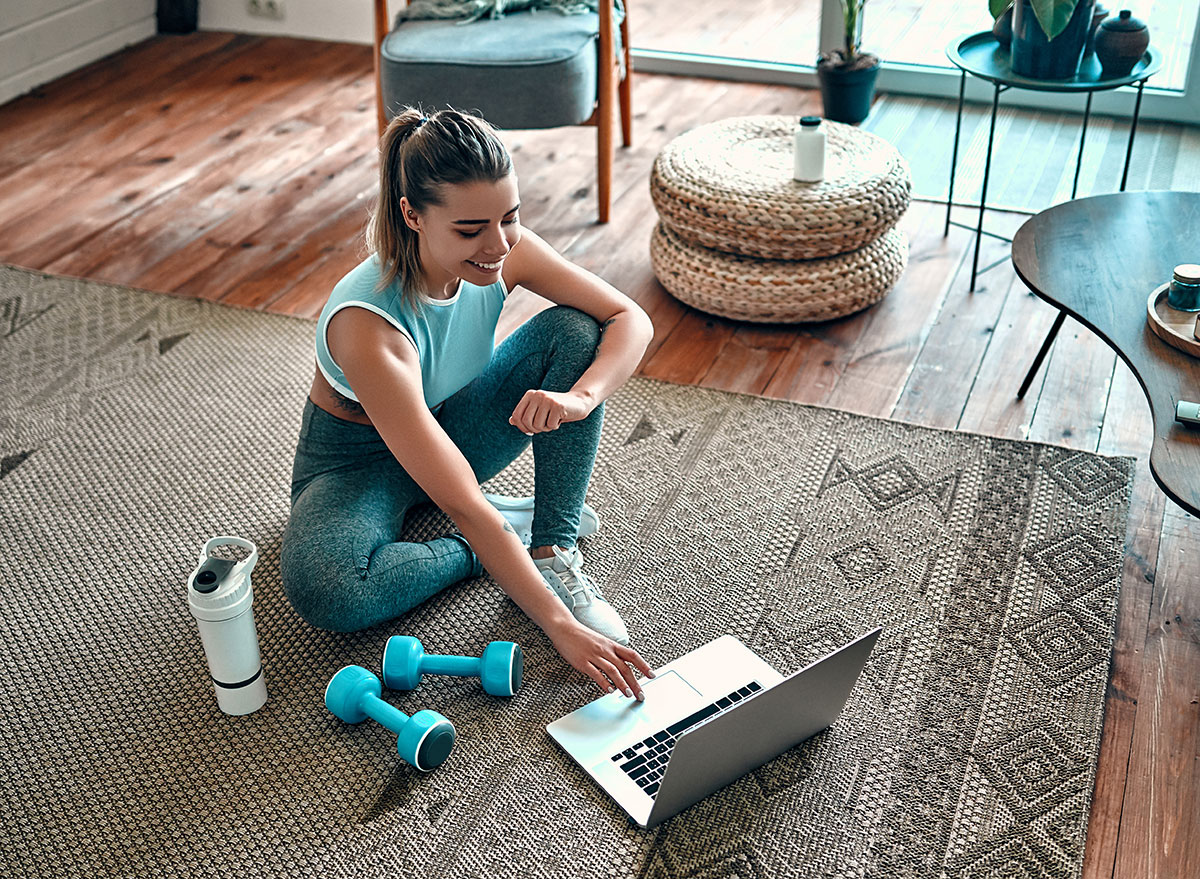 We know there is a lot to be done, but you still want to make time to get in a workout before you start cooking.
"If you have the time, get your heart racing early with a good cardio workout," says Ilyse Schapiro MS, RD, CDN. And why cardio? Your metabolism will get fired up, and you'll torch some calories. If you combine the cardio with weights, you will also keep that metabolism elevated for longer, too. Just remember that exercise isn't an excuse to overeat, so you still want to monitor your portion sizes.
Stay Hydrated
You're going to want to drink plenty of water on Turkey Day, as you might not actually be hungry like you may think.
"A lot of people think they are hungry, but they really just need to drink water," says Schapiro. The easiest way to stay on course is to carry a water bottle with you and drink it all day long, Schapiro recommends. If you plan on consuming alcohol, match each boozy beverage with a glass of water in between.
Looking for more helpful tips? Sign up for our newsletter to get daily recipes and food news in your inbox!
Ditch Green Bean Casserole for Just the Beans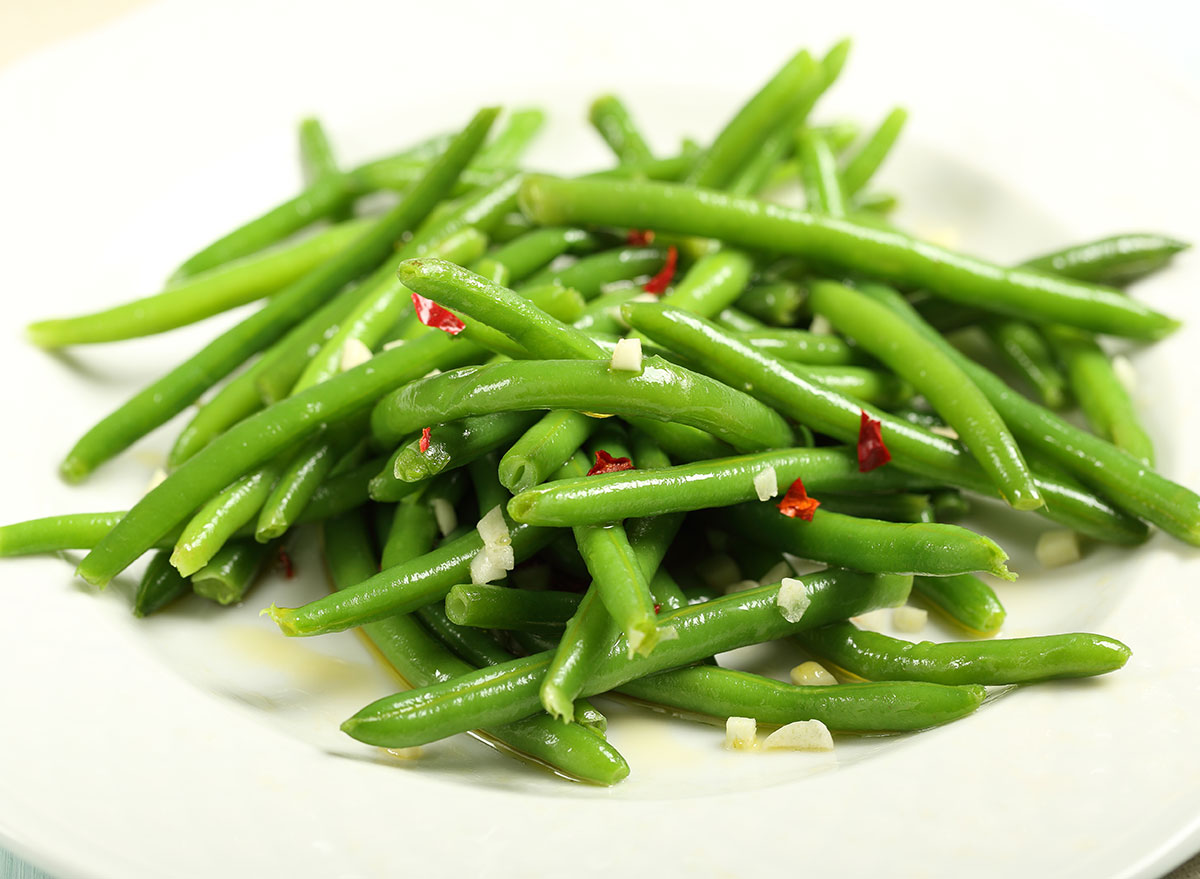 Instead of indulging in the staple that is the green bean casserole, instead, just enjoy some sautéed green beans.
"Skip the cream of mushroom soup and the cheese and choose to saute green beans with some olive oil and garlic for a healthier dish," Schapiro recommends. It'll still taste delicious and will save over 100 calories and fat per serving.
Get Rid of the Marshmallow on Those Sweet Potatoes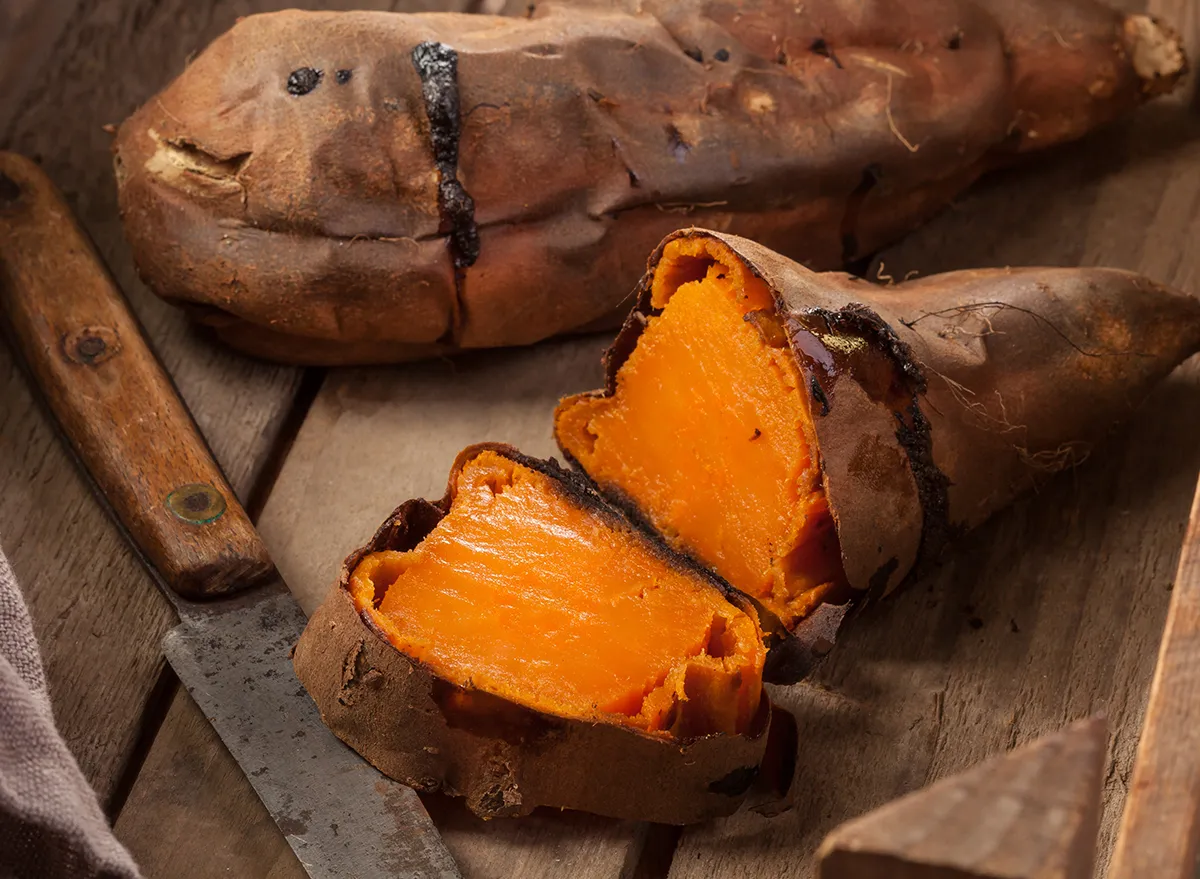 "Swap sweet potato casserole with marshmallows for a plain baked sweet potato," says Schapiro. You will save over 400 calories, 70 grams of sugar and 7 grams of fat by doing so and you can still load it with healthier toppings, like diced broccoli and a little cheese, for example. "You can bake a sweet potato and top with a little brown sugar for a healthier substitute, as well," she says.
Choose Pumpkin Over Pecan Pie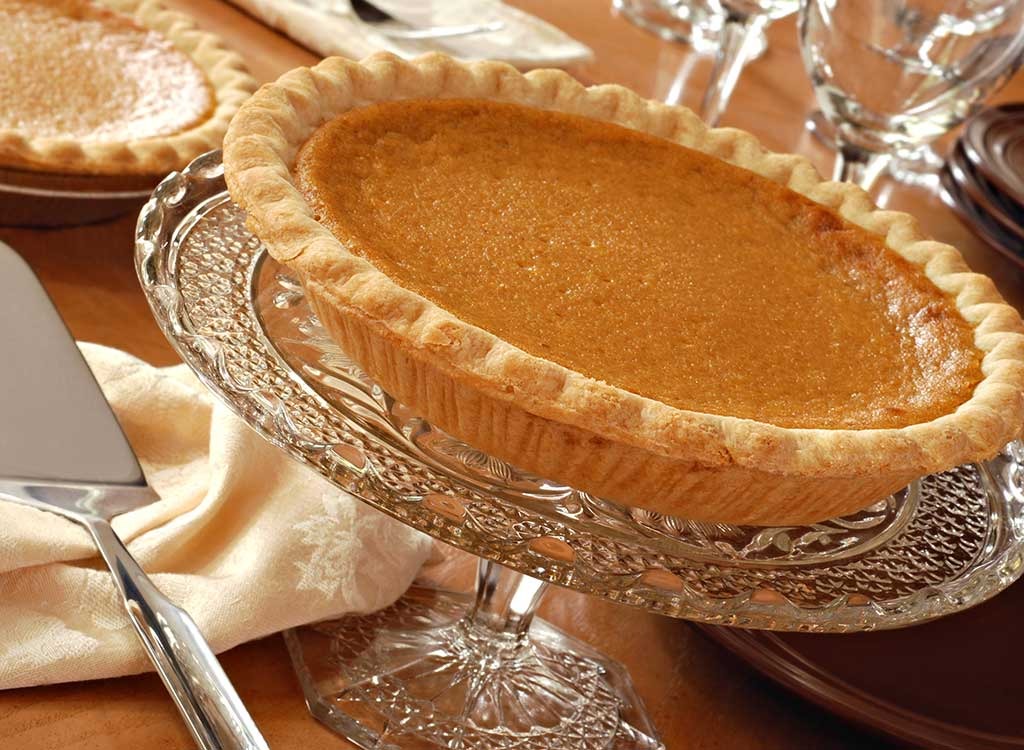 We know—pecan pie screams Thanksgiving, but so does pumpkin pie. And going for a slice of pumpkin pie once dessert rolls around is a much healthier option per slice.6254a4d1642c605c54bf1cab17d50f1e
"You will save over 500 calories, 27 grams of sugar, and 16 grams of fat," says Schapiro. Sorry to the pecans, but you get a skip!
Go Low Carb With Cauliflower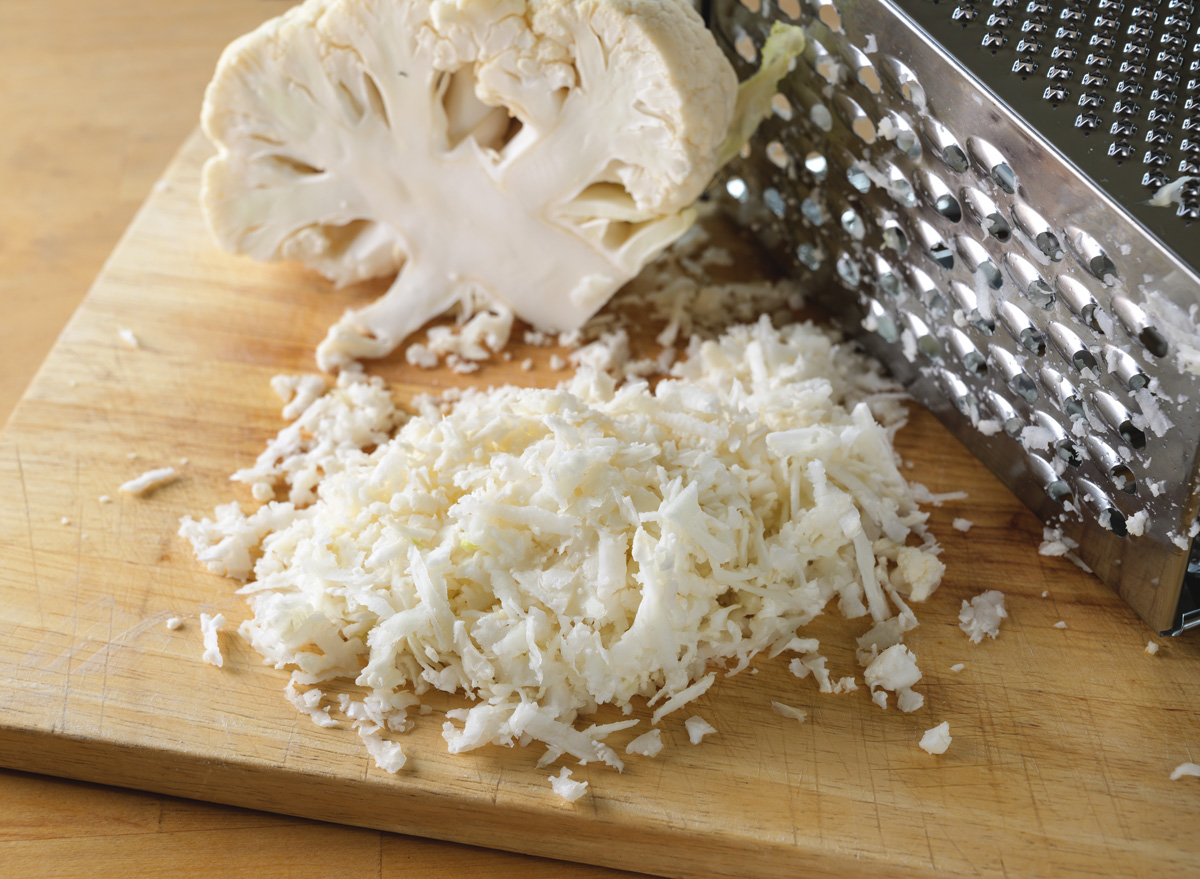 Cauliflower has become a great low carb staple, and it makes for an easy swap for mashed potatoes. That's right, go for some mashed cauliflower on Thanksgiving day. This side dish will save on a ton of carbs, calories and fat.
"Mashed cauliflower is a great alternative to mashed potatoes, plus the fiber from the cauliflower will keep you full," says Schapiro. To add more flavor, you can add plenty of seasonings, like fresh herbs.
Choose Fresh Cranberries Over Canned
Instead of using sugar-laden canned cranberry sauce from the store, opt for fresh berries to make your own at home.
"The canned cranberry sauce tends to have high fructose corn syrup and other additives," says Schapiro. Making your own can not only save you calories but plenty of added sugar.
Cut Off the Skin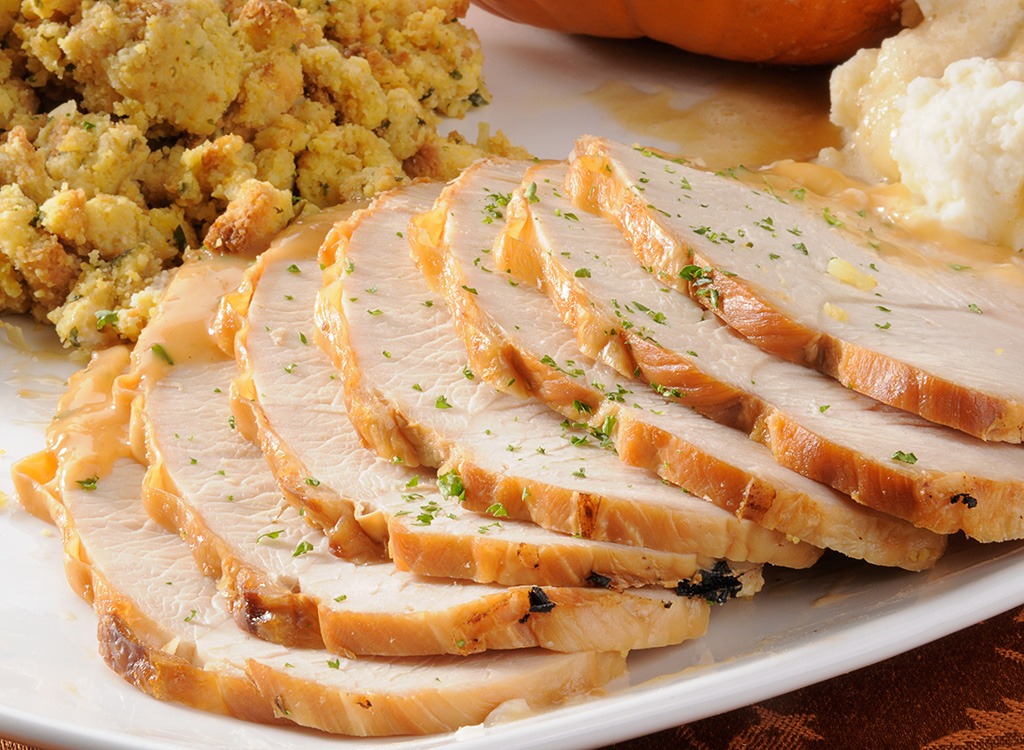 Plain and simple—you don't need that turkey skin to still enjoy the tender, juicy meat.
"Avoid the skin on the turkey as it is loaded with fat and calories and the turkey will still be flavorful," says Schapiro. It's easy; just remove the skin before you eat it.
Eat Only What's Special or Traditional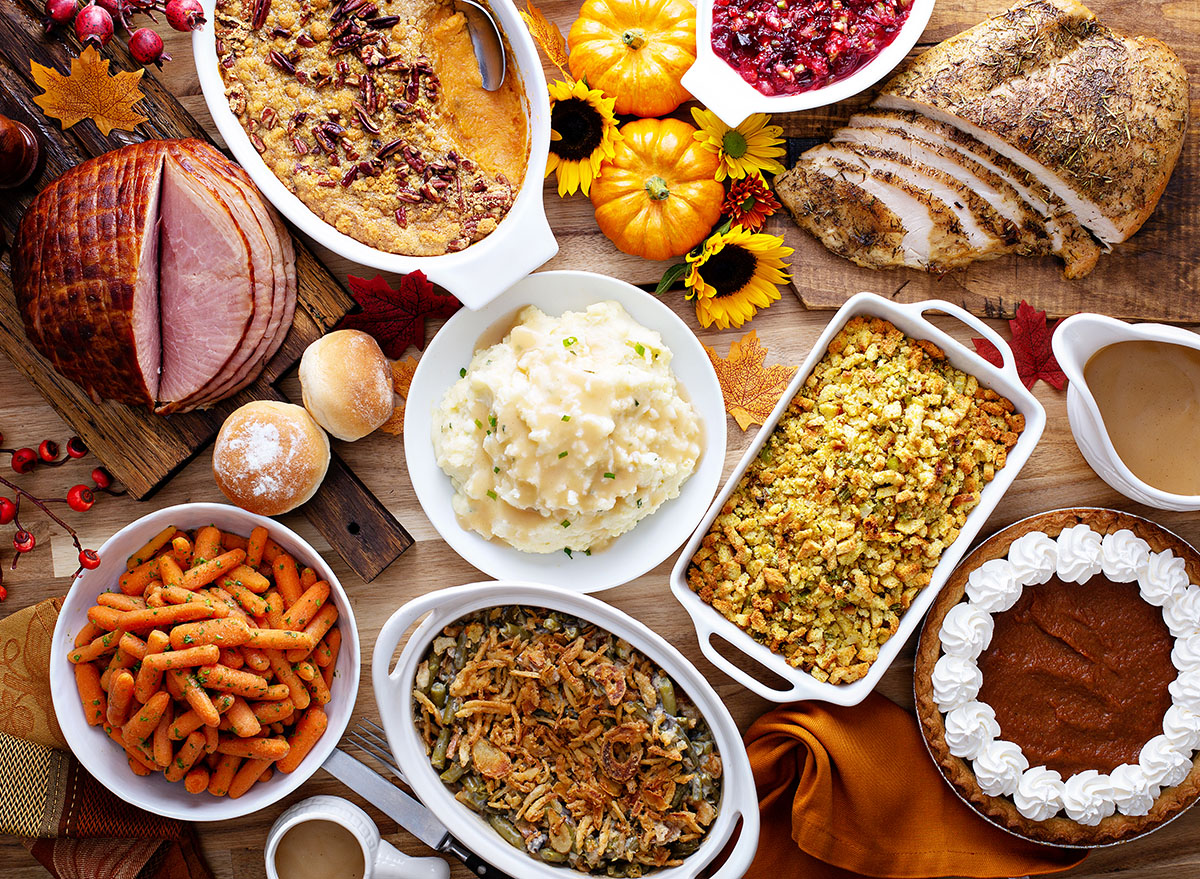 "If you tend to leave the Thanksgiving table overfull and uncomfortable each year, be picky and choosy about which indulgences you put on your plate," says Kelly Jones MS, RD, CSSD, LDN. If you really love your family's traditional pie recipe, by all means, enjoy a slice mindfully. But, if it's something you typically just eat because it's there (think: bread rolls and butter), skip it! You also shouldn't feel the need to eat a dish (or even grab seconds) just to please others.
"This can be hard for certain cultures (I can hear my Italian grandmother pushing food in the back of my head as I say this), but for the sake of your health and body autonomy, you have the right to turn down food," says Jones.
Just find a way to decline that isn't offensive to anyone.
Need some pointer? Just saying "No, thank you, I know it's delicious but I've already had too much" or "I really want to save room for [another dish)" or "I'll have leftovers tomorrow" should do the trick.
Isadora Baum
Isadora Baum is a freelance writer, certified health coach, and author of 5-Minute Energy.
Read more about Isadora