34 Fun Ways to Make Waffles This International Waffle Day
From sweet to savory to wholesome, breakfast to dessert, the possibilities are endless.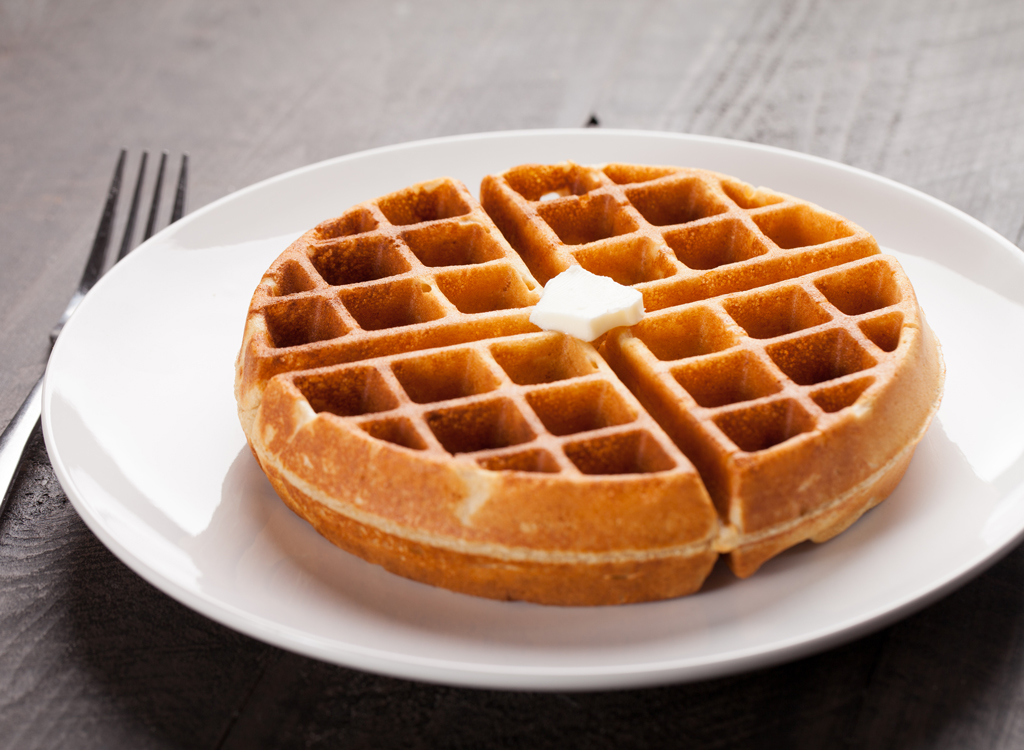 We've got 34 reasons to take out your waffle makers—and they won't deter your health goals. These healthy waffle recipes have something for everyone, from keto dieters to those just looking for a sweet breakfast. And with International Waffle Day on March 25, there's never been a better reason to break out the waffle iron.
Whether you dress them up or dress them down, the ball is completely in your court. And for more breakfast recipes, check out these 50 Healthy Overnight Oats Recipes.
Protein Waffles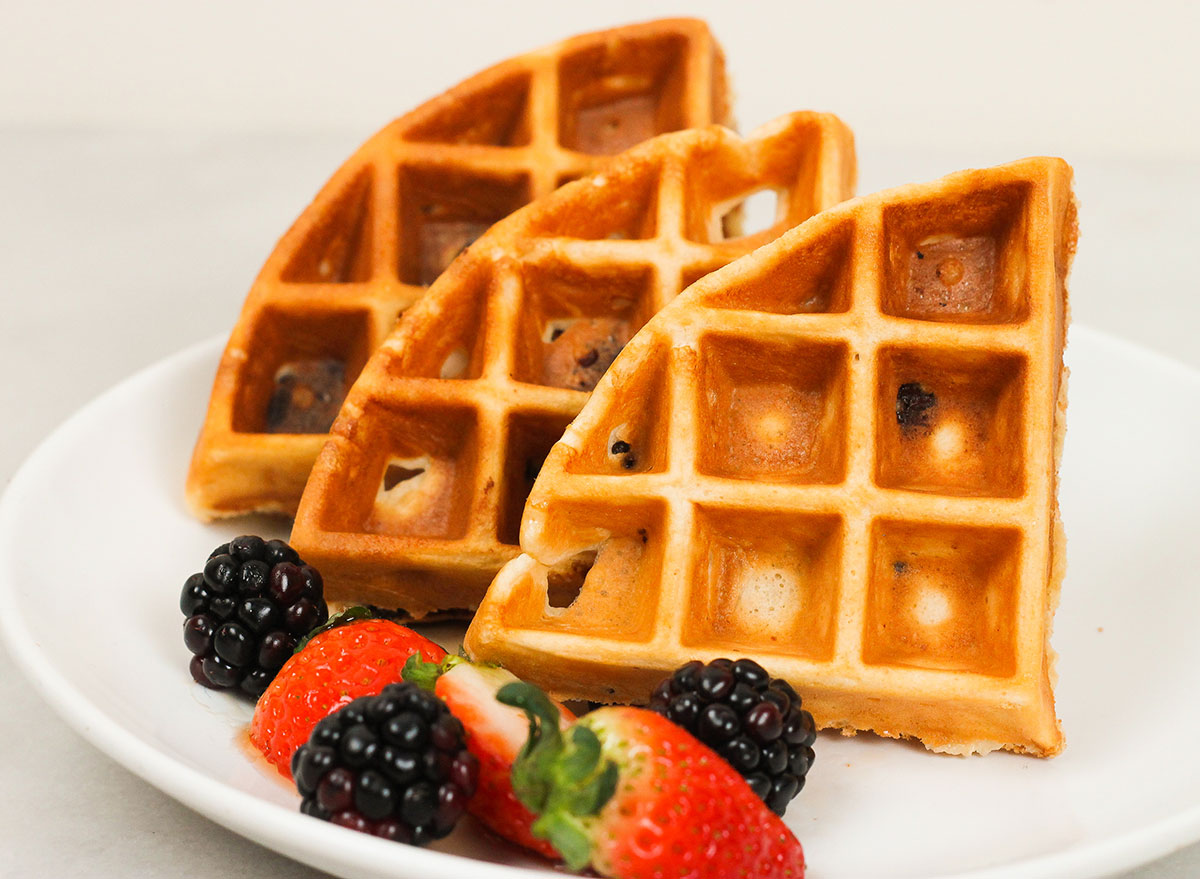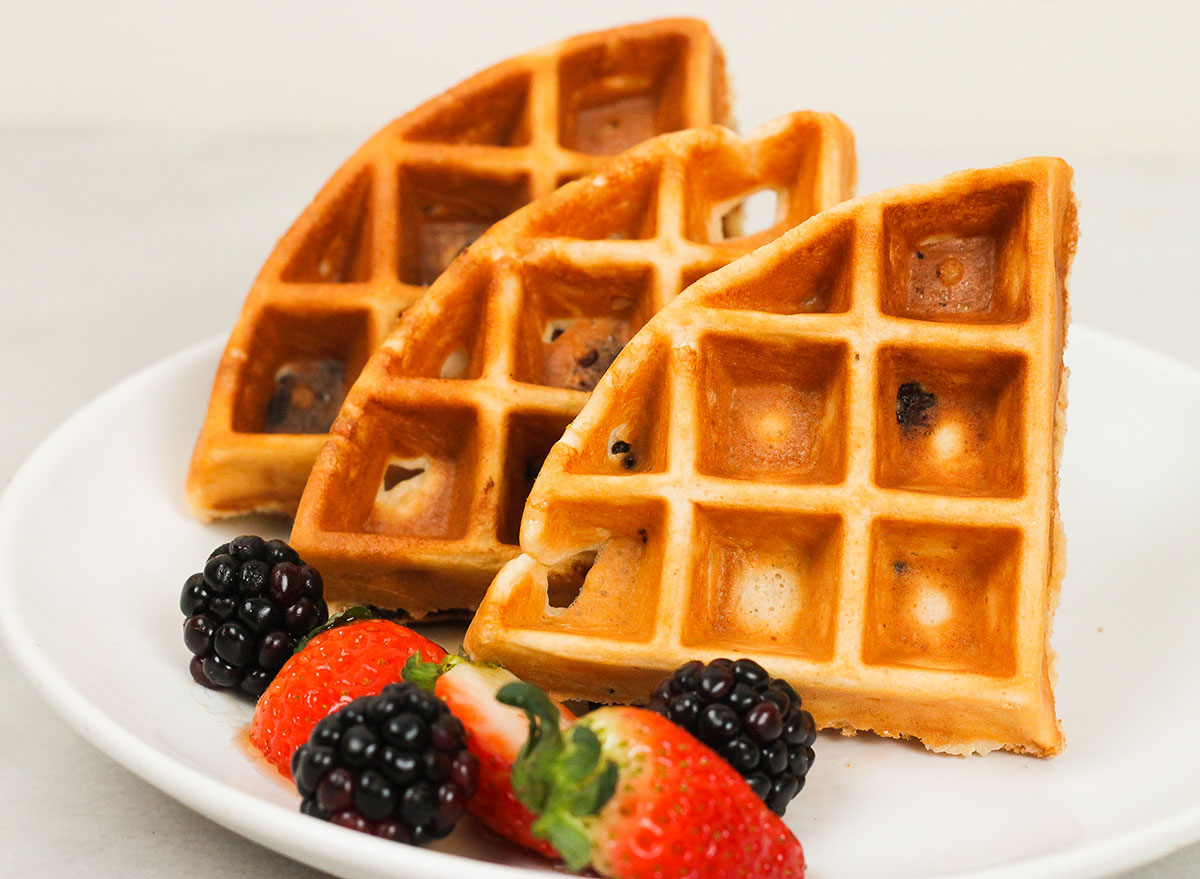 Why add protein powder to a smoothie when you can add it to a waffle batter? These protein-packed waffles are the perfect way to start your day.
Get our recipe for Protein Waffles.
Savory Waffles with Ham and Egg
If you haven't used waffles as a delivery vehicle for ham and eggs, why not? You'll be a convert after trying this recipe.
Get our recipe for Savory Waffles with Ham and Egg.
Savory Parsnip Waffles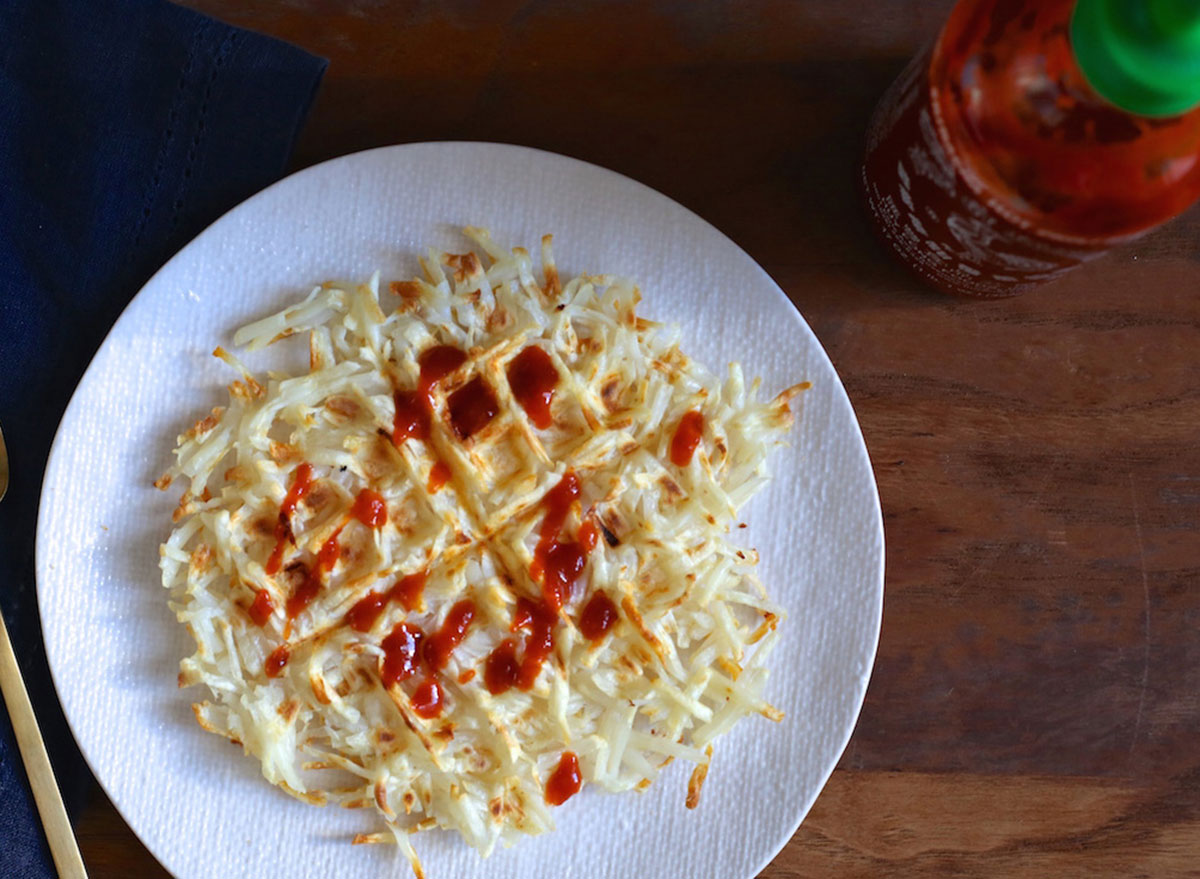 This Whole30-friendly recipe is perfect for anyone who prefers savory flavors to sweet ones. Plus, you'll add an unexpected veggie to your meal.
Get our recipe for Savory Parsnip Waffles.
Keto Waffles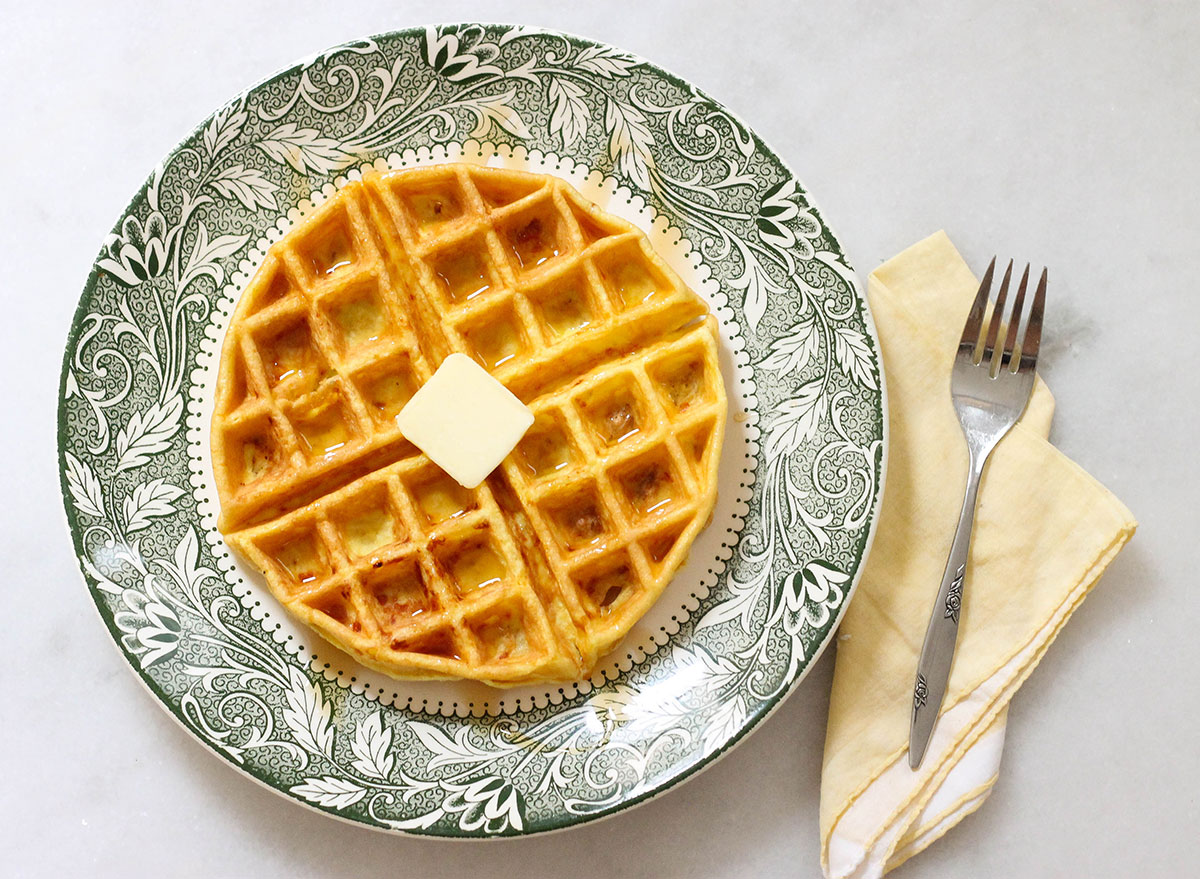 We'll let you in on a secret: These waffles are made of cheese. Yes, cheese! You won't want to slather them with syrup, but you'll love the crispy goodness.
Get our recipe for Keto Waffles.
Spicy Waffled Cauliflower Hash Browns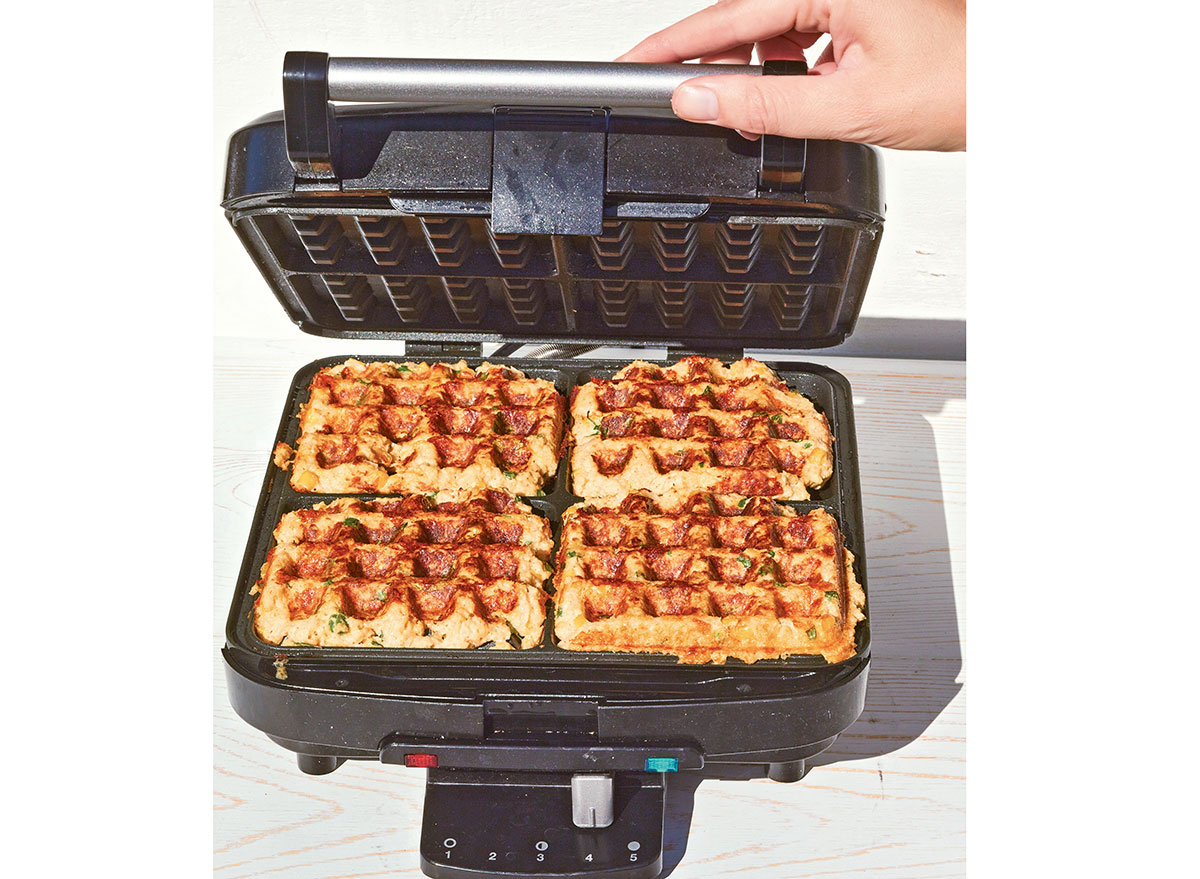 OK, so these aren't technically waffles. But they're made in a waffle iron, and they're the perfect addition to your breakfast spread.
Get our recipe for Spicy Waffled Cauliflower Hash Browns.
Fluffy Whole-Wheat Waffles
These fluffy, whole-wheat waffles are the perfect way to start your morning. Made using whole wheat flour, pure vanilla extract, and cinnamon, these waffles achieve the perfect texture by including baking soda. If you want to add some more sweetness to this recipe, be sure to add in coconut sugar or top your waffles with butter and honey.
Get the recipe from Sally's Baking Addiction. 
Banana Nut Waffles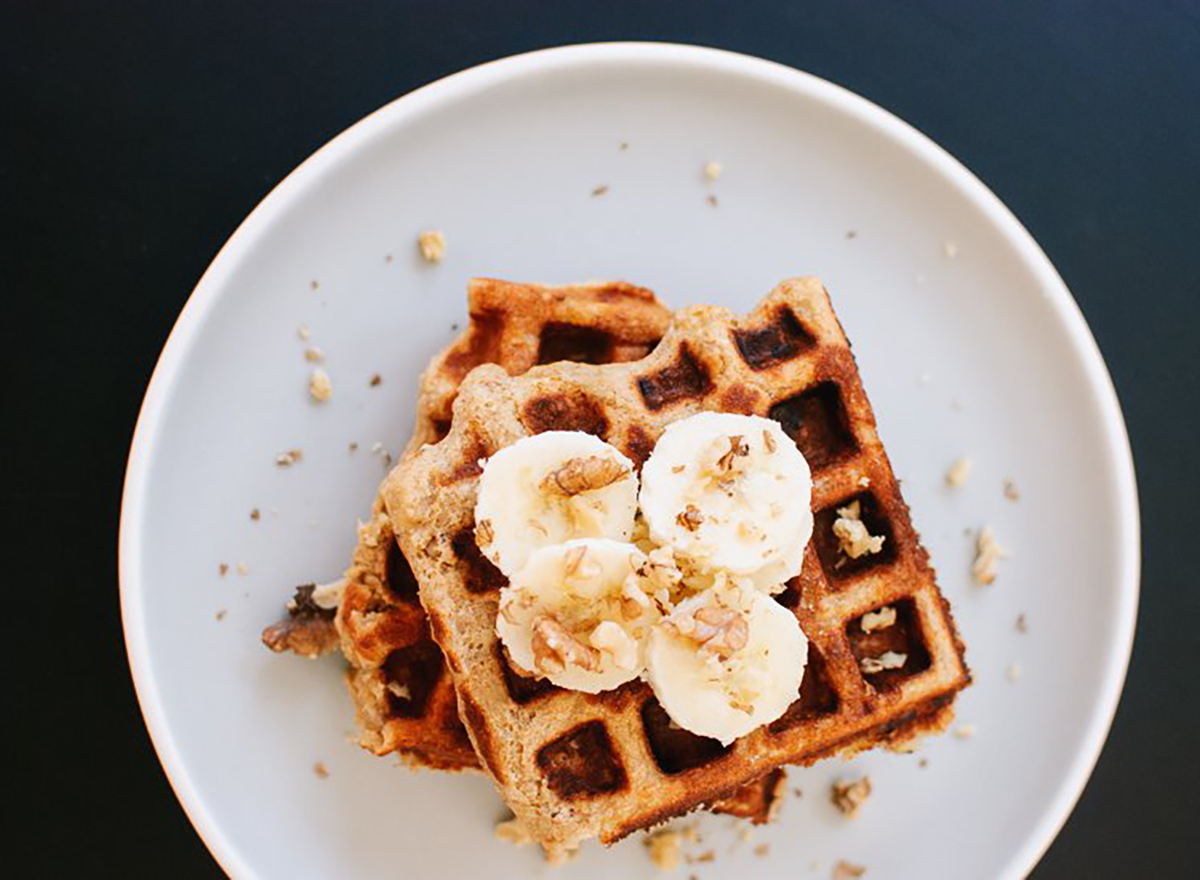 You may be familiar with banana nut bread and banana nut cereal, but have you ever tried the waffle version of this tasty combination? Featuring whole-wheat flour, chopped walnuts, mashed bananas, nutmeg, and coconut oil, this easy recipe only takes 20 minutes to make. We especially love how these waffles are topped with fresh banana slices and drizzled with pure maple syrup.
Get the recipe from Cookie and Kate. 
Vegan Pizza Waffles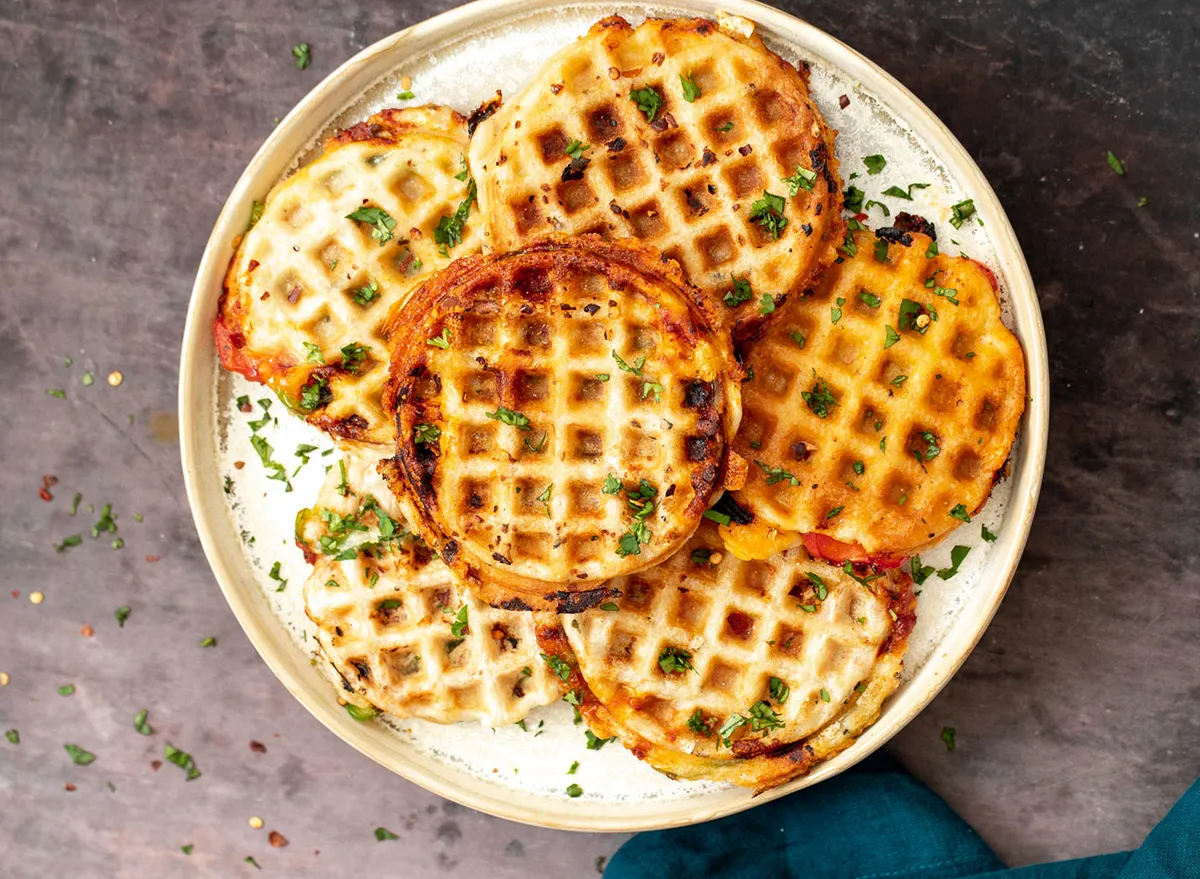 Step aside, pizza bagels—we have another exciting recipe in town. Made using pizza batter infused with flavorful herbs, these mouthwatering waffles are stuffed with refreshing ingredients including vegan mozzarella, chopped peppers, sliced mushrooms, and tangy tomato sauce. Be sure to make and freeze a bunch of these ahead of time for a quick and easy "anytime" meal.6254a4d1642c605c54bf1cab17d50f1e
Get the recipe from Vegan Richa. 
3-Ingredient Banana Blueberry Waffles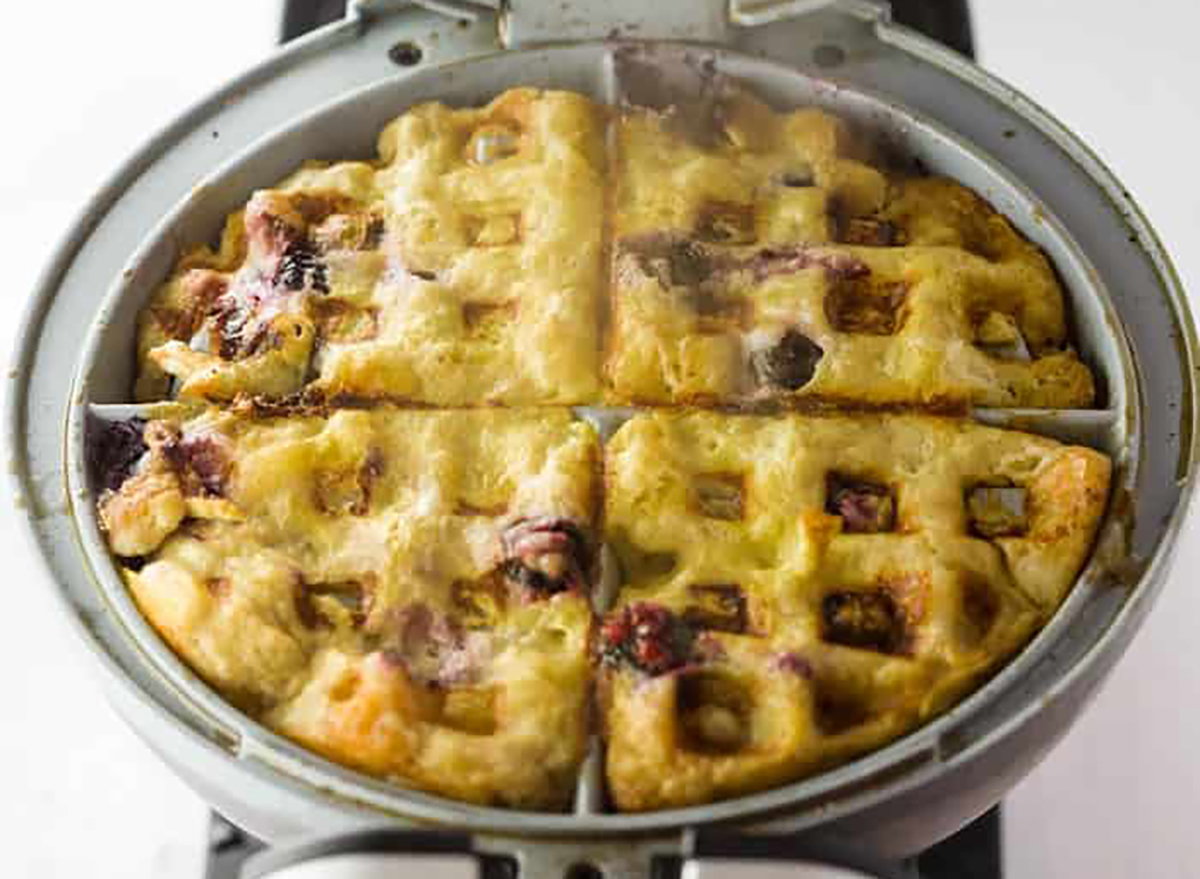 This banana blueberry waffle recipe is not only delicious but is also made using just a few ingredients. All you need is three easy-to-find items: bananas, eggs, and blueberries. And with that, you can prepare a delicious breakfast that takes just minutes to make. Served plain or topped with butter and syrup, these flour-free waffles are sure to be a hit.
Get the recipe from The Cozy Cook. 
Strawberry Banana Quinoa Waffles
These tasty, gluten-free waffles are prepared using an unexpected kitchen tool: a blender. The secret to this simple recipe is to blend together gluten-free oats, milk, banana, and eggs and then fold in the quinoa and chopped strawberries. Whether served with honey and bananas for breakfast or topped with fresh whipped cream for a late-night snack, these waffles are sure to become a go-to.
Get the recipe from Simply Quinoa. 
Mini Waffles with Lox and Cream Cheese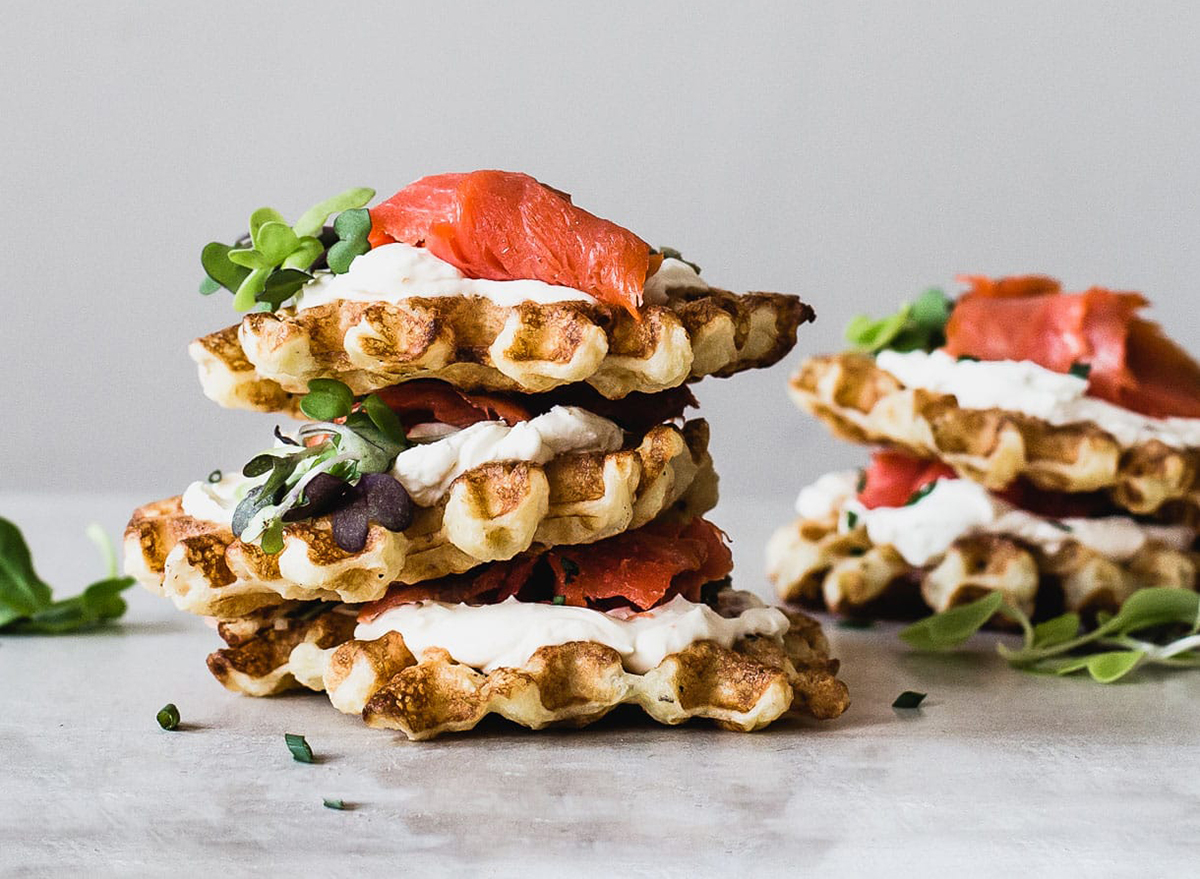 You may have had bagel and lox breakfast spreads before, but have you ever had waffles with lox and cream cheese? Using garlic powder, smoked lox, and minced fresh chives, these savory mini waffles are an innovative take on a tried-and-true classic. These are perfect to serve at your next at-home brunch alongside some fresh squeezed orange juice and sliced fruit.
Get the recipe from Heartbeet Kitchen. 
Waffled Tuna Melt
These Waffled Tuna Melts may just be one of the tastiest and most exciting ways to eat canned tuna. Prepared using white albacore tuna, mayonnaise, and provolone, these hearty waffles can be whipped up in minutes. Our favorite part is its unexpected add-ins, which include shredded red cabbage, fresh cilantro, carrots, and lemon juice, that inject some extra taste and dimension to an already mouthwatering recipe.
Get the recipe from Real Food by Dad. 
Zucchini Almond Flour Waffles
If you want to sneak some extra nutrients into your family's meals, try out this savory waffle recipe. Both gluten-free and dairy-free, these waffles get their signature savory flavor by using a combination of almond flour, quinoa flour, and flaxseed meal, combined with sea salt and olive oil. Top with hummus, sliced avocado, microgreens, and a poached egg for a truly elevated homemade breakfast.
Get the recipe from Simply Quinoa. 
Carrot Cake Waffles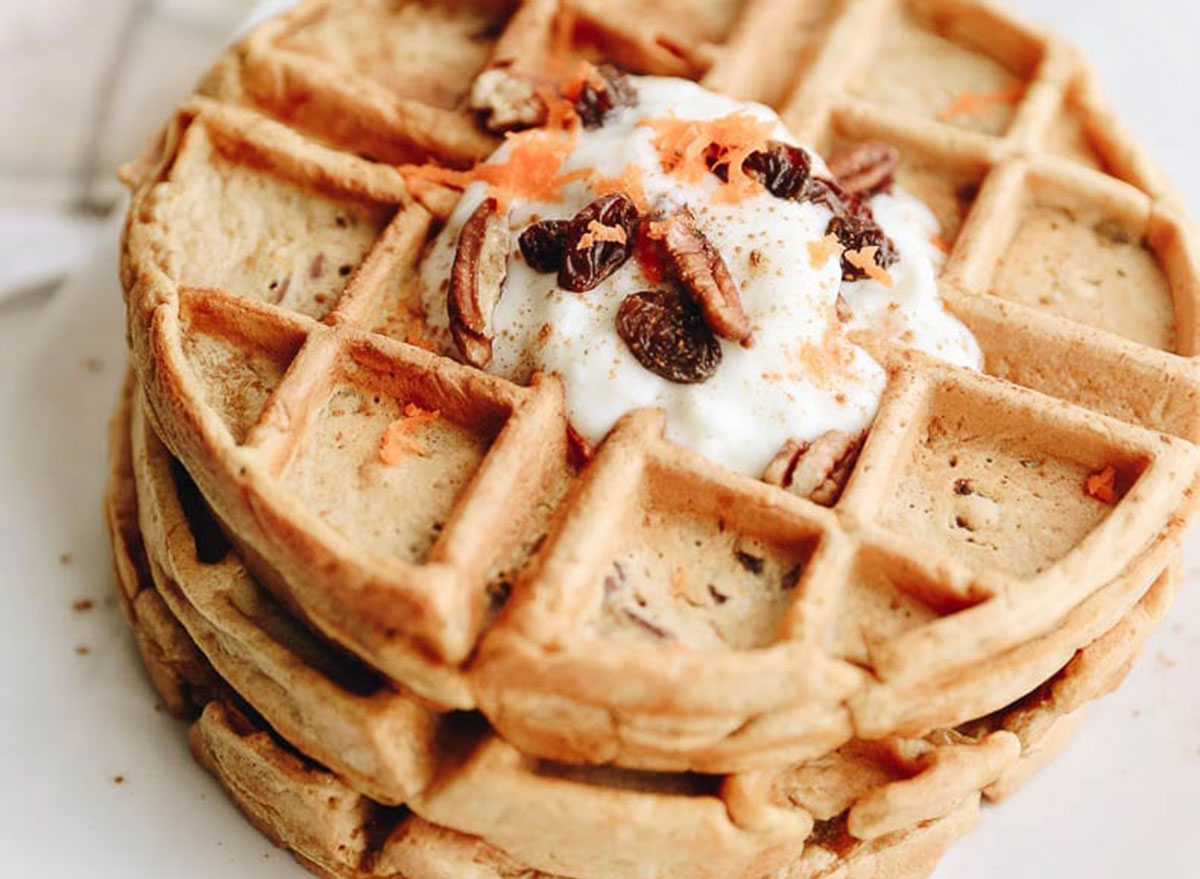 These waffles prove that carrot cake is not only meant for dessert but can be reimagined for breakfast, too. Made using yogurt, grated carrots, chopped walnuts, nutmeg, and raisins, this wholesome breakfast dish can be prepared in under half an hour. One of our favorite parts is that it is also topped with tangy yogurt, which is a great alternative to carrot cake's traditional sweet cream cheese frosting.
Get the recipe from The Healthy Maven. 
Cherry Oat Waffles
This recipe for Cherry Oat Waffles is like eating cherry pie for breakfast, only just healthier. In this exciting recipe, protein-packed oat flour waffles are topped with a tart cherry topping that uses easy to prepare frozen cherries to make.
Get the recipe from Running to the Kitchen. 
Strawberry Shortcake Waffles
Skip the nutrient-void angel food cake and whip up a batch of whole-grain waffles instead. Aside from being a wholesome spin on dessert, this shortcake contains the king of superfoods. From blasting flab, curbing the appetite, building lean muscle, and promoting organ functioning to fighting infection, coconut oil takes the cake.
Get the recipe from Well Plated.
Blueberry Orange Waffles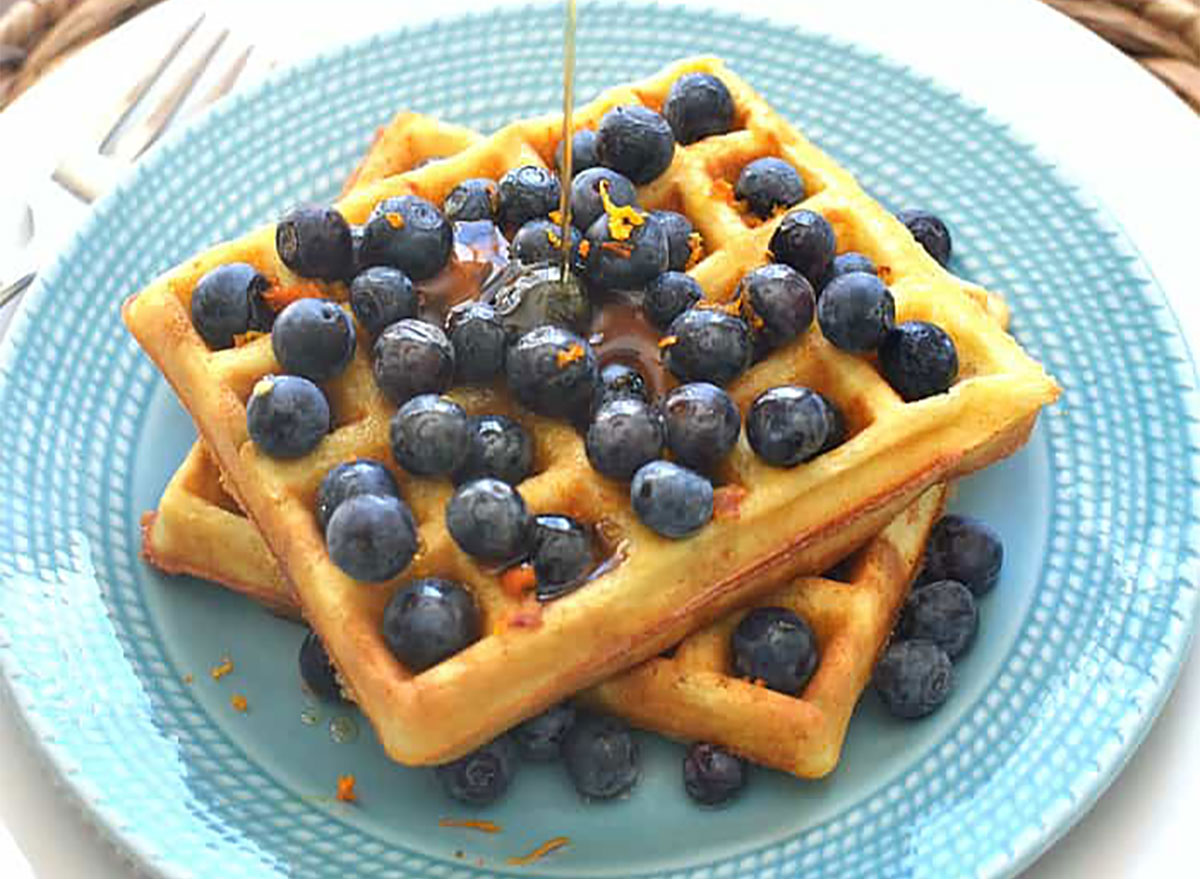 Blueberries and orange are an unexpected flavor pairing that works. Move over, lemon-ricotta pancakes!
Get the recipe from Lemon Tree Dwelling.
Sweet Potato & Chive Hash Brown Waffles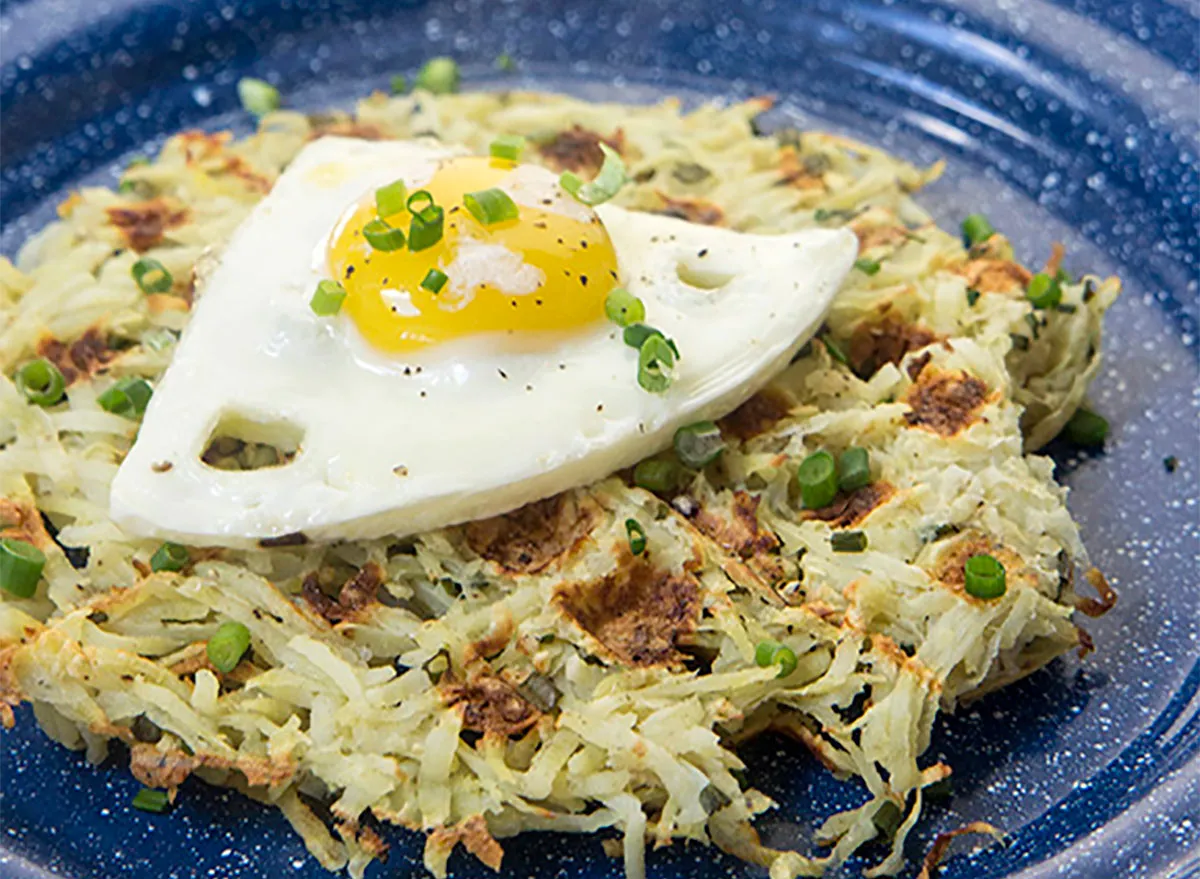 You had us at "sweet potato hash browns." Whether you follow the Paleo diet, eat gluten-free, or are simply looking for a way to liven up breakfast, these "waffles" are everything.
Get the recipe from Foraged Dish.
Pumpkin Waffle Sandwiches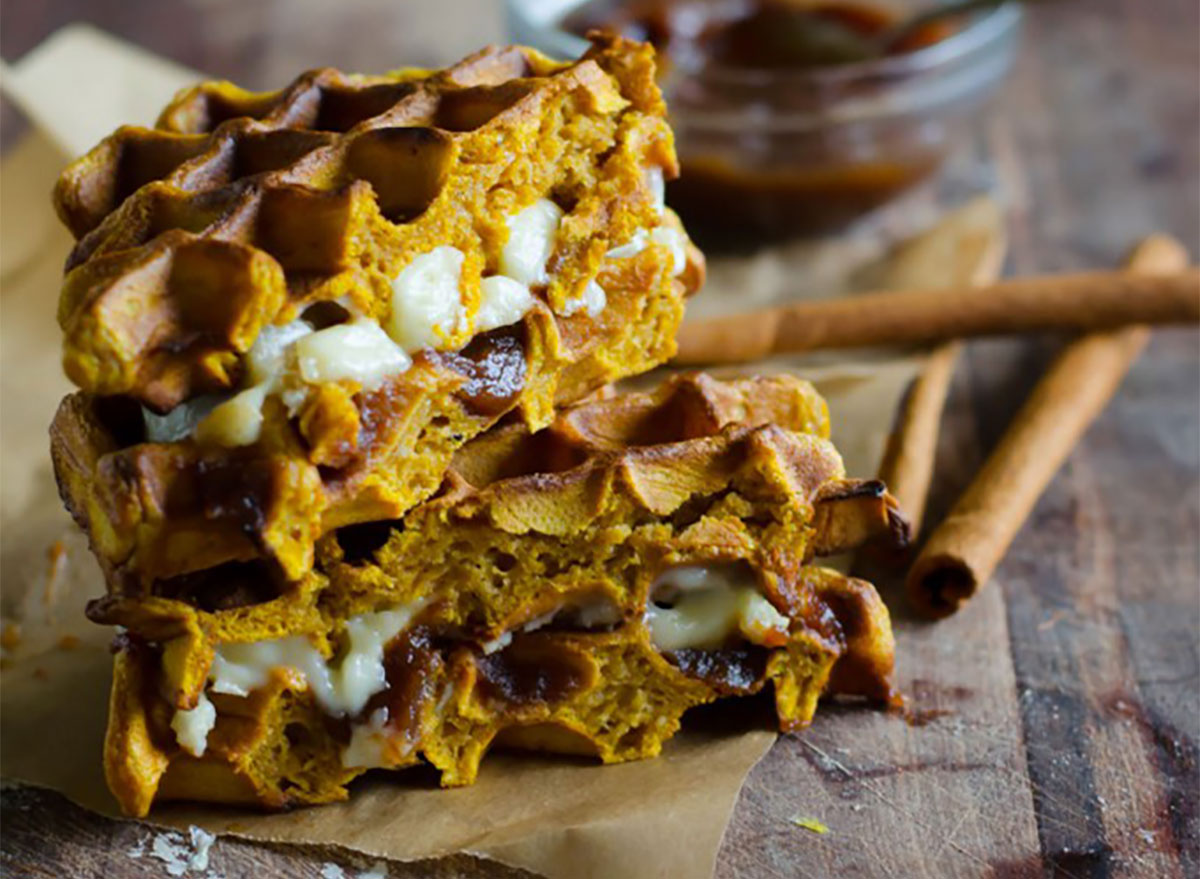 Despite popular belief, low-fat dairy is not the way to go. Incorporating dairy like the brie in this recipe is part of a balanced diet.
Get the recipe from Go Go Go Gourmet.
Thanksgiving Brunch Waffles with Fried Egg Gravy
We know Thanksgiving was in November, but that doesn't mean our taste buds don't crave all its fixing, especially when waffles and eggs are thrown into the mix.
Get the recipe from Climbing Grier Mountain.
Pumpkin Waffles
These flavor-packed waffles will suppress your appetite, give you a more radiant complexion and help you stay faithful to your workout plan. That's all thanks to the health benefits of pumpkin!
Get the recipe from Averie Cooks.
Savory Parsnip Chive Waffles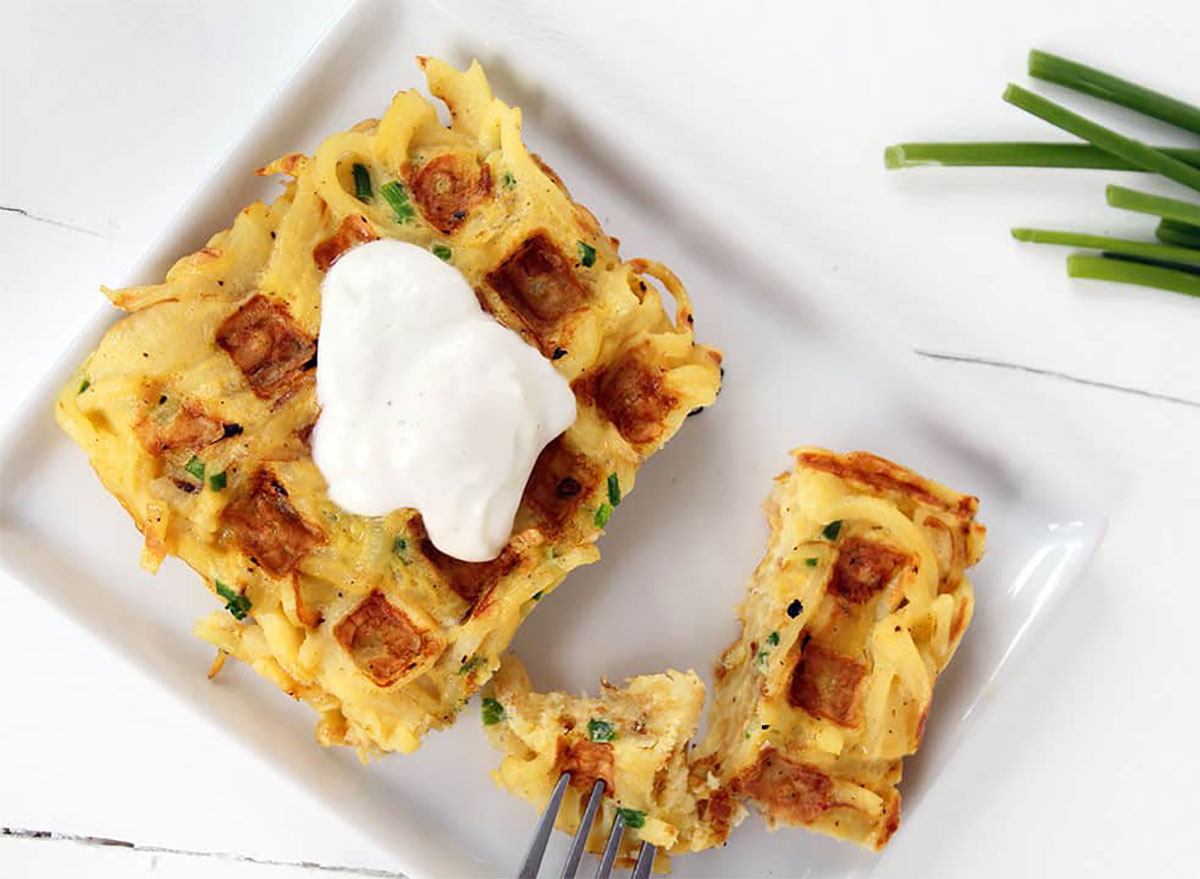 Parsnips and chives may not be on your shortlist of waffle ingredients, but they should be! This savory recipe will have you rethinking what a waffle can be.
Get the recipe from Inspiralized.
Greek Yogurt Waffles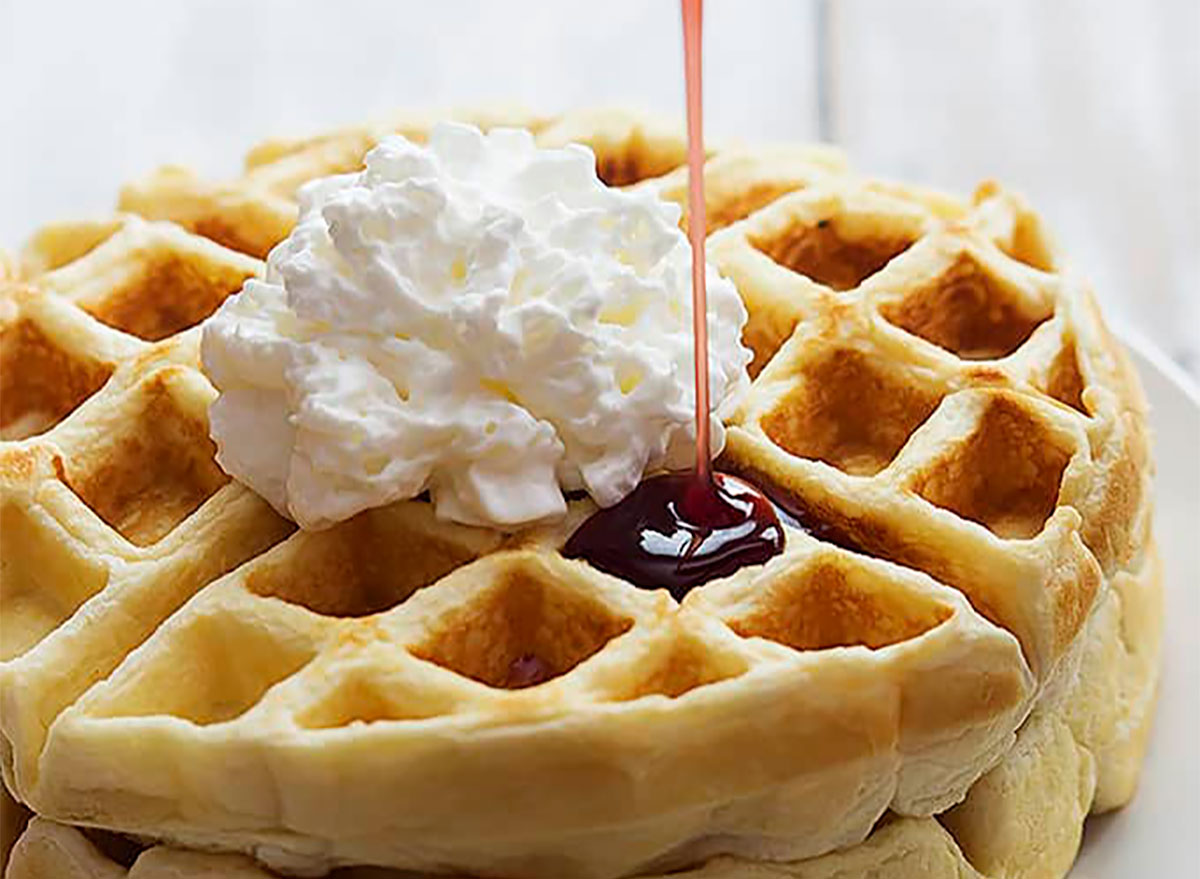 Thank the Greek gods for these low-calorie, low-fat waffles. The white stuff is packed with satiating protein, bone-strengthening calcium, and healthy gut probiotics that have been shown to improve cognitive function and stop belly bloat.
Get the recipe from Creme de la Crumb.
Oreo Waffles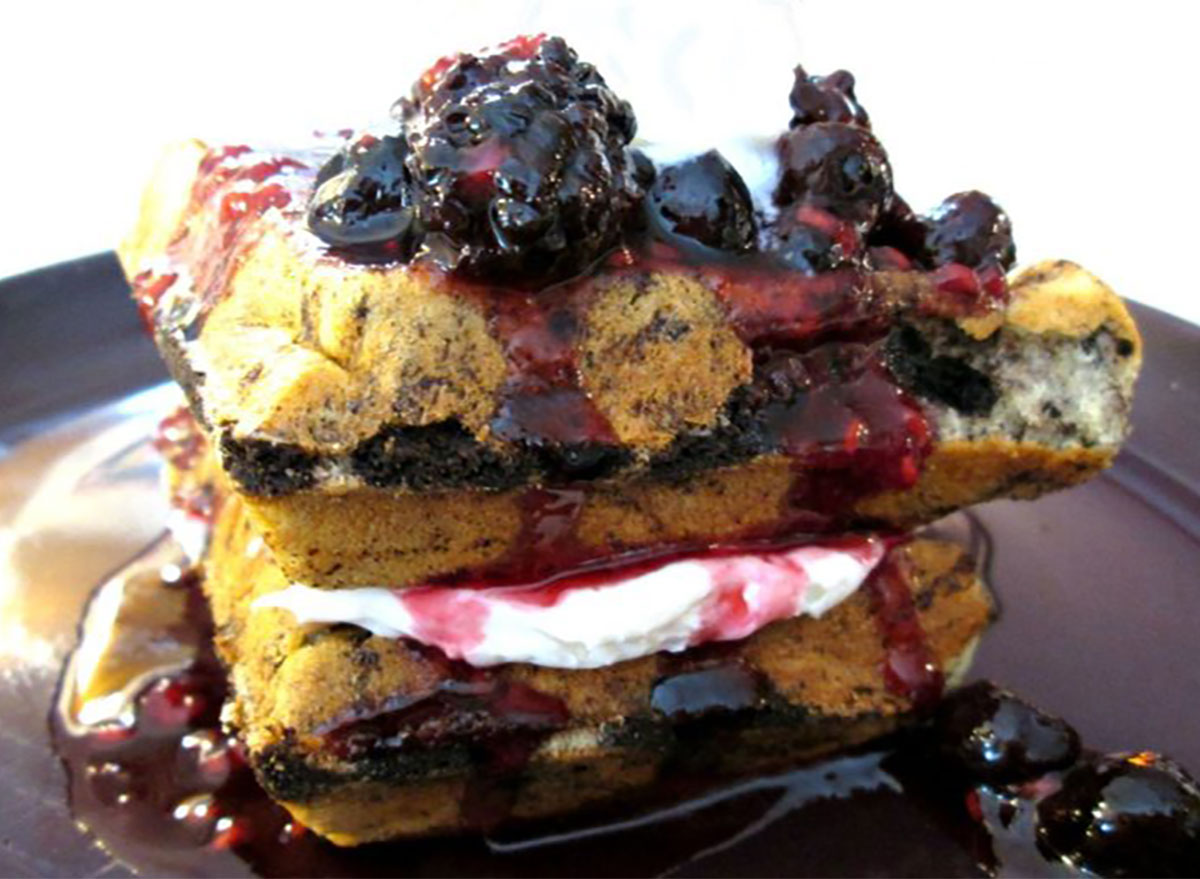 Oreo and waffle obsessed? The food gods have finally answered your prayers with this one. Grab a fork and pleasure your taste buds (but keep it to one serving). To lower the fat and sugar counts, opt for two reduced-fat Oreos per serving.
Get the recipe from Poor Man's Gourmet Kitchen.
Lemon Buckwheat Waffles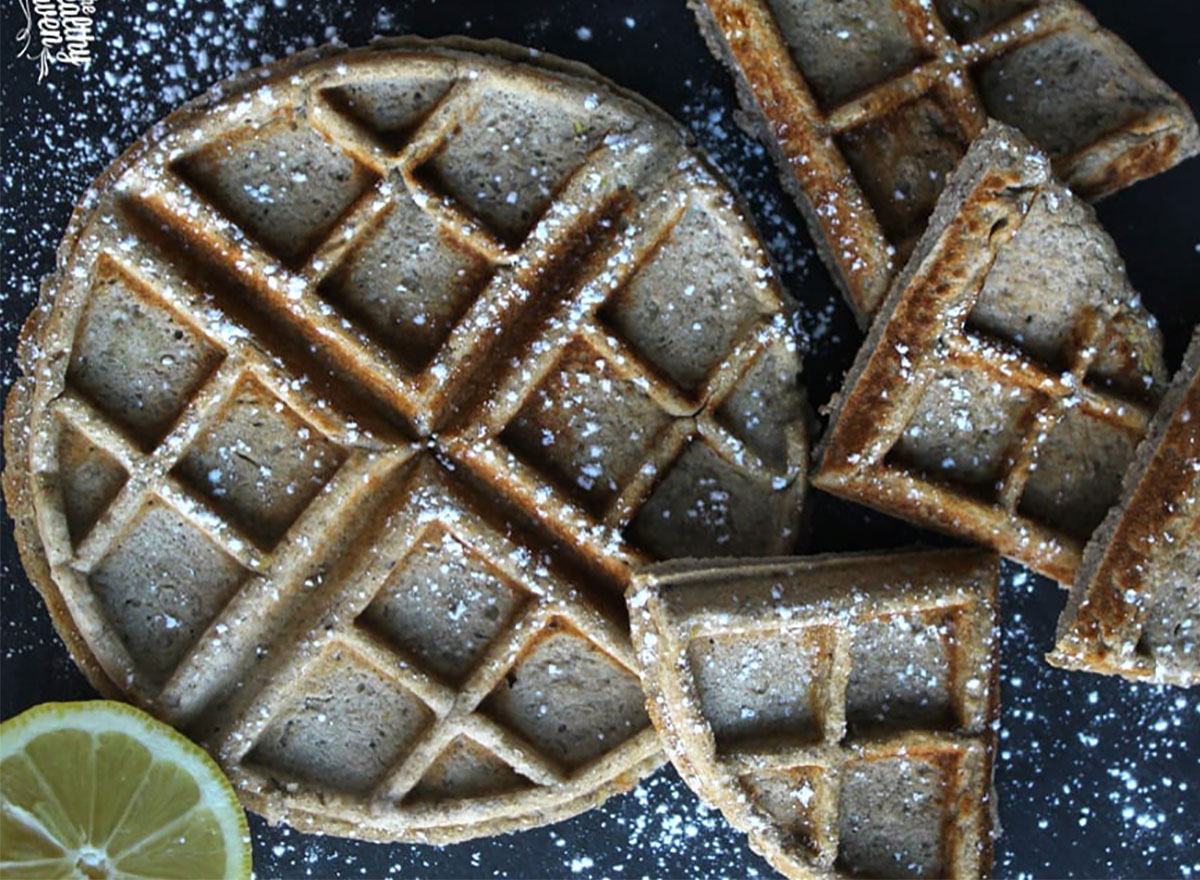 These waffles contain one of the best plant-based sources of omega-3 fatty acids, which fight inflammation and stubborn abdominal fat. Chia seeds' unique balance of protein, fats, and fiber gives you long-lasting energy. Better yet, they absorb water, expanding to up to 10 times their weight in liquid, helping you feel full and fueled.
Get the recipe from The Healthy Maven.
Chicken Waffle Nachos
Fried chicken and waffles is a Southern staple. Throw cheese into the mix, and you're entering dangerous territory. However, with just 292 calories and 13.7 grams of muscle-building protein, this recipe is hardly a splurge.
Get the recipe from Real Food By Dad.
Zucchini Waffles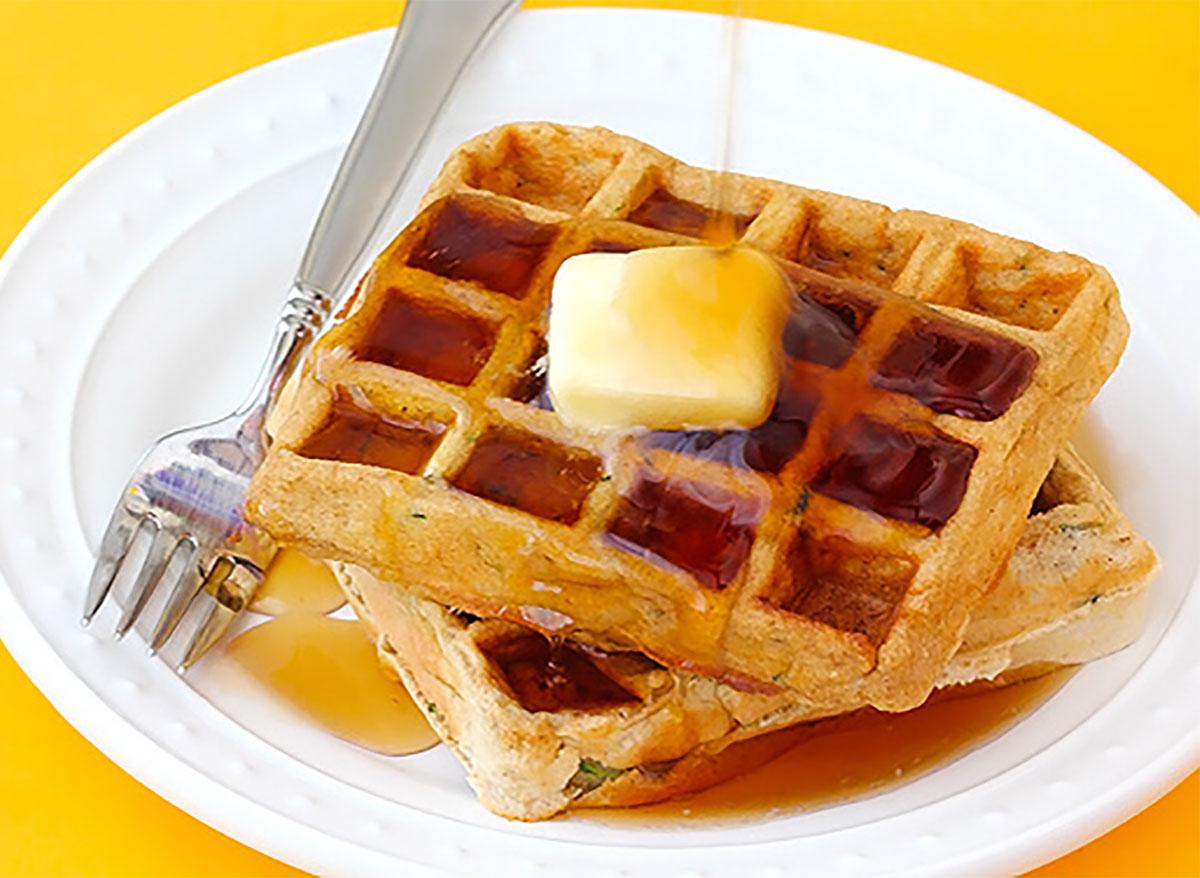 Looking for a way to sneak more veggies into your kid's diet (or your own)? Despite appearances, there is zucchini hidden in these waffles. The low-cal green squash is packed with hunger-busting fiber and boasts more blood pressure-lowering potassium than a banana!
Get the recipe from Gimme Some Oven.
Chocolate-Covered Waffle Bites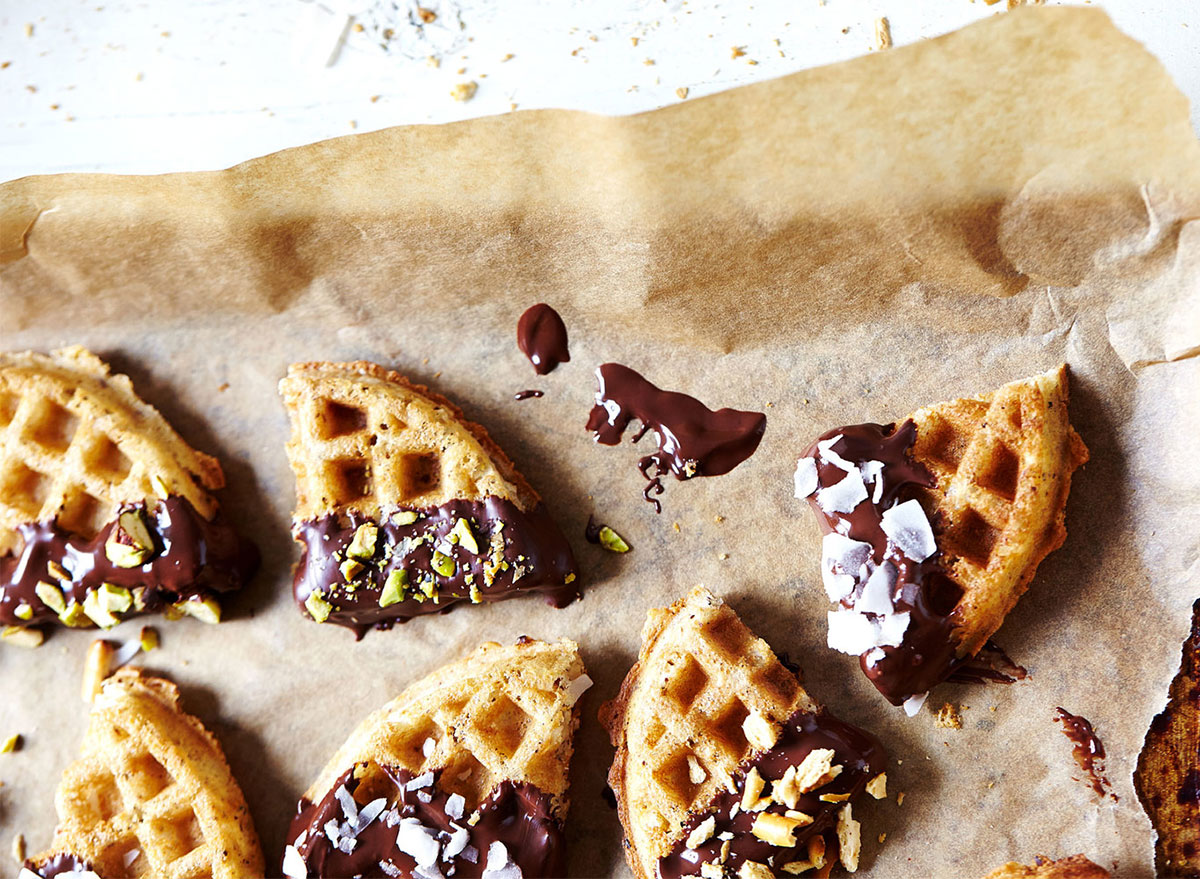 According to a study published in the Journal of Proteome Research, eating small amounts of chocolate every day can help you chill out and reach your health goals. And what better way to add a bit of chocolate to your life than with these chocolate-covered waffle bites?
Get the recipe from Sassy Kitchen.
Five-Minute Brownie Waffles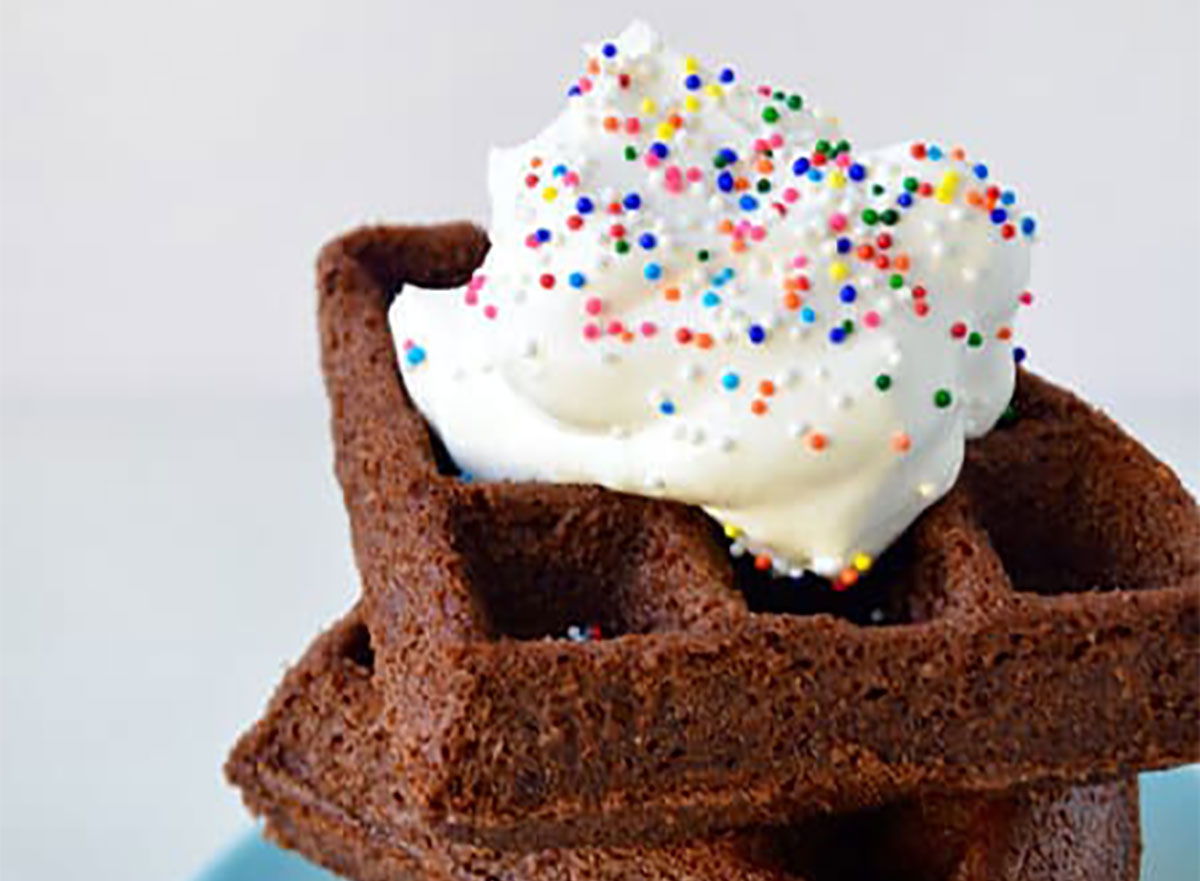 Save roughly 200 calories, 10 grams of fat, and 25 grams of carbs when you take five minutes to make these waffle brownies instead of stopping at Panera.
Get the recipe from Just A Taste.
Cauliflower Cheese Waffles
Cauliflower is one versatile veggie, subbing in for everything from pizza crust, rice, and potatoes to waffles. And for good reason; cauliflower is low in carbs, bursting with vitamin C and B, and absorbs whatever flavors it's combined with. With a nutritional profile like this one, this gluten-free recipe fits into any diet.
Get the recipe from Food Lust People Love.
Red Velvet Waffles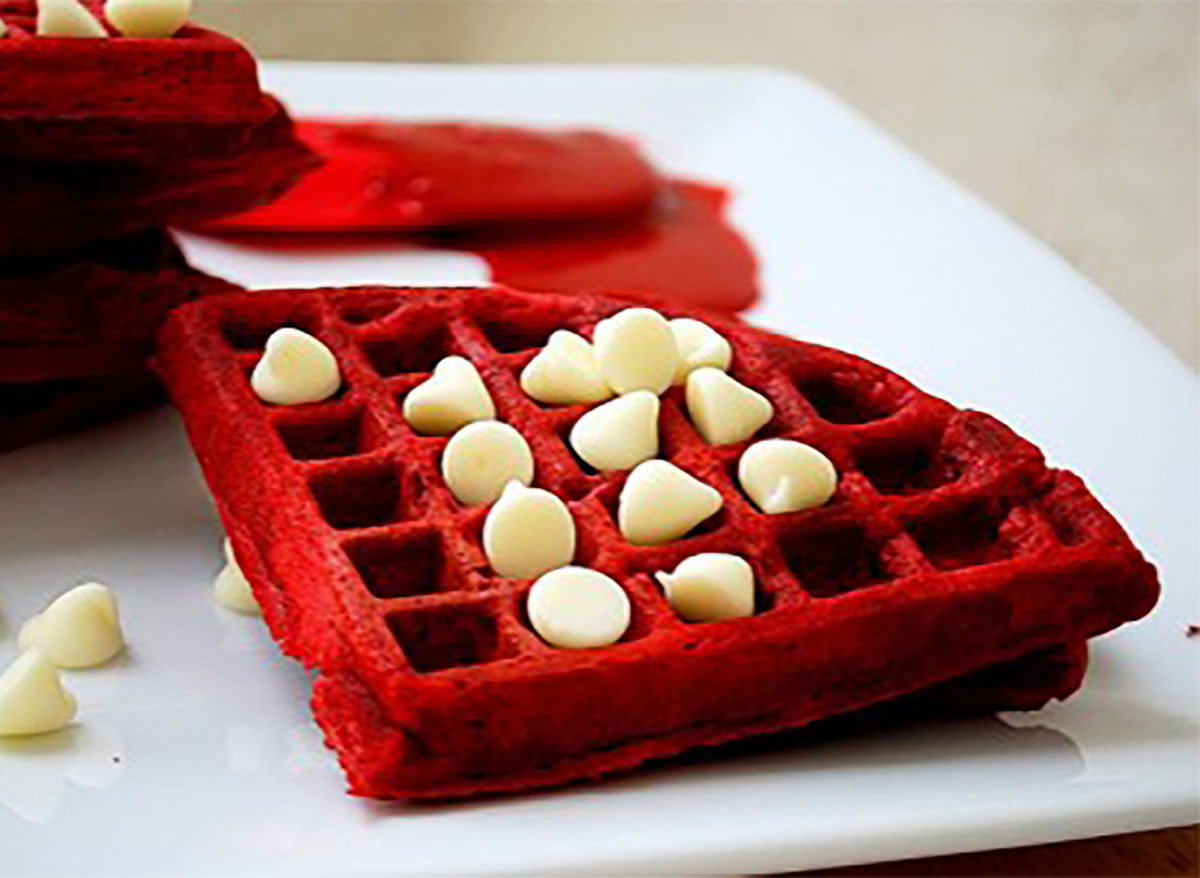 Red velvet anything is divine, especially when it can be consumed at breakfast. The best part: These waffles are innocent enough to fit into your day without expanding your waistline.
Get the recipe from Tasty Kitchen.
Peanut Butter Honey Banana Waffle Sandwiches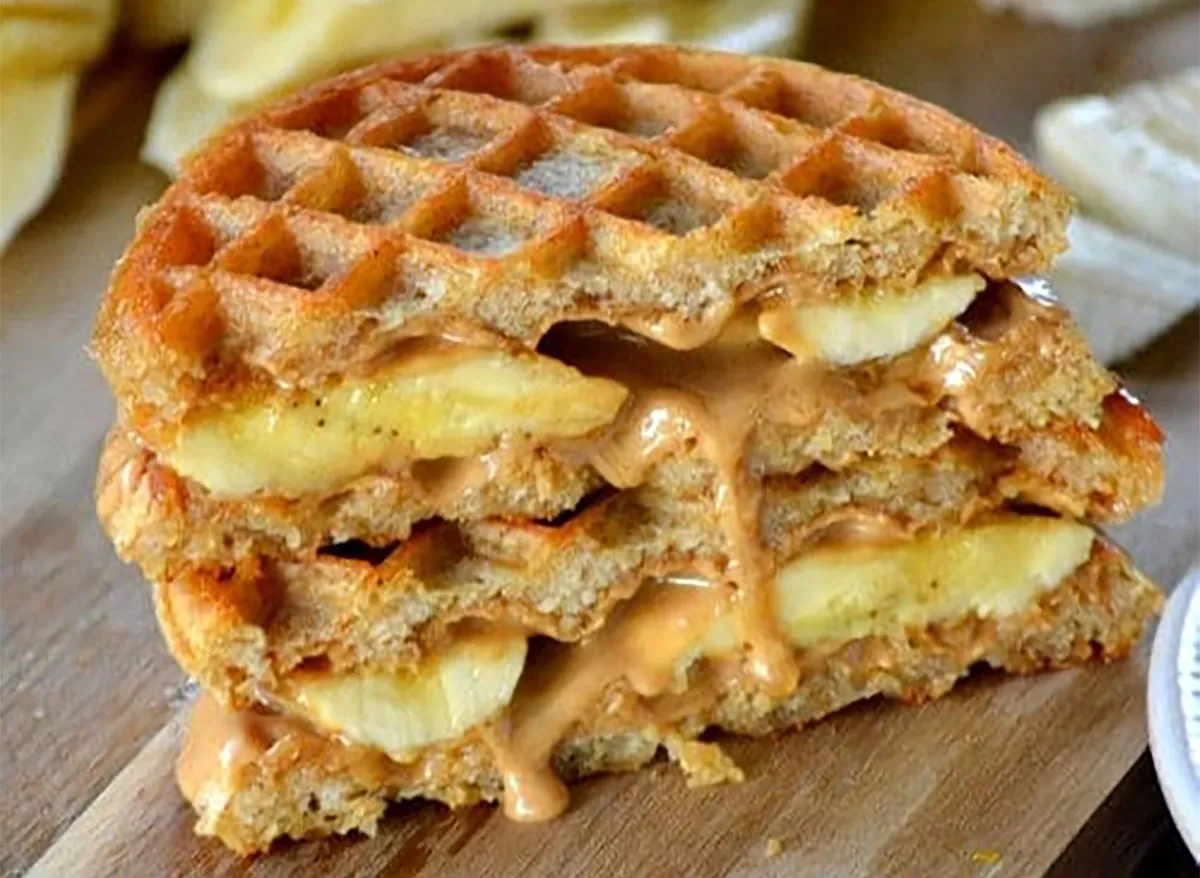 A PB and banana combo is a match made in heaven. And including more healthy fats in your diet has plenty of health benefits, too.
Get the recipe from Mom On Time Out.
Potato Waffle Eggs Florentine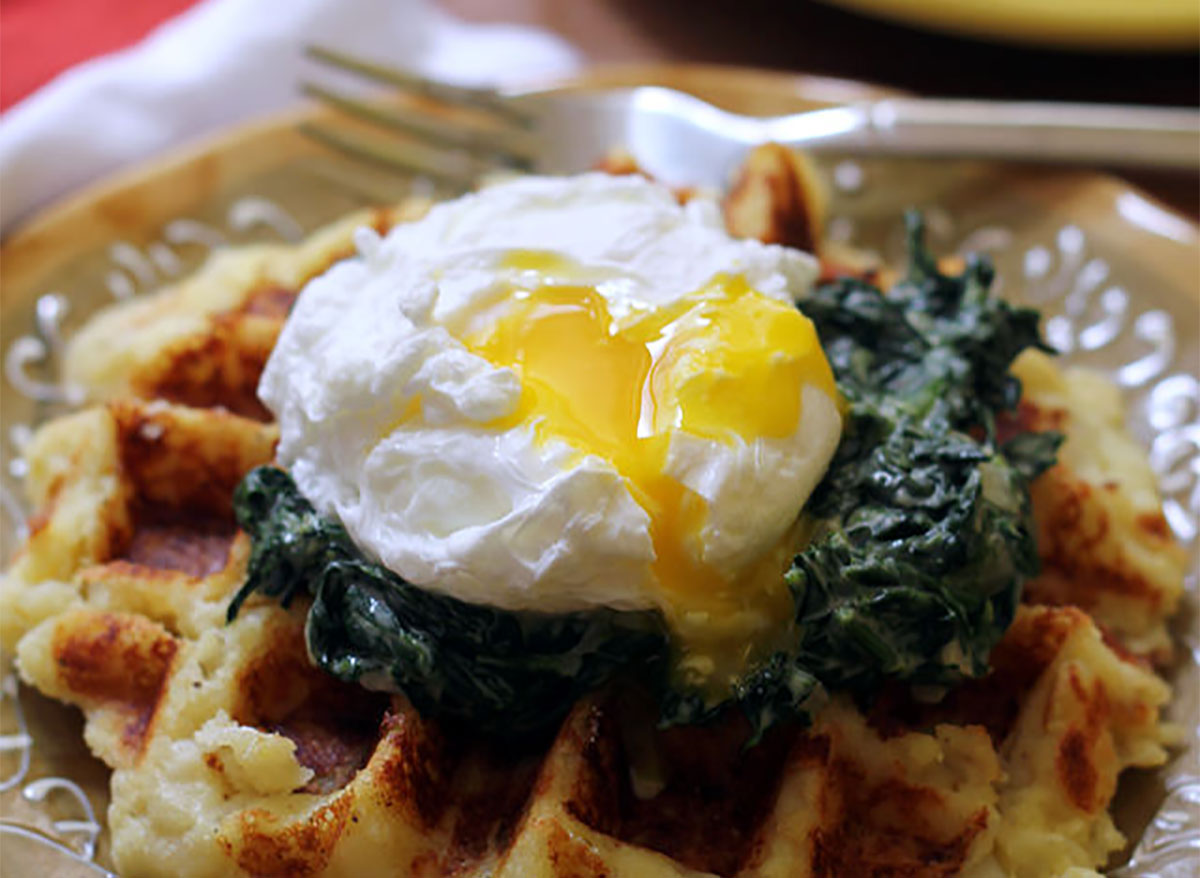 Savory and nutritious, this eggs florentine recipe will fill you up without filling you out. Plus, it's delicious.
Get the recipe from Eats Well with Others.
Coconut Yogurt Waffles
These waffles are vegan and gluten-free, but you'd never know it from how delicious they are.
Get the recipe from Minimalist Baker.
And for more ways to start your day off right, don't miss these 30 Nutritionist-Approved Healthy Breakfast Ideas.