5 Ketchup Brands That Use the Best Quality Ingredients
Some versions of the popular, sticky red sauce are made better than others.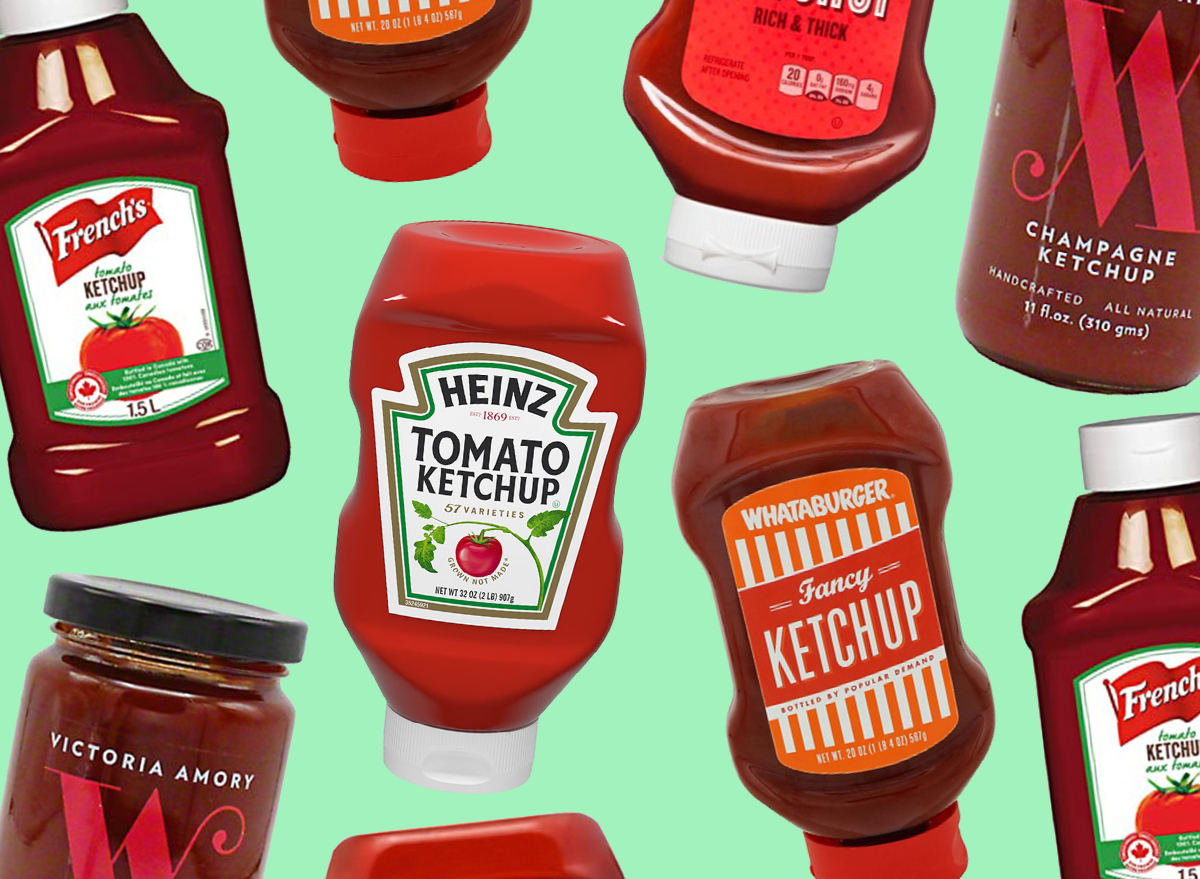 The product recommendations in this post are recommendations by the writer and/or expert(s) interviewed and do not contain affiliate links. Meaning: If you use these links to buy something, we will not earn a commission.
If you asked someone what America's favorite condiment is, you're likely to get a multitude of different answers ranging from mayonnaise to salsa. But, what remains clear is that ketchup always lands somewhere at the top.
Across the country, you'd be hard pressed to find a ball game, restaurant, or backyard barbecue where ketchup wasn't within reach. Award-winning registered dietitian and author Lauren Manaker, MS, RDN even agrees that the tomato-based condiment can be the perfect addition to burgers and the perfect dip for fries. But, there is a downside.
"Sometimes, [ketchup] can be made with ingredients like corn syrup, sugar, and salt which, when consumed in excess, can lead to some unsavory side effects," Manaker says.
She goes on to explain that if you eat ketchup that's oozing with these unhealthy ingredients just on occasion you're likely in the clear. But, "if you are a regular ketchup-eater, finding options that are lower in sodium and added sugars (which includes sugar, high fructose corn syrup, cane sugar, and corn syrup)" is key.
"Many standard ketchup varieties contain around 170 mg of sodium per serving," she additionally notes. "Finding choices that have far less than this quantity can be beneficial, especially if your doctor advised you to reduce your sodium intake."
In general, looking for ketchup bottles with a shorter list of ingredients–and ingredients you actually recognize at that–is the way to go. To help you out, Manaker has assembled a list of five of the most high-quality brands that have been given a dietician's stamp of approval for you to dunk, dip, squirt, or spread to your heart's desire.
Primal Kitchen Organic Unsweetened Ketchup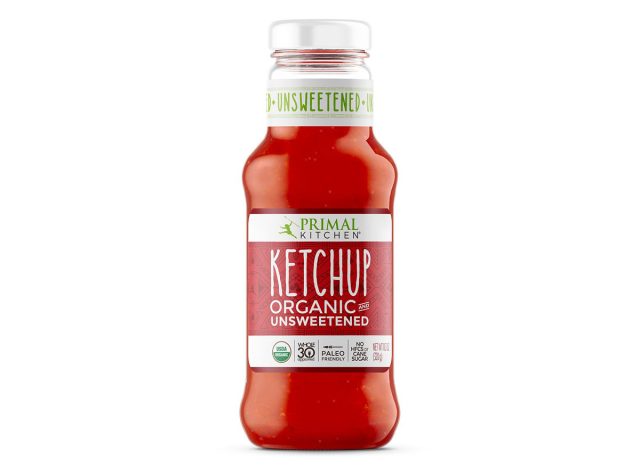 Per Serving (1 tbsp)
: 10 cal, 0 g fat, 105 mg sodium, 1 g sugar
As its name would suggest, Primal Kitchen gets back to the basics with its star-studded lineup of condiments. All of these saucy creations–including the brand's Organic Unsweetened Ketchup–ditches artificial sweeteners, suspicious ingredients, and even dairy, making them the perfect choice for everyone in the family and placing the brand at the top of Manaker's list.
"Primal Kitchen Organic Unsweetened Ketchup is made with zero corn syrup or artificial sweeteners," Manaker explains. "Instead, it is made with high-quality, real ingredients that include organic tomato, organic balsamic vinegar, and organic onion powder."
And, it's not just trained dietitians like Manaker that hold the ketchup recipe on a pedestal. In thousands of reviews on the Primal Kitchen website, customers agree that the spread is a family favorite that has an unbeatable taste despite the fact that there is no added sugar.
The ketchup can be found at standard grocery stores such as Kroger, Whole Foods, and Target. Plus, Manaker points out that as an added bonus, it's available in a squeezable version alongside its classic glass bottle. She says the convenient feature makes it "super easy to add this beloved condiment to your burger, sandwich, and fries" and allows for even the smallest fingers to operate.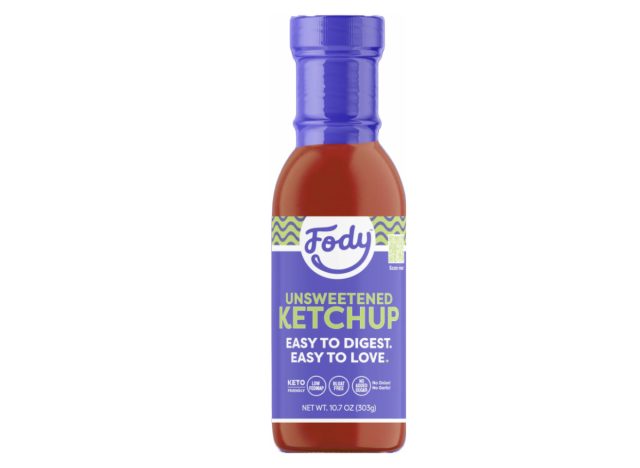 Per Serving (1 tbsp)
: 15 cal, 0 g fat, 140 mg sodium, 1 g carbs, 3 g sugar
If improving gut health is one of your top priorities, then Fody Foods Ketchup should be your new main squeeze. The sauce is a quintessential blend of real, wholesome ingredients including tomato puree made from fresh California-grown tomatoes, balsamic vinegar, and a tried-and-true combination of all-natural spices like chili powder, allspice, and cinnamon for a subtle zest. The original Fody ketchup is also made with real organic cane sugar.
But, Manaker explains that what's most important is what's missing from every bottle. With Fody, artificial colors and flavors are never on the menu–nor are onions or garlic. These foods are common in other well-known ketchup brands and have been known to trigger bloating as well as other digestion nightmares.
Without potent garlic and onion added in, Fody Foods Ketchup is the perfect choice for anyone following a low-FODMAP diet or those dealing with a gastrointestinal tract disorder such as irritable bowel syndrome (IBS).
Look for Fody's recognizable purple ketchup bottles online, at grocery chains like Walmart and Kroger, or at more health-focused supermarkets such as Sprouts Farmers Market and Whole Foods.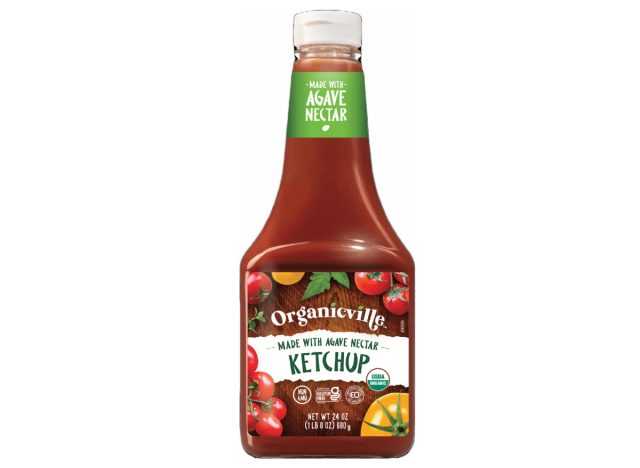 Per Serving (1 tbsp)
: 20 cal, 0 g fat, 125 mg sodium, 4 g carbs, 4 g sugar (3 g added sugar)
Aside from sounding like a wonderful, natural place to live, Organicville is also a line of trustworthy and organic sauces, marinades, dressings, and condiments. And, according to Manaker, the brand's plant-based ketchup is one you definitely want in your fridge.6254a4d1642c605c54bf1cab17d50f1e
"Organicville ketchup is made with agave nectar and organic tomatoes," she says. "It also contains less sodium than many other ketchup choices and it tastes great!"
Per tablespoon, the Organicville ketchup only contains 125 milligrams of sodium–compare that to the 160 to 170 milligrams of sodium in other popular brands such as Del Monte or French's. Every savory drop of the Organicville option is also non-GMO and gluten-free.
This ketchup earned 4.7 stars on Amazon based on nearly 1,500 global ratings. Fans have referred to the condiment as the "BEST ketchup out there" and another customer gave it the ultimate praise by saying, "I thought there was no other ketchup product able to compete with Heinz… wrong!!"
"Ketchup" with this new organic trend by purchasing the Organicville product on the company's website, through Amazon, or at select markets such as Giant Eagle, Sprouts, Randalls, or Natural Grocers.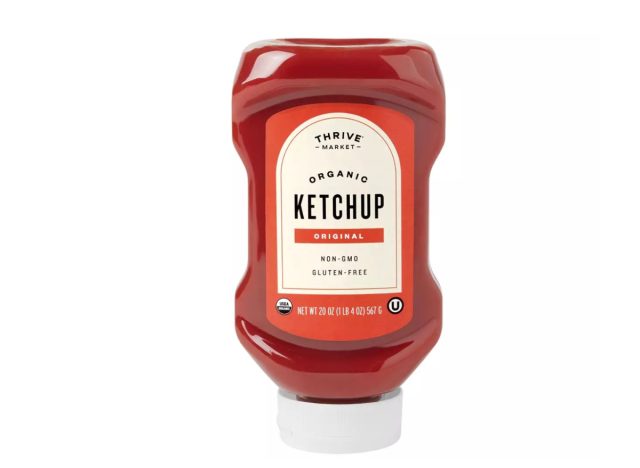 Per Serving (1 tbsp)
: 15 cal, 0 g fat, 160 mg sodium, 4 g carbs, 3 g sugar
If you're waiting for a high-quality ketchup to suddenly land on your doorstep, you just might be in luck. Thrive Market is a subscription-based grocery delivery service that focuses solely on organic, sustainably-sourced, and non-GMO products. And, the company even has its own member exclusive collection of plant-powered items, including top-rated condiments like ketchup.
Manaker explains that the Thrive Market Organic Ketchup is a great choice for a wide range of diets because it is gluten-free and made from the following simple list of ingredients: organic tomato concentrate, organic sugar, organic distilled vinegar, salt, less than 2% of organic onion powder, and organic spices.
It's clear that harmful additives and preservatives have been axed from the organic ketchup's recipe and what you see is always what you get.
Heinz No Salt Added Ketchup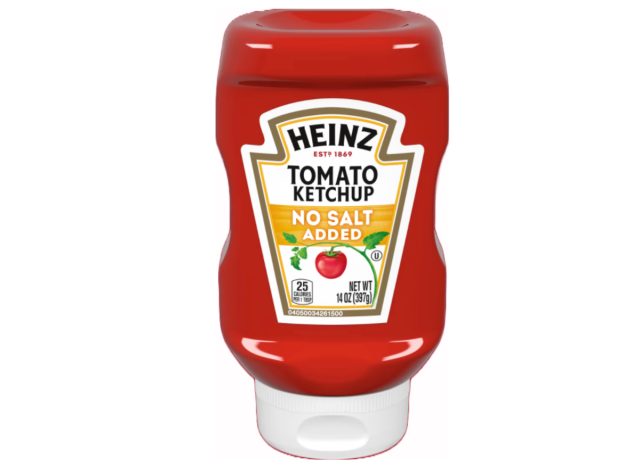 Per Serving (1 tbsp)
: 25 cal, 0 g fat, 5 mg sodium, 5 g carbs, 5 g sugar (4 g added sugar)
Heinz has been called many things from the king of ketchup to America's favorite ketchup. But, something it hasn't always been best known for is being the healthiest ketchup brand on the market.
This is because the original Heinz ketchup is packed with a few unwanted ingredients, including copious amounts of salt. But, that's a problem the brand has been able to mop up with the No Salt Added addition to its lineup.
"Heinz No Added Salt ketchup is perfect for those on a low sodium diet," Manaker says. "With only 5 mg of sodium per serving, using this ketchup variety is a no-brainer."
This more mindful version of the iconic condiment actually achieves such a low sodium content by using something called AlsoSalt–a sodium-free salt substitute. With this ingredient in the mix, the ketchup ends up containing 96% less sodium than regular ketchup, according to the Heinz website.
Check out other more health-focused options from Heinz as well, including the brand's No Sugar Added Ketchup, Organic Certified Ketchup, and Simply Ketchup with No Artificial Sweeteners.