30 Things You Can Make with a Muffin Tin
These muffin tin hacks will have you using this kitchen tool in ways you never dreamed of.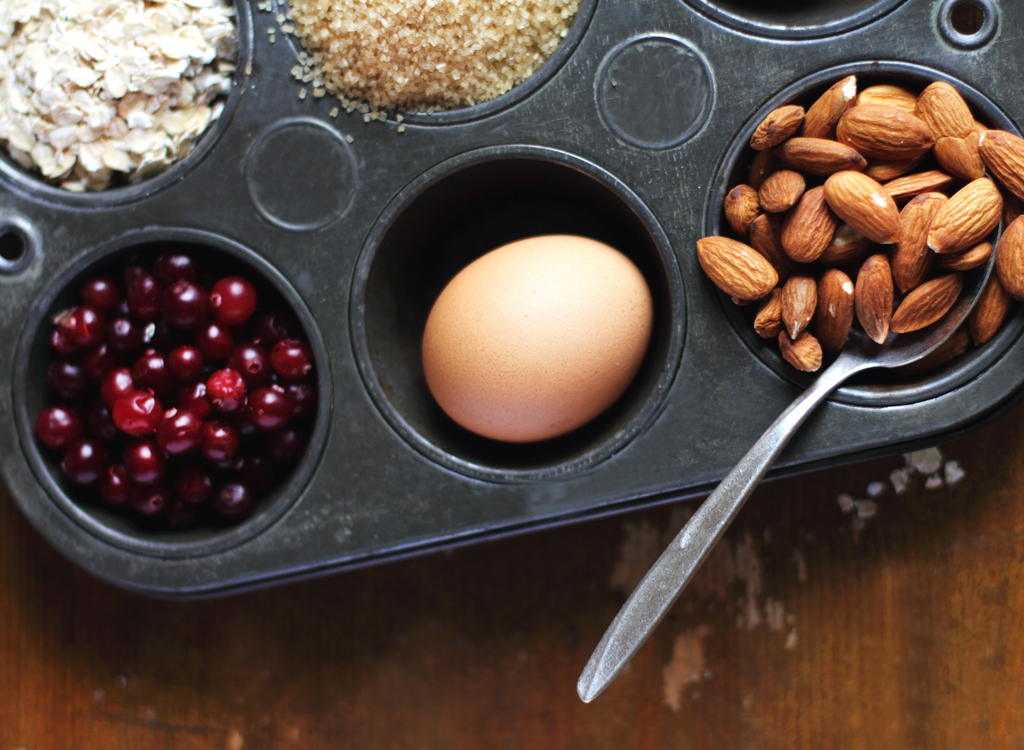 Muffin tins can do so much more than just baking muffins and cupcakes—they can help with meal prep in ways you may not have even considered.
These kitchen workhorses are also great for portioning out your food, whether you're meal prepping or simply want single servings. This is one of those staple kitchen tools that you almost definitely have lying around just waiting to be put to more use. Ahead, you can find 30 things you can make with a muffin tin that you probably never thought of before. It's time to get creative!
If you're planning to serve ice cream to a group of people, pre-scoop it into a muffin tin so all you have to do is take the pan out of the freezer when it's party time. It'll save time on scooping the ice cream during the party and prevent any ice cream messes in front of your guests.
If you're whipping up a batch of soup but want to save some for later, pour it into a muffin tin and freeze it. Once frozen, pop the soup servings out of the pan and put them in freezer bags to store for later. This way you've got the soup portioned out and don't have a bunch of containers taking up space in the freezer.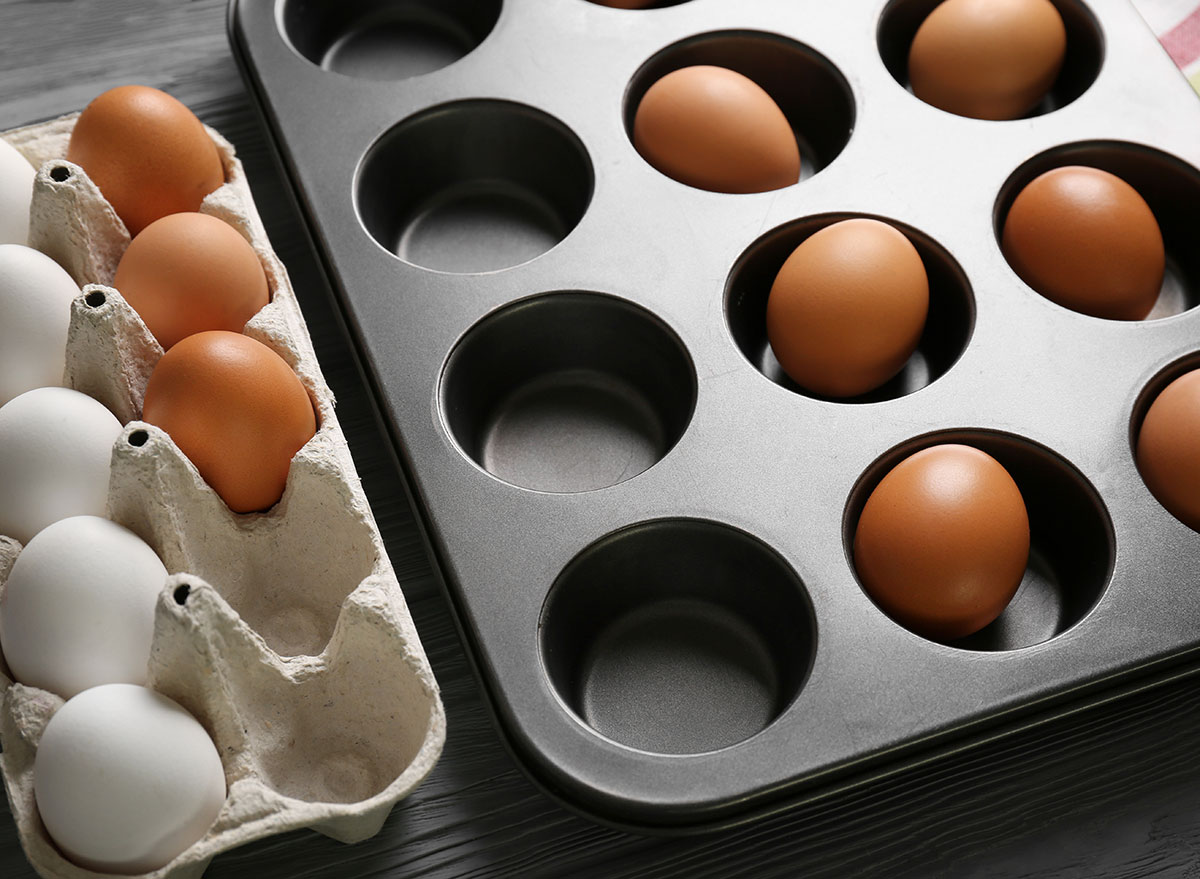 By placing eggs in a muffin tin, you can prevent them from rolling around in the oven while you cook them. Simply place the eggs in the wells of the muffin tin and bake them for 10-12 minutes at 350 degrees Fahrenheit. It's as easy as that!
Why settle for standard-size ice cubes when you can have giant ones? Save money on buying a different ice cube tray by instead filling a muffin tin with water and freezing it. This will make oversized ice cubes for chilling a pitcher of drinks at a party or just because you want giant ice cubes for yourself.
Cookie cups to hold ice cream
Serve your next ice cream sundae in a cookie bowl made with a muffin tin. Spaceships & Laser Beams has the perfect recipe for chocolate chip cookie dough that you can make into a cookie cup. Once you've made the dough, cut it into circles and mold it over your flipped-over muffin tin so that you're baking the pan upside down. Once baked, the cookies will be shaped into bowls and the ideal vessel for ice cream.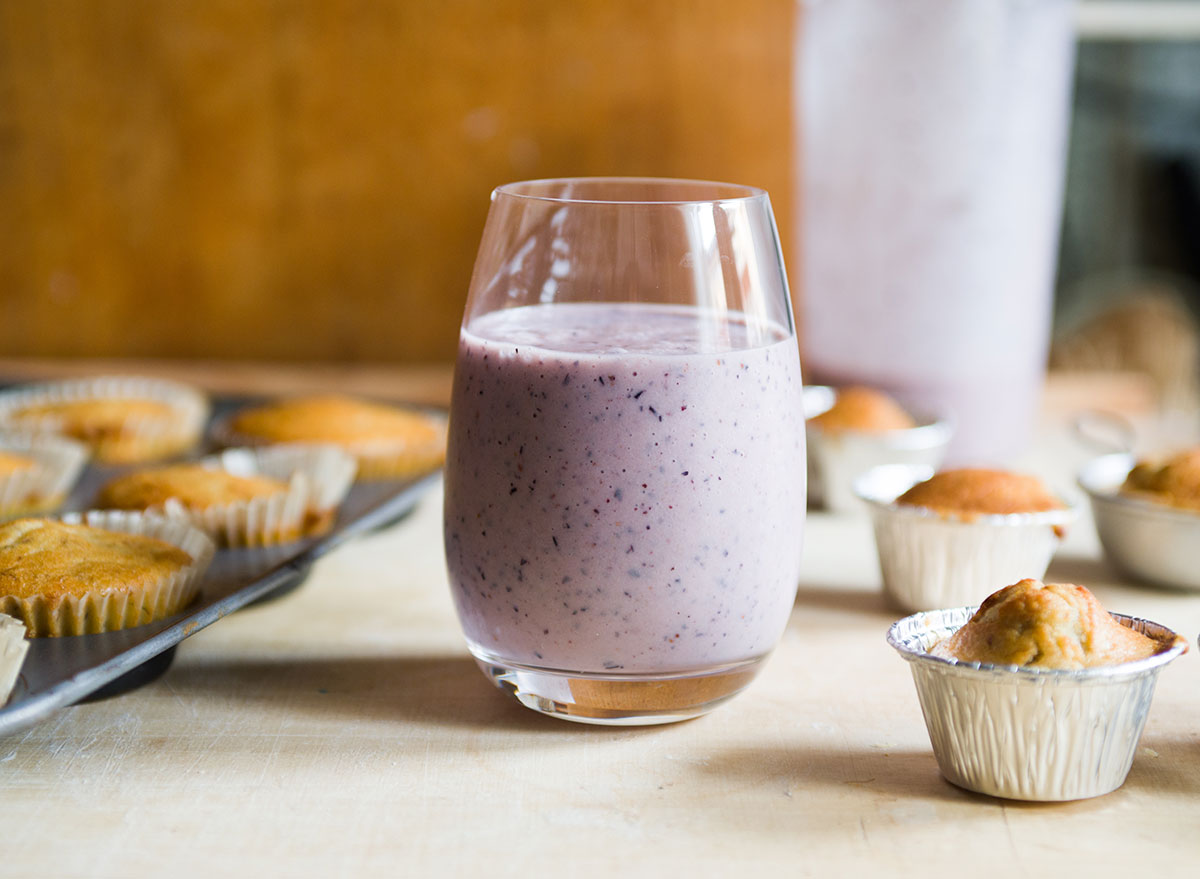 Blend up your favorite breakfast smoothie ingredients individually in large batches and freeze them in a muffin tin. Once the servings are frozen, pop them into a plastic container or bag and leave in the freezer. On your way out the door in the morning, grab however many different ingredients you need and throw them together in the blender with a splash of liquid for a quick smoothie on the go.
Individual Rice Krispie treats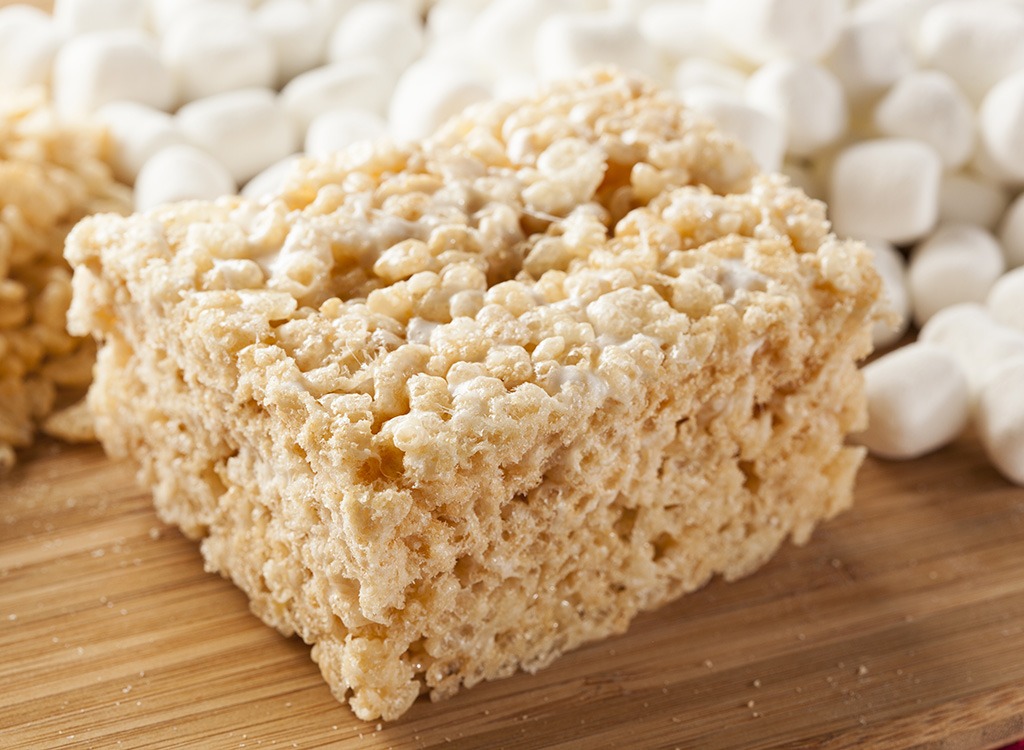 It's always a hassle when you make a pan of Rice Krispie Treats and have to cut them into squares. They're sticky and not all that easy to manage. Next time, butter a muffin tin and press the Rice Krispie Treat mix into each well so you don't have to worry about cutting them into squares later; they'll already be perfectly portioned.
Similarly to the cookie bowls, mini bread bowls are a great muffin tin possibility. The quickest and easiest way to do this is to use premade biscuit dough on an upside-down muffin tin. Shape the dough over each cup and bake according to the package. Then you can serve whatever you'd like inside the cup.
Flip your muffin tin over and use the underside to make these mini pizza boats from Good Cook. Use small tortillas in between the muffin cups to form the boat and top the tortillas with whatever pizza toppings you want. They'll be done in the oven in just eight to 12 minutes.
Instead of baking your meatloaf into an actual loaf, scoop the meat mixture into a muffin tin and make mini loaves. This makes it easy to store leftovers, and the mini meatloaves will reheat well for a sandwich the next day.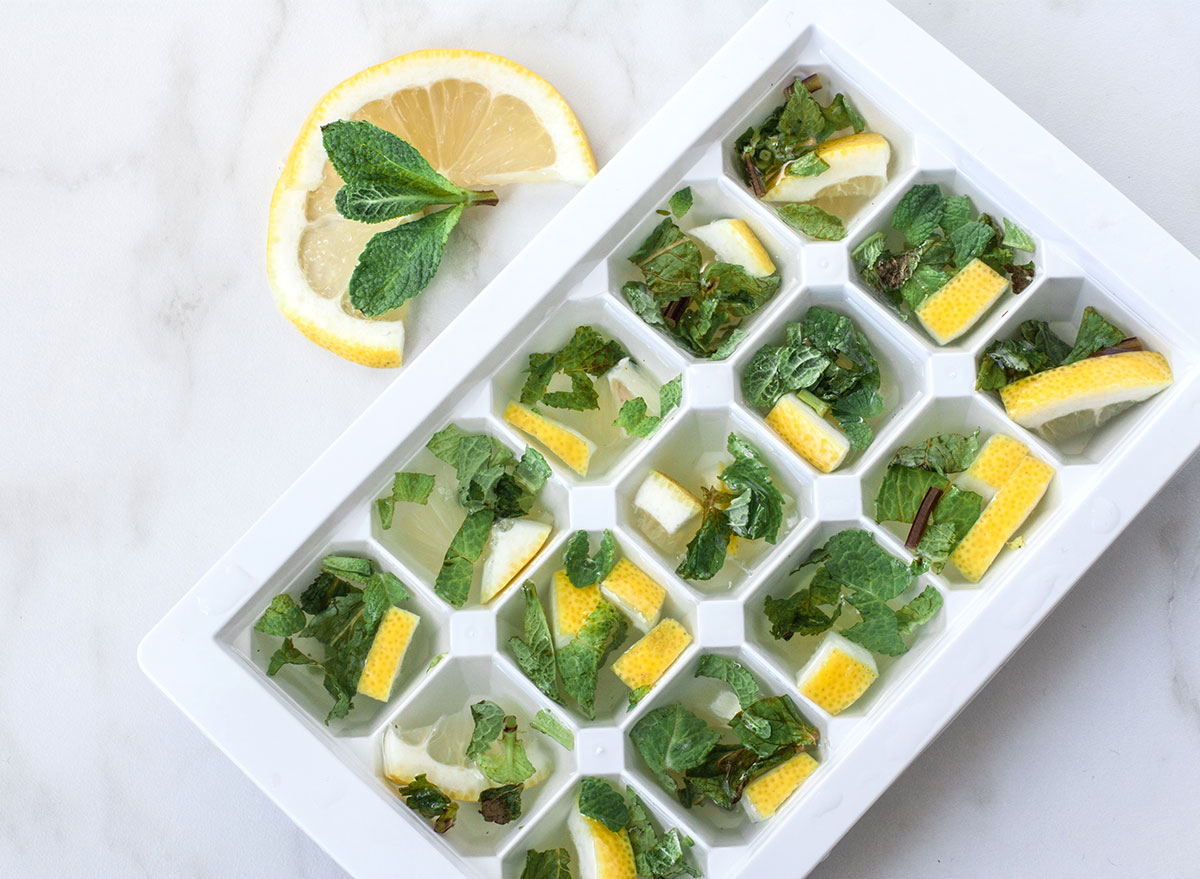 Give your next pitcher of water a fruity kick with fruit ice cubes. Fill up the muffin tin with water and drop in sliced lemons, limes, oranges, strawberries, or whatever other fruit you'd like. Freeze the water until it turns to ice, and pop the cubes out and drop into a pitcher of water. As the cubes melt, the fruits' juices will infuse the water for a refreshing beverage.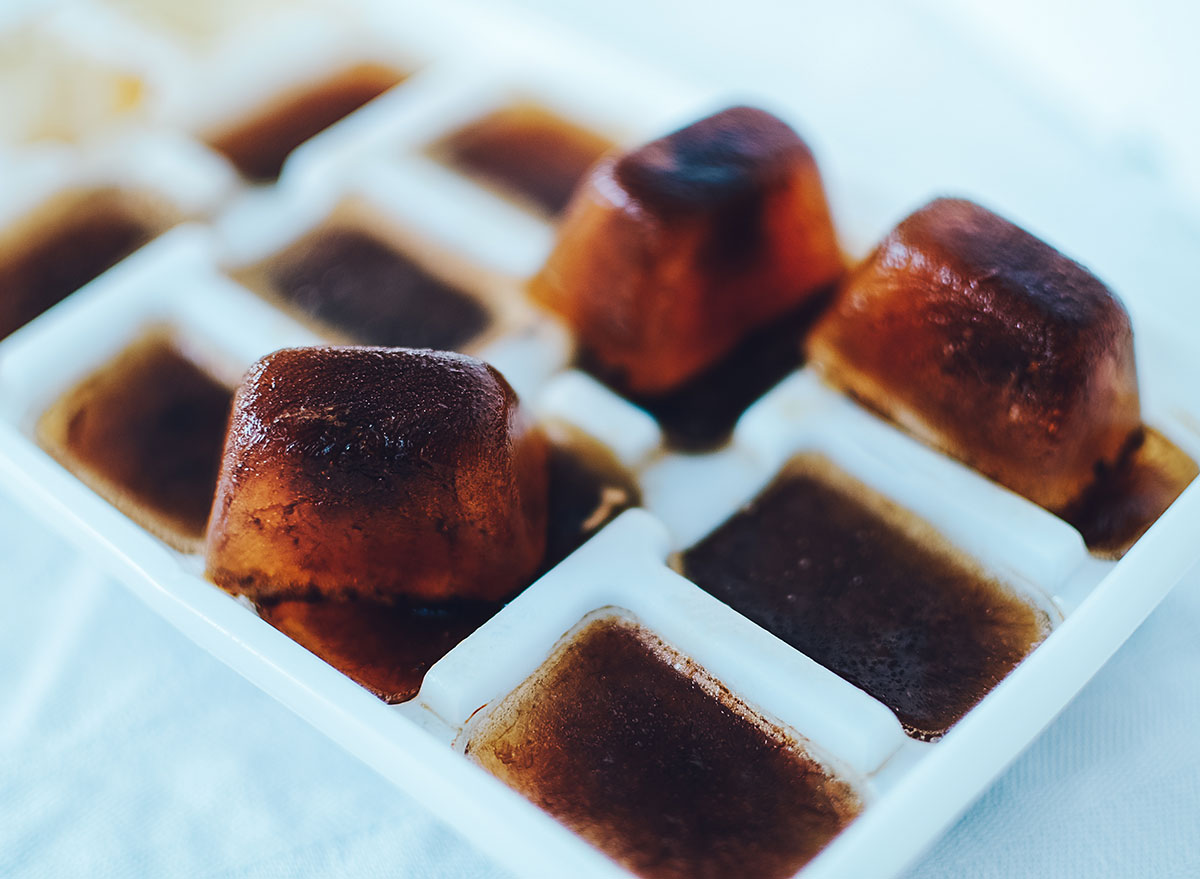 Just like you can blend and freeze your smoothie ingredients, you can also make blended coffee to freeze for later. Make your favorite coffee drink combination and pour it into the muffin tin. Freeze it and pop the disks out and into a plastic bag or container. In the mornings, grab however many servings of coffee you want, throw them in a blender with milk, and make a blended coffee to take with you out the door.
This trick will work better with a mini muffin tin, but a regular one works, too. If you're making ravioli or dumplings from scratch, you can use the muffin tin to portion out the fillings and stuff the dough. Make your dough of choice and lay it over the muffin tin wells, letting the dough slightly fall into the wells. Drop the filling into the dough in the wells so there's a pocket of filling. Place the top layer of dough on and press down. Cut the dumplings or ravioli out by following the space between the muffin tin cups and cook as usual.
Line the muffin cups with strips of bacon to make bacon cups. You can use the bacon cups for whatever other recipes you'd like, including baking eggs right in the cups with the bacon or adding seasoned ground beef for a bacon cheeseburger bite.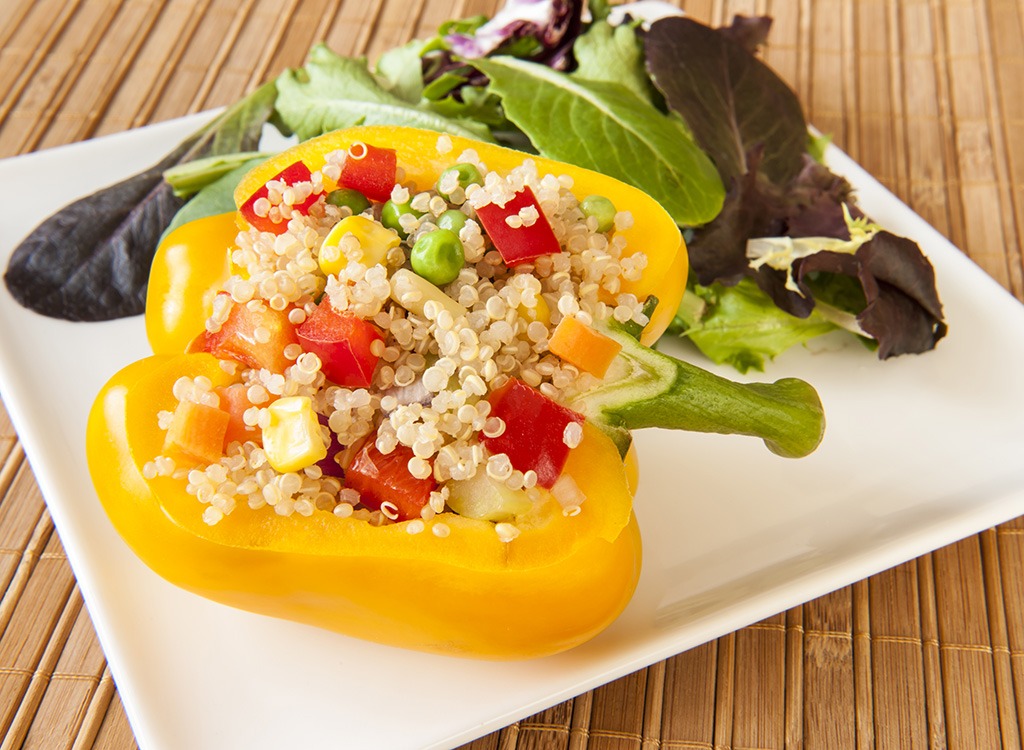 Instead of strategically organizing peppers in a baking dish when you want to make stuffed peppers, place them in the wells of the muffin tin. This will keep them stable during the baking process and allow you to make as many servings as you need.
You don't have to buy regular corn dogs on sticks at the grocery store if you already have hot dogs and cornbread ingredients at home. Iowa Girl Eats has a great recipe for bite-size corn dogs using a muffin tin, and it's as easy as making the cornbread mix, scooping it into muffin tin wells, and dropping in sliced hot dogs. Throw them in the oven, and you're all set!
To keep your fresh herbs from going to waste, put them in muffin tins with some olive oil. Place the whole pan in the freezer until the oil is solid and then pop them out and store them in the freezer. These will come in handy when you're making soups or sauces in the future.
Make your favorite oatmeal ahead of time and freeze it for busy mornings. Once the oatmeal is cooked, scoop it into a lightly greased muffin tin and place the tin into the freezer. Once they're frozen, remove the oatmeal disks and store them in a container or bag until you want to eat them. To heat them up, just toss them in the microwave.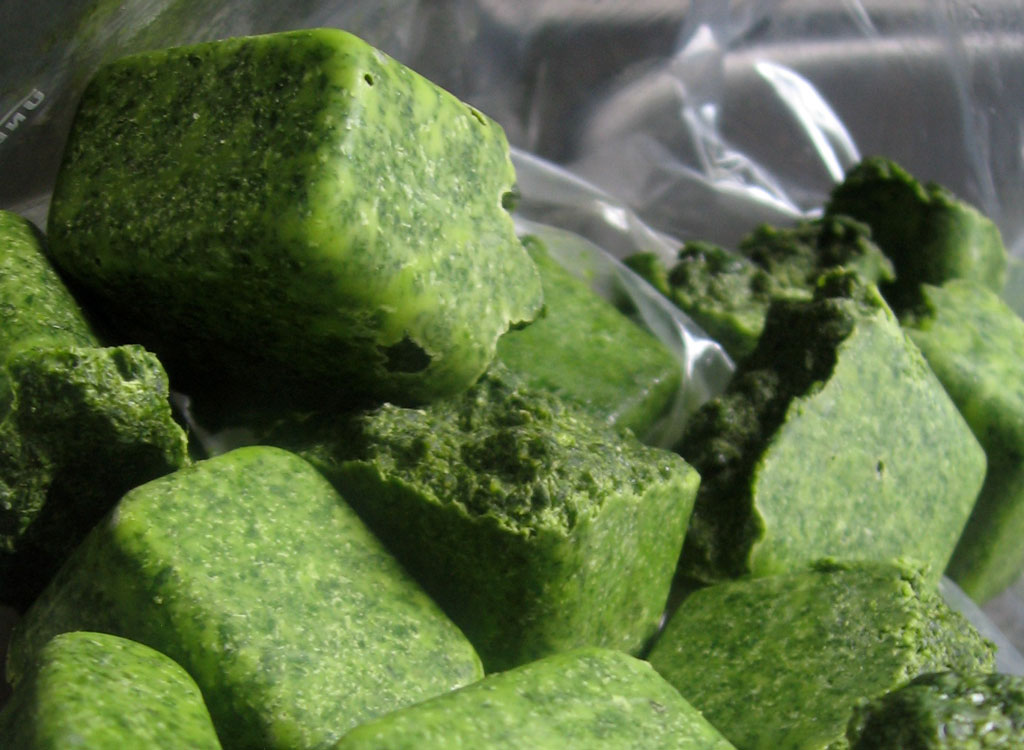 Oh My Veggies' instructions for freezing pesto sauce are so simple. Make a batch of your favorite pesto sauce and spoon it into a muffin tin. Freeze the sauce and then pop out the servings into a plastic container or bag. When you want to use them, simply drop the frozen sauce into hot pasta or potatoes and let the warmth melt the sauce to liquid form.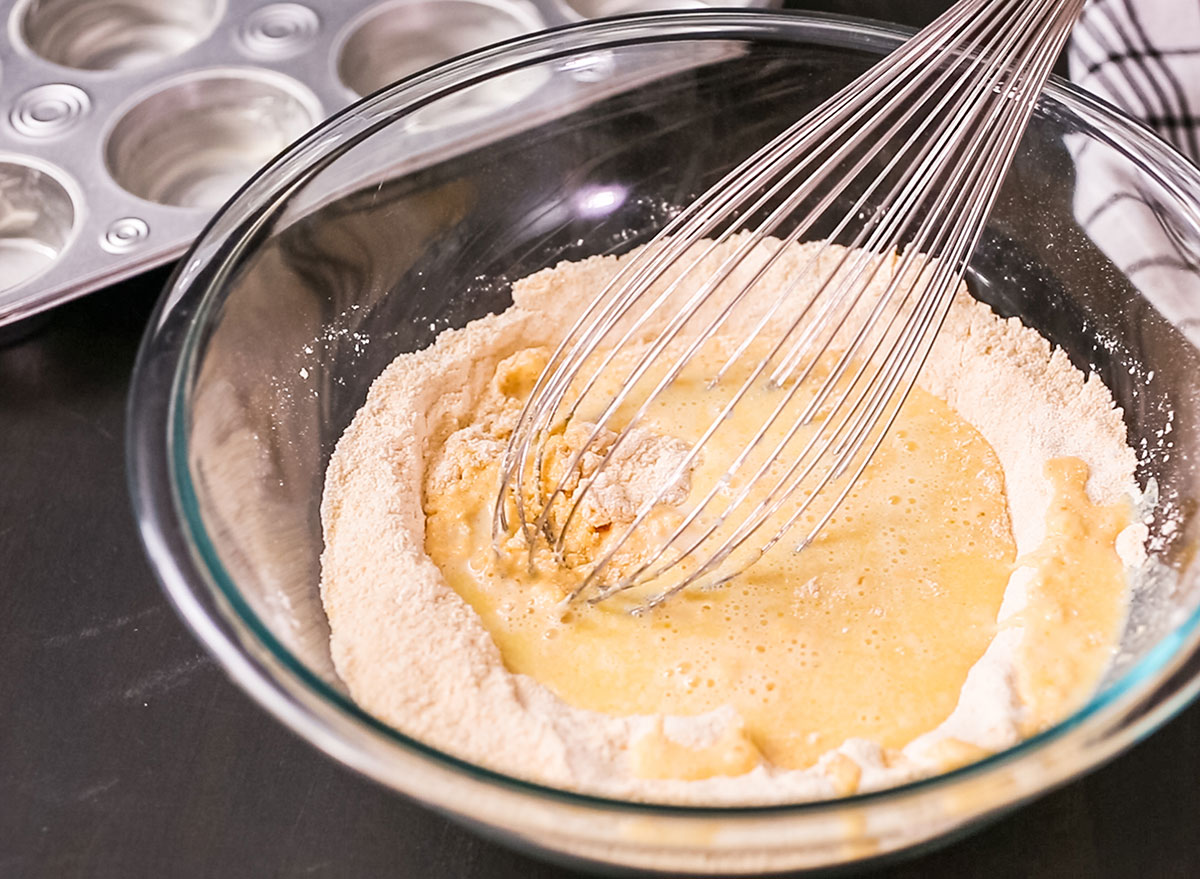 Yes, your muffin tin is obviously the right pan for making muffins, but did you know you could make your muffin batter ahead of time, freeze it, and bake it later? Prepare the muffin batter of your choice and scoop it into the lined muffin tin. Instead of baking it immediately, put the pan into the freezer until the batter is solid.
Remove the batter cups from the pan and store them until you're ready to bake them. This way, you can make just a couple of muffins at a time.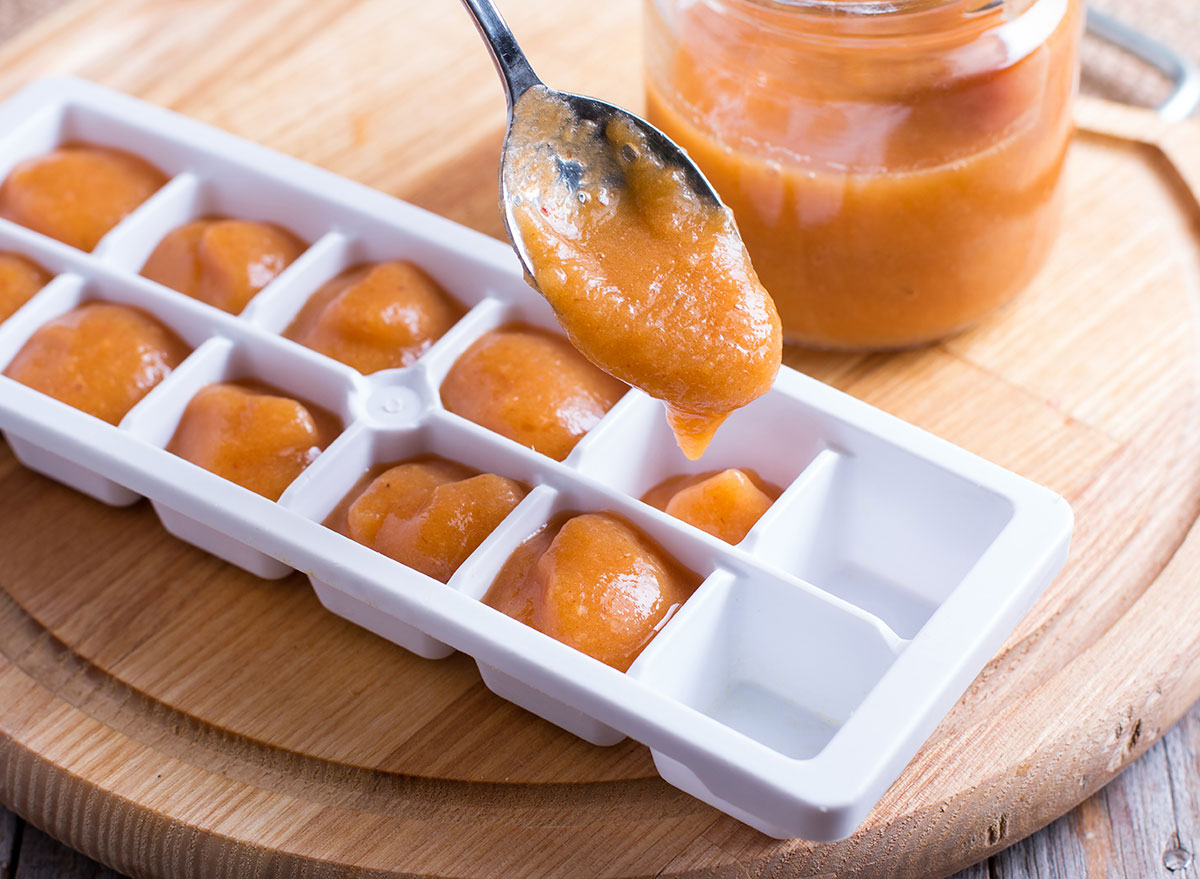 If you're making baby food at home, you can make a bunch at once and freeze it for later. This is perfect if you've stocked up on veggies and want to make sure to not waste any. Purée the food as you usually would and put it in the muffin tins and freeze. Keep the disks in the freezer until you want to use them.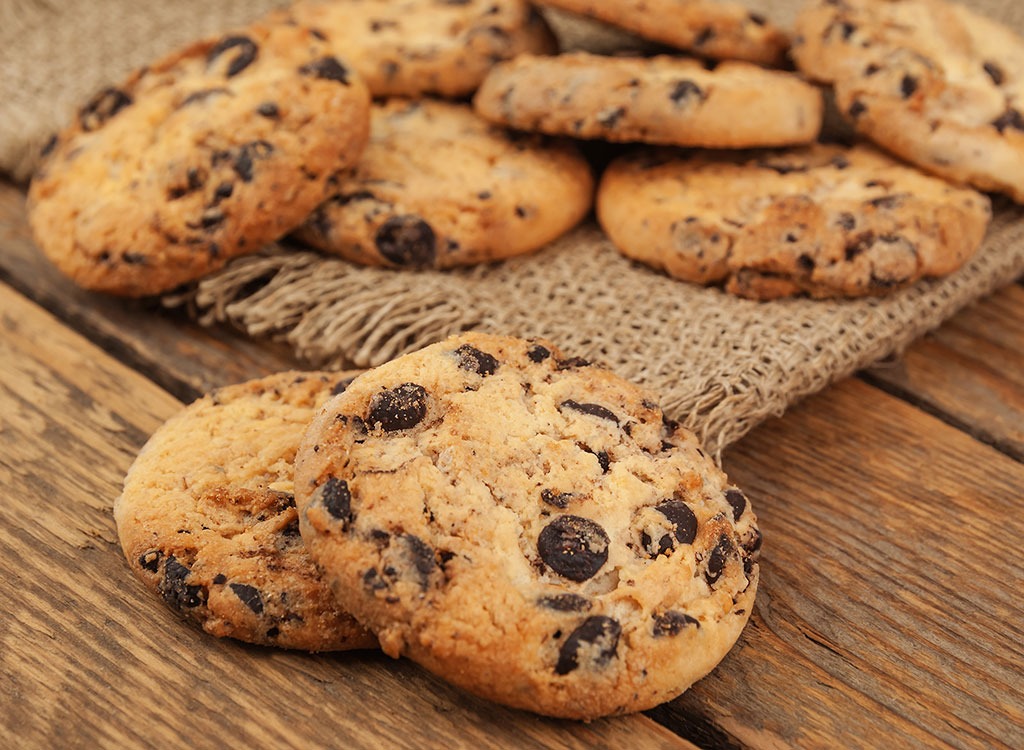 Have you tried baking cookies or brownies in a muffin tin? This will give them a slightly different texture and prevent them from getting too thin. Bonus: If you're a fan of brownie corners, brownies baked in a muffin tin will be nothing but corners!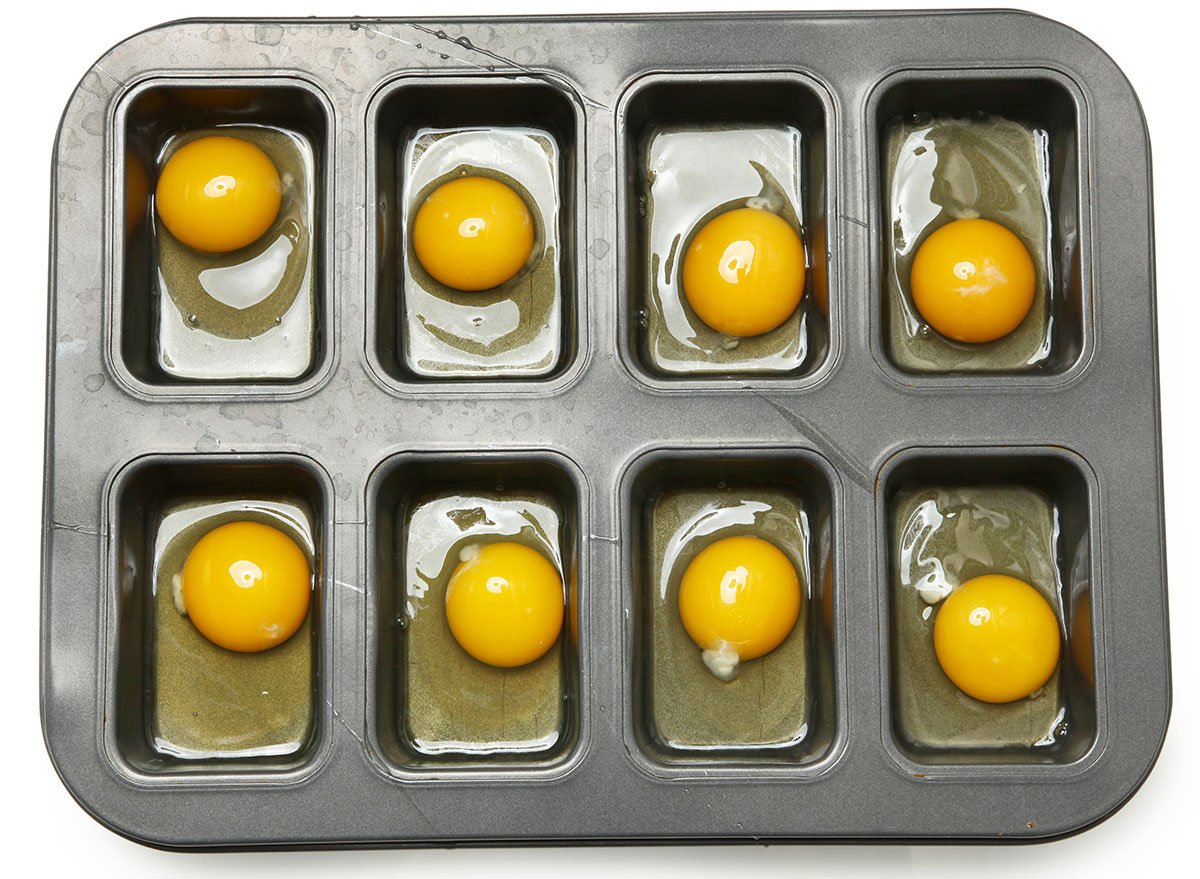 Make several eggs at once when you bake them in a muffin tin. It's pretty easy to do—just crack the eggs into each muffin tin well and bake. You can also scramble the eggs and bake them that way if you prefer. The eggs only take about 15 minutes to bake—it doesn't get much easier than that.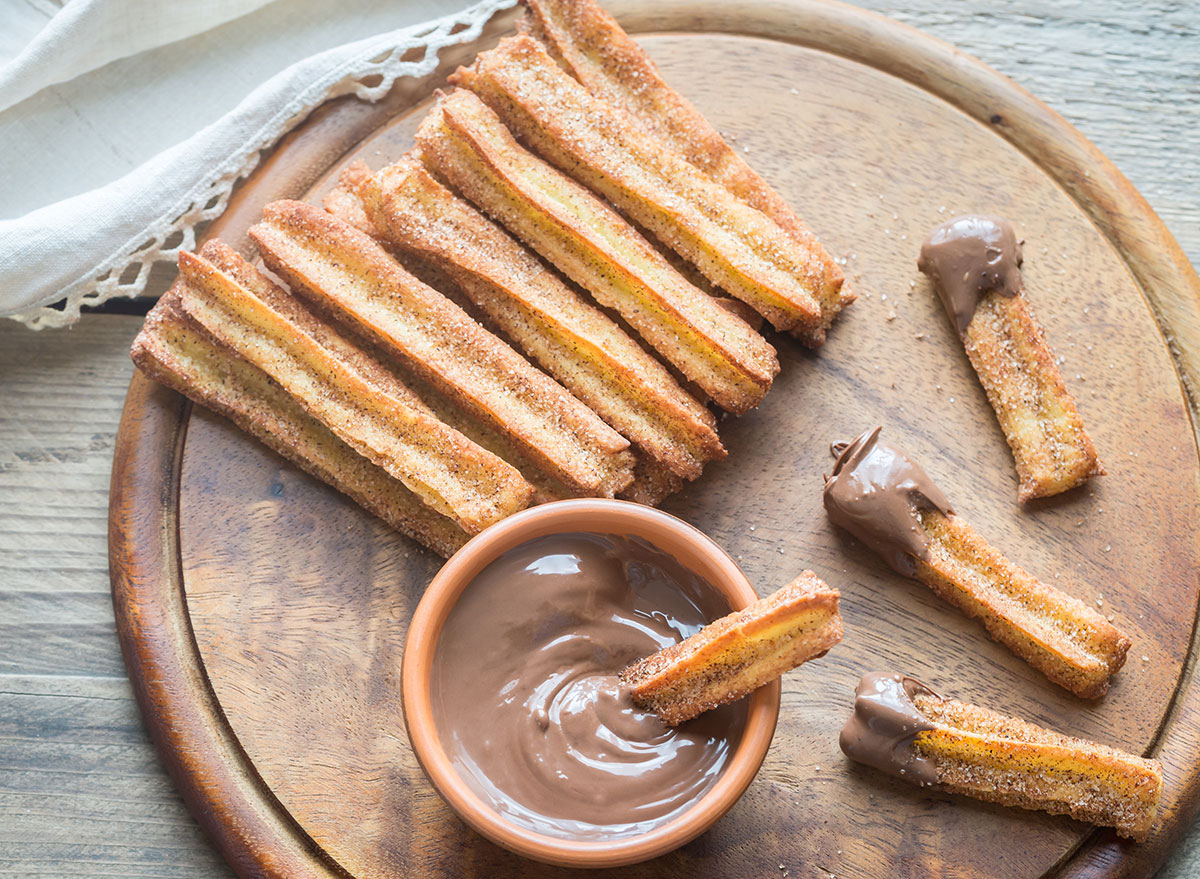 Ice cream sundaes are never better than when they're served in a churro bowl. Use Cafe Delites' churro recipe to make these fun cups for dessert. Make the churro dough and pipe it around the underside of a muffin tin to bake. While the churros are still hot from the oven, roll in cinnamon sugar and then serve them as a dish for ice cream.6254a4d1642c605c54bf1cab17d50f1e
Spaghetti cups are great for making ahead and then packing in your lunch for work. Similar to how you'd bake spaghetti in a casserole dish, you can bake these spaghetti cups in a muffin tin. Once prepared, the spaghetti cups can be stored in the fridge or freezer, ready to be packed in your lunch. Just microwave them for a minute or two, and they're ready to eat.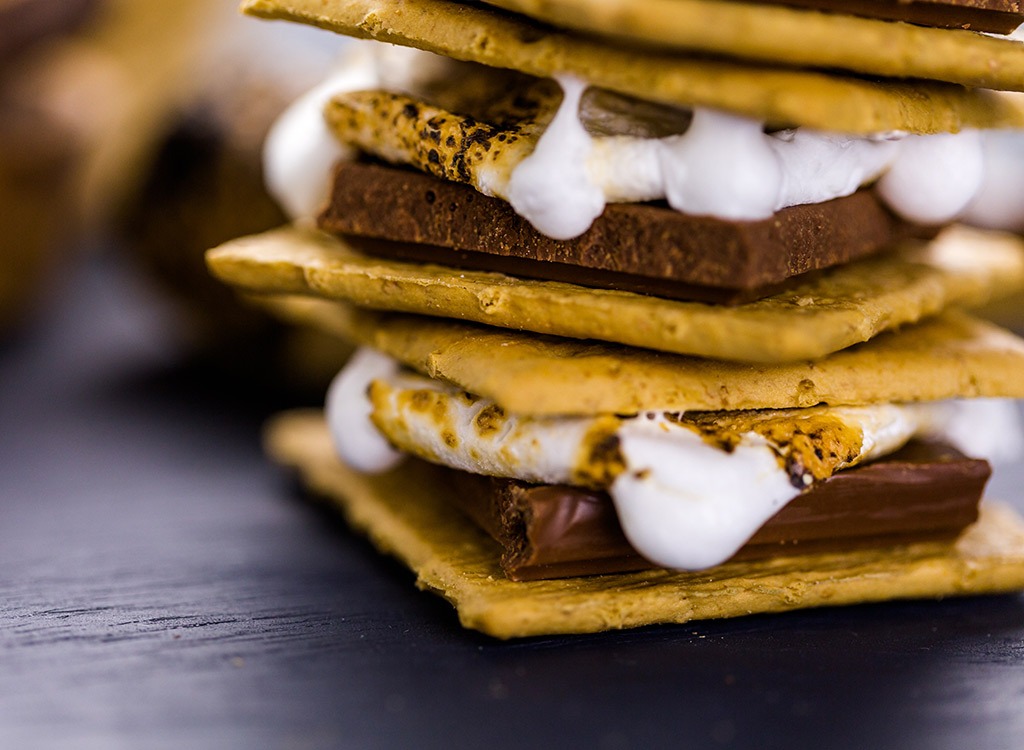 You don't need a campfire to make s'mores—all you need is a muffin tin. Make a big batch of s'mores by putting all the ingredients in a muffin tin and baking it. It'll keep everything contained in the cup so you won't have much mess.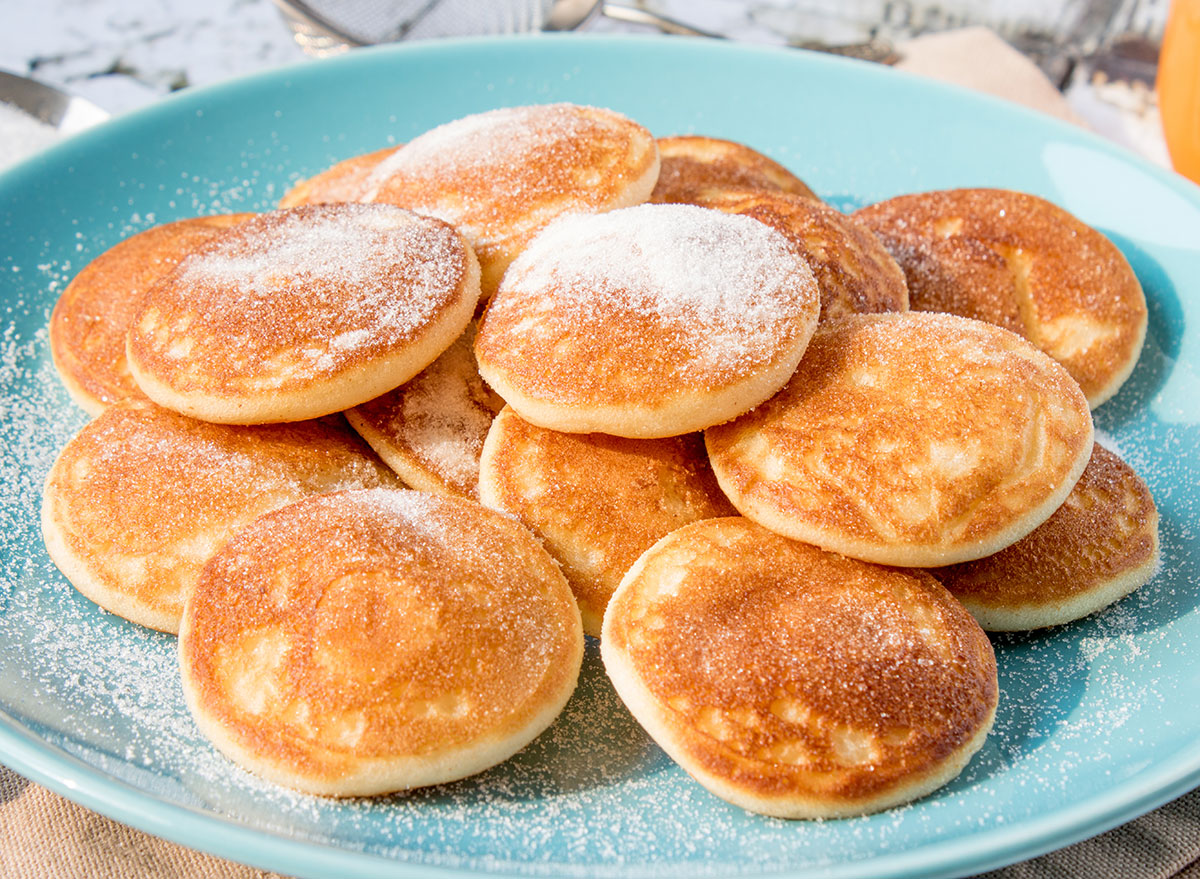 Pancakes don't have to be flat and made on a griddle. Try scooping pancake batter into a muffin tin instead and bake them. You can add some of your favorite pancake mix-ins like fruit or chocolate chips, too, and they'll bake up almost like a muffin. These are great for busy mornings when you need to eat on the go.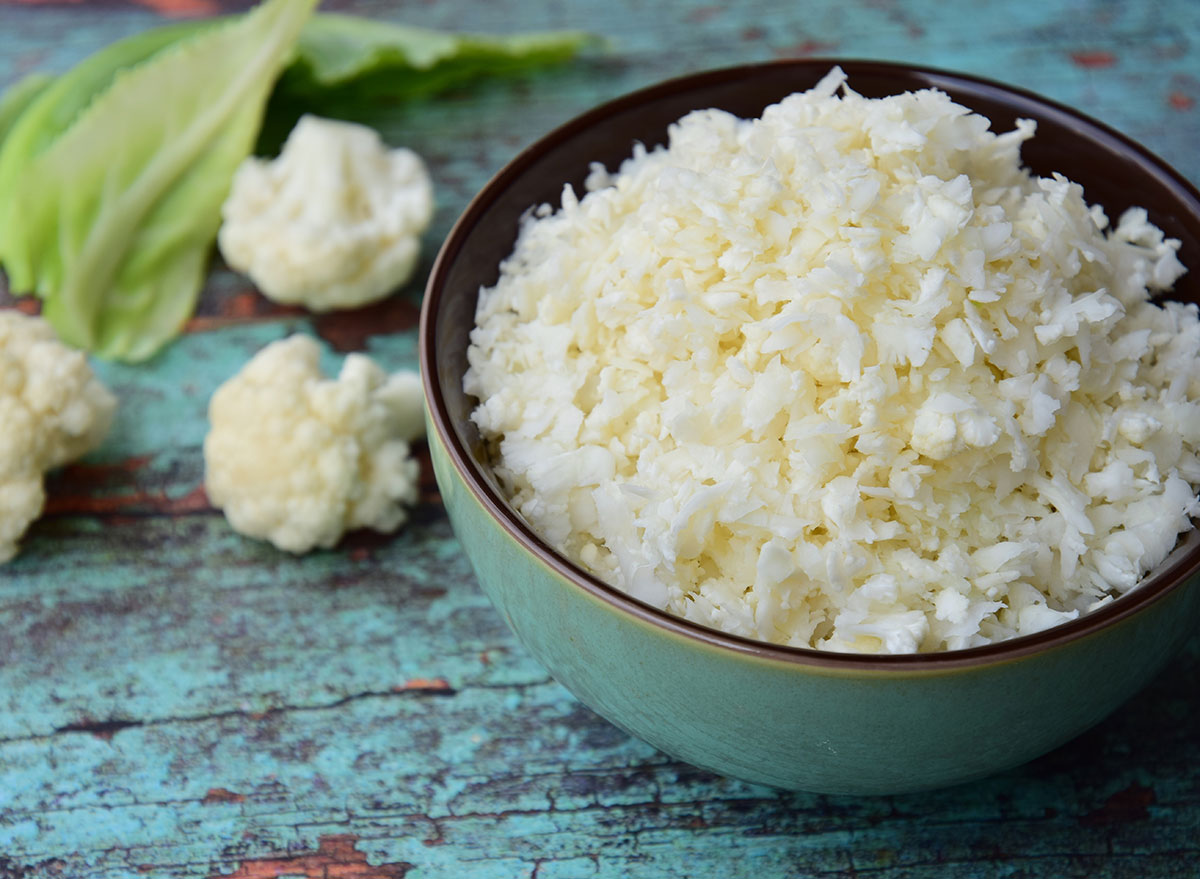 Stock up on cauliflower rice by freezing it in a muffin tin. Rice the fresh cauliflower as usual and pack it into muffin tins in the serving size you want. Freeze until solid and then store in a container or bag until you're ready to use it.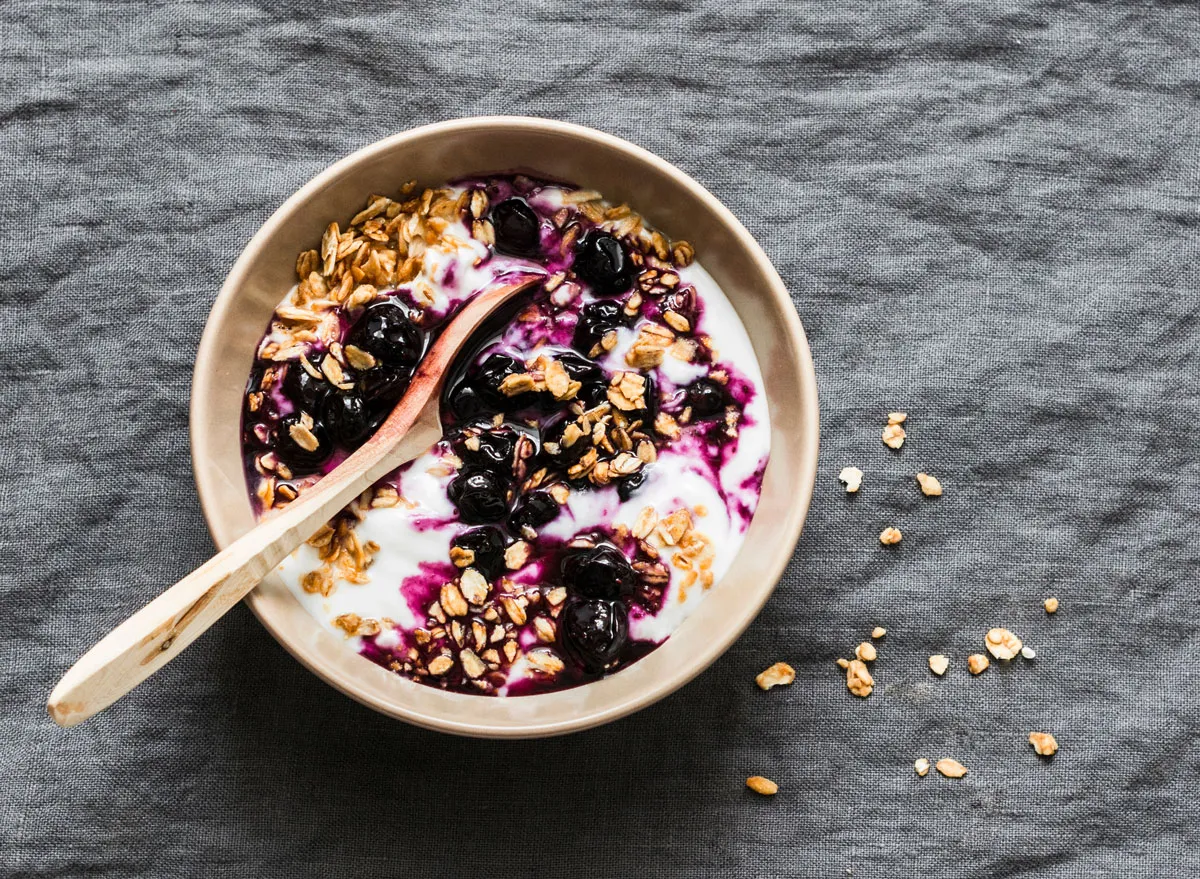 Next time you make granola, press it into a muffin tin to mold it into a cup that can hold yogurt. Top the whole treat with some berries, and you've made yourself a delicious parfait.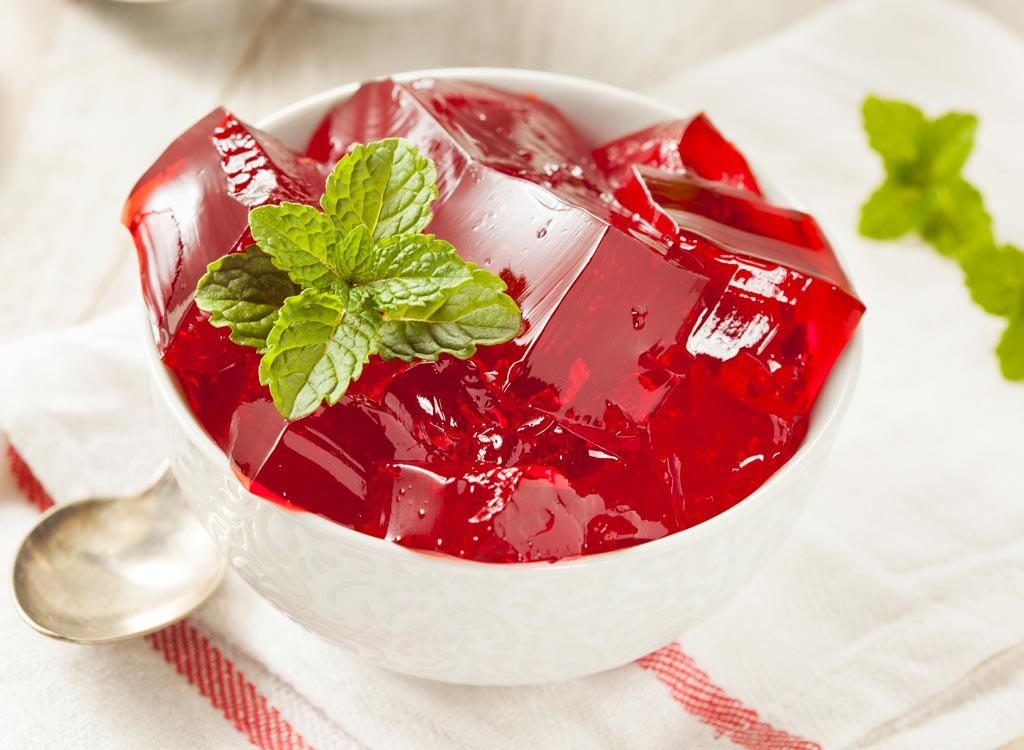 Whether or not you want to make these as Jell-O shots is up to you, but you can prepare single-serve Jell-O cups in a muffin tin for even portions. Prepare the gelatin according to the box and pour it into a muffin tin. Pop the pan into the fridge to let the gelatin set.
Hedy Phillips
Hedy is a freelance writer with years of experience covering buzzy food trends, wellness, and weight loss.
Read more about Hedy