31 Skinny Secrets from the World's Sexiest Women
Jennifer Aniston, Cameron Diaz, Heidi Klum and more reveal how they stay slim—and how you can, too!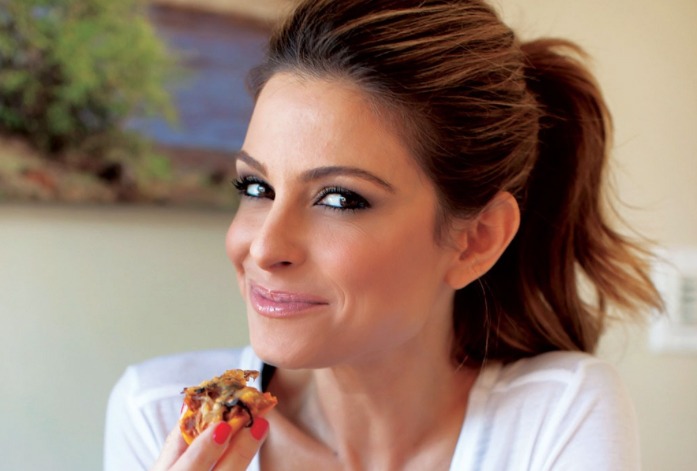 Ask any man what makes a woman sexy, and you'll hear one word above all: Confidence. It's not enough just to have a rockin' body; you need the swagger to actually rock it. That's why the world's sexiest women come in all shapes and sizes, from the ultra-curvy Kardashians to the lean and limber Taylor Swift to the big, beautiful, cover-of-Vogue-modeling Adele. But no matter what your body shape, having the best body for you can help you feel stronger and more in control. And sometimes that means undoing some recent damage and getting back into the shape you love the most. Eat This, Not That! reached out to sexy women of all shapes and sizes to uncover their personal tips for getting their best bodies! Read on to find out the best celebrity weight loss tips you can employ to get in shape healthily.
They Know The Skinny Truth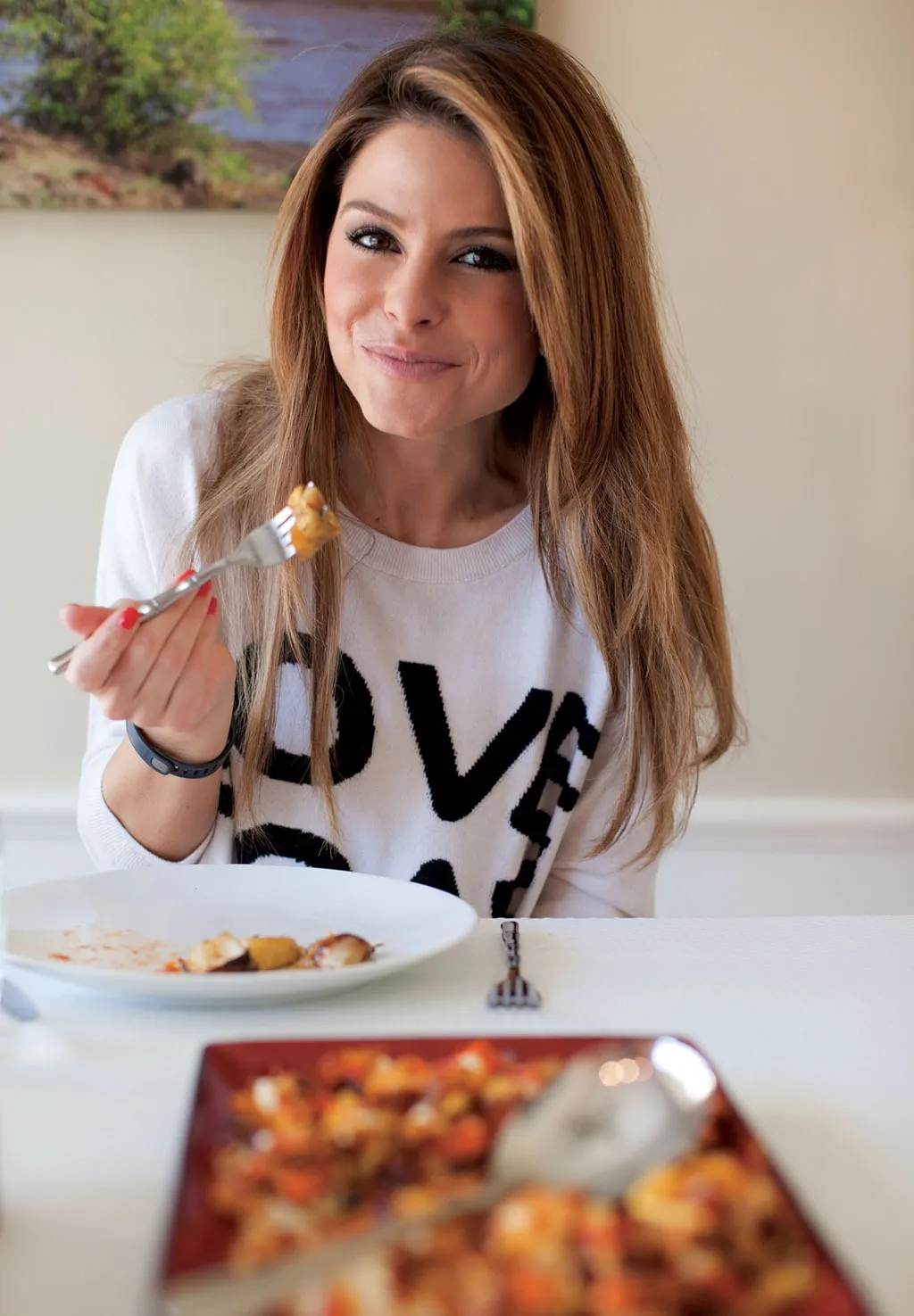 "Thank you, Kim Kardashian, for exposing the 'skinny' truth—guys like a girl with curves!," says Maria Menounos, author of The EveryGirl's Guide to Diet and Fitness. "As my husband Kev always says, having curves is what makes us girls. He fell for me when I was forty pounds heavier and often says that he misses those extra pounds. My former Extra co-host, Mario Lopez, concurs that girls with curves catch his eye more often, too. I'm sure there are guys who dig skinny girls, but for the most part, the 'waif look' is a creation of the media—not real men and women."
Eat This, Not That! Tip: "I used to weigh about 40 pounds more than I do today, and I would try to stick to diets and fall off them all the time, the way most of us do," Menounos tells Eat This, Not That! "Then I developed the plan that I outline in The EveryGirl's Guide to Diet and Fitness. It's based on a 75/25 idea: 75 percent of the foods you eat should be healthy and really good for you. And 25 percent can be splurges. You have to earn your cupcake!"
They Don't Binge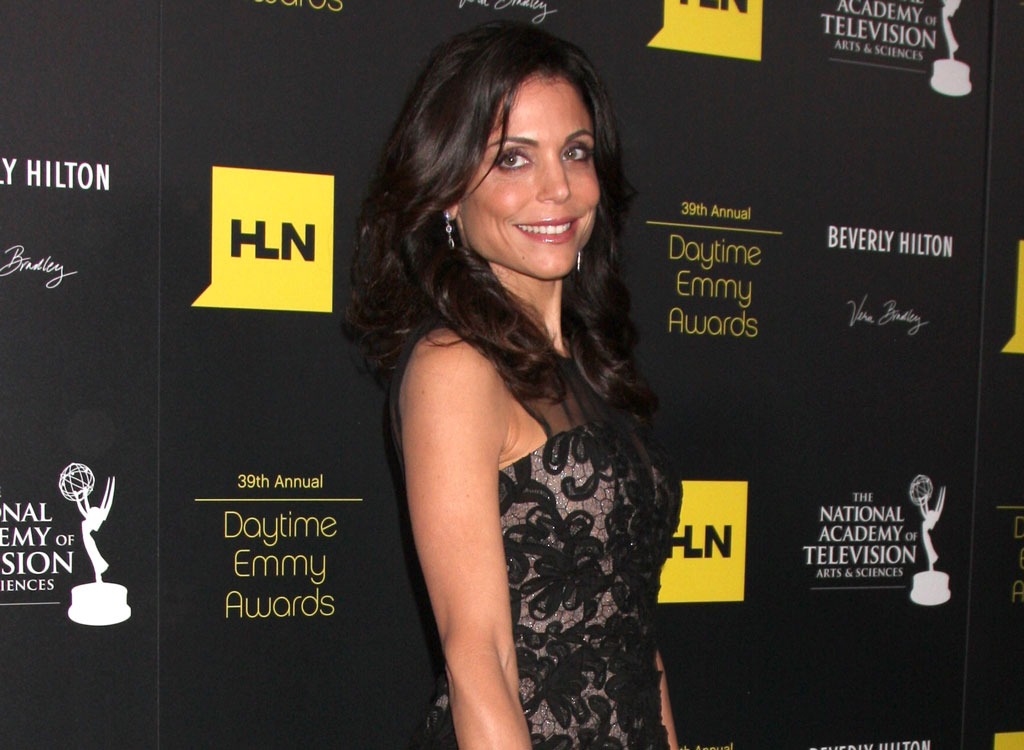 If you're struggling to lose weight, "you are probably restricting and beating yourself up and bingeing," Bethenny Frankel tells Menounos in The Everygirl's Guide to Diet and Fitness. "Use common sense, make small changes, reduce plate size and portion size, and breathe. Never eat out of emotion. You can have a cookie or piece of pizza. You cannot beat yourself up or binge."
Eat This, Not That! Tip: "I don't deprive," says Frankel. "Add high-volume foods—pureed vegetable soups, dark green salads, and green vegetables—but make them taste good. And I'll have dark chocolate with nuts or black licorice as a treat—sweets in small quantities."
They Take a Moment to Be Grateful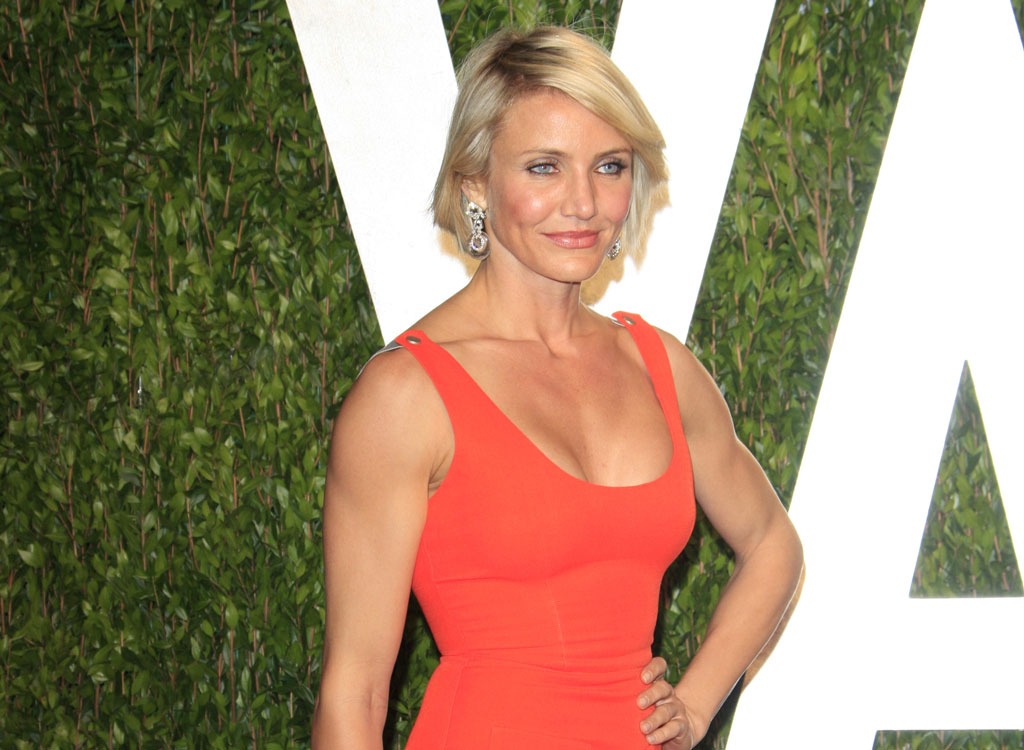 "I don't look at exercise as a chore. I look at it as something I get to do. I am grateful that I can move my body in that way," Cameron Diaz explained to USA Today.
Eat This, Not That! Tip: Fitness experts agree that Diaz's approach to fitness can aid weight loss. "Before breaking a sweat, take a moment of gratitude for your health," says celebrity trainer Kit Rich. "Doing so completely changes the energy of your workouts and can inspire you to push yourself harder."
They Get a Hot Gym Outfit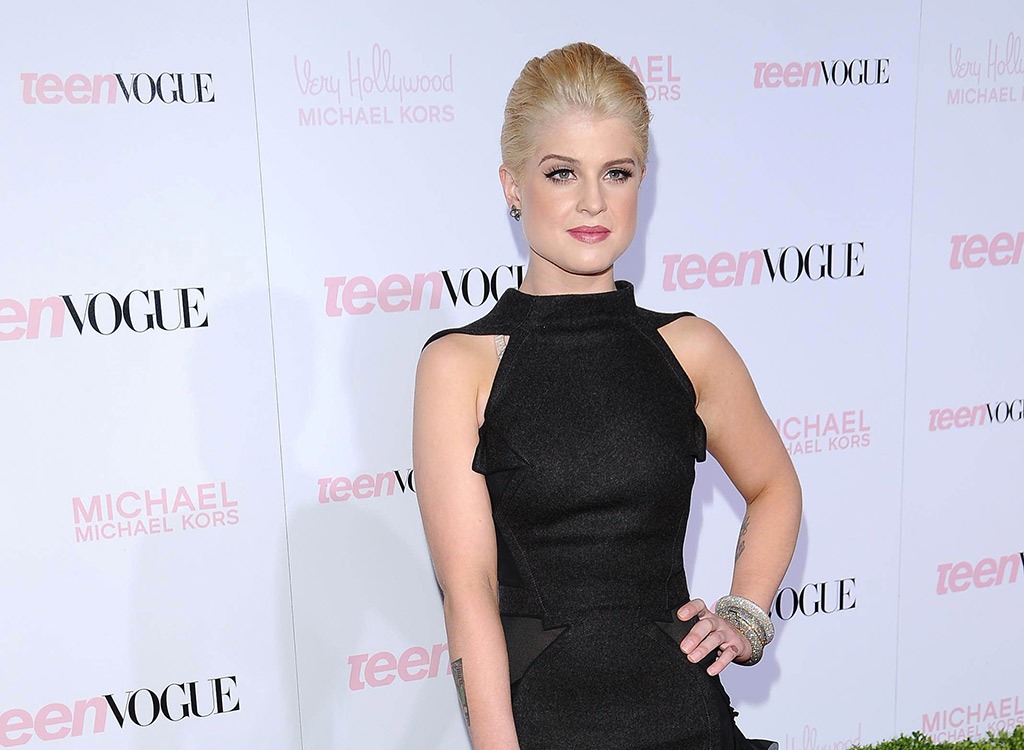 "To get to the gym—when you already don't like yourself—is really hard. So I had to make it fun. I started wearing cute outfits and putting on a little bit of makeup. And as vain as it sounds, it really helped me because eventually, I stopped hating the way I looked," Kelly Osbourne told our friends at Shape.
Eat This, Not That! Tip: Dread going to the gym from time to time like Osbourne? Totally normal—we all have days like that! But it may seem like less of a drag getting there if you know you've got a cute new workout outfit to sport on the treadmill. Not sure where to score the best duds? Try some of our favorite brands: Under Armour, Carbon 38, Lorna Jane, C9 by Champion, Bandier, Nike and lululemon athletica.
They Stop The Shame Game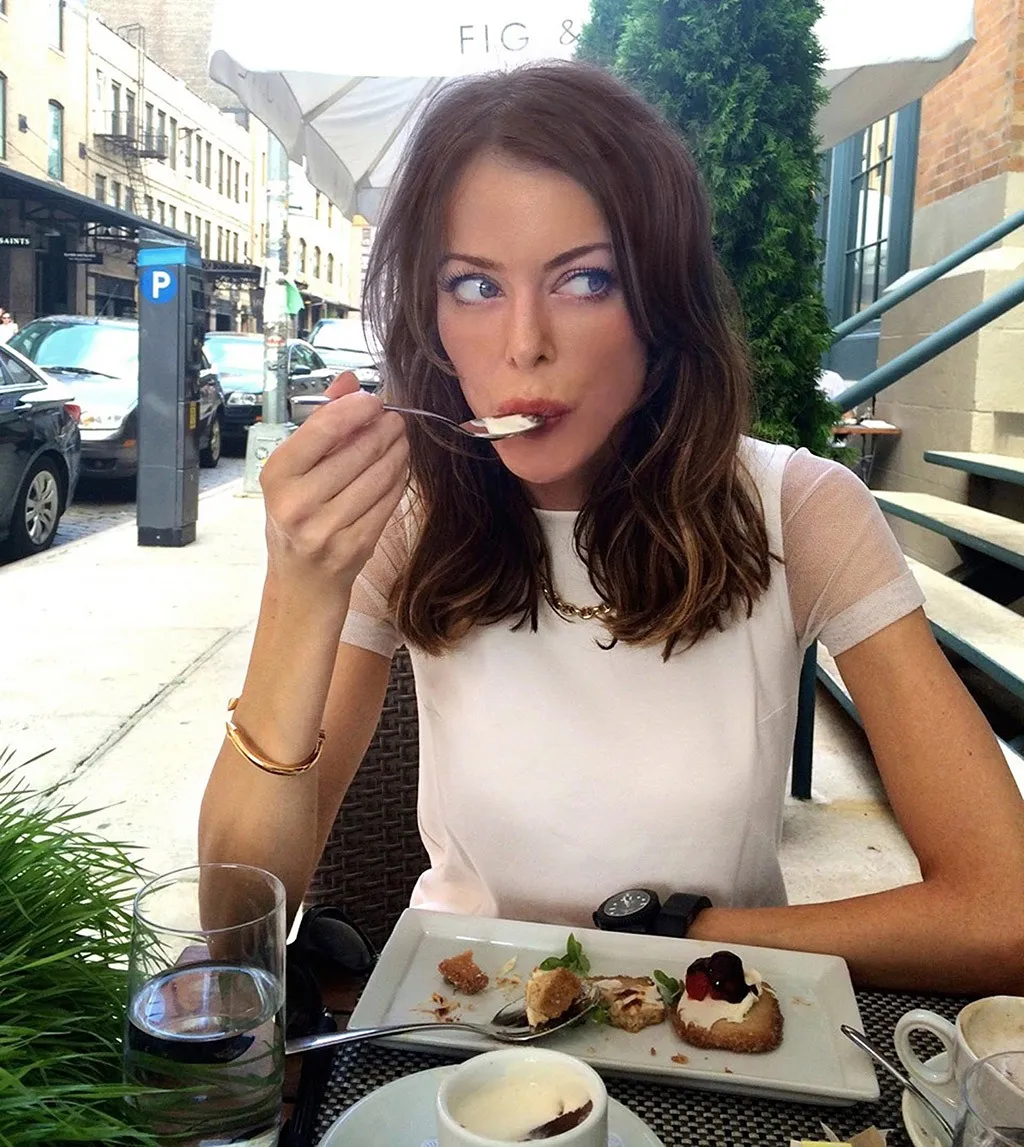 "Here's the secret of all secrets," says Melissa Milne, author of The Naughty Diet. "You don't feel bad about yourself when you get fat. You get fat when you feel bad about yourself. Mindf*ck!" Her book is devoted to conquering food guilt and shame, backed by the latest science. "In one study," she reports, "two groups of female college students described as 'restrictive eaters'—girls who were trying to be 'good'—were invited to sample donuts. (Can you imagine how bad that might make you feel afterward?) But one group was given a lesson in self-compassion first. 'I hope you won't be hard on yourself,' the instructor said. 'Everyone in the study eats this stuff, so I don't think there's any reason to feel real bad about it.' Both groups of women were then asked to taste test candies from large bowls. Most women ate some of the donuts and candies. But researchers found those given the pep talk ate significantly less in both situations, while those who weren't given the message reported feeling guilty and ended up 'emotional' eating as a result!
They Take a Walk Before Breakfast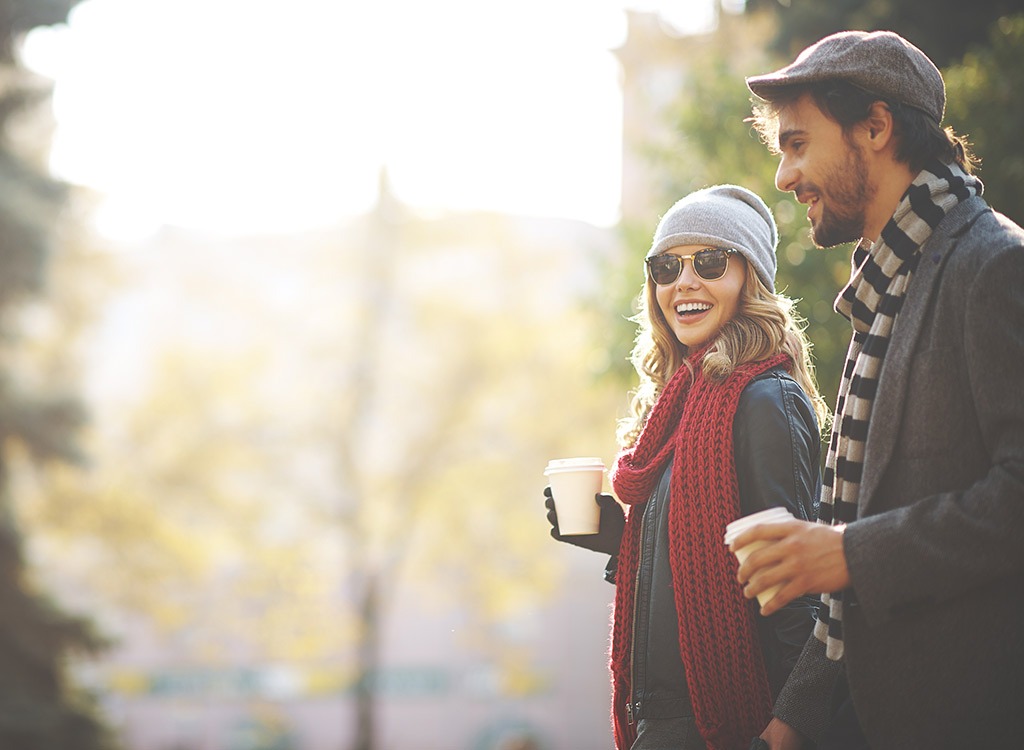 Zero Belly Diet panelist Martha Chesler did just this as part of her Zero Belly program, and the results were astonishing. "I saw changes immediately," she reports. In less than six weeks on the program, Martha dropped over 20 pounds and an astonishing 7 inches from her middle by combining the Zero Belly Foods with a pre-breakfast walk. This easy a.m. ritual works on two levels. First, a recent study found that exposure to sunlight in between the hours of 8 am and noon reduced your risk of weight gain regardless of activity level, caloric intake, or age. Researchers speculate that the morning light synchronizes your metabolism and undercuts your fat genes.
They Drink Tea Every Morning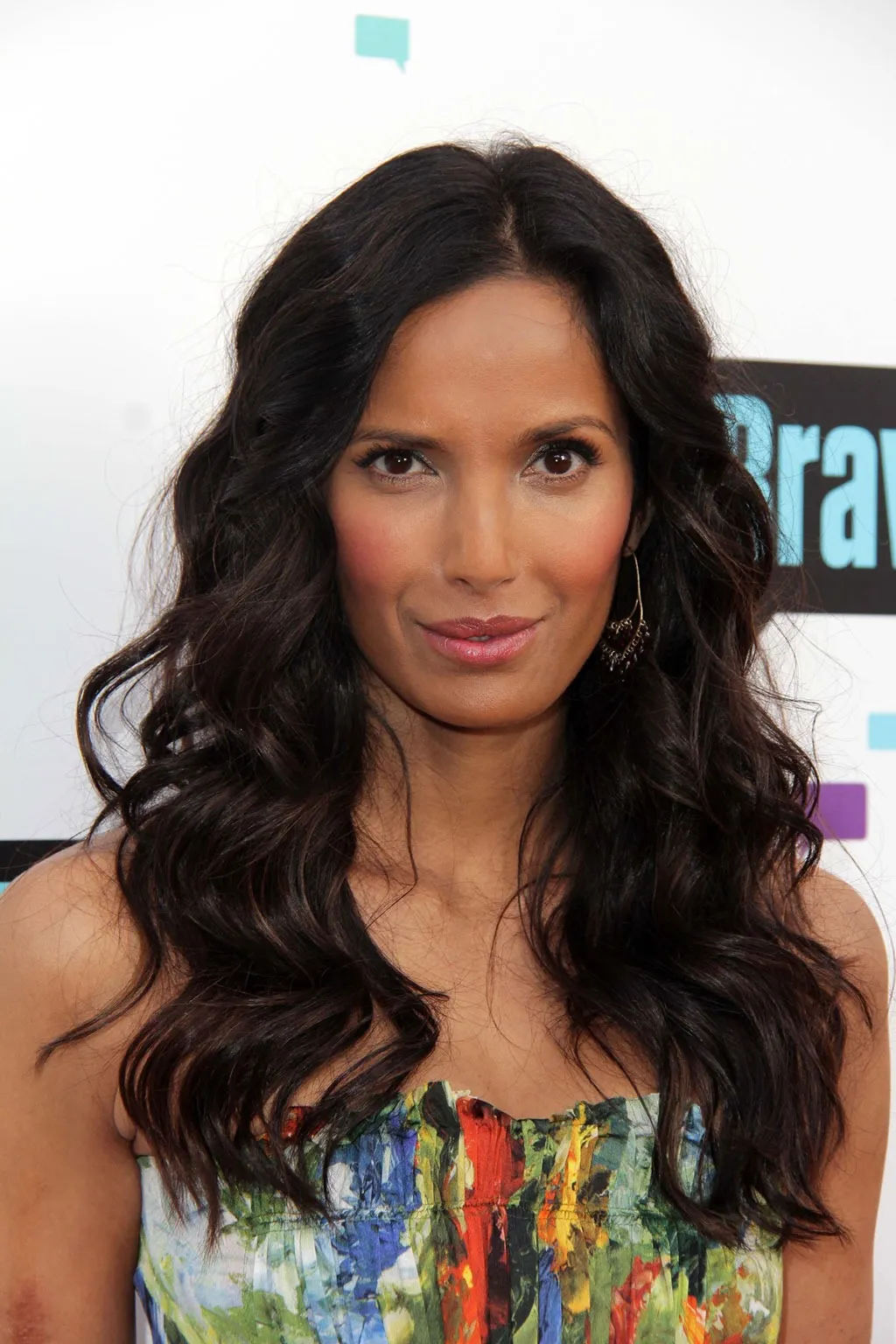 "I always start with ginger tea, which is black tea with milk, honey, ginger, and cardamom," Top Chef host Padma Lakshmi tells Eat This, Not That!, about her breakfast ritual. "Then I'll have a green juice with kale, beets, mint, apple, carrots, and ginger or a three-egg-white, one-yolk scramble. If I'm hungry, I'll add half a cup of 1 percent cottage cheese to the eggs."
And Some Champagne!
"I've always been a big believer in balance: Train hard, work hard and live hard—and sometimes that involves a bit of bubbly," says Dan Roberts, author of the fashion model workout, Methodology X. "Indulging once and while in a bit of something that's bad for your health is often extremely good for the soul!"
They Make No Excuses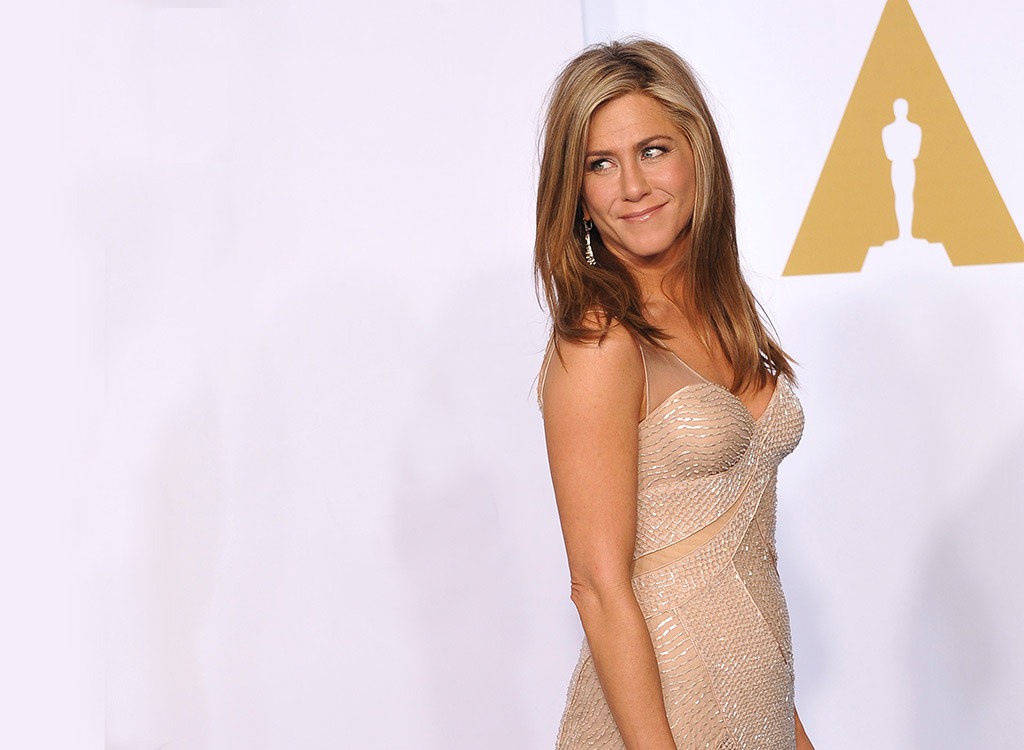 Jennifer Aniston doesn't let living out of a suitcase stop her from breaking a sweat. She just thinks ahead so she can workout on the go. "I take eight-pound weights with me whenever I'm staying in a hotel," she told InStyle. "It's always good to do arm exercises when you're watching television or talking on the phone. I also love to stretch before I go to bed, and usually throw in a couple of sit-ups." While swinging around a weight while chatting on your cell likely won't be the hardest workout you'll ever do, it's better than skipping your sweat sessions altogether just because you're on the road.
They Keep Their Body Guessing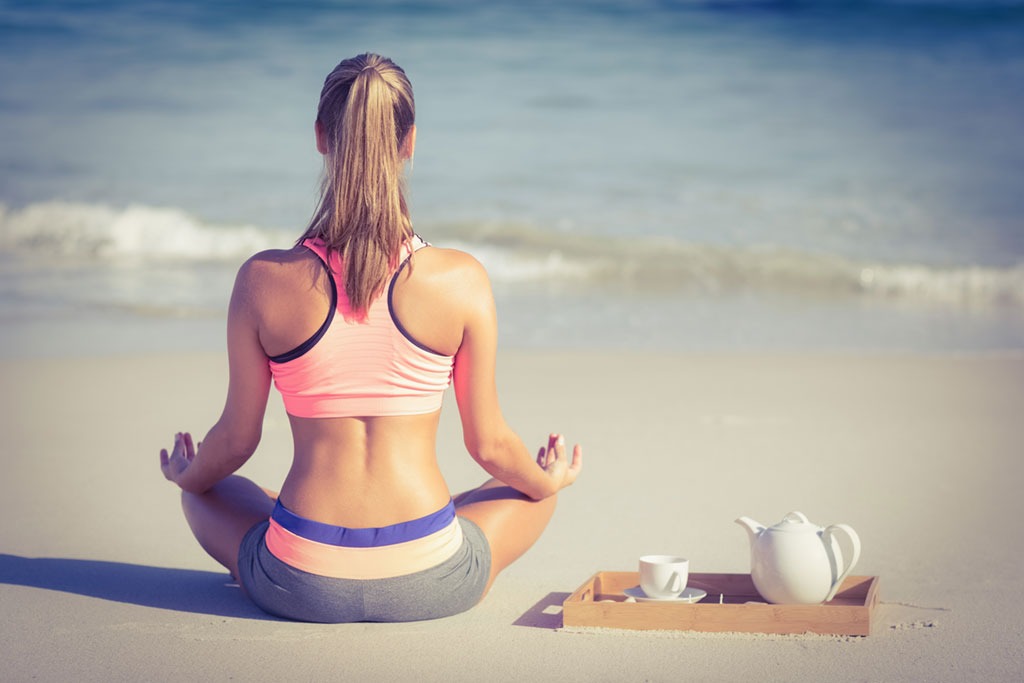 If you wanna stay fit, you have to put the work into your work out. "I workout almost every day, at least five or six days a week," Aniston told InStyle. "I do 40 minutes of cardio: spinning, running, the elliptical, or a combination of all three." Aniston also says she incorporates Pilates, resistance circuits and yoga into her routine. Doing the same workout all the time doesn't aid weight loss, and clearly, Jen knows this. By constantly mixing up her routine, she ensures her body stays challenged and her progress never stalls.
They Eat This Julia Roberts Salad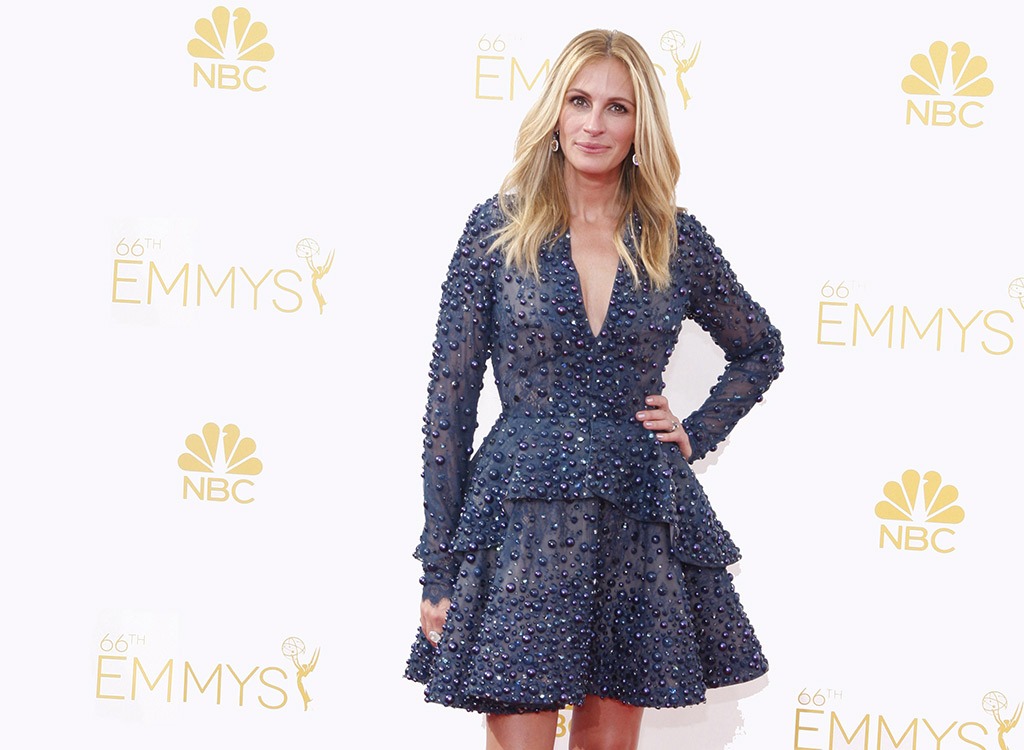 Just because celebs have fit bodies and cash to spare doesn't mean they all have live-in chefs keeping them on track. In fact, a lot of stars whip up their own food so they can maintain control over the ingredients and calories that go into their meals—and Kathy Kaehler is the women that shows them how to swing it. Kaehler, a celebrity personal trainer and the creator of the healthy meal prep program Sunday Set-Up, teaches Hollywood icons like Julia Roberts how to plan, shop for and prep a week's worth of healthy dishes—and the results speak for themselves. The 48-year old Golden Globe winner and mom of three looks amazing. In addition to a grueling workout program that includes step aerobics and weight training, Roberts also whips up healthy salads like the one Kaehler shared with her during their Sunday Set-Up meeting.
And we're sharing the recipe! Enjoy the protein- and fiber-filled dish with your favorite chicken, fish or veggie entree to start slimming down Julia Roberts-style.
JULIA'S SALAD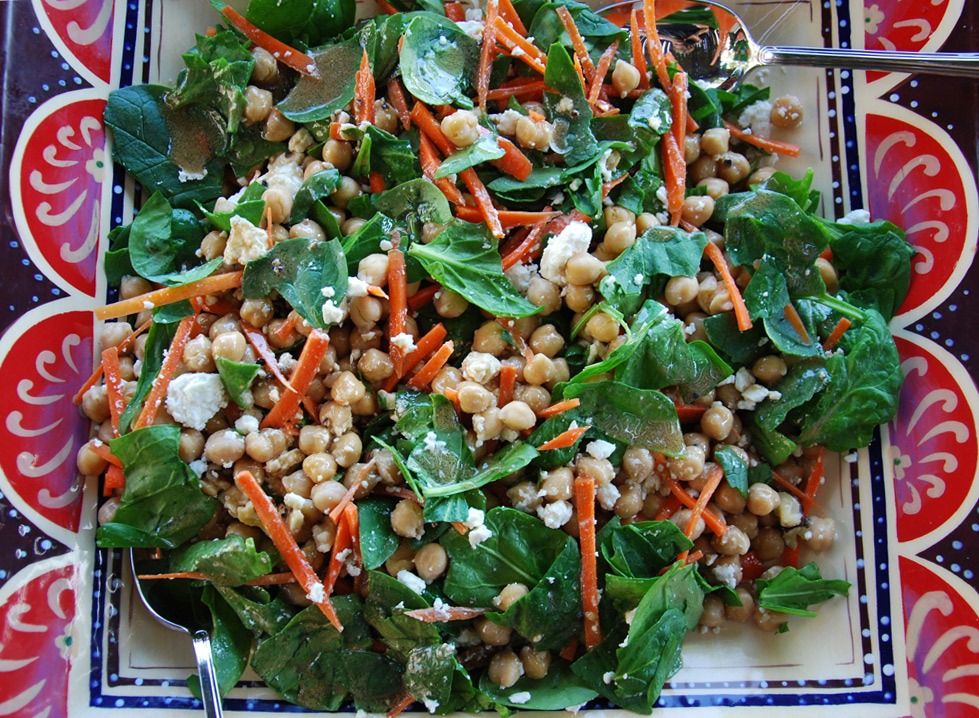 Serves 4
SALAD INGREDIENTS
15 oz. can of organic BPA-free garbanzo beans (chickpeas)
1 bag of organic baby spinach, washed and dried
1 cup organic carrots, julienned
1/4 cup raw or toasted walnuts
1/2 cup crumbled low-fat organic feta cheese
Freshly ground black pepper to taste
DRESSING INGREDIENTS
3 Tbsp sherry vinegar
1 Tbsp Dijon mustard
Pinch of sea salt and freshly ground black pepper 1/3 cup olive oil
DIRECTIONS
STEP 1
Drain garbanzo beans in a colander. Then, rinse well under cold water until foam no longer appears. After the beans have drained, place them in a serving bowl.
STEP 2
In a small bowl, mix together the first three ingredients for the dressing. Next, slowly whisk in olive oil until dressing has emulsified.
STEP 3
Add the spinach and carrots to the salad bowl along with the beans and toss with just enough dressing to lightly coat the veggies.
STEP 4
Mix in feta and walnuts, season to taste with freshly ground black pepper and serve immediately.
Roberts Image: Tinseltown / Shutterstock.com, Salad Image: Courtesy of Kathy Kaehler
They Go Vegan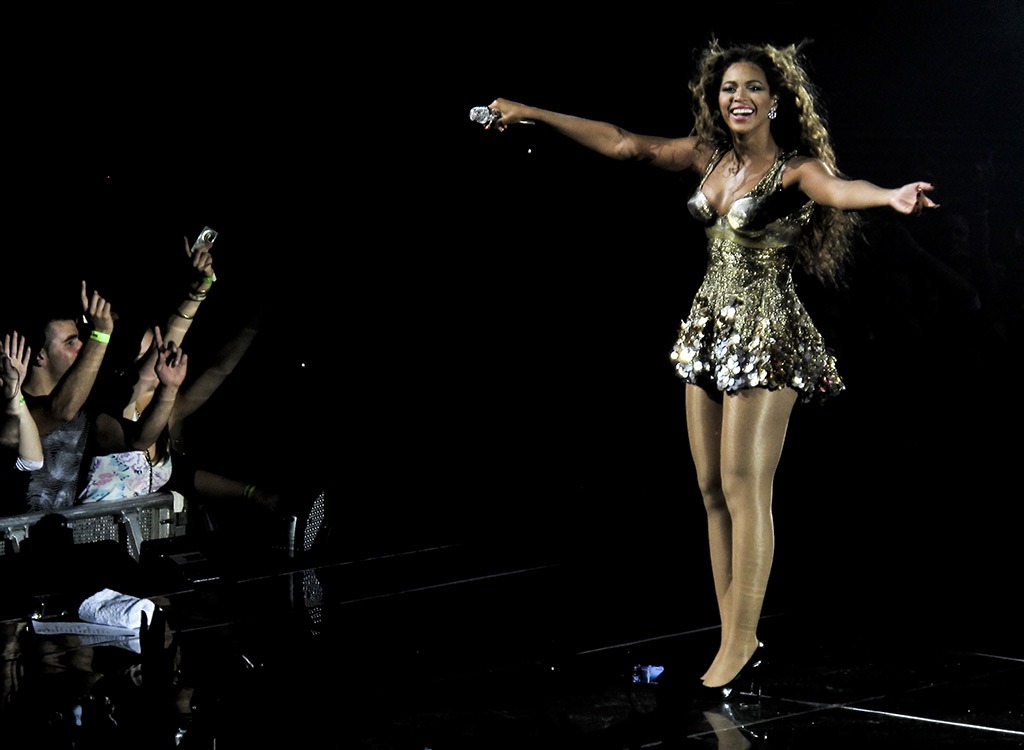 Are you willing to give up bacon to look like Bey? After crediting her 65 pounds of post-pregnancy weight loss to a strictly vegan diet, America's sweetheart is totally on the plant-based bandwagon. At the end of 2013, Beyoncé and hubby Jay-Z took the "22 Day Challenge," with celebrity trainer Marco Borges, eating only vegan meals for—you guessed it—22 days. But it went way beyond weight loss: Bey and Jay were actually trying to shift their natural eating patterns. And, they rave, it worked. Not only did it work, but the king and queen of music also claim that it acted as a killer cleanse, both physically and spiritually. Now health-minded fans around the country can eat what the power couple du jour ate in an effort to achieve the same seemingly life-changing results.
Eat This, Not That! Tip: 22 Days Nutrition, a plant-based diet brand founded by Borges, is rooted in the psychological belief that it takes 21 days to break a habit. The company has offered snack and meal bars as well as protein powders since its inception and is now partnering with the pop megastar to launch a fresh, direct-to-consumer vegan meal delivery program, with non-GMO, soy-free, gluten-free, dairy-free, meat-free dishes like Southern black beans and vegetables, a curried Indian cauliflower and sweet potato bowl and fajita kidney beans. So how much dough do you have to drop to feel as fly as Bey? A cool $600 for the whole 22-day reboot.
They Make Their Own Food
Most celebs are content simply sharing their diet secrets with their fans. Others, however, want their fans to eat just like them, too. Gwyneth Paltrow, the reigning queen of clean eating, is following in Bey's footsteps. To create her locally sourced, organic and gluten-free take-out company, the 42-year old joined forces with fitness guru Tracy Anderson and her business partner, Maria Baum. The toned trio says fans can expect pastas, fish tacos, kale ravioli, quinoa salad, fresh juices, smoothies and healthy desserts like little cups of icing (which they're calling "frosting shots") to make an appearance on the menu.
Considering frosting is made solely of sugar, milk and butter—ingredients you'd be hard-pressed to find in any of their dishes—we're not quite sure how they plan to pull that one off, but Anderson assures Hampton's Magazine she's on the case: "..the frosting is going to be made without all of the processed things that really hurt us. I've figured out how to make the best cookies that have no gluten, no soy, no dairy, no nuts, no eggs—all the main allergens. It's also about me being able to settle the inflammation fire that is in so many bodies."
They Load a Great Playlist
"Music is such a big part of my workouts, you've really got to feel the music and get into it. If you don't love the song you're not going to work your hardest," Paltrow told E! News.
Eat This, Not That! Tip: Paltrow isn't imagining it. Listening to your favorite beats really can make your workout seem like less of a drag. In fact, in one study, upbeat music kept research participants running 15 percent longer and helped them feel more positive about their workout—even as they neared exhaustion.
They Satisfy Their Sweet Tooth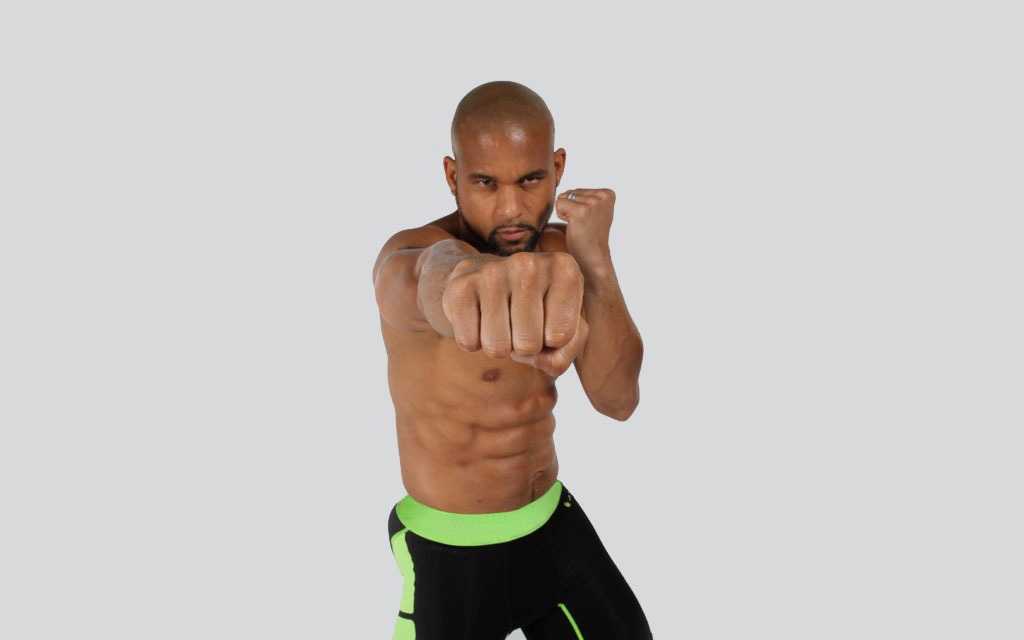 Olympian Hope Solo trains with Shaun T. and Insanity so we asked him for his go-to food: "Berries like raspberries, strawberries and blackberries taste amazing, satisfy my sweet tooth, and are good for brain power," Shaun T tells us. "They also have tons of antioxidants that help slow down the aging process."
Eat This, Not That! Tip: What's more, berries have been shown to burn that stubborn belly fat by turning on your get-lean genes. In one 90-day trial, rats fed a blueberry-enriched diet had leaner bellies than the control group.
They Make This Avocado Toast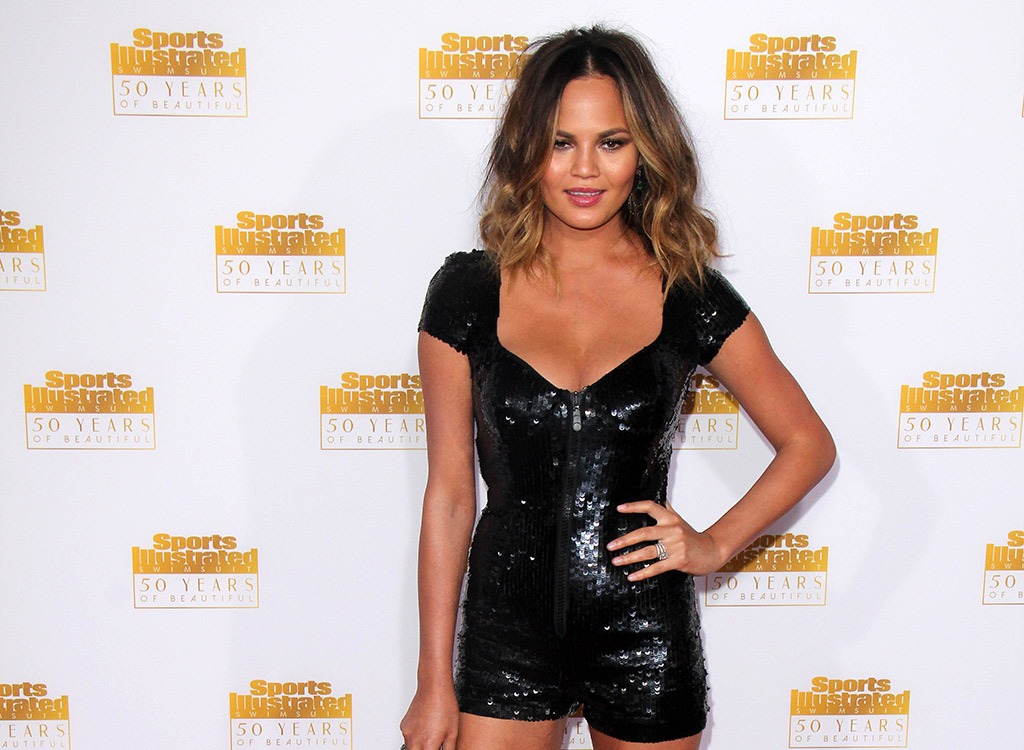 When you're a bikini model/cookbook author who loves to eat, it pays to know how to whip up healthy, delicious dishes. Luckily for Chrissy Teigen AKA Mrs. John Legend, this is one of her strong suits. After the Sports Illustrated swimsuit model's food blog Delushious took off, she signed a publishing deal for her very own cookbook. Her recipes are on point! The best part, though, is that a lot of her creations are simple, quick and healthy, too.
Take Teigen's Prosciutto Avocado Toast, for example. It's an estimated 226 calories and loaded with 11 grams of muscle-building protein and 6 grams of belly-filling fiber. Not to mention, avocados help ward off bloat and fry stubborn belly fat—not that she has anything to worry about in either department! While the prosciutto may not seem like a waist-friendly addition, it's actually a lower-calorie choice than bacon, another popular avocado toast add-on.
While we can't be certain this is what she eats every day, munching on meals like this is certainly one of the ways Teigen maintains that envy-worth figure. Just in time for the upcoming beach season, we reveal our own blend—inspired by her ingredients—for how you can make it at home in just minutes:
Ingredients
1 quarter avocado
Black pepper
2 slices prosciutto
2 slices tomato
Thin slices of red onion, to taste
1 slice whole grain toast
To Assemble
STEP 1
Place prosciutto on top of the toast.
STEP 2
Smash avocado with black pepper to taste until it's a spreadable consistency. Smear avocado mixture on top of prosciutto.
STEP 3
Pile on the onions and tomato slices. Top with black pepper, to taste.
They Refuel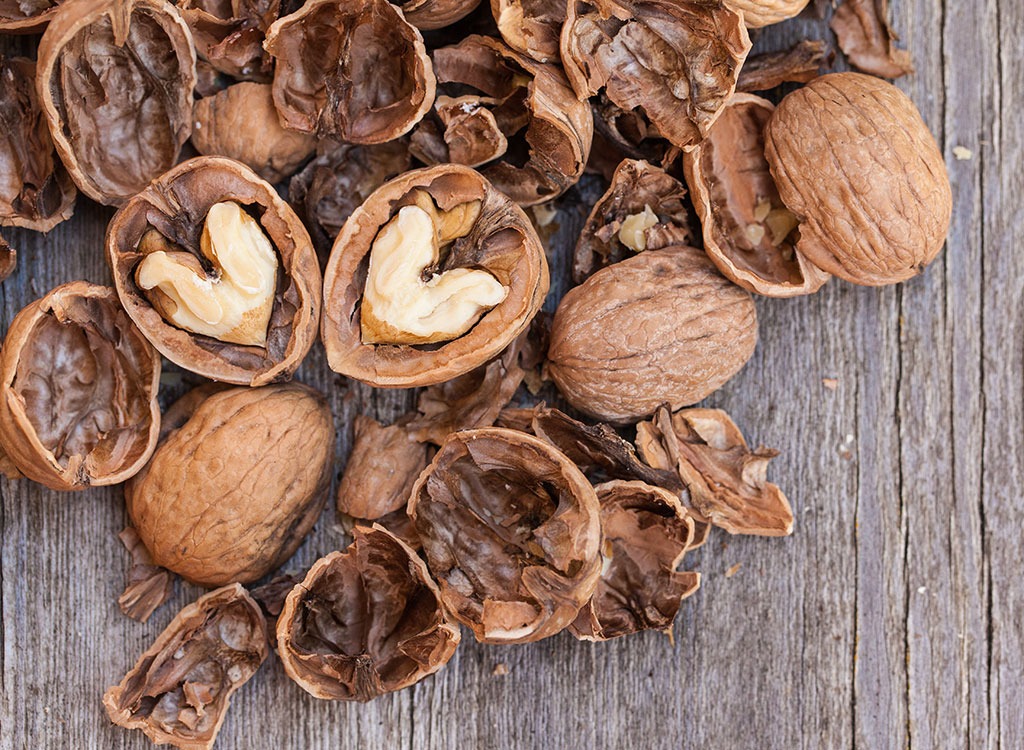 "After working out, eating a combination of protein and carbohydrates helps repair muscle tissue and restock depleted energy stores," says Kit Rich, celebrity trainer and co-owner of SHIFT by Dana Perri.* "When I need something quick that I can eat on the go, I often reach for a Peanut Butter Cookie Larabar. The only ingredients are protein-filled peanuts, dates (which provide carbs) and salt, which helps replace some of the electrolytes lost through sweat."
They Pack Their Bag With Protein
"When I'm trying to drop a few pounds, I carry around a shaker cup of chocolate protein powder. If I'm ravenous, I add the water, and it fills me up so I don't eat something high-calorie instead, " Bobbi Brown, founder of Bobbi Brown Cosmetics and Editor-in-Chief of Yahoo! Health, told Health.
Eat This, Not That! Tip: Having a little something between meals can help ward off blood sugar dips that leave you feeling like you could eat an entire cake in one sitting. Follow Brown's lead by stocking your office, glove box and kitchen with healthy, ab-friendly, protein-rich snacks—like vegan protein powder and some of our go-to nutrition bars for weight loss—that can go from a wrapper to your belly in a minute flat.
They Hydrate Big Time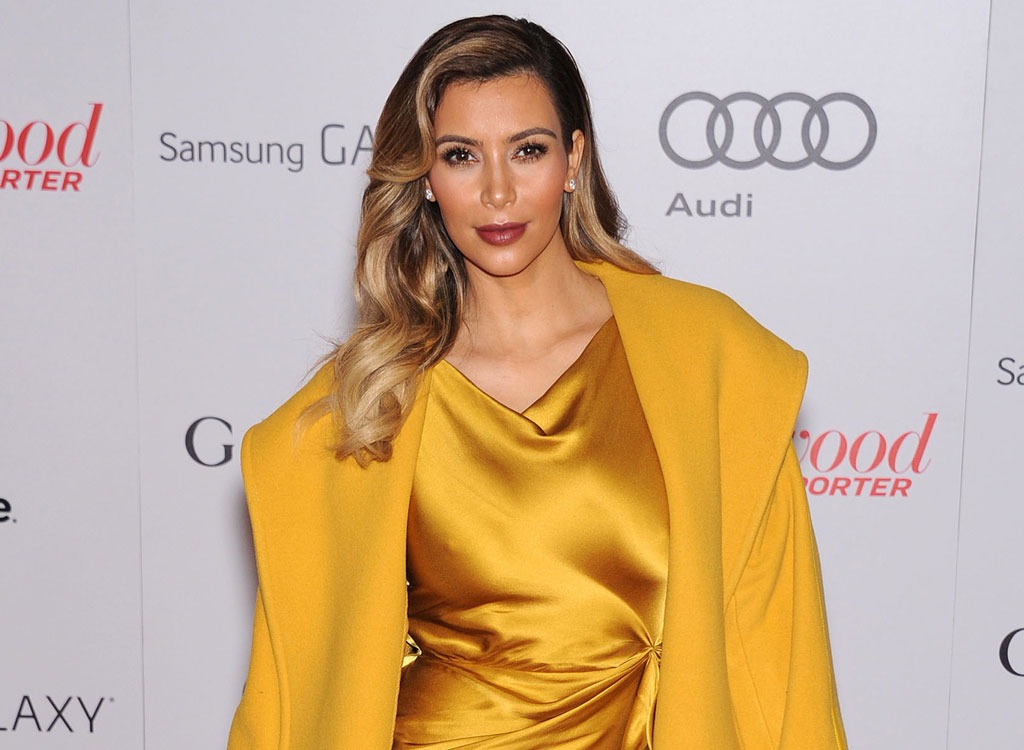 "Drink more water," advises the wise Kim Kardashian. "You'd be surprised the difference drinking more water can make to your weight loss mission and workouts."
Eat This, Not That! Tip: Experts agree this is a smart move. "Water may just be the best pre-workout supplement when you're looking to shed weight. Studies have shown that strength training while in a dehydrated state can boost levels of stress hormones that hinder muscle gains by up to 16 percent, says celebrity fitness and nutrition expert, Jay Cardiello. "When a client is looking to trim down, I tell them to drink at least eight 8-ounce glasses of water each day and at least 8 ounces during their workouts."
They Blend Smoothies
"I feel good and have a lot of energy when I start my day off with a great smoothie," Jessica Alba told People StyleWatch. She's not alone—test panelists on Zero Belly Diet lost up to 16 pounds in 14 days.
They Munch on Edamame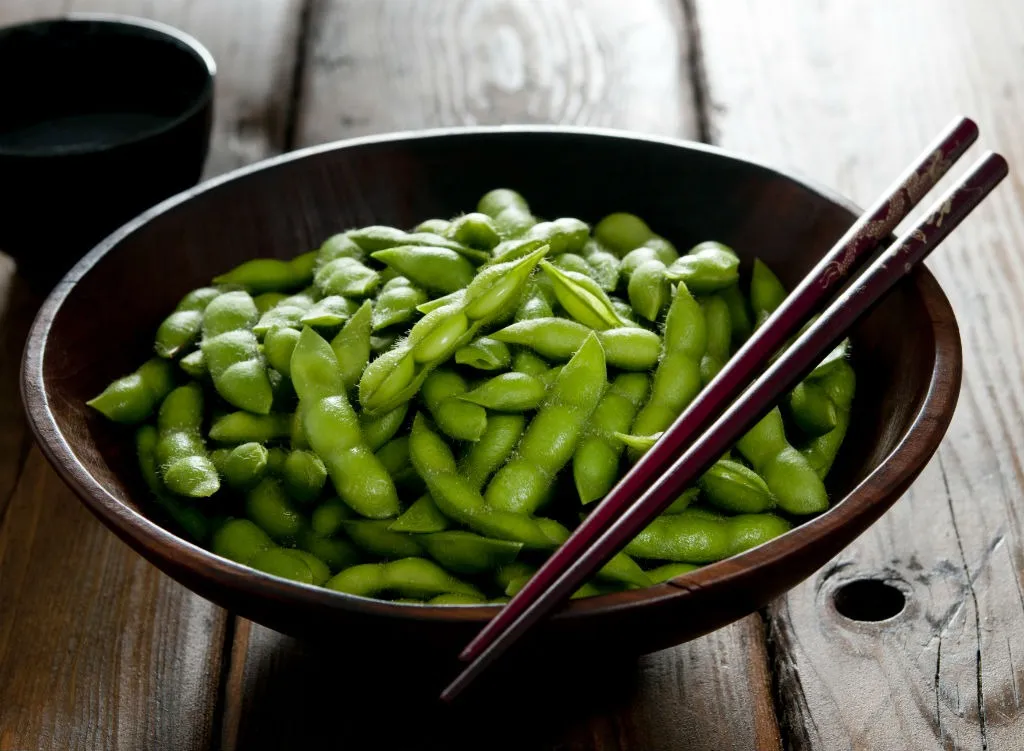 "One of my all-time favorite go-to snacks is edamame," says Dan Roberts, who gives it to his model clients. "I literally fuel my body every day with these powerful green guys. And, why not? Soybeans pack a big punch when it comes to health benefits. They are low in calories, rich in essential amino acids and a good source of fiber. Edamame also contains anti-inflammatory properties, which can be beneficial to those with arthritis or anyone suffering from inflammation."
And Oatmeal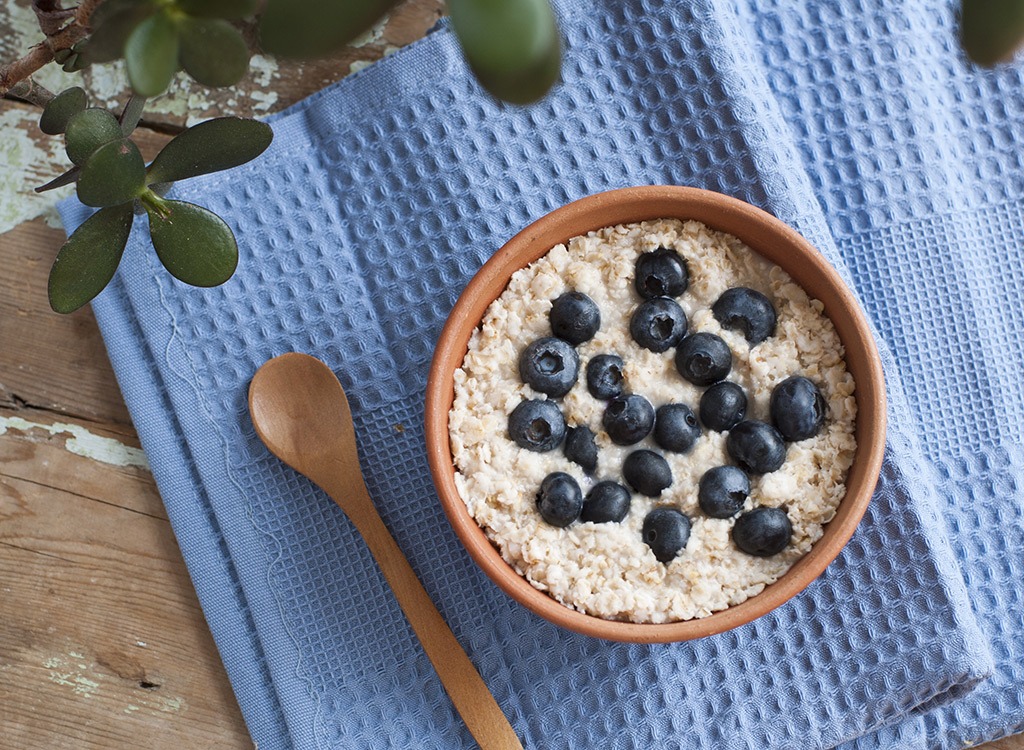 "Oatmeal or oat bran is warm comfort food for me. I live life on the go, so packing a container of oatmeal to throw in the microwave is just so easy. It's quick to prepare, high in fiber and can be accompanied with so many different things like nuts, chia, flax or fruit. One of my favorite additions is protein powder. I mix it with my oats to make 'proatmeal." – Victoria Viola, NYC-based, NSCA Certified Personal Trainer. 6254a4d1642c605c54bf1cab17d50f1e
Oatmeal is just one resistant starch, a form that makes your body work harder to digest your food. (That means you burn more calories!) You can change the starch in pasta to be more resistant simply by popping it in the fridge.
And Watermelon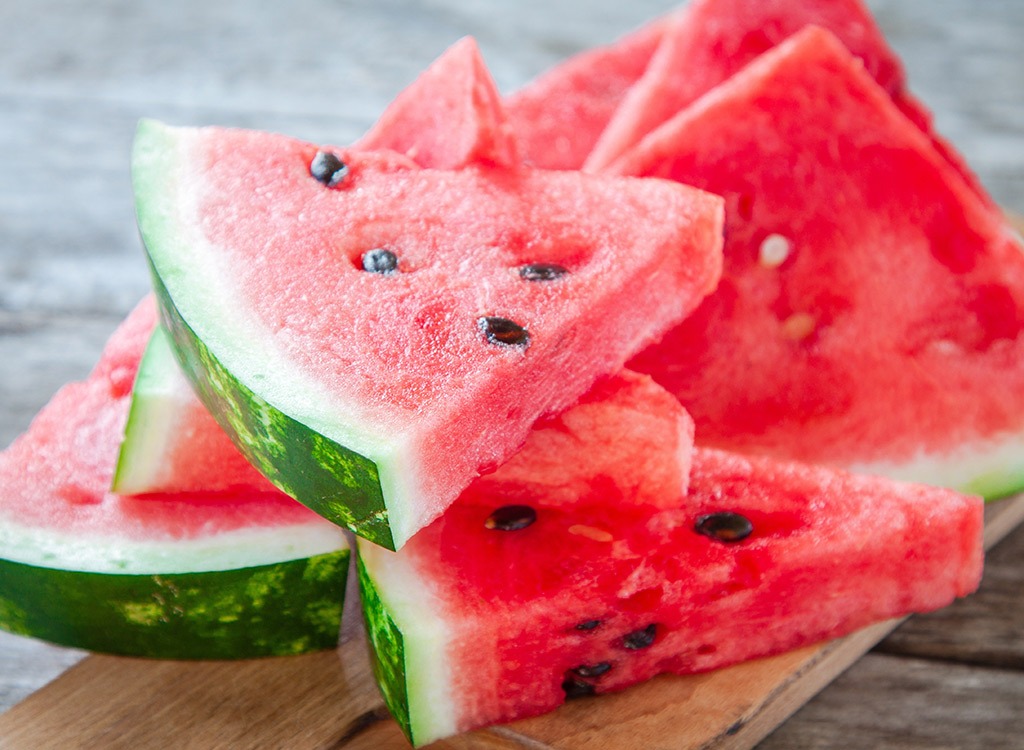 "Recently I have been fueling my post-workout recovery with watermelon," says Cardiello, NSCA, personal-trainer to J. Lo and 50 Cent. "This delicious fruit helps replenish depleted glycogen stores and refuels my tired muscles. Since watermelon has high water and electrolyte content, sometimes I'll even throw back a homemade watermelon drink—made by blending pieces of watermelon with ice—during a strenuous cardio workout."
Eat This, Not That! Tip: Watermelon is one of the richest natural sources of L-citrulline, an amino acid that can help make your erection harder. It's also loaded with citrulline, an antioxidant that converts to L-arginine once it's in the body. Like that little blue pill, L-arginine stimulates the production of nitric oxide, which increases blood flow to the penis, strengthening erections. Eat the fruit plain or mix it with some tabasco, olive oil, lemon juice, feta and mint to make a sweet and savory side dish that will help you go all night long. Bonus: Capsaicin, the compound that makes tabasco sauce hot, releases chemicals that increase heart rate, mirror signs of arousal and rev your libido. The bottom line? Munching on this salad will get you in the mood for the evenings' festivities and increase your duration in the sack, too.
They Order The Big Mac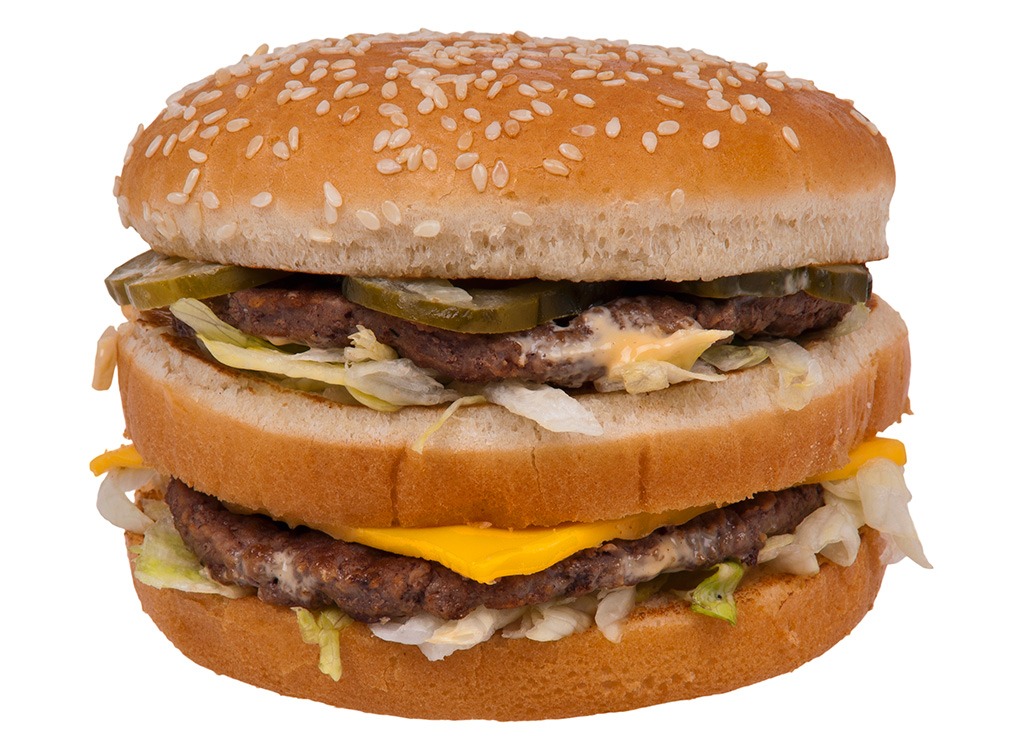 Supermodel Heidi Klum is often photographed with fellow celebs and fashionistas. But as it turns out, her true BFF is more interested in deep frying than fashion or fame.
That's right, Klum, a.k.a. "The Body," is quite cozy with Ronald McDonald and is a huge fan of his burgers and fries. Earlier this week, our friends at Men's Fitness asked Heidi what type of cheat meal she most enjoys. And shockingly, she revealed that just the day before she'd indulged in a Big Mac and order of fries — during Fashion Week, no less!
"I was starving and running late so I ordered McDonald's," the 42-year-old mother of four said. "I love it! The special sauce. That weird pickle in there. Who knows [if it's really a pickle] but I love it — I'm loving it!" she added.
Given her rockin' figure, most would assume that she doesn't typically indulge in 870-calorie fast food meals, but Klum has fessed up to downing McDonald's plenty of other times, before. Last year, for example, she posting an Instagram photo of herself eating a McDonald's hamburger on an airplane and back in 2012 she Tweeted a photo of her post-American Music Awards Mickey D's meal. And if we had to guess, she's probably eaten plenty of other burgers without snapping a photo first.
Eat This, Not That! Tip: Though Heidi is lovin' it, she's also a big proponent of eating a daily diet of fresh fruits, vegetables and lean proteins, which is likely why she has the caloric wiggle room to sneak in a burger and some fries when a craving strikes.
Finishing off a great night at @theAMAs with a great friend, @desireegruber & a great meal from @McDonalds! #AMAs pic.twitter.com/yEe1AVlS

— Heidi Klum (@heidiklum) November 19, 2012
They Whip Up This 5-Minute Dessert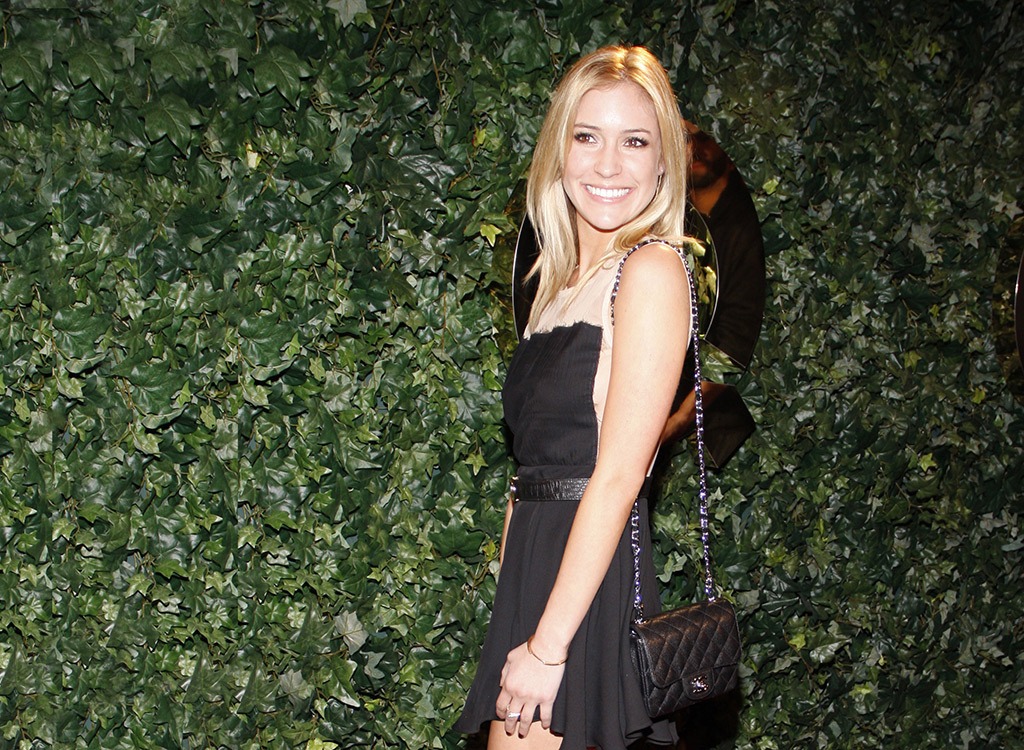 Kristin Cavallari is a super clean eater—no shocker there. Just one look at her crazy-fit post-baby bod and it's evident she's doing something right! However, there's one thing that's even more impressive than the 28-year-old's toned, slim physique: her skills in the kitchen. Thanks to her innovative approach to cooking and baking, her two sons and hubby, Chicago Bears quarterback Jay Cutler, chow down on Kristin's healthy dishes without complaint. "They definitely eat whatever I'm eating," says The Hills alum. "Jay has come a long way since meeting me and the boys have always eaten healthy and they don't know the difference so they don't complain." Most moms out there would probably agree that this gives Cavallari some serious bragging rights!
Below, we reveal our own Peanut Butter Coconut Oat Ball recipe—inspired by an Instagram of one of Kristin's go-to healthy indulgences.
INGREDIENTS
1 cup rolled oats
⅔ cup unsweetened coconut flakes
½ cup natural peanut or cashew butter
¼ – ½ cup cocoa nibs or mini dark chocolate chips
⅓ cup honey
¼ cup chia seeds
1 teaspoon vanilla extract
How to Make It
Step 1: Mix ingredients together in a bowl until fully combined
Step 2: Roll the mixture into one-inch rounds and place on parchment paper
Step 3: Refrigerate until firm and then transfer to an airtight container
Step 4: Keep refrigerated and enjoy for up to one week
They Order Sakara
What do Victoria's Secret models, Chrissy Teigen, Lena Dunham and Gwyneth Paltrow all have in common—besides being beautiful and famous, that is? They're all diehard fans of Sakara, an organic meal delivery service that's taking the celebrity world by storm.
Dubbed "The Anti-Crazy Cleanse" by news outlets, this plan doesn't require followers to choke down juices, powders or frozen, tasteless meals. The meals are gluten-free, plant-based, dairy-free, organic and delicious, too. (Bobby Flay serves on the advisory board, so if that doesn't reassure you that this stuff is tasty, we're not sure what will.) The best part? Following the diet doesn't require any calorie or carb counting! In fact, the company's mantra is "If you are eating a diet full of healthy, clean, natural foods in the right proportions, your body will find its optimal weight." However, word on the street is that people following the plan typically lose about five pounds.
@lenadunham sporting her @sakaralife cooler bag in NYC! So much love for this kick-a** lady http://t.co/UCtkoB7Bss pic.twitter.com/WmDo4ENBwO

— SAKARA LIFE (@SakaraLife) April 17, 2014
But here's the not-so-good news: As you'd expect, a service like this doesn't come cheap. Sakara will set followers back up to $99 a day, depending on the plan they purchase. Luckily, you don't have to earn a supermodel salary to look like one. You can easily follow the diet philosophy at home without becoming an official Sakara client.
Eat Sulfur-Rich Vegetables
Foods rich in sulfur–like kale, Brussels sprouts, cauliflower and cabbage–aid the body's natural detox process and may help the body better absorb iron, a mineral that help boosts energy. The more energetic you are, the more active you're apt to be. More movement = more calories burned.
Eat Your Greens
Those following Sakara eat a minimum of 1-3 cups of greens (like kale, spinach, arugula and romaine) with both lunch and dinner. This doesn't mean you have to survive on salads alone, but eating a bowl of greens before digging into your main meal is beneficial. Studies suggest that eating a salad before the main course can help reduce the total calories eaten during the meal—likely because of the water and fiber content.
Incorporate Fat
Healthy sources of fat like hemp seeds, chia seeds and coconut oil are found in almost every Sakara meal. While eating fat to get skinny might sound counterintuitive, science backs it. Coconut oil, for example, contains medium-chain fatty acids, meaning it's less apt to be stored as flab than other fats such as butter.
Cheat
Sakara will only deliver food for five of the seven days of the week. Why? Because co-founders Whitney Tingle and Danielle DuBoise believe that "weekends are, and should be, full of temptations." While that doesn't give you free reign to eat whatever you want, there is wiggle room to indulge when you know you'll be back to a more balanced diet come Monday. This is also good for your sanity and overall diet willpower, since you'll feel less deprived.
They Eat Cool, New Proteins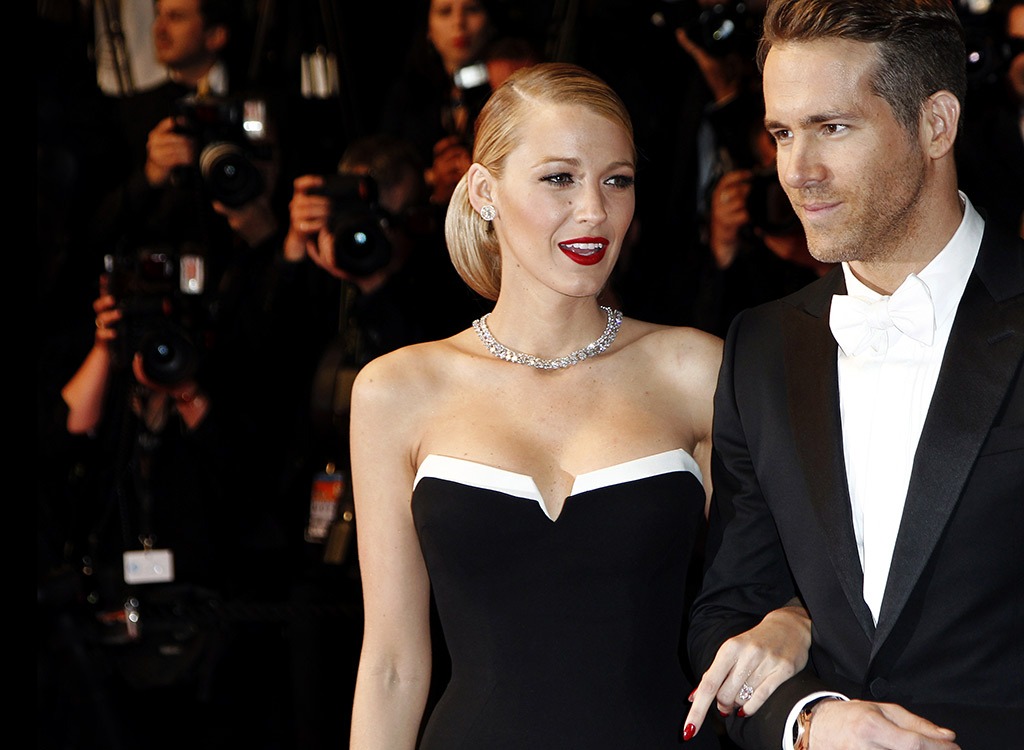 For a star who first rose to fame on Gossip Girl, Blake Lively likes to play it close to the vest—she doesn't expose every facet of her life; we never have to use up valuable brain space digesting her cosmetic treatments or chaotic love life. In fact, the Mrs. Ryan Reynolds seems to have it all: great career, dashing movie-star husband, and a new baby. And that body! She's rocking a tight black dress without an ounce of post-baby chub in sight. How has Lively managed to get into such terrific shape just five months after becoming a new mom? A source close to her revealed that the stunning starlet has been cooking lean proteins like turkey, chicken and venison to shed the baby weight. A few months ago, Blake posted a photo of a homemade rotisserie chicken and a vegetable medley on Instagram with the caption "Dinner last night!"
Eat This, Not That! Tip!: The more muscle you have, the more calories you burn–no matter what you're doing. Sure, hitting the gym helps you build muscle to begin with, but eating lean proteins à la Lively keeps it from breaking down and slowing your metabolic rate as a result. Research has also found that because protein is more difficult for the body to break down and digest than other nutrients, it can increase post-meal calorie burn by as much as 35 percent. Aim to incorporate some protein into every meal and snack throughout the day to keep your metabolism humming!
They Find A Workout Buddy
In the Kardashian family dictionary, the word discretion simply doesn't appear. One moment we're learning about what Kanye's like in bed, the next we're discovering where Bruce buys his hair extensions. But while not every stitch of dirty laundry deserves to be aired, there are definitely some secrets we don't mind stealing from the first family of reality television. For example: How do they stay in such great shape, especially after having kids?
Thanks to Kourtney's ever-active social feeds, we've been able to study the weight-loss program she's followed since giving birth to her third child last December. One key has been working out with friends. Kourtney posted a photo of her and a friend flexing some serious guns.
Eat This, Not That! Tip: People exercise for an average of 34 minutes longer with a friend than they do when they hit the gym solo, according to the American College of Sports Medicine. And the longer you sweat, the more quickly you'll reach your goals! Next time a friend asks you to grab drinks after work, suggest taking a hike or checking out a new fitness class instead.
They Don'tA Deprive Themselves
Earlier this year, Kourt posted a photo of a delicious-looking Nutella pizza roasting over an open fire with the caption, "This is happening." The reality TV star is has said in the past that she typically munches on fresh protein smoothies, veggie soups, lean meats and salads, but she doesn't deprive her sweet tooth when the craving strikes—and that's likely one of the reasons she has so much slim-down success.
Eat This, Not That! Tip: Although Nutella is anything but healthy, experts say giving into your sweet tooth can actually help you lose weight. "Occasionally including dessert can aid weight loss efforts by warding off feelings of deprivation and bouts of overeating," explains dietitian Cassie Bjork, RD, LD of Healthy Simple Life. "It can make it easier to stick with your healthy eating regimen for the long haul."
They Eat Resistant Starch
One more from Kourtney: Two months ago, the health-minded Kardashian posted a photo of her breakfast bowl. The caption read, "Monday morning breakfast. Organic oatmeal made with whole milk, bananas and cinnamon."
Eat This, Not That! Tip: In addition to being more satiating than other popular breakfast options like cold cereal, oats are rich in something called resistant starch. As the name implies, it's resistant to digestion, so the body is not able to absorb as many calories from each molecule. And the cinnamon Kourt adds to her bowl isn't just for flavor; the spice contains powerful antioxidants called polyphenols that can reduce the accumulation of belly fat. Other findings suggest that adding a cinnamon to starchy meals may help ward off insulin spikes and control appetite. With so much science working in her favor, it's clear that regularly eating oats is one of the reasons Kourtney is seeing the pounds fly off so quickly. Whip up a similar breakfast at home to reap the benefits, and read our special report: 14 Ways to Lose Your Belly in 14 Days!
They Get In Shape for Themselves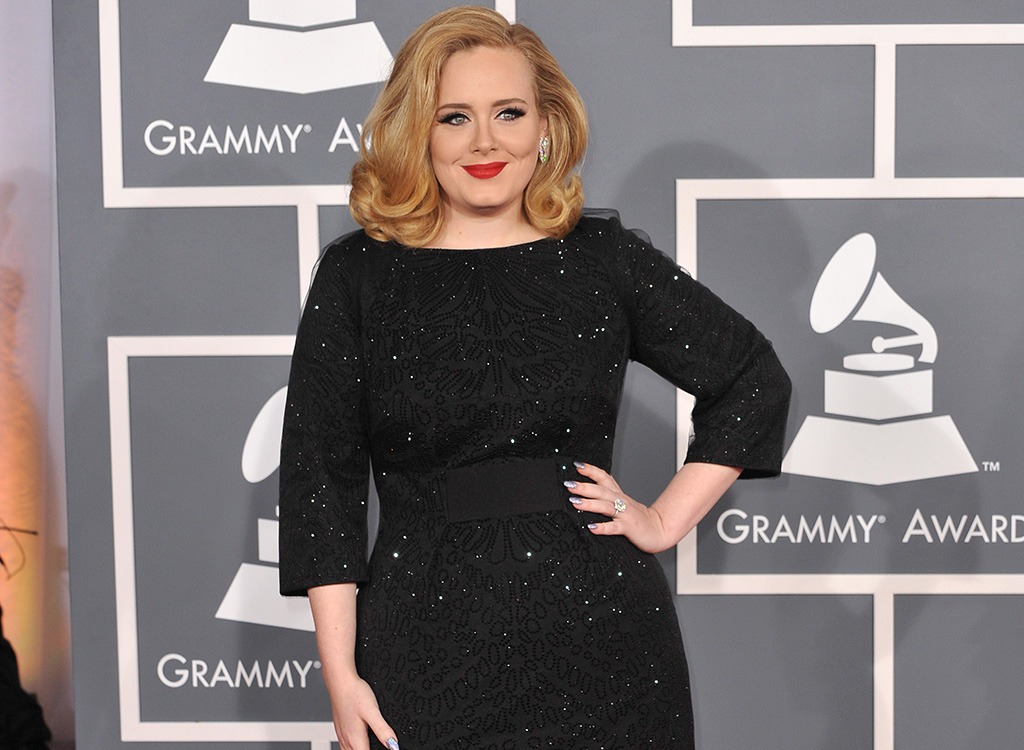 Adele is on top of the pop-culture world right now: Her new single "Hello" just became the most-downloaded song in history, her album 25 is on track to the biggest release of the year, and it looks like she's made a long-term commitment to weight loss.
The 27-year-old singer is noticeably slimmer than at the beginning of her career. How? A few years ago, after the birth of her son, MTV UK reported that she had started jogging and following a strict vegetarian diet. We've reported before that cutting out meat has been shown to be part of the most effective diet, and if Adele has gone veggie, she's in good company: Jay-Z, Beyonce, and Bill Clinton follow a vegan diet to stay slim.
In a new Rolling Stone interview, Adele says she's cut back on sugar, has only one alcoholic drink a week and is doing weights in the gym. "To get in shape for myself, but not to be a size zero or anything like that," she says.
Key to her success: She didn't crash diet but instead made a lifestyle change, incorporating diet, cardio and strength training. She views a vegetarian diet not as deprivation but as a positive way of life (she's said she made the change because of her love for animals). And it's clearly working.
They Do This J Lo. Workout
From Pippa Middleton's butt crashing the royal wedding to Kim K's rear crashing the Internet, backends are at the forefront of what's hot, sexy and beautiful. But while zaftig stars like Nicki Minaj, Sofia Vergara and Iggy Azalea are sitting pretty today, one woman deserves the credit for making the trunk the most coveted part of the machine: Jennifer Lopez.
Before J. Lo, female stars were lean and wiry. But Jenny from the Block broke the mold and made it okay for big-bottomed girls to stop hiding their assets. And now you can get the butt you've always wanted (Anaconda or otherwise) thanks to this exclusive Eat This, Not That! Best Butt Ever workout from Jay Cardiello, the celebrity trainer who helped J.Lo build her devastating derriere.
All of the exercises in the circuit below target the glute muscles from every angle to help you sculpt a strong, full, defined booty.
To complete the workout, perform as many reps of each exercise as you can in thirty seconds and then move directly onto the next exercise. If moving from one exercise right into the next seems overwhelming, fear not! Cardiello suggests taking a one minute breather in between the two circuits to recover. Go through the full workout three days per week to get your best butt ever–in no time!
FIRST CIRCUIT
Pendulum Swings
Begin in a traditional push-up position. Your hands should be directly underneath your shoulders and your legs should be fully extended behind you. Be sure to keep your eyes focused toward the ground. Bring your right knee under your navel and then out toward your right side in one swift motion. Pause for a moment and then swing your knee back down, allowing it to pass its original starting position. Continuing repeating until time is up, then switch to the left side.
Modification: Perform the exercise on on all fours with knees hip-width apart.
Double Ups
Begin in a traditional push-up position with both hands directly underneath your shoulders and legs fully extended behind you, feet together. Then, brace your core and jump both feet to the outside of your right hand. Jump feet back out into a traditional pushup position and then brace your core and jump both feet to the outside of your left hand. Repeat this exercise sequence as quickly as possible until time is up.
Modification: If you start getting tired, slow the pace of the exercise sequence.
Rest for 60-seconds before starting the second circuit.
SECOND CIRCUIT
The Breakdancer
Begin on all fours with your back flat and your head in a neutral position. Push up through your toes so they are elevated beneath you. In one swift movement, move your weight onto your left hand, bring your left leg under your hips and across your body. Twist your torso so your toes and bellybutton are pointing toward the ceiling. Your leg should be fully extended. Reach your right hand to your left foot until they touch. Return to starting position and repeat on the other side. Continue alternating sides back and forth.
Rockin' the Cradle
Start in a traditional lunge position with the left foot forward, knees slightly bent with your hands firmly on your hips. Keeping your chest up, lower into a lunge position until your right knee is about an inch from the floor. Push off your left foot in one explosive movement so it lifts from the floor and transfers all of your weight onto your right leg. Return to the lunge position and repeat. Continuing this movement until time is up, then switch sides.
Tic Tac Toes
Start in a traditional lunge position with your left foot about three feet behind your right foot. Your hands should rest firmly on your hips. Brace your core and descend the hips down toward the floor until your right knee forms a 90-degree angle. Hold this position. In one explosive movement, jump your front foot as far to the right as possible. As soon as your foot makes contact with the floor, jump the same foot as far to the left as possible. Continue jumping to the left and right for thirty seconds. Then, switch sides, placing your left foot in front and right foot three feet behind your left foot and go through the exercise sequence again, but this time, jumping your front foot as far to the left as possible first and then jumping to the right.
Modification: If you start getting tired, slow the pace of the exercise sequence. If you need more of a challenge, increase your rate of exertion.
Eat This, Not That!
Inspired by The New York Times best-selling book series, Eat This, Not That! is a brand that's comprised of an award-winning team of journalists and board-certified experts, doctors, nutritionists, chefs, personal trainers, and dietitians who work together to bring you accurate, timely, informative, and actionable content on food, nutrition, dieting, weight loss, health, wellness, and more.
Read more about Eat This