8 Ice Cream Chains Where Chefs Actually Eat
We tapped some culinary pros and found out exactly where they like to enjoy a scoop.
Is there a more refreshing and enjoyable summer treat than ice cream? Whether enjoyed in a cup or cone, served plain or piled high with toppings like whipped cream, sprinkles, cherries, and nuts, it's a nostalgic dessert, a favorite among many.
What's so great about ice cream is that it's pretty easy to find. For starters, there are thousands (and thousands) of ice cream scoop shops across the country, so you're likely never too far from a frozen sweet treat. However, it goes without saying that some ice cream chains are just better than others.
To help you navigate the world of ice cream chains and all they have to offer, we tapped some professional chefs and found out exactly where they like to enjoy a scoop. They've given us everything from top-rated national chains founded nearly a century ago to beloved regional spots that are a must-try. Innovation is as important here as is quality—some of these will give you innovative flavors like Everything Bagel or Blue Bottle Vietnamese Coffee.
Whether you like your ice cream with all the fixings or prefer just a plain vanilla cone, take a tip from these pros for your next ice cream outing.
Graeter's Ice Cream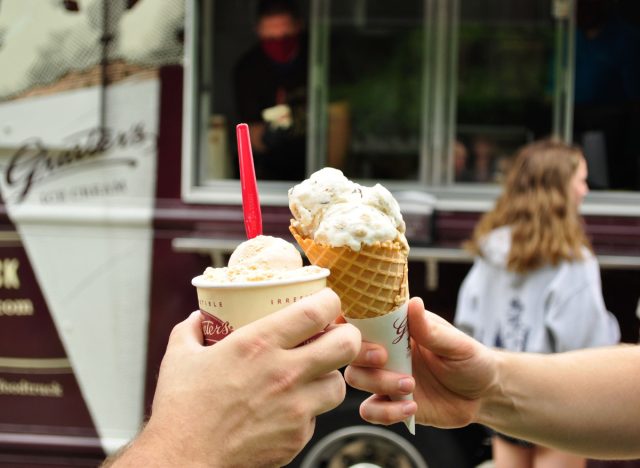 Frankie Olivieri, the chef-owner of Pat's King of Steaks, aka the famous Philly institution that invented the cheesesteak sandwich, loves Graeter's, a beloved ice cream destination with locations throughout the Midwest. The popular chain, which serves up delicious flavors like coconut chocolate chip, cotton candy, Oregon strawberry, and caramel macchiato, first got its start over 150 years ago in Cincinnati.
"The black raspberry chocolate chip flavor at Graeter's is to die for," Olivieri shares. If you're not located in the Midwest, worry not—Olivieri points out that their pints are sold in places across the country. "Their pints are sold all over the place but we get it every time we visit Joe's Stone Crab in Miami," Olivieri says. "We've ordered it through the mail a few times as well—it's fabulous."
Van Leeuwen
Van Leeuwen, the buzzy chain known for its top-notch dairy and vegan ice cream, is also a favorite among professional chefs. "I love and admire Van Leeuwen for its crazy collaborations and its ability to make such unique flavors," shares Stephen Parker, the corporate chef for Black Tap Craft Burgers and Beer (speaking of which, you need to try one of Black Tap's famous milkshakes if you're near a location).
Founded in 2008, Van Leeuwen has a wide variety of flavors, including peanut butter brownie honeycomb, lemon poppyseed muffin, cookies and cream, and vegan chocolate chip cookie dough, that can be dressed up with fun toppings like hot fudge, sprinkles, praline pretzels, and more. There are nearly 50 scoop shops throughout the country, with many more opening soon, and the brand also sells its pints in grocery stores throughout and ships nationwide from its website.
Jeni's Splendid Ice Cream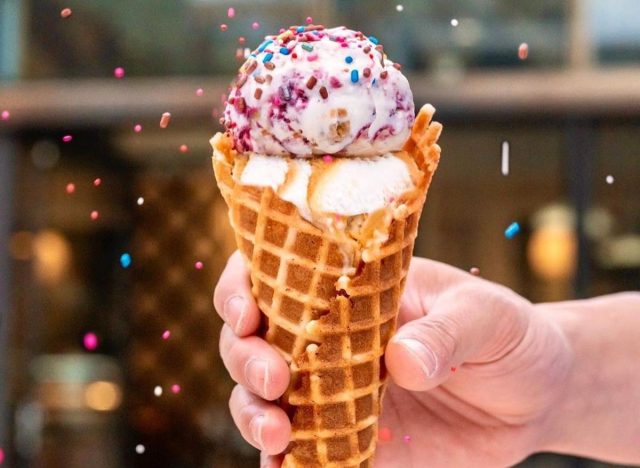 If you're looking for an ice cream chain with next-level flavors, you have to try Jeni's Splendid Ice Cream, a brand launched about to decades ago in Columbus, Ohio. "My all-time favorite is Jeni's Splendid Ice Cream," says Chef Parker. "My favorite flavors are powdered jelly donut, almond brittle peanut butter, and Texas sheet cake." Their brambleberry crisp, a combination of oven-toasted streusel, brambleberry jam mixed and vanilla ice cream, and everything bagel flavor, which is cream cheese ice cream with gravely everything seasoning, are also standouts.
Braum's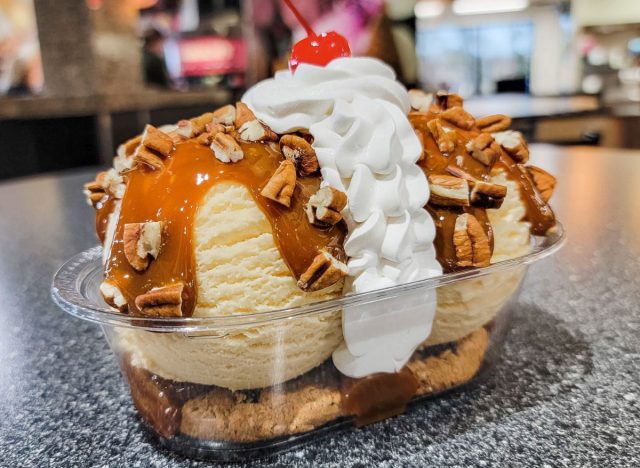 Chef Emerio Viramontes, the executive chef of Chef's Palette, located at CANVAS Hotel Dallas, is especially fond of Braum's, a southern ice cream chain with over 300 locations throughout Kansas, Texas, Missouri, and Oklahoma. "Every time I go there, my go-to is the banana split," Viramontes mentions. "There is a certain freshness of ingredients that makes it so well balanced between the ice cream, toppings, and sauces."
Even better? Even though they are known for their ice cream, they also serve a full menu filled with mouth-watering breakfast, lunch, and dinner options like cheeseburgers, biscuit sandwiches, chicken strips, and more.
Humphry Slocombe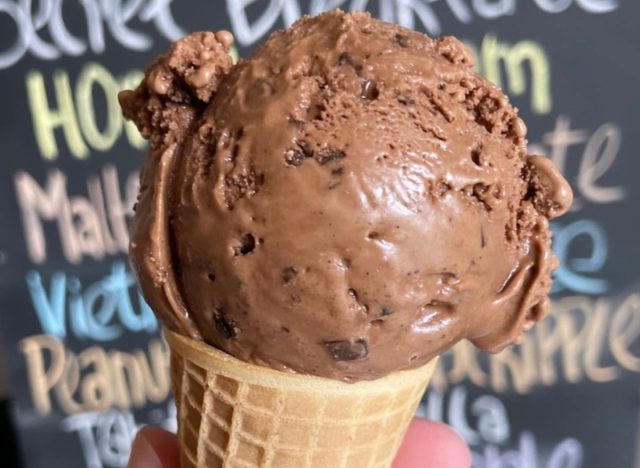 Chef Francis Ang of Abacá in San Francisco mentions Humphry Slocombe as one of his top picks for ice cream. "I love this Bay Area chain," Ang says. "They offer unique flavor combinations and also do a lot of guest chef collaborations—I'm hoping one day they'll tap me for one!"
Ang says the Blue Bottle Vietnamese Coffee flavor is one of his favorites, "but when I take my son, we get the Dark Chocolate Smoked Sea Salt." Some other standouts from the menu? Cherry elderflower, cornflake crunch, and lavender crumble.
Carvel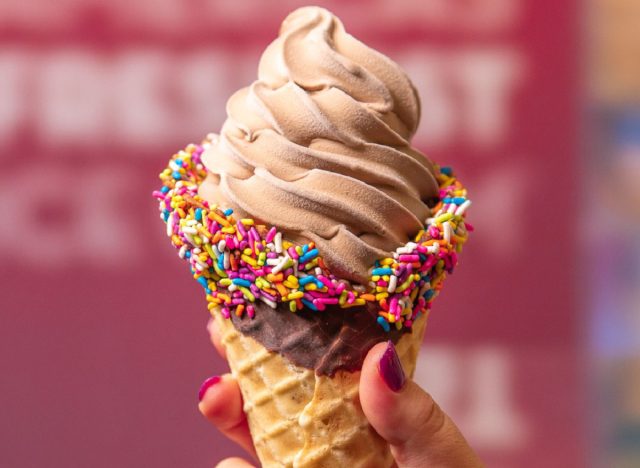 Sometimes you want to enjoy a classic. Diana Manalang, the chef-owner of Little Chef Little Café in New York City, looks to a timeless favorite when she wants to enjoy some ice cream. "Carvel is my favorite ice cream chain and has been since I was a kid. It's the chocolate crunchies for me."6254a4d1642c605c54bf1cab17d50f1e
Launched in the 1930s, Carvel is known as the nation's first retail ice cream company. It was founded in Hartsdale, N.Y., by Tom Carvel, a Greek-born American entrepreneur who actually invented soft serve ice cream—by accident! As the story goes, his ice cream truck got a flat tire, and the ice cream slowly melted. People still bought cups and cones and, much to his surprise liked the taste and texture of the slightly softened ice cream better.
"I'm sure there's better 'ice cream' if you're looking for gourmet or lots of flavors and texture, but give me a simple chocolate soft serve mixed with chocolate crunchies, and I'm happy," Manalang adds.
Oddfellow's
If Summer Bailey, the executive pastry chef for establishments like Boulon Brasserie + Bakery, Union New American, and Forbici Modern Italian in Tampa, had to pick a favorite ice cream chain, she would go with Oddfellow's. "It started down the street from me in the East Village in New York and the mastermind behind it is Sam Mason—quirky and talented—of WD-50 fame," Bailey says. "If you don't know him, look him up. I mean, he names his kitchen equipment after female country singers."
The spot is known for its innovative flavors and fun branding. "They have the most interesting and delicious flavors—miso peanut butter, raspberry rose cider, and vegan coconut chocolate chip," she points out. "They are also a small-batch ice cream shop having created over 500 flavors since opening," Bailey adds. Since opening their first shop in New York City ten years ago, they now have about ten stores around the States and one in Korea.
Ben & Jerry's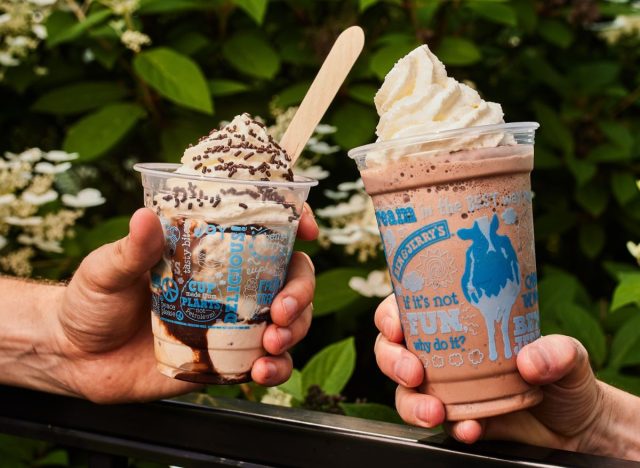 Matthew Kenney, cookbook author, culinary educator, CEO of Matthew Kenney Cuisine, and co-founder of Ntidote, shares that Ben & Jerry's is one of his favorite ice cream shop chains. "As a chef, I always appreciate when ice cream chains offer plant-based and vegan options; that is why I appreciate Ben & Jerry's non-dairy ice cream so much," he says. "Their almond milk-based flavors are absolutely delectable and creamy while offering various nut-based toppings for even more texture and flavor." Kennery shares that he likes to top his ice cream with Ntidote's Powerhouse Cacao.
Ben & Jerry's, founded over 40 years ago in Vermont, has grown into a beloved brand with hundreds of scoop shops. Not to mention, you can easily find their pints in most nationwide grocery stores and bodegas.