10 Best Ice Cream Chains in America
From legacy scoops to innovative, young brands, consider one of these chains for your next ice cream run.
Ice cream is a quintessential dessert option regardless of whether it's the dead or winter or the peak of summer, and to say people in the United States consume a lot of the frozen stuff would be an understatement. According to the International Dairy Foods Association, the average American eats roughly 20 pounds of ice cream every year, the equivalent of about four gallons.
Most Americans are never more than a stone's throw away from an ice cream shop or grocery store selling commercial frozen desserts. However, when you want ice cream that is quite literally the cream of the crop, there are certain chains that stand out from the rest.
The best ice cream chains around do vary when it comes to size and the types of flavors they dish up. For example, some of the standout chains are legacy brands that still manage to deliver superior scoops while operating thousands of shops across the country, while others are younger companies that have a smaller reach but make up for it with interesting flavors and a commitment to sourcing local ingredients. But if you look closely, you'll see that all of the best chains share the philosophy that ice cream should always be high-quality, delicious, and absolutely worth the indulgence.
Here are the ten best ice cream chains in America, from the biggest to the most beloved and innovative brands.
Baskin-Robbins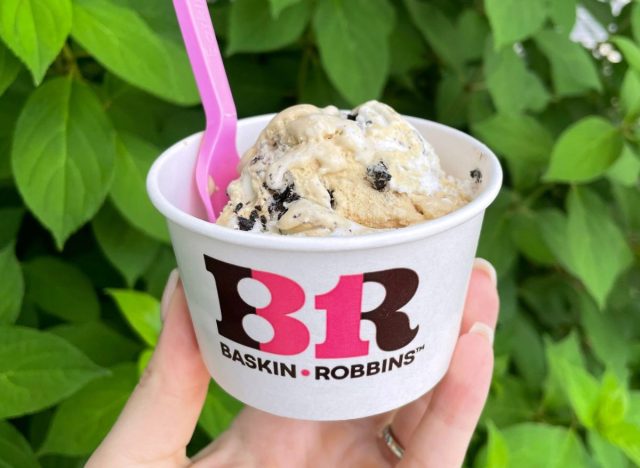 Sure you'll find your classic vanilla, chocolate, and strawberry ice creams at your local Baskin-Robbins shop, but this beloved ice cream chain goes so much further than those basic flavors. In fact, chances are that most Americans know Baskin-Robbins as the ice cream chain that offers not one, not 10 but 31 different ice creams ranging from Rocky Road to Cotton Candy to the nutty, coffee-flavored Jamoca Almond Fudge. Even if you manage to sample everything on the permanent menu, you'll almost always have something new to try at Baskin-Robbins thanks to its ever-rotating flavors of the month.
That variety and commitment to rolling out interesting, tasty flavors has certainly paid off. In a 2022 survey conducted by foodservice research company Technomic, the majority of consumers ranked Baskin-Robbins as the chain with the most craveable ice cream.
Today, the chain operates a whopping 2,376 stores across America, according to data company ScrapeHero, so most ice cream lovers are never too far from one of these beloved scoop shops when they're craving a cold dessert.
Salt & Straw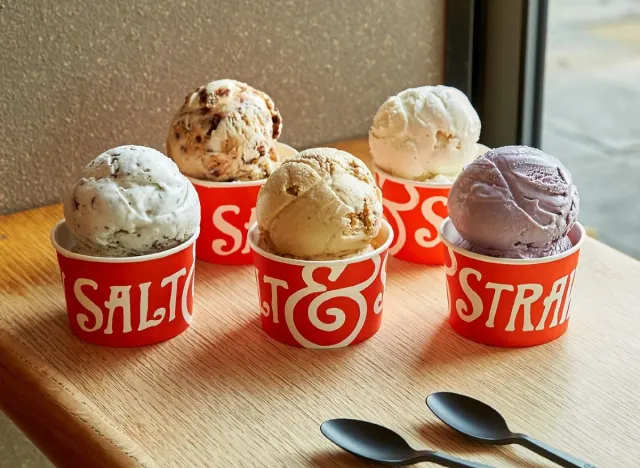 Salt & Straw may not be as big as some of the older, more established chains on this list. but it is undoubtedly one of the most daring. Cousins Kim and Tyler Malek, the masterminds behind this famous, artisanal ice cream brand, had never even made ice cream before they decided to start slinging scoops together, but Tyler mastered the craft with lots of practice and help from their community.
The ice cream they ended up creating is ultra creamy and luxurious thanks to an especially high butterfat content. You'll also find locally-sourced, high-quality ingredients in Salt & Straw ice creams that make for mouthwatering and even bizarre flavors. Think Arbequina Olive Oil, Pear & Blue Cheese, and Salted, Malted Chocolate Chip Cookie Dough.
Now a frequent contender on lists of the best ice cream shops in America, Salt & Straw has expanded from its roots as a Portland, Ore., ice cream cart to a chain with more than 20 locations across the country.
Carvel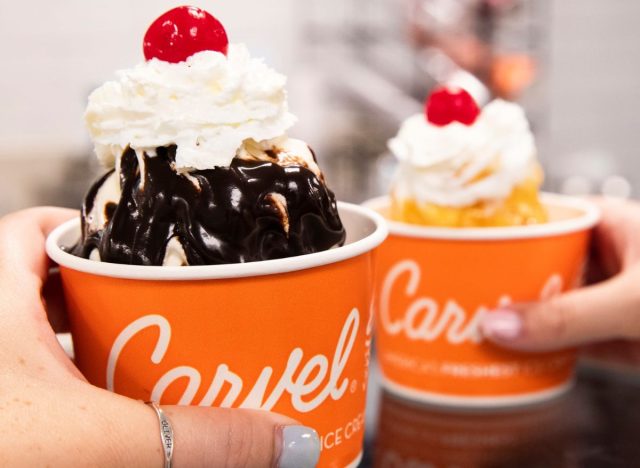 There's no shortage of great ice cream shops and chains in America, but few have a history quite as long and impressive as Carvel. The company credits founder Tom Carvel as the original creator of soft-serve ice cream, an idea born when his ice cream truck got a flat tire during Memorial Day weekend in 1934. He started selling his slightly melted ice cream on the side of the road, found that people actually enjoyed the softer frozen treat, and the rest is history. 
Today, Carvel operates more than 320 locations across the United States, though it's mostly concentrated in New York with 193 Empire State shops. The chain dishes up hard ice cream, shakes, sundaes, ice cream cakes, and that classic soft serve. If you had any doubts about its popularity, just consult Carvel's loyal customers.
"I mean, let's be real, you gotta be real grinch to not LOVE Carvel ice cream. From the sundaes to the cakes, I love having an old school Carvel nearby," one fan wrote on Yelp last year.
Van Leeuwen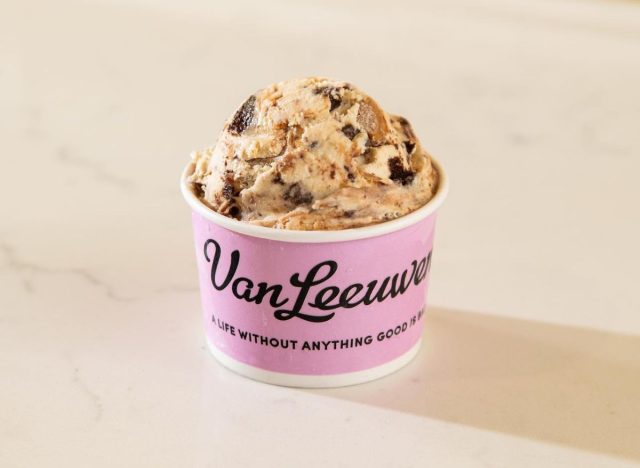 Van Leeuwen may have started out as a humble ice cream truck on the streets of New York City in 2008, but this chain's artisanal ice cream bears very few similarities to the mass-produced frozen treats you might have found on the trucks from your childhood. It's all about simple, high-quality ingredients at this company, and you'll have no trouble recognizing (or spelling) every single component in one of the chain's scoops. The ingredient list for the classic vanilla, for example, is just a basic combination of milk, cream, cane sugar, egg yolks, vanilla, and salt, so it's more akin to something you'd whip up at home than something you'd get from a national chain.
Though Van Leeuwen sells straightforward, craveable ice creams like that classic vanilla and mint chip, it also isn't afraid to try out wackier flavors like the limited-edition Hidden Valley Ranch and Kraft Macaroni & Cheese ice creams it has sold in the past. This makes Van Leeuwen a destination for the most adventurous ice cream eaters, but even if experimental scoops aren't your jam, you can still be confident that you're getting something thoughtfully-made and worth the calories any time you stop by a Van Leeuwen store.
The chain currently operates more than 40 scoop shops across New York, New Jersey, California, Colorado, Connecticut, Washington D.C., Pennsylvania, and Texas. You can also find Van Leeuwen pints at many grocery stores throughout the country.
Dairy Queen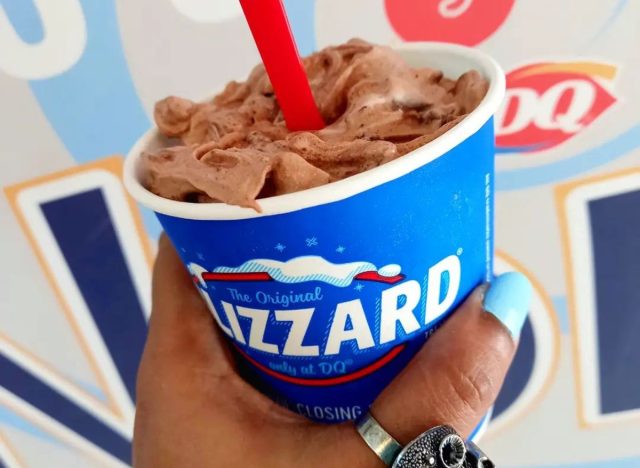 Dairy Queen is technically a quick-service restaurant brand thanks to the savory side of its menu with burgers and fries, but any diehard Dairy Queen fan knows that the real star at this chain is the ice cream. 
The chain's iconic, creamy vanilla soft serve–which stole the crown in our own ranking of fast-food vanilla ice creams–is the base for a variety of craveable dipped cones, sundaes, and shakes. We'd also be remiss if we discussed Dairy Queen without mentioning its most iconic dessert of all: the Blizzards. These thick, spoonable ice cream treats are a blend of that beloved soft serve and pretty much any sweet mix-ins you can dream up, including candies, cookies, fruit, and pieces of raw cookie dough.
Though more than 80 years have passed since the very first Dairy Queen opened in Illinois in 1940, customers say that the chain still delivers consistently good frozen desserts to this day. With roughly 4,300 shops across the United States as of May 2023, according to ScrapeHero, Dairy Queen also has the biggest American footprint out of any chain on this list by far. 
Ben & Jerry's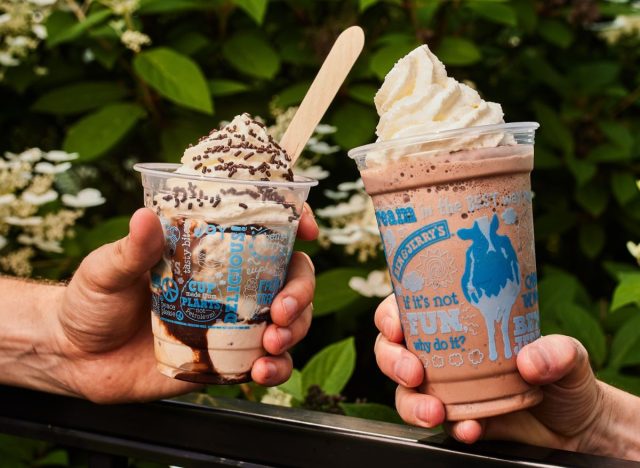 If Dairy Queen is the destination for soft-serve, then Ben & Jerry's is the destination for hard ice cream packed with decadent, flavorful mix-ins. You can find the company's popular pints in many grocery stores, but when you want that nostalgic experience of just grabbing a cone or cup of the frozen stuff, check out one of the brick-and-mortar Ben & Jerry's shops sprinkled around the country. 
There, you'll find sundaes, shakes, and a range of indulgent flavors. It would only scratch the surface of Ben & Jerry's ice cream prowess to mention the famous Chunky Monkey flavor with fudge chunks and walnuts mixed into a banana ice cream or Half Baked, another popular flavor that swirls together chocolate and vanilla ice creams with gobs of chocolate chip cookie dough and fudge brownies. Customers say that the chain's ice creams are so good that you'd be hard-pressed to choose a flavor that disappoints. 
In the words of one Yelp reviewer: "To be honest, you won't regret getting anything from Ben & Jerry's, everything is made to perfection."
Ben & Jerry's 2023 store count in the United States was not immediately clear, but the company was operating a little over 200 shops as of 2021, according to software company Rentech Digital.
Häagen-Dazs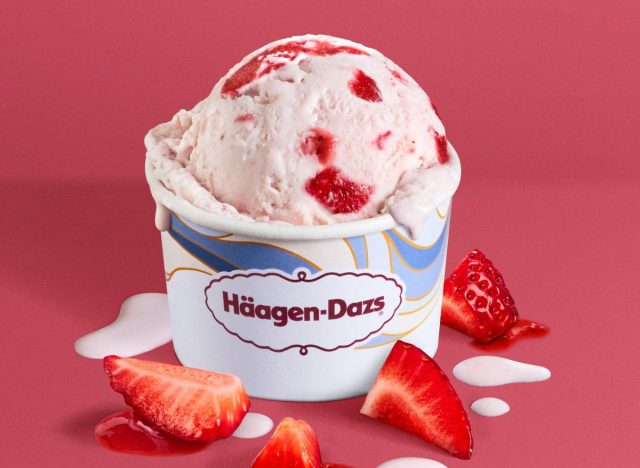 You won't find any ultra-crazy flavors at one of the more than 200 Häagen-Dazs stores across the United States. But what you will find is high-quality ice cream that emphasizes thoughtfully-sourced ingredients and leaves out all of those hard-to-pronounce components you'll find in lower-quality scoops.6254a4d1642c605c54bf1cab17d50f1e
Häagen-Dazs pints are a staple in American grocery store freezer sections, but if you want something a little more special, head to your local shop for sundaes, shakes, and scoops of the brand's popular frozen treats. Customers can't help but praise the quality, taste, and texture of this iconic ice cream.
"One cannot possibly go wrong with Häagen-Dazs; theirs is, by far, the creamiest and [most] satisfying ice cream I've had, and I've never had an experience where I didn't feel as though their ice cream lacked a high quality taste," one fan wrote on Yelp.
Cold Stone Creamery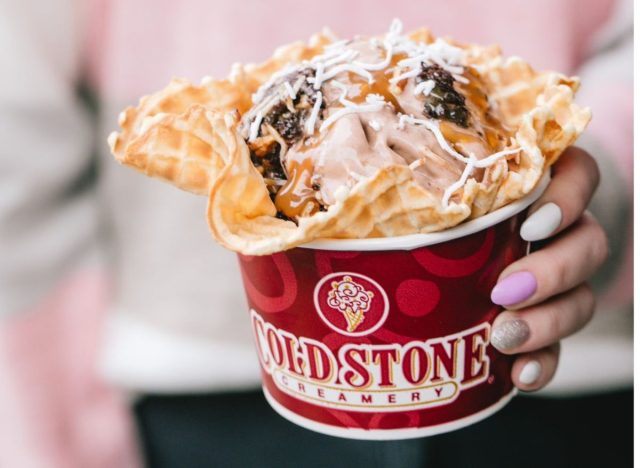 Cold Stone Creamery stands out in a sea of truly great American ice cream chains because it's half about the frozen treat and half about the fun experience. Customers can always count on getting a fresh, high-quality scoop at this chain because the ice cream is churned on-site at all shops.
The ice cream equivalent of fast-food chains like Subway and Chipotle, the Cold Stone experience is also all about making your dessert exactly the way you want. Customers can choose from a few different flavored ice creams–like chocolate, French vanilla, and cake batter–and then select whatever sauces and toppings they desire. A Cold Stone employee will then mix your ice cream creation on a frozen granite stone right before your very eyes in order to distribute the toppings without turning the frozen dessert into a soupy mess.
Though Cold Stone's store count isn't as high today as it used to be, it still operates an impressive 980 locations across the United States. Customers love the chain's ice cream both for the taste and customization potential that makes stepping out for an ice cream cone just a little more special.
"Cold stone is my all-time favorite creamery. The sky is the limit here," one fan wrote on Yelp.
Culver's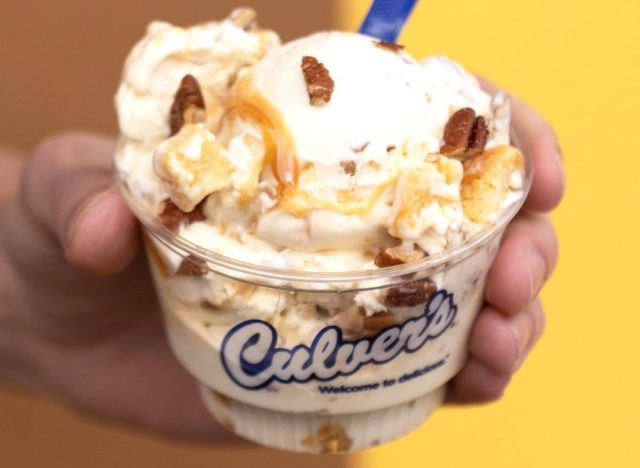 Culver's is no stranger to praise for its fan-favorite ButterBurgers and fries, so it's no surprise that customers also say the brand's ice cream is awesome. The company certainly sets itself apart from the other fast-food and ice cream chains by serving up frozen custard, an extremely rich and creamy version of classic ice cream thanks to the addition of egg yolks in the base and a lower overrun, which is the volume of air churned into a frozen dessert.
Customers can keep it simple by opting for cones and dishes of this luxurious frozen treat, or they can go a step further by ordering one of Culver's popular shakes, sundaes, and concrete mixers, which are similar to the blended Blizzards you'll find at Dairy Queen. Even if you stop by Culver's multiple times a week, there's always a new ice cream treat to try thanks to its longstanding Flavor of the Day tradition.
This chain is primarily concentrated in the Midwest but still has about 930 locations across 26 states and territories, per ScrapeHero. For those who aren't currently lucky enough to live near a Culver's right now, don't be surprised if it doesn't stay that way forever. The chain has been seeing success with expansions into southern states like Florida and Georgia with help from franchisees, according to an April report from foot traffic analytics platform Placer.ai.
Jeni's Splendid Ice Creams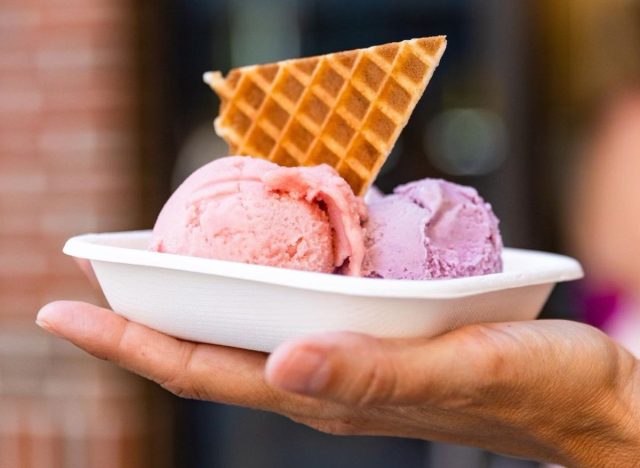 James Beard Award-winning ice cream maker Jeni Britton set out to raise the standards for the classic frozen dessert more than 20 years ago, and she very well may have succeeded. Jeni's Splendid Ice Creams are made from scratch and boast a "uniquely smooth texture and buttercream body," per the company. The chain utilizes high-quality ingredients like fresh milk from family dairy farms, plus the actual ice cream flavors are probably some of the most unique you'll try ever.
You can get your basic vanilla and chocolate, of course, but Jeni's also dares you to sample something you've never tasted before with more offbeat options like Everything Bagel, Wildberry Lavender, and Brown Butter Almond Brittle.
At the heart of all these "incomparable" ice creams (per the description from one fan) is a commitment to upholding an ethical and responsible company culture. Jeni's is a certified B-Corp, which means that it meets "rigorous standards of social and environmental performance, accountability, and transparency."
Since the first Jeni's shop opened in late 2022, the chain has expanded to more than 65 locations across the country, plus you can find pints from the brand in many grocery store freezer sections.
Zoe Strozewski
Zoe Strozewski is a News Writer for Eat This, Not That! A Chicago native who now lives in New Jersey, she graduated from Kean University in 2020 with a bachelor's degree in journalism.
Read more about Zoe