20 Inspirational Quotes That'll Go Great With Your Workout Pictures
Social media can be a great space to keep loved ones up-to-date on your your fitness journey.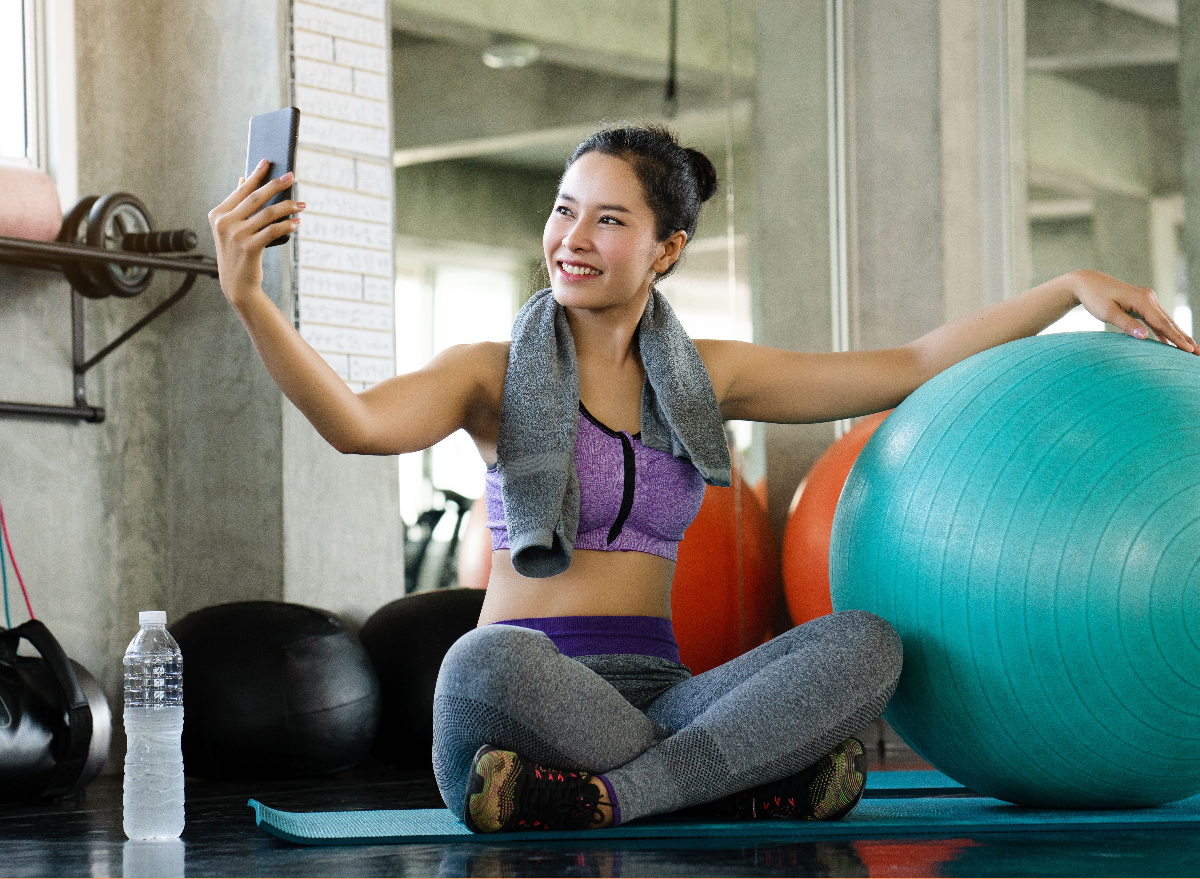 Social media can be a magnificent way to socialize and interact with loved ones when it's enjoyed in positive ways. One way to experience constructive social media usage is by sharing pictures of proud moments, big and small achievements, simple pleasures, and overcoming challenging pursuits. Just one example of this can be posting about your fitness journey, paired with a perfectly chosen, thought-provoking, or fun quote. And you're in luck, because we've rounded up some of the best inspirational quotes for workout pictures that will make everyone feel the motivation and hype.
It can be inspiring and healthy to document your fitness journey for your favorite people to see and cheer you on along the way. But before we get into these inspiring quotes for workout pictures, we're going to address how positive social media efforts can feed the mind and soul. Read on to learn more, and next, check out The 6 Best Exercises for Strong and Toned Arms in 2022, Trainer Says.
A previous study reveals when social media is used sensibly, the results can be quite constructive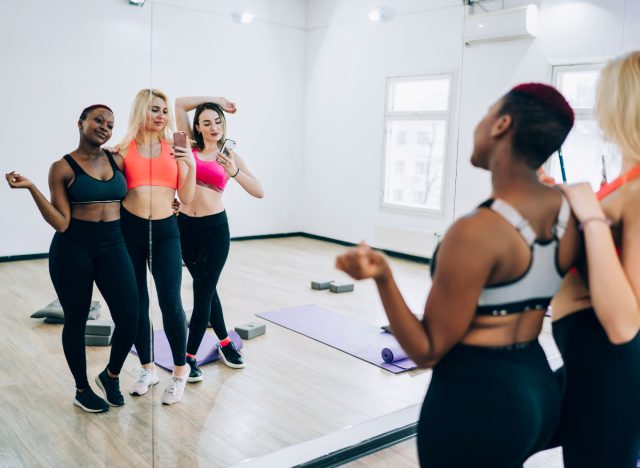 Social media can be an ideal way to stay in touch, generate constructive mind stimulation, and even create a few smiles along the way. Many studies have proven that seeing too much information on social media, at times, can be a bit humbling, as some "picture-perfect" posts can trigger feelings of loneliness and even depression. Seemingly greater-than-life experiences, extraordinary travel plans to dreamy global destinations, and more can create the illusion that the world is having a never-ending, glorious party that not everyone was invited to. It's crucial to keep in mind, however, that when social media is used and enjoyed in a constructive manner, it can arouse reflection, enthusiasm, and even excitement. In fact, a study published in SAGE Journals states that when social media is used sensibly, the results can be quite constructive.
Mesfin Awoke Bekalu, co-author of this study and research scientist in the Lee Kum Sheung Center for Health and Happiness at Harvard T.H. Chan School of Public Health states, "The findings go against what some might expect, which is intriguing. We know that having a strong social network is associated with positive mental health and well-being." The research admits that social media is perceived as a creator of negative feelings when it comes to mental health and general self-esteem (mostly for younger individuals, who spend a great deal of time on various platforms). Research confirms that this perception is generally untrue.
Related: "Mini Workouts" Are The New Fitness Trend To Know About Right Now
Virtual socialization can keep connections—no matter the distance—alive and well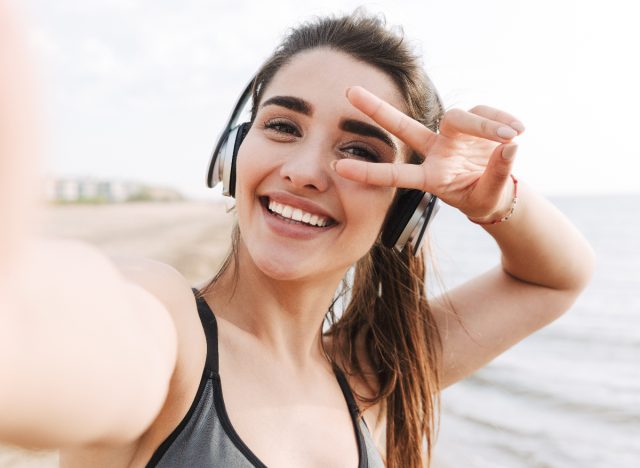 Although it's always more fun—and beneficial mentally—to experience actual human contact, virtual socialization plays a hugely positive role in bridging the gap between visits for families and friends. It's a convenient option to stay social amid hectic schedules and geographical distance between individuals. Especially during the ongoing coronavirus pandemic when people were separated from family and friends for an extended period of time, posting on social media and staying up-to-date served as a way to keep those social connections alive and well.
Whether you're posting a sweet birthday wish for a loved one or sharing some life updates for all of your special people to enjoy, social media can be so helpful to reinforce relationships and even reconnect people. Think of social media as the glue we can all use to stay in touch regularly or more often, rather than losing touch.
Seeing other people's unique fitness journeys can serve as quality motivation for your own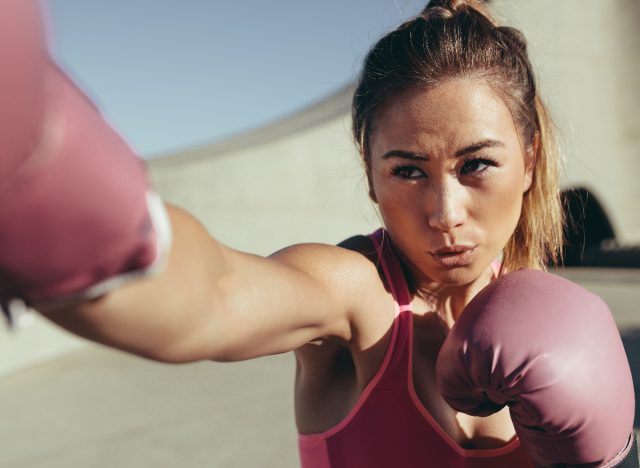 We reached out to Deena Adimoolam, MD, and member of the Eat This, Not That! Medical Review Board to shed some light on the positive effects of posting pictures on social media. According to Adimoolam, "Seeing and sharing workout photos on social media is a reminder that everyone has their own journey to weight loss and/or fitness. We all have a story. We all have our struggles, but importantly, none of us are perfect." She continues, "I am postpartum, and it's hard to embrace my postpartum body. The 1st year after having a baby is the hardest. We don't talk about it enough. Seeing other women share their experiences after having a baby helps me feel like I am not alone. Seeing others working out hard is a motivator to make sure I stay active, too."
Related: The 10-Minute Daily Workout To Shrink Abdominal Fat Fast, Trainer Says
These quotes for your workout pictures are so inspiring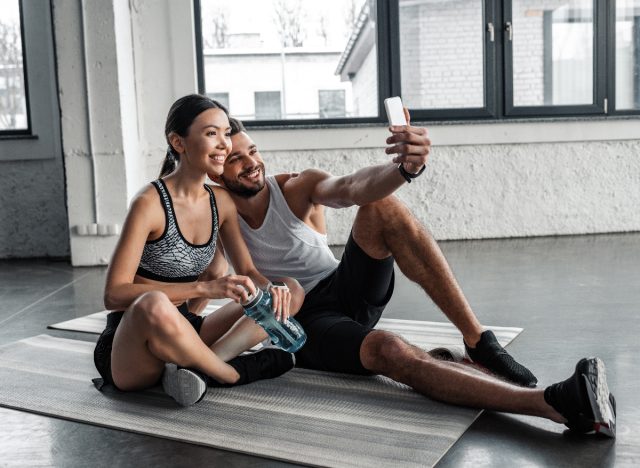 When it comes to posting pics on social media of your fitness journey, the sky truly can be the limit. Share your hard work with your loved ones, and you may inspire them in the process with any goals they're working towards, struggling with, or contemplating. We've listed some motivating and incredibly inspiring quotes below to consider pairing with your fitness snaps. Couple these great quotes with your toughest "proud moment" workout pics, because you know how it feels to accomplish great things. Have fun posting and spreading positivity.6254a4d1642c605c54bf1cab17d50f1e
1. "Strength does not come from physical capacity. It comes from an indomitable will." — Mahatma Gandhi
2. "Some people want it to happen, some wish it would happen, others make it happen." — Michael Jordan
3. "The first step to achieving your goal, is to take a moment to respect your goal. Know what it means to you to achieve it." — Dwayne Johnson
4. "If the sun comes up, I have a chance." — Venus Williams
5. "Going in one more round when you don't think you can, that's what makes all the difference in your life." — Rocky Balboa
6. "The purpose of training is to tighten up the slack, toughen the body, and polish the spirit." — Morihei Ueshiba
7. "If it doesn't challenge you, it won't change you." – Fred DeVito
8. "Strength does not come from winning. Your struggles develop your strengths." — Arnold Schwarzenegger
9. "Energy and persistence conquer all things." — Benjamin Franklin
10. "Do one thing every day that scares you." — Eleanor Roosevelt
11. "Everything comes to him who hustles while he waits." — Thomas Edison
12. "For me, exercise is more than just physical—it's therapeutic." — Michelle Obama
13. "Clear eyes, full hearts, can't lose." — Friday Night Lights
14. "You're only one workout away from a good mood." — Unknown
15. "Exercise is a celebration of what your body can do. Not a punishment for what you ate." — Unknown
16. "I don't run to add days to my life, I run to add life to my days." — Ronald Rook
17. "All great achievements require time." — Maya Angelou
18. "After all, if you run far enough, no one can catch you." ― V.E. Schwab
19. "Running is the greatest metaphor for life, because you get out of it what you put into it." — Oprah Winfrey
20. "Eat clean, stay fit, and have a burger to stay sane." – Gigi Hadid
Alexa Mellardo
Alexa is the Mind + Body Deputy Editor of Eat This, Not That!, overseeing the M+B channel and delivering compelling fitness, wellness, and self-care topics to readers.
Read more about Alexa