I Tasted 5 Instant Mashed Potatoes & This Is The Best
Find out which brand tasted most like the real thing.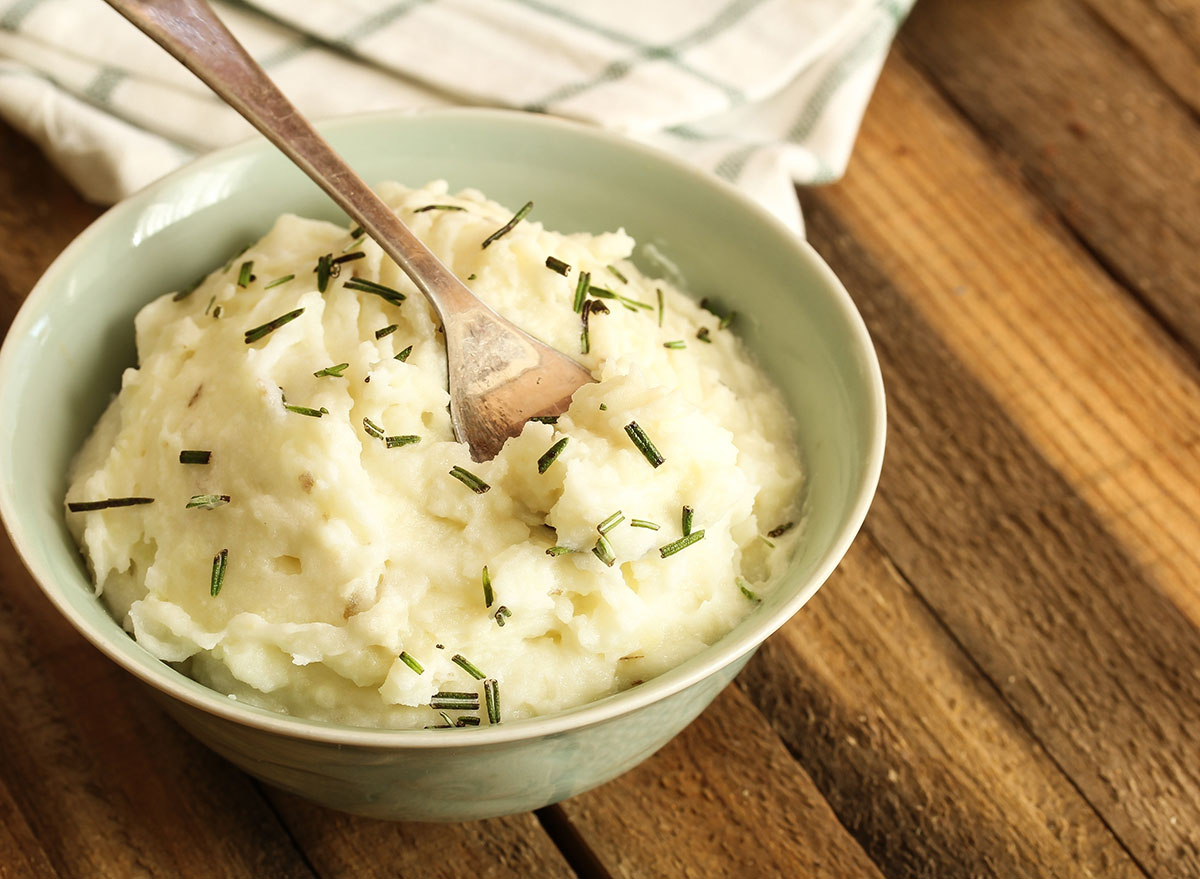 Mashed potatoes are a classic dinner food, but let's be honest—who has the time to make them from scratch anymore? With that said, instant mashed potatoes are the way to go because they are quick and easy. Let's not get it twisted—this is no replacement for the homemade mashed potatoes you would have on Thanksgiving, but for the average meal they can be a great addition.
Whether you prefer your mashed potatoes buttery, loaded with garlic, topped with cheese, or just plain, there are a handful of instant mashed potatoes at the grocery store to suit your taste buds. I've made it my mission to try all the instant mashed potatoes I could get my hands on to find the instant mashed potato mix right for you. I tried 5 instant mashed potatoes to find the very best one. During my taste test, I looked for instant mashed potatoes that had a smooth, creamy, and buttery finish.
Here's how the instant mashed potatoes ranked in my taste test, listed from worst to best.
Plus, here are some easy recipes to make Thanksgiving a breeze: 30 Thanksgiving Recipes That Take 30 Minutes.
Bob's Red Mill Potato Flakes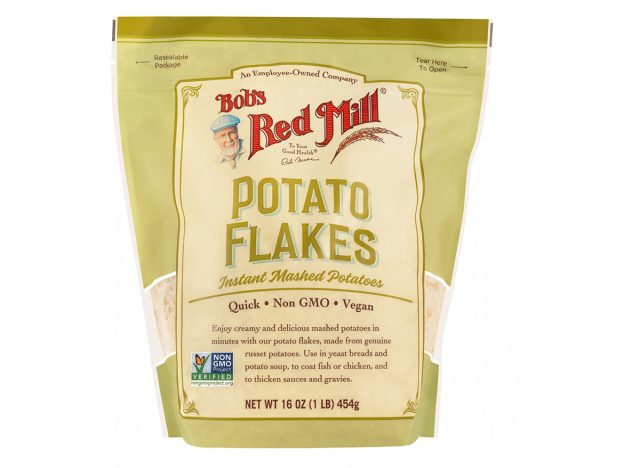 6254a4d1642c605c54bf1cab17d50f1e
To my surprise, none of these instant mashed potatoes were bad, but for the sake of this story it comes down to the nitty-gritty. After tossing in some milk, sea salt, milk, and butter, I was left with the buttery flavor I was hoping for, but not the consistency. Instead of the classic whipped look, these instant mashed potatoes were more porridge-like. I needed a spoon to eat them because if I had a fork, most of it would fall through the cracks. Next time I would fix the ratio of ingredients to make the potatoes denser because the flavor was all there so it was a missed opportunity for a great side of mashed potatoes.
Idahoan Four Cheese Mashed Potatoes
I love cheesy mashed potatoes. When I got my hands on these four-cheese instant mashed potatoes from Idahoan, I could not wait to try them. The texture and consistency were spot on, but I didn't get much of a cheese flavor because the amount of salt was overpowering. This was almost to the point where I couldn't eat more than a spoonful or two without feeling queasy. Usually, I'm not the one to complain about salt, but it was not good. I was so disappointed because I had such high hopes for these mashed potatoes and they did not meet my expectations.
Betty Crocker Roasted Garlic Instant Mashed Potatoes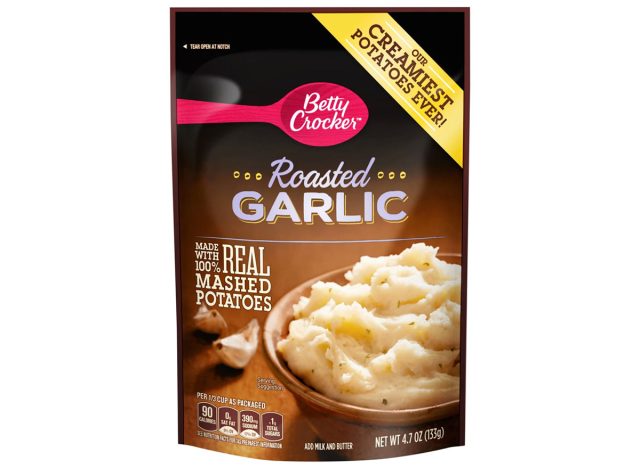 Garlic mashed potatoes can be a hit or miss depending on how they're done. There could either be way too much garlic or not enough. After I added in the milk, butter, and water, they went off to the stovetop and were finished in less than five minutes. These Betty Crocker instant mashed potatoes were restaurant quality if you ask me. It had just the right amount of garlic flavor and you could actually taste the all-natural ingredients. As the box suggested, these potatoes were actually so creamy—exactly what I was looking for. I nearly finished the whole pouch myself so I would recommend these to anyone looking for creamy and flavorful potatoes in an instant.
Whole Foods Instant Mashed Potatoes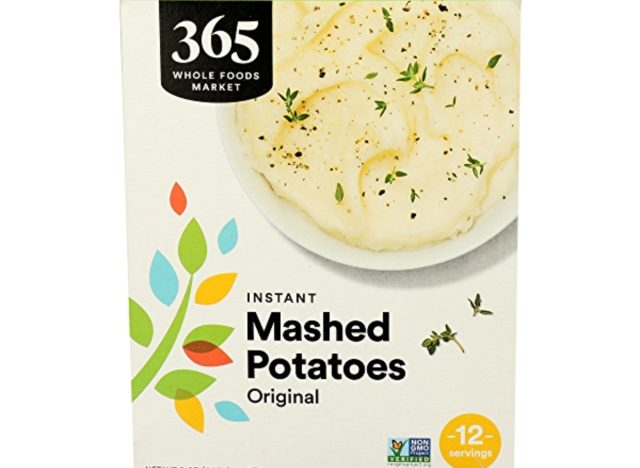 I'm usually a sucker for Whole Foods and they did not disappoint. Not only were these instant mashed potatoes easy to make, but also they were scrumptious. They whipped together nicely and were smooth. There were absolutely no lumps or chunks, just pure creamy bliss. I made these in the microwave because I did not feel up to using the stovetop and they were still high quality. Sometimes the microwave just doesn't do the job right, but that was not the case here.
Hungry Jack Mashed Potatoes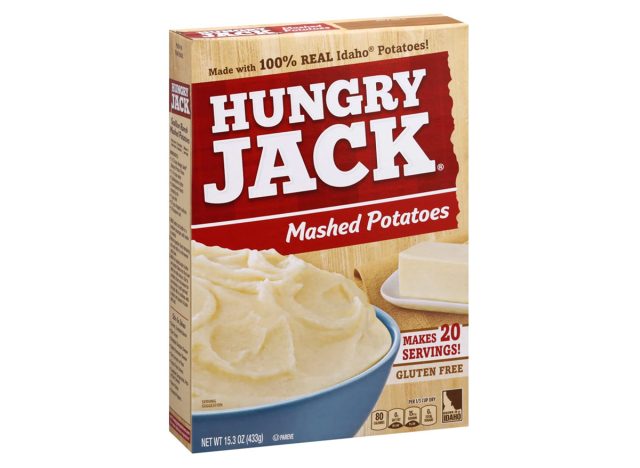 Hungry Jack ranks #1 on my list because they taste like homemade mashed potatoes—if I didn't know they were instant, I would have never guessed. With only milk, water, and butter, this mix transformed into the richest, buttery potatoes I have ever had. They had just the right amount of salt and were creamy without being too thick. Pour some gravy over these instant mashed potatoes and you're golden. There really is no need to make homemade after these because they are nearly identical, seriously.
Check out more exclusive taste tests:
We Tasted 9 Canned Chilis & This Is the Best One
I Tasted 7 Brands of Oatmeal & This Is the Best
Casey Clark
Casey Clark is a current journalism student at Hofstra University with a passion for food, beauty, and entertainment.
Read more about Casey