11 Killer Kitchen Organization Projects
Never waste time looking for ingredients again.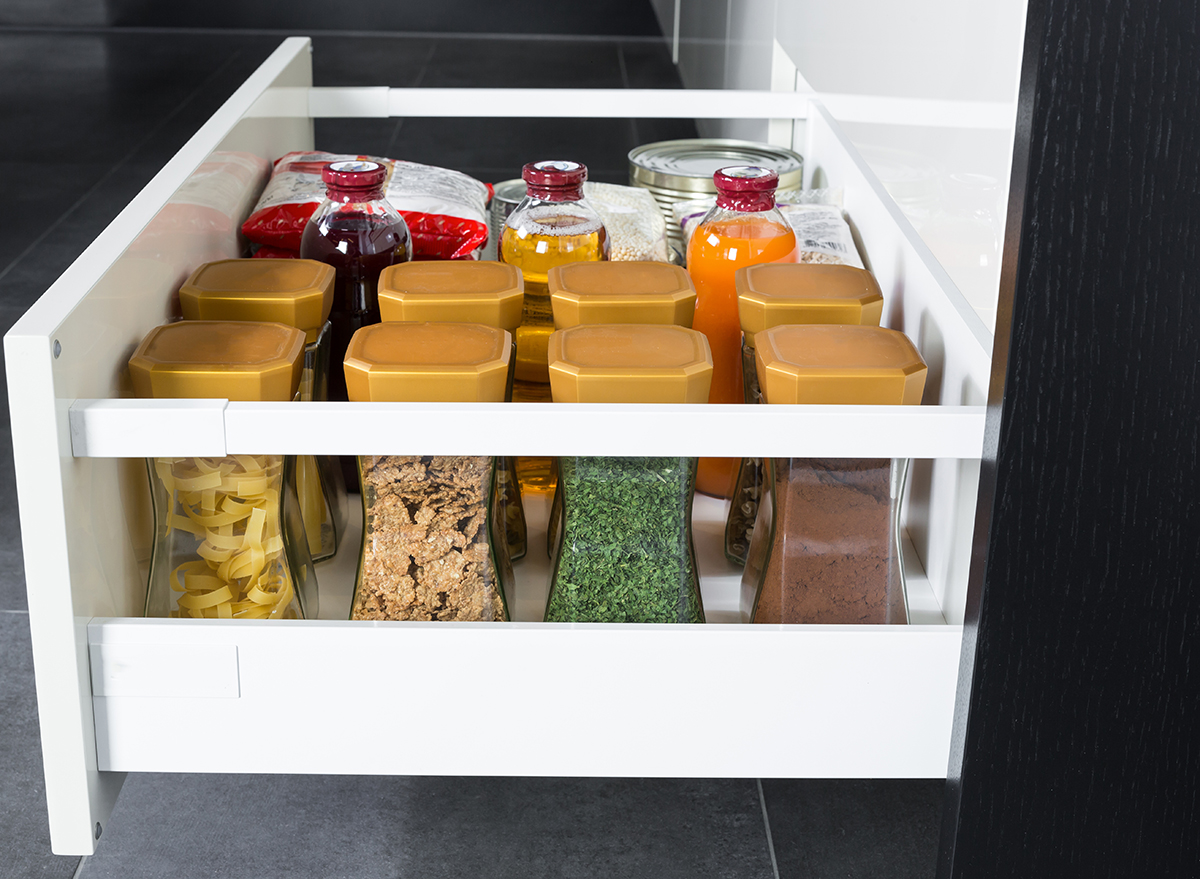 This post contains affiliate links. If you use these links to buy something, we may earn a commission.
If you're fortunate enough to be working from home during the coronavirus pandemic, you might have some extra time on your hands. While there are plenty of things to do at home—read, catch up on Netflix, try a new virtual workout class—there are a good number of things you can do to tidy up your house or apartment. And what better place to start than somewhere you spend a LOT of time—the kitchen? With these kitchen organization projects, you'll be anything but bored in quarantine.
From adding dividers to your refrigerator to organizing your pantry once and for all, here's how to organize your kitchen for good.
Tackle your spice cabinet.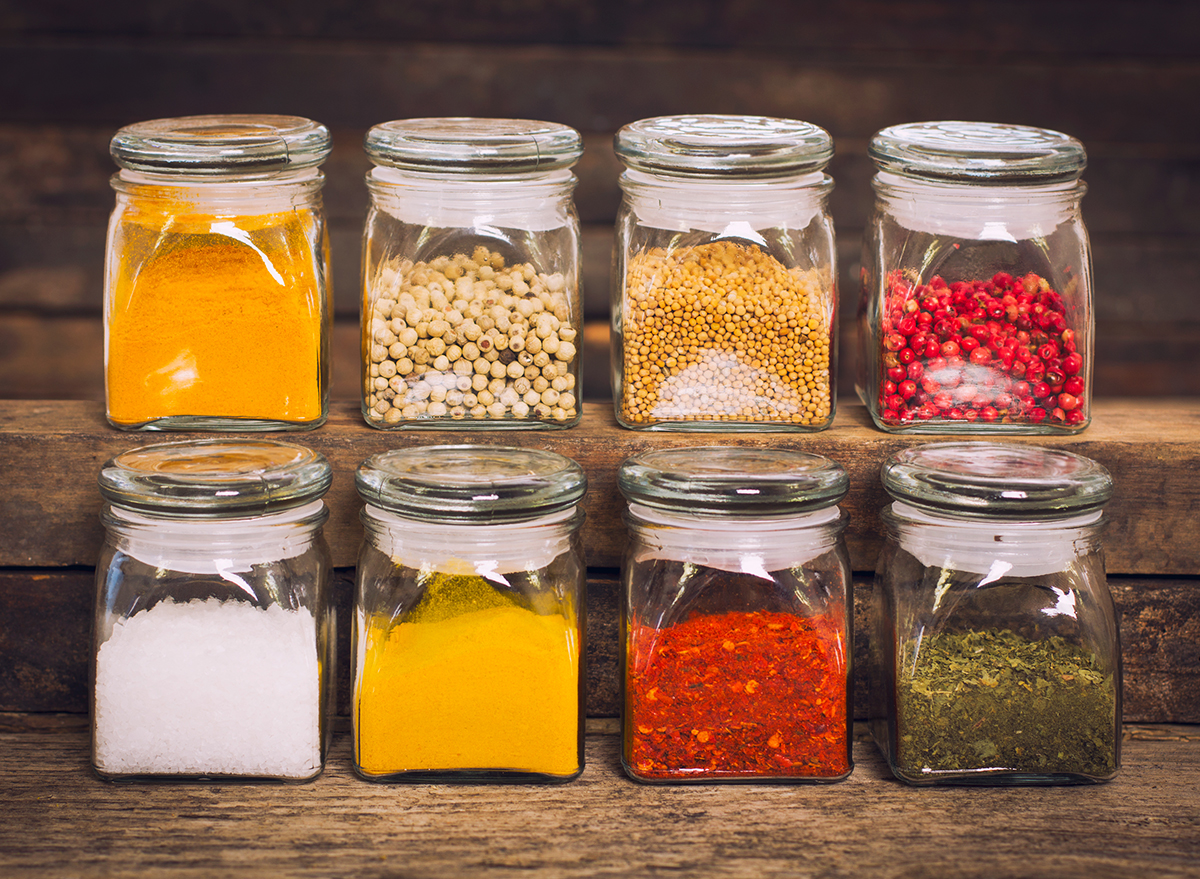 Whether you choose to sort your spices by color, alphabetically, or by type, anything is better than throwing them all in a cabinet haphazardly. Save yourself from inspecting every red spice when you're digging through the cabinet for paprika—organizing your spices will be worth it, trust us.
Create a space for your snacks.
What do all those #pantrygoals photos you see on Instagram have in common? They all follow the old saying: "a place for everything, everything in its place." You don't have to buy tons of new organizing equipment, either. Use a label maker or construction paper to mark a space for protein bars, crackers, cookies, or whatever else is in your pantry. No more searching through shelves wondering where that box of Thin Mints went.6254a4d1642c605c54bf1cab17d50f1e
Now is a better time than ever to get all of your cocktail-making equipment into one place. The martini glasses you got for the holidays, shelf-stable mixers, an ice container, a cocktail shaker, bitters—all of these things should be in one place, in your kitchen or living room. It'll make your space feel so much more refined (and make your at-home happy hour that much easier.)
Utilize all of your cabinet doors.
Even if you're already hanging a microfiber cloth or a set of measuring cups hanging inside your cabinet doors, those doors could be doing a lot more. You can put a clipboard inside a cabinet door to keep a running grocery list going or hang utensils and even cookware on the inner door, depending how deep your cabinet is. And if you have a pantry, add an over-the-door storage rack for condiments or canned foods.
Switch to clear food containers.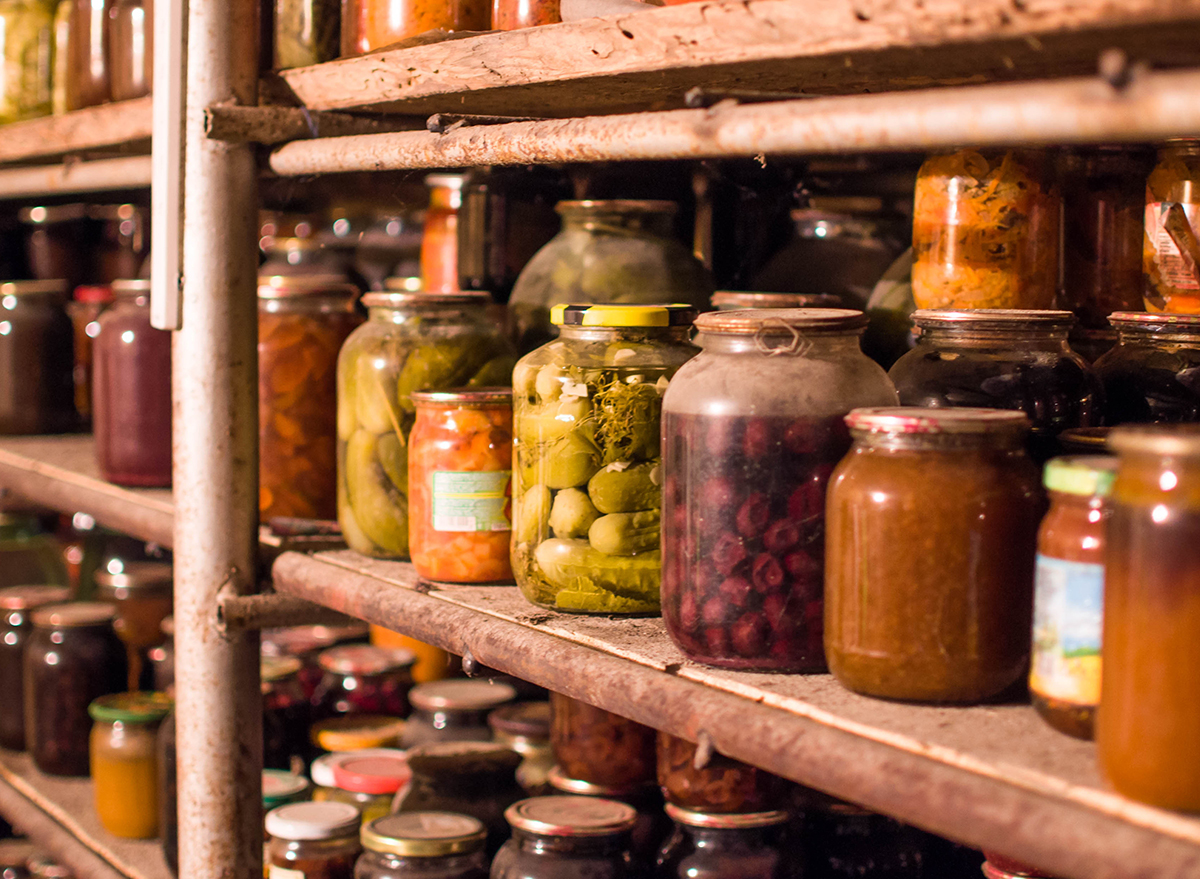 Besides being way more aesthetically pleasing, clear food storage containers will help you know exactly what's in your pantry. Running low on rice? You'll see that before you get halfway through that stuffed peppers recipe, only to realize you can't finish it. You can even snap a photo of your beautiful pantry storage before heading to the store—if you can't remember what you have, just give the picture a quick look.
Consider what you truly need.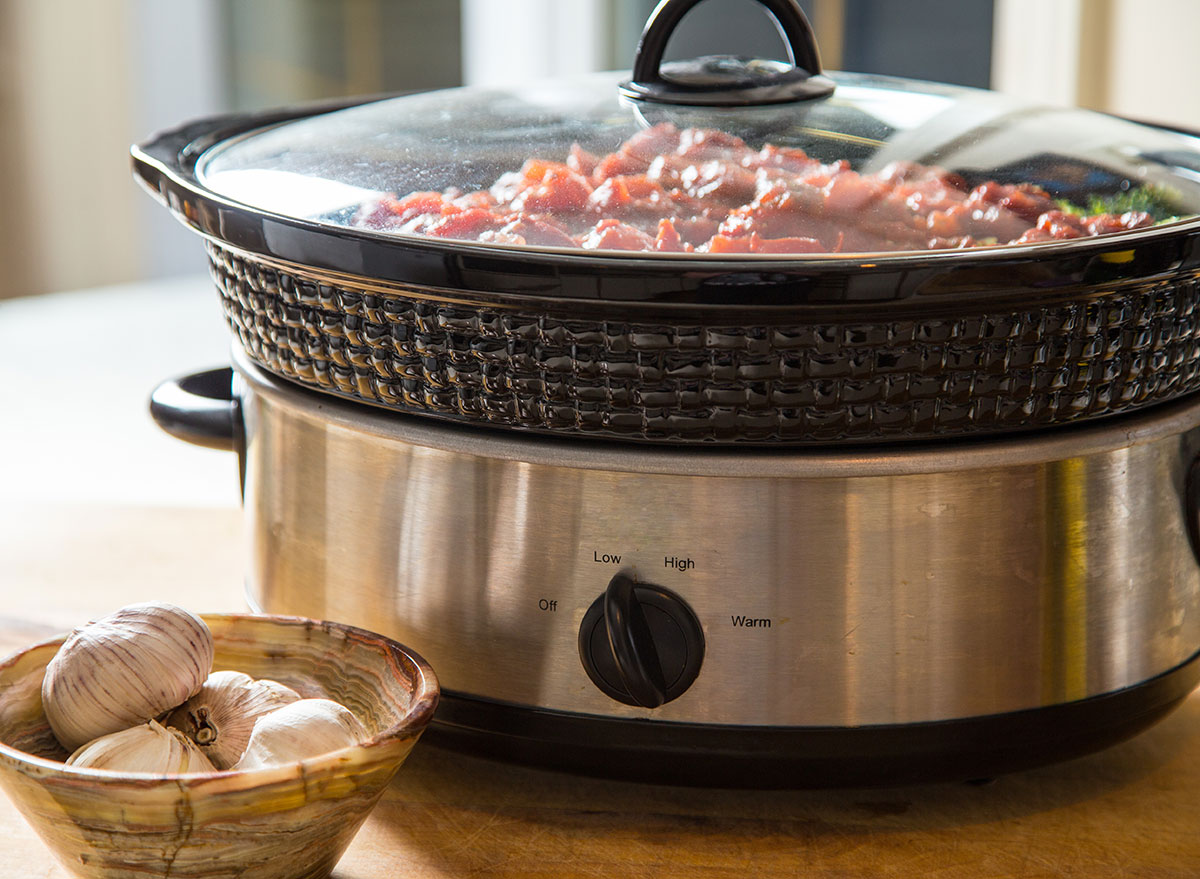 Yes, there are countless kitchen tools and gadgets on the market. But do you really need 10 different cooking pans, two slow cookers, and an Instant Pot? Figure out which tools you actually enjoy using in the kitchen, and get rid of the rest. (You don't have to send your underused kitchen tools to a landfill—there's probably a friend or family member who'd love to add it to their arsenal.
Create a game plan for your fresh produce.
Sure, you've heard that sweet potatoes and onions should be kept in a cool, dry place (and away from each other).  But do you have a dedicated cool, dry place, or do you just toss those non-refrigerated fruits and veggies anywhere you can find space? Clear off a dedicated section of your counter or pantry to keep produce in easy reach.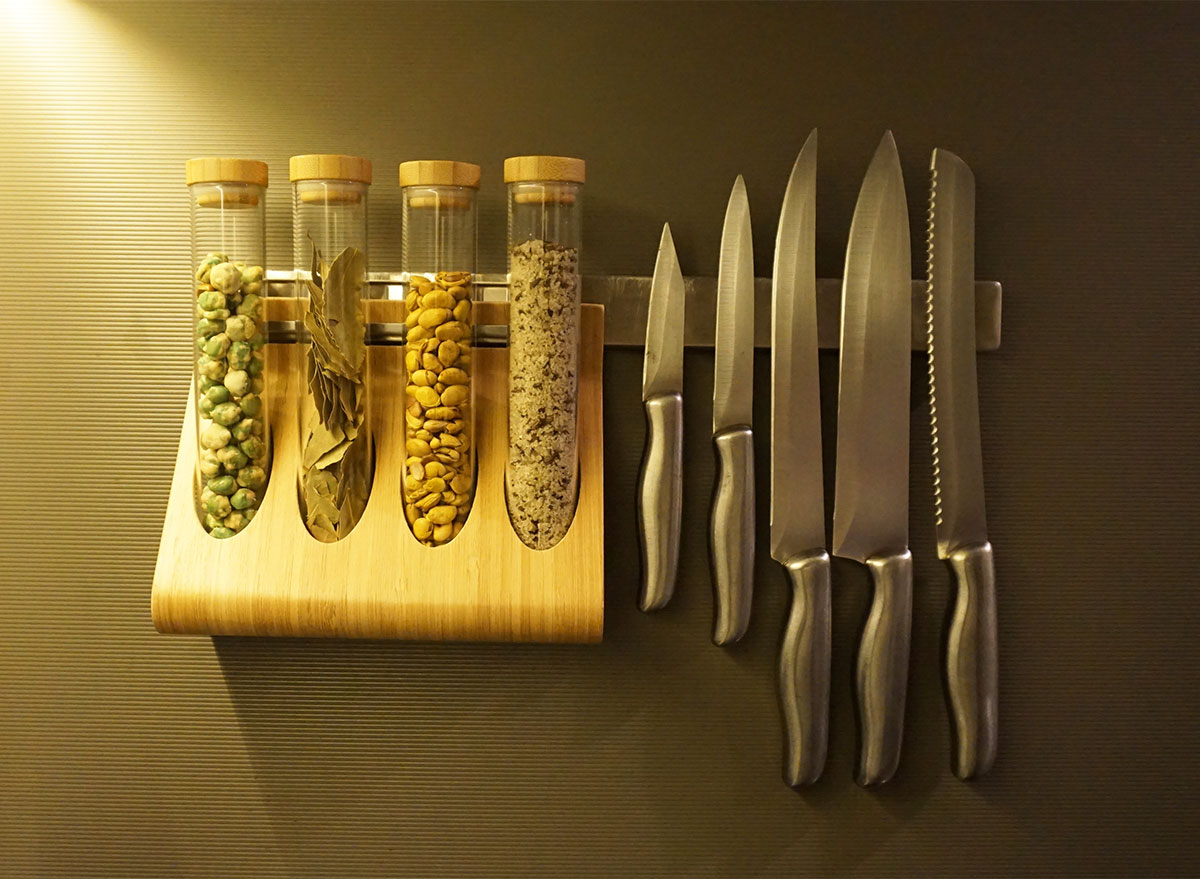 Don't have much cabinet space? Make your kitchen work for you by using the walls as much as you can. Install shelves to hold cookbooks, spices, and dry ingredients. Put up a magnetic knife strip to keep your knives in easy reach. Hang your oven mitts, along with your pots and pans, instead of putting them in a drawer. Get creative, and that tiny kitchen won't feel tiny at all.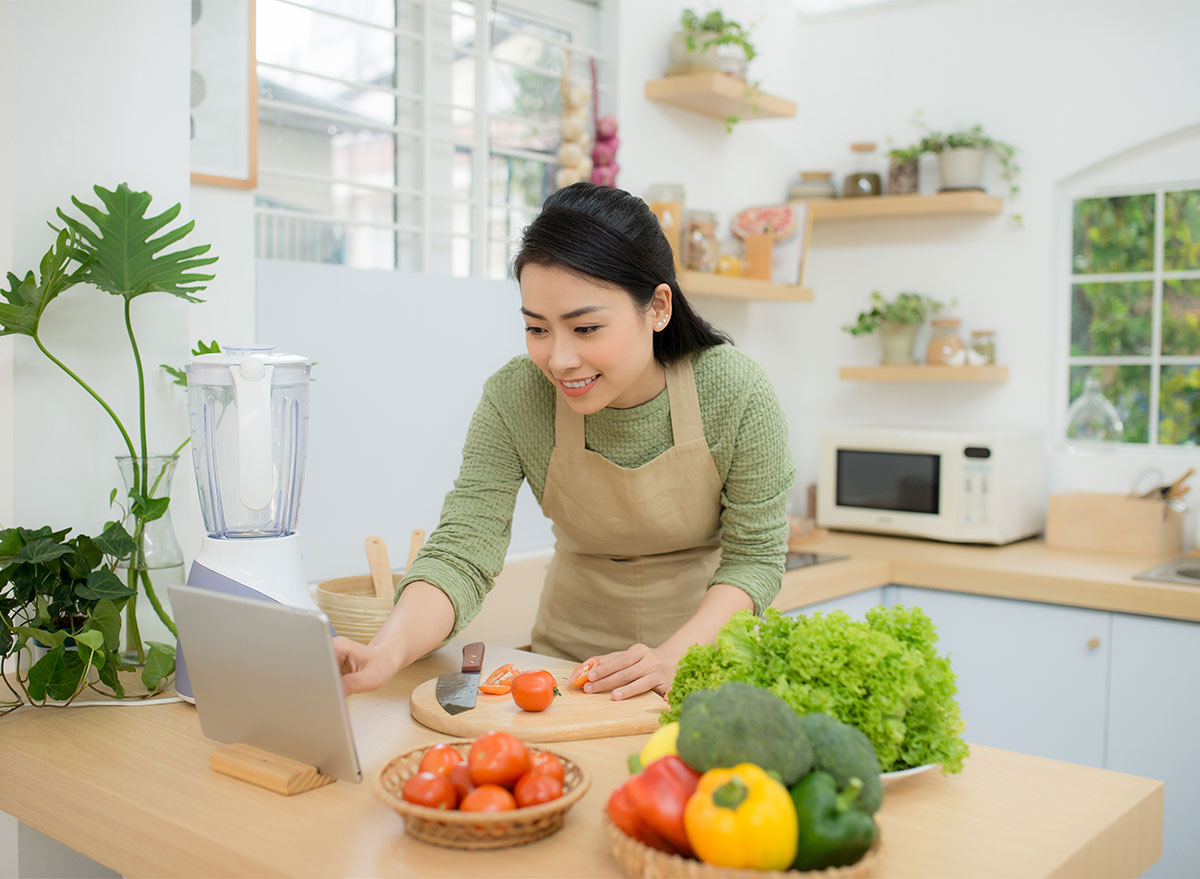 Want to really make use of your wall space? Create a place for your phone or tablet to pull up digital recipes! A wall-mounted plastic holder for an iPad or Kindle is the perfect way to keep online recipes on hand while you're in the kitchen. And it's way more space-saving than buying more cookbooks.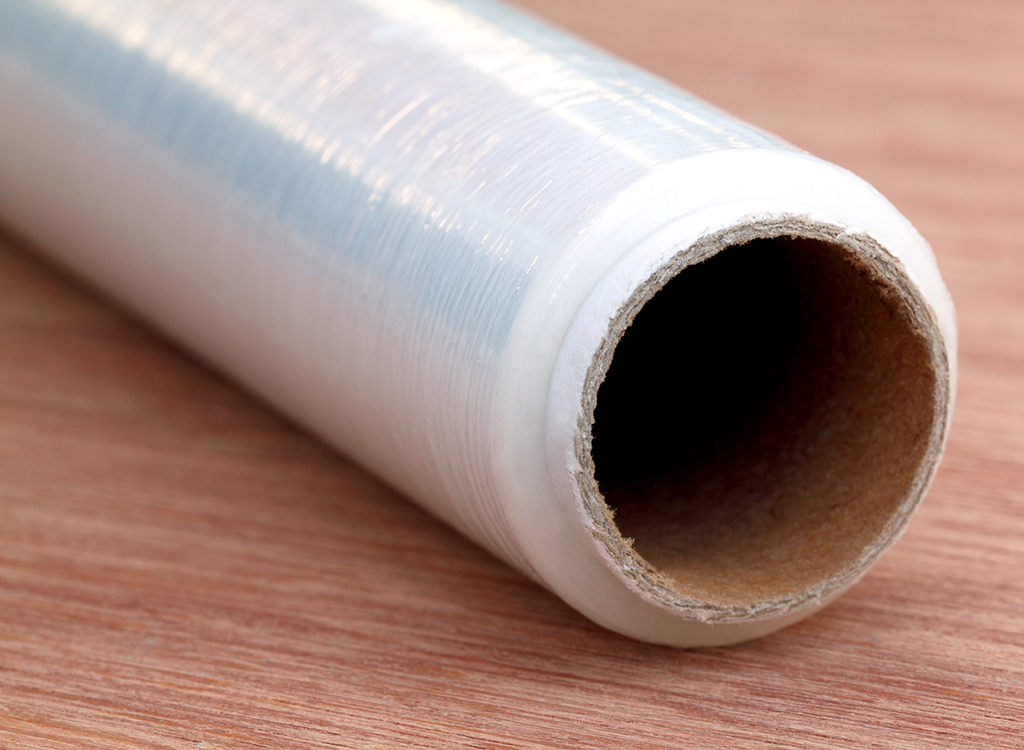 One of the easiest-ever ways to clear up some space in your cabinets is by using the power of magnets. A simple set of strong magnets can hold things like plastic wrap or aluminum foil on the side of your fridge, so you won't clog up valuable drawer space. Just put the magnets on the inside of the boxes to hold them up.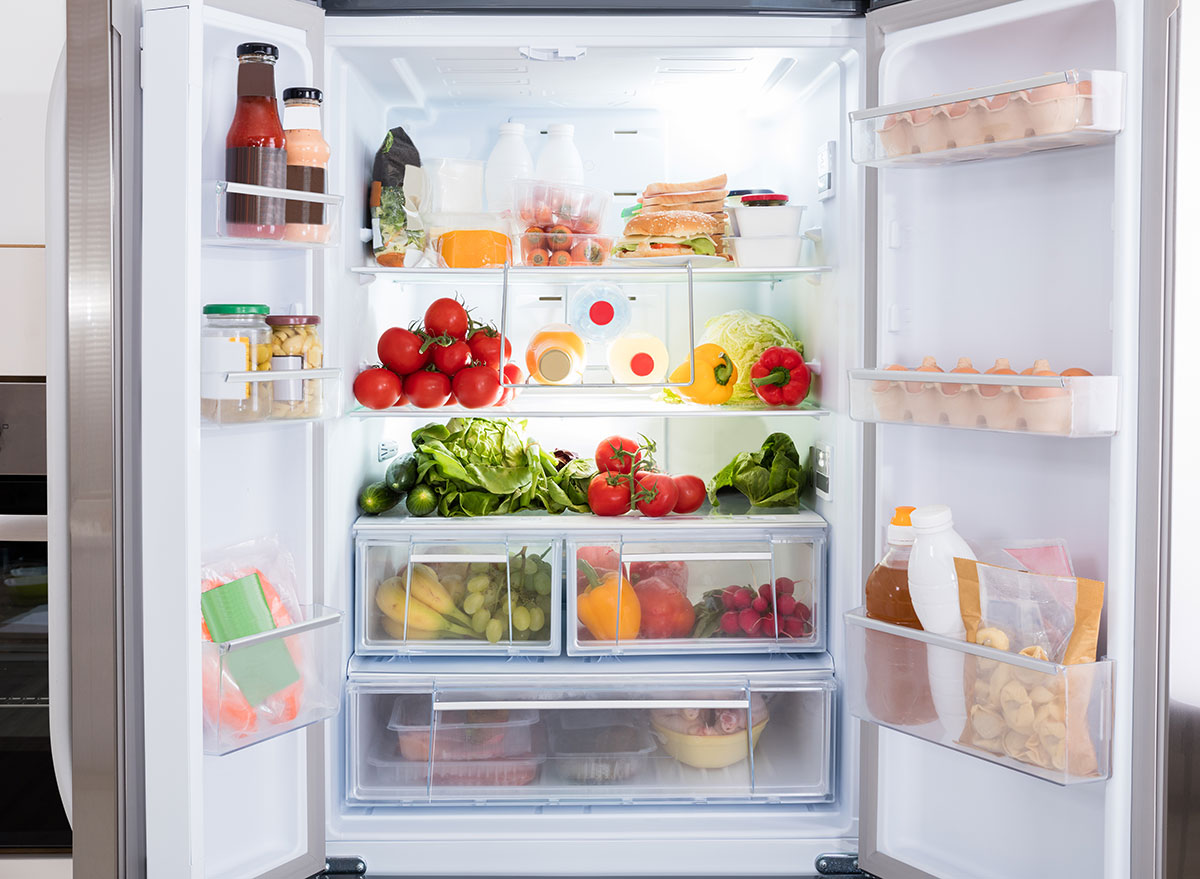 If you do have a little extra money to spend on organization, shelves for your refrigerator can make a world of difference. Love LaCroix? Get a refrigerator organizer that's made for cans. Have a woefully small crisper drawer? Add a produce keeper for more storage. Customize your fridge to fit your needs, and you'll be amazed at how much easier it is to find everything.
Eat This, Not That!
Inspired by The New York Times best-selling book series, Eat This, Not That! is a brand that's comprised of an award-winning team of journalists and board-certified experts, doctors, nutritionists, chefs, personal trainers, and dietitians who work together to bring you accurate, timely, informative, and actionable content on food, nutrition, dieting, weight loss, health, wellness, and more.
Read more about Eat This