21 Awesome Ways to Lose Weight With Yogurt
Thanks to its protein, probiotics, and culinary versatility, yogurt is the ultimate weight loss food. Here are the most slimming and delicious ways to add it to your diet!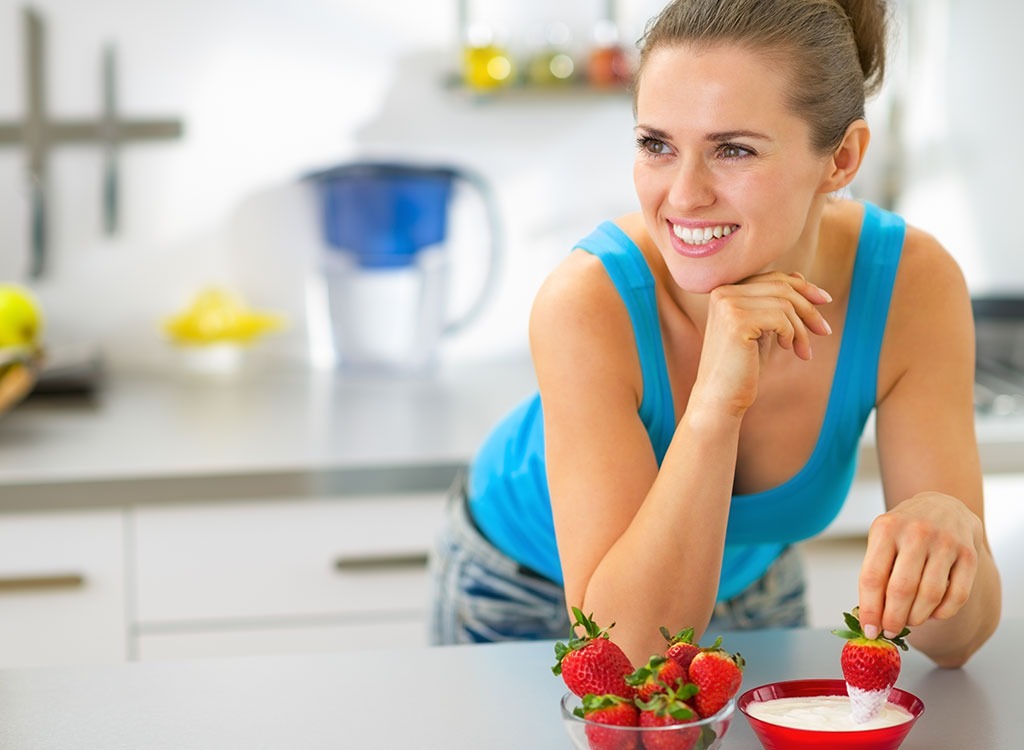 If you could only eat one dairy product for the rest of your life, Greek yogurt should be it. While all dairy products have protein, few have the versatility or wide plethora of health benefits that yogurt carries. It can literally transform from a morning staple to a marinade in a matter of minutes—it's pretty amazing! It's also one of the few sources of probiotics you'll find in the dairy section of the supermarket.
Probiotics help create an environment where the good bacteria can flourish. Why's that matter? When your good gut bugs get taken down by antibiotics and junk food, you're more susceptible to inflammation that can lead to weight gain. A study published in the British Journal of Nutrition found that overweight women who were put on a calorie-restricted diet and given a probiotic supplement for 12 weeks showed significantly higher weight loss than those given a placebo. And yogurt-specific studies strengthen these findings. One group of researchers found that dieters who consume yogurt retain more of their lean muscle mass than those who don't include the tangy treat in their diets. That's major news because the more lean muscle you have, the more calories you'll burn at rest and the easier it will be to lose weight and keep it off.
Thankfully, there are tons of easy ways to reap the waist-slimming powers of yogurt—and few of them require you to spoon out another serving into your breakfast bowl. (Eating it the same way every day can create taste bud fatigue.) Whether it's turning a boring piece of chicken into a juicy, flavor-infused baked meal or adding creaminess to mashed potatoes without the excess fat, there's no denying that yogurt is a staple that can bring new life to your diet plan. After you've picked out a few yogurt tricks you'd like to try, stock up on very best containers of the stuff with the help of our guide, The 25 Best Yogurts for Weight Loss!
Use it in Place of Sour Cream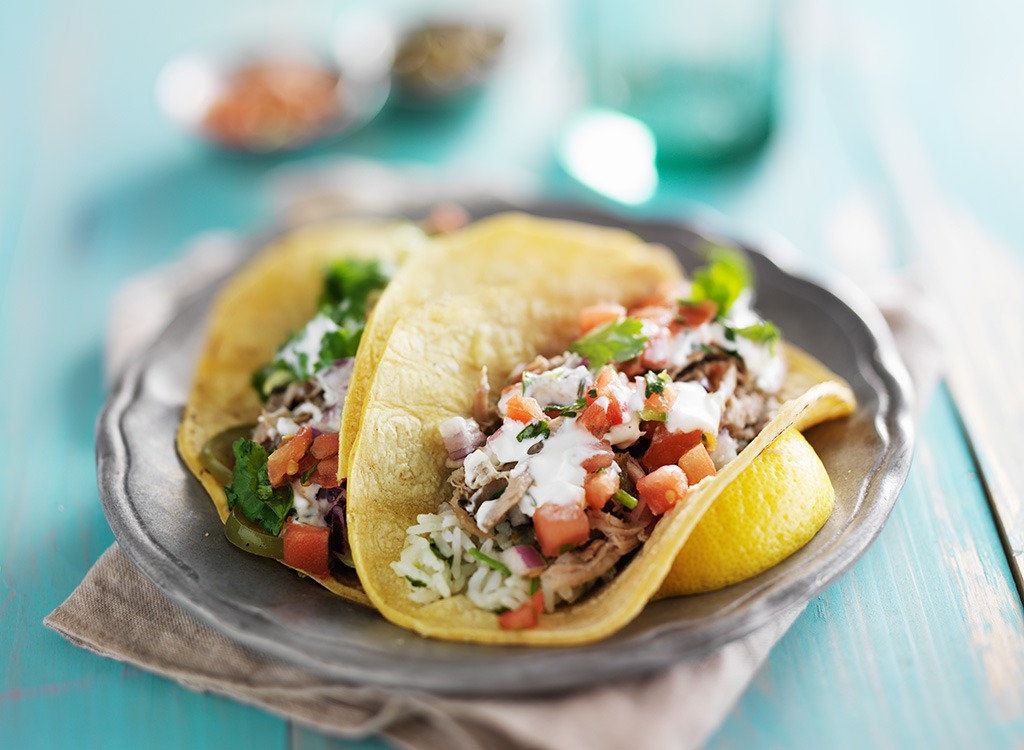 Instead of topping your chili, fajitas, and taco salads with sour cream, mix some Greek yogurt with cilantro and taco seasoning for some added flavor and use that instead. (If you don't have the seasonings on hand, using plain yogurt will still taste great.) Not only will this simple swap save you calories and fat, it will add some additional protein to your plate, too!
Transform it into Brinner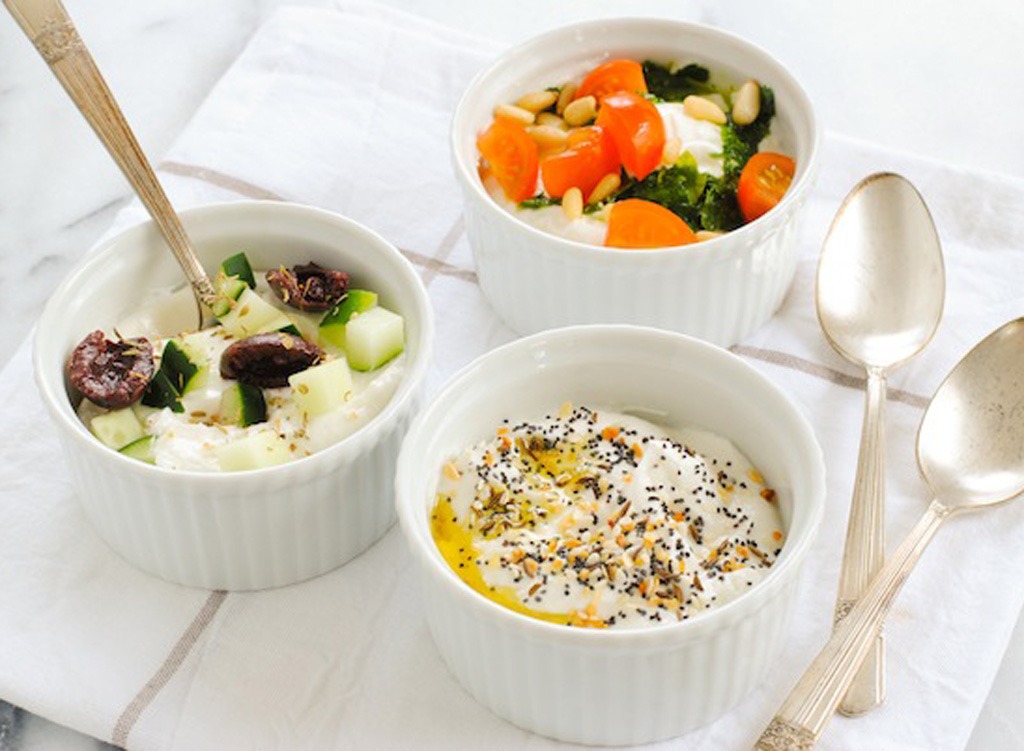 Never been a fan of sweet yogurt toppers like fruit and cereal? Then you're going to love the savory topping trend sweeping through the land of fermented dairy. Lori of Foxes Love Lemons
likes to top her yogurt bowls with winning combos like EVOO and everything bagel seasoning (yes, that's really a thing) and cucumber, kalamata olives, and dried oregano. For more tasty savory yogurt ideas, don't miss our report, 15 Savory Ways to Eat Greek Yogurt!
Make it into "Skinny" Frosting
Although frosting isn't exactly "healthy," you can make a less-fattening version with the help of Greek yogurt. When used in place of buttercream or cream cheese the tangy base can slash tons of calories and fat from standard recipes. To make a batch, combine a cup of plain Greek yogurt, a tablespoon of vanilla extract, and a ⅓ to ½ cup of sifted powdered sugar in a large bowl. (How much you use depends on how sweet you want your frosting to be.) Whisk the ingredients together until they thicken up a bit and then pop it into the fridge for about 30 minutes, to allow it to thicken further. Then, spread onto cookies, cupcakes, cakes, or whatever else your heart desires! For even more ways to craft a healthier treat, don't miss these 25 Healthy Ingredient Swaps for Baking!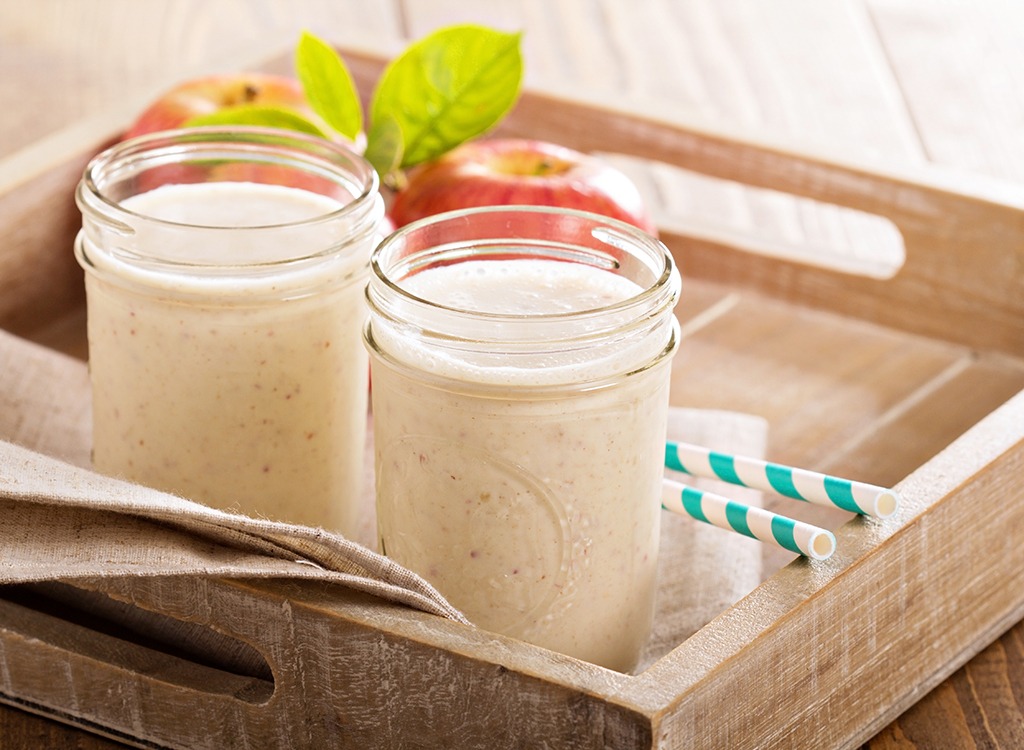 There are a million ways to make a smoothie and a million different ingredients and combinations you can use to create a tasty and slimming sip. But if weight loss is your goal, your next smoothie needs to include yogurt—especially if your slim down program tends to leave your tummy grumbling. According to a new study published in the American Journal of Clinical Nutrition, thicker drinks—like yogurt-based smoothies—leaves people feeling fuller, longer, regardless of how many calories it has. To come to this finding, researchers crafted smoothies with various calorie counts and thicknesses. And interestingly enough, study subjects reported feeling fuller after sipping a thick 100-calorie drink than those who sipped a thin 500-calorie drink. For some of the very best yogurt-based smoothie recipes on the planet, don't miss these 20 Amazing Yogurt Smoothie Recipes.
Make a Protein-Filled Dip
It may encourage us to eat more veggies, but ranch dip is far from a healthy dish. While the not-so-healthy homemade versions call for fatty ingredients like mayo, buttermilk, and sour cream, the store-bought kind is riddled with yucky stuff like MSG and soybean oil, a commonly used fat that's been linked to weight gain and diabetes in mice. To make a quick and easy ranch dip that will help you stay on the straight and narrow towards your goals, simply mix a garlic powder, onion powder, dried dill, kosher salt, Worcestershire sauce, cayenne pepper, and fresh chives into a cup of plain Greek yogurt. For details on whipping up a batch, check out Well Plated's recipe.
Bake a Better-for-You Cheesecake
A traditional cheesecake is made with two pounds of cream cheese. Two pounds! Classic recipes also call for 1 ¼ cups of granulated sugar and 1 ¼ cups sour cream, which is like, a ton of sugar and fat! To make a healthier cheesecake filling—without sacrificing the flavor—mix, 2 cups of Greek yogurt with ¼ cup of honey, 2 large eggs, 1 teaspoon of vanilla extract, and a pinch of salt. Bake the rest of your go-to recipe per usual, but keep a close eye on the cake once it's in the oven. The ingredient swap may cause it to cook slower or more quickly than usual depending on your recipe. For more healthy cheesecake ideas, don't miss these 20 Healthy, Skinny Cheesecake Recipes.
Make Protein-Packed Pancakes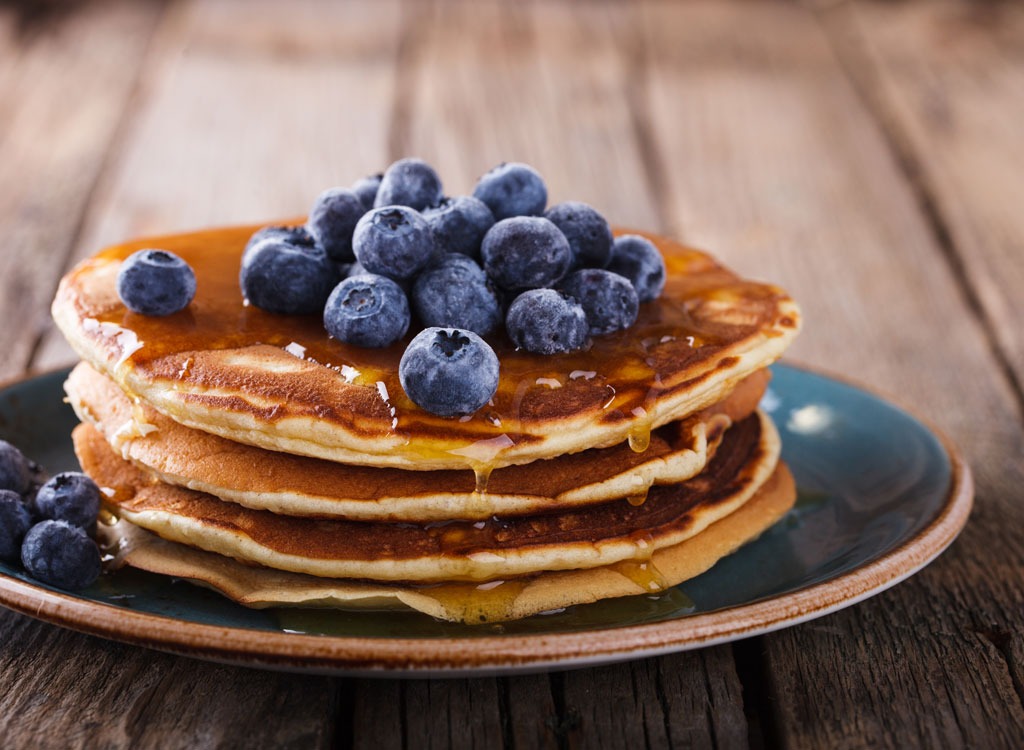 Protein-packet, yet still light and fluffy, Greek yogurt pancakes, are the best thing to happen to breakfast in a long time! To make a batch you'll only need four ingredients—and we'd bet that you probably have all of them in your kitchen right now! (#Winning!) Combine a cup of whole wheat flour with a tablespoon of baking powder, 2 eggs, and 1 2/3 cups of yogurt to form a thick batter. Then, cook as you would "regular" pancakes. Super simple! For even more healthy and creative breakfast ideas, don't miss these 17 Breakfast Ideas Diet Experts Love.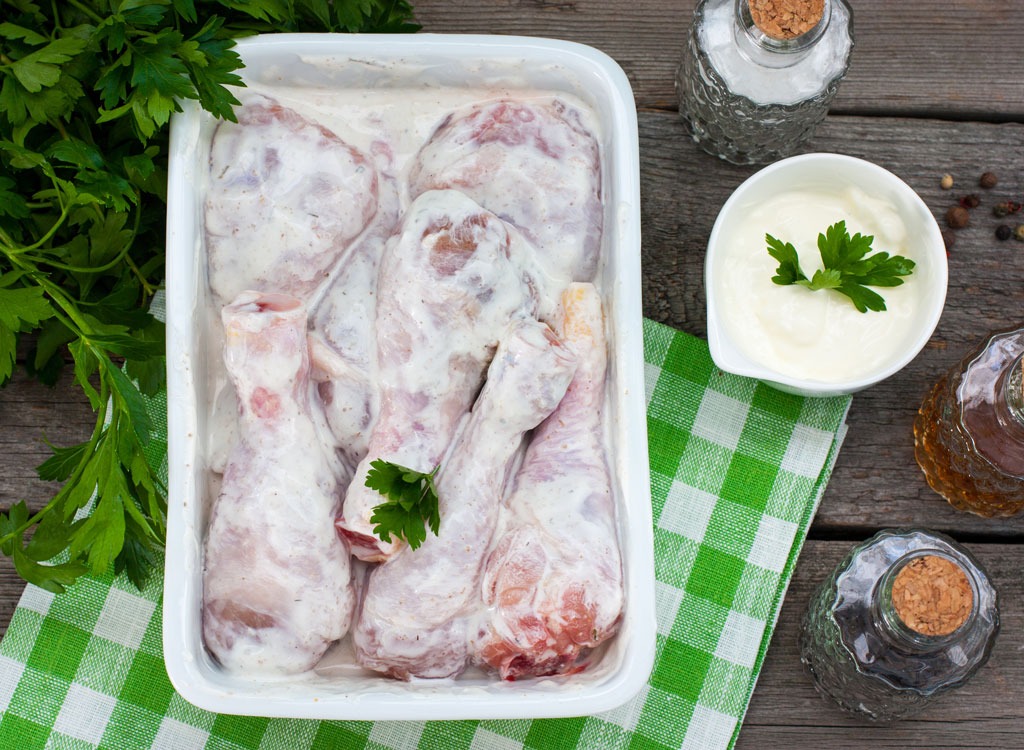 Yogurt tenderizes and enhances the flavor of protein like chicken, pork, and beef, making it the perfect marinade base. Making a yogurt-based marinade is super simple, too. Simply combine a cup of plain yogurt with a minced garlic clove,1 tablespoon of olive oil, 2 teaspoons of your favorite dried herbs, and salt and pepper to taste. For even more low-cal ways to flavor your protein, check out these delicious healthy chicken recipes.
Make a Creamy Salad Dressing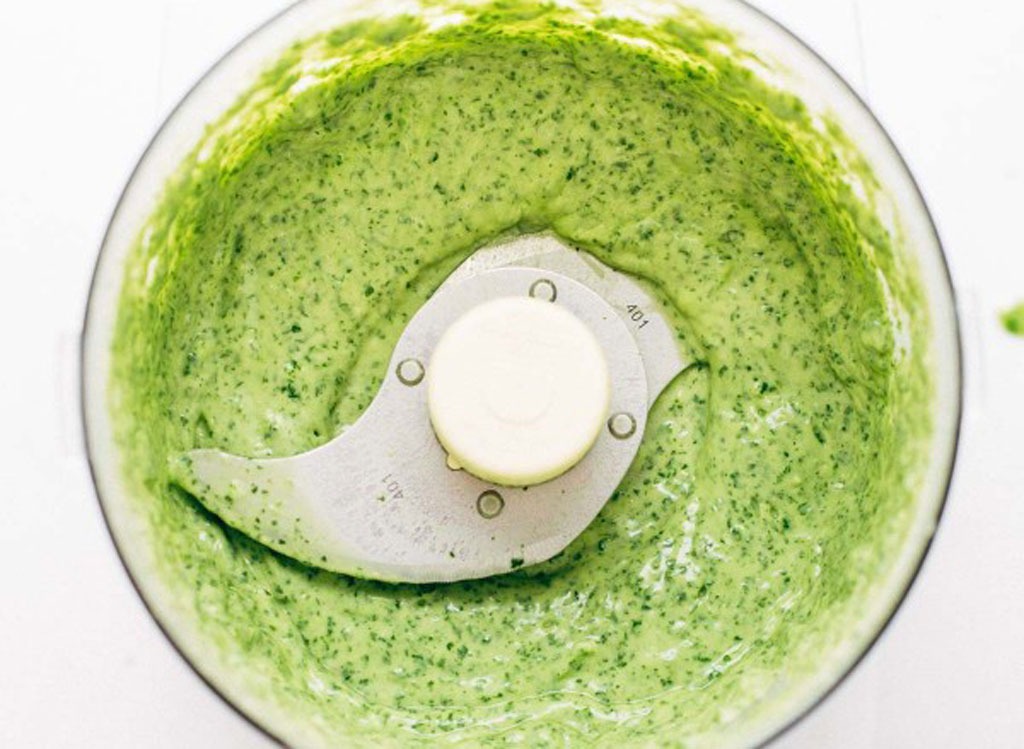 If you prefer something thicker than a vinaigrette but aren't a fan of the excess calories and sources of unhealthy fats (hello, mayo and sour cream) in things like blue cheese dressing, try mixing up a dressing of your own with healthy—yet creamy—ingredients like avocado and Greek yogurt. You can mix and match any ingredients your heart desires, but if you need more direction, look no further than this 5-minute avocado cilantro dressing from Lindsay of Pinch Of Yum. It's the perfect topper to a Tex-Mex inspired bed of greens.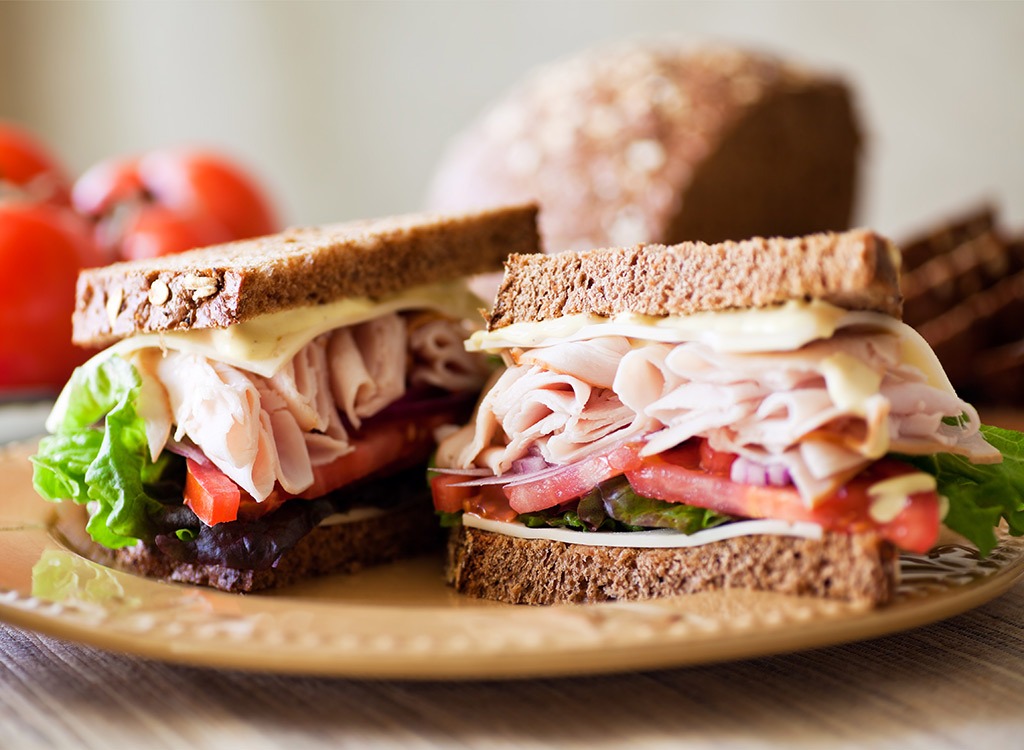 Skip the globs of mayo in your daily sammy and make a healthy and fresh lunchtime spread in your own kitchen instead. It may seem too simple to be true, but folding finely chopped cucumbers and radishes into a serving of plain yogurt along with olive oil, sesame seeds, and dried dill creates a to-die-for sandwich and pita topper. Swapping in Greek yogurt for mayo also works when you're making chicken salad, tuna salad, and potato salad! Just use a one-to-one ratio.6254a4d1642c605c54bf1cab17d50f1e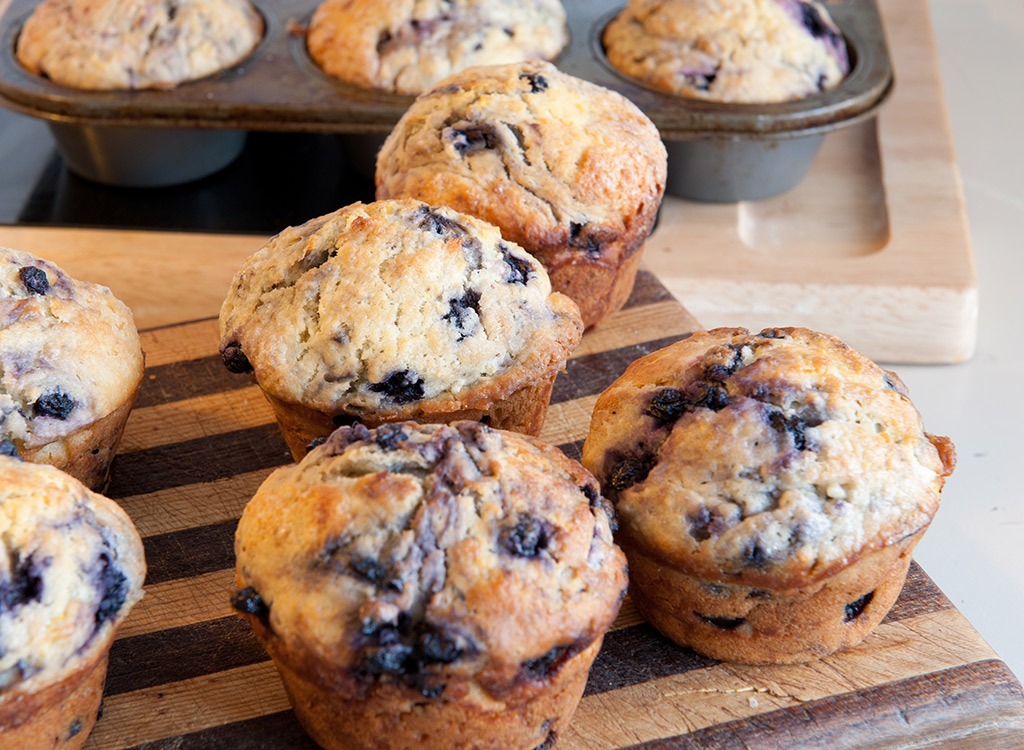 If muffins weren't already indulgent enough, certain varieties like blueberry cream call for massive quantities of sour cream, which has 130 percent of the day's saturated fat in a single cup. (Most recipes call for twice that amount!) To bake a muffin that won't give you a muffin-top, ditch the fatty add-ins in your go-to recipe, and use Greek yogurt to add creamy goodness to every bite. And if you want to check out a single-serve, low-cal take on the classic blueberry cream muffin, don't miss this 1-minute blueberry muffin recipe by Arman of the blog, The Big Man's World.
Makeover Your Mashed Potatoes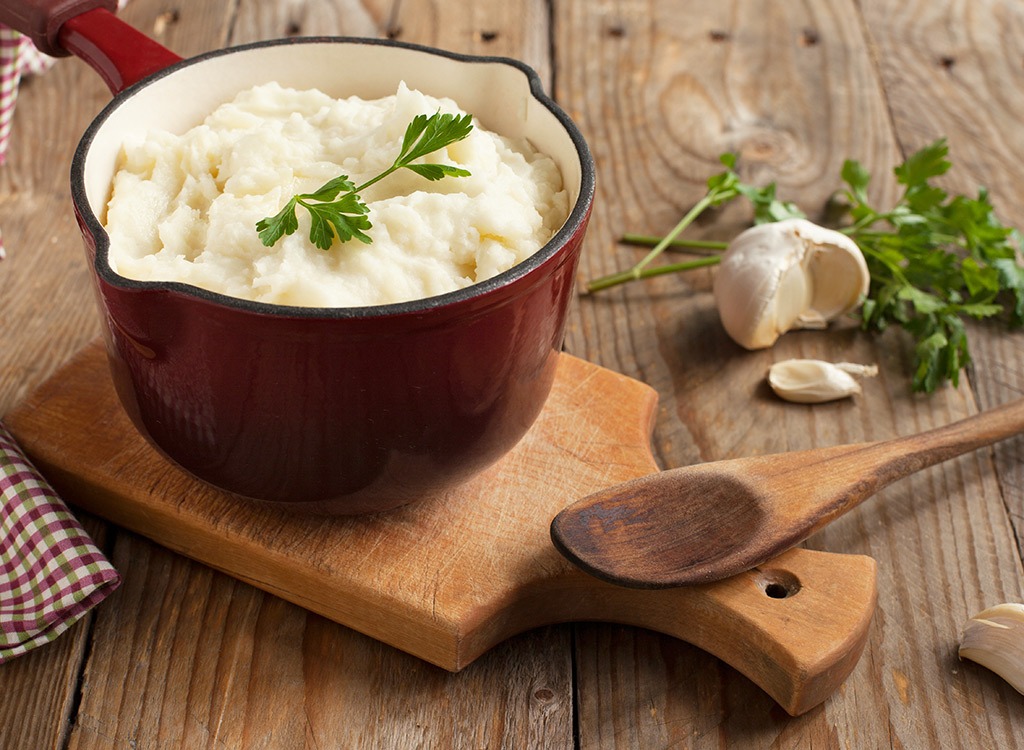 Just because you love comfort food doesn't mean you need to give it up in the name of weight loss. To create high-protein mashed potatoes your entire family will love, skip the milk, cream, and globs of butter, and whip up our healthier take on the dish instead. Here's how to make it:
WHAT YOU'LL NEED
½ cup plain Greek yogurt
1 ¼ lbs Russet potatoes, peeled and sliced
¼ cup low-sodium, warm chicken broth
2 Tbsp melted unsalted grass-fed butter
Rosemary, to taste
Ground black pepper, to taste
HOW TO MAKE IT
Boil a large pot of water, add potatoes and cook for 15 minutes, or until softened. Then, drain water, transfer the potatoes to a large bowl, combine with the broth, and mash together. Once thoroughly combined and smooth, stir in the yogurt, butter, and spices. Serve with one of these 35 Best-Ever Chicken Recipes for Weight Loss for a complete, healthy meal.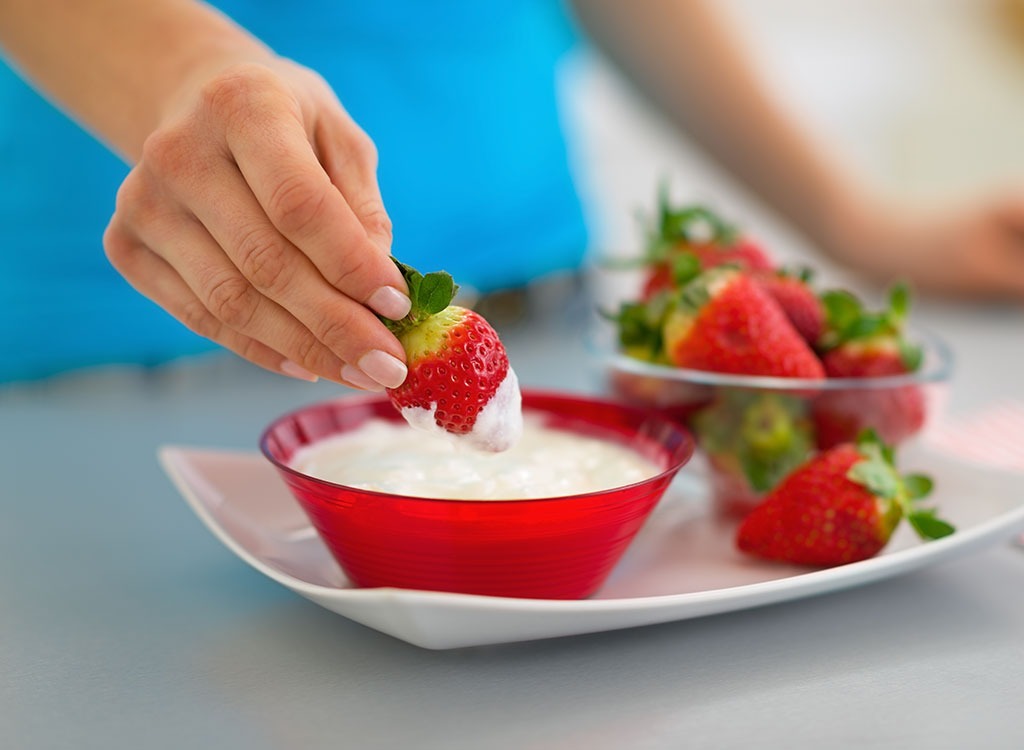 Trade in sugary desserts to fresh fruit slices and a creamy homemade dip. For a single serving, combine 1/2 cup of Greek yogurt with 1 teaspoon of honey, 1 teaspoon of brown sugar, and a 1/2 tablespoon of cinnamon. Enjoy with strawberries, apple or pear slices, or pineapple.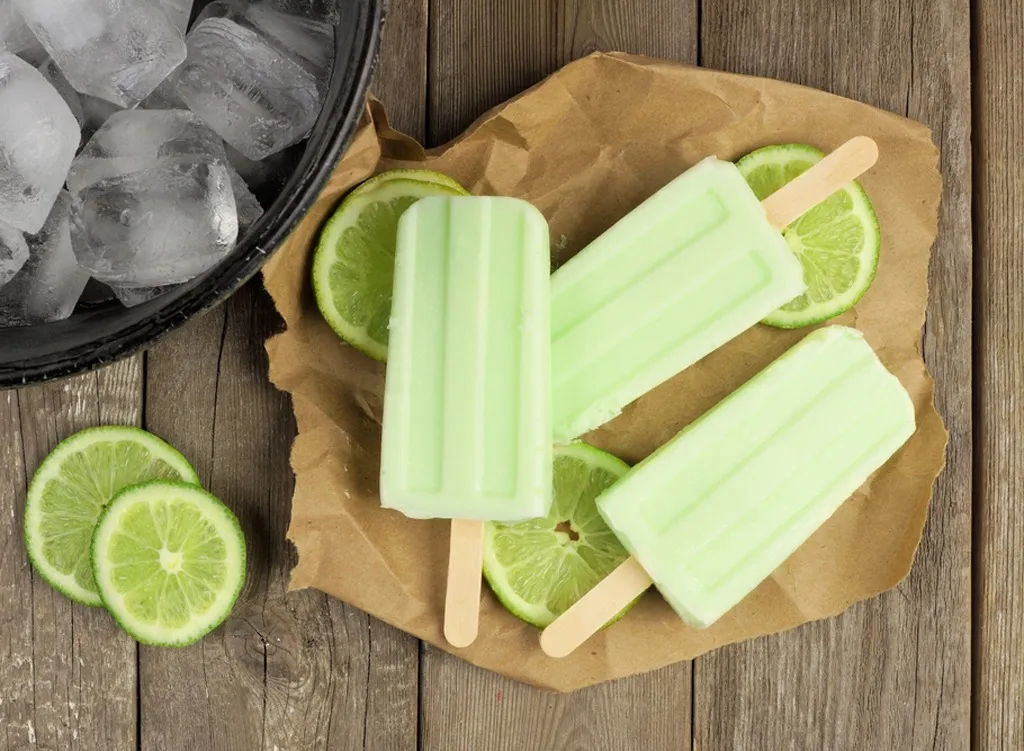 If you love ice cream and fro-yo you're going to love making homemade smoothie popsicles! They give you the same cold, creaminess you crave in a frozen treat—but they're portioned controlled, and made solely with natural, weight-loss-friendly ingredients. To whip a batch, start by sorting through these drool-worthy smoothie recipes. After you've picked one that excites your taste buds, follow the simple steps below to transform it into a popsicle.
STEP 1
Blend all of the required ingredients together. If you using fresh fruit instead of frozen, toss in four or five ice cubes to ensure you create the right texture.
STEP 2
Next, pour the blended mix into a popsicle mold and place the stick into the center. If you don't own a popsicle mold, pour the smoothie mixture into small paper or plastic cups, or even a wide ice cube tray for bite-size treats that can be enjoyed with a spoon.
STEP 3
Freeze for three to four hours.
STEP 4
Remove popsicles from the freezer and run the mold under lukewarm water for 10 to 15 seconds to help loosen the popsicles from their mold. This ensures you won't crack the stick and helps your frozen treat stay in one piece, too.
Nine times out of ten store-bought tzatziki sauces are giant sodium bombs, which can lead to a bloated belly. The goods news is that salt isn't a necessary ingredient in the condiment so much as it is a preservative. To make a dip at home, combine 2 cups of Greek yogurt with 1 peeled and chopped cucumber, 2 minced garlic cloves, 1 tablespoon extra virgin olive oil, 1 tablespoon red wine vinegar, tablespoon fresh dill, 2 teaspoons fresh lemon juice, and 1/8 to 1/4 teaspoons of salt. Use the dip as a chicken marinade, treat it as a condiment and use it to dress up classic Greek dishes or turkey burgers, or use it as a veggie and pita dip. There are plenty of different ways to enjoy this low-sodium take on the classic dip. For more nutritional insights into your favorites flavor-enhancers, don't miss these 25 Best and Worst Condiments.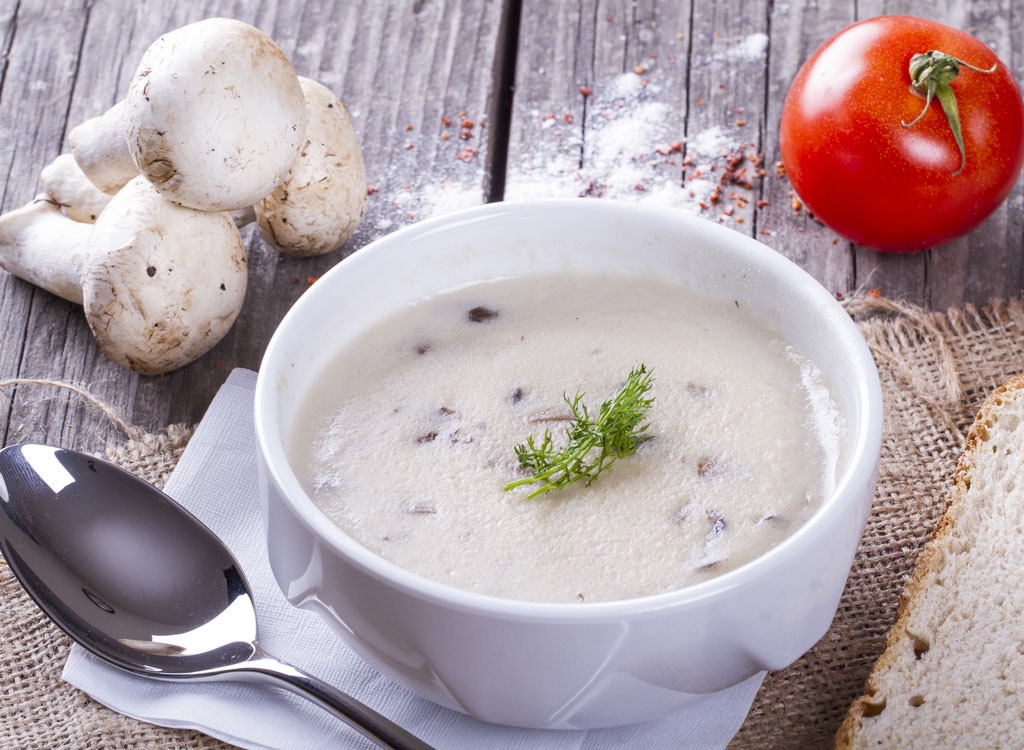 Traditionally made creamy soups like cream of mushroom and broccoli cheddar may be comforting and delicious, but they're also caloric and stand in the way of your weight loss goals. Save calories and fat by using Greek yogurt to thicken your next crock. Here's how to make a batch of creamy tomato basil soup:
WHAT YOU'LL NEED
1 cup plain Greek yogurt
2 Tbsp. olive oil
12 plum tomatoes, halved
1 large sweet onion, coarsely chopped
4 garlic cloves
Salt and pepper, to taste
2 cups vegetable stock
1/4 cup basil, shredded
HOW TO MAKE IT
While the oven is preheating to 425° F, combine olive oil, tomatoes, onions, garlic, salt, and pepper in a bowl and toss until the vegetables are fully coated. Transfer the mixture to a roasting pan and bake for 25 minutes, or until browned. After the veggies are cooked, put them in a soup pot. Add the vegetable stock and bring the mixture to a boil. Then, reduce heat and simmer for about five minutes. Next, put the mixture into a blender or food processor and puree along with the yogurt. Add the basil during the last few pulses to combine.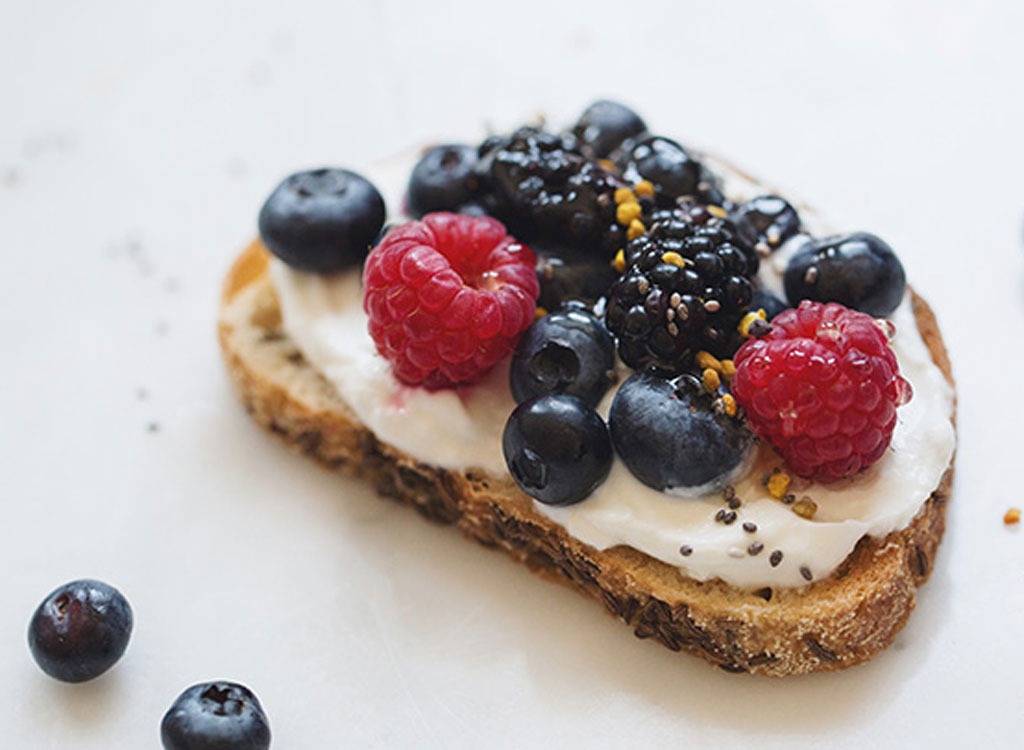 Toast isn't just home to jam and smashed avocado anymore. Recently, celebs like Lauren Conrad (reality star turned author and fashion mogul) and Internet foodies alike have been experimenting with yogurt-topped toast. Not only does the dish take just five minutes to make, thanks to its starchy goodness and natural sweetness, it has all the elements of a home run breakfast. Here's how to whip it up:
WHAT YOU'LL NEED
1 slice Ezekiel bread, toasted
3 tablespoons plain 2% Greek yogurt
¼ cup berries
Cinnamon, to taste
HOW TO MAKE IT
Spread the Greek yogurt onto the toast. Top with berries and sprinkle with cinnamon.
For even more recipes from your favorite celebs, don't miss these 12 Celeb Recipes That Keep Them Slim!
Use It As a Burger Topper
Skip the sugary ketchup and fatty mayo and top your burger with a spicy 'n sweet spread we can't get enough of. Simply mix a 1/2 tablespoon of harissa, 1/2 tablespoon of lemon juice, and a 1/2 tablespoon of honey with 2 cups of yogurt and add salt and pepper to taste. Store it in a mason jar until your next BBQ or Foreman burger.
It's a little-known fact but adding a dollop of Greek yogurt to your morning eggs does more than up the protein count. It can make them fluffier, too! Give it a try next time you make something simple like scrambled eggs or even something more advanced like these 25 Healthy Egg Recipes to Stay Skinny.
Make a Protein-Packed Hummus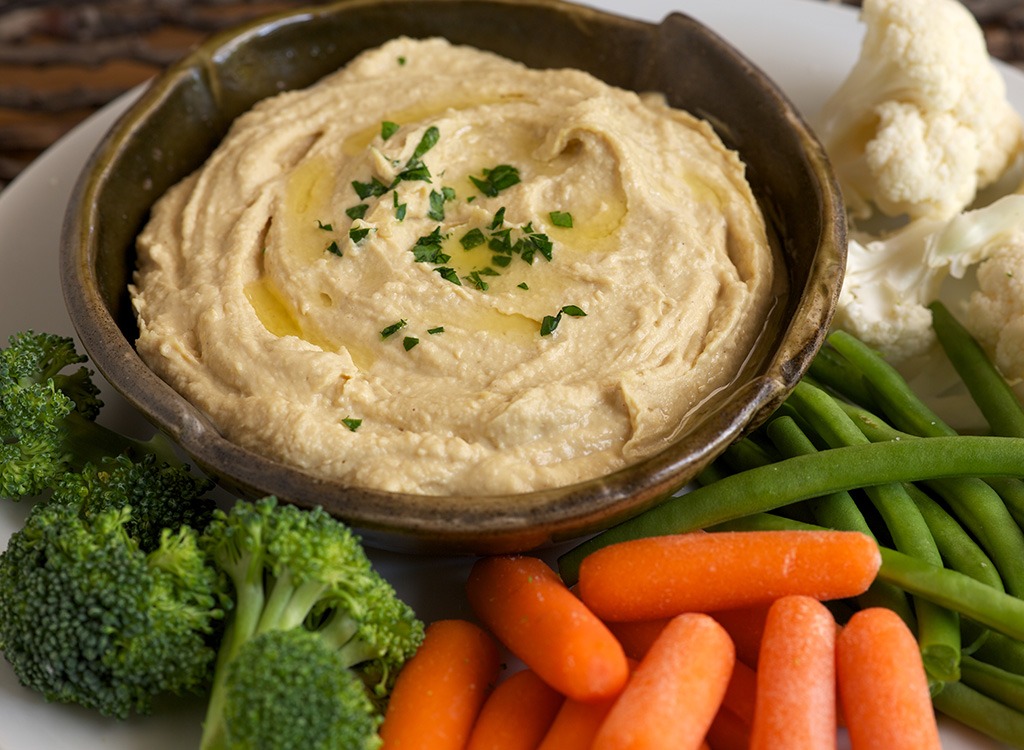 A tablespoon of commercial hummus carries about 1 gram of protein per tablespoon—which is better than no protein at all, but it's not exactly stellar, either. To amp up the protein in the classic Mediterranean dish, head to the kitchen and create a homemade Greek yogurt-infused spread yourself. Simply pour a can of drained and rinsed garbanzo beans into a large food processor along with ¾ cup Greek yogurt, 1 teaspoon of olive oil, three cloves of garlic, the juice of one lemon, and salt and pepper and let 'er rip until smooth! Serve with whole-wheat pita slices or raw veggies for a light yet filling snack. For more foods filled to the brim with protein, check out these 29 Best-Ever Proteins for Weight Loss.
Make Veggies More Filling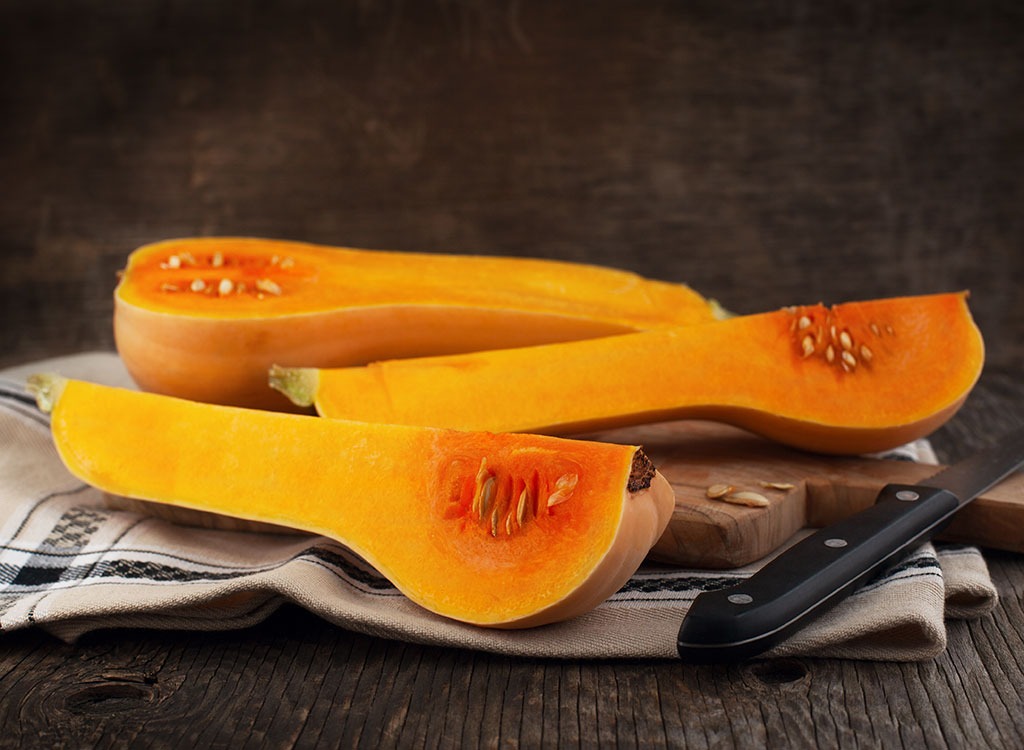 Sick of plain ol' roasted veggies?! Butternut squash (which is brimming with fiber and potassium, a nutrient that helps stop belly bloat) is delicious—not to mention, far more filling—when enjoyed with Greek yogurt. Sounds a little strange, we know, be we can assure you it's a delicious combo. To make the dish, simply slice the squash into cubes and season it with olive oil and curry powder before roasting it in the oven. After the squash is cooked through, let it cool and bit and enjoy in a bowl over your favorite plain yogurt. For more delicious veggie dishes, dig into these 30 Healthy Side Dishes That Satisfy!
Sign up for our newsletter for my health news and cooking tips.
Read more:
Surprising Side Effects of Eating Yogurt
70+ Healthy Chicken Recipes for Weight Loss