12 Best Celeb Weight-Loss Recipes
Weight loss-friendly desserts, salads, and entrées, from your favorite fit celebs!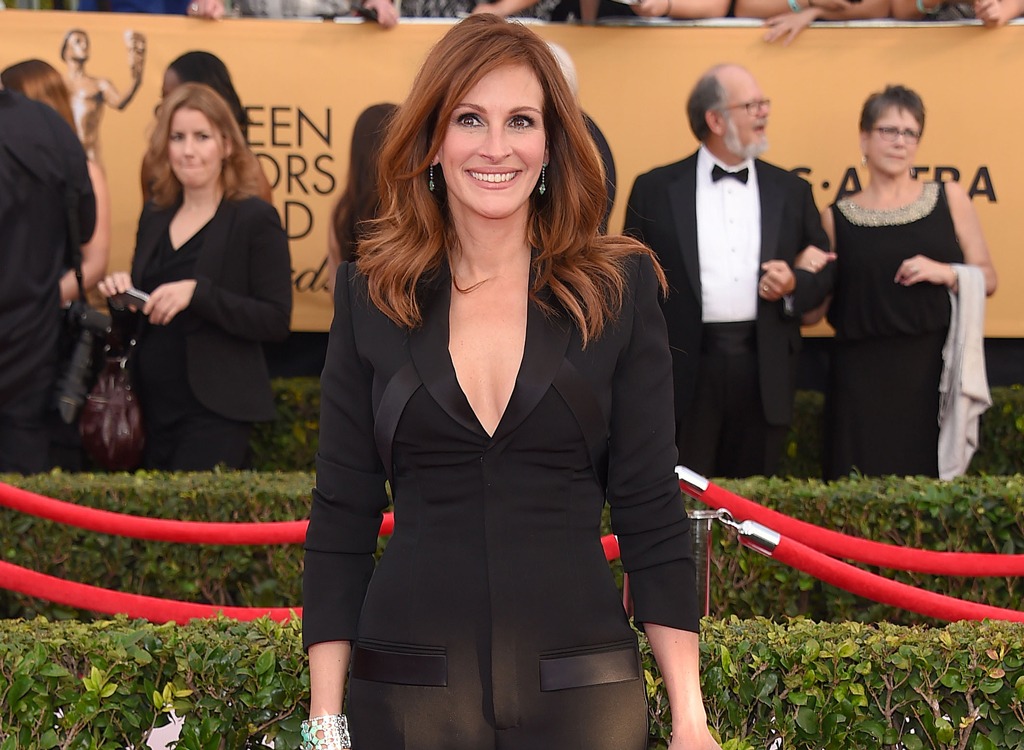 You knock off their street style, seek out their go-to beauty products, and hunt down their personal trainers for fitness tips. So it only makes sense that you'd would start itching for intel on your fave celeb's recipes. (No judging!) We totally understand what it's like to have a major celeb crush (Hi, Oprah!)—especially those who follow a healthy lifestyle, and appear to do it effortlessly.
The way we see it, there's one of two ways you can get your hands on these top-secret meal ideas: a) you could sneak into the kitchen of your favorite celebrity and end up on TMZ, or b) you can forgo the risk of getting arrested and stick with Eat This, Not That! Scroll down to find your fave celebs, whip up a meal in their honor, and watch the weight melt off! And while you've got meal prep on your mind, be sure to pick up these 40 Things Healthy Cooks Always Have in Their Kitchen, so you can stock up and slim down faster than ever before!
Bill & Giuliana Rancic's Chicken Skewers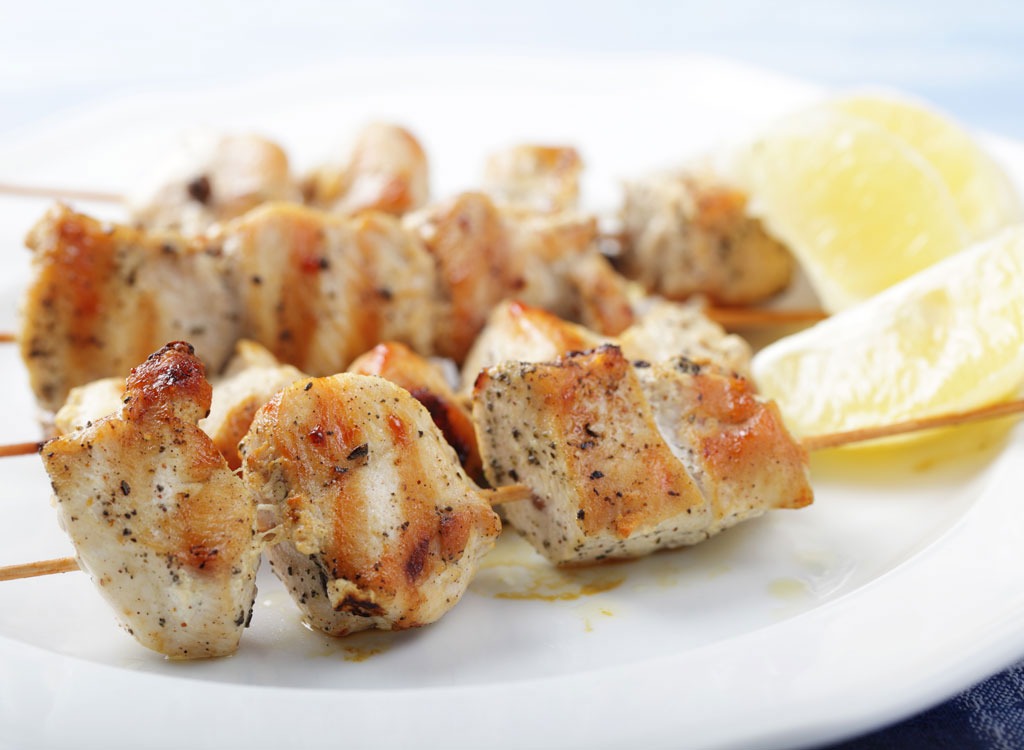 Former E! News host Giuliana Rancic and her husband, the first Apprentice winner, Bill Rancic are no strangers to the food scene. While it's not a fact everyone know's, the couple owns a restaurant group dubbed RPM Restaurants that's home to two Chicago-based restaurants and one in DC.
When they're not digging into their chef's expertly crafted steaks and pasta dishes, they're cooking healthy dishes, like chicken skewers, in their Chicago row house. We love their signature recipe because it relies on flavorful spices like rosemary and red pepper (one of these 57 Healthiest Foods on the Planet) for to create a versatile flavor palate that pairs nicely with everything from quinoa and corn to grilled veggies and salad.
WHAT YOU'LL NEED
3 sprigs of fresh rosemary, chopped
6 sprigs of rosemary, whole
¼ cup extra virgin olive oil
2 tsp. dried oregano
1 tsp. sea salt
½ tsp. crushed red pepper
2 lbs. boneless, skinless chicken breasts, cubed
Fresh lemon juice, extra-virgin olive oil, dried oregano, to taste
Lemon wedges for garnish
HOW TO MAKE IT
Step 1: Whisk together olive oil and spices in a large bowl. Add the chicken and cover it in the mixture. Cover the bowl with foil, and allow it to chill for 3 hours.
Step 2: Bring the grill to medium-high heat and allow it to warm up.
Step 3: Remove the chicken from marinade and thread it onto the whole rosemary branches.
Step 4: Grill the "skewers" on a lightly oiled rack over medium-high heat for about 10 minutes, turning at the five-minute mark. Sprinkle with lemon juice, olive oil, and oregano and garnish with lemon wedges before serving.
Serves: 6
Julia Roberts' Summer Salad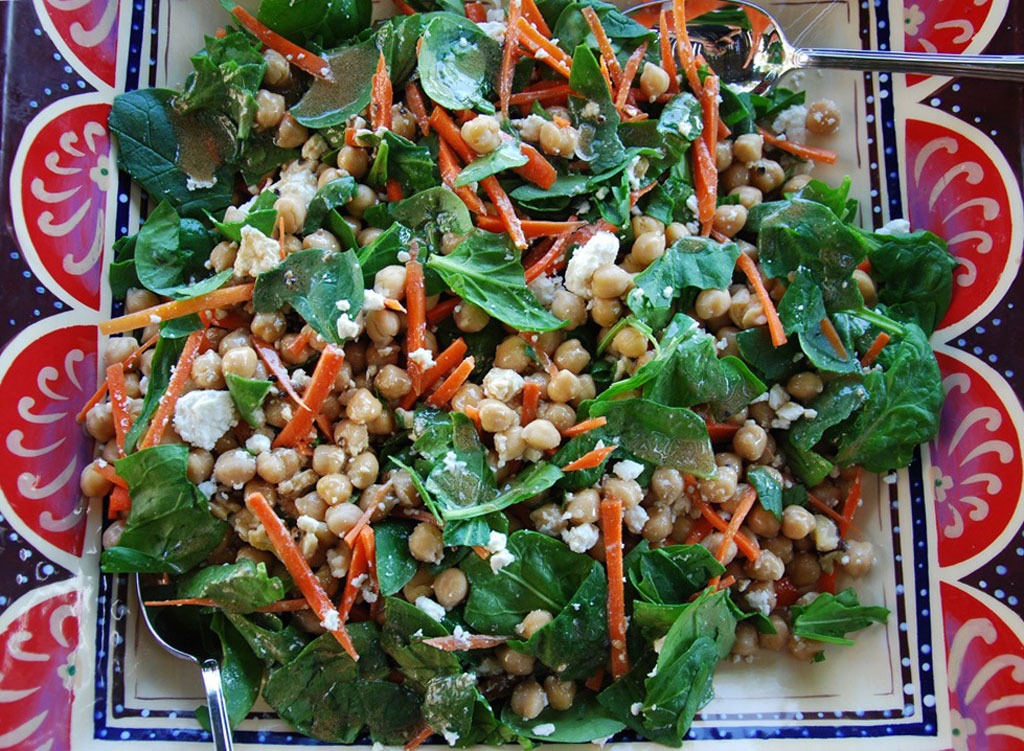 You may not know her by name, but Kathy Kaehler is the women behind some of Hollywood's hottest bodies. Kaehler, a celebrity personal trainer and the creator of the healthy meal prep program, Sunday Set-Up, teaches Hollywood icons like Julia Roberts how to plan, shop for and prep a week's worth of healthy dishes. And the results speak for themselves! Roberts, who is nearly 50 years old, looks amazing! In addition to a grueling workout program that includes step aerobics and weight training, she whips up healthy salads like the one Kaehler shared with her during their Sunday Set-Up meeting. Steal the recipe below—and check out these 31 Weight Loss Secrets from Celebrities for even more ways to slim down like the stars.
WHAT YOU'LL NEED FOR THE SALAD
15 oz. can of organic BPA-free garbanzo beans
1 bag of organic baby spinach, washed and dried
1 cup organic carrots, julienned
¼ cup raw or toasted walnuts
½ cup crumbled low-fat organic feta cheese
Freshly ground black pepper to taste
WHAT YOU'LL NEED FOR THE DRESSING
3 Tbsp. sherry vinegar
1 Tbsp. Dijon mustard
Pinch of sea salt and freshly ground black pepper
1/3 cup olive oil
HOW TO MAKE IT
Step 1: Drain garbanzo beans in a colander. Then, rinse well under cold water until foam no longer appears. After the beans have drained, place them in a serving bowl.
Step 2: In a small bowl, mix together the first three ingredients for the dressing. Next, slowly whisk in olive oil until dressing has emulsified.
Step 3: Add the spinach and carrots to the salad bowl along with the beans and toss with just enough dressing to lightly coat the veggies.
Step 4: Mix in feta and walnuts, season to taste with freshly ground black pepper and serve immediately.
Serves: 4
Lea Michele's Veggies & Hummus Wrap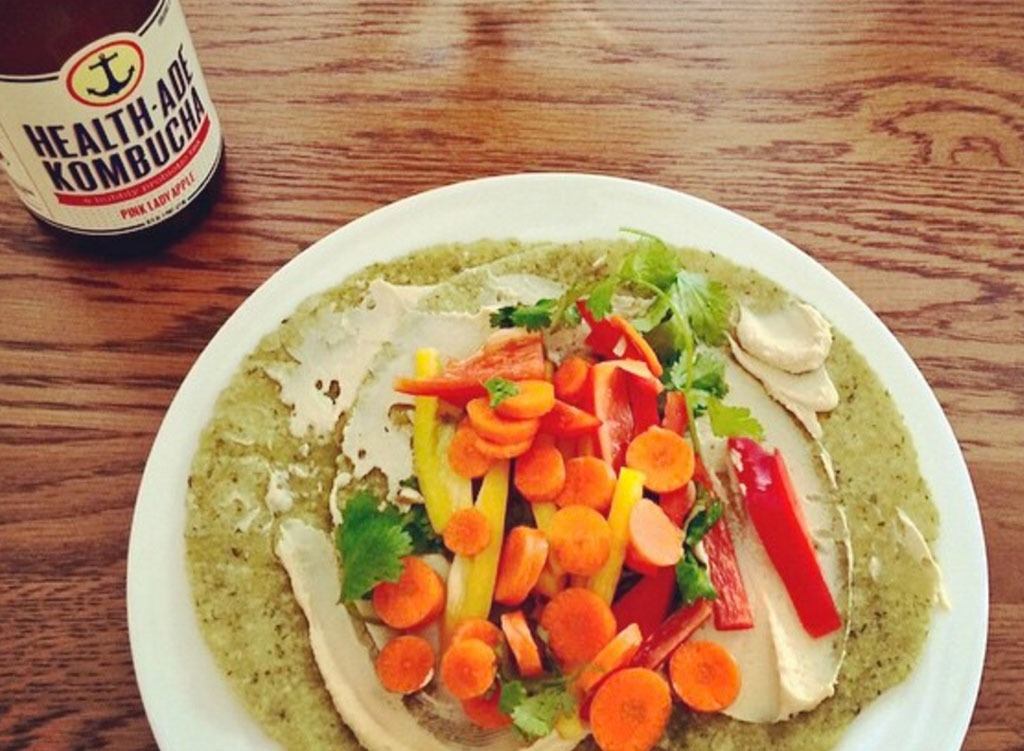 Lea Michele, who is currently filming a new Sci-Fi series called "Dimension 404," is known for her healthy lifestyle and toned petite bod. The actress is constantly posting Instagrams of her workouts (she's a huge Soul Cyle fan) and meals and the one pictured above recently caught our eye. Not because it's fancy or beautiful. It intrigued us because it's so darn simple! With 185 calories, 9 grams of hunger-busting protein 10 grams of belly-filling fiber, our re-make of her wrap is perfect for a healthy meal away from home. Pair it with a portable piece of fruit like a banana, pear or apple to round out the on-the-go meal. For more slimming lunch options, don't miss these 25 Super-Healthy Lunches Under 400 Calories.
WHAT YOU'LL NEED
1 Flatout Garden Spinach Wrap
2 Tbsp. hummus
½ small red pepper, sliced
½ small yellow pepper, sliced
¼ cup sliced carrots
Fresh cilantro, to taste
Fresh lemon juice, to taste
HOW TO MAKE IT
Step 1: Smear hummus onto wrap or sandwich thins
Step 2: Pile on veggies and cilantro
Step 3: Top with lemon juice
Step 4: Roll up the wrap
Serves: 1
Maria Menounos' Banana Bread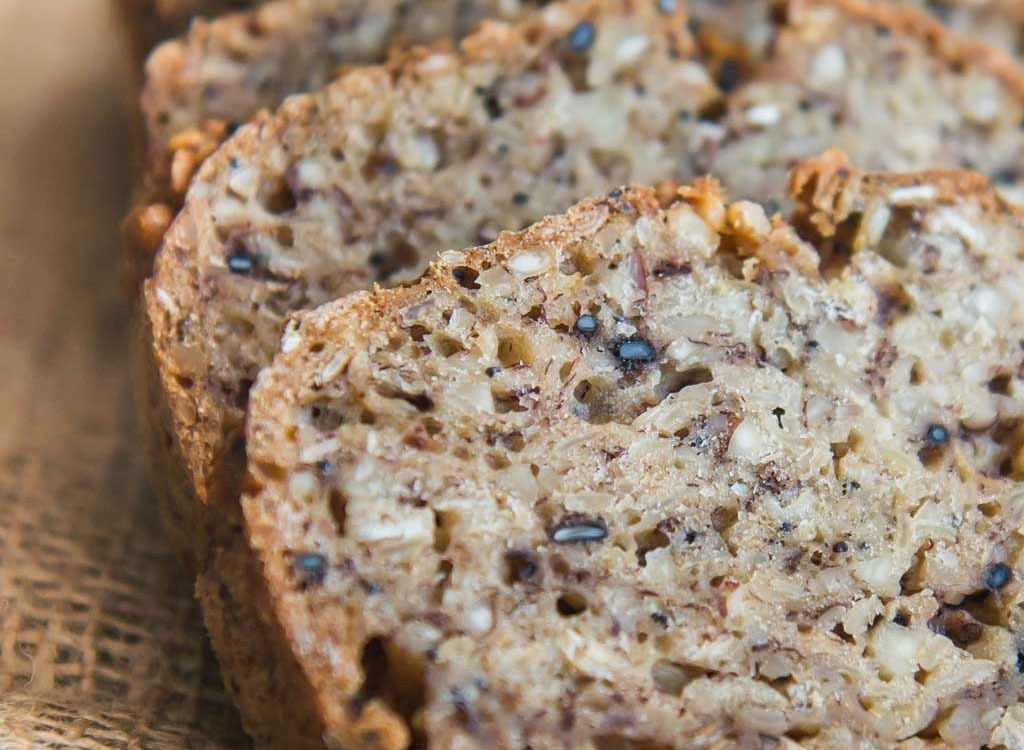 Maria Menounos, author and host of E! News is totally committed to her healthy diet—and we totally commend her for her dedication. She says she only really eats dessert when she's entertaining. And even when she does indulge, most of her favorite recipes are lower-calorie, guilt-free alternatives, like the scrumptious banana bread pictured above. You might think of banana bread as a breakfast treat, but it also hits the spot at the end of the evening meal, so don't toss those black bananas! Turn them into the most moist banana bread you will ever meet. The riper the bananas, the better the flavor.
WHAT YOU'LL NEED
2 cups all-purpose flour, plus extra for the pan
1 ½ tsp. baking soda
Pinch of salt
8 Tbsp. (1 stick) unsalted butter, at room temperature, plus extra for the pan
1 cup granulated sugar
2 large eggs
1 teaspoon vanilla extract
6 ripe bananas, mashed
1 cup chopped walnuts
HOW TO MAKE IT
Step 1: Preheat the oven to 325 degrees. Butter and lightly flour a 9-inch loaf pan.
Step 2: In a bowl, whisk the flour, baking soda, and salt until combined.
Step 3: In a large bowl (using an electric mixer, if desired), beat the butter and sugar until combined. Beat in the eggs and vanilla, then the mashed bananas, leaving some chunky banana pieces.
Step 4: Fold in the flour mixture just until combined, then, fold in the walnuts.
Step 5: Scoop the batter into the prepared pan. Bake for 50 minutes to 1 hour, until a toothpick inserted into the bread comes out with a few moist crumbs.
Step 6: Transfer to a wire rack to cool for 10 minutes. Run a knife around the bread in the pan; carefully remove from the pan. Let cool completely on a wire rack.
Step 7: Serve with a small scoop of vanilla ice cream
Yields: 1 loaf
Julianne Hough's Skinny Spaghetti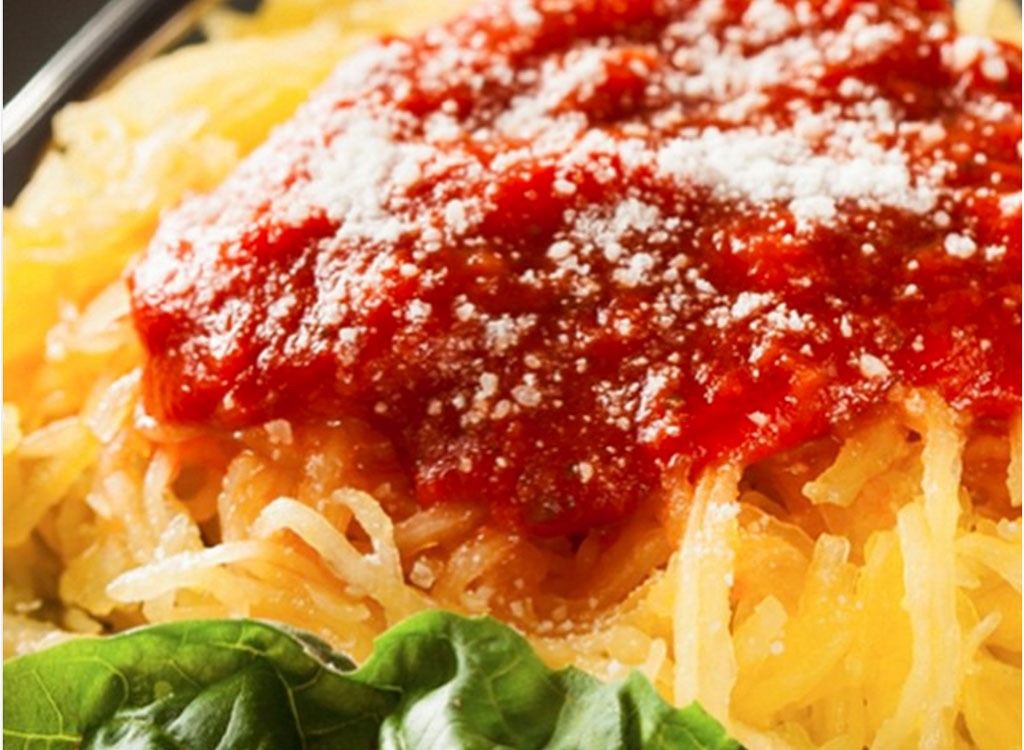 Two-time Dancing With the Stars champion Julianne Hough may have traded in her dancing shoes for a seat on the judge's panel, but thanks to a sensible and healthy diet, you'd never know it from looking at her body. Julianne, who's a big lover or indulgent fare, looks for ways to have her cake and eat it too when she's whipping up meals in the kitchen. One of her favorite dinner dishes: spaghetti squash marinara. "This is my new favorite dinner," the blond bombshell writes on Instagram. "You guys, it really tastes like you're indulging but you aren't!" The dish is not only simple and delicious but also lower in calories and carbs than the starchy original. Here, we reveal our own take on the recipe—inspired by Julianne's ingredients—that you can make at home in just minutes. Pair it with a side salad to complete the meal and don't miss these 17 Weight Loss Tips from Dancing With the Stars for even more flat-belly tricks and diet ideas.
WHAT YOU'LL NEED
2 Tbsp. extra virgin olive oil
1 medium spaghetti squash
Salt and pepper to taste
½ cup Ragu Light No Sugar Added Tomato and Basil, warmed
2 Tbsp. grated Parmesan cheese
1 bunch fresh oregano, chopped
HOW TO MAKE IT
Step 1: Preheat your oven to 450 degrees F. Cover an oven tray with foil and lightly grease with olive oil.
Step 2: Using a very sharp knife, split the squash in half lengthwise and scrape out the seeds and pulp.
Step 3: Season the squash with the olive oil, salt, and pepper.
Step 4: Place the two squash halves cut-side down on a baking sheet and bake for about 30 minutes, or until the insides are soft.
Step 5: Remove squash from the oven and allow it to cool for a few minutes. Then, run a fork through the inside of the squash to create spaghetti-like strands and transfer into two bowls.
Step 6: Top each bowl of "spaghetti" with a quarter-cup of marinara, 1 tablespoon of cheese and oregano to taste.
Serves: 2
Carrie Underwood's Tofu Scramble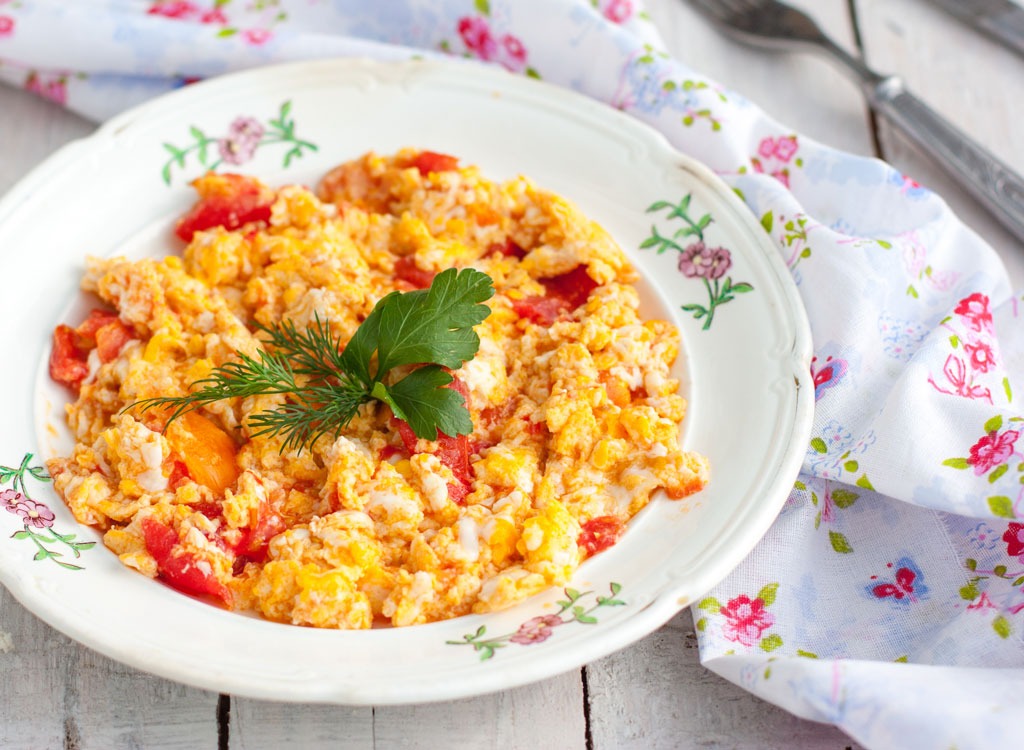 It's no secret that Carrie Underwood is serious about her health. Ever since winning American Idol ten years ago, the multi-Grammy-winning singer has been sharing her vegan diet and workout tips with her millions of fans. Though she has tons of recipes up her sleeve, she's a big fan of starting her day off with a wholesome tofu scramble. Her go-to rendition of the recipe is overflowing with nutrient-rich vegetables like onions, peppers, and spinach, so it definitely gets the Eat This! stamp of approval. Looking for more ways to stay lean like Underwood? Don't miss our special report, Carrie Underwood's Hot Body Tips!
WHAT YOU'LL NEED
3 oz. light firm tofu, crumbled
½ green pepper, diced
½ red pepper, diced
½ white onion, diced
½ tsp. of Mrs. Dash seasoning
Vegan cooking spray
Multigrain reduced-sodium English muffin, toasted
Low-sodium salsa, to taste
HOW TO MAKE IT
Step 1: Coat a small skillet with cooking spray and set the stove flame to medium heat.
Step 2: Sauté peppers and onions in the skillet.
Step 3: Once the onions begin to brown, add the tofu and stir everything together. Cook the mixture until tofu starts to brown.
Step 4: Mix in the Mrs. Dash, plate, and serve with an English muffin.
Serves: 1
Kourtney Kardashian's Turkey Bacon Mac & Cheese
When Kourt, is in the mood for something comforting and indulgent, she sits down to a bowl of hot mac and cheese. But it's not the blue box variety. As a health-minded mom of three, the reality star prefers to make her own rendition of the classic dish, made with gluten-free noodles, organic butter, and almond milk. Try her go-to recipe next time you want to feed your soul—without forgoing your whole-food diet. (And for the times you don't feel like cooking, opt for one of the Eat This!-approved options from our special report, 25 Best & Worst Boxed Mac and Cheese!)
WHAT YOU'LL NEED
1 package of gluten-free macaroni noodles
6 Tbsp. organic butter
½ cup organic flour
1 tsp. salt
1 tsp. pepper
1 tsp. dry mustard
5 cups almond milk
3 cups organic pepper jack cheese
3 cups organic mild cheddar cheese
1 package organic turkey bacon, cooked and chopped
HOW TO MAKE IT
Step 1: While the oven is preheating to 350 degrees, prepare the noodles according to package directions.
Step 2: In a separate, medium pot, melt the butter, then add in flour, salt, pepper, dry mustard, and milk. Stir until thick over medium heat (about 10 minutes).
Step 3: Add the cheese into the pot, melt completely and then pour over fully cooked noodles and mix well.
Step 4: Mix in the turkey bacon.
Step 5: Place the cheesy noodle mixture in an oven-safe baking pan and bake until crisp, approximately 45 minutes.
Serves: 8-10
Jennifer Aniston's Avocado Toast
It must be nice being Jennifer Aniston. Besides coupling up with some of Hollywood's hottest bachelors and having a super-successful acting career, the 47-year old is in amazing shape—a fact she credits to a common sense diet stacked wholesome, simple dishes. Some of her favorites: eggs over-easy and avocado toast, which she's told the press she regularly eats for breakfast. Here's how to make a similar meal:
WHAT YOU'LL NEED
2 whole eggs
1 egg white
1 slice Ezekiel bread, toasted
¼ avocado
Olive oil, salt, and pepper to taste
HOW TO MAKE IT
Step 1: Coat a skillet with a non-stick cooking spray and set the stove to medium-high high.
Step 2: Once the pan is hot, break the eggs and egg white into the skillet and immediately reduce heat to low.
Step 3: Once the whites are firm and yolks begin to thicken, slide a spatula under the eggs and flip. Cook until you've achieved the desired doneness.
Step 4: Mash the avocado onto the toast. Top with olive oil, salt, and pepper, and serve with the eggs.
Serves: 1
Lisa Rinna's Cheese Bread & Corn Relish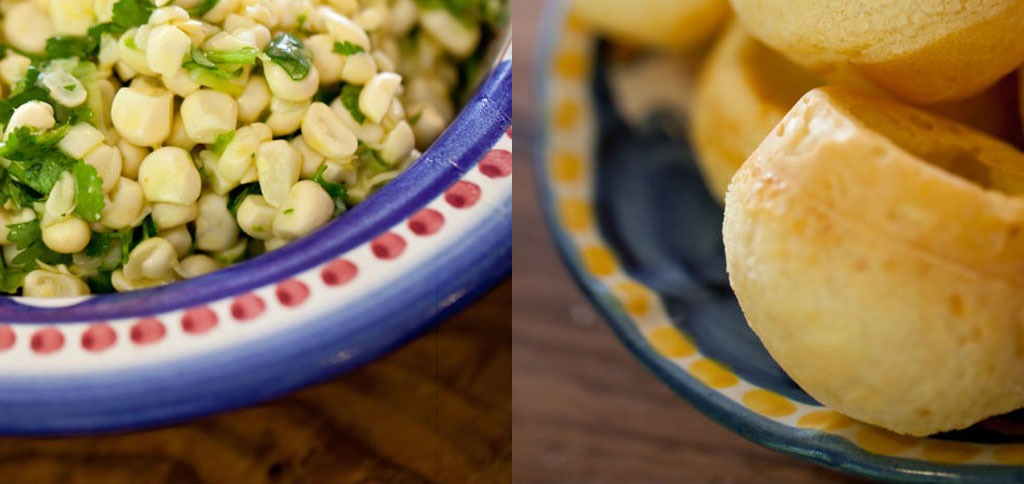 6254a4d1642c605c54bf1cab17d50f1e
Lisa Rinna of The Real Housewives of Beverly Hills looks better than plenty of women half her age and that's thanks in part to the healthy, light recipes Kaehler shared with her during their Sunday Set-Up meeting. Rinna, who adopted a gluten-free diet in 2010 initially had trouble finding simple, healthy foods that fit into her busy lifestyle, but Kaehler was able to show her the way. This two-part recipe is super flavorful, and pairs perfectly with your favorite healthy chicken recipe or veggie entrée. The coolest part? After the bread cooks, it actually ends up being hollow, which makes them perfect muffin-shaped vessels for the white corn relish.
WHAT YOU'LL NEED FOR THE CORN RELISH
2 fresh organic white corn cobs
2 organic limes, zest, and juice
2 Tbsp. extra virgin olive oil
2 green onion, finely chopped
1 Tbs. chopped jalapeno pepper
½ cup chopped cilantro
¼ tsp. sea salt
¼ tsp. black pepper
HOW TO MAKE IT
Step 1: Shuck the corn and cut off kernels and place in a mixing bowl.
Step 2: Add the zest and juice of the limes, olive oil, green onions, jalapeno and stir to coat.
Step 3: Add the cilantro, sea salt and pepper, and give it another stir. Let it sit for at least 30 minutes to marinate.
WHAT YOU'LL NEED FOR THE CHEESE BREAD
1 organic egg, room temperature
⅓ cup olive oil
⅔ cup low-fat organic milk
1 ½ cups tapioca flour
½ cup organic grated cheese (white or sharp cheddar)
1 teaspoon of salt
Additional spices and herbs (like cayenne, cumin or paprika), to taste
HOW TO MAKE IT
Step 1: Preheat oven to 350 degrees F.
Step 2: Oil muffin tins.
Step 3:Blend all ingredient in a blender and pour mixture into a muffin tray. The tins should only be half full.
Step 4: Bake for about 15 minutes or until lightly golden brown.
Yields: 12
Kylie Jenner's Fruit & Veggie Smoothie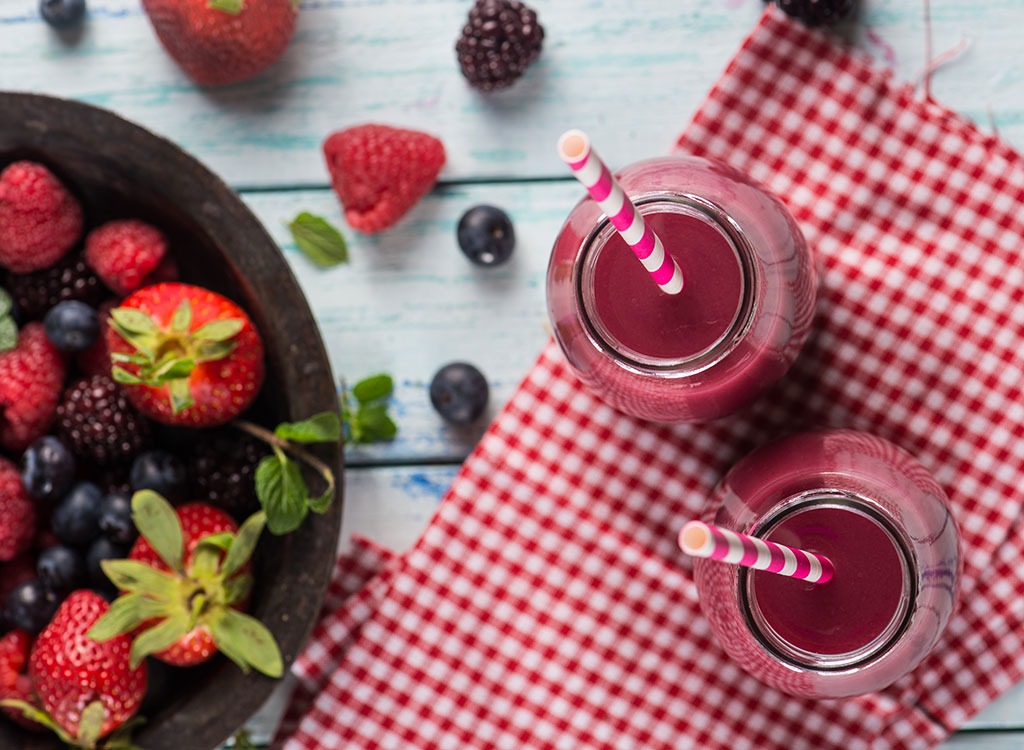 Though Kylie Jenner doesn't consider herself to be a "smoothie master," she does mix up a drink every now and again. And earlier this year, she took to Snapchat to experiment with some flavor blends. For her smoothie, the 19-year old reality star chose a delicious blend of leafy greens, sweet fruits, and a splash of sugary OJ. While juice isn't the best ingredient addition, since the amount is so small it's also not the worst thing for your body. The recipe you'll find below is our own spin on her "a little bit of this, a little bit of that" rendition, and as you'll notice, we've axed the orange juice. If you want to make a sip that's more authentic to Jenner's simple swap the water for OJ.
WHAT YOU'LL NEED
½ cup spinach
½ cup kale
¼ cup pineapple
¼ cup frozen blueberries
¼ cup frozen strawberries
½ scoop plant-based protein powder
Splash of water to blend
HOW TO MAKE IT
Step 1: Toss everything in the blender and let 'er rip!
Serves: 1
Lauren Conrad's Berries & Cream Toast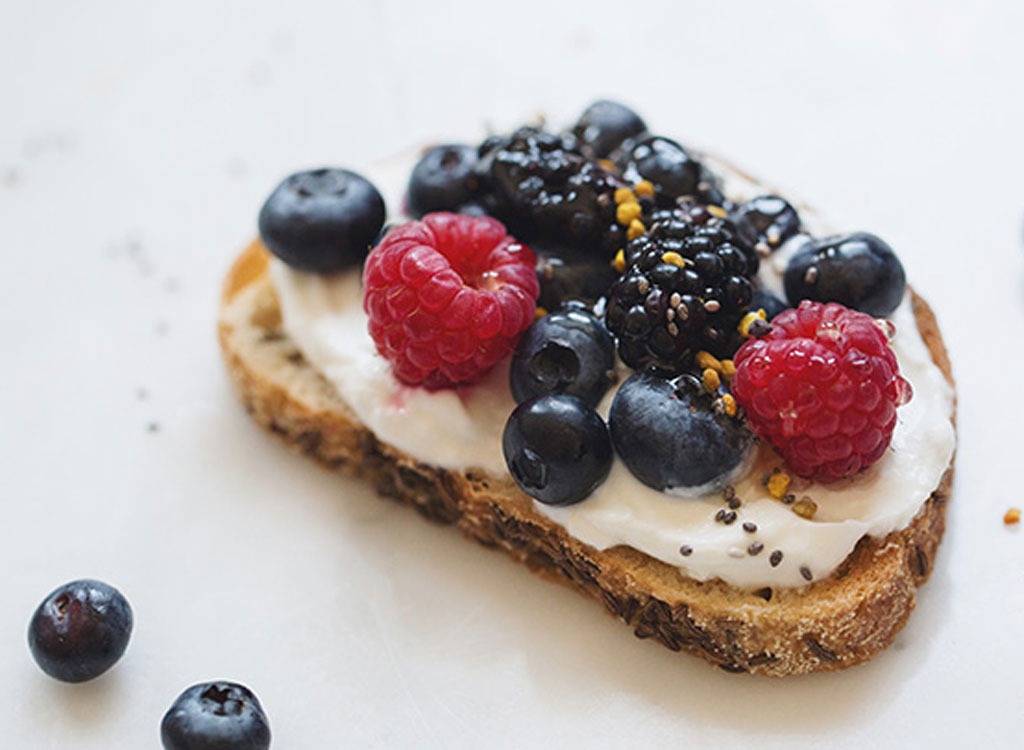 Trade your sugary cereal in for this less sinful—but just as tasty—sweet treat thought up by reality star turned author and fashion mogul, L.C. Loaded with disease-fighting antioxidants and belly fat-fighting cinnamon, this is one morning meal that is sure to help you stay healthy and trim. It packs 140 calories, 4.5 grams of satiating fiber, and 11.5 grams of muscle-replenishing protein. Pair it with a cup of green tea and some fruit or a hard boiled egg or two to keep the tummy rumbles away until lunchtime.
WHAT YOU'LL NEED
1 slice Ezekiel bread, toasted
3 tablespoons plain 2% Greek yogurt
¼ cup berries
Cinnamon, to taste
HOW TO MAKE IT
Step 1: Spread the Greek yogurt onto the toast.
Step 2: Top with berries.
Step 3: Sprinkle with cinnamon
Serves: 1
Oprah's Cauliflower Mashed Potatoes
Late last year, Oprah purchased a 10 percent stake in Weight Watchers and went on to lose nearly 30 pounds on their Beyond The Scale program. Needless to say, the 62-year-old mogul looks amazing! To maintain her weight loss, Winfrey—who's admitted to being quite the mashed potato fan—has recently started mixing potatoes with cauliflower to ax some of the carbs and calories from her favorite recipe. To make a similar dish at home, try out our recipe below.
WHAT YOU'LL NEED
2 medium potatoes, peeled and cubed
3 cups cauliflower florets
2 cloves garlic
1/3 cup 2% milk
3 Tbsp. grass-fed butter
Salt and pepper, to taste
2 Tbsp. finely chopped fresh parsley
HOW TO MAKE IT STEP
Step 1: Cover the cauliflower, potatoes, and garlic with water in a large saucepan. Bring to a boil over high heat.
Step 2: After the water has come to a boil, reduce the heat and simmer uncovered for about 15 minutes, or until the vegetables are tender.
Step 3: Drain the veggies and then return them to the saucepan. Mash and stir in remaining ingredients.
Serves: 6-10