10 Best Low-Calorie Breads, According to Nutrition Experts
If your love of bread runs deeper than Oprah's, find out which low-calorie breads are nutritionist-approved.
Do you know what's delicious? Bread! Soft and fluffy or dense and chewy, there are so many kinds of bread to drool over. Honestly, whether you're having a sandwich that's filled with savory layers, dipping pieces into a bubbling fondue, or simply nibbling on a slice of buttered toast, it's all a tasty staple in many people's diets. While there are unhealthy breads can be packed with arguably unnecessary calories you may want to avoid, there are also low-calorie bread options that are more conducive to a well-rounded, healthy lifestyle.
In case you weren't aware, bread can indeed be packed with both carbohydrates and calories. On the other hand, it doesn't tend to offer you the amount of protein, fiber, fat, or various vitamins and minerals that your body needs—although, the exact amounts will differ when it comes to various kinds of bread.
The same goes for bread's potential effects on your weight. For instance, a study that was published in BMC Public Health found that eating more than two portions of white bread every day was connected to "the risk of becoming overweight [or] obese." Of course, the issue may be caused, in part, by the type of bread you consume as well as the amount.
"We go overboard on bread and other highly refined grains. When you're hungry, tired, or stressed, you tend to reach for bread products, not carrot sticks. Problem is, the more you eat bread, the more you want," Heather Bauer, RD, CDN, co-author of Bread Is the Devil: Win the Weight Loss Battle by Taking Control of Your Diet Demons," reportedly told WebMD in a 2014 interview.
While that may prompt you to start grabbing some veggies the next time you feel snacky, it turns out that you don't have to completely deny yourself a satisfying sandwich.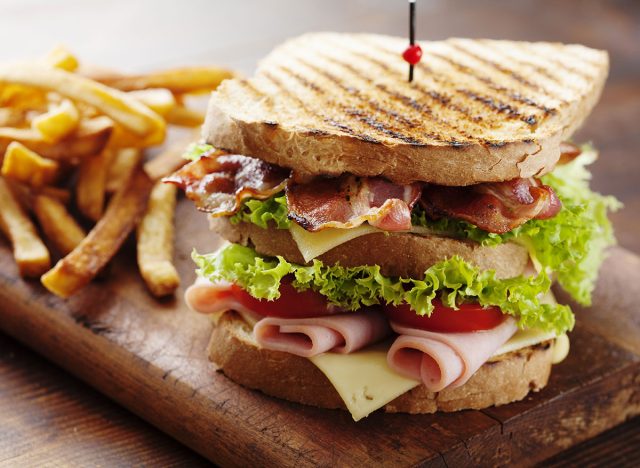 "Bread has been getting a bad rap for a long time," said Shelley Case, RD, a nutrition consultant and author of Gluten-Free Diet: A Comprehensive Resource Guide, per the aforementioned WebMD article. "It's worse now because there's so much negative press about gluten, the protein found in wheat, rye, and barley."
Granted, if you end up feeling more than just a little ill when you consume gluten, then you should definitely consider options that are specifically safe for your particular stomach. For those who aren't in the same bloated boat, then you simply need to make the best choice for your body when you pick up a loaf of bread or bake one yourself if you happen to be savvy in the kitchen.
"The best kinds of low-calorie bread are typically those made with whole grains, such as whole wheat, rye, or oats," Melissa Wasserman Baker, nutritionist and founder of FoodQueries, tells Eat This, Not That! "These types of bread provide more fiber and nutrients compared to refined white bread, which is often higher in calories and lower in nutrition."
With this in mind, you'll definitely want to check out the following suggestions for the best low-calorie breads, courtesy of a few dietitians—and for more healthy eating-related advice and further insight on the impact of eating certain unhealthy breads, be sure to check out 5 Surprising Effects of Giving Up White Bread, Say Dietitians.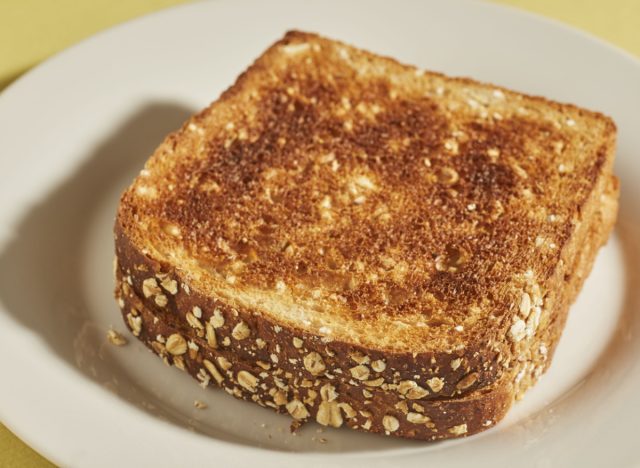 Calorie Count: 265 calories per 100 grams
"Whole-grain bread is a great option for those looking to reduce their calorie intake," explains Lori Walker, a registered dietitian, freelance food and nutrition writer, and recipe developer with Easy Kitchen Guide. "It has more fiber and is lower in calories than white or refined grain breads."
Whole grains also include a range of valuable vitamins, minerals, and nutrients such as iron, magnesium, vitamin A, vitamin E, and various B vitamins, according to the Mayo Clinic. Because of this, whole grain foods can help you manage your weight as well as blood pressure and cholesterol levels while also reducing the risk of heart disease and diabetes.
Perhaps this is why it's no surprise that Mayo Clinic Healthy Living Program Dietitian Angie Murad, MPH, also claimed that whole-grain is a top choice.
"The healthiest bread option is something that is made with whole grains. It needs to say whole grain," Murad told the Mayo Clinic in a video clip for its "Mayo Clinic Minute" series.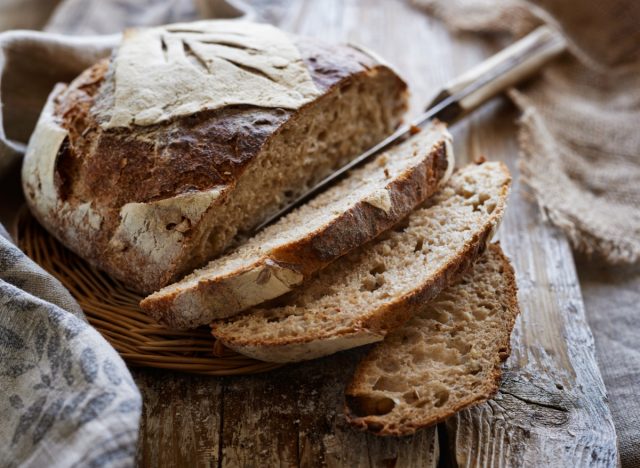 Calorie Count: 289 calories per 100 grams
If you remember back to the midst of the COVID-19 pandemic and subsequent mandatory quarantine period, plenty of people embraced baking sourdough to the delight of their bread-loving families. Along with being a delicious low-calorie option, Baker says, "Sourdough bread is made with a fermented dough, which can help improve digestion and nutrient absorption."
Research shows that sourdough can work similarly to a prebiotic in some cases. This is caused by the fiber in the bread which nurtures beneficial bacteria that are found in the intestines and lead to proper digestion. Medical News Today also points out that research has found sourdough can be an ideal option for weight loss thanks to its reasonable effects on blood sugar levels.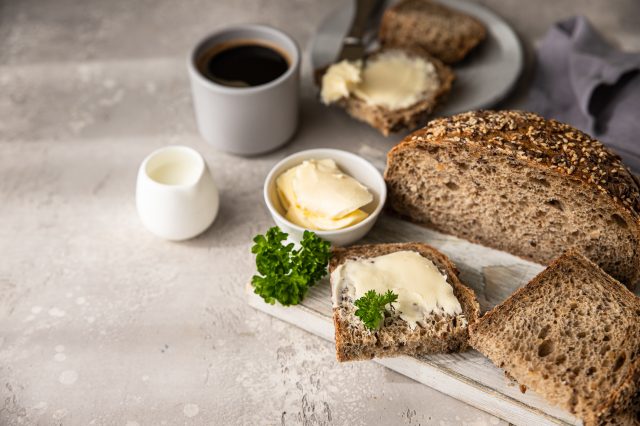 Calorie Count: 251 calories per 100 grams
When it comes to multigrain bread, Walker says it "is a good choice if you're looking for a low-calorie alternative with lots of flavor and texture." She also points out that "it usually contains several different types of grains, including oats, barley, and wheat."
Indeed, while whole grain bread is aptly named due to the fact that it makes use of the whole grain, multigrain bread also gives itself away in its name. A type of bread that opts for multiple grains, it may also include flax, millet, and quinoa as well as sunflower or pumpkin seeds. When choosing a multigrain bread, be sure not to grab just any option.
"Be cautious of terms like 'wheat' or 'multigrain' that don't mention a percentage," Laura Jeffers, MEd, RD, LD, advised via an article for the Cleveland Clinic. "They sound healthy, but they're probably made with partially or mostly refined white flour. Wheat flour is 75% white flour and only 25% whole-wheat."
Instead, you want to look for something that clearly has 100% of the nutritious ingredients that you want in your low-calorie bread.
"As always, it's important to choose a brand that is low in added sugar and light on the ingredients list," says Jean Hanks, MS, RDN, CDN. "The calorie content can range from 70–100 calories per slice, similar to whole wheat bread."
Calorie Count: 260 calories per 100 grams
"Sprouted bread is a type of bread made from grains that have been soaked, sprouted, and milled into flour," Walker says. "It is high in fiber and contains fewer calories than other types of breads, making it an ideal choice for those looking to reduce their calorie intake while still getting the nutrition they need."
Made of whole grains that are, indeed, sprouting, this bread has the lowest amount of carbs as well as a high amount of fiber. Something that those who are already dealing with high blood sugar or who have diabetes should consider, it can also help you lose weight because of its low calorie count. This is partly due to the fact that the grains in the bread actually soak up water to sprout, which, in turn, reduces calories.
"You can find a variety of brands baking sprouted grain bread," says Amy S. Margulies, RD, CDCES, LDN, NBC-HWC, while also suggesting sprouted bread as an ideal low-calorie bread option. "Choose one that is 80–110 calories, as there are various slice sizes."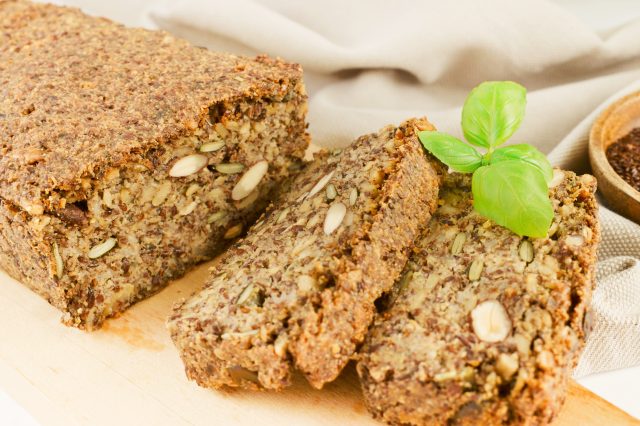 Calorie Count: 323 calories per 100 grams
"Coming in at 50 to 80 calories per slice, flax bread has a good amount of protein (4–5 grams per slice), 3 grams of fiber, and a small amount of healthy unsaturated fat coming from the flax," says Hanks.
Additionally, flax bread is high in antioxidants and may help to protect you from a number of health issues, including benefiting the heart as well as blood sugar and cholesterol levels. Flax can also help with constipation, hot flashes, and arthritis symptoms while potentially lowering the risk of cancer. In order to get the most out of flaxseed, the Mayo Clinic also notes that flax should be eaten while drinking water but not while taking oral medication.
Calorie Count: 227 calories per 100 grams
[English muffins] make great alternatives to sandwich bread at only 67 calories total [per muffin]," says Meghan Novoshielski, MS, RDN, a medical reviewer for Set for Set. "This is a big calorie savings from the average 80 to 120 calories per slice of regular bread."
Although there are different kinds of English muffins—including whole wheat, multigrain, and oat bran as well as versions that contain cinnamon, raisins, and other delicious additions—they all tend to offer fiber, iron, and a variety of vitamins, according to the U.S. Department of Agriculture.
Be sure to keep in mind that what you choose to put on your English muffin will also affect the number of nutrients and calories that you're consuming. For instance, while towering it high with fried eggs, cheese, and bacon will obviously make the calorie count skyrocket, you won't be facing quite as many calories if you go with veggies or fruit.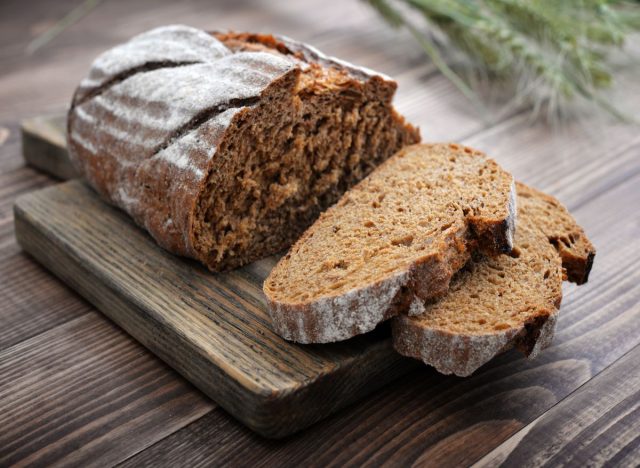 Calorie Count: 259 calories per 100 grams6254a4d1642c605c54bf1cab17d50f1e
Walker also adds rye bread to her list of suggestions, saying that it "is another type of low-calorie whole grain that can help promote weight loss while still providing the nutrition of whole grains."
"It contains fewer calories than other types of wheat, but more fiber compared to white or processed grain products," Walker says.
Rye bread boasts more micronutrients and has been linked to health gut microbiome activity. Additionally, studies have found rye bread won't cause your blood sugar to spike the way it might with white bread while it can also lower cholesterol levels, benefit your digestive system, and leave you feeling more full than other kinds of bread. It may also help with inflammation and even reduce the risk of certain cancers.
Calorie Count: 100 calories per piece
"These are a quick way to make a sandwich, open-face, mini flatbread pizzas," says Margulies. She also points out a stomach-pleasing and energy-boosting bonus, explaining that "you are getting two slices for the calorie price of one."
"I love these as it leaves extra room in your palate to taste the delicious combination of lean protein and veggies you choose to put inside," adds Margulies.
With just 100 calories per piece of flatbread, it makes it easy to keep track of your intake. Although, as Margulies notes, you may have to account for a few more calories for toppings. Of course, that will totally be worth it if you decide to make one of the many flatbread recipes available such as Pumpkin Arugula Flatbread, Orange Chicken Flatbread, or Apple Balsamic Flatbread. Yum, yum, and yum!
Calorie Count: 120 calories per 100 grams
"Cloud bread makes a good low-calorie and low-carb option," Novoshielski says. If you haven't heard of cloud bread before, Novoshielski explains that it's "made from egg whites, cream cheese, cream of tartar, and salt, [and] is a flourless option that is packed with protein."
The ingredients used to make cloud bread mean that it's gluten-free while also being keto and paleo diet-friendly. On top of that, Novoshielski adds that "you can make it yourself, but there are some store-bought options as well. One piece is about 50—60 calories."
"From a micronutrient perspective, cloud bread contains numerous nutrients not found in traditional bread, including vitamin A, vitamin D, phosphorus, choline, and selenium," said Edwina Clark, RD, head of nutrition and wellness at Yummly, in a 2016 article for Women's Health while discussing the nutritional benefits of cloud bread beyond its low calorie count."These nutrients support eyes, bones, metabolism, cognitive function, and immunity."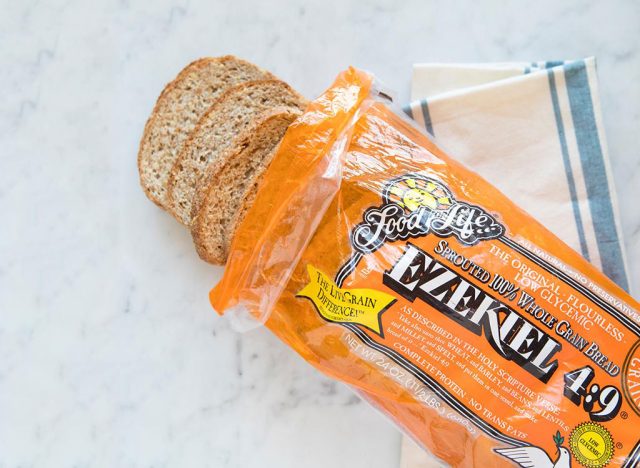 Calorie Count: 240 calories per 100 grams
"This bread is made with sprouted whole grains and legumes, which can help increase the protein and nutrient content," says Wasserman.
To be more specific, Ezekiel bread—which is around 240 calories per 100 grams or a mere 80 calories per slice—is free from both flour and sugar. However, it takes advantage of the nutritional benefits offered by cereal grains like wheat, barley, millet, and spelt. That's along with legumes such as lentils and soybeans. Something that you can certainly make—or rather, bake—for yourself, it's become a popular option on grocery store shelves which should make it easy to find.
Desirée O
Desirée O is a freelance writer who covers lifestyle, food, and nutrition news among other topics.
Read more about Desirée
Sources referenced in this article