Here's What We're Cooking to Survive Quarantine
The best dishes the Eat This, Not That! staff has been whipping up at home.
These are some unprecedented times with the COVID-19 pandemic in full swing. Given how little we know about the virus' capabilities and how many lives have already been lost, few things can provide us comfort right now…
That is, except for a nice home-cooked meal or dessert.
The team at Eat This, Not That! got together (virtually, of course) and swapped some recipes we've been making during quarantine in order to help get each other through this challenging time.
Now, we'd love to share our special creations—and how to make them—with you too.
Dark Chocolate Chip Banana Nut Bread
"I follow my mom's recipe for banana nut bread, but I added dark chocolate morsels to make it a little more indulgent, and, in my opinion, chocolate makes everything better. The key is to bake it at 350 degrees for 50 minutes—that way the top of the bread is a bit crispy, but when you slice into it, the inside is still soft and moist and the chocolate is perfectly gooey. I tend to go heavy on the walnuts and chocolate, as there is nothing better than having bits of both in every bite. This bread is just a true taste of comfort."
– Jen Maldonado, senior editor 
Shakshuka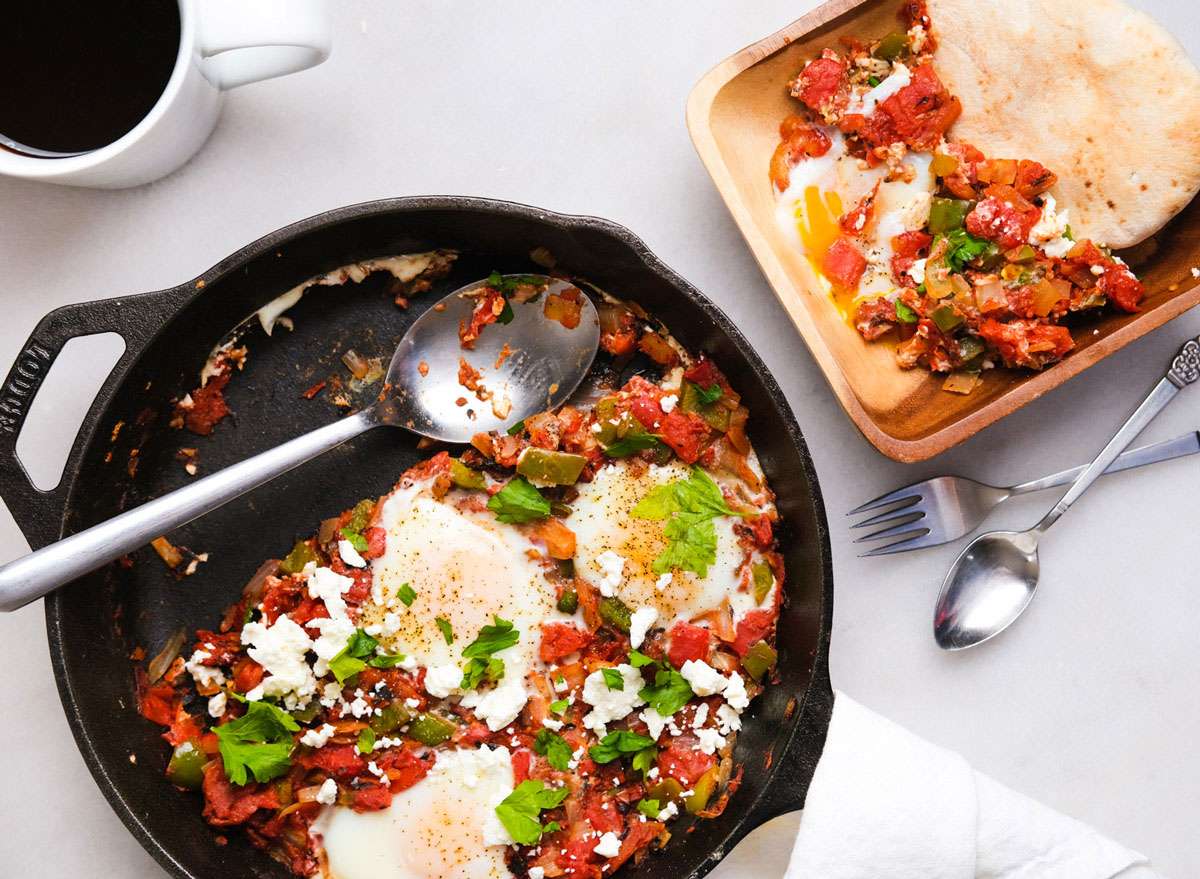 "I took a walk on Sunday and saw that my favorite hummus place opened up a 'market' to sell some of their goods, including their addicting fresh pita bread, and I instantly had a craving for shakshuka. While I could have made our ETNT version of shakshuka (or our Italian version, eggs-in-purgatory), I decided to invent my own version using what I already had in my fridge and pantry.
I sautéed peppers, onions, and minced garlic, added a can of fire-roasted tomatoes then cracked in four fresh eggs. Topped with feta cheese and chopped parsley, this breakfast is one of my new favorites to make in quarantine—with that pita bread, of course. To keep my pita fresh, I froze them, and then toasted each one individually when I wanted it."
– Kiersten Hickman, senior editor
Philly Cheesesteaks
"My mom made a favorite of mine: Philly Cheesesteaks with onions and peppers. Mom made a side of easy baked cut potatoes seasoned with fresh rosemary, garlic, salt, and pepper. I like to dip them in Trader Joe's organic ketchup. I put mayo and extra cheese on my cheesesteak for flavor, and added some strawberries to my plate to get more color in my meal. Side note: Toasted bun is the way to go, 100 percent."
– Ann Marie Langrehr, social media editor 
Lentil Soup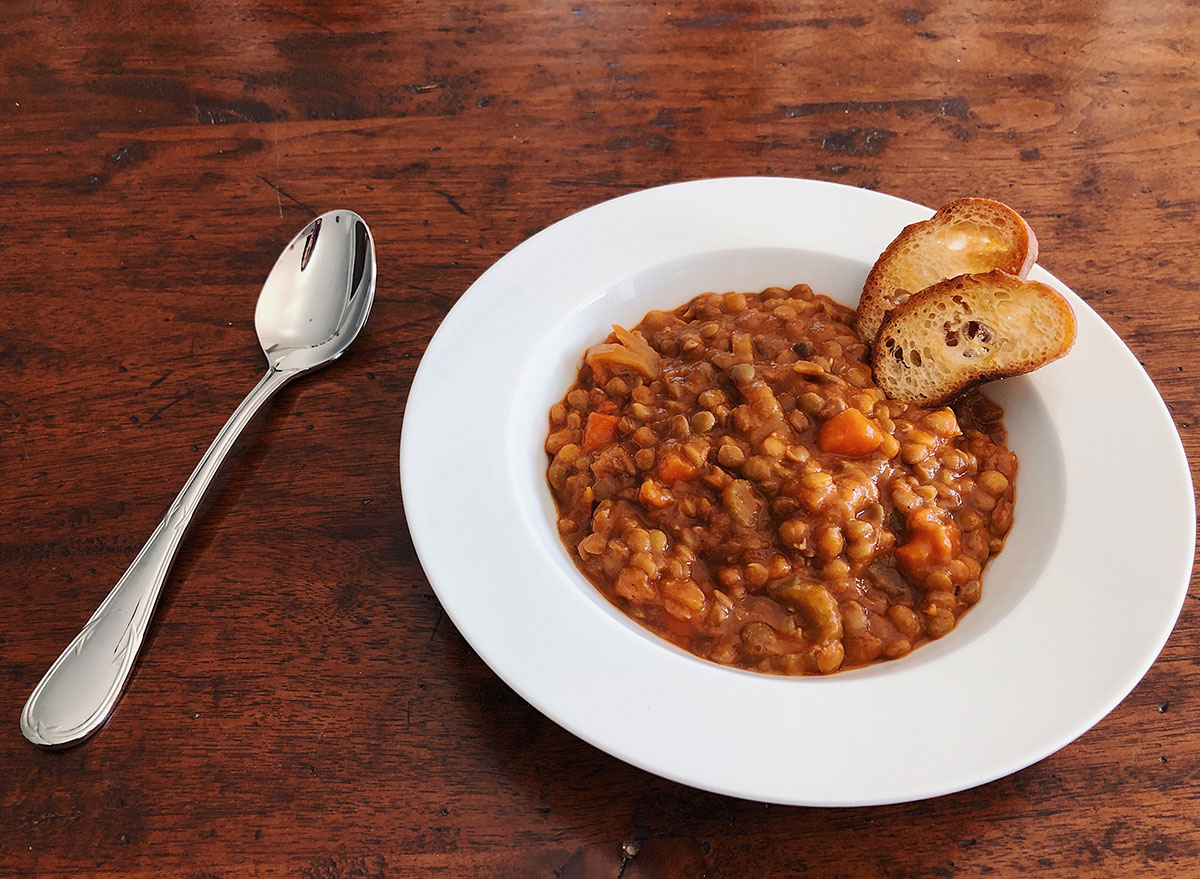 "I've been eating lentil soup for lunch quite often, while working from home. You can either make it from scratch with all your stocked up pantry items, or you can buy it pre-made and keep it in the freezer to heat up any time. I'm a huge Ina Garten fan (we're both actually quarantining in the same town!), and she's been posting easy recipes on her Instagram starting last week—her Stewed Tomatoes and Lentils recipe is what inspired my version."
– Rachel Linder, editorial assistant 
Grits + Toast + Egg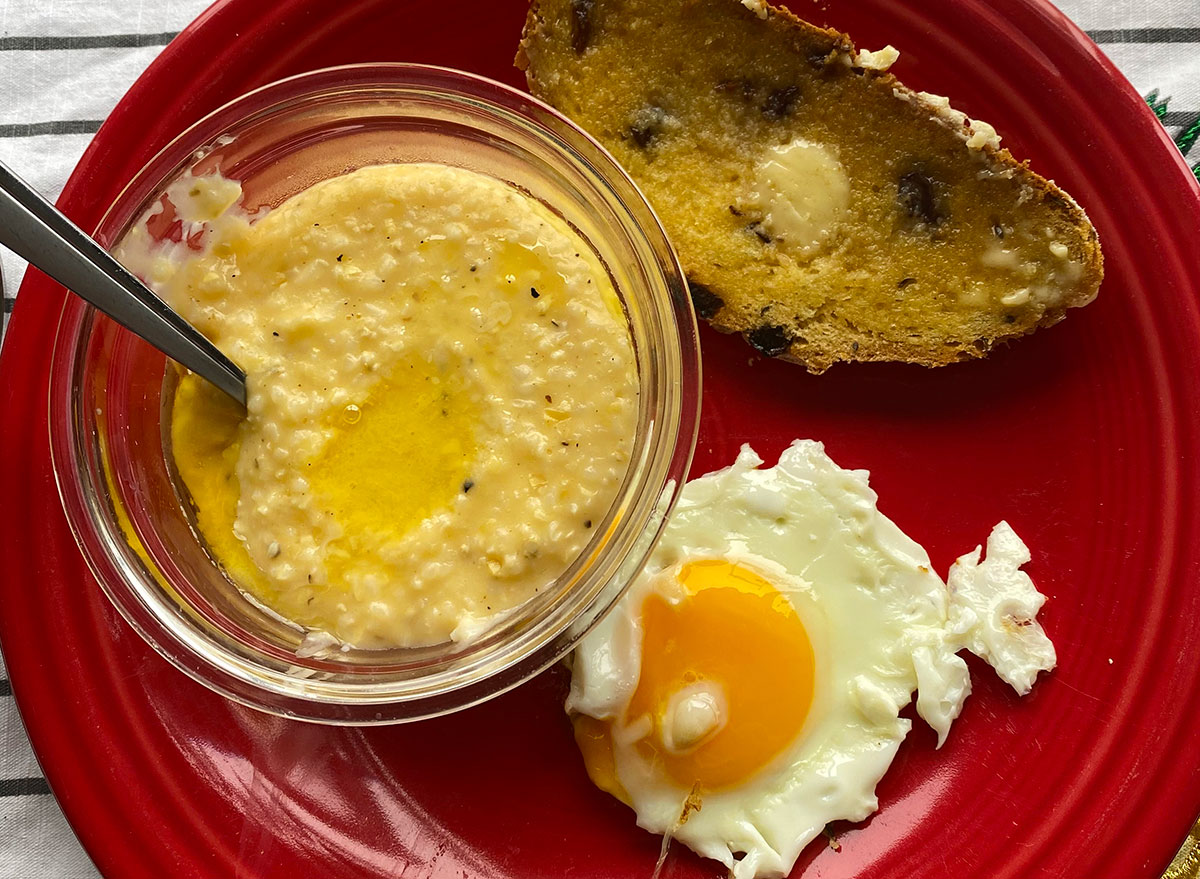 "My husband and I work opposite schedules—I'm often asleep when he gets home at night, and he's asleep when I leave for work in the mornings. But now that I'm working at home, we can eat brunch together in the mid-mornings before he leaves for work. We'll have eggs or bacon with fruit and toast, and sometimes grits. It's nothing fancy, but it's a small positive of the current situation that we're now able to spend some time together."
– Meghan De Maria, senior editor 
Pantry Tuna Nicoise Salad
"Quarantine food has been a balancing act of using fresh ingredients with pantry staples. I love making this Nicoise-inspired tuna salad because it's easy to throw together and it's highly adjustable to whatever you have in your fridge [or] pantry. I make sure to get the highest quality of tuna possible so I feel like I'm still eating healthfully, and my go-to is jarred Tonino tuna in olive oil. Potatoes are a great pantry staple, as are lentils, and I top it all off with a seven-minute egg. Yum!"
– Mura Dominko, senior editor 
Probiotic Yogurt Bowl With Raspberries, Grain-Free Granola, & Chia Seeds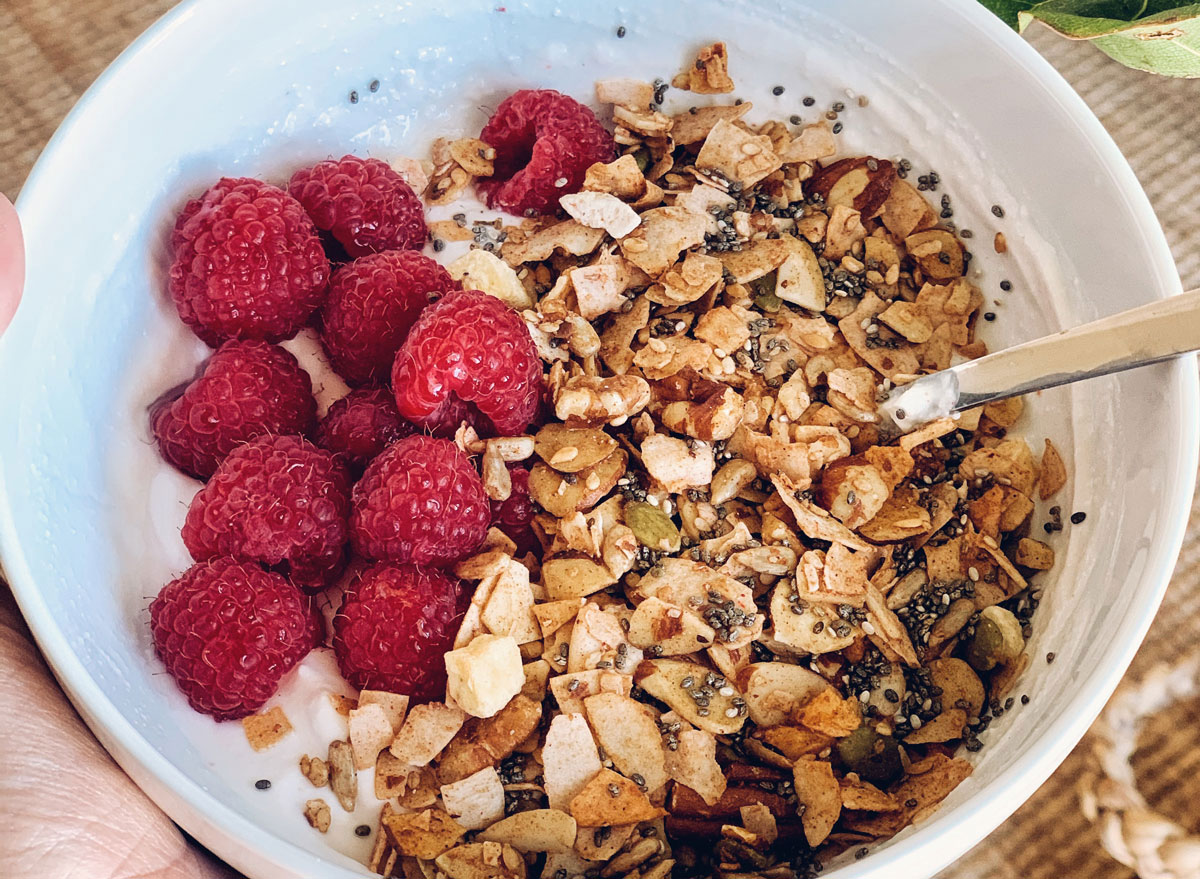 "Yogurt is my go-to breakfast, but I traditionally only eat it alone. Now that I'm working from home, I have more time to round it out into a full meal. For this, I mixed a spoonful of The Coconut Cult probiotic yogurt (which has 25 billion probiotics per serving—and probiotics are supposed to help boost your immunity) with a cup of Icelandic Provisions Strawberry Lingonberry Skyr (it has 15 grams of protein per serving!). I topped it off with fresh raspberries, Seven Sundays Rise & Shine Grain Free Muesli, and an extra scoop of chia seeds for some much-needed fiber and healthy fats."
– Olivia Tarantino, senior editor 
Homemade Granola
6254a4d1642c605c54bf1cab17d50f1e
"There's no such thing as the 'granola lobby,' but if there was one, 'Big Granola' would try to keep this info from you: homemade is so much easier, cheaper, and much tastier. Like making a good stew or chili, its very difficult to mess up!
At this point, I eyeball ingredients, but here's how I make it: I heat up about a quarter cup of maple syrup, two tablespoons of coconut oil, and two tablespoons of raw peanut butter. Mix that with three cups of oats (not instant!) and shredded coconut, then spread over a baking sheet. Cook at 350 for 18 minutes, let it cool, et voila!"
– Colby Hall, news director
Gluten-free Ramen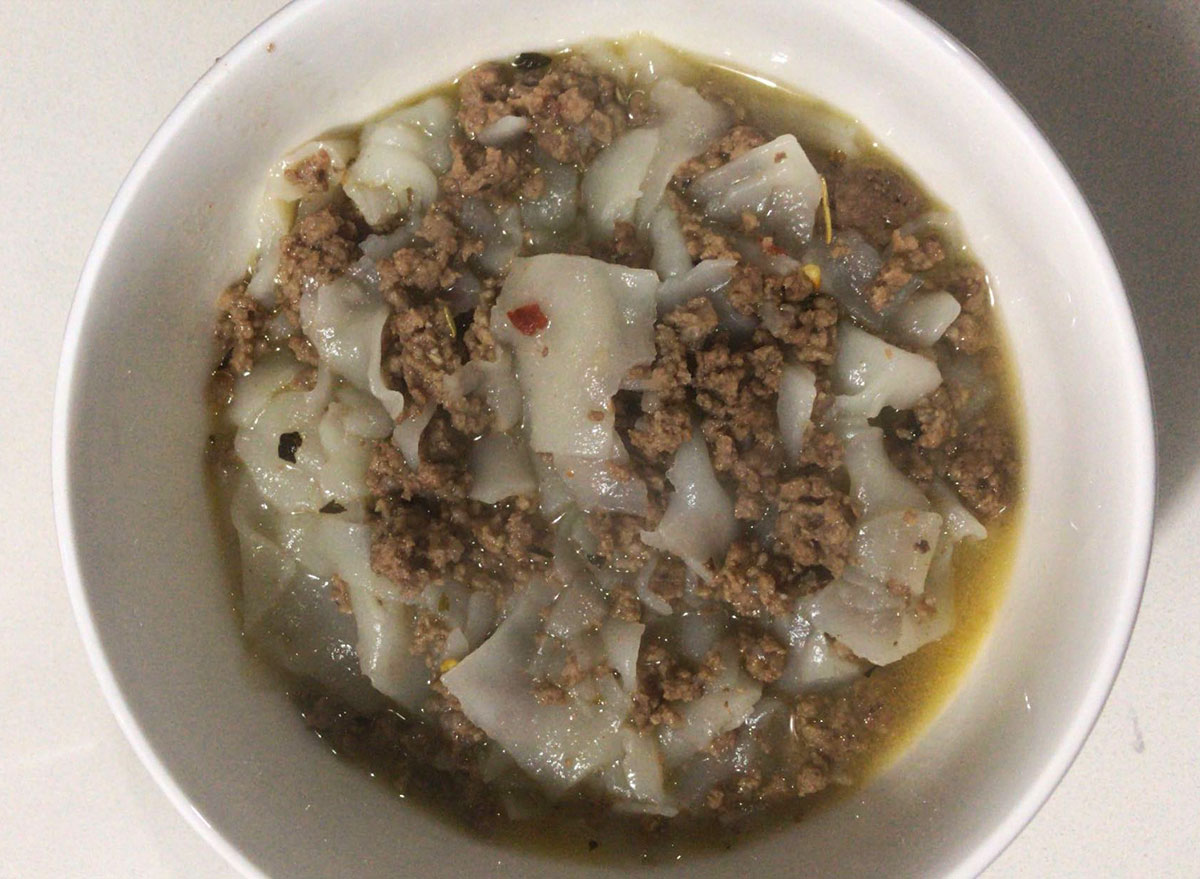 "It has become very clear to me that my colleagues are much better at taking beautiful photos of food than me. While my ramen looks underwhelming in this image, I will assure you it did not lack in flavor whatsoever. I used collagen-packed Brodo bone broth, ground beef from Butcher Box, rice pad Thai noodles, and an assortment of spices. What I was missing? Chili oil and fresh herbs. Both of these ingredients would have really knocked this soul-warming bowl of nourishment out of the park. Until the next mandated quarantine, I suppose."
– Cheyenne Buckingham, news editor