20 Amazing #MeatlessMonday Ideas
With so many tasty, satiating vegetarian options for a #MeatlessMonday meal, we guarantee you won't be asking "Where's the beef?"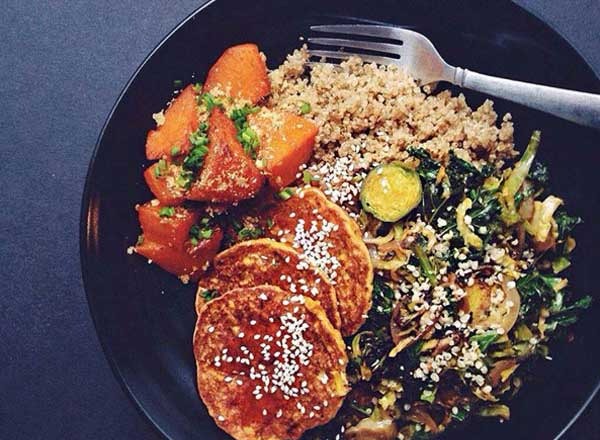 Meatless Monday—a grassroots trend started over a decade ago—has gradually evolved into a nation-wide movement. Many carnivorous Americans have adopted Meatless Monday into their routines to help cut down on environmentally-taxing meat consumption and to increase the number of vitamin-, mineral-, and antioxidant-rich fruits and vegetables in their diets. Not only does this array of produce lend immense health benefits—from cholesterol-lowering and immunity-boosting to antiaging and anticancer properties—a recent study performed by the Obesity Society found that plant-based diets showed higher weight loss than conventional diets, without emphasizing caloric restriction. You don't even have to go full-blown vegetarian to take advantage of these benefits; just start with one Meatless Monday!
You've most likely been cooking your meals around an animal-based protein for as long as you remember, so eating a whole day without meat might seem daunting. Have no fear; bloggers are here! For some beautiful (and healthy) Meatless Monday inspiration, add these 20 Instagram accounts to your feed, stat. Too many colorfully nutritious meals for one day? Hop on the meatless bandwagon and give Meatless March a go!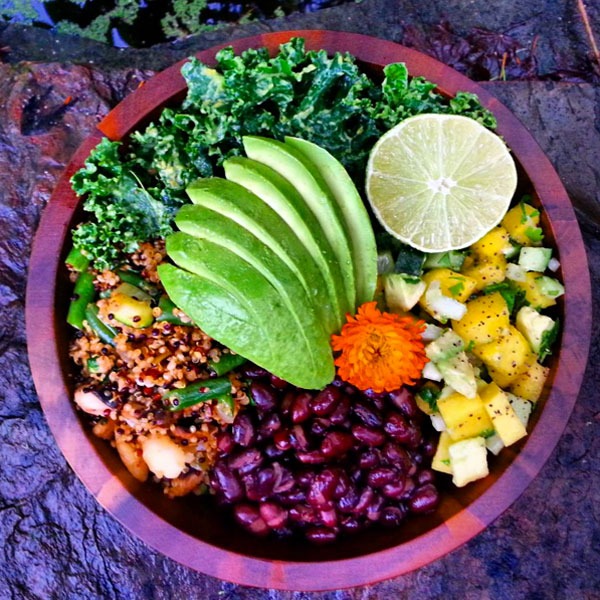 Switch out your chicken caesar salad with this simple and clean bowl. Blogger Krystal Joy gets in her whole foods by combining raw, massaged kale with a mango-lime-avocado salsa. She gets a healthy dose of protein from black beans and quinoa. Quinoa is a great way to meet your protein requirements on Meatless Monday, so pick up some more recipes with these 30 Quinoa Recipes for Weight Loss.
Get more inspo by following @venturingvegan on Instagram.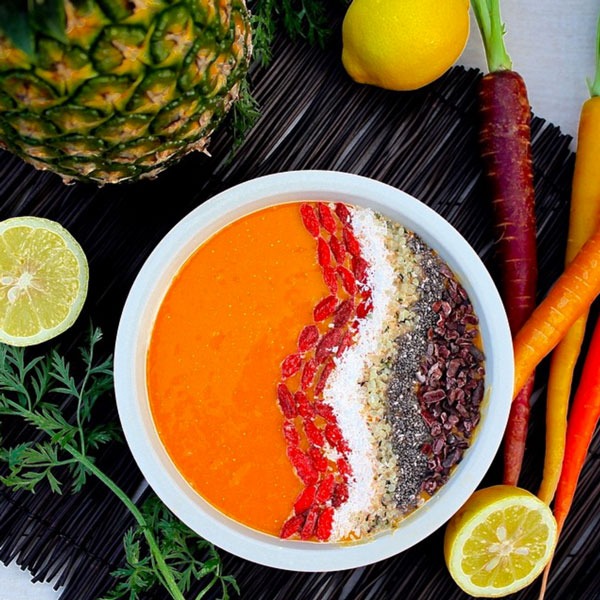 Start your Meatless Monday off right with this bright and beautiful mango-pineapple-carrot smoothie bowl. Lexi and Beth boost their immune system with vitamin-A-rich carrots and turmeric. This yellow spice provides the only edible source of curcumin, an active phytochemical that is not only an anti-inflammatory, but also an antioxidant and anticancer agent.
Get more inspo by following @superfoodrunner on Instagram.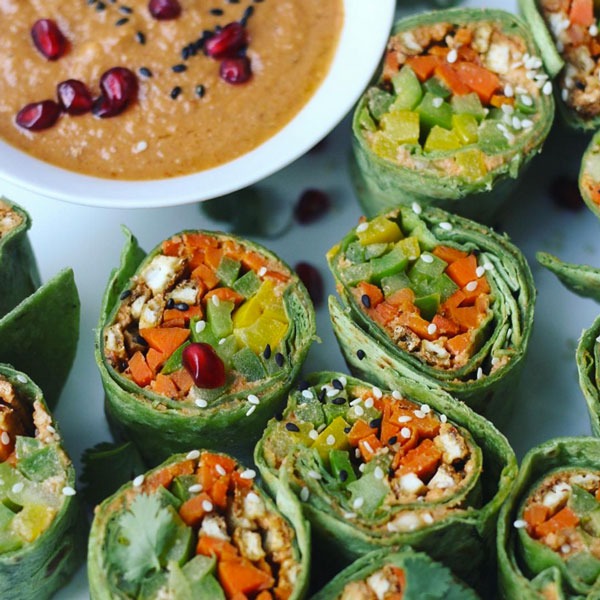 Keep on your meatless track during lunch with these loaded veggie-tofu wraps. While veggie wraps are known to be bland or boring, this one is far from it. With a spicy dipping sauce, you'll be sure to both boost your metabolism and build muscle with the added chili sauce and protein-packed almond cream.
Get more inspo by following @foodfashionparty on Instagram.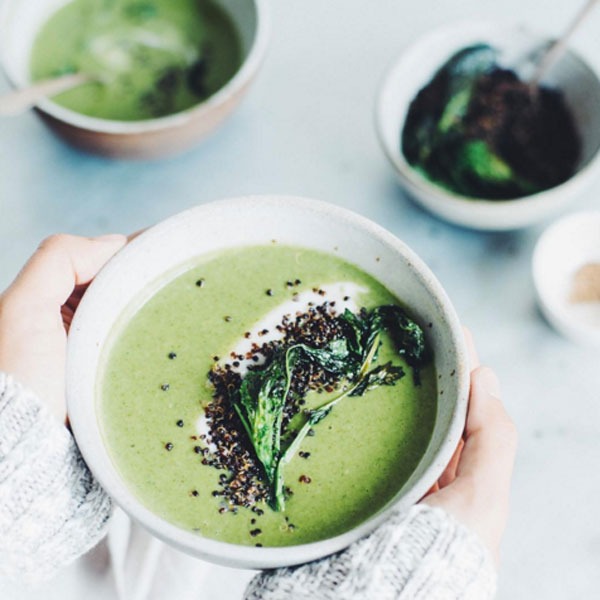 Here's an upgraded, nutrient-dense take on a classic cream of broccoli soup. Lindsey Love subs in broccoli rabe because this green leafy vegetable has over 4 times the amount of Vitamin A than broccoli and it's packed with potassium, iron, calcium, and dietary fiber. A touch of crunch is added with crispy, popped quinoa and a little creaminess with probiotic-rich yogurt.
Get more inspo by following @dollyandoatmeal on Instagram.
Once you get a taste of these fluffy toasted coconut pancakes, your morning bacon, egg, and cheese will no longer do it for you. Not only do they taste dreamy, but they'll help keep you going all day long and you'll lose weight. These pancakes are made with with raw rolled oats flour, which provides you with satiating fiber and resistant starch: a starch that feeds healthy gut bacteria, leading to prolonged feelings of fullness and more efficient fat oxidation.
Get more inspo by following @minimalistbaker on Instagram.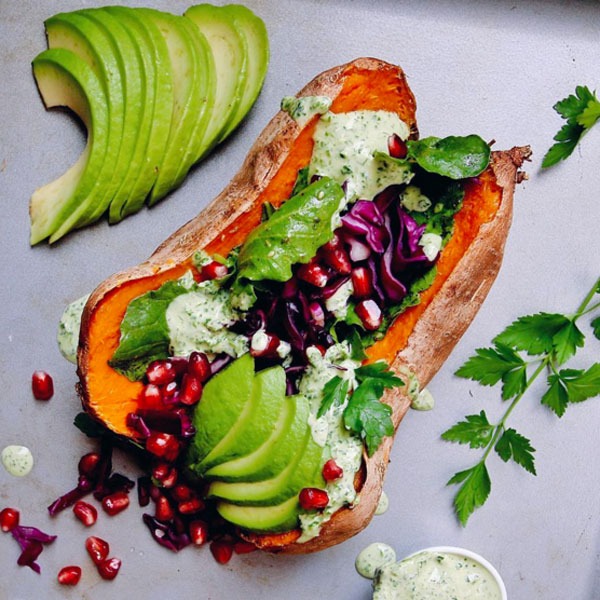 Meatless Monday is a great time to expand your food horizons and try new, exotic flavors. Travel to the middle east with this delicious baked sweet potato stuffed with red cabbage, rocket salad with Za'atar dressing, green tahini sauce, avocado and pomegranate seeds.
Get more inspo by following @blackwhitevivid on Instagram.
If you've been craving a vitamin-packed Buddha Bowl, you can certainly take a page from Aine Carlin's book. Combine quinoa, roasted sweet potato, stir-fried sprouts 'n' kale, and a few substantially-sweet corn pancakes, and top it all off with heart-healthy, omega-3-rich hemp seeds.
Get more inspo by following @ainecarlin on Instagram.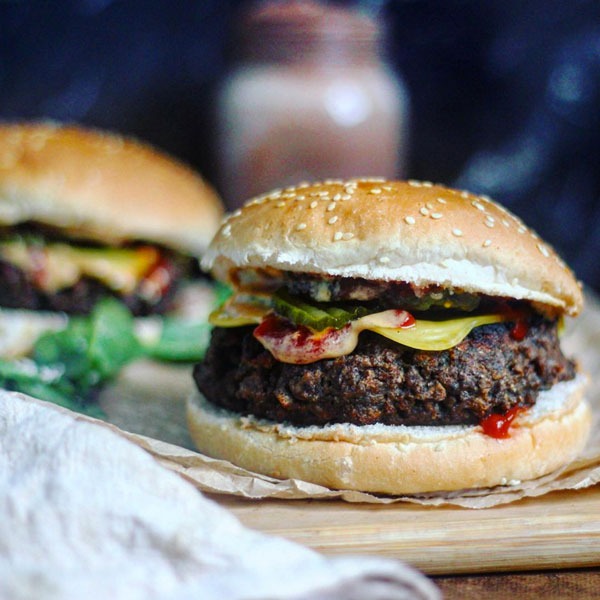 6254a4d1642c605c54bf1cab17d50f1e
If going a day without a burger is too much for you (Americans do eat, on average, 3 burgers a week…) make your own bean veggie burger! Making a patty at home is a much healthier, fresher alternative to buying processed mock meats that can be packed with additives and preservatives.
Get more inspo by following @sobeautifullyraw on Instagram.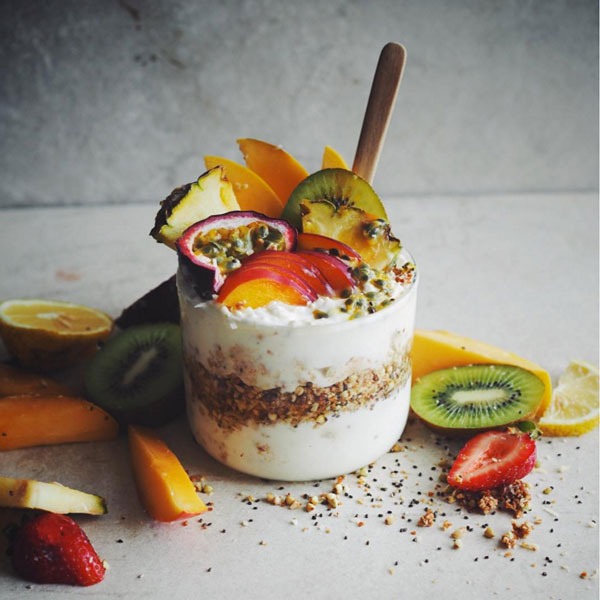 Lucky for you, meatless monday doesn't mean you have to give up your overnight oats habit. Besides looking really really ridiculously good-looking, these summer fruits will help you absorb more nutrients out of your overnight oats because of their high levels of vitamin C. The added vitamin can boost oatmeal's ability to lower cholesterol by nearly 60 percent, according to a study.
Get more inspo by following @talinegabriel on Instagram.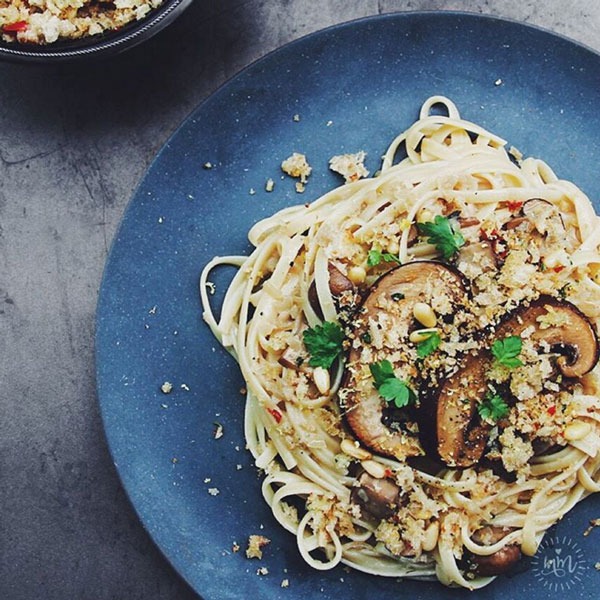 Just because your day is plant-based doesn't mean you can't have some lusciously indulgent pasta. This creamy linguine boasts a classic meat-replacer, mushrooms, because they contain the same umami, or "savory" compounds that make animal protein taste so good. They might taste similar, but these button-shaped plants contain a host of minerals—like selenium, copper, potassium, zinc and manganese—as well as free-radical fighting antioxidants that meats lack.
Get more inspo by following @missmarzipancom on Instagram.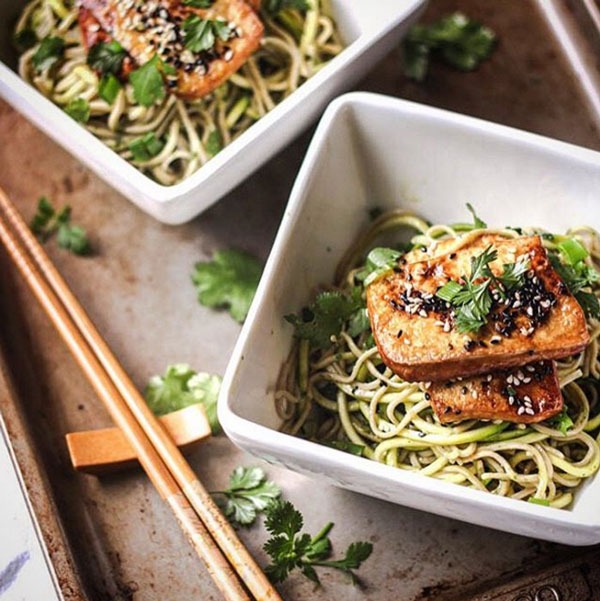 If you're looking to get the full vegetarian experience, why not try a tofu dish? Dearna Bond makes the soy-based protein replacement look appetizingly delicious by marinating it in a sweet and tangy soy sauce dressing and then roasting it. It's served over a bed of soba and zucchini noodles and slathered in a creamy avocado dressing spiked with bloat-banishing ginger and zesty lime.
Get more inspo by following @tohercore on Instagram.
Using lemongrass, chiles and coconut milk, Thai curry brings all of the classic flavors of Southeast Asian cuisine—salty, sour, bitter, hot—together in one dish. Even better, all of these flavors come from ingredients packed with powerful antioxidants. What's more, coconut milk contains lauric acid, a healthy fat that raises your "good" HDL cholesterol levels.
Get more inspo by following @shanyaraleonie on Instagram.
While traditional enchiladas are a definite Not That!—flour tortillas dipped in fat, stuffed, rolled, covered with cheese, and topped with sour cream will cost you over 700 calories, 50 percent of which is fat—this plant-based version is an Eat This!. Instead of meat, they're filled with sweet potato, black bean, onion & garlic, and topped with a light tomatillo chile cilantro sauce. Eating spicy chiles is just one way to boost your metabolism!
Get more inspo by following @botanicaleats on Instagram.
Break out your spiralizer and get to cranking! Seasonal root veggies are a great, antioxidant-rich addition to any pasta dish. Use this meatless monday to introduce yourself to veggies that you're unfamiliar with! This blogger uses kohlrabi, arugula, candy beet, marinated slaw, julienned carrots and shaved radishes.
Get more inspo by following @tastyasheck on Instagram.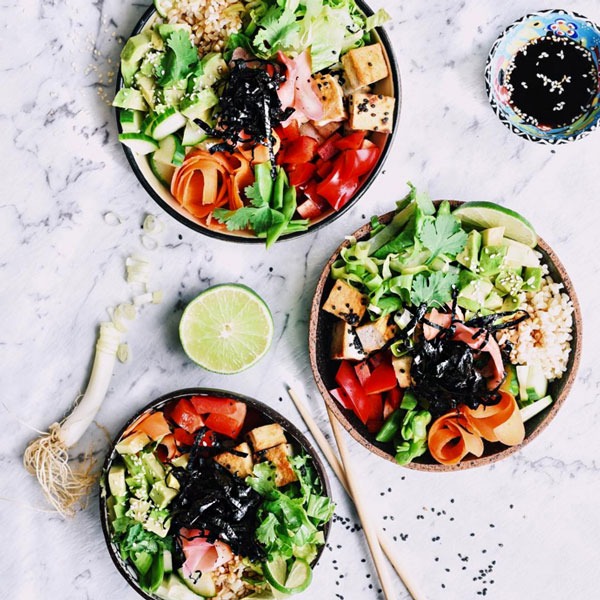 You may have heard of quinoa bowls, Buddha bowls, and acai bowls, but have you heard of sushi bowls? Get inspired to create your own lunch bowl by your favorite sushi roll: use brown rice, a plethora of veggies, and top it off with some nori—black seaweed that's high in fiber, protein, and phytonutrients that have been shown to help prevent tumor growth. Serve with a side of soy sauce and ginger!
Get more inspo by following @elsas_wholesomelife on Instagram.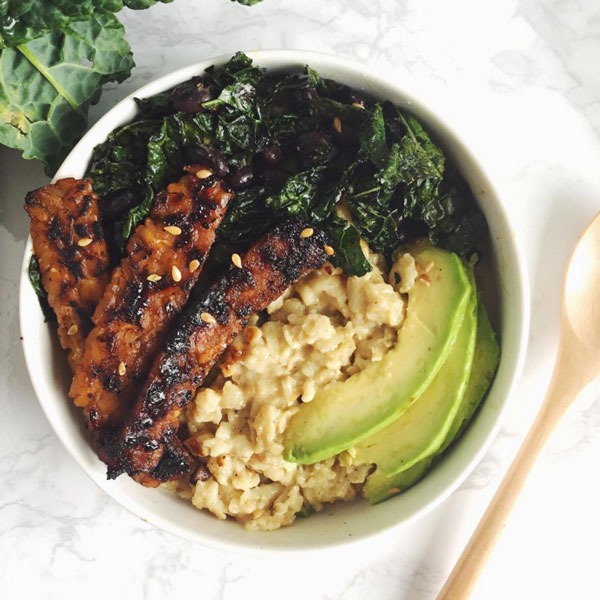 If you missed out on a fruity, nut-buttery oatmeal for breakfast, try a savory oatmeal for dinner! Emilie serves hers with kale, black beans, avocado, and tempeh bacon. Tempeh is a firmer version of tofu and contains more protein per gram. Worried about getting enough protein on your meatless monday? Check out these 20 Protein-Packed Vegetarian Meals.
Get more inspo by following @emilieeats on Instagram.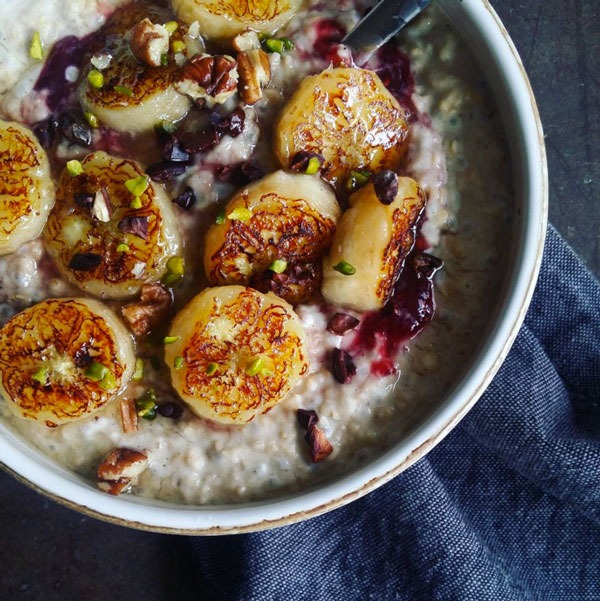 No those aren't seared scallops, they're something much much better: pan fried bananas. These gorgeously caramelized medallions top a deliciously creamy chia-oatmeal pudding along with raspberry jam, cacao nibs, and a sprinkle of pistachios. Pistachios are one of the lowest-calorie nuts out there, and even though they're low in fat, almost all of the fats they do have are heart-healthy mono- and polyunsaturated fats, which when consumed in combination with a healthy diet may reduce the risk of heart disease.
Get more inspo by following @mylifeisdelicious on Instagram.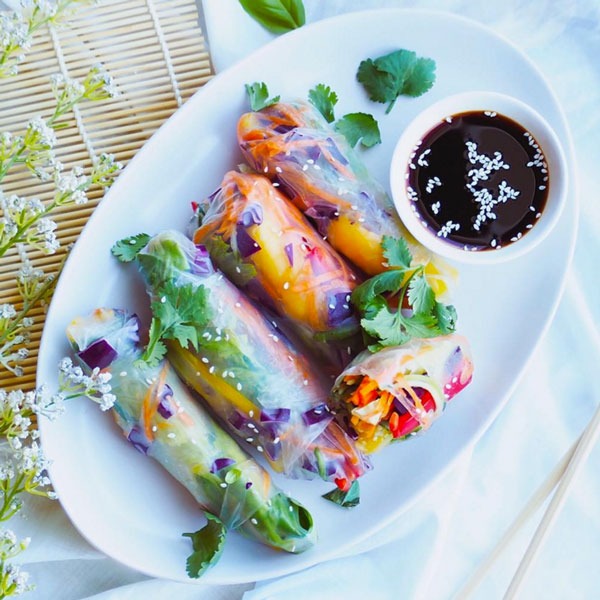 Plant-based cuisines, many of which are Asian, are a great starting point for getting meatless inspiration. These Vietnamese rice paper rolls are filled with a rainbow of vegetables: red peppers, carrots, yellow peppers, cucumbers, cilantro, spinach, and purple cabbage.
Get more inspo by following @mikaylabethanyy on Instagram.
Yes, we know dessert typically doesn't have meat in it, but how often does your dessert lack some smooth and creamy element? We took this opportunity to showcase this banana and chocolate ice cream vegan treat. Instead of using dairy, these popsicles are made from 4 simple ingredients: bananas, coconut oil, cacao powder, and maple syrup. Coconut oil is a great flat-belly ingredient because its medium chain triglycerides can help you burn calories, along with 19 Other Benefits of Coconut Oil.
Get more inspo by following @mmmoky on Instagram.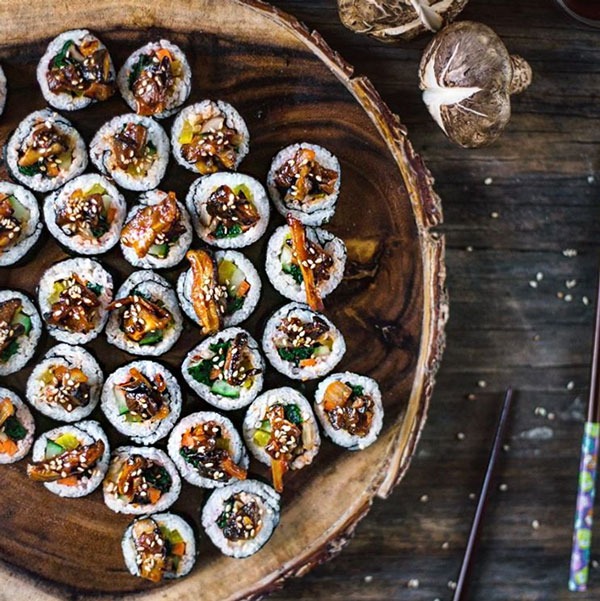 Sushi is a great way to go meatless, but raw veggie sushis can become monotonous. Try these homemade bulgogi kimbap rolls! These Korean rolls typically have marinated beef, but this blogger uses roasted eggplant and earthy shiitake mushrooms instead.
Get more inspo by following @themintyanne on Instagram.
Eat This, Not That!
Inspired by The New York Times best-selling book series, Eat This, Not That! is a brand that's comprised of an award-winning team of journalists and board-certified experts, doctors, nutritionists, chefs, personal trainers, and dietitians who work together to bring you accurate, timely, informative, and actionable content on food, nutrition, dieting, weight loss, health, wellness, and more.
Read more about Eat This