7 Iconic American Steakhouses To Add To Your Bucket List
These top-tier steakhouses that cannot be missed.
Whether you need a spot to celebrate a birthday or anniversary or just want to treat yourself to a nice meal out, a steakhouse is always a good idea. Steakhouses not only have menus filled with delicious steak cuts, tasty sides, and over-the-top desserts but often serve these items in a classy setting with sleek details, like wood wall paneling, chandeliers, and sometimes even leather booths. The food, the ambiance, the history—the experience of eating at a famous steakhouse cannot be beaten.
Although there are thousands of steakhouses throughout the country to choose from, there are a number of them you absolutely cannot miss out on. These storied restaurants have cemented themselves as some of the best steakhouses in America not just because their food is so good but because they have that certain je nais se quois that has helped make them favorites for decades.
From iconic high-end steakhouse chains that are a favorite of Hollywood celebrities to independent neighborhood institutions that have been making some of the most delicious steaks around since the 1800s, here are seven iconic American steakhouses to add to your bucket list.
Smith & Wollensky, Various Locations
If you've been itching to try Smith & Wollensky, the famous steakhouse has locations in New York City, Boston, Chicago, Columbus, Miami Beach, London, and more. Started in New York City in the 1970s by Alan Stillman, the same guy who created T.G.I.Friday's (yes, really), this steakhouse is known for its attention to detail. All of its steaks come from Snake River Farms, a ranch in Idaho that the restaurant partners with. Partnering with Snake River Farms allows them to put in place the most humane and sustainable practices.
Smith & Wollensky is known for its tasty filet mignon, delicious prime rib, and mouth-watering creamed spinach. Make sure to also try their 9-ounce Gold Grade American Wagyu, which features its own signature coffee and cocoa rub and is served with a side of roasted corn puree and chimichurri. As for how it got its name? A phone book. As the story goes, Stillman turned to a random page of the phone book, spotted "Smith," and flipped to another page and saw "Wollensky." The rest was history.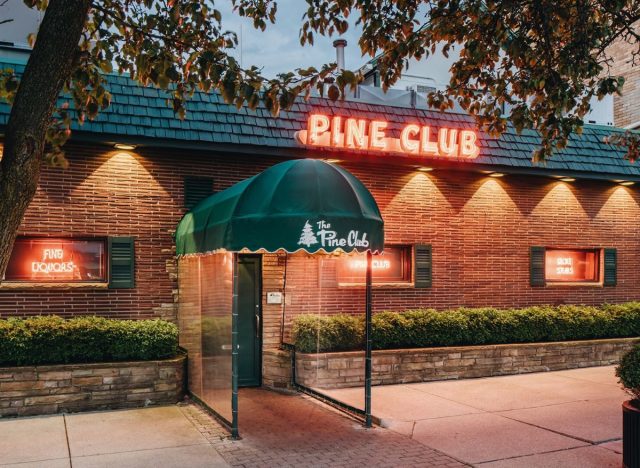 Try out The Pine Club in Dayton, Ohio, if you want to eat at an authentic old-school steakhouse. Considered one of the best steakhouses in the country, The Pine Club opened its doors over 60 years ago and has been making delicious steaks, sides, and more since then. The restaurant's cuts go through a 28-day dry-aging process and are then cooked and brushed with butter before being served.
The restaurant, which got its name because of its pine wall paneling, has been led by different management throughout the years, but the food quality always remains consistent. It's so good, in fact, that it's been featured in places like the New York Times and Food Network.6254a4d1642c605c54bf1cab17d50f1e
The Palm, Various Locations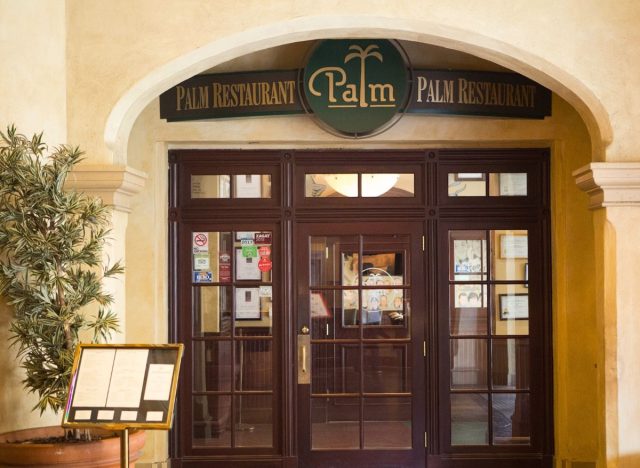 Few steakhouse chains are more iconic than The Palm. Founded in 1926 in New York City, this high-end steak restaurant has always been a favorite of writers, Hollywood actors, politicians, and more—James Caan, Carol Channing, George Clooney, Warren Beatty, and Jack Nicholson, have all frequented this locale. People love its USDA Prime beef (which is aged for at least 35 days) and its premium cuts, which include a Duroc pork porterhouse that's dry-aged for two weeks.
Although the spot got its start in New York, it now has over a dozen locations in places including Los Angeles, Nashville, East Hampton, and Boston. You never know; you may have a Palm right near you.
Jess & Jim's Steakhouse, Kansas City, Missouri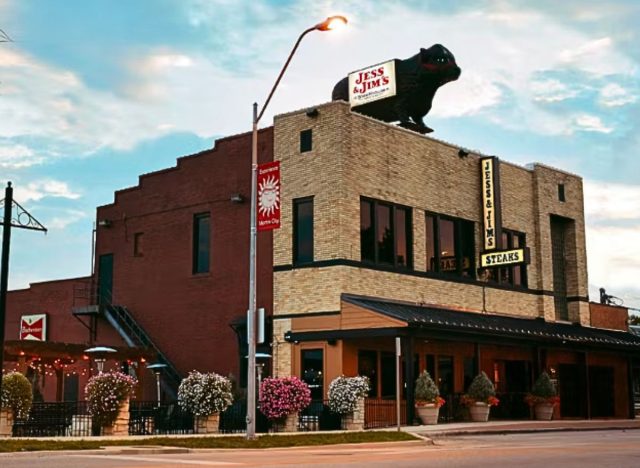 You haven't tasted great steak yet until you've tried Jess & Jim's in Kansas City, Missouri. Nestled just steps from the Kansas/Missouri state border, Jess & Jim's has been churning out excellent steak dishes and sides to the Kansas City community since the 1930s. The restaurant is known for its prime-aged beef, which is cut daily, and the spot has received many accolades, including being named one of the best steakhouses in the country by the Huffington Post and Esquire.
Started by two best friends, the spot rose to fame in the 1970s after it was featured in Playboy magazine—they even have a steak named after this experience called the25-ounce "Playboy Strip."
Warren Buffett is a huge fan of Gorat's (seriously, each year, he holds his annual investor dinner here), so you know it's got to be good. Opened in the 1940s by Louis and Nettie Gorat, Gorat's has remained one of Omaha's most iconic steakhouses (if not the most famous) for over six decades.
People come here and order the Omaha Porterhouse with truffle butter, homemade meatloaf, and filet mignon. Buffett is a fan of the T-bone steak, which is actually the restaurant's house specialty, prepared rare with a double side order of hash browns and a Cherry Coke to drink. Whether you plan to hold a celebration here or stop by for date night while you're in the area, this place is a must-add to your bucket list.
Peter Luger, New York, New York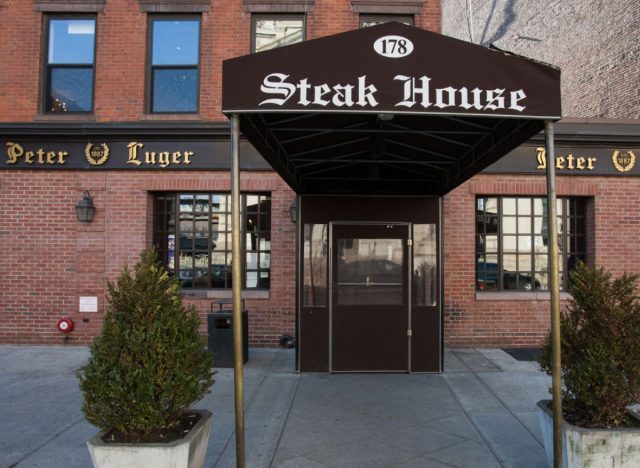 Does anything compare to Peter Luger? Didn't think so. Ask anyone from New York what steakhouse you should go to if you're in town, and chances are that Peter Luger will be on their list. Started over 130 years ago, this Brooklyn restaurant serves some of the best steaks, burgers, baked potatoes, and desserts around.
The restaurant has an on-site dry-aging facility (you can take a virtual tour via Peter Luger's website) which allows them to dry-age each steak themselves. Steaks usually stay in here for about a month under very strict conditions.
If you're torn on what to order, try out the creamed spinach, steak for two, and apple strudel, which people rave about on Yelp. And for those who don't feel like driving into the city, it also has another location in Great Neck, New York.
RingSide Steakhouse, Portland, Oregon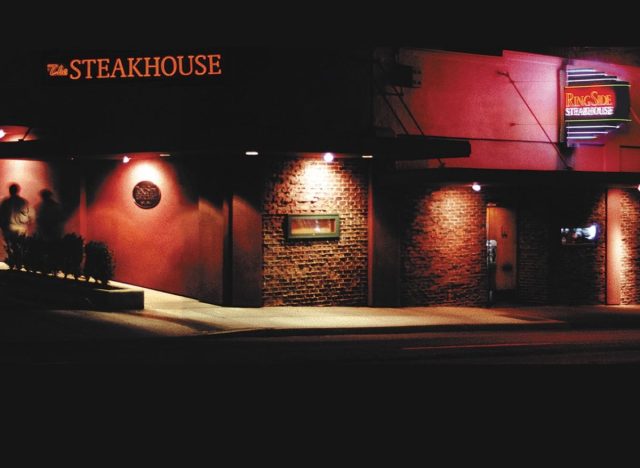 Named for its boxing decor, RingSide Steakhouse in Portland has been a local favorite since 1944. People love to visit this famous restaurant for its top-notch steak cuts, shareable sides (try the lobster mashed potatoes), and the extensive wine list that has over 900 selections. Its menu is filled with a number of different USDA Choice, Prime, and Prime Dry Aged picks that are aged for at least four weeks. Diners also can't get enough of the onion rings—in fact, James Beard was even a fan of these and once stated that these were "the best" he ever had. Enough said!