9 Best Steakhouse Chains In America
Guests are never disappointed, since these restaurants serve a top-notch ambiance and quality steaks.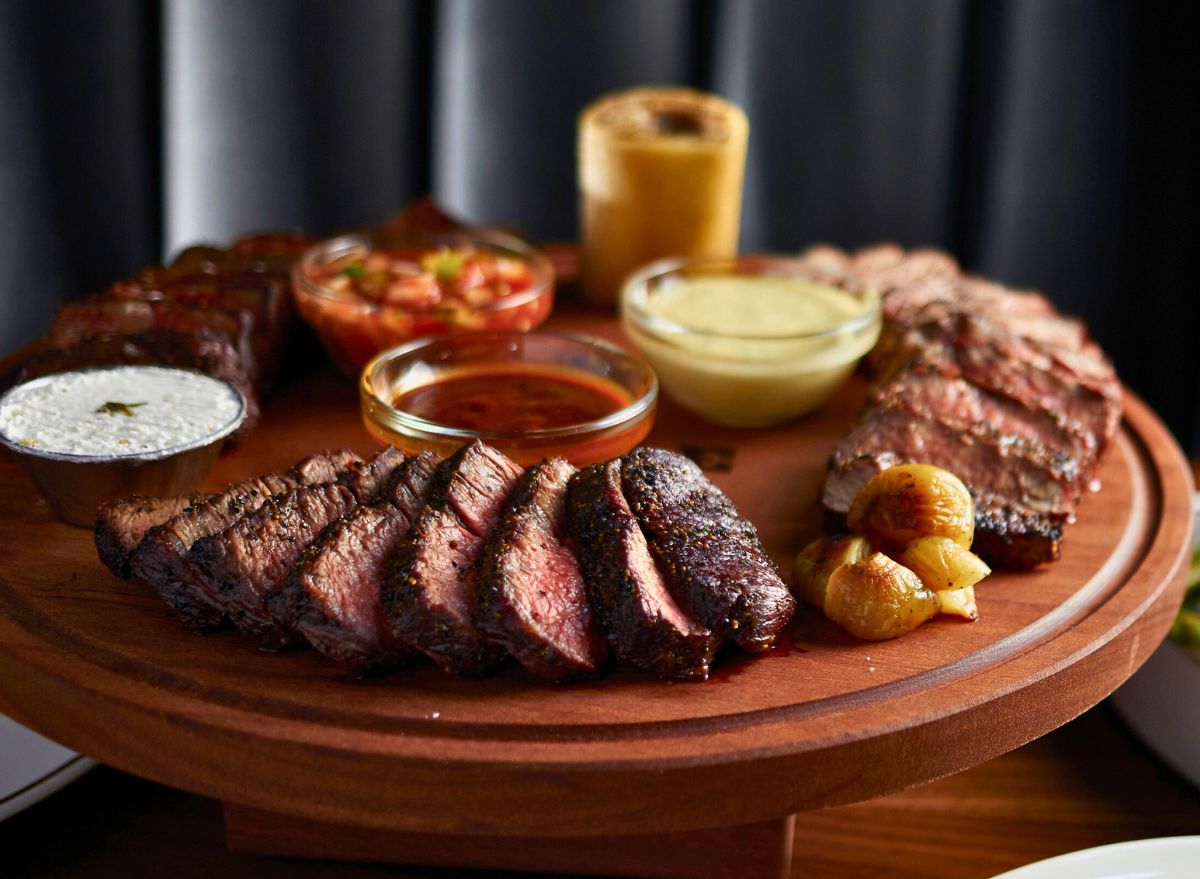 Of all the chain restaurants in America, of which there are many, one genre that feels particularly special—and particularly Americana—is the steakhouse. Often opulent, celebratory, and decidedly decadent, awash in Pinot Noir and béarnaise, these titans of the American restaurant landscape have come to symbolize delicious excess and extravagance. There's something undeniably quintessential about dinner at a steakhouse chain.
All across the country, steakhouse chains come in a multitude of shapes, sizes, and styles. Some skew gigantic, a few skew expensive, and others strive to innovate—but what sets a standard steakhouse apart from a stellar one comes down to a laundry list of data, be it personal taste, ambiance, nostalgia, or quality of meat.
"When dining out at a steakhouse, more than most concepts, it checks the boxes that seem to translate perfectly to celebration and business," says Adam Polisei, corporate chef of Next Level Brands and executive chef of the brand new Union New American in Tampa. "When choosing to spend the evening dining at a steakhouse, diners can feel confident that they and their guests will feel comfortable understanding the food and beverage program."
When it comes to discerning the standard from the stellar, Polisei cites that a lot of that comes down to menu staples and classic orders, which span the spectrum from clear favorites, like steak and seafood, to unexpected show-stoppers, like a stunning salad or a scene-stealing dessert. "As a chef, I generally tend to lean towards my classic favorites when dining at a steakhouse," says the man whose menus boast classics like rib-eye, fries, and oysters. "Most of the diners in a steakhouse aren't there to be adventurous and they are in your establishment because they trust that you can cook an incredible steak and your team will provide service that makes them feel special."
It makes sense, then, that there are so many ubiquitous steakhouse chains across America—and they're only growing. Chains, after all, aren't exactly known for their sense of adventure—on the contrary, these are places of predictable comforts, streamlined service, and an element of guaranteed familiarity, which is probably why so many of them make hundreds of millions of dollars worth of sales every year. Again, though, not all steakhouse chains are the same.
According to Samual Taganeca of Four Seasons Resort Maui at Wailea's DUO Steak & Seafood, "Most steakhouses always have prime cuts of steaks, an extensive selection of great quality seafoods, and signature appetizers." Beyond the shared commonalities, it's how the restaurants wield these ingredients that set them apart. "With these staple steakhouse items that are on majority of the nation's menus, it's important to hone the integrity of that steakhouse concept, always trying to elevate those dishes."
That said, these are nine of the best steakhouse chains in America doing it right.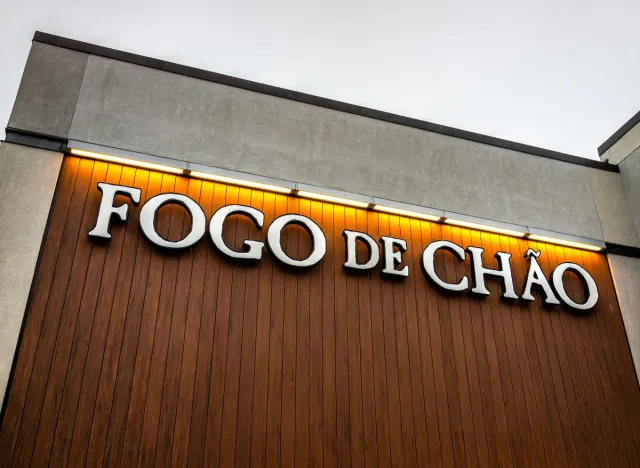 If ever there was a universal favorite among steakhouses, it's Fogo de Chao. One of the most popular steakhouses in America, with annual sales upwards of $200 million, this Brazilian-influenced bastion of beef is equally beloved by the dining public and chefs themselves.
"If I had to pick a chain restaurant, it would be Fogo de Chao," says Jimmy Pastor, chef of Florida-based Whiskey Joe's Bar & Grill. "My wife's Brazilian and having the wide selection of meats with some aggressive salt seasoning I enjoy. Also, it's one of my daughter's favorite places."
Norah Clark agrees. The seasoned pastry chef, whose resume includes the likes of the Four Seasons Hotels & Resorts in Orlando, calls it one of her favorites as well, for its diverse selection of meats, its unique cuts of beef, and its well-curated salad bar.
Said cuts of beef are also some of the highest quality in the nation, and not only is it financially successful, but the brand succeeds as a beacon of integrity and innovation. The Brazilian philosophy of "Respeito Pela Comida" is at the core of its business, culled from a Portuguese phrase that means to nurture and source food responsibly and respectfully. This translates to animal welfare, aligning with farmers and purveyors who raise their cattle ethically, and going so far as to become the first steakhouse chain in America to use HerdX, an agri-tech company that tracks and traces meat sources.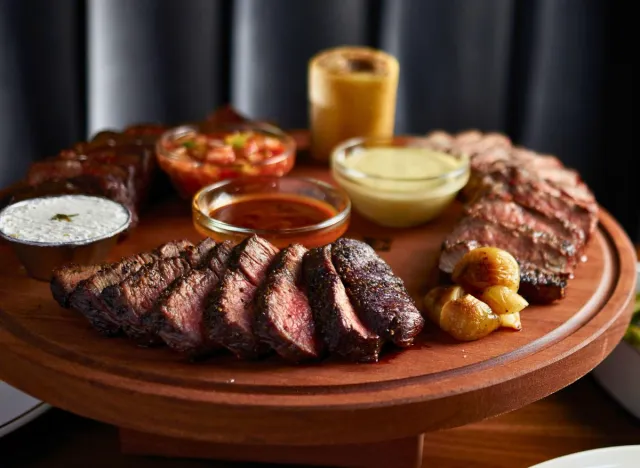 One steakhouse mini-chain that's been on quite the winning streak of late is Rare Society, a high-end chef-driven with roots in San Diego, which has been expanding up and down the west coast in recent years. Perfectly straddling the line between classic and contemporary, billing itself an homage to "the infamous Las Vegas steakhouse," the restaurant is known for grilling its steaks over open flame and stirring up classic cocktails with aplomb. It's all courtesy of chef and owner Brad Wise and Trust Restaurant Group, who took a vintage vibe and infused it with palpable luxury, like black marble, leather booths, and gold-paneled ceilings.
The beef is just as luxurious—think dry-aged rib-eyes and Australian Wagyu, grilled over wood-fired log boilers and served alongside oysters Rockefeller and seafood towers. With a longstanding love and reverence for the classic steakhouse, Wise ensures that each of Rare Society's locations, which now span California and Washington, feature a smart mix of high-quality staples and thoughtful innovations. Citing shrimp cocktail and wedge salad as two must-order steakhouse dishes, Wise also suggests customers go the dry-aged route when it comes to their entree.
Its swift growth up the West Coast can be attested to the top-tier ingredients, as the restaurant's source peerless products like Snake River Farms American Wagyu and Santa Maria-style tri-tip, with dry-aged cuts on full display in stainless steel meat cabinets. In the coming years, Rare Society looks to be less… rare. Wise and co. have plans for an estimated 15 locations throughout the entire country within the next five years. Says Wise, "It's my hope that Rare Society provides residents and visitors alike with a place to gather and build community around the table—the core founding principle of our restaurant group."
Of all the rapidly expanding and successful steakhouses in steak-happy America, none have become as prolific and popular as Texas Roadhouse. This Texas-sized chain has become not only one of the fastest-growing steakhouse chains in America, including the recent opening of its largest location in the world, but it's the fastest-growing restaurant brand in general—full stop.
2022 saw a record year for the brand, where saw sales doubling and new locations emerging at a rapid clip — with seemingly no end in sight. While last year was the first year that the chain's annual earnings eclipsed $4 billion, with traffic up 10% from the previous year, 2023 looks to be even bigger, with plans to expand into more major markets and close in on 900 locations.
The enormous success can be attested to a wide array of facets, from the irresistibility of its cinnamon butter and its famously low price points to its fun atmosphere and servers so friendly you don't even mind or notice that they're upselling you. Whatever the reasons, the popularity, success, and love for Texas Roadhouse remains unmatched, and a true-blue example of an all-American success story.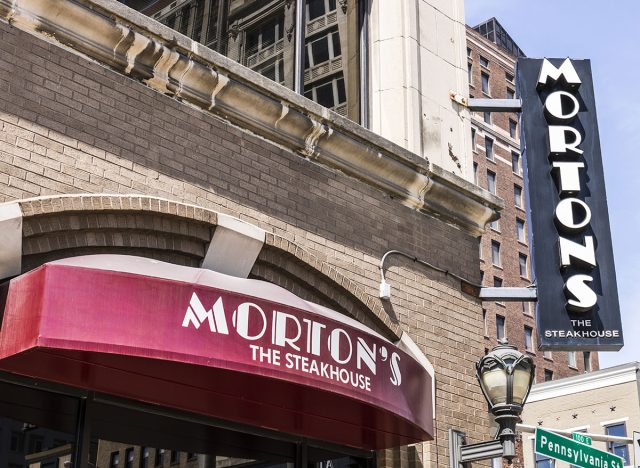 It isn't just the french fries that make Morton's The Steakhouse a destination. Though, clearly, any steakhouse that takes its spuds seriously is bound to have a penchant for proteins as well. Such is definitely the case at Morton's The Steakhouse, a chain with some of the highest quality meat in the country—and some of the highest annual sales to show for it.6254a4d1642c605c54bf1cab17d50f1e
Even though Morton's is on the ritzier side of the price scale, at least the high expense signifies high quality, and the brand's widespread success across the country attests to that. In addition to employing a famously attentive and friendly staff, the restaurant serves nothing but A-list meat, including Prime Beef (a.k.a. the highest quality grade per the U.S. Department of Agriculture) that is custom-cut per Morton's specs and aged for upwards of a month.
It's all served up in elegant settings, each stocked with expansive wine collections and glistening bars, alongside equally high-quality plates worth a celebratory splurge—like jumbo lump crab cakes, Wagyu meatballs, Nueskes' bacon steak, lobster bisque, and oysters on the half shell.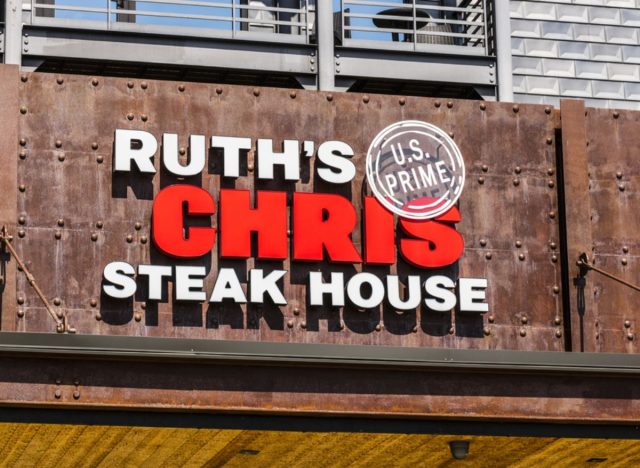 America is in a bit of a renaissance era for Ruth's Chris, one of its foremost steakhouse pioneers that had fallen out of favor until recent years. The tides have shifted, though—once shrinking, the brand has bounced back in a big way lately, following the urge for "pent-up celebratory occasions" in 2021 and regaining its crown as one of the most popular steakhouses in the nation. After the throes of the pandemic, Ruth's Chris saw same-store sales surge as much as 46%, with momentum carrying strong into 2023. It isn't just in America where the brand has been enthusiastically embraced. Success has been so strong for Ruth's Chris that the company is planning to expand as far as the Philippines.
While part of that renewed success can be chalked to its seasoned staffers, warm ambience, and vintage Americana vibe, it's also a testament to the quality of its food. The chain understands the value of simplicity, serving its meat on a sizzling 500-degree plate with nothing more than salt, pepper, and a sprinkle of parsley. Eschewing pomp and circumstance, it's an ethos that does the job when the ingredients are as rigorous as its USDA Prime cuts, sourced from cows that start on grass-fed diets before switching to corn, unlocking a specific flavor profile, all while remaining committed to ethical animal welfare, grading, and testing.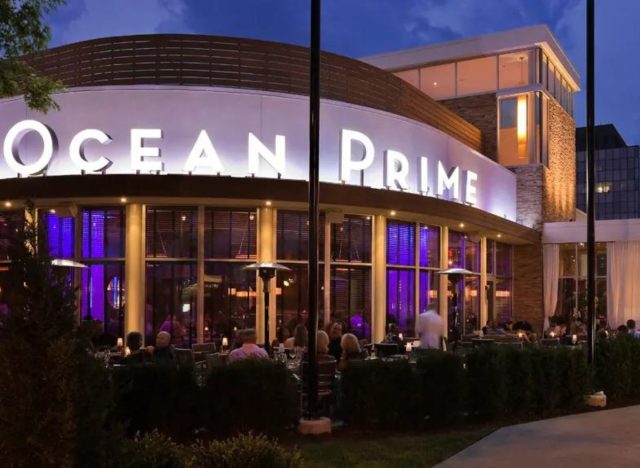 Back in 2019, Ocean Prime ranked as one of the top restaurant chains in America—and that success has only grown ever since. While the Ohio-born success story may sound more surf than turf, and it indeed serves some of the freshest seafood in the nation, don't overlook those steaks. After all, it's hard to overlook steaks this huge.
The widespread growth of Ocean Prime, which now boasts locations in California, Las Vegas, Texas, Missouri, Florida, and beyond, also speaks to its emphasis on top-tier beef. Just as diligent as the company is with its seafood sourcing, it applies the same ethos to its meat, leaning on well-established relationships with farmers and ranchers across the U.S. Indicative of a friendly Midwestern brand, the company also follows the "Yes is the Answer" approach of its founder, employing friendly service and hospitality at each and every location.
2023 has so far seen the latest location make a splash in Las Vegas, which brings the total tally to nearly 20 across the country.
Smith & Wollensky is a prolific and adored steakhouse that didn't achieve a level of omnipresent clout by resting on its laurels. This is a brand, at the end of the day, that famously goes above and beyond—for its guests, for its ingredients, and for its curated environment of glitz and glam. A well-known destination for decadent date nights, corporate meals, and special occasions, the steakhouse achieves those upper echelons by going the extra mile with its sourcing—going so far to partner with cattle farms (Double R Ranch in Washington to be exact) to ensure the utmost level of sustainability, animal welfare, and quality.
"I believe Double R Ranch is the finest premium beef available on the market, hand-selected to include only the highest levels of marbling on the USDA grading scale," explains Smith & Wollensky's corporate executive chef Matthew King. "We have furthered our commitment to the tradition of ranching with like-minded collaborators and support of sustainable farming practices. At Double R Ranch, sustainability, total quality, animal well-being, and social responsibility are a way of life, and we are excited to share their story, seasoned to perfection, through our food at Smith & Wollensky."
The chain puts these prime steaks and signature filets to good use, aging them in-house for 28 days to reach peak flavor and texture before hitting the hot plate amidst a sea of ancho chili butter, scallions, brandy peppercorn sauce, marrow butter, and other extravagant accouterments.
Over the years, Smith & Wollensky has accrued a rightful reputation for its high-quality, hand-cut steaks, and dishes that thread the needle between classic and contemporary. It's no wonder, then, why the company has successfully expanded into markets like Chicago, Las Vegas, and Miami, as well as overseas destinations like London and Taipei.
When many folks think of the quintessentially ritzy steakhouse, The Capital Grille comes to mind—and rightfully so. A decidedly indulgent destination with a ravenous fanbase, this spendy sensation ranks as one of the most successful steakhouse chains in the nation, pulling in well over $300 in annual sales. That's because of its reputation for coveted date nights, business dinners, corporate travel, meeting the in-laws, and everything in between. It's also one of the most beloved chains for chefs, which speaks to the legitimacy and quality of the brand.
Now with dozens of outposts across the country, from Wisconsin to Florida, its omnipresence speaks to its status. It's also revered for its reputable quality—the company is so impassioned about sourcing the utmost meat, that it sells Steak Grille Boxes via its Capital Butcher, which allows customers to take the same fresh-cut steaks home to grill for themselves at leisure. That kind of transparency showcases a level of pride in its product, which is also on full, unabashed display with its entrees, like porcini-rubbed bone-in rib-eye, Kona coffee-crusted dry-aged NY strip with shallot butter, seared tenderloin with butter-poached lobster tails, and dry-aged NY strip au poivre with Courvoisier cream. This is in addition to a spree of vintage sides, starters, and desserts, like lobster bisque, tuna tartare, seared salmon with white wine butter, lobster mac 'n' cheese, and brûléed cheesecake.
Coupled with its gilded facade, buttoned-up service, and consistently celebratory ambiance, The Capital Grille is a constant reminder of its status as a capital steakhouse.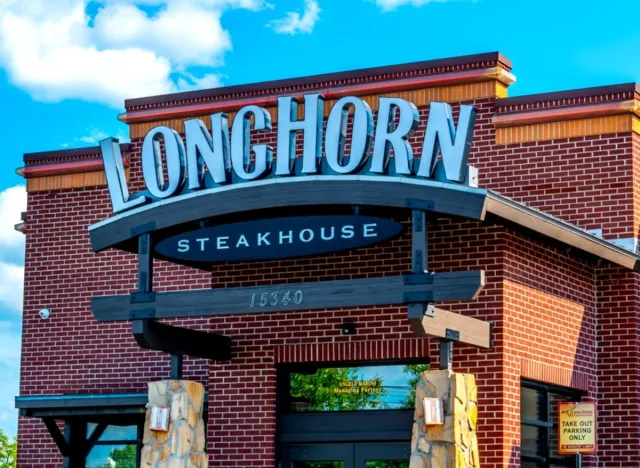 While many a top-shelf steakhouse, like Capital Grille or Smith & Wollensky, may feel thoroughly unsurprising as some of America's premiere steakhouses, others are probably more surprising. Enter: LongHorn Steakhouse, a dark horse candidate that talks the talk and walks the walk.
Not only is this familiar fave one of the most popular steakhouses in the country, earning a whopping $1.5 billion in annual sales, but it continues to surge in said popularity year over year. The brand has come a long way since its days as a mall-based dining option, booming in business since the pandemic, and maintaining that momentum into 2023. With nearly 600 locations already in the can, the company has plans well underway for more.
A lot of this customer love is the affordability of it all, which is certainly a good reputation to have, but beyond that, the company goes above and beyond with a rather unexpected level of legitimacy. It is heralded as a dine-in chain that serves surprisingly gourmet food.
Paired with singular menu items, like white cheddar-stuffed mushrooms, Cowboy pork chops, and shrimp-lobster chowder, Longhorn has a recipe for sustained success—and enduring popularity—on its hands.
Matt Kirouac
Matt Kirouac is a travel and food writer and culinary school graduate, with a passion for national parks, all things Disney, and road trip restaurants.
Read more about Matt