Boost Your Cardio Workout With This 18-Minute Treadmill Challenge
This fat-burning routine will fire up your whole body.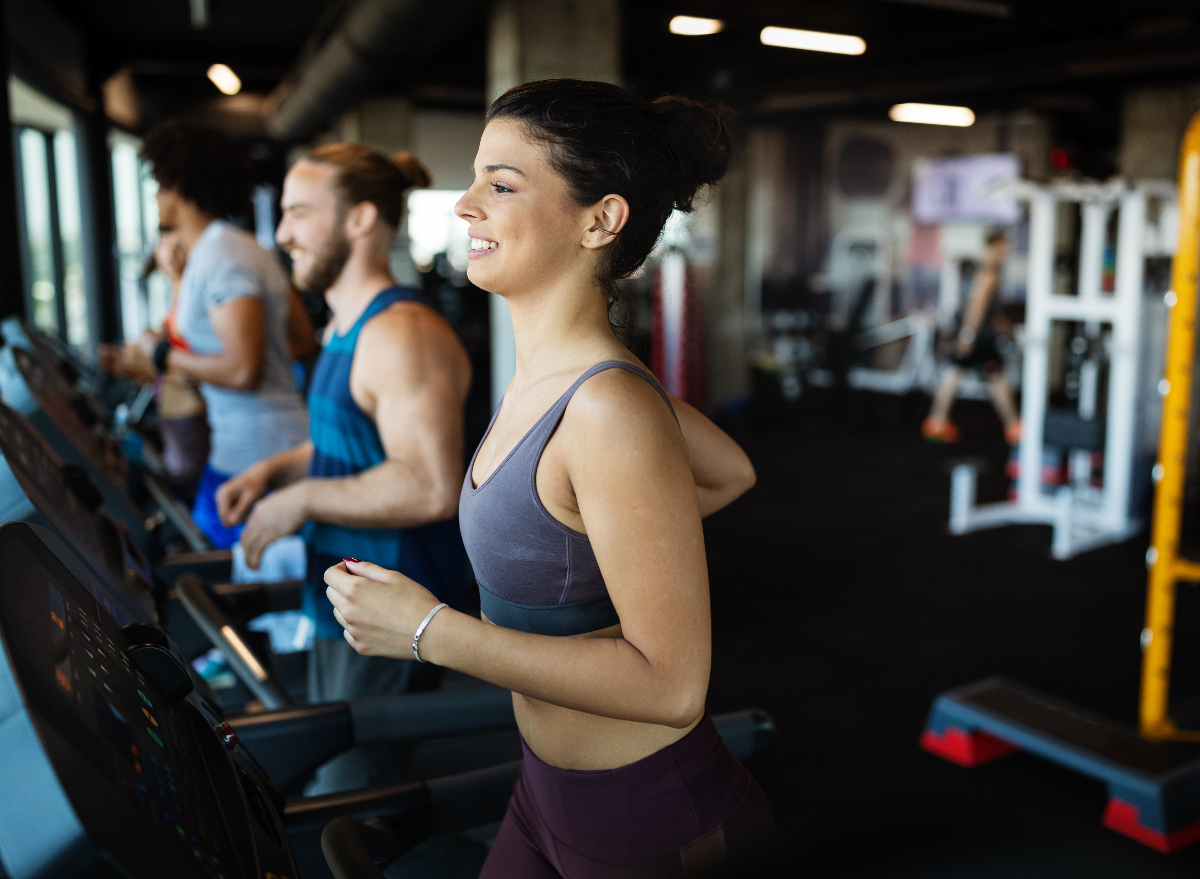 If you're looking to kick up your cardio workout, look no further than TikTok's 18-minute treadmill challenge. It's quick if you really have no time to exercise and fun if you're bored with your current routine. Plus, it can help you "shed weight off." The challenge was posted on TikTok by fitness trainer @jennadeleon and has received over 12.2K likes and more than 148.6K views so far.
We chatted with fitness instructor and certified integrative nutrition health coach Jacquie Smith about the benefits of this kind of treadmill routine that incorporates various speeds and cardio moves. Read on to learn more about what will soon be your new favorite workout. And next, be sure to check out The 6 Best Exercises for Strong and Toned Arms in 2022, Trainer Says.
You'll begin walking at a fast pace, then jogging, then running, then walking on an incline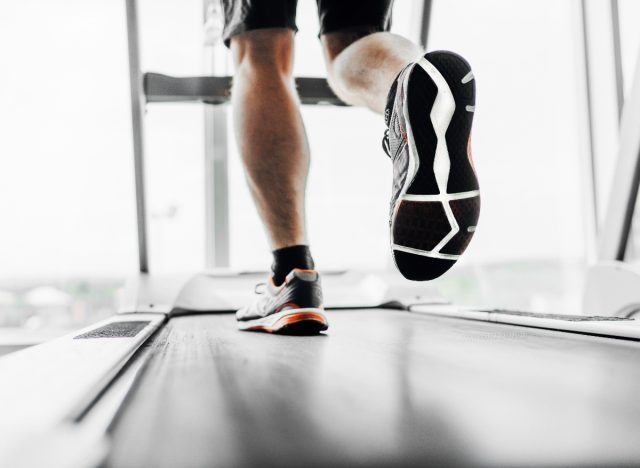 The TikTok video is captioned with "SHRED WEIGHT OFF WITH THIS 18 MIN WORKOUT" and paired with the song "Work Out" by J. Cole. The sweat session kicks off at a speed of 4 mph as the fitness trainer walks at a fast pace for 10 minutes. The speed then cranks up to 4.6 mph for a two-minute light jog. Next, the speed jumps up to 7 mph for a quick one-minute run. The final stretch has the treadmill set at a medium incline as Jenna walks for five minutes at 4.4 mph.
Related: Shrink Belly Fat Faster With These Walking Workouts, Trainer Says
This TikTok challenge will fire up your whole body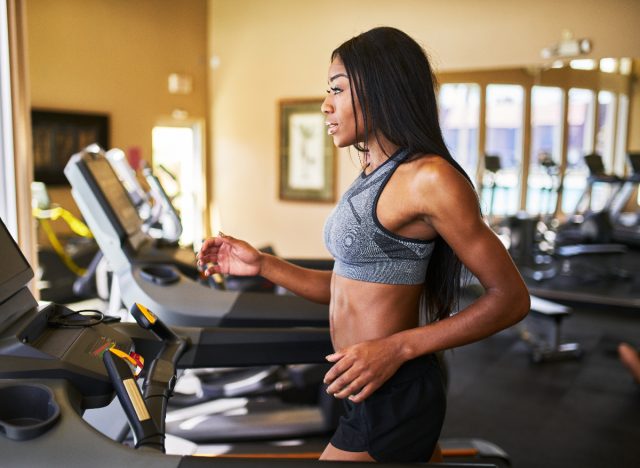 Essentially, this challenge works with different inclines and speeds for an awesome workout your whole body will benefit from. According to Smith, "Speed work is important whether or not you are doing a treadmill workout or running outside. Why? It helps you build endurance and get faster naturally. In addition, it builds your lower body muscles, fires up your fast-twitch muscle fibers, and allows you to burn fat even after you've completed the workout."6254a4d1642c605c54bf1cab17d50f1e
As far as doing cardio at an incline is concerned, Smith tells us it will add some challenge to your workout, activate your glute muscles, and help you focus on maintaining good form. Sounds like the full package to us!
Related: The #1 Cardio Workout To Speed Up Belly Fat Loss In Your 60s, Trainer Says
Challenges such as this one can be a great way to stay enthusiastic and motivated with your fitness routine
TikTokers are here for the challenge—and rightfully so. What do they have to say? Well, all of the comments seem pretty pumped, motivated, and inspired, complete with lots of muscle and fire emojis. One TikTok user wrote, "Modified this to my height today + added a min at the end cause I was feeling (fire emojis) really enjoyed! Thank you," and another, "Okay body!!! Motivated!"
The positive feedback the TikTok video received is indicative of just how much fitness enthusiasts enjoy rising to a challenge and sharing a common interest. If you're looking to tone, lose weight, or build muscle, challenges such as this one can be a great way to stay enthusiastic with your fitness routine.
Experts have addressed the positive effect of staying driven, in addition to how difficult it can be to keep up a regular regimen. Participating in a workout challenge—where there are others who are also part of the fun—makes joining in feel comfortable and exciting. In a way, it can make you feel responsible to try it out and do well because that's what everyone else is doing. It may help you get back into a solid routine, encourage you to work even harder, or simply motivate you to keep up the regimen you're doing.
According to Emmy Cook, NASM-certified personal trainer (via prohealthsciences), "Surrounding yourself with positive energy and folks who are navigating fitness just the same as you can be pivotal in enjoying the process of exercise."
This 18-minute treadmill workout will boost your stamina and get your heart rate up
As for a cardio workout on the treadmill? An 18-minute session is awesome! Even 10 minutes is a great addition to your daily routine. Treadmill workouts are a great way to burn calories and begin a weight loss journey or simply get into better shape. And if you're not on a mission, you can simply have some fun challenging yourself with a TikTok video like this one.
"This is a great cardio regimen for a beginner or someone who has taken off running for quite a while. While I wouldn't consider a 4.6 mph a jog, it will get your heart rate up, build your stamina, and get in your daily movement so that you get strong, sculpted, and continue to feel your very best—both mentally and physically," Smith concludes.
Alexa Mellardo
Alexa is the Mind + Body Deputy Editor of Eat This, Not That!, overseeing the M+B channel and delivering compelling fitness, wellness, and self-care topics to readers.
Read more about Alexa