This Is Adele's Exact Breakfast, Lunch, and Dinner
Sing "Hello" to the star's daily diet.
By now, everyone has seen Adele's stunning weight transformation! Ever since photos began surfacing in late 2019 of the slimmed-down songstress, fans and critics alike have been speculating on just how she dropped 100 pounds
A year later, in October 2020, she appeared even thinner while hosting Saturday Night Live. "I know I look really, really different since you last saw me," she joked during her opening monologue. "But actually because of all the COVID restrictions and the travel bans, I had to travel light and I could only bring half of me, and this is the half I chose."
Though Adele herself was quoted telling British Vogue, "I haven't done any diet," rumors have been circulating (originating from the New York Post) that she may have followed the Sirtfood diet. "If anything, I eat more than I used to because I work out so hard," she added.
The Sirtfood diet cuts out processed foods, sugar, full-fat dairy, and many starches, but also contains foods that generally fit into a healthy lifestyle. To be clear, Adele has never attributed her weight loss to the Sirtfood diet. However, because foods on the Sirtfood meal plan would fit many typical healthy lifestyles, it's possible that she followed the meal plans without considering it a "diet."
Read on to discover what a typical day of meals might look like for Adele. And next, don't miss how 16 Famous Celebs Make Their Morning Oatmeal.
Breakfast
Adele told Vogue that she does not practice intermittent fasting (a major weight loss trend of the moment). By this, we can conclude that the "Hello" singer is not saying "goodbye" to breakfast.
The Grammy winner has previously said, "I used to drink ten cups [of tea] a day with two sugars in each." She also admitted to "obviously" preferring tea over coffee in her interview with British Vogue. Nowadays, it's safe to say that Adele starts her day with a cup of tea, hold the sugar.
After her morning tea, a typical Sirtfood breakfast might consist of soy yogurt with mixed berries, chopped walnuts and dark chocolate, according to The Food Network. Or, she might instead opt for a quick green juice if she's on-the-go. Kale, rocket, celery, apple, lemon, and matcha is one example of a Sirtfood approved juice.
Related: Sign up for our newsletter for the latest celeb food news!
Lunch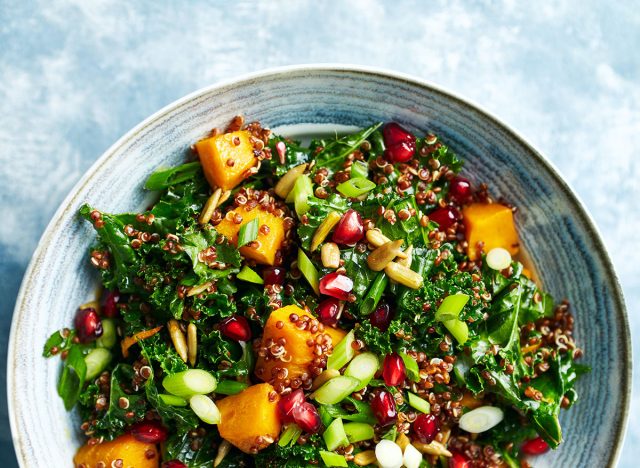 "Adele has been doing rigorous weight-lifting and circuit-training sessions every day—twice a day if her anxiety is running high—for three years and counting," according to her in-depth Vogue interview.
It's no doubt that she'll need to fill up on some nutritious goodies to refuel between gym sessions. A typical Sirtfood-approved lunch for Adele may consist of a kale salad with parsley, celery, apples, and walnuts topped with olive oil and lemon juice. Buckwheat is also huge in the Sirtfood world. So, the "Rolling in the Deep" singer might opt for a strawberry buckwheat tabouleh with avocado, tomato, dates, and parsley topped with an olive oil and lemon dressing.
Related: 7 Mind-Blowing Celeb Weight Loss Stories6254a4d1642c605c54bf1cab17d50f1e
Dinner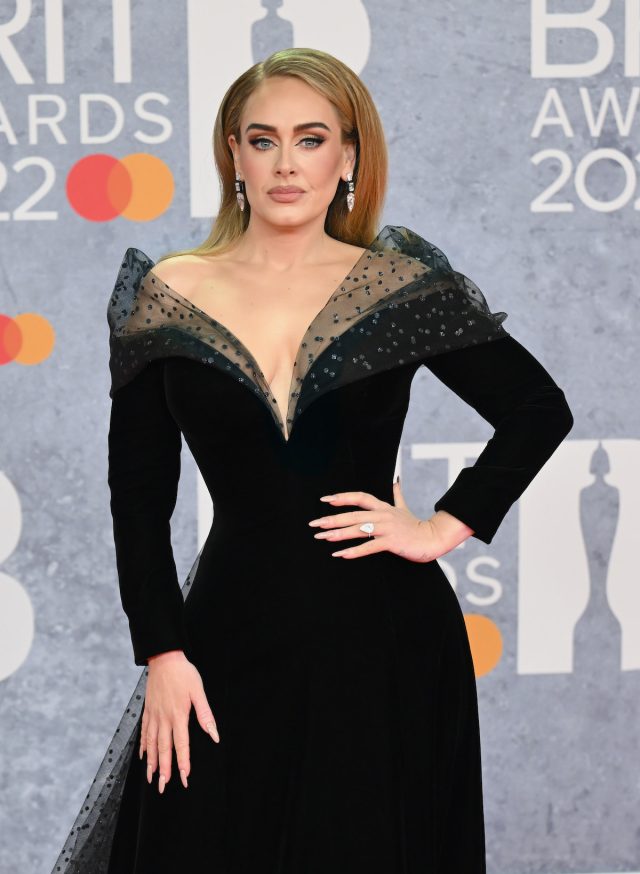 As for dinner… it may not be Sirtfood-approved but, one thing we know for certain is that Adele knows how to cook! "I learned to cook on my own maybe when I was like 18," she told British Vogue. When takeout was getting unsustainably expensive, she turned to fellow-Brit Jamie Oliver for help. "I read '30-Minute Meals' by good old Jamie Oliver. That's how I learned the basics of cooking."
She also mentioned that her son's favorite meal of hers is a classic British Sunday roast, of which she's "pretty great at doing every single Sunday."
If it's not Sunday, however, she may opt for a more Sirtfood approved meal. Grilled or baked chicken breast with a kale and onion salad topped with a tomato and chili salsa is one option that would keep her on course.
Dessert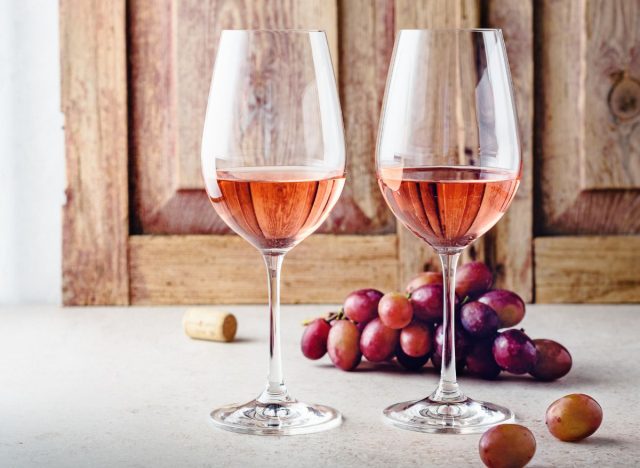 In a typical Sirtfood plan, red wine is allowed because it happens to be "high in sirtuin activators," according to UK Marie Claire. However, it's well documented that Adele enjoys her rosé.
"My first emergency run at the grocery store was for Whispering Angel and ketchup," the 33-year-old told Vogue of her pandemic panic buying. "Whispering Angel turned me into a barking dog. It did not make me whisper."
Related: 9 A-List Celebs Who Don't Drink Alcohol
Cheat Meal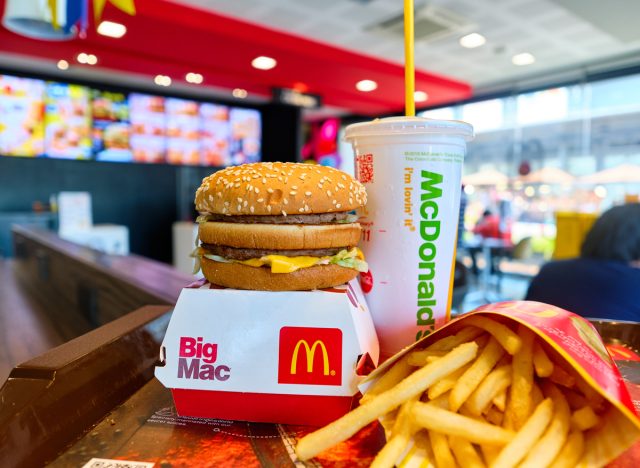 During her sit down with British Vogue, the "Easy On Me" singer managed to slip good ol' McDonald's into the conversation. "My ideal meal, my death row meal, my last meal, would be a McChicken Nugget with a Big Mac and then fries," she said of the McDonald's staples. "That's my three-course [meal]. I eat it at least once a week!"
How she manages to fit that 1200+ calorie meal into her weekly diet and still looks as great as she does is beyond us!
If you're looking to start your own weight-loss journey, check out these 20 Food Swaps That Double Weight Loss.
Kayla Aldecoa
Kayla was born and raised in Los Angeles, California and now works as a writer in Austin, Texas.
Read more about Kayla