This Is America's #1 Favorite Trader Joe's Dessert
The overall winner is no stranger to the spotlight...
Trader Joe's 12th Annual Customer Choice Awards revealed some info we already know (like which product the most people love for a quick meal) as well as insight on the new items that have captured shoppers' hearts (and carts) in 2020.
Categories for the beloved grocery chain's awards include "Favorite Vegan/Vegetarian Item," "Favorite Cheese," "Favorite Beverage," and the "Favorite Overall," but the final one is sure to satisfy your sweet tooth: It's "Favorite Sweet Treat," of course.
There is one iconic Trader Joe's delicacy that won the top spot this year, and the chain also included info on the four runners-up.
But, before you find out the winner below, know this: While these customer favorites may be the most delicious desserts in TJ's stores, they aren't the healthiest. For those, we have a full list of dietitian-approved treats at Trader Joe's, which include Gone Bananas!, the unsweetened Organic Açaí puree packets, and the Trader Joe's Omega Trek Mix.
Now, on to the winners!
Runner-up: Hold the Cone! Mini Ice Cream Cones
So many people scream for this ice cream that it made it onto Trader Joe's "Favorite Sweet Treat" runners-up list. Back in 2017, TJ's upgraded the item with a crispier cone, higher-quality ice cream and chocolate shell, and upped the weight from 5.9 to 7.9 ounces.
With its place on the most beloved list three years later, it's clear that fans are loving each bite for the taste, but also for the treat's nutritional info. One mini chocolate cone has less than 100 calories, 4.3 grams of fat, 33 milligrams of sodium, 11.6 grams of carbs, and just over 7 grams of sugar.
Runner-up: Sublime Ice Cream Sandwiches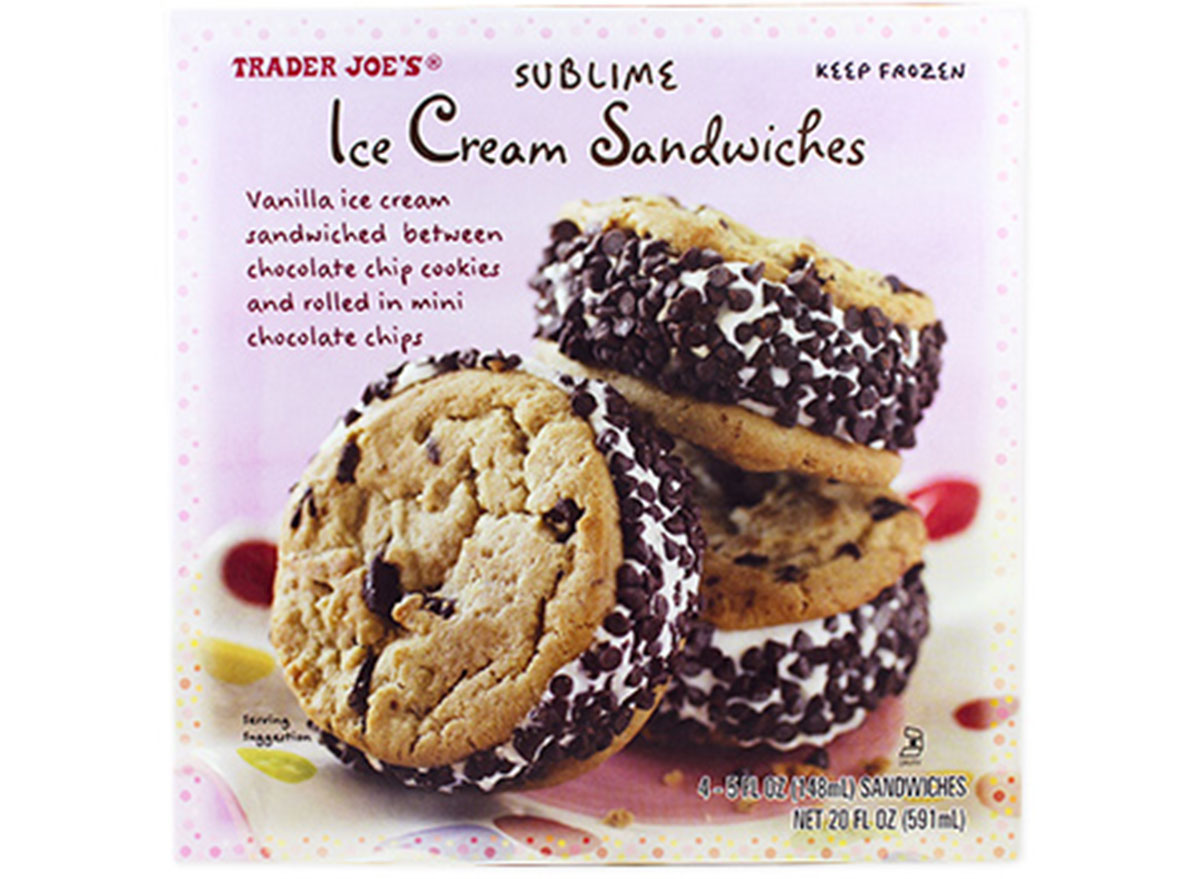 Trader Joe's has chronicled the journey this dessert took to get to the freezer section (and to get its name), and it's no wonder it's a runner-up this year. "It took months and months of tasting and re-tasting, but finally, one spring afternoon, it all came together," Trader Joe's wrote in a Fearless Flyer issue. "The chocolate chip cookies struck the perfect balance between crunchy and chewy; the vanilla ice cream inside was truly transcendent; the sides were completely rolled in mini, semi-sweet chocolate chips. This moment of sweet synchronicity was, in a word, sublime."6254a4d1642c605c54bf1cab17d50f1e
Unfortunately, these are ones to save for special occasions. Just one sandwich has 370 calories, 19 grams of fat, 150 milligrams of sodium, 51 grams of carbs, and 34 grams of sugar. For a lighter sweet treat, here are 44 Healthy Desserts Nutrition Experts Swear By.
Runner-up: O&H Danish Kringle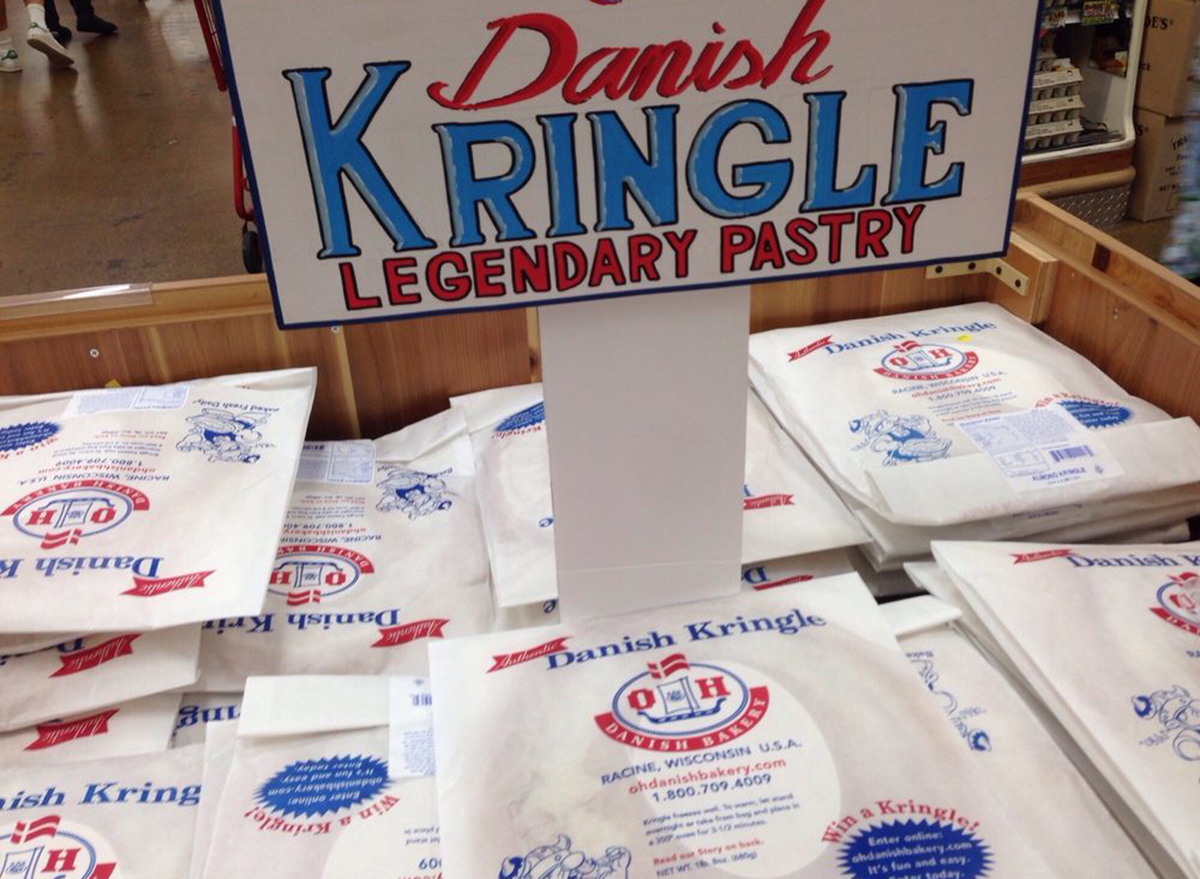 This seasonal Trader Joe's fave comes directly from the O&H Danish Bakery in Racine, Wis. for the winter holidays. Customers love the fresh taste and say the pastries are great for giving out as gifts.
It's pretty impressive that an item only available for a few weeks every year is one of the most-loved, but multiple drinks that ranked high in Trader's Joe's "Favorite Beverage" awards category come and go quickly, too.
Runner-up: Brookie
"Made for us by an Ohio bakery known for their brownies, our Brookie is a must-taste mash-up of two timeless desserts," TJs says of the dessert. "The bottom layer is classic brownie–a rich dark brown batter, with sweetly fragrant cocoa notes and a pleasantly fudgy chew. That beautiful brownie batter is topped with a layer of golden chocolate chip cookie batter, and the whole thing is baked to perfection."
What's even better? One serving (or one square) is 160 calories and contains 8 grams of fat, 125 milligrams of sodium, 22 grams of carbs, and 14 grams of sugar. The pre-cut pack of eight costs $3.99.
Related: The Best Chocolate Chip Cookie in Every State, According to Yelp
And the Trader Joe's Dessert voted #1 by customers is…
Dark Chocolate Peanut Butter Cups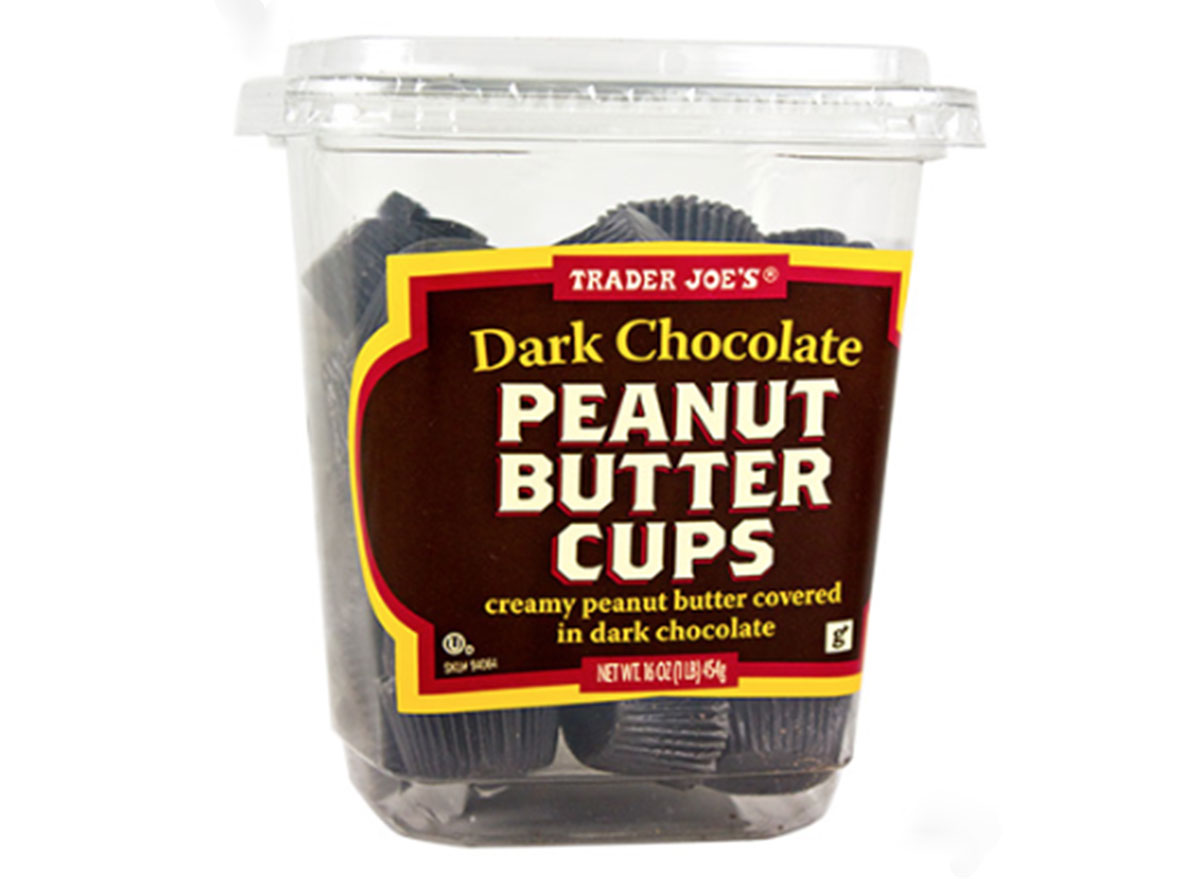 Not only did these bite-sized treats make it onto the list of the "Favorite Overall" products at Trader Joe's, but they've also been crowned the top "Favorite Sweet Treat"! The Dark Chocolate Peanut Butter Cups are no stranger to the spotlight and keep proving their delicious dominance year after year.
Whether you buy them in the 16-ounce tub or the small packs, it's hard to limit yourself. Not only are they delicious on their own, but Trader Joe's recommends adding them to the middle of a classic peanut butter cookie recipe for a melty, gooey chocolate center.
For more dessert news, check out This Beloved Ice Cream Brand That Just Debuted an "Everything Bagel" Flavor.
Amanda McDonald
Amanda has a master's degree in journalism from Northwestern University and a bachelor's degree in digital journalism from Loyola University Chicago.
Read more about Amanda