We Tasted 5 Margarita Mixes & This Is The Best
These mixes will shake up Cinco De Mayo, but one in particular steals the whole show!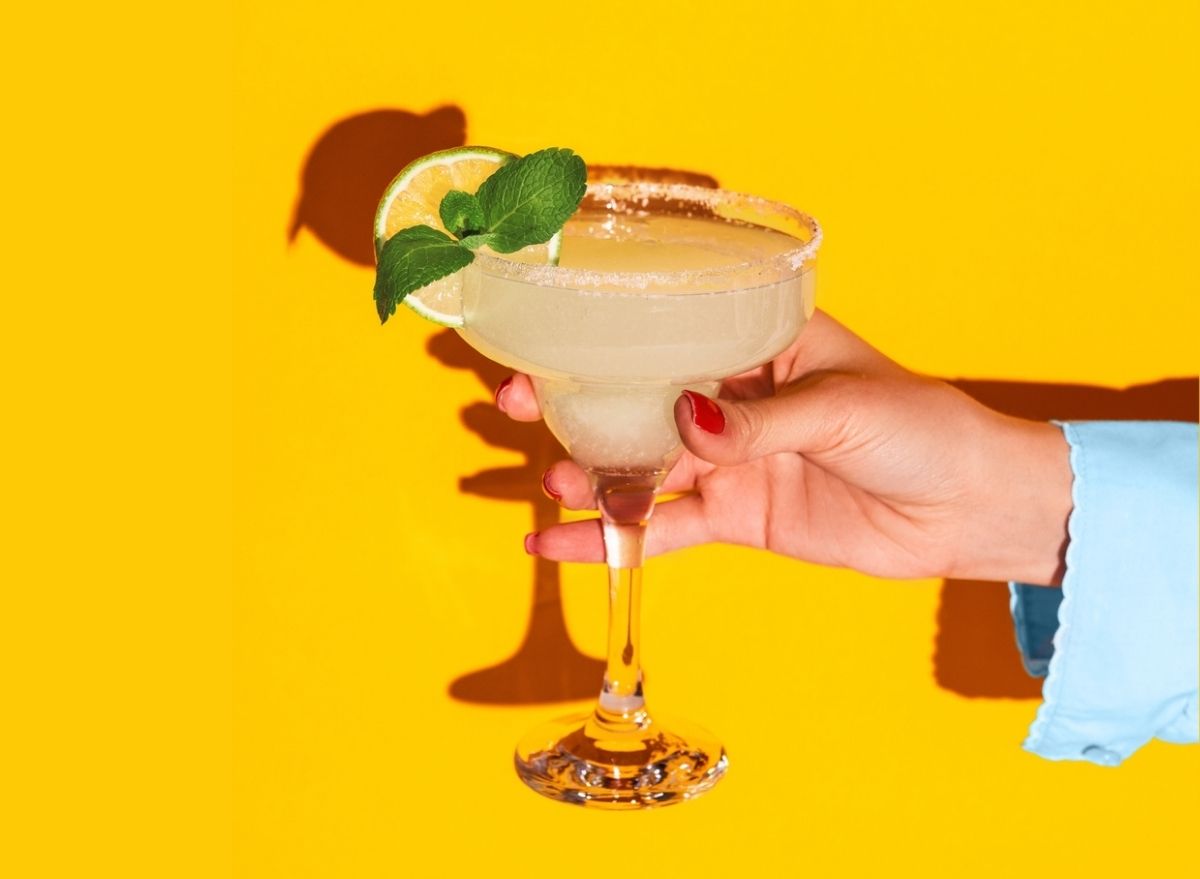 Nothing goes better with Taco Tuesday or Cinco de Mayo than an ice-cold margarita. It's just a fact. While not all of us can be master mixologists with an abundance of ingredients and flavors at our disposal, we all can grab a bottle of margarita mix and make a decent cocktail.
But not every margarita mix is made the same or even looks the same. Some are more cloudy than others, making for a less appealing drink to look at in the end, and some are so bright green that it instantly brought me back to my college days sitting at my local cheap Mexican restaurant where the $2 happy hour margaritas that were all premixed and really not that great.
So what is the best margarita mix for your next big bash, Taco Tuesday, or Cinco de Mayo party? I tried out five different mixes to find out. To keep things on a level playing field I used a cocktail shaker that had lines to show where I should pour the mix and where I should pour tequila and shook until it was all well combined. I also made sure to use the same tequila for each margarita mix. The final result really shouldn't be any surprise to us all.
What we tasted:
Jose Cuervo Classic Lime Margarita Mix
Master of Mixes Margarita Mix
Mr & Mrs T Original Margarita Mix
Simple Truth Organic Lime Margarita Mix
Tres Agaves Mix, Organic Margarita
Here's what you should be drinking—ranked from worst to best.
(Plus, don't miss These Are Costco's Most Popular Items Right Now.)
Simple Truth Organic Lime Margarita Mix
The Look6254a4d1642c605c54bf1cab17d50f1e
The look of this one wasn't horrible when it was in the bottle. It was more of a yellow color than the traditional green, which was a little strange but not totally off-putting to start with. I loved the label on the bottle because it was clear what I would be trying without a lot of extra pictures or fonts that are distracting most of the time. After shaking the margarita mix up with the tequila I poured it into a small rocks glass and noticed the drink seemed a bit cloudy, but the real test would come with the taste.
The Taste
Let's just say one sip of this was enough. The drink was herbaceous, which is never a word I want to use when describing my perfect lime margarita. A family member who was tasting with me said if they got this in a restaurant they would send it back. And before everyone gets up in arms, this person never sends food back just to be "that guy." The lingering artificial taste was unpleasant, so I had to clear my palette with some chips before moving on to the next margarita mix.
Tres Agaves Mix, Organic Margarita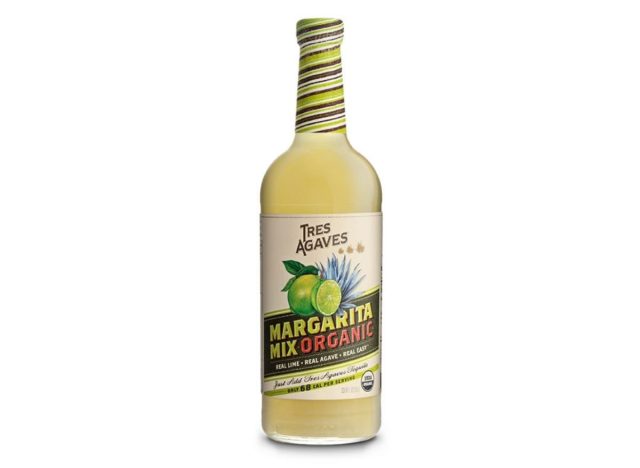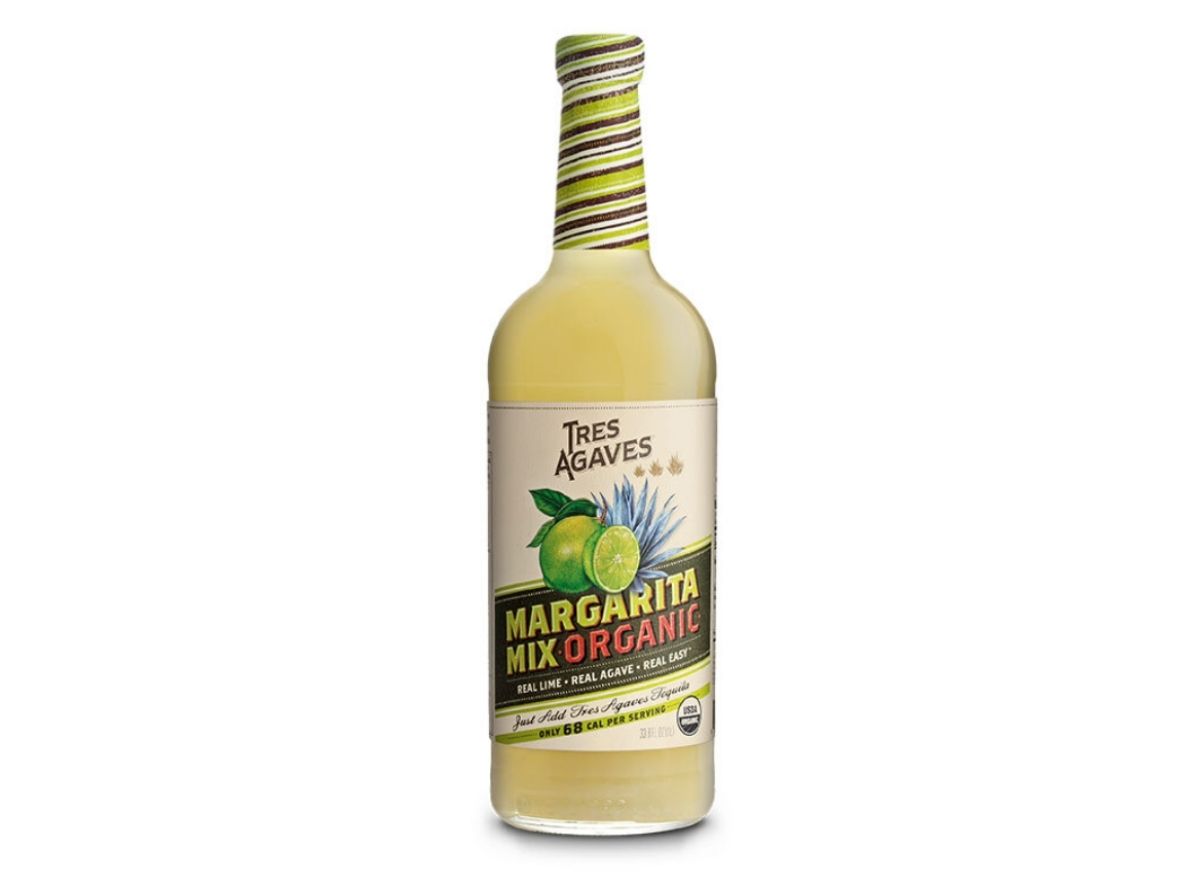 The Look
The Tres Agaves margarita mix was another yellow-tinged mix that made it into my virtual shopping cart and was delivered to my house. The label on the bottle is a little harder to read since the writing is in a few different colors and there's a lot of stuff going on from banners across the label to a picture of a few limes. When I flipped the bottle around to look at the ingredients I was pleasantly surprised that I could pronounce each one, and there were only four ingredients: water, organic agave nectar, organic lime concentrate, and ascorbic acid. After mixing and pouring into a glass I was excited to taste it.
The Taste
After the first taste of the drink, my excitement level dropped dramatically. When I initially took my first sip I enjoyed it, but the instant I swallowed I realized there was a very acidic aftertaste that was not good. The lingering taste made it seem more like I had just eaten a whole lime, pith, zest and all. Overall, this is a skip, unless you like really sour drinks.
Mr & Mrs T Original Margarita Mix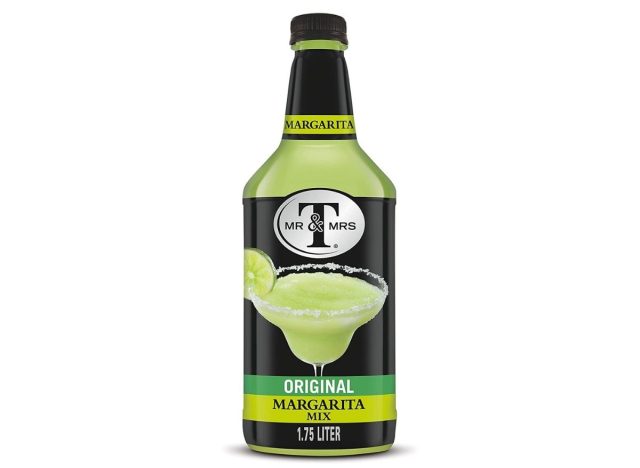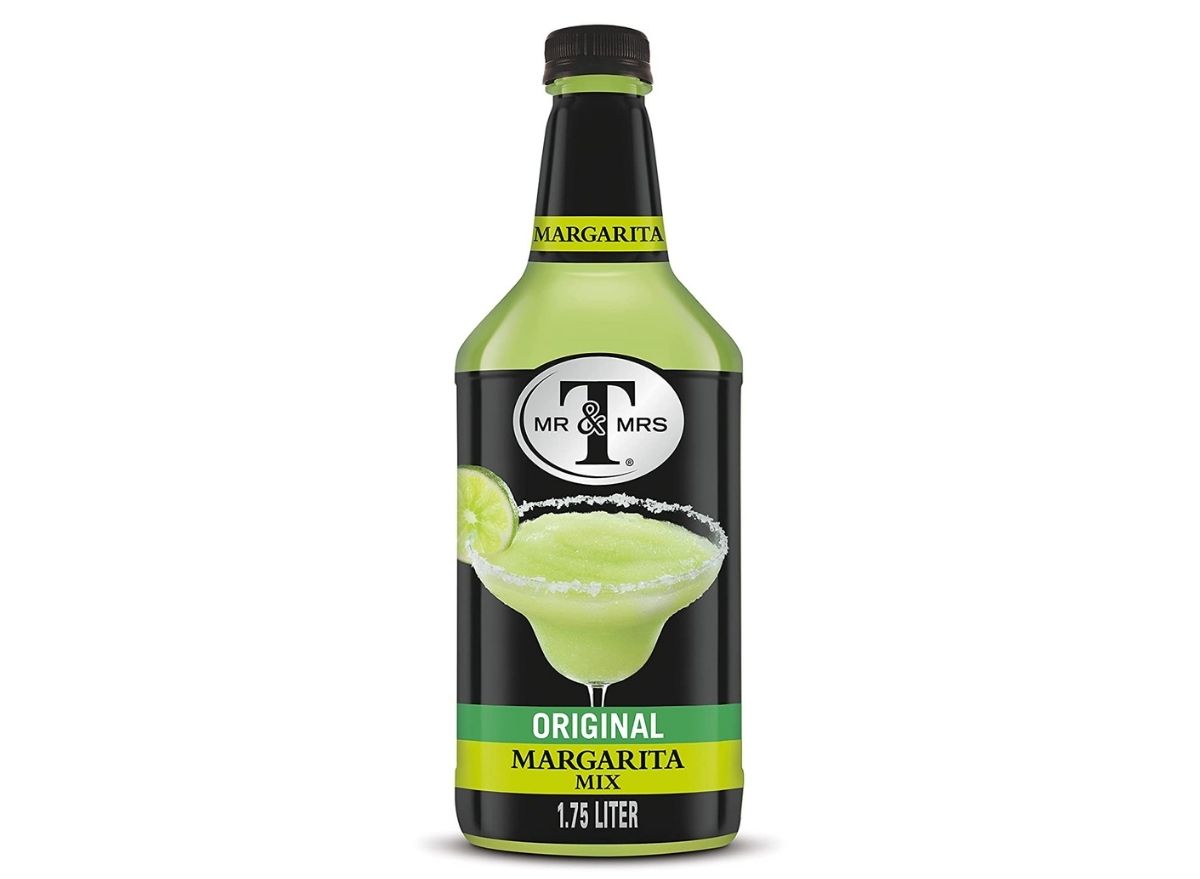 The Look
When I found the Mr & Mrs T Original Margarita Mix I knew it was going to be halfway decent, mainly because of the picture of the margarita on the front of the label. I was also drawn in by the fact that the color was more of what I was used to when it comes to margarita mixes, a pale lime green that's definitely artificial, but not so much so that it reminds me of college bars with fishbowl drinks.
The Taste
Overall, the drink wasn't bad, but you could definitely taste the booze because the mix isn't super concentrated. What I did like about this margarita mix is that there was no weird aftertaste, and I didn't feel the need to keep drinking water or popping chips into my mouth to neutralize the drink. If you're into boozy margaritas that have just a hint of lime, this is the mix to get, otherwise, there are still some better options out there.
Master of Mixes Margarita Mix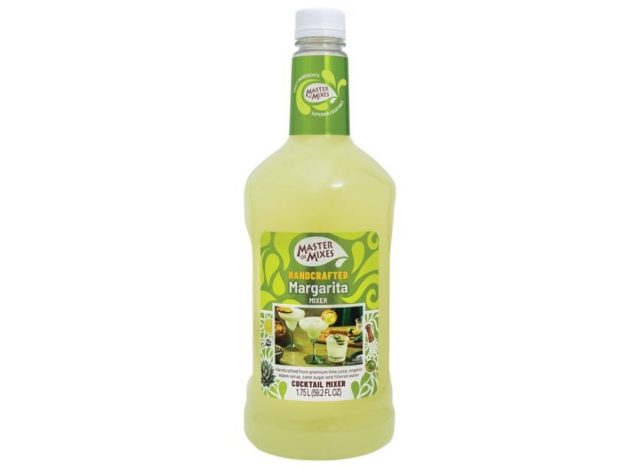 The Look
Upon first glance, the Master of Mixes Margarita Mix was passable with a nice green color that most resembled a margarita out of all of the options. The label is a little busy with pictures, words, and a swirly background design, but it's definitely what's on the inside that matters most with this option.
The Taste
The taste is nice and balanced, being sweet but not too sweet like a prefabbed frozen margarita that comes out of those big machines at Mexican restaurants. There was a nice zesty lime taste that made for a refreshing drink without being overpowering. If you're looking for a margarita mix that will please just about anyone, this is it.
Jose Cuervo Classic Lime Margarita Mix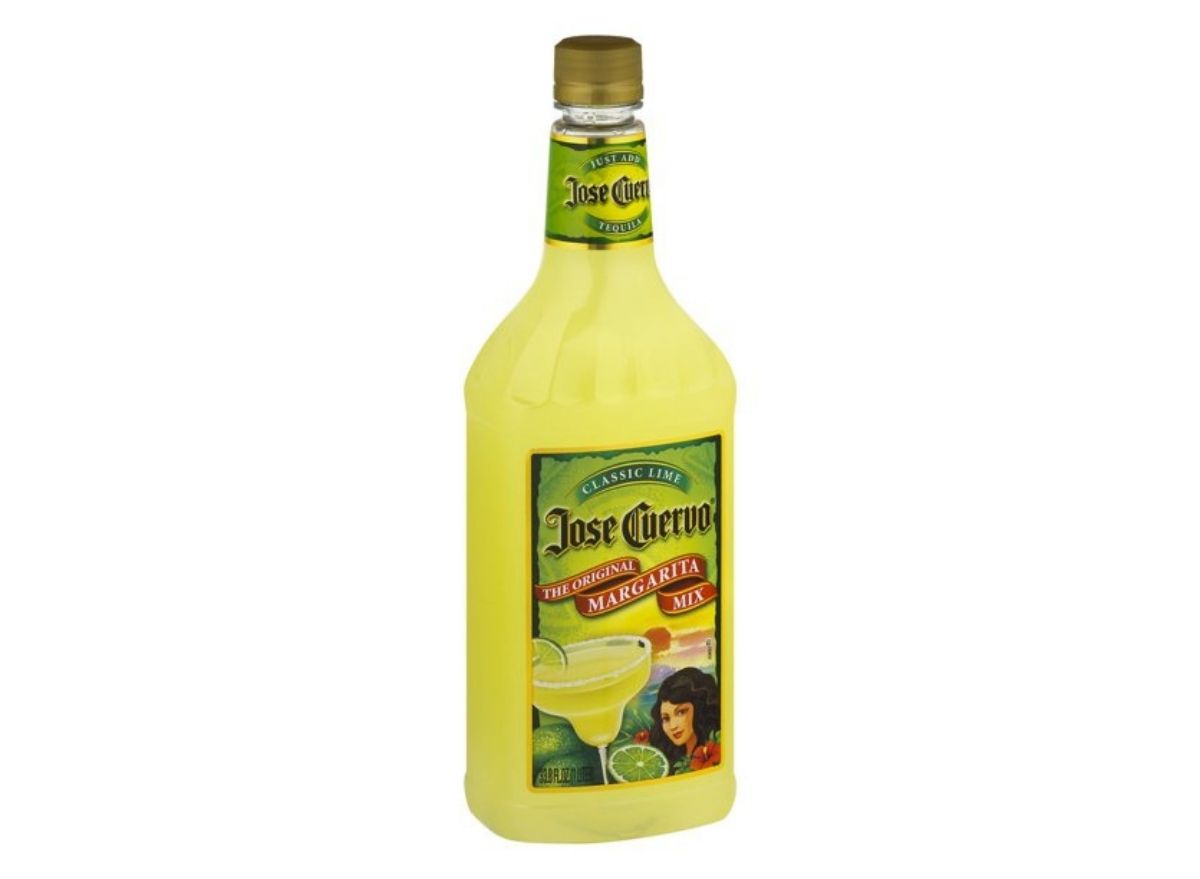 The Look
If you're a tequila fan, you know the signature look of the Jose Cuervo logo with the big gothic-style lettering that makes it instantly recognizable. The same lettering, plus a banner design stating this is a margarita mix is present on the label. The color of the mix is an appealing greenish-yellow, that turns paler once it's mixed with tequila.
The Taste
This is easily the best margarita mix I tasted, and it's not even close to the others. The final drink was slightly sweet but balanced thanks to the addition of salt on the rim of my glass. I appreciated that the drink had a strong lime flavor without being bitter or sour. For those of us who just keep a bottle of margarita mix in the fridge at all times for those moments when a margarita is necessary, this is the one to have.
Megan duBois
Megan duBois is a travel and lifestyle journalist with bylines across the internet and in print at Delish, Conde Nast Traveler, Travel + Leisure, Yahoo Lifestyle, and more.
Read more about Megan