5 Best-Rated New Fast-Food Items Of 2021, According to Food Critics
Don't miss these stellar achievements in fast food!
This year has been an eventful one on the fast-food scene. New chicken sandwiches, burgers, sides, sauces, and pizzas have started proliferating as chains begin to take control of their post-pandemic destinies.
While consumers may have ended up suffering from the paradox of choice—having too many options to truly appreciate any single one—fast-food critics have helped highlight some of this year's most notable new releases.
Here are the five new fast-food items the experts spoke highly of—catch 'em while you still can!
For more, check out This Major National Burger Chain Is Falling Out of Favor with Customers, Data Shows.
Popeyes Cajun Flounder Sandwich
Most will remember 2021 as the year of McDonald's new chicken sandwiches or their BTS meal, but the greatest achievement in fast food may have quietly flown under the radar. This is the year when Popeyes, arguably the toughest crispy chicken sandwich competitor, launched a new, equally impressive fish sandwich.
The Cajun Flounder Sandwich made its debut during Lenten season this year, and was one of the rare major novelties on the chain's menu. Scott Vogel, a food critic at Long Island's largest newspaper Newsday, gave the sandwich top marks in his March review of fast-food fish offerings.
"Cayenne and other spices bring real heat to a batter that's crunchy, not soggy like so many of its rivals," Vogel wrote. "The portion of flounder is notable too, especially given the price, its saltiness nicely balanced by a sweet brioche bun. Between that, Popeye's quarter-inch pickle slices, creamy tartar, good sense to nix the cheese, and insulated foil bag, the Cajun Flounder sandwich is a worthy follow-up, a beacon of light in a sea of despond."
You can still catch the Cajun Flounder Sandwich at Popeyes as part of the Fish 'n Chicks Sandwich Bundle, which includes their iconic chicken sandwich as well as two sides and two beverages.
Burger King's Spicy Ch'King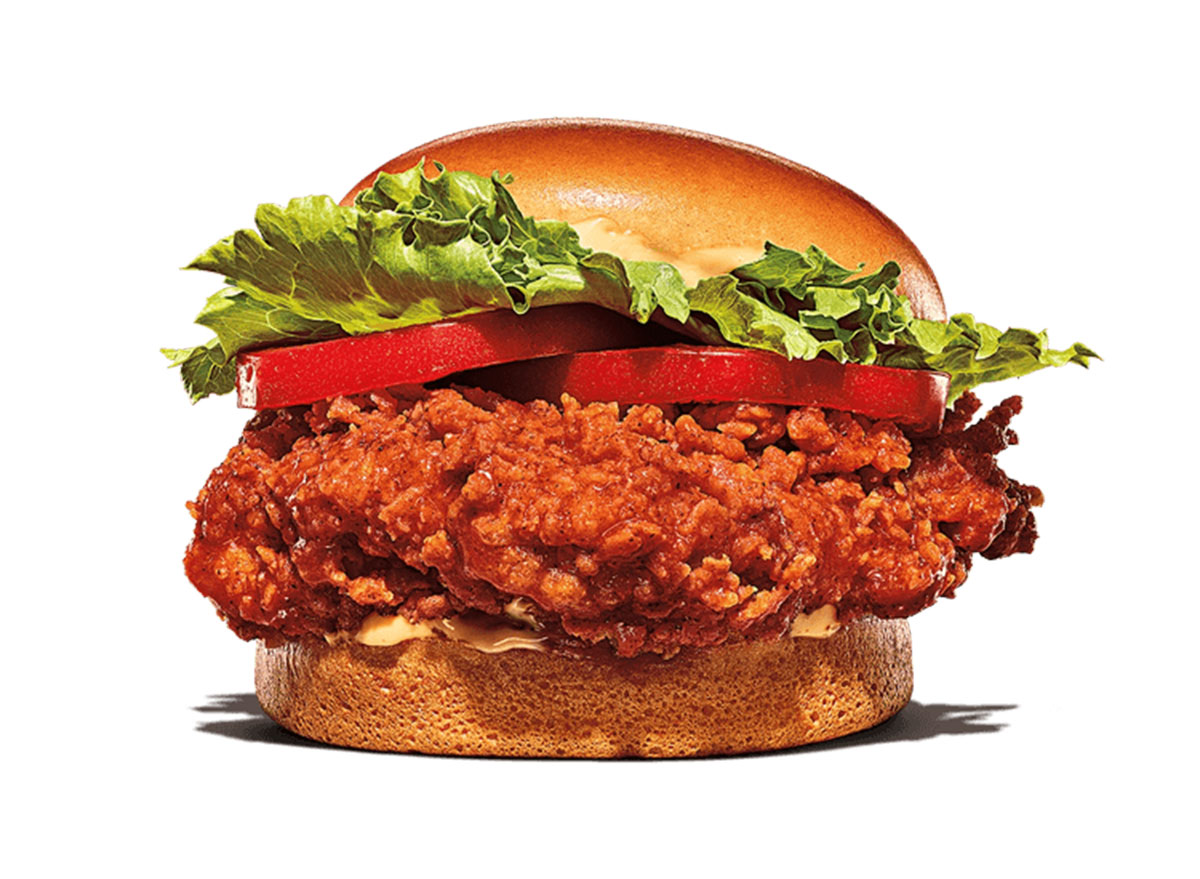 In the last several months, we've seen a new chicken sandwich released from chains big and small almost every week (or at least that's how it felt.) So it's a true achievement when one stands out in the crowd. And that's exactly what Burger King has been able to do with its long-awaited Ch'King. The sandwich, which is a new and improved version of something the chain already had on the menu, officially rolled out across the country in June in two versions: regular and spicy.
And while most agree that the regular version is rather unspectacular, some say the spicy sandwich is one of the best currently available. The Spicy Ch'King has something that other sandwiches should fear—a sweet-and-spicy sauce slathered all over that crispy chicken filet. Not on the bun, not just on top of the chicken filet, but all over it.
Bill Oakley, one of the most-followed fast-food critics on social media, had high praise for the spicy sandwich, calling it a "colossal achievement," one that's better than both McDonald's and *gasp* Chick-fil-A's versions.6254a4d1642c605c54bf1cab17d50f1e
"This is probably the best sandwich on the menu at Burger King, and it's the best thing they've introduced in decades," he said.
It's definitely the sauce that's the difference-maker according to Marnie Shure, who reviewed the item for the digital food publication The Takeout. She said the sauce was a hot and sweet "curveball" that set this item apart from the competition.
"The cinnamon-sugar heat is the differentiator here, and BK should lean on that element as much as possible," she wrote in her review. "Its unique flavor profile didn't even make it into the press release!"
The popular YouTube fast-food reviewer Daym Drops had a poetic take on the flavor of this sandwich.
"[Your] Spicy Hand-Breaded Sandwich, that's what joy tastes like," he said. "Ain't nothing perfect in this world, but that's near perfection."
Hardee's and Carl's Jr Hand-Breaded Chicken Sandwich
Another surprisingly good chicken sandwich came from the Hardee's/Carl's Jr franchise. The sister brands know hand-breaded chicken well. Their chicken tenders, which were launched 10 years ago, are a prominent fixture on the menu. They've now taken their chicken technique expertise and applied it to a trio of new items which launched in May, but it's the Hand-Breaded Chicken Sandwich, in particular, that's gotten high praise.
According to food writer Allison Robicelli, it's a surprisingly strong contender for the top spot in the chicken sandwich wars.
"The first bite left me silently stunned: succulent, flavorful, and, despite the fact that I had gotten it delivered, crunchy to the point that it rang in my ears," she wrote in her review for The Takeout. "Once I tasted every single element together in a triumphant, harmonious bite, I ravished this sandwich until there was nothing left but crumbs."
McDonald's Cajun and Sweet Chili dipping sauces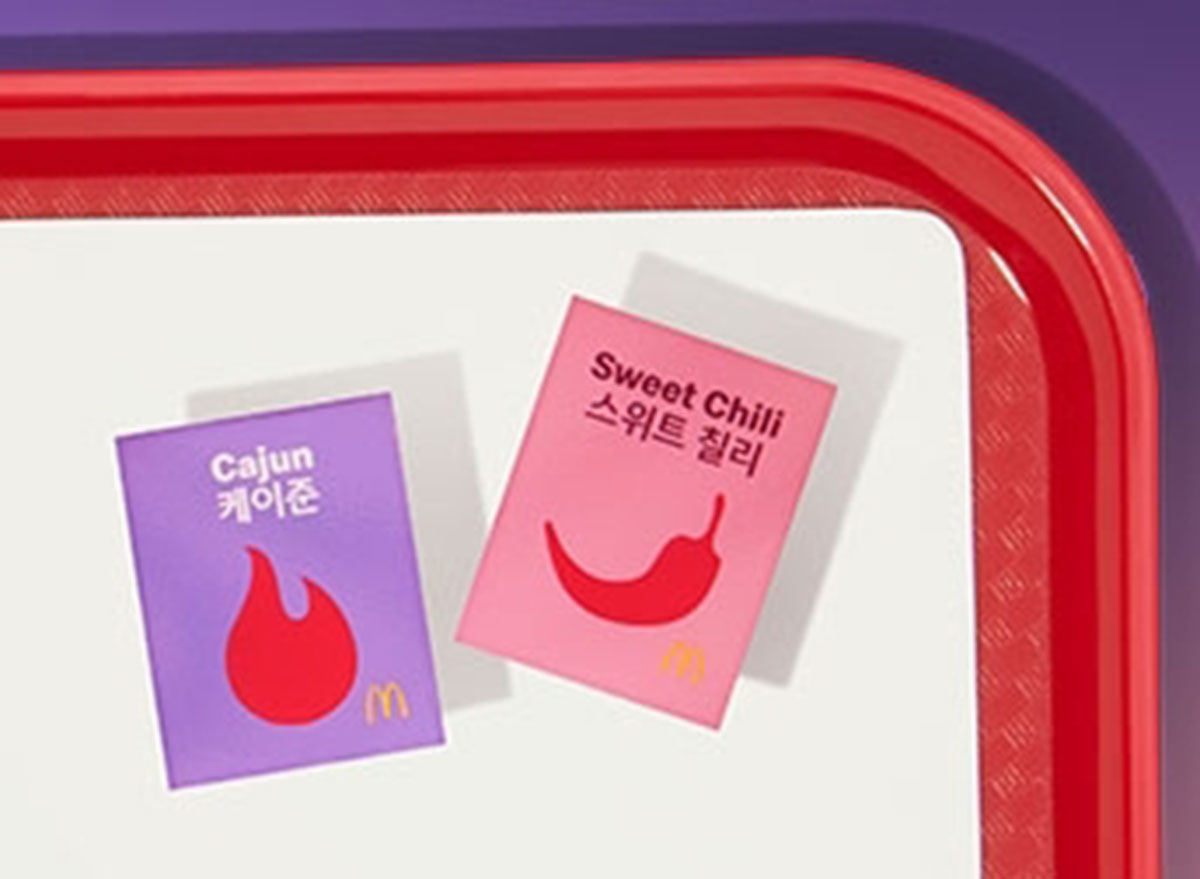 We may not yet know the full impact the recent BTS collaboration had on McDonald's business, but we can sure make a guess that it was a smashing success, based on the fact that the chain had a record increase in traffic the week after the meal was launched.
And while other celebrity collaborations with the fast-food giant usually don't amount to much more than clever marketing of items already available on the menu, the BTS meal was special because it brought something new to the table—two sauces that have never before been seen at McDonald's locations in the United States.
The Cajun and the Sweet Chili sauces, inspired by McDonald's Korea, were brought stateside with the purpose of complementing the BTS meal's 10-piece Chicken McNuggets and medium fries, but soon started being lauded as the best thing about the new launch. Both pack varying degrees of heat in their own unique way: the dark-red Sweet Chili sauce is a sweet-and-sour concoction, while the orange-hued Cajun sauce has notes of mustard and gochujang, the fermented Korean chile paste.
Fast-food critic Bill Oakley gave the new sauces major thumbs-up, saying they're by far his favorite dipping sauces at McDonald's.
Unfortunately, the condiments were exclusive to the BTS meal, which left American menus last month. But something tells us they may end up making a comeback in some way, shape, or form in the future.
Pizza Hut's The Edge redux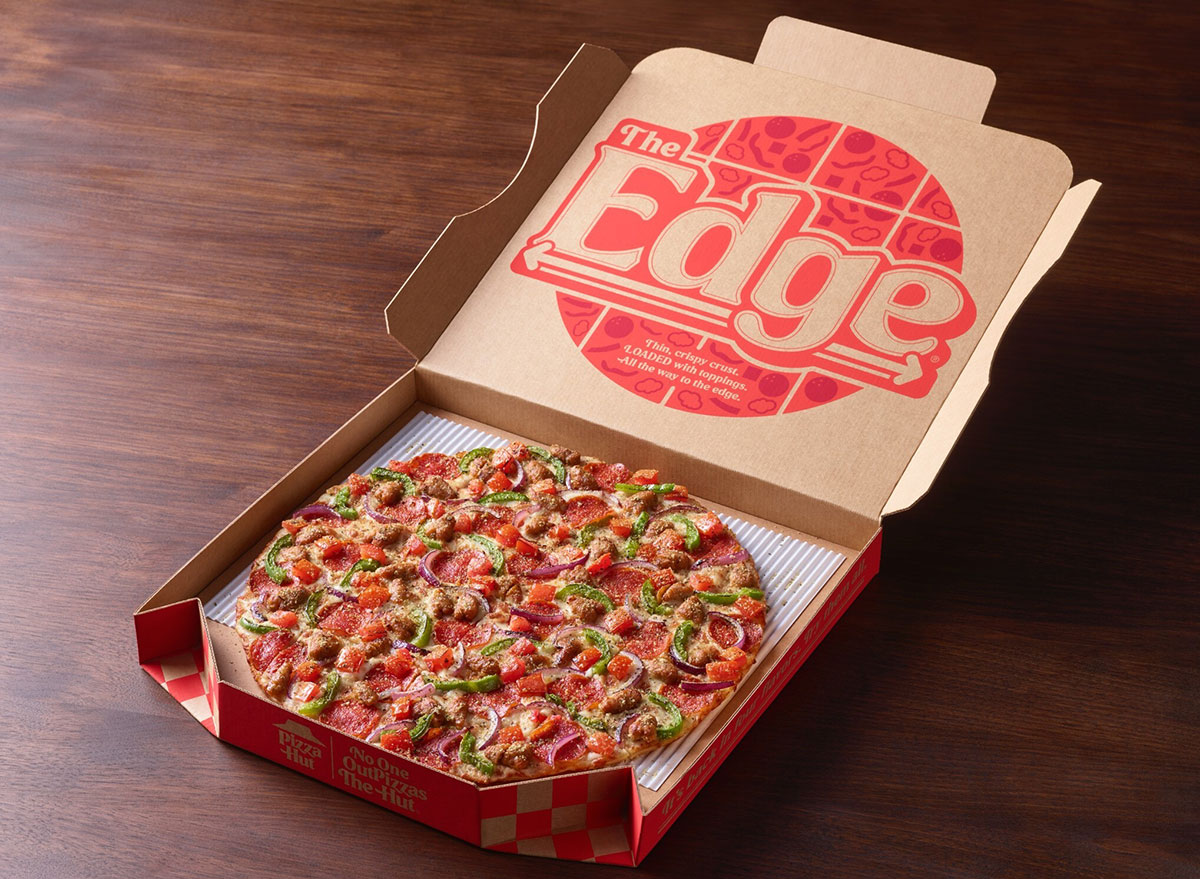 After all the chicken fun we've been having this year, it feels like the fast-food pizza category is trailing behind with exciting releases. But that all changed when one of the biggest pizza chains in the country announced a revival of a '90s classic, a pizza so popular that many still craved it to this day.
Pizza Hut launched the new version of The Edge, their tavern-style, crispy thin-crust pizza, in June. The revival promised to be even better than the original, thanks to a new garlic herb seasoning developed exclusively for this pie. And apparently, the pizza was every bit worth the hype it received.
Food writer and self-proclaimed pizza fanatic Ni'Kesia Pannell reviewed the new item for digital food publication Delish and gave it a rave review. She called the original version "undeniably one of the best things that the beloved pizza brand has ever dropped," and said the new release tastes exactly the same.
"Upon first bite, it was exactly the way I recalled it from more than 20 years ago," she said. "Still served up in 16 square pieces on cracker-thin crust, the handcrafted pizza (thanks to its base tomato sauce) has an incredible balance of both sweet and savory that I just cannot delight in enough. The exclusive signature garlic and herb seasoning for The Edge deserves to be talked about, too, because it gives each square the big finale that it needs to reach elite icon status."
The pie comes in four different varieties, with toppings ranging from vegetarian- to meat-lovers-friendly, and it's still available at participating nationwide locations for a limited time.
For more, check out the 108 Most Popular Sodas Ranked By How Toxic They Are.
Mura Dominko
Mura is ETNT's Executive Editor, leading the coverage of America's favorite restaurant chains, grocery stores, and viral food moments.
Read more about Mura