The Best & Worst Menu Items at Popeyes, According to an RD
Here's where the chicken sandwich lands.
If you've been craving Popeyes more than ever, you shouldn't be surprised. The chain's signature chicken sandwich has been in the national fast-food spotlight since it debuted in 2019, and is still frequently cited as a favorite among other recently launched competitors.
But for those looking to eat better, a chain whose claim to fame is fried food doesn't seem like too promising an option. So we set out to find the healthiest, most redeemable items on, as well as their unhealthiest counterparts.
We spoke with Lauren Minchen, MPH, RDN, CDN, nutrition consultant for Freshbit, and asked her to rate the Popeyes menu items by nutritional value, so you can make a better-informed decision on your next visit. And don't miss The 4 Worst New Burgers on Fast-Food Menus, According RDs.
The Worst Menu Items at Popeyes
Fish 'n Chicks Sandwich Bundle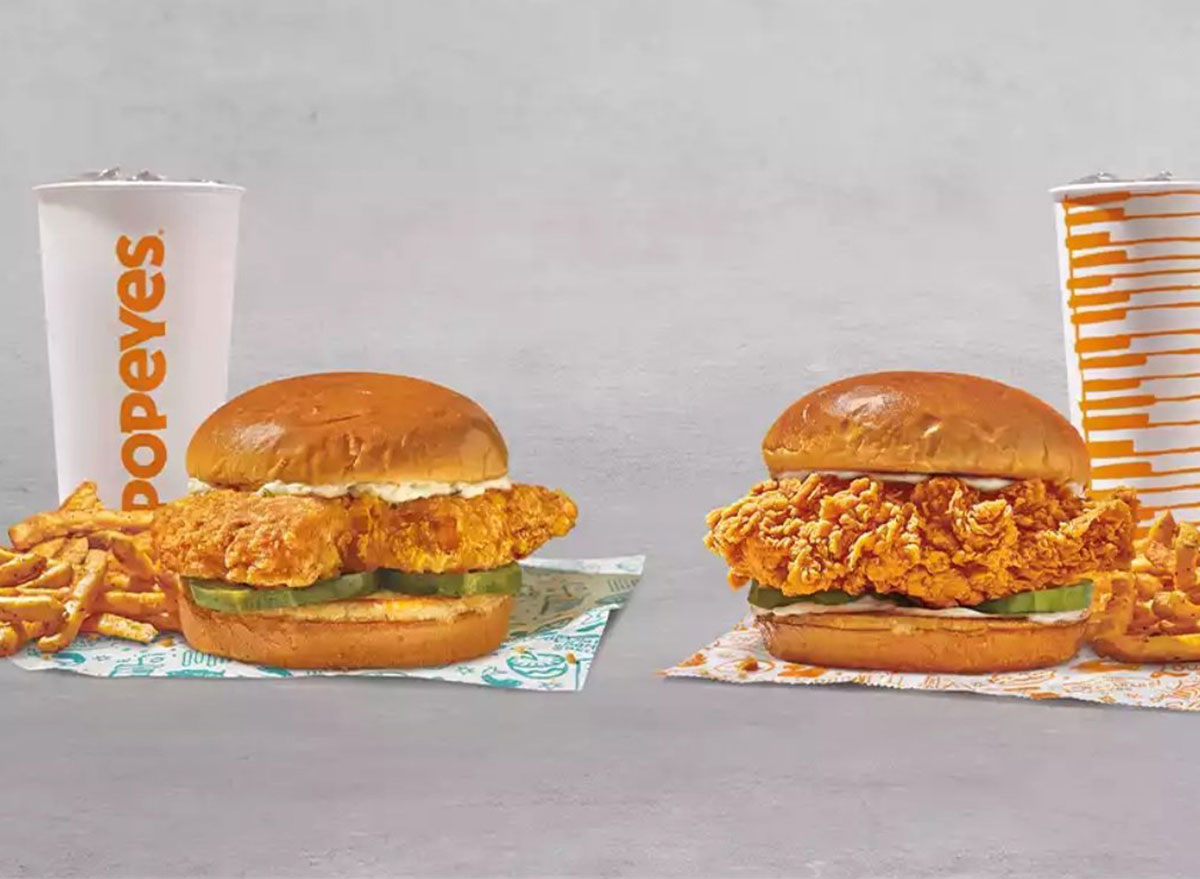 1 meal (varies)
: 1,728 calories, 77 g fat (26 g saturated fat, 0 g trans fat), 4,272 mg sodium, 180 g carbs (10 g fiber, 62 g sugar), 58 g protein
With two sandwiches, two sides, and two drinks, a bundle like this is definitely better shared. Even still, Minchen points out that this option is "an overload of fried foods and calories that provide very few vitamins and minerals."
12- or 16-Piece Tenders Meal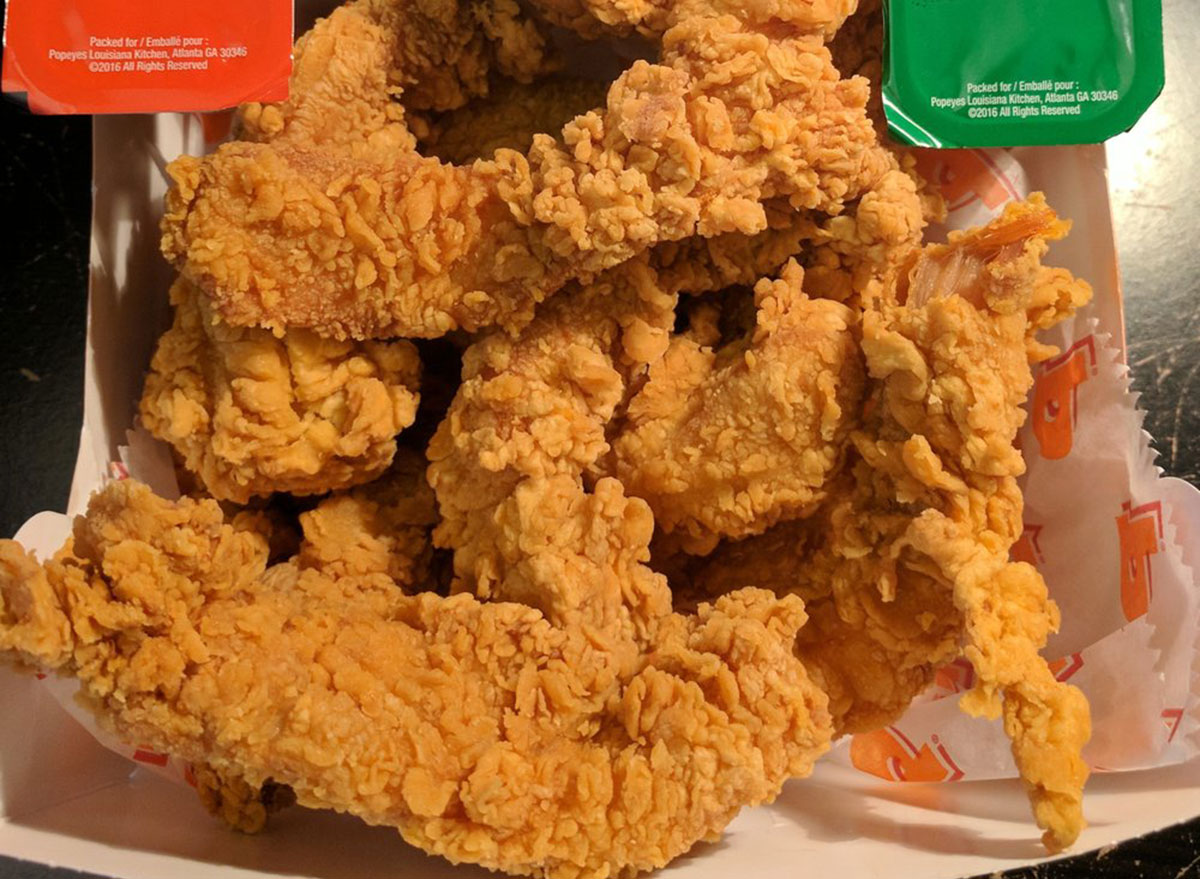 1 serving in a 12-tender meal
: 2,847 calories, 738 g fat (51 g saturated fat, 6 g trans fat), 9,480 mg sodium, 254 g carbs (9 g fiber, 2 g sugar), 163 g protein
At Popeyes, customers can choose from 3 to 16 tenders in a meal. While all of the options feature fried chicken tenders, the higher counts have some shockingly high amounts of sodium and fat—so don't even think about enjoying this one alone.
"Unless you are ordering for a family, this meal is an excess of fried oils and processed carbohydrates for just 1–2 people," Minchen says.
Even the 5-tender meal, marketed for one person, has 3,035 milligrams of sodium just in the chicken, plus another 587 milligrams of sodium in the fries. Dividing up the larger meals into smaller portions and pairing them with veggie sides will make for more well-rounded meals.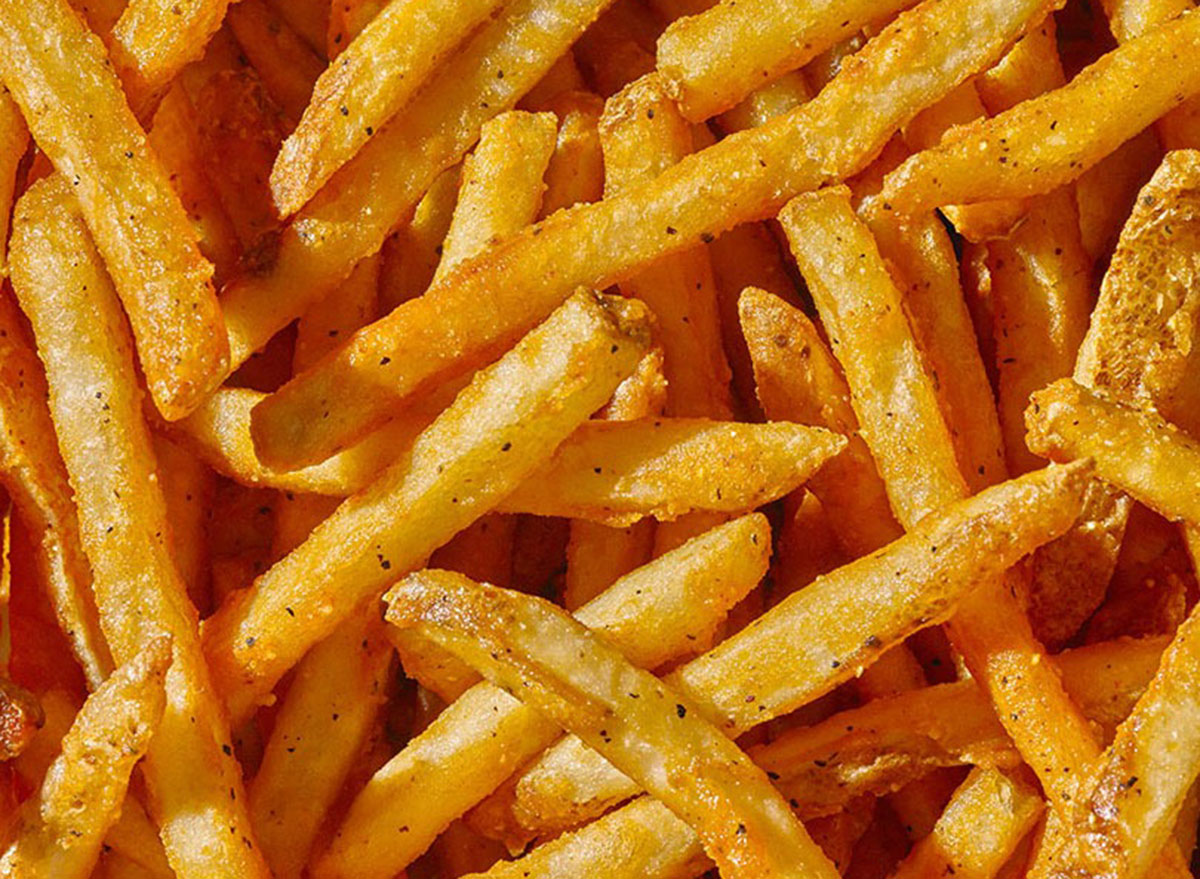 1 regular
: 268 calories, 14 g fat (5 g saturated fat, 0 g trans fat), 587 mg sodium, 32 g carbs (3 g fiber, 0 g sugar), 3 g protein
Popeyes has six sides to choose from, but the fries are one of the worst, particularly due to the sodium and saturated fat content at 587 milligrams and 14 grams, respectively.
"Fries generally provide lots of saturated fat from the frying process with very few (if any) vitamins, minerals, or fiber," Minchen notes.
Mashed Potatoes with Gravy
1 regular
: 110 calories, 4 g fat (2 g saturated fat, 0 g trans fat), 590 mg sodium, 18 g carbs (1 g fiber, 1 g sugar), 3 g protein
Like the fries, the mashed potatoes and gravy are high in saturated fat and sodium in both the regular and large portions. This side dish also lacks a sufficient amount of fiber and is high in calories, Minchen says.6254a4d1642c605c54bf1cab17d50f1e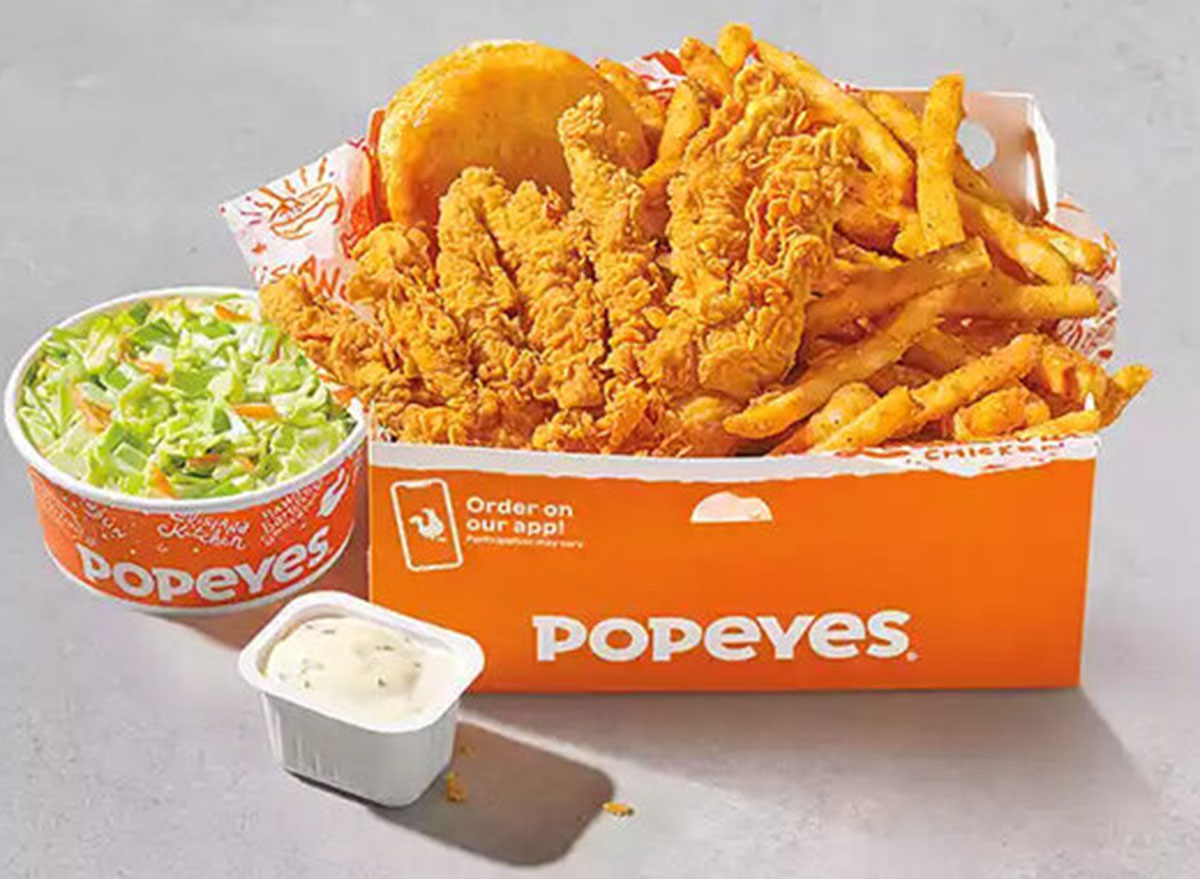 Even the unhealthiest menu items can be enjoyed in moderation. Maybe you're craving those Cajun Fries, so you pair them with a homemade salad. But the large combos at Popeyes often combine many of the individually unhealthiest items all in one box.
"The portions in the combo boxes, specifically the medium and large combo boxes, provide too many calories and saturated fat for one person," Minchen warns. "I would recommend either splitting a medium or large combo box with someone and/or choosing coleslaw for your side and water for your drink to both increase fiber by a few grams and reduce sugar intake."
The Best Menu Items at Popeyes
Butterfly Shrimp Small Tackle Box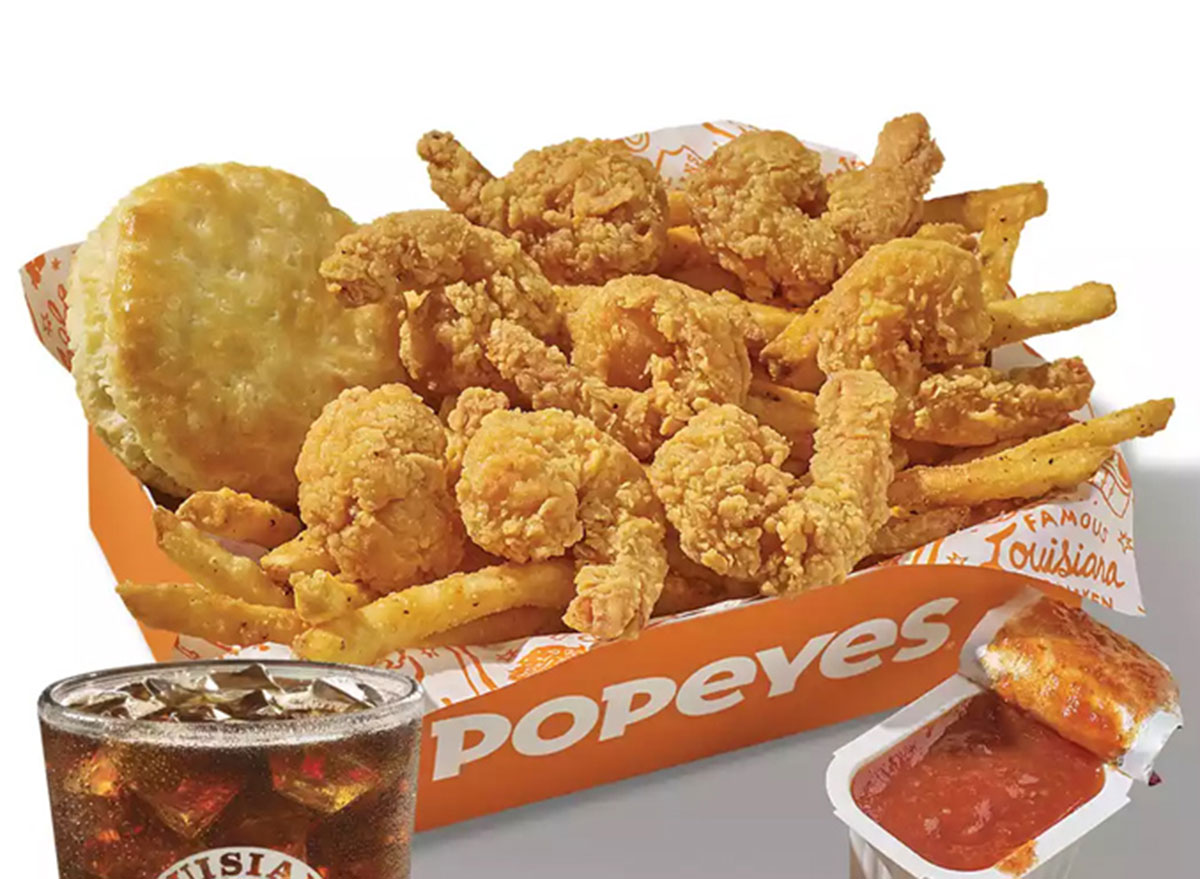 8 pieces
: 420 calories, 25 g fat (9 g saturated fat, 1 g trans fat), 1,100 mg sodium, 34 g carbs (4 g fiber, 0 g sugar), 16 g protein
A limited-time but wildly popular offering, the Butterfly Shrimp Tackle Box has returned to Popeyes. It includes eight pieces of fried shrimp, dipping sauce, one side, and a biscuit. Best of all, it's one of the healthiest meal options at the restaurant.
"The portions and calories are most appropriate here for a meal," Minchen says. "To make it even better, skip the biscuit and combine it with coleslaw instead for some fiber."
1 small meal
: 1,095 calories, 57 g fat (23 g saturated fat, 0 g trans fat), 2,132 mg sodium, 80 g carbs (6 g fiber, 46 g sugar), 34 g protein
Not to be confused with the Chicken Tenders meals, this two-piece chicken meal includes the brand's signature, bone-in chicken, plus a side, a biscuit, and a drink. Minchen chose this as one of the best menu items because the portion size and calorie range are more appropriate for an individual meal. Again, she suggests swapping the biscuit for coleslaw.
1 regular side
: 247 calories, 16 g fat (5 g saturated fat, 0 g trans fat), 606 mg sodium, 22 g carbs (6 g fiber, 0 g sugar), 8 g protein
Admittedly, Popeyes doesn't have many plant-based options, especially not healthier picks. But Minchen approves of a plant-based meal consisting of the red beans and rice with a side of coleslaw.
"This is not entirely vegan but is largely plant-based, while also being reasonable calorically and providing some fiber and vegetables," she explains.
¼-Pound Popcorn Shrimp Meal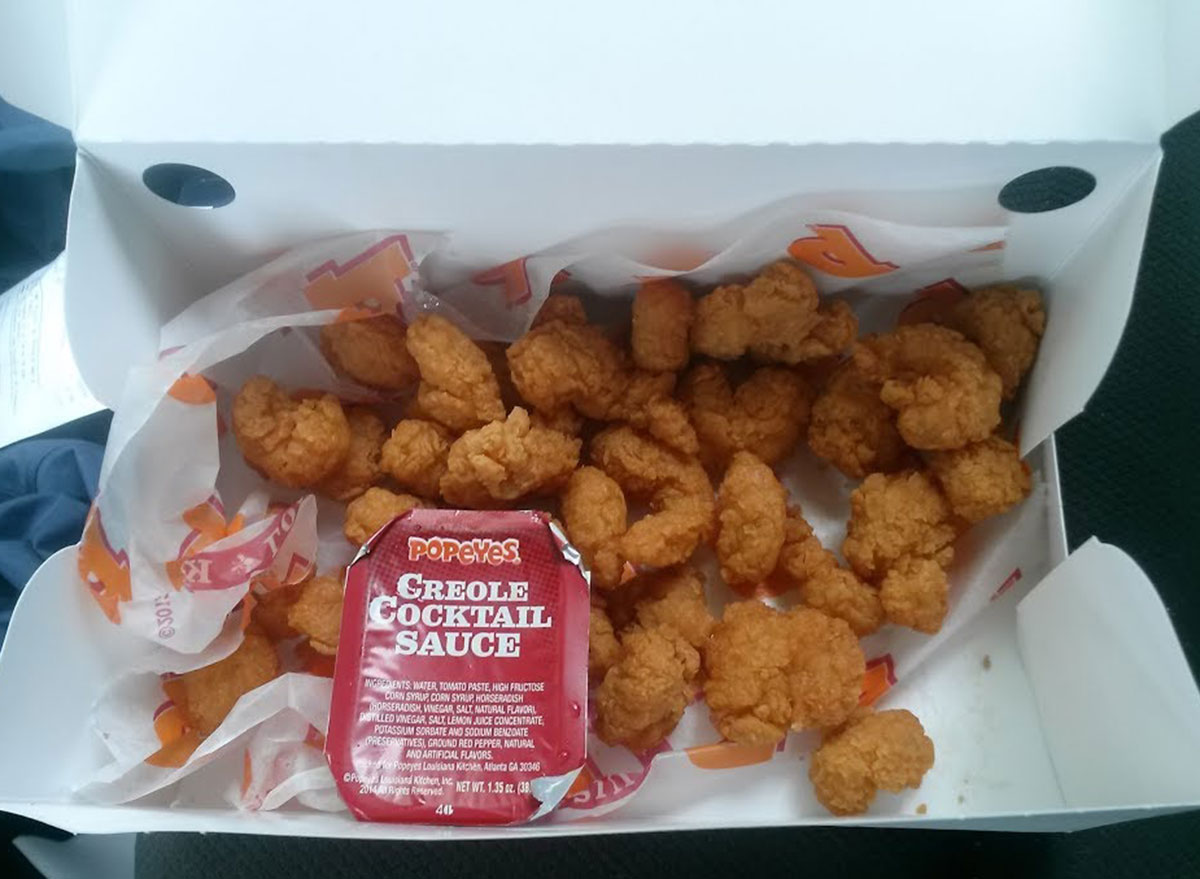 ¼ lb popcorn shrimp
: 390 calories, 25 g fat (8 g saturated fat, 0.8 g trans fat), 1,391 mg sodium, 28 g carbs (3 g fiber, 0 g sugar), 14 g protein
While the butterfly shrimp deal is a limited-time offer, you can indulge in the ¼-pound popcorn shrimp meal for a healthier option year-round. Minchen suggests opting for coleslaw to up the vegetable and fiber content, and going with seltzer or water in lieu of soda.
Classic Chicken Sandwich Small Combo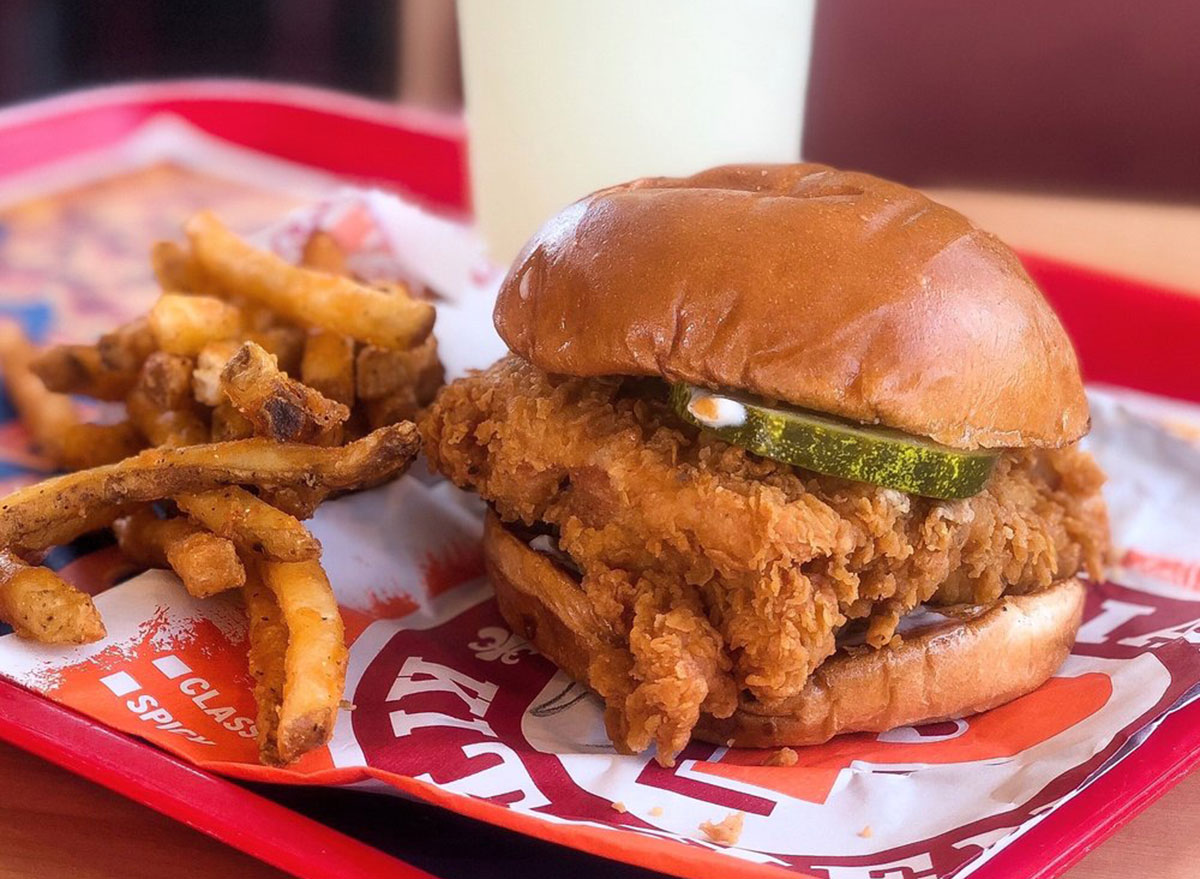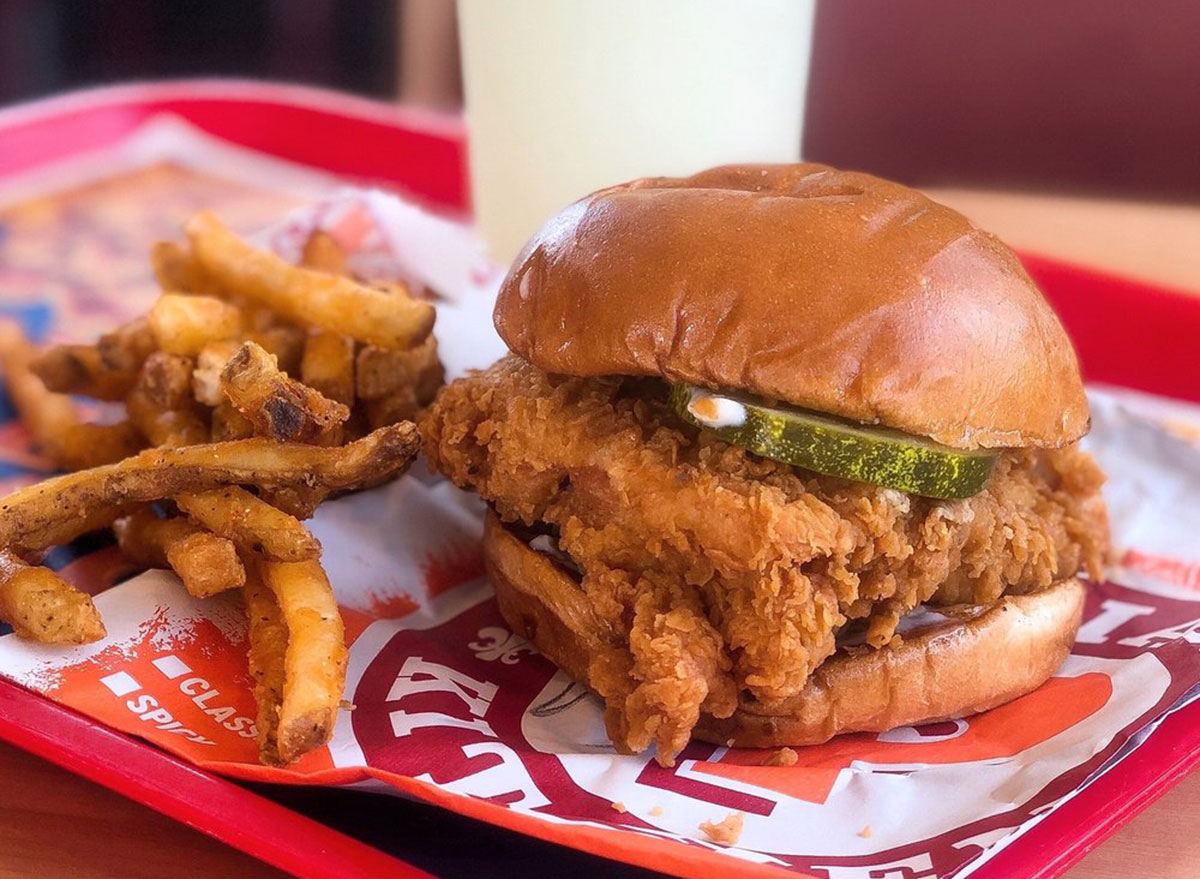 1 sandwich
: 699 calories, 42 g fat (14 g saturated fat, 0 g trans fat), 1,443 mg sodium, 50 g carbs (2 g fiber, 7 g sugar), 28 g protein
Who says you have to give up the famous Popeyes chicken sandwich when you want a healthier meal? Not us! Even if you are looking for healthier options at Popeyes, you can still go for the classic chicken sandwich meal. Choose modest portions with the small combo, and, again, Minchen advises going for coleslaw as the side and seltzer or water to boost fiber while reducing sugar content.
For more, check out the 108 Most Popular Sodas Ranked By How Toxic They Are.
Paige Bennett
Paige is a Los Angeles-based editor and freelance writer. In addition to writing for Eat This, Not That!, she works as the content editor for Inhabitat.
Read more about Paige