I Tried Popeyes for the First Time Ever and This Item Really Is a Showstopper
Would the fabled chicken sandwich live up to the hype?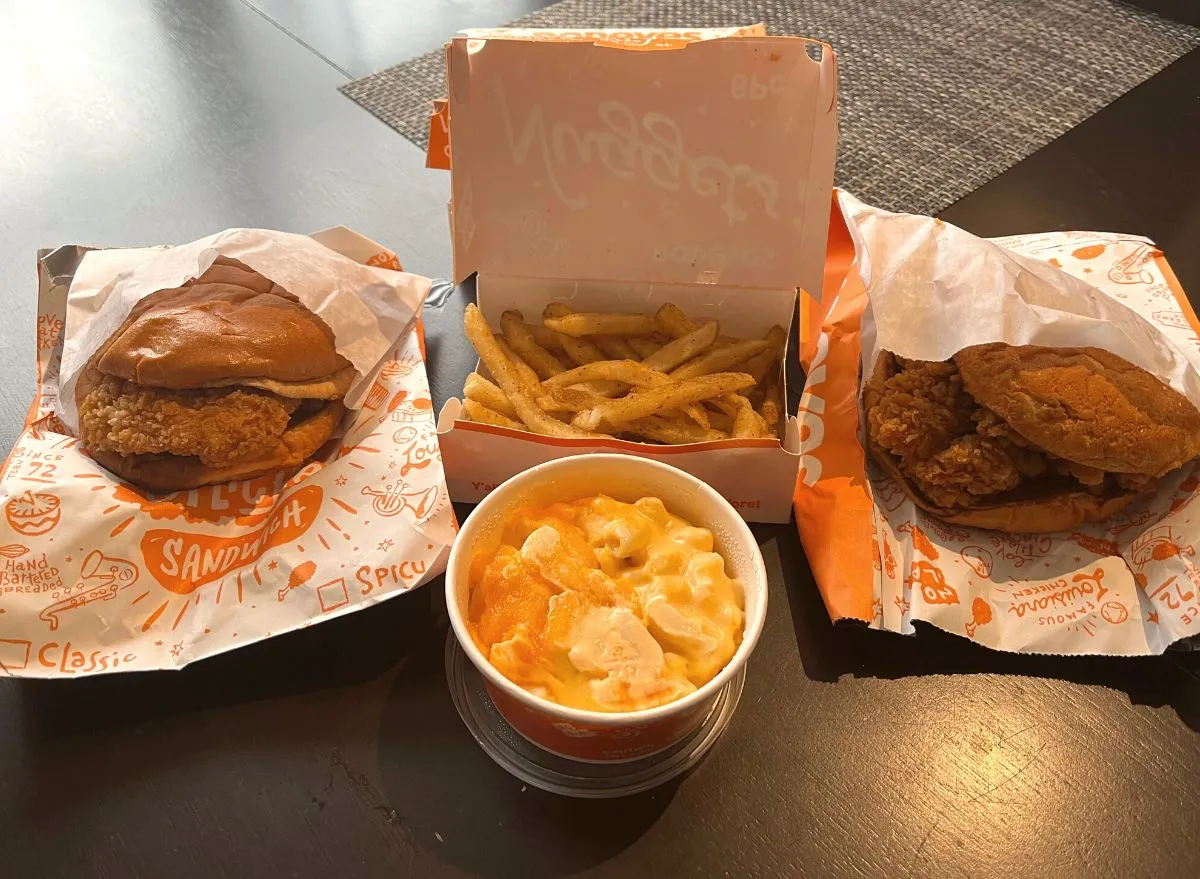 It's hard to believe that Popeyes' chicken sandwich only came out in 2019. It seems like the fabled item has always been here. Article after article—even our own taste tests—have ranked the Classic Chicken Sandwich as the best in the biz. But I have a confession to make: I have never tried it or been to Popeyes before. So when a location finally opened near me recently, I knew it was time to try the iconic offerings from the chicken chain.
With a spot less than 20 minutes away, I enlisted one other taster to grab takeout with me. We tried some of the most popular items, including the Classic and Spicy Chicken Sandwiches, Cajun Fries, and newish Mac and Cheese.
Here's what we loved, what we would skip next time, and what you should run right out and try if you get the chance.
Per sandwich
: 270 calories, 14g fat (5g saturated fat), 590mg sodium, 33g carbs (3g fiber, 0g sugar), 4g protein
The Cajun fries are coated in a blend of spices and have a bit of potato skin still on, which probably accounts for the three grams of fiber in the side. (Hey, we'll take a healthy eating win where we can get one!)
The look: The fries were a bit soft from the delivery journey but a suspected coating left a few vestiges of crunch. Popeyes doesn't publish its ingredient information so we couldn't be sure what was on them besides the promised spice. Tip: The real secret to making any delivery fry taste good is a quick three-minute reheat in an air fryer. This machine was born for this mission.
The taste: They had a craveable, potatoey flavor that kept us coming back for a few bites between chicken sandwich tastes. While they didn't taste strongly of any Cajun seasoning, they had a punchy black pepper flavor but definitely needed a touch of salt. I expected more from the fries after learning that Popeyes makes them in beef tallow, the way McDonald's used to. They were good but didn't blow me away. I'd call them a nice palate cleanser.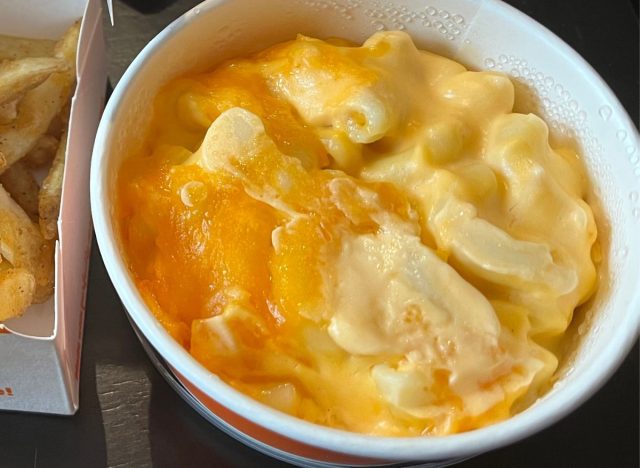 Per sandwich
: 280 calories, 21g fat (21g saturated fat), 510mg sodium, 16g carbs (0g fiber, 3g sugar), 11g protein
The Homestyle Mac and Cheese was upgraded in late 2021 and features a creamy cheese base with more cheddar melted on top.
The look: The creamy fat macaroni noodles were swimming in a thick cheesy sauce that was reminiscent of the sauce in Stouffer's Mac and Cheese.
The taste: The thick layer of melted cheddar was devoid of the supposed browning, but it added a sharp flavor that brought everything together. This side does not lack cheese. However, it deeply needed a little sprinkle of salt to bring it to life. After that, I'd put this dish up against any homemade mac and cheese.
Just watch the calories and saturated fat, due to the creaminess, this little cup has 280 calories and a big hit of saturated fat. The American Heart Association recommends about 13 grams of saturated fat per day, so this alone will put you way over.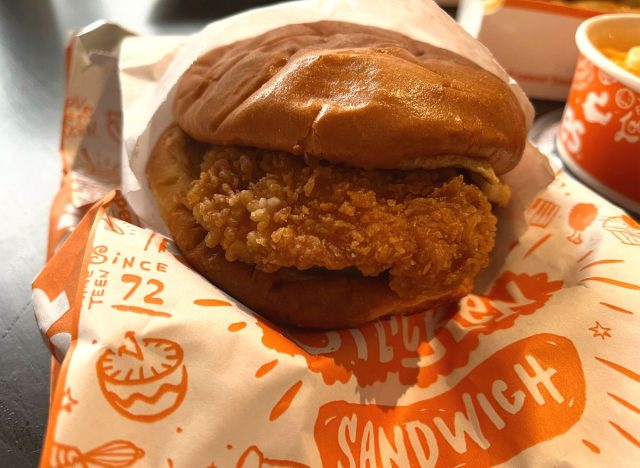 Per sandwich
: 699 calories, 42g fat (14g saturated fat), 1,768mg sodium, 50g carbs (2g fiber, 7.5g sugar), 28g protein
The look: The Classic had an uneven patty that was smaller and thicker in the center, but it looked perfectly browned and crunchy, and we couldn't wait to try it.6254a4d1642c605c54bf1cab17d50f1e
The taste: This sandwich definitely delivered on crunch and chicken flavor. The uneven patty resulted in some bites with less chicken, but the chicken was juicy, so juicy that when I squeezed the sandwich moisture came out. This sandwich desperately needed more mayo and it didn't have any pickles if it was supposed to, so execution was the issue.
However, this is nitpicking because the chicken really was excellent and did not taste like fast food. The bun was soft and thick enough to hold the sandwich but not get in the way of any flavors, though it did crumble a bit toward the end.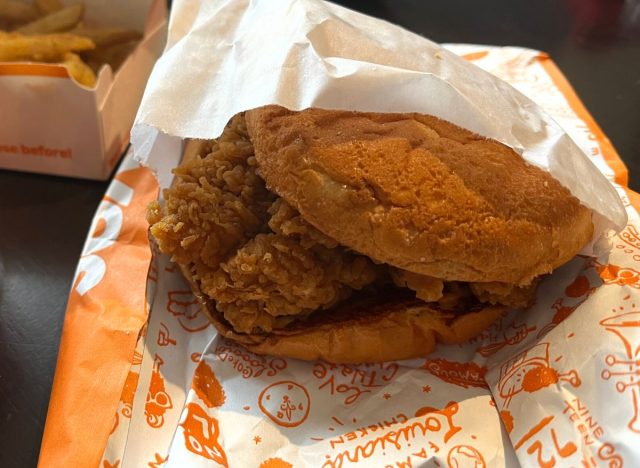 Per sandwich
: 700 calories, 42g fat (14g saturated fat), 1,768mg sodium, 50g carbs (2g fiber, 7.5g sugar), 28g protein
The look: This sandwich had a better chicken patty. It was more even throughout. We could see hints of an orangish sauce hinting at some flavor or spice and when cut in two, the pickle was obviously there.
The taste: If you're looking for crunch and flavor this is the sandwich you're looking for—it delivered great texture in nearly every bite. The spicy chicken added awesome flavor while the sauce spread the spice across my palate. Again, like the Classic, there just wasn't enough of it, and the two measly pickles were delicious when we could snag a bite with them. Of course, if the Classic was made with a more uniform chicken filet, perhaps it would have stood up to the spicy. We'll just have to go back and try the rest of the menu.
Meaghan Cameron
Popeyes just might be the best value in the game, at least for chicken sandwiches. Everything we ordered came in at just over $20 and it was consistent and tasty. Plus, the packaging was bright and fun, and everything arrived in good condition.
If you aren't near a Popeyes location, don't worry, the chicken chain is aggressively expanding and that may change soon enough. It opened 208 locations in 2021 and set its sites on another 200 in 2022. It also has big plans for abroad with an eventual 300 locations in France alone. When one opens near you, head out and get a taste of the famous sandwiches for yourself.