This Fast-Food Chicken Sandwich Was Just Crowned the Best Of the Year
And some of its top challengers were quite a surprise.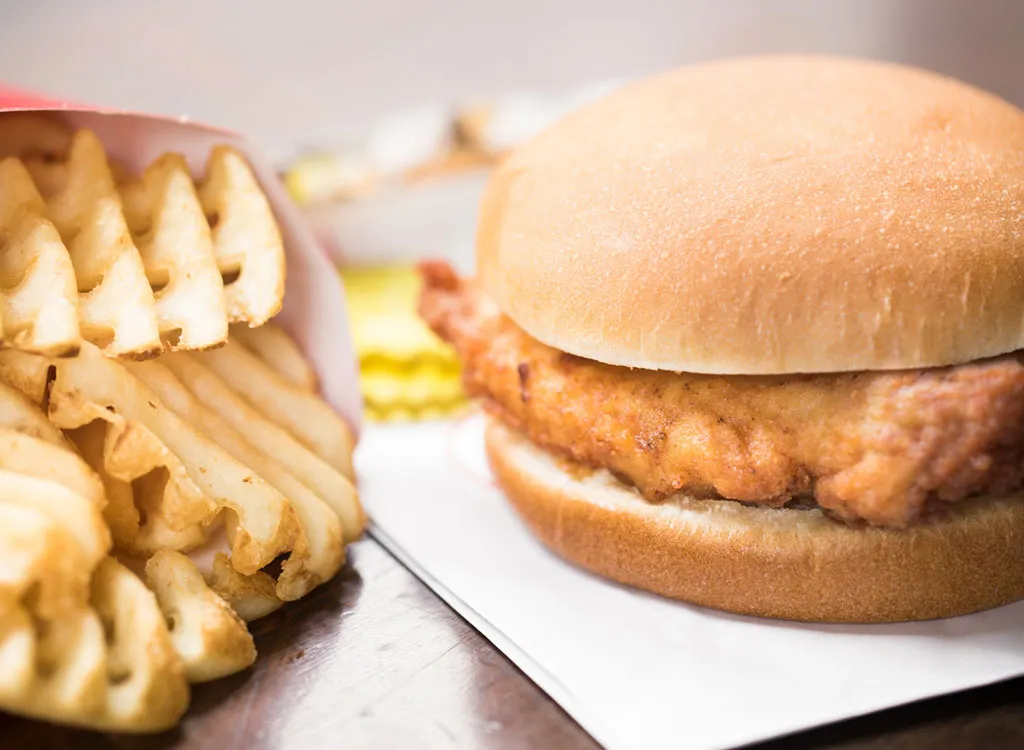 This year was a big one for the "chicken sandwich wars," with most major chicken chains vying for the number one spot. McDonald's threw its hat into the ring with three new versions that represented an upgrade on the McChicken, KFC re-launched its iconic sandwich with updates of its own, and Burger King garnered quite a buzz with its serious contender Ch'King.
But the best chicken sandwich of 2021 was also one of the quietest: without any splashy celebrity partnerships or clever marketing stunts to propel its popularity. The good old classic Chick-fil-A Chicken Sandwich has just been crowned the winner of the chicken sandwich wars by Merchant Centric, an analytics firm serving the fast-food industry. And according to their data, this year's race for the best chicken sandwich was quite an interesting one—with some unexpected top challengers.
RELATED: This Major Chicken Chain Is Turning Customers Away From the Drive-Thru6254a4d1642c605c54bf1cab17d50f1e
Gathering thousands of customer reviews from across the web—everywhere from Google and Facebook to Yelp, Grubhub, and DoorDash—the company crunched the numbers and created a ranked list of the best- and worst-performing chicken chains in the U.S. Some of the rankings may surprise you.
With an average customer satisfaction score of 4.39 out of five, Chick-fil-A topped the year-end list, leading competitors KFC and Wendy's by a healthy margin—and beating out Popeyes by a full point. The chicken chain also performed well above the industry standard of 3.73.
While there was no contest between Chick-fil-A and its top fast-food competitors, it's worth noting that the chain only narrowly claimed first place on Merchant Centric's list—thanks to a stellar performance this year from Raising Cane's three-chicken-finger sandwich. The Louisiana chain gave Chick-fil-A a run for its money, trailing it by one percent of a point. Midwestern favorite Culvers was a close third, with an average customer satisfaction score of 4.37.
Chick-fil-A's win comes in addition to being named America's overall favorite fast-food restaurant, having topped the American Customer Satisfaction Index earlier this year—its seventh consecutive time doing so. The Chicken Sandwich Wars were fun, but Chick-fil-A's recent victories point to a clear winner.
For more, check out:
A Chicken Tender Shortage May Soon Hit Grocers and Fast-Food Chains, Reports Say
And don't forget to sign up for our newsletter to get the latest restaurant news delivered straight to your inbox.
Owen Duff
Owen Duff is a freelance journalist based in Vermont, home of Ben & Jerry's.
Read more about Owen