Costco Is Facing a Lawsuit Over Its Treatment of Rotisserie Chickens
Members love how big they are—but are they too big?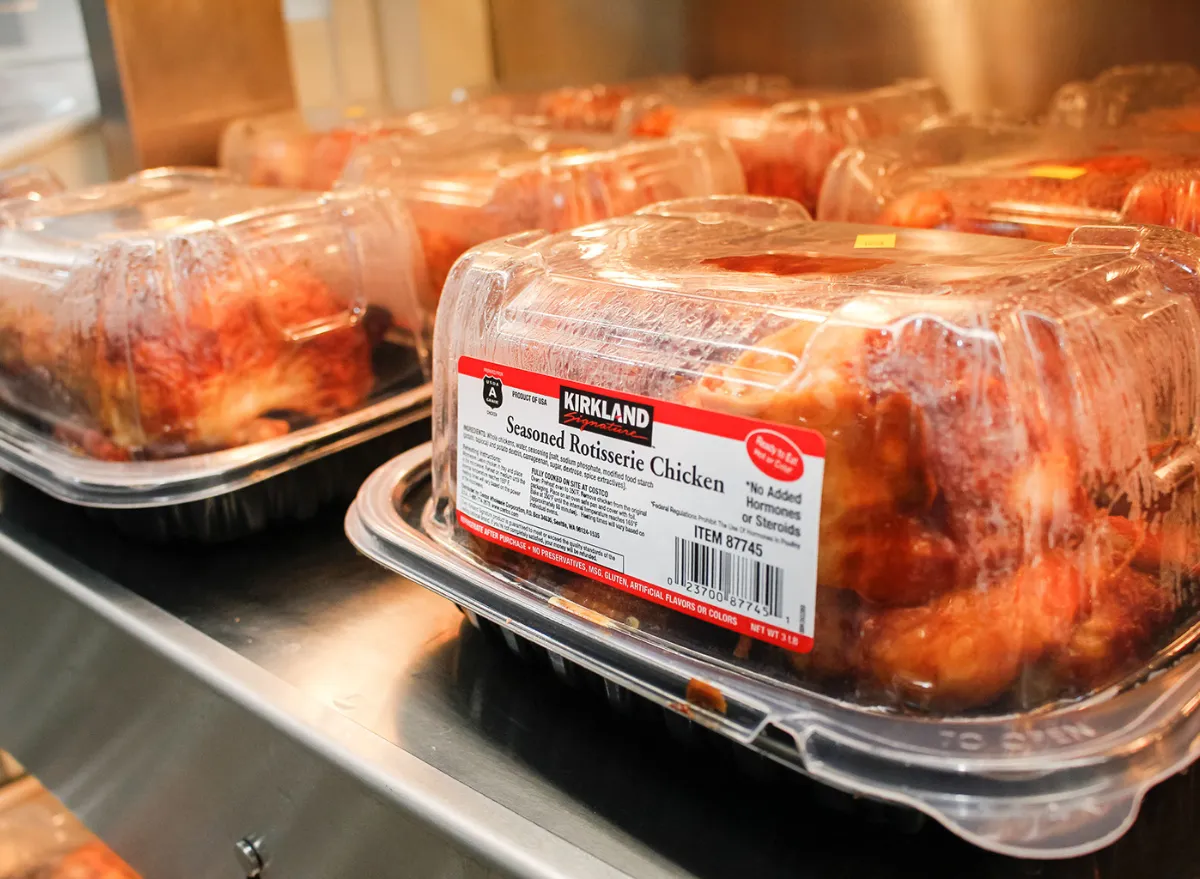 Costco members know one of the biggest perks of the warehouse is the beloved rotisserie chickens. Big, delicious, and affordable at only $4.99—the company sells the birds at a loss to keep members coming back, CFO Richard Galanti said in 2015.
While the company has been keeping the item cheap, some have speculated if there may have been other costs incurred. Recently, the Nebraska Examiner reported that a lawsuit claims Costco is in violation of livestock welfare laws concerning inadequate care by breeding chickens too big, too fast.
The lawsuit was filed on June 13 and represents two Costco shareholders and cites a hidden camera investigation by a Los Angeles-based animal rights group, Mercy for Animals. The footage was obtained in 2021 and claims to show the hidden cost of Costco's "cheap chicken." It says the warehouse is in violation of Nebraska and Iowa livestock welfare laws by breeding chickens unnaturally. The lawsuit states birds in the facility become so fat they can't stand up on their own to even reach food or water, eventually leading to death by dehydration or starvation. Some birds allegedly even get so heavy they fall and can not get back up. 
The suit also claims it's not an accident what happens to these chickens. It says Costco knows it breeds its chickens too big. It directly names executives who it says know about the abuse and continue to ignore it. Compared to Walmart's 2-pound rotisserie, Costco's rotisserie weighs a full pound more, averaging three whole pounds.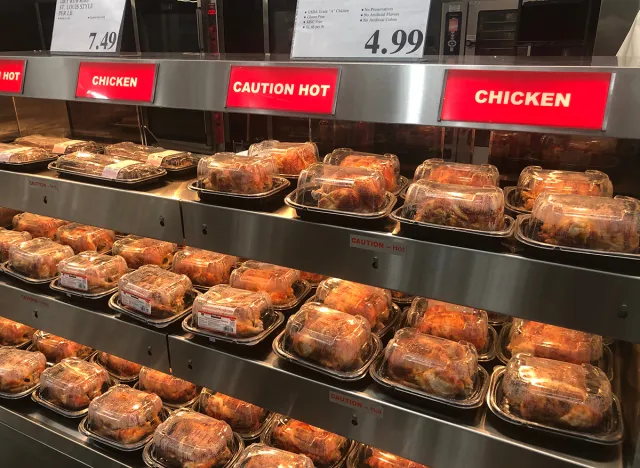 In a response to the 2021 video, Costco released a statement at the time to multiple news sources claiming it is, "committed to maintaining the highest standards of animal welfare."
Costco sells over 106 million of its rotisserie chickens every year in store. The Nebraska plant alone processes about 2 million chickens a week and has plans to eventually supply nearly half the chain's total chickens, according to Business Insider.6254a4d1642c605c54bf1cab17d50f1e
The warehouse chain has had its fair share of critics concerning its treatment of the chickens on its farms, leading to suggestions that it raise the $4.99 set price and use the profits to maintain better facility standards. In an opinion piece published in Feb 2021 for the New York Times, columnist Nicholas Kristof wrote—
"The journal Poultry Science once calculated that if humans grew at the same rate as these chickens, a 2-month-old baby would weigh 660 pounds. The chickens grow enormous breasts, because that's the meat consumers want, so the birds' legs sometimes splay or collapse."
Just last February, the Nebraska warehouse dealt with an outbreak of avian flu infecting many of its flocks, leading to mass culls of birds. Over 500,000 chickens in facilities were killed to try and stop the spread. Many have accused the method of ventilation shutdown to kill these birds as inhumane, which increases the temperature in the poultry shed to lethal levels—it's not clear, however, if Costco needed to resort to these protocols for depopulation which is typically used in emergencies. 
Amber Lake
Amber Lake is a staff writer at Eat This, Not That! and has a degree in journalism from UNF in Jacksonville, Florida.
Read more about Amber