Costco Food Courts in This State Have a New Menu Item
It's a healthy treat perfect for summer.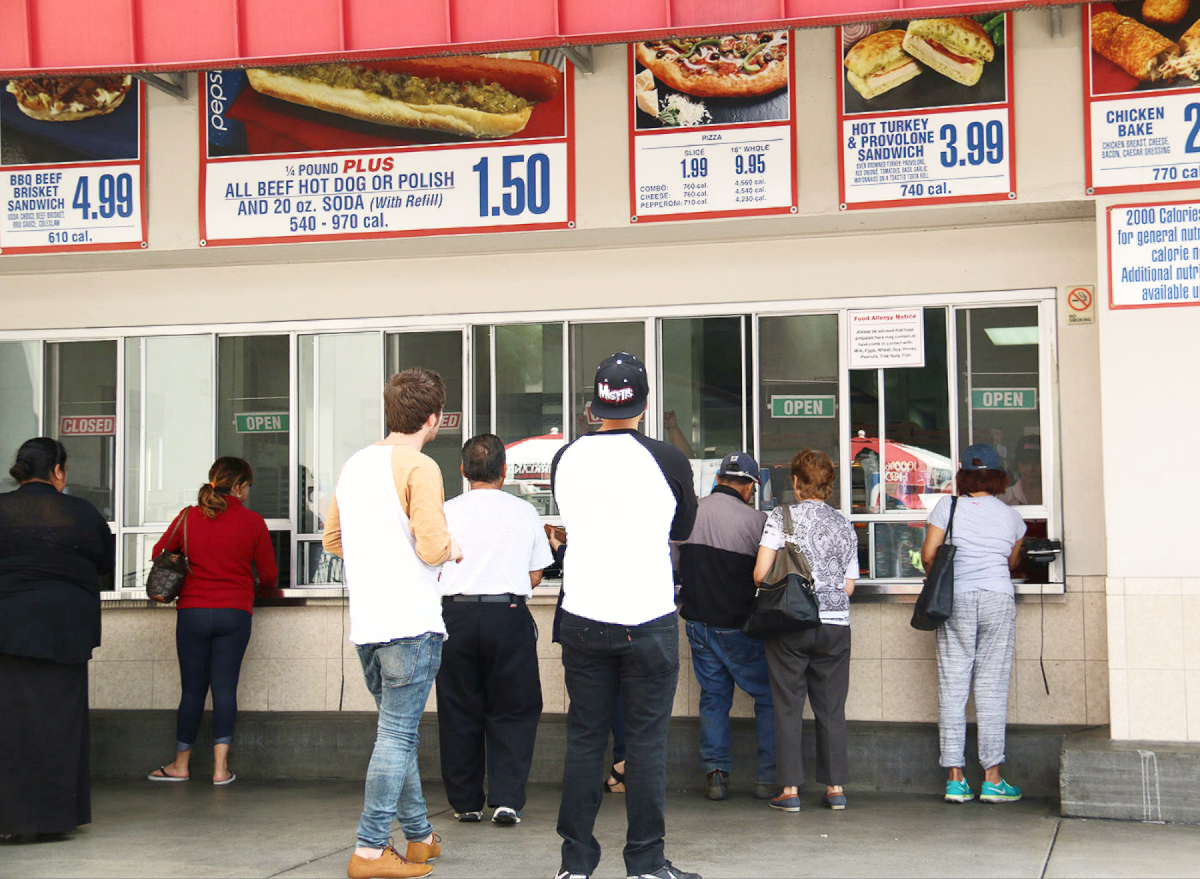 While the Costco bakery is a revolving door of sweets and surprises, the food court has remained a pillar of tradition. Although many beloved items are still missing from the menu, a new one is awaiting members in one U.S. state.
Multiple Costco members on Reddit have posted that warehouses in Hawaii may be testing out a new Mango Smoothie. The frozen drink was first spotted in Kauaʻi County on June 9 by Reddit poster, ContentNomad who said that it replaced the Berry version about three weeks earlier.
The smoothie was also seen in Kona, Hawaii, where a member who also posted about it on Reddit said they tried it and it was "amazing." Another member who commented on the post said that the "Mango smoothie is legit. [It] tastes like drinking a perfectly ripe mango."
Based on these posts it looks like the smoothie is priced at $2.99 and appears to come in a standard 16-ounce cup. The menu board says it is  360 calories—which is one of the lowest on the menu. There's no word yet on when or if this new item will come to the mainland.
Outside of the new Mango Smoothie hitting Hawaiian Costco warehouses, the only other major change to the food court recently was when the pizza boxes were changed in April. The boxes now feature a How2Recycle stamp, which creates a standardized system that signals to consumers which items are able to be recycled and communicates instructions on how to do so. The warehouse said the new boxes were an incentive to create sustainable packaging. 
While some members are still upset the warehouse has gotten rid of the combo pizza (which the food court hasn't seen since September of last year), rest assured it has promised that while some things have changed—other things never will. Despite inflation, expect Costco to keep the price of the food court hot dog and drink combo at $1.50 and a slice of pizza at $1.99.
For those not living in Hawaii and looking for something new at their local Costco, check out: The Costco Bakery Just Brought Back This Beloved Summer Dessert.
Amber Lake
Amber Lake is a staff writer at Eat This, Not That! and has a degree in journalism from UNF in Jacksonville, Florida.
Read more about Amber