6 Grocery Items Most Likely to Be Recalled, Experts Say
It's important to know where the risks are.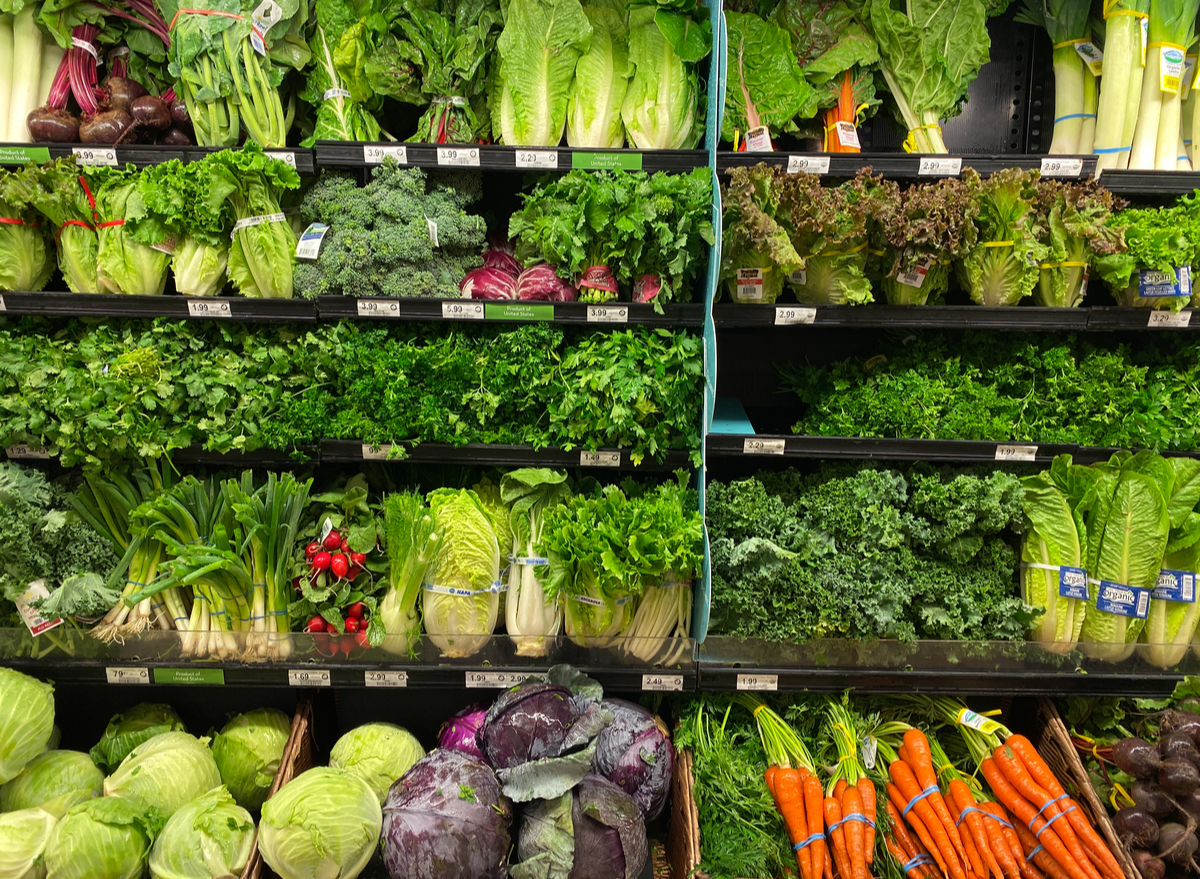 While you may have been lucky enough to avoid purchasing contaminated grocery items, food recalls happen every day. Whether the product contains undeclared allergens or is contaminated with harmful bacteria, it's important to know if the food in your fridge poses a threat to your health.
To alert people about recalled items, the U.S. Food and Drug Administration (FDA) keeps track of every released food safety issue. Failure to inform those who have recalled food in their possession can lead to foodborne illnesses, hospitalizations, and, in the rare but worst-case scenario, even death.
Devastating food safety disasters over the years spurred the FDA to pass the Food Safety Modernization Act in 2011, which established prevention, inspection, and compliance protocols to mitigate these incidents in the future.
But despite these protocols, recalls are still on the rise. So what makes food safety issues hard to prevent? According to Deane Falcone, the Chief Scientific Officer of technology-driven indoor vertical farming company Crop One, one reason is simply the higher demand for these products.
"Because of the scale of production and the outdoor growth environment, it's very difficult to track [contamination sources]. We're probably going to see outbreaks every year—hopefully, most of them minor."
Pramod Sajja, President of blockchain-backed food supply chain solution Farm to Plate told Eat This, Not That!, "The global sourcing of products from different parts of the world increases complexity to the logistics of transporting the items and tracing the shipment and storage conditions throughout the whole journey that the product must go through."
Another is production disruptions that deviate from established safety protocols. "It's often a very minor slip-up in following protocol that results in [an issue]. Knowing where the potential hazards can be and keeping the records is important," Falcone says. The pandemic has presented many unexpected interruptions to normal safety routines, such as new protection measures against the virus and staffing shortages.
There are a few usual suspects in grocery recalls that you may want to be wary of. You can take additional precautions with these six items to ensure that you're not at risk from product recalls.
Related: 6 Things You'll See at Costco This Year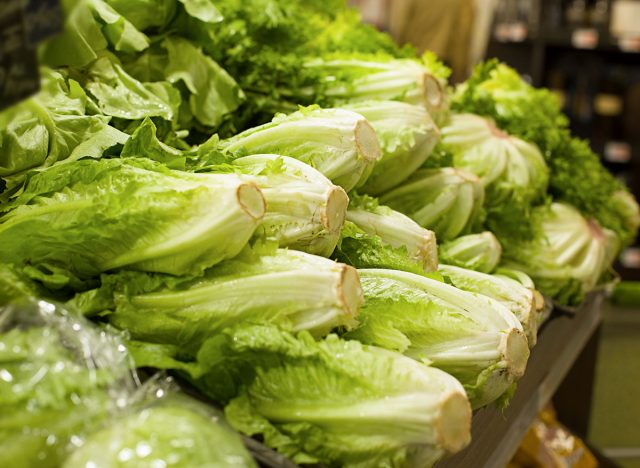 Leafy greens are implicated in recalls each year, particularly romaine.
"The degree of severity varies," Falcone says. "Sometimes people become a little bit sick, but sometimes it leads to hospitalizations. E. coli and occasionally Listeria, particularly severe variants—sometimes can even lead to death."
Contaminated romaine hugely impacted Chipotle from 2015 to 2018, leading the popular food chain to pay out $25 million in federal fines in 2020, according to Food Safety News. In total, there were 1,348 reported illnesses from various pathogens over the four-year period.
The reason romaine is often recalled for causing foodborne illness is due to the way it's grown—close to the ground, where it could come into contact with contaminated groundwater. In conventional agriculture, one precautionary measure that farmers take is washing the lettuce several times to eliminate any bacteria.
Alternatively, Falcone says hydroponic farming uses temperature controls and purified water for indoor growing, which makes the risk of contamination unlikely, making it a safer bet for the products you consume raw—like romaine.
The next time you're craving a salad, you may consider buying romaine that is labeled as "indoor-grown" on the package for more peace of mind.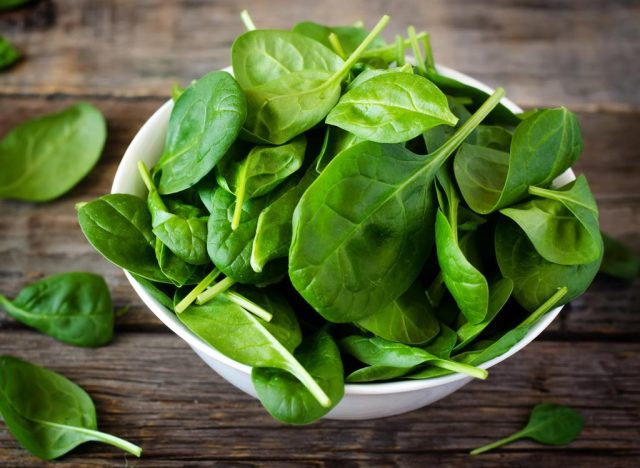 Another leafy green to proceed with caution around, despite its ample benefits to your health, is spinach. Similar to romaine, spinach is liable to be contaminated by groundwater and is usually consumed raw.
So far this year, there was an E. coli outbreak in January, which sickened 15 people and led four to be hospitalized across 10 states, according to the CDC. The site advises consumers on safe preparation for spinach but warns that washing the produce may not eliminate all bacteria.
"The surface of spinach, in particular, although it looks smooth, has a lot of invaginations where bacteria can adhere. It appears that spinach may be more difficult to clean than lettuce," Falcone notes. "Washing leafy greens is effective, but it's not a guarantee."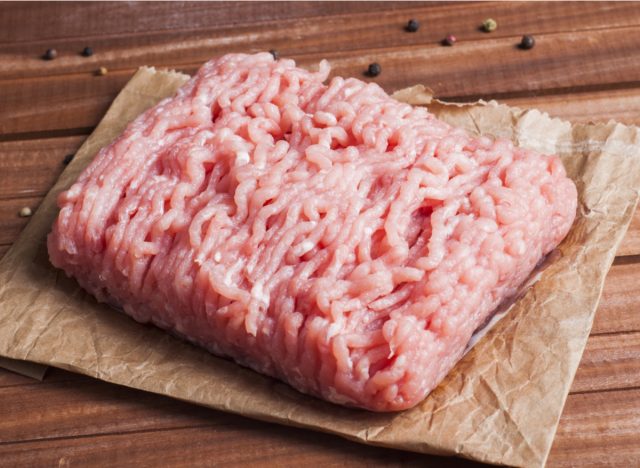 While a leaner choice than ground beef, ground turkey isn't always the safer alternative to red meat. One of the largest meat recalls in history was in 2011, when meat processing company Cargill had to pull back 36 million pounds of ground turkey for infecting 76 and leading to the death of one, according to The New York Times.
Ground turkey has seen large recalls in recent years, as well. In 2018, Jennie-O recalled 164,000 pounds of the lean meat for linking to 216 illnesses, 84 hospitalizations, and one death from a strain of Salmonella. And in 2021, 14,000 pounds of Butterball and Kroger ground turkey products were taken off the shelves because they were found to contain blue plastic pieces.6254a4d1642c605c54bf1cab17d50f1e
Regulation standards seem to be one reason behind this product's poor track record. A concerning study by Consumer Report in 2013 found that 69% of ground turkey samples were contaminated with bacteria associated with fecal matter, and at the time, the acceptable Salmonella limit for passing USDA's Food Safety and Inspection Service (FSIS) tests was up to 50%.
There are two main reasons why beef makes the list as a frequent offender—namely Salmonella and E. Coli. Some strains of the bacteria can lead to kidney failure or death, such as one named in the more recent January 2022 recall of Interstate Meat Distributors' ground beef, according to Consumer Reports.
But if there are only small levels of pathogens in your meat, you're not necessarily going to get sick from it.
"Heat does a fantastic job of killing the bacteria. That's very effective. Unless you're eating a lot of meat raw, you're probably going to be pretty safe if you cook it thoroughly," Falcone says.
FSIS advises people to cook raw meat to 165 degrees Fahrenheit before eating to ensure safe consumption.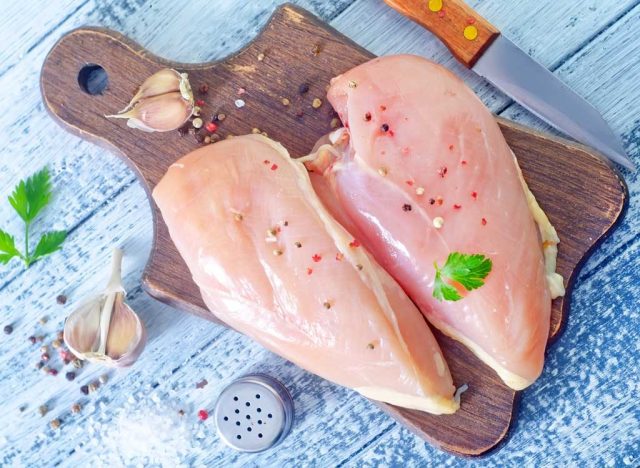 Both raw poultry and ready-cooked chicken alike fall into this category due to bacterial contamination. There have been several recent recalls on frozen chicken by Serenade Foods after linking the items to 28 cases of Salmonella infection, and last year, a handful of Tyson Foods Inc. pre-cooked chicken products were found with Listeria, causing three illnesses, three hospitalizations, and one death.
A rising concern when it comes to antibiotic-treated poultry is the level of antibiotic resistance the bacterial strain may have. In 2018, Food Safety News reported on a Salmonella outbreak that was resistant to 13 antibiotics. This limits the treatment options for those sickened by the contaminated product.
The best way to avoid infection from tainted chicken is by following safety guidelines in the kitchen when you're cooking up a poultry dish.
Salmonella is often the culprit when it comes to eggs. One of the most widespread egg recalls occurred in 2010 when the third-largest egg producer DeCoster Egg Farms was linked to 3,578 reported illnesses from Salmonella infection and had to recall 500 million eggs.
Food Safety News reported on the incident again in 2013, highlighting how the tragedy occurred—chicken feed cross-contaminated by manure that made its way into the shell eggs. The product was even still given the USDA grade mark for quality. However, it was found that "an egg containing Salmonella E. could still be marked as grade AA and certified by quality inspectors."
Eggs have several health benefits when added to a well-balanced diet, so learn how to stay safe while preparing them. The CDC recommends for consumers buy pasteurized eggs, store them at 40 degrees Fahrenheit or colder, and eat after cooking thoroughly.
Unfortunately, there are a few recalls to know about right now. This Snack Sold at Costco and other Grocery Stores Is Being Recalled For Potentially Containing Lead and These Frozen Grocery Items Are Being Pulled From Shelves in 12 States.
Sarah Wong
Sarah studied at Northwestern University, where she received a bachelor's degree in computer science and experimented with mixing tech and journalism.
Read more about Sarah