The Best Foods to Eat for Omicron Symptoms, Says Doctor
They won't fix symptoms, but your body will get the nutrients it needs.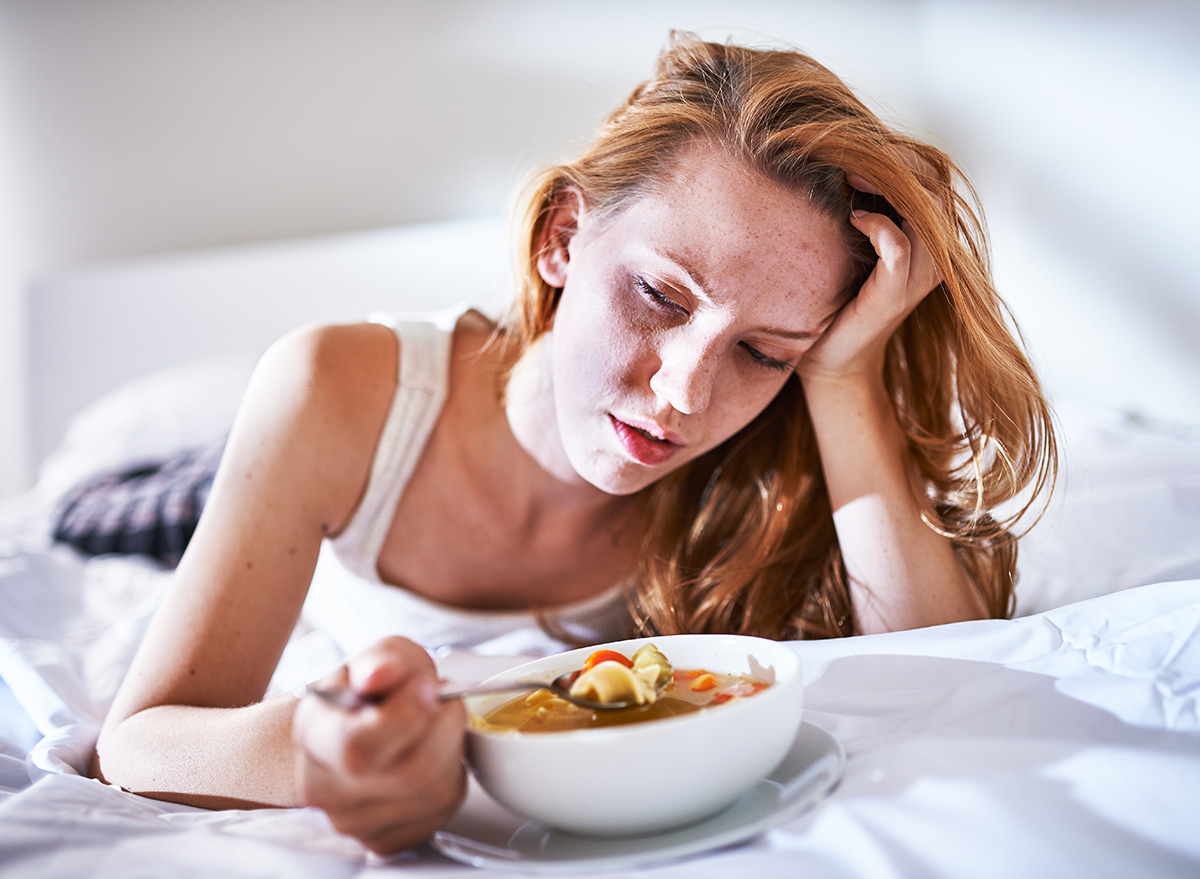 The Omicron variant caused COVID-19 numbers to skyrocket in the past few weeks. The United States hit a record-high on Monday, Jan. 3 with one million new cases confirmed. According to the Center for Disease Control and Prevention, Omicron now accounts for up to 95% of COVID-19 cases, and the case numbers keep climbing daily.
Health professionals are clear that the best way to alleviate Omicron symptoms is to first get vaccinated and, if you're already vaccinated, get boosted. While vaccinated people can contract Omicron, symptoms of the variant appear vastly different (not as many are losing their sense of taste and smell) and will be much milder compared to those who are unvaccinated.
If you end up sick with Omicron and some symptoms appear, it may become difficult to determine the type of foods to eat while you're feeling sick. Especially if you don't feel like eating at all.
"People that get these conditions, people who get Omicron, Delta, or Influenza, don't really have big appetites," says Robert G. Lahita MD, Ph.D. ("Dr. Bob"), Director of the Institute for Autoimmune and Rheumatic Disease at Saint Joseph Health and author of Immunity Strong. "With Omicron the throat is so sore, it's as though you have strep throat. Even liquids hurt."
With a severe sore throat and a body that doesn't feel hungry, We asked Dr. Bob to share some tips on how to nourish your body through sickness, a few steps to take as you start to feel better, and what foods to avoid throughout the whole process.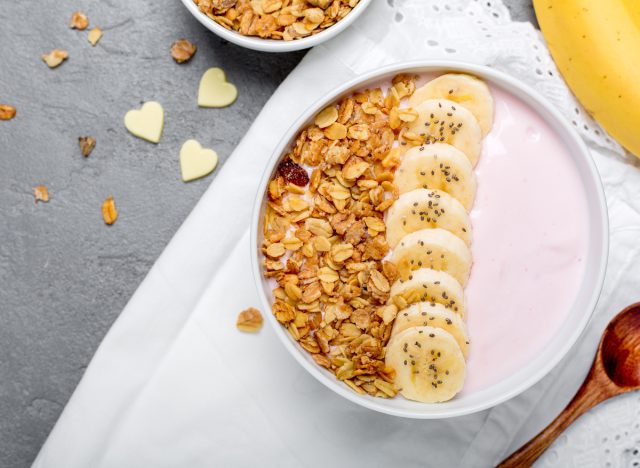 One of the best foods you can eat when you have Omicron is yogurt. It's soft, cold, feels good on the throat, and packed with protein to keep you full.
"I've been suggesting that the best thing to do is to probably eat yogurt and maybe put some granola on the yogurt," says Dr. Bob. "Cut up some bananas for potassium, as well, and mix it in. But the bananas have to be small pieces because remember, it's going to be very difficult for people with Omicron to swallow."
It may sound unconventional, but Dr. Bob says that ice cream can actually be a stomach filler that's easy to go down when you have an extremely sore throat.6254a4d1642c605c54bf1cab17d50f1e
"The other thing, if you don't have diabetes, would be ice cream—something that will go past your [throat] in an easy way," says Dr. Bob. "That provides you with glucose and also protein, so you will be able to at least keep some weight on. A lot of people who get Omicron or certainly Delta lose sometimes 20 to 30 pounds, and it's a big issue."
Ice cream can help with filling your stomach while also keeping the weight on, given that severe weight loss can be a side effect of contracting a virus due to the lack of appetite.
Beverages with electrolytes
"Fluids are important," says Dr. Bob. "It's always good to make sure there are some electrolytes—particularly if you have diarrhea and you're vomiting. If you have electrolytes—which Gatorade provides and other nutritional drinks—you're not running low on potassium and your sodium levels stay normal."
Another easy "meal" on the throat you can sip on is a cup of soup or broth.
"Soup and broth is really a wonderful electrolyte replacement," says Dr. Bob.
If you have the appetite, a soup that has some sort of protein and vegetables in it can help with giving your body some of those nutrients it needs while you fight the infection.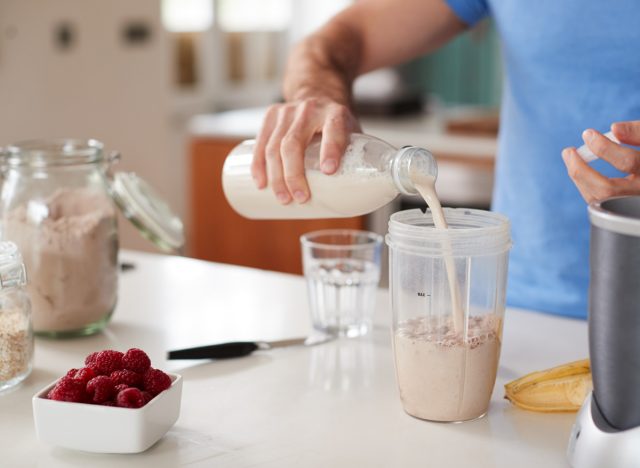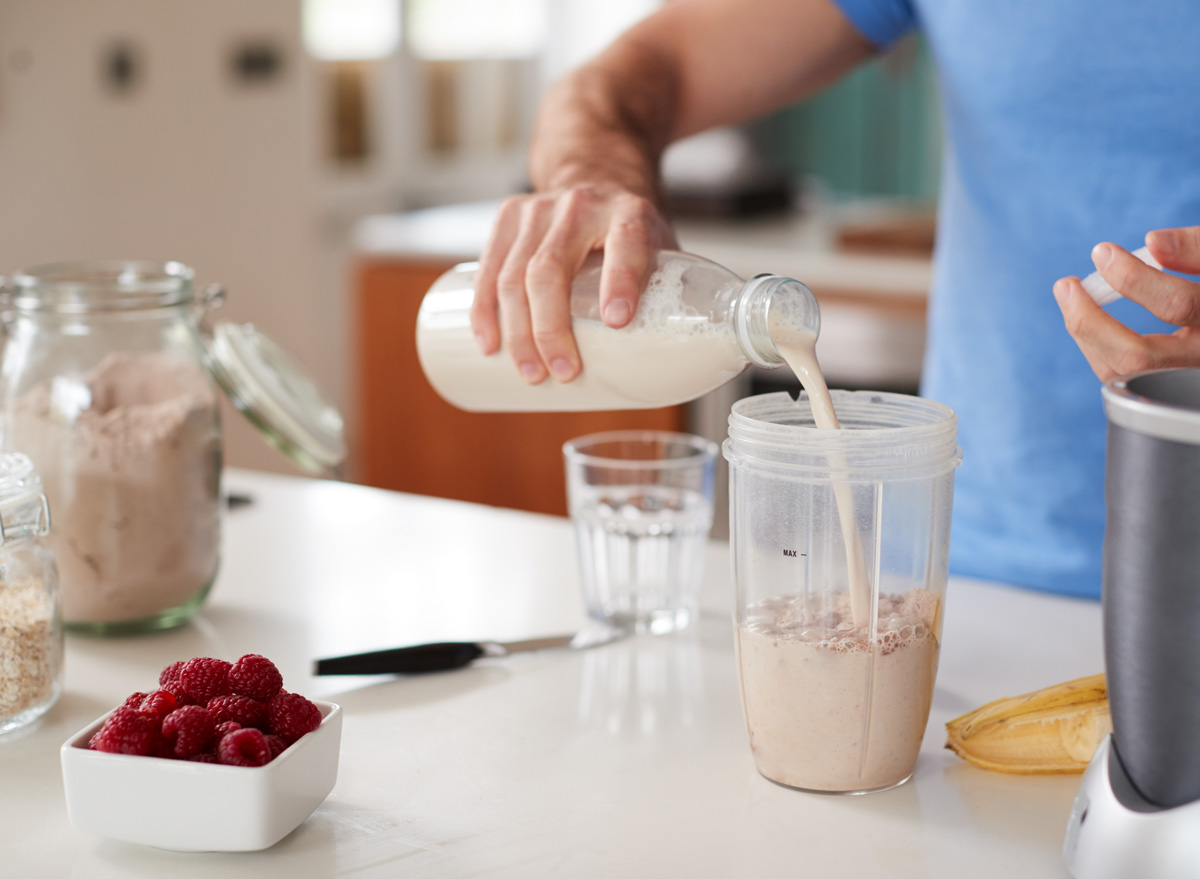 "Vanilla milkshake, chocolate milkshake, whatever is easy to go down is critical." says Dr. Bob. "I've talked to so many patients that have had Omicron and they all say the same thing—'oh we need mild food.'"
Luckily, drinking a protein shake is mild on the stomach compared to a smoothie. Blend up your favorite protein powder with ice and milk (or a milk alternative) to boost your protein and at least give you some substance.
If you have the appetite for food, Dr. Bob says an easy and nutritious food to stock up on would be all kinds of cruciferous vegetables.
"If you can eat regular food, go for it," says Dr. Bob. "Veggies are really good, cruciferous vegetables like broccoli and cabbage, Brussels sprouts are wonderful, and cooked vegetables with horseradish sauce or mustard are really excellent. All of these things keep up the nutrition that you are going to need, and stuff that you're lacking."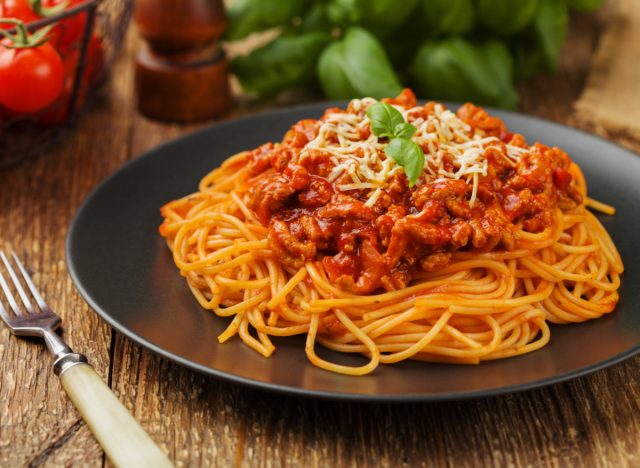 When the virus starts to go away, Dr. Bob says you may have an increased appetite and desire to want to eat "everything under the sun." While a natural inclination would be to reach to glucose-rich foods, Dr. Bob says to look for foods that will also keep you full and bump up the protein.
Pasta with meat sauce, for example, can be a good meal for such a craving.
"You can eat a nice dish of pasta, raise your blood sugars gently, but not over the top," says Dr. Bob. "[Make it] a good nutritional meal with, say, some bolognese sauce on it. That's one of my favorites."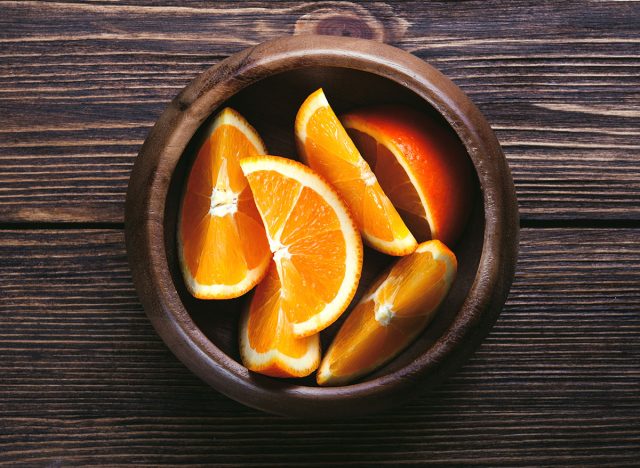 Eating citrus-rich foods and drinking orange juice for vitamin C may seem like a natural immunity booster to reach for when you're sick, but Dr. Bob says in the case of having Omicron, it won't actually be satisfying for you to eat.
"Foods that consist of citrus and foods that are a little bit tart, it will be very, very difficult to swallow," says Dr. Bob. "This is all with the Omicron variant—with an extreme sore throat. It will be difficult to swallow some of these foods, so that's why I'm suggesting to start very gently with soft foods like yogurt and other probiotics."
For more Omicron news, read these next:
Dr. Fauci Just Issued This New Omicron Warning

What to Do if You Catch Omicron, Say Experts

Virus Expert Just Said When Omicron Might Peak