At 55, Halle Berry's Outlook On Aging Is Spot-On—And We All Want Her Secret
"Society should look at us as jewels as we get older."
Halle Berry never seems to age, and her secret is spot-on. The actress and director is 55 years old and absolutely glowing with beauty from the inside out. How does she do it? Well, she's totally embracing this chapter of her life—she's transparent about her age and has a zest for living her happy, accomplished life to the fullest.
During a recent interview with AARP, Halle Berry serves up some inspiring advice for women who are terrified of aging. Read on to learn more, and next up, check out The 6 Best Exercises for Strong and Toned Arms in 2022, Trainer Says.
At 55, Berry's life at this point is "firing on all cylinders"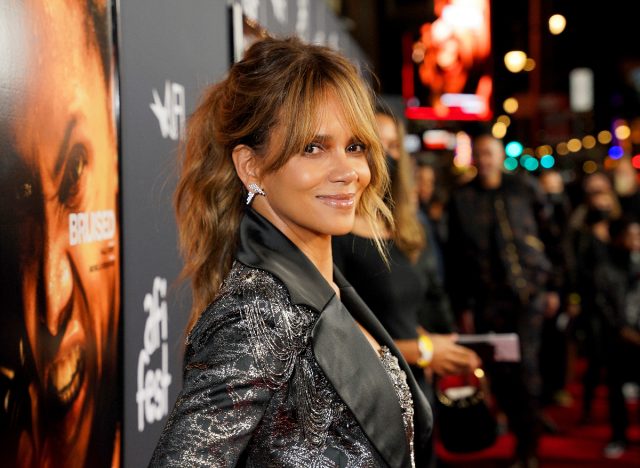 It's not uncommon for women to go through a difficult stage as they move into their 50s. Some imagine the best part of life is when they are young and starting out, but that isn't necessarily the case at all.
Berry feels strongly that the best in life for her is happening right here and now. In an interview with AARP, the star notes that at 55, her life at this point is "firing on all cylinders." Her age has simply enhanced the journey of life. "Now, in my 50s, I've got my babies, my career, and finally have love in a real, meaningful way," she says. How is that for an inspiring outlook on life?
Related: Halle Berry Says This Is Her "Favorite Way to Stay Fit" in New Workout Pic
The star gushes about her love life with Van Hunt, noting she "fell in love with his mind, his conversation"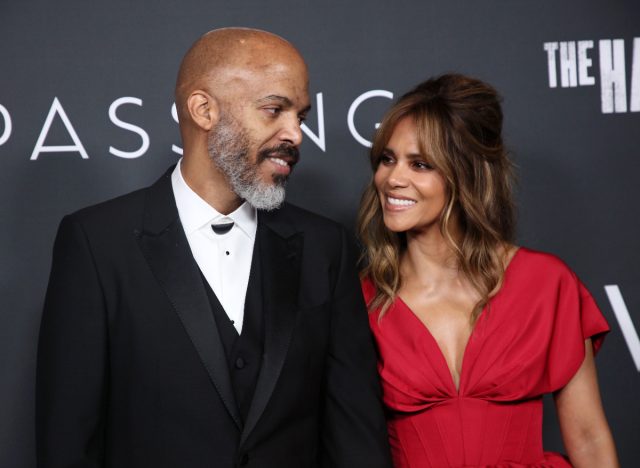 Berry appears to have it all. She has two beautiful children—13-year-old Nahla, whose father is Berry's ex-boyfriend and model Gabriel Aubry, and 8-year-old Maceo, who Berry had with ex-husband and actor Olivier Martinez. The star also boasts of her current relationship with musician Van Hunt. Berry confirmed the two are dating via an adorable Instagram post back in September 2020, where she's totally rocking a Van Hunt tee.6254a4d1642c605c54bf1cab17d50f1e
The X-Men star got to know Hunt from a distance due to the pandemic lockdown. The star reveals to AARP, "Because of COVID, we spent four months talking on the phone. We were forced to only let our brains connect and discover if we had a connection before our bodies decided to get involved. I'd never done it this way. We talked for hours and hours and hours and hours and never got tired. I fell in love with his mind, his conversation."
Berry has a successful career that she truly loves, too—what more could a gal ask for?
Related: Halle Berry Told She Would "Die Slowly" Without Making These Dietary Changes
Berry expresses how complete her life has been thus far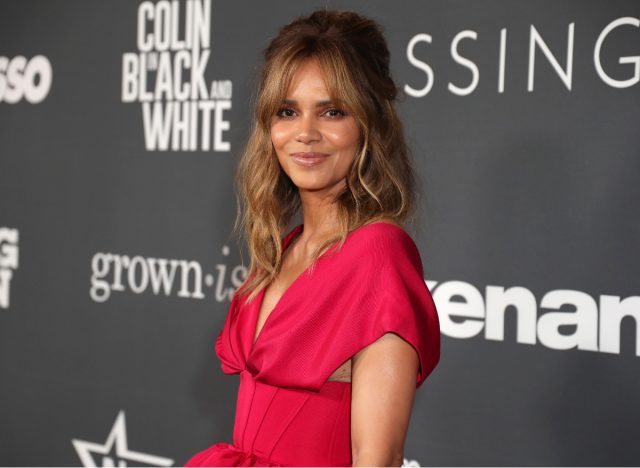 Berry expresses to AARP how complete her life has been. "In my 30s, I was so focused on career, but I had a desire to have children and be a mother. So I felt I was lacking something."  She adds, "In my 40s, I took the decade to be at home and have children and be a mom. But my career was lacking—I longed to be back at work."
A meditation trip in India five years ago was a major turning point for Berry. "The shaman told me I would see things more clearly going forward and would need to react and act. And he was right," This prompted Barry to take control and make changes. First off, she fired her agent and hired a new one. And good for Barry! Her old agent was not cutting it with new role options. "Sometimes we know something or see something or feel something, and we talk ourselves out of it. I no longer do that." Berry describes her new role as "Bruised's" Jackie Justice as empowering. Her character is a mixed martial arts (MMA) fighter.
Her outlook on aging is inspiring to us all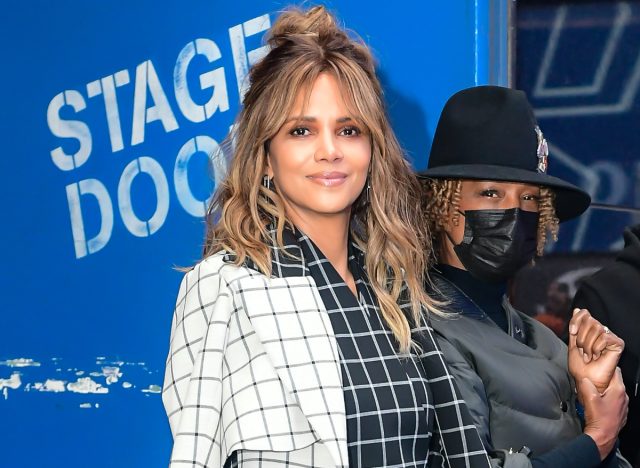 Halle embraces her age like the total star she is. She tells AARP,  "We're all going to get older. Our skin is going to shrivel up and we're going to look different. I see things changing with my face and body, but I've never put all my eggs in that basket. I've always known that beauty is deeper than the physical body you're walking around in," adding, "I refuse to become someone who just tries to hold onto a youthful face and not embrace what's most important about being beautiful—how you live your life, how you give back to others, how you connect to people, how you strengthen your mind, body and soul and nourish yourself, how you give in a meaningful way of yourself. The most beautiful people have something radiating inside."
Berry is a role model for all women as she passionately states, "Women are told that when we reach a certain number, we're no longer valuable," and sums the topic up perfectly by adding, "I believe the opposite. Society should look at us as jewels as we get older. Because the older women get, the more formidable we are."
Halle Berry, you are and always were a total boss. 55 clearly loves you as much as we do.
Alexa Mellardo
Alexa is the Mind + Body Deputy Editor of Eat This, Not That!, overseeing the M+B channel and delivering compelling fitness, wellness, and self-care topics to readers.
Read more
More content from
Mind + Body